Are you looking for a place rich in history, with a great atmosphere and excellent food options? Do you want modern entertainment and experience spirituality? Then you need to visit the Osu Shopping Streets!
It's an area that encompasses all of these things and more, making it one of the most popular destinations for tourists and locals alike.
Let's Uncover the History of the Osu Shopping Streets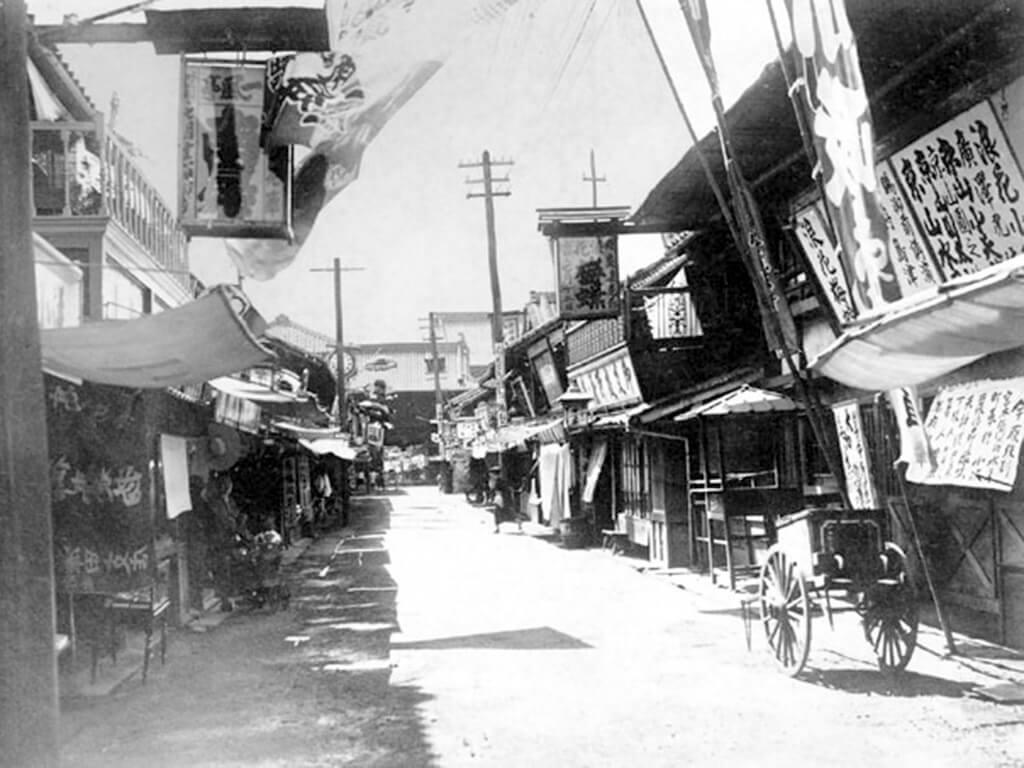 With the construction of Nagoya Castle at the beginning of the 17th century, a city was born that would become Nagoya.
The birth of the Osu district happened during that same time when in 1612 the temple Shinfukuji was relocated to its current position on the west side of Osu district and renamed to become Osu Kannon.
After the relocation, the first businesses were founded around the temple and the area started to grow and develop gradually to what it has become today.
After the second world war, Osu struggled to stay relevant as nearby Sakae became the popular center for shopping with new department stores. Access to Osu wasn't as convenient, and previously popular movie theaters in the area went out of business with the popularity of the television.
These and other challenges made Osu into a ghost town with more closed shutters than open shops.
An intervention was necessary, and Osu managed to become relevant again after inviting electronics stores to open, turning it into a second Akihabara, a heaven for computer geeks and Otaku alike.
Start your Explorations at Osu Kannon Temple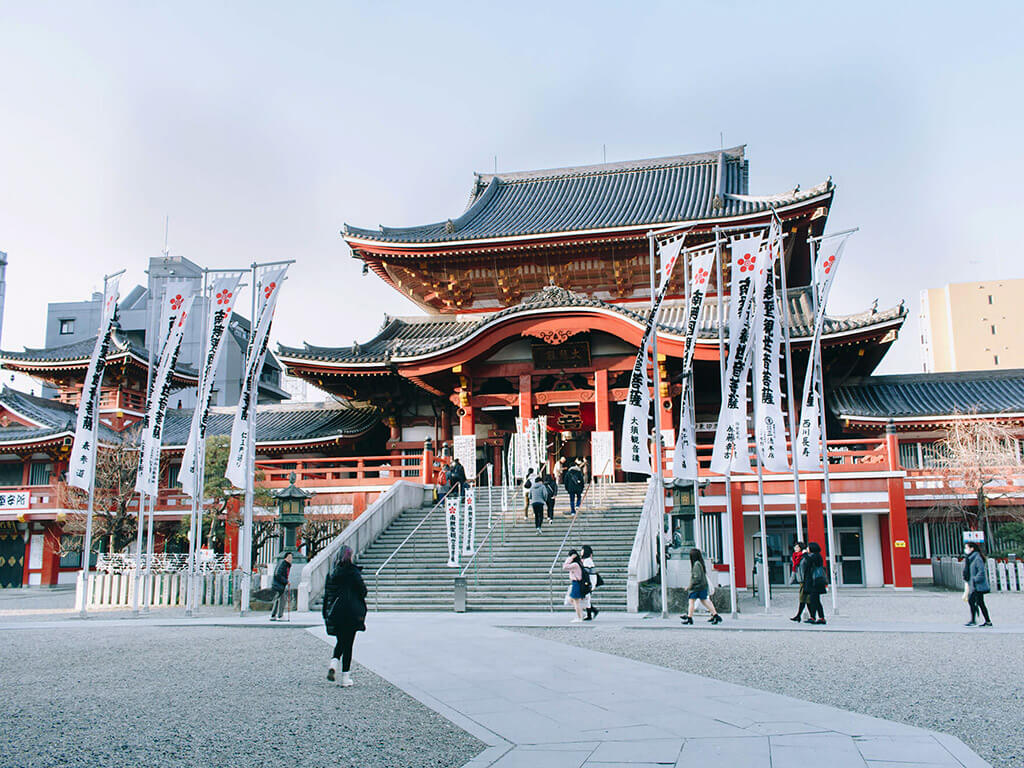 The original Osu Kannon was unfortunately destroyed during World War II and the current buildings are 20th-century reconstructions. This doesn't make the Buddhist temple any less impressive, though.
Osu Kannon is dedicated to the goddess of mercy depicted in a delicate wooden carving. If you would like to pay your respects and make a wish at the temple, walk up the steps, make an offering in the form of a single coin, put your hands together and bow your head while making your prayer.
For more tips on how to behave at a temple or shrine in Japan, and our top recommended shrines and temples to visit in Nagoya, check out this post.
Underneath the temple is the Shinpukuji Library with more than 15,000 Japanese and Chinese historical texts many of which are important cultural treasures including the oldest copy of the Kojiki, one of the first history books of Japan. Unfortunately, the library is generally not open to the public.
Shop Till You Drop at the Osu Shopping Street
The shopping arcades in Osu span more than 1700 meters and include more than 1200 businesses. There are 8 main streets, all of them are color-coded with regular signposts reminding you where you are and making it really easy to find your way around. The shops in Osu sell anything from electronics, clothing and shoes, second-hand items, sundries, and appliances.
Bargain Hunting Mania When Second-Hand Shopping in Osu
Osu is the place to go if you are looking for a bargain. It is famous for having a selection of second-hand stores.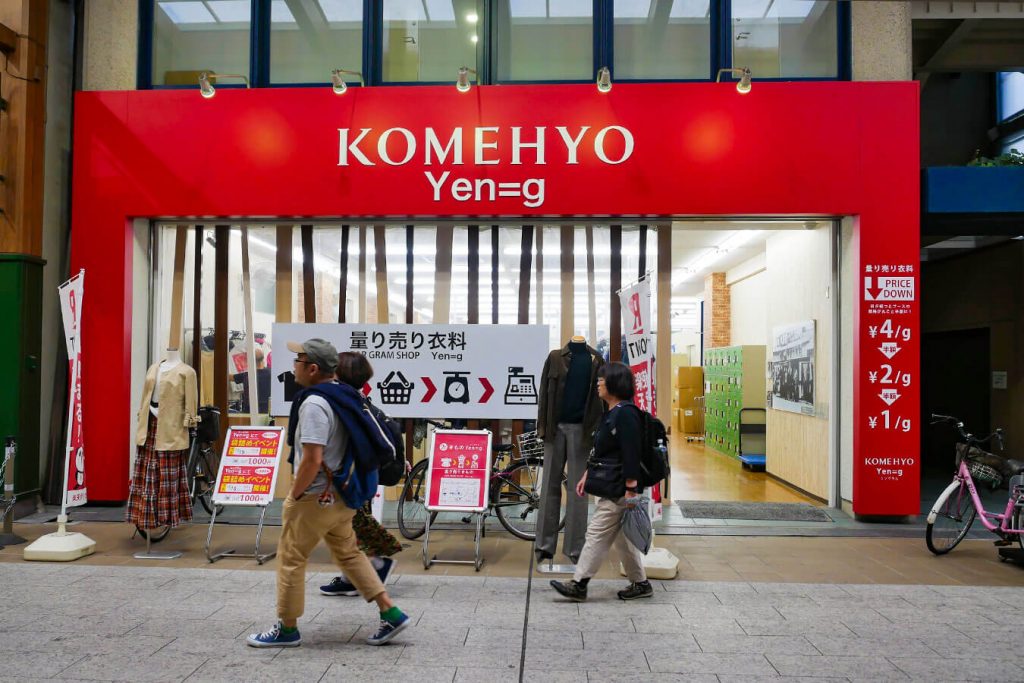 One store worth mentioning, in particular, is Komehyo, a gigantic second-hand mall.
There are three different outlets of Komehyo in Osu. One specialized in Kimono, another selling only musical instruments, and the third one specializing in all kinds of brand items including bags and watches.
You will get everything at discounted prices so check if you find anything to your liking.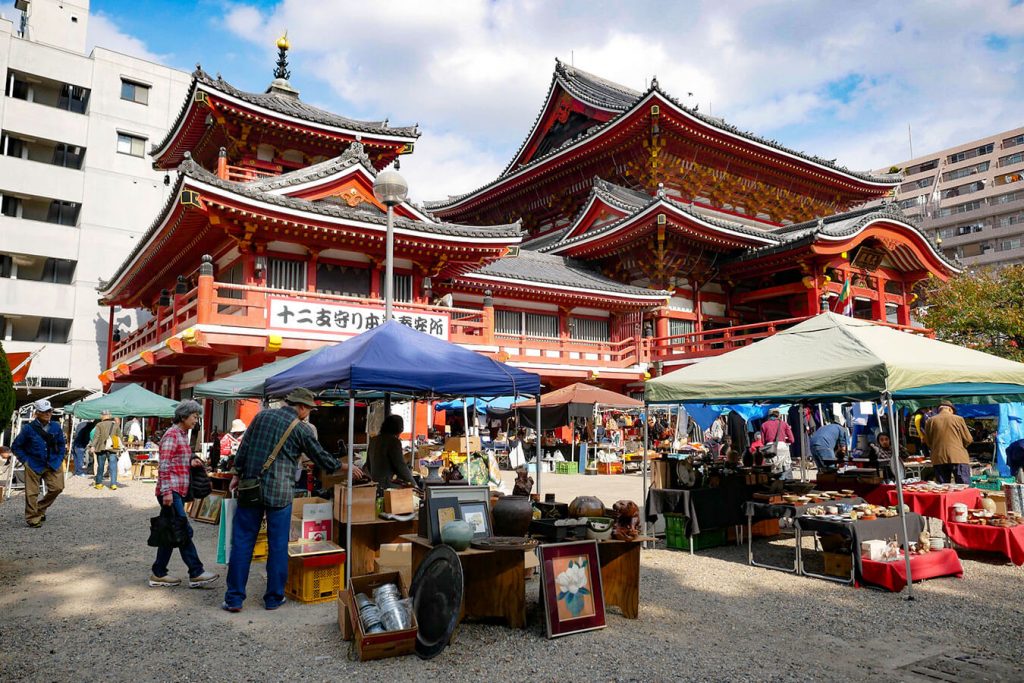 Another great opportunity to buy second-hand is the antique flea market held twice a month on the 18th and 28th around Osu Kannon. With around 60 stalls selling beautiful antiques, second-hand goods, and even souvenirs to locals and tourists alike.
Anime, Manga, Figurines, and Games – Heaven for every Otaku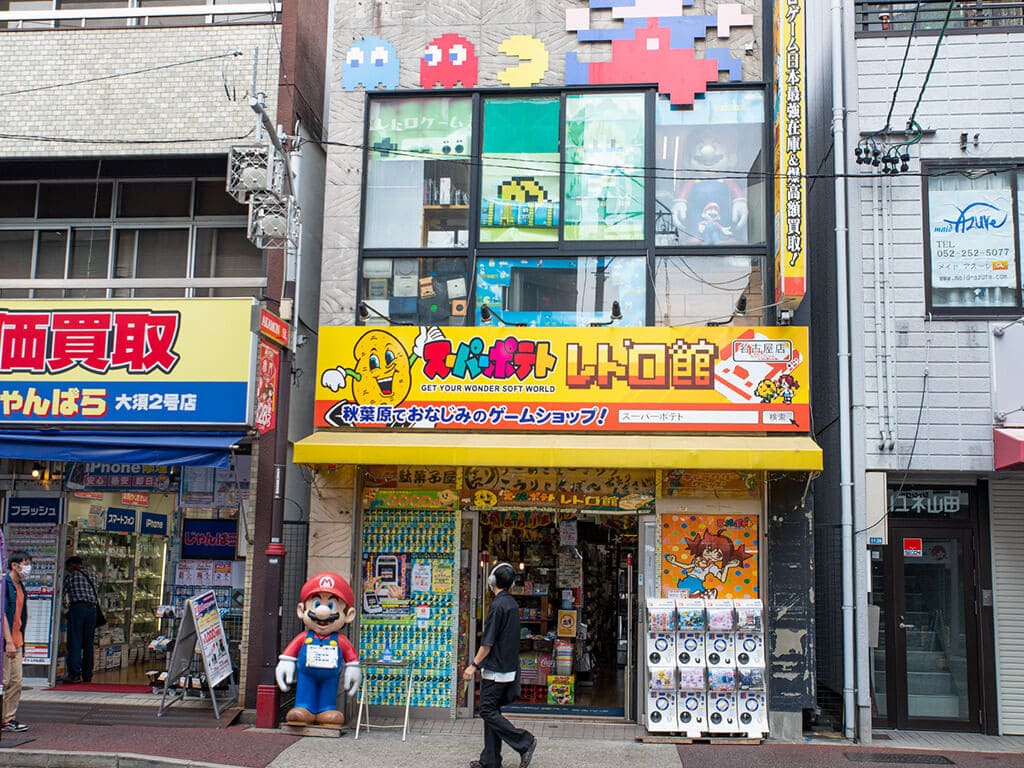 Many of the shops in Osu cater to so-called Otaku, people who love Manga, Anime, and Cosplay. There are shops selling costumes, playing cards, video games, figurines, and anything else the Otaku heart desires.
Read this post for shop recommendations around Osu, Sakae, and Nagoya Station.
Japanese Clothing as a Souvenir – Kimono Shopping in Osu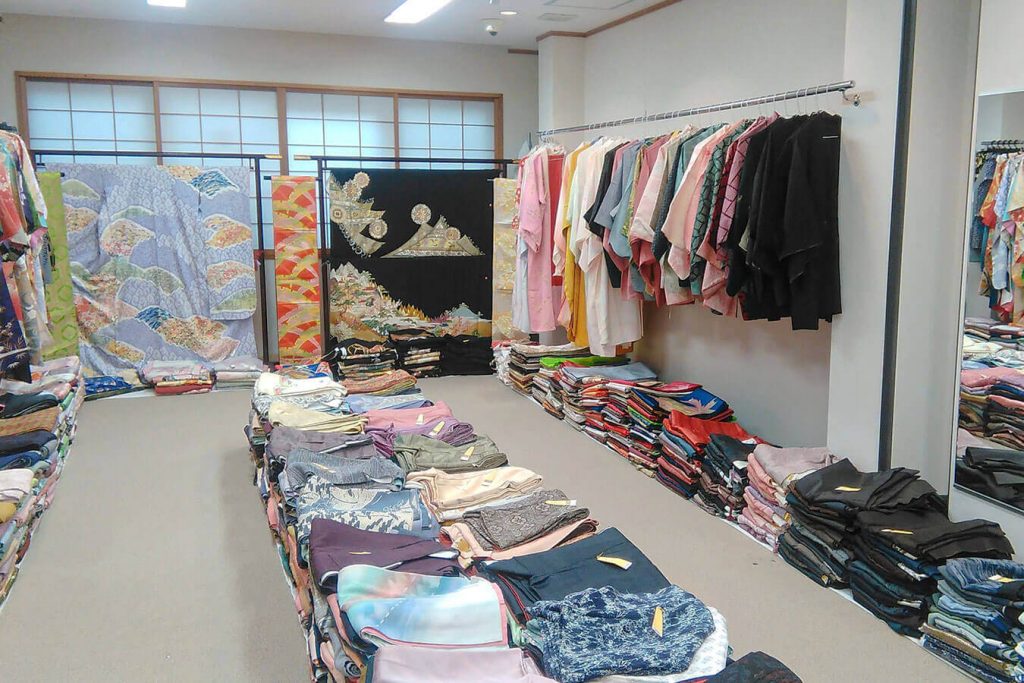 The best place to buy a cheap Kimono in Nagoya is Osu. As you will find Kimono shops at literally every corner here. They sell all kinds of Kimono as well as accessories at every price point, from extremely cheap used items to valuable and rare handcrafted pieces of clothing.
Check out this article to find out more about Kimono shopping in Osu.
Osu: a Street Food Paradise
If you are interested in trying Japanese street food, Osu will feel like paradise to you. Every street is lined with hundreds of shops selling savory as well as sweet examples of local specialties as well as national favorites.
We recommend trying Miso Kushi Katsu, deep-fried pork skewers with Miso sauce, from Yabaton, Agemanbo, deep-fried dumplings filled with red bean paste, from a traditional Japanese sweets shop called Nayabashi Manju.

Food shops include old traditional Japanese restaurants selling popular local dishes like Miso Nikomi Udon, and Hitsumabushi and new trendy stores that just opened recently selling rolled ice cream, cute and colorful donuts, and of course bubble tea.
You will also find the biggest concentration of international cuisine in Osu.
There is a famous Brazilian restaurant right next to a Vietnamese shop selling Pho, and you will come across countless Turkish stalls selling kebabs and Turkish ice cream. And then there are Italian restaurants, a Mexican-style taco place, a Thai place, and Indian restaurants selling delicious curries.
Many maid cafes, where young waitresses in cute maid costumes greet their guests in high-pitched voices, can be found in Osu and it is said that the whole phenomenon started out from Osu and then spread across the country.
If you want to visit one yourself, we can recommend Maidreamin a very foreigner friendly establishment.
Experience Osu's Culture in a Unique Way
Shopping and eating are definitely entertaining, but here are some more ideas on how you can dive even deeper into the culture of Osu.
Osu x Kimono: Enjoy Nagoya's Vintage Arcades in a Kimono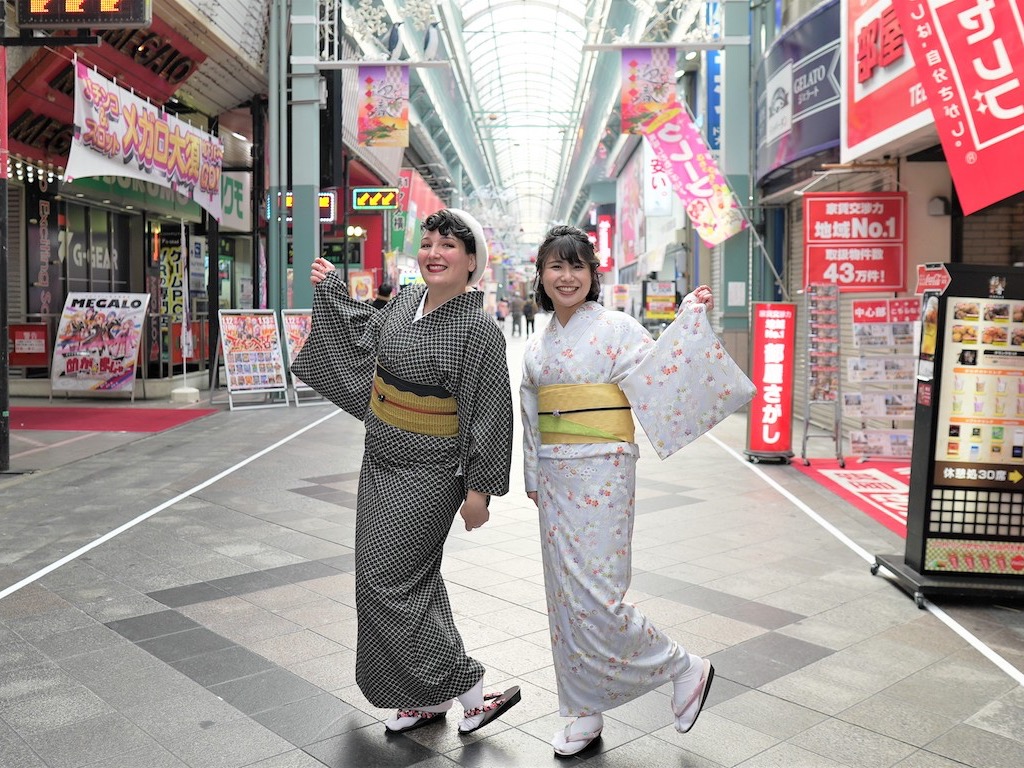 We told you you can shop FOR Kimono in Osu. But you can also shop IN a Kimono in Osu. By getting dressed in a Kimono by a professional Kimono master. The experience includes getting recommendations for a Kimono pattern that best suits you as well as an Obi (Kimono belt) to go with it.
The master takes care to dress you with great attention to detail and make sure everything fits. You can also wear shoes that are surprisingly comfortable, perfect for your walk around the area.
You also have the option (at an additional charge) to get your hair done in a cute style (perfect if you are planning on taking pictures) and even get valuable tips on how to walk, and pose, and also important etiquette related to wearing Kimono.
Once you are ready you can explore the shopping streets in style, and take lots of pictures to commemorate the occasion.
Craft Metal with a Buddhist Altar Metalwork Master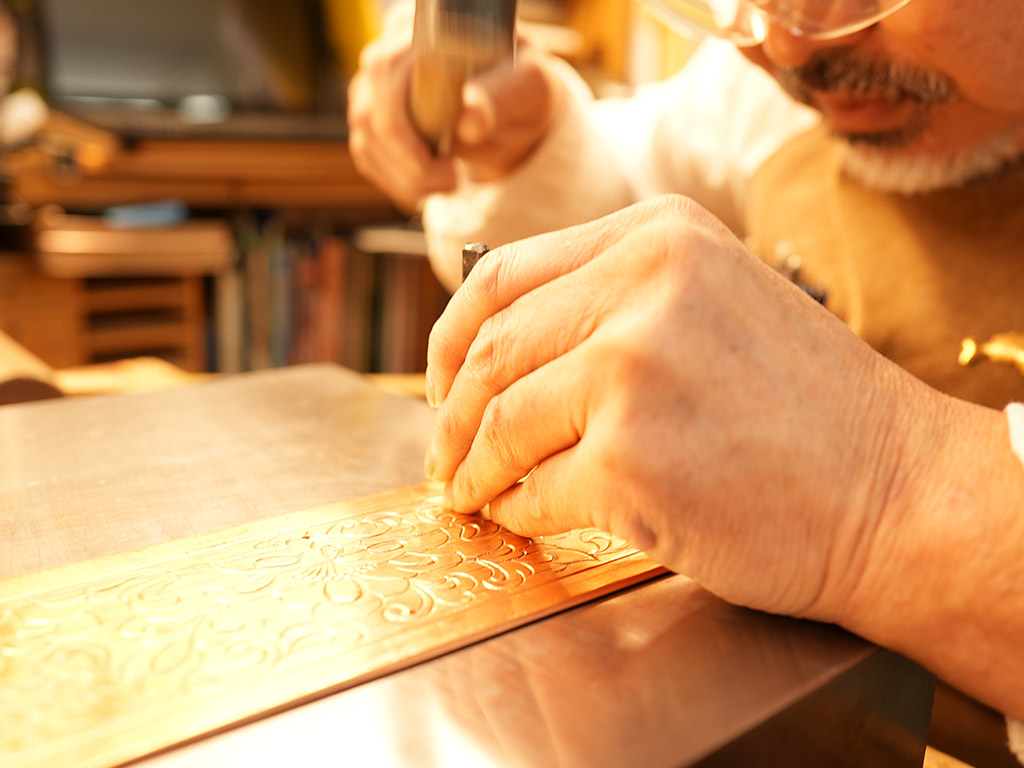 After visiting Osu Kannon or really any Japanese temple (big or small) you will probably be impressed by the beautiful wood and metalwork decorating the altar. If you want to learn more about the craftsmanship behind traditional art, you can join a unique experience.
Owari Butsugu is the name of the type of Buddhist artifacts produced in Nagoya since the founding of the city in 1610. They are characterized by to use of local wood, lacquered finishes, and detailed and delicate metalwork.
During this experience, you will learn more about this tradition from a metalwork master and even try your own hands at creating a small metal item such as a cardholder, accessory, or small tray.
You can learn more about this activity and book here.
Join the Fun at One of the Colorful Festivals of Osu
Each season is a new opportunity to celebrate for the people in Osu.
Throw Beans at the Setsubun Festival at Osu Kannon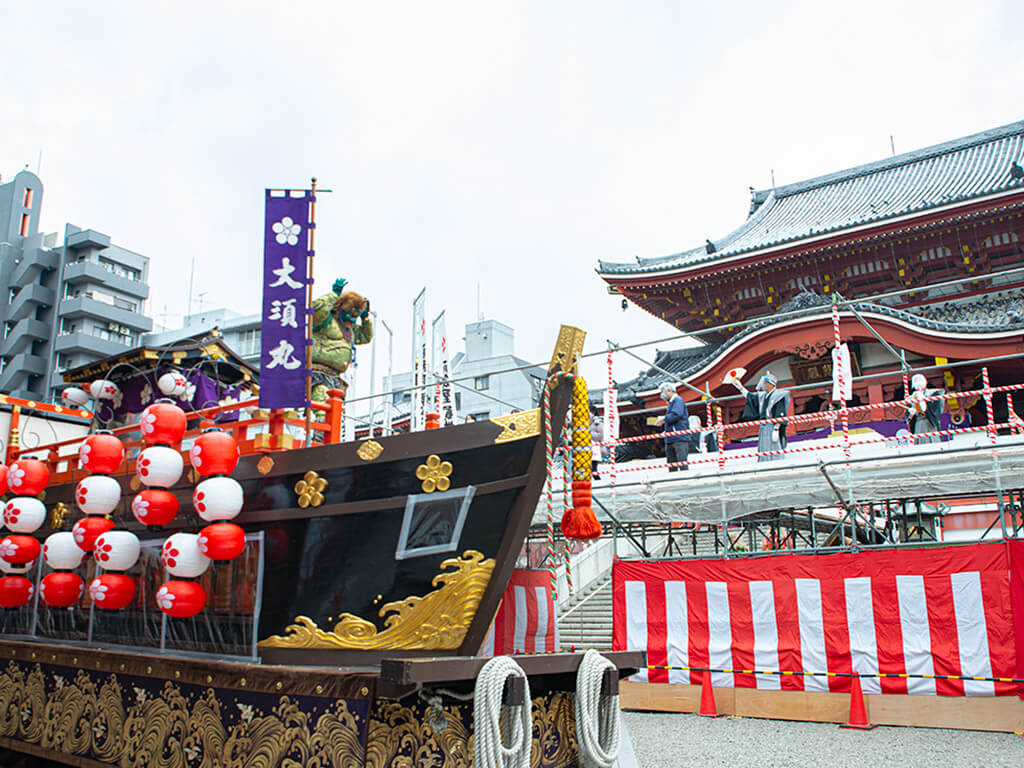 Setsubun is a festival held every year on the 2nd and 3rd of February all over the country. It marks the changing of the season from winter to spring.
At Setsubun, evil in the form of Oni, Japanese demons or devils, are being driven out by throwing beans.
You can participate in this bean throwing event at Osu Kannon from 10 in the morning to 6 in the afternoon while shouting 'Fuku wa Uchi' meaning luck comes in.
There are also lively parades with music and treasure ships of the God of Happiness, and the God of Good Luck.
Hand-Held Fireworks at the Osu Summer Festival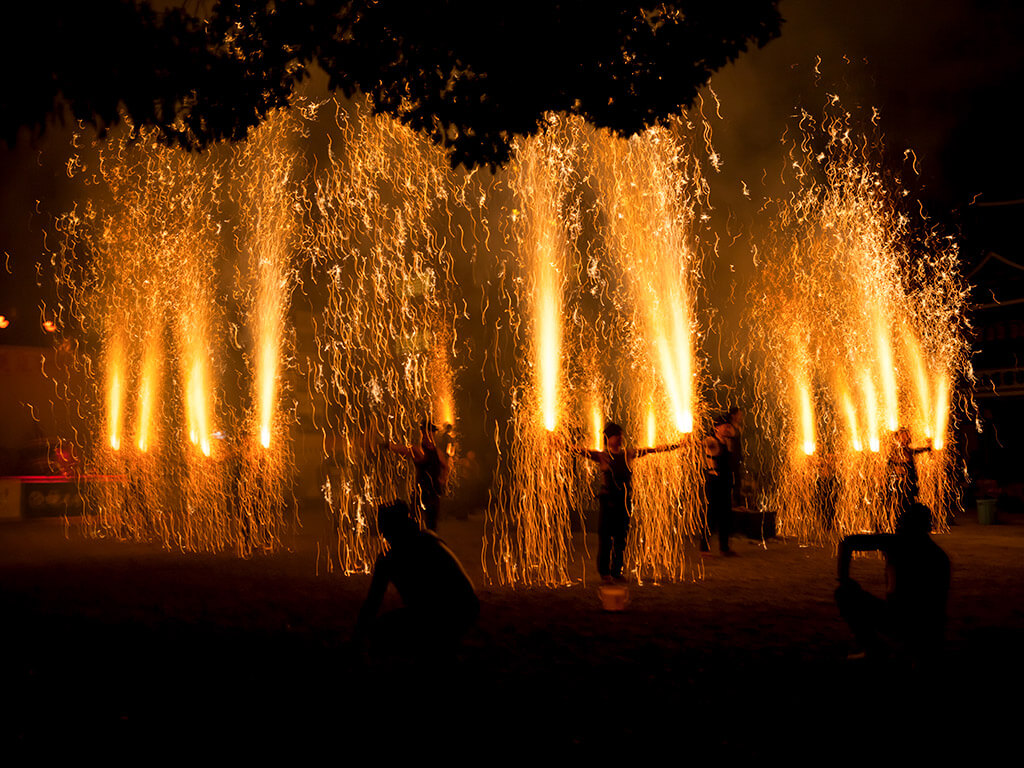 The Osu Summer Festival takes place each year in late July or early August.
During the festival period, many parades make their way through the streets of Osu. There is a cosplay parade with more than a thousand participants, a samba parade that reminds strongly of the carnival in Brazil, and more traditional Japanese parades such as Awa-dancing and Bon-dancing parades.
There is a big stage in the center of the festivities with different performances during the two days.
At night the place around Osu Kannon turns into a Bon dance area where anyone can dance and have fun learning traditional Japanese dance moves. Don't worry it is easier than it sounds.
The festival comes to a grand finale with an amazing hand-held fireworks display.
Get up Close with the Performers at the Osu Street Performers Festival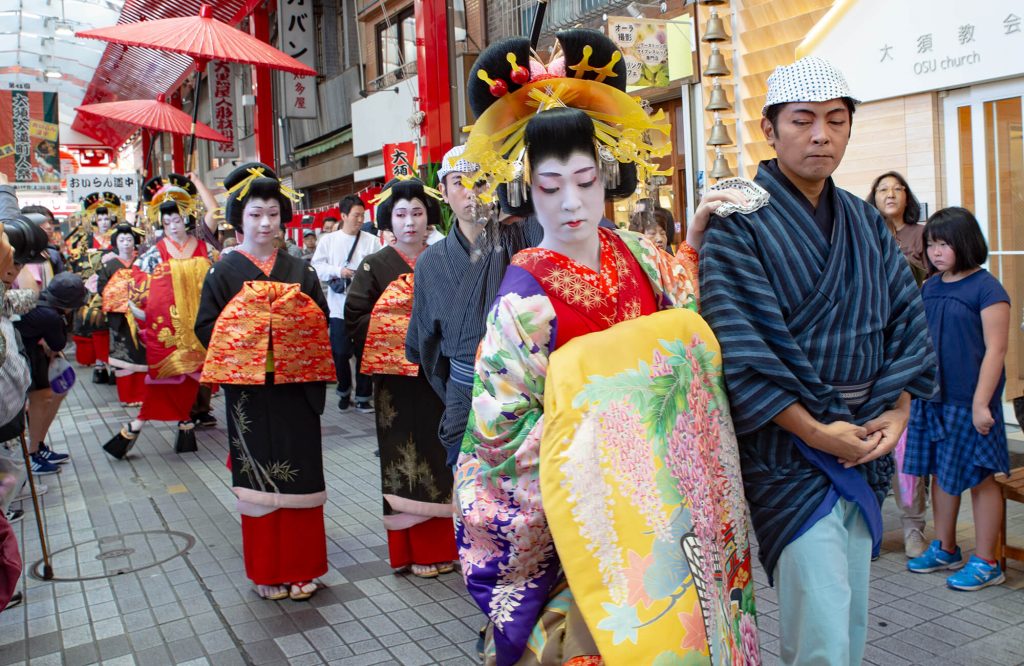 While street performer festivals have become popular all over Japan, it is said that the birthplace of such festivals was in the streets of Osu.
Street performer festivals are so popular because it is possible to get up close to performers like jugglers, dancers, mimes, and other artists as they perform in the streets.
One of the highlights is the Oiran procession. Oiran are the courtesans of the Edo Period (1603-1868) who used to populate Osu when it was still the red-light district and entertainment center of Nagoya.
In commemoration of the history of Osu, women selected in open audition wear beautiful Oiran garb weighing around 20 kilograms and proceed through the streets of Osu.
A Must for every Cosplayer: The World Cosplay Summit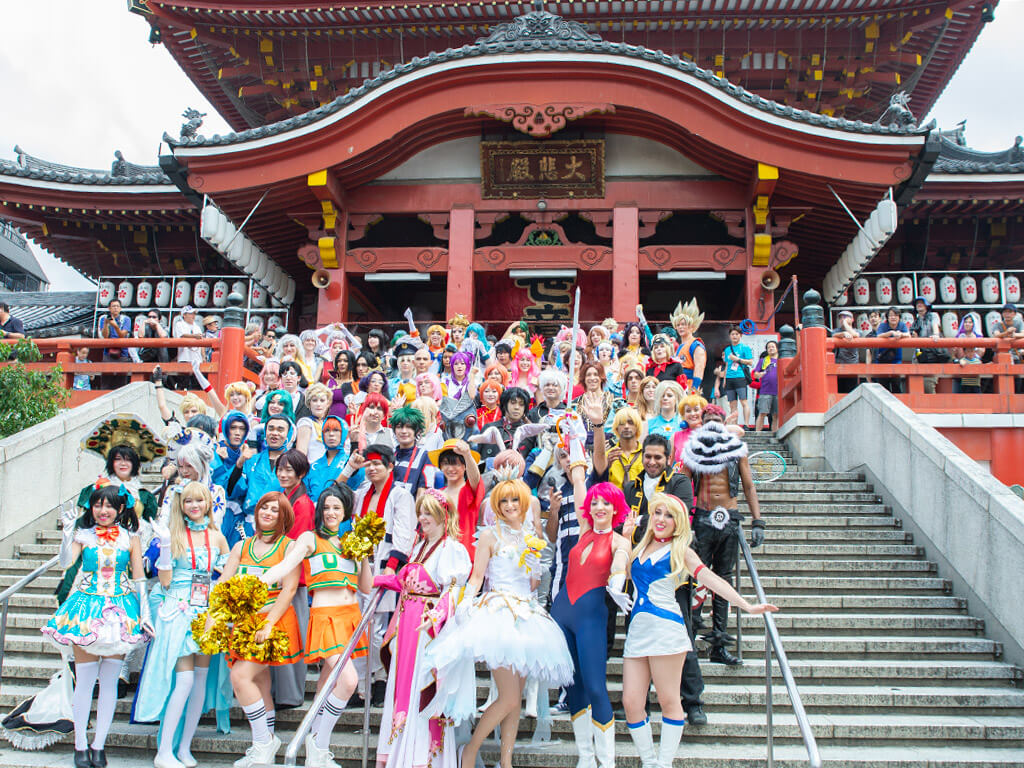 In Japan, the World Cosplay Summit, also known as WCS, is one of the biggest cosplay contests. It is actually one of the biggest in the world.
Every year since 2003 the best cosplayers from more than 40 countries and regions gather in Osu to compete for the best cosplay in the world. It is a 9-day long event held every year in late July or early August.
Find out more about the World Cosplay Summit.
How to Get to the Osu Shopping District
From Sakae district, you can either walk to Osu, which takes about 20 minutes, take a bus which takes about 6 minutes and costs 210 yen or take the subway Meijo Line from Sakae Station to Kamimaezu Station. This option takes just 3 minutes and costs 200 yen.
To get from Nagoya Station to the west side of Osu where the Osu Kannon is located, take the Higashiyama line to Fushimi station and then change to the Tsurumai line to Osu Kannon Station. The ride will cost 200 yen in total and take about 9 minutes.
Where to Stay in the Heart of Osu
Even though Osu is a favorite tourist destination in Nagoya, there are not many hotels located here. Still, it is a very convenient place to stay, in the center of the city with lots of things to do nearby.
Abest Osu Kannon Ekimae Hane no Yu
Abest Osu Kannon Ekimae is a 3-star hotel just a couple of meters from Osu Kannon and the closest subway station called Osu Kannon Station.
They offer simple rooms with typical amenities such as free toiletries and a hairdryer in the bathroom, a refrigerator, TV and an electric kettle.
The highlight of this hotel is the public bath available to all guests. It also features a sauna.
Book your stay at Abest Osu Kannon Ekimae on booking.com or check it on Agoda.
Trip & Sleep Hostel
Trip & Sleep Hostel is a very popular and modern accommodation in the center of Osu district.
They have dormitory-style rooms as well as private rooms with shared bathrooms. You can even book a Japanese-style room with Tatami mats and Futon beds.
Guests can hang out in the shared lounge to make new friends and use the kitchen to prepare meals.
Check the prices of Trip & Sleep Hostel on booking.com and compare with Agoda to get the best deal.
---
Did you enjoy this article?
Make sure to also check out our other posts about Nagoya and trust us if we say Nagoya is not boring!
Be sure to follow us on Facebook for new articles every week, and see our Instagram for pictures and stories about Nagoya!
Tag us 📲
If you have visited Osu before, share your experience and tag us on social media with #nagoyaisnotboring