Are you looking for a place to relax, and maybe recenter yourself while traveling in Japan? A location where you can fully immerse yourself in relieving stress and healing not only your body but your mind and soul as well?
Nagoya is that place! A place where you can spend a full day focusing on your own physical and mental wellbeing by visiting spiritual sights, having cultural experiences, and sampling healthy nourishing local foods and drinks.
From Nagoya Airport to Nagoya Station and Beyond!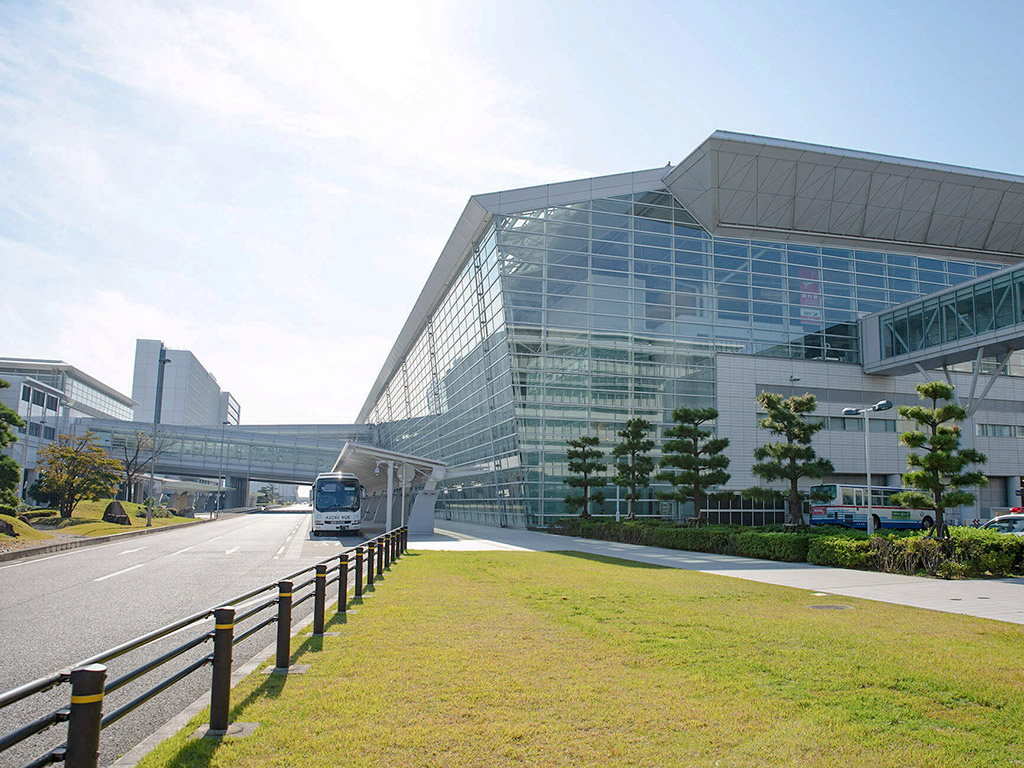 The most convenient point of access to Nagoya from abroad is Central Japan International Airport, often referred to as Centrair.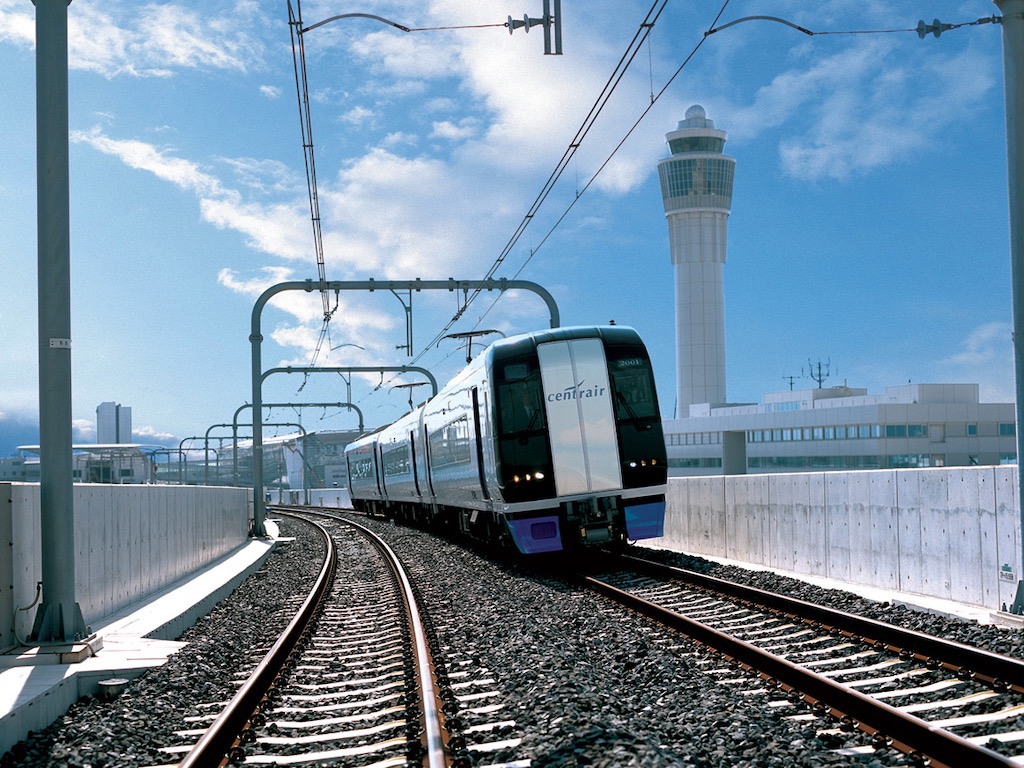 If you want to get a running start at finding yourself again, head straight to the Access Plaza from the arrivals hall. To your left, you will find the Central Japan International Airport Meitetsu Train Station. The train is the most convenient way to get to Nagoya, quick, cheap, and comfortable, especially if you reserve a seat in the Limited Express train called Myu Sky (stylized as μSky). You can even go a step further and buy your train tickets now here to secure yourself a smooth arrival to the city.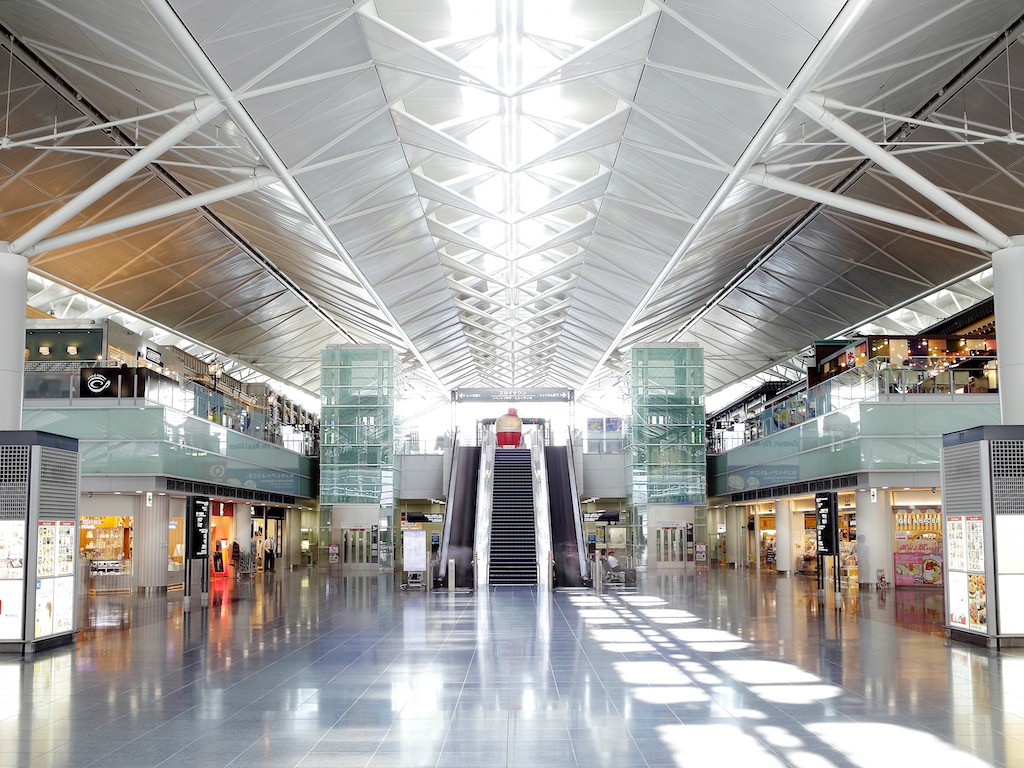 You don't have to leave the airport right away though. The airport is an attraction in its own right with shops and restaurants. Find here everything you need to know about the airport and discover all the interesting places and activities.
Nagoya's Number One Spiritual Spot: Atsuta Shrine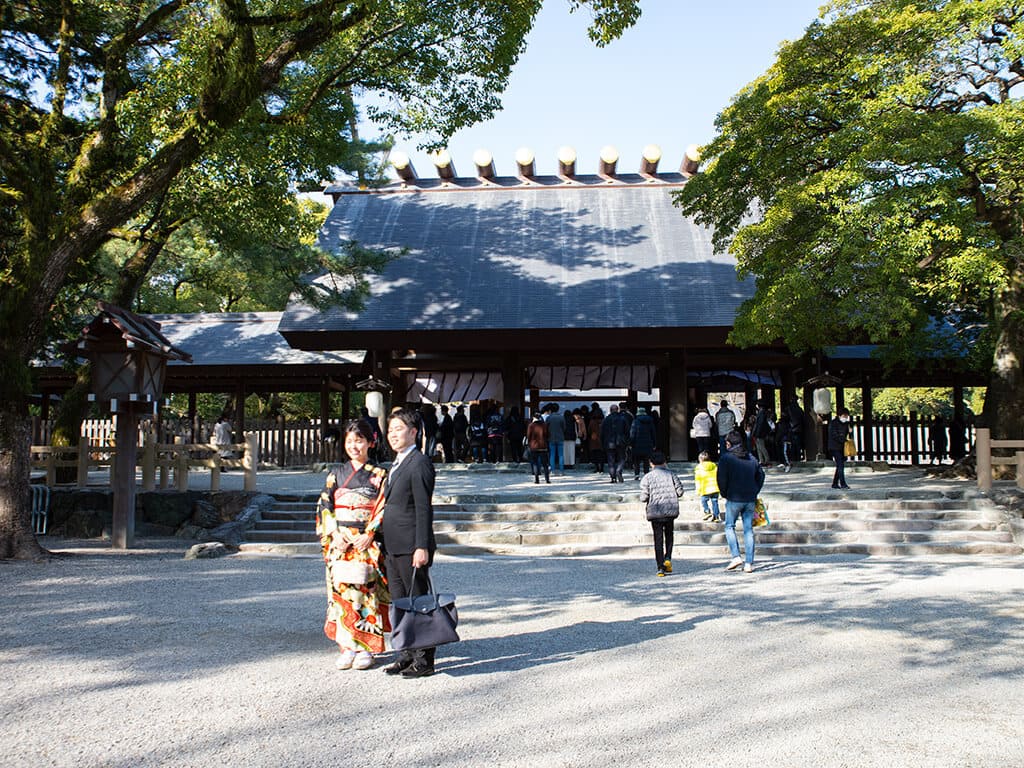 From the Airport ride the Limited Express train for 30 minutes to Jingu Mae Station where you will find your first stop of the day: Atsuta Shrine.
This place of worship is one of the foremost Shinto shrine in Japan, and a real spiritual spot, where you can feel in-tune with nature and the surrounding elements. Taking a stroll around the spacious grounds surrounded by old trees, dotted with small shrines, and listening to the sound of nature is like a walking meditation. It is an oasis in a bustling and industrious city and many devotees and tourists alike flock to this sacred place.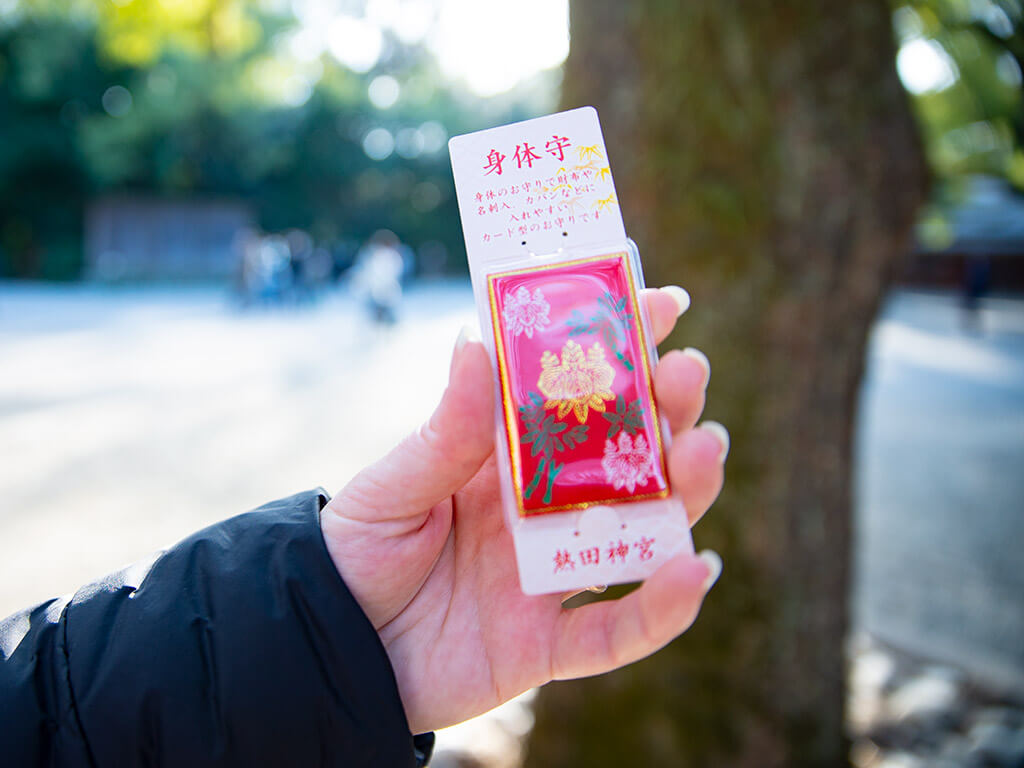 If you came here to find new energy and to stay healthy in the future we recommend getting an Omamori, a lucky charm. At Atsuta Shrine you can choose between 3 different Omamori just for your health, but there are also other kinds of charms for finding love or success, or for passing difficult exams.
Atsuta Shrine (熱田神宮)
Entry Fee: free
Opening Hours: open 24 hours
Address: 1-1-1 Jingu, Atsuta Ward, Nagoya, Aichi 456-8585
Google Maps
If you want to learn a bit more about the two major religions in Japan, Shinto and Buddhism, as well as a quick introduction to important manners read this post. It will also help you discover more shrines and temples in Nagoya worth a visit.
Miso Nikomi Udon – Local Lunch for Gut Health!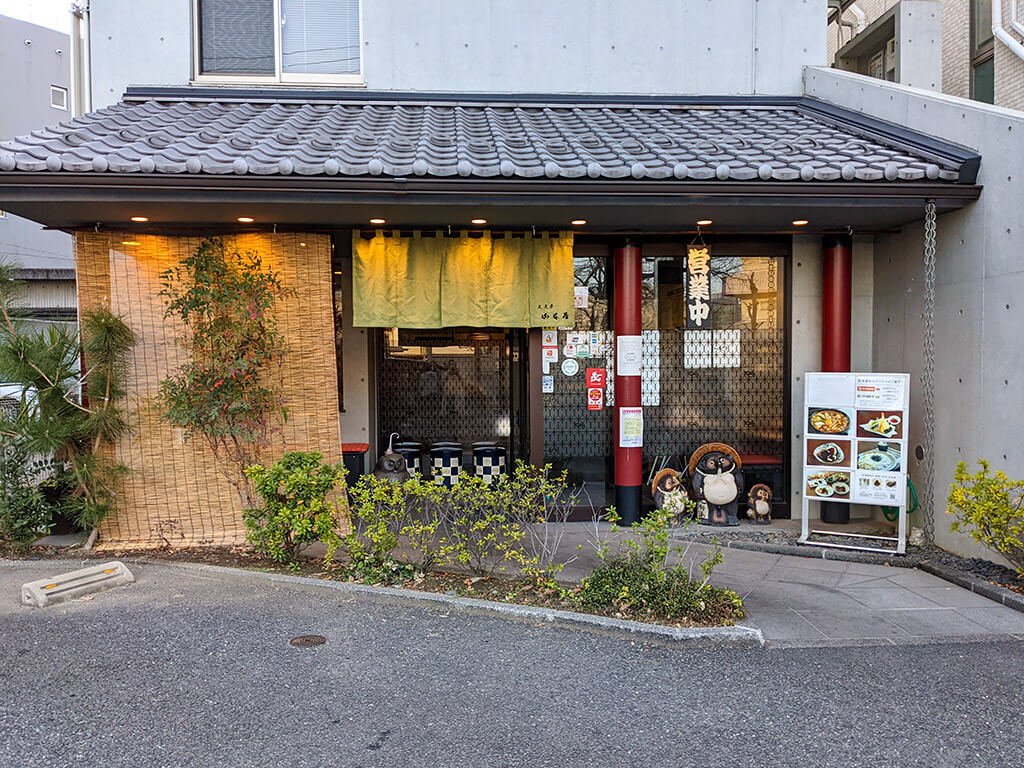 After nourishing your soul at Nagoya's most spiritual location it is time to nourish your body with healthy local food.
Take the subway to Fukiage Station and from there it's a 5-minute walk to Yamamotoya Okute, a restaurant serving the local Nagoya food called Miso Nikomi Udon, thick wheat flour noodles in a hot Miso-based broth topped with green onion, fish cake, and egg.
At first glance, Miso Nikomi Udon doesn't look too impressive because of its dark reddish-brown color, but when you get your first whiff of the salty and rich scent, it is difficult to wait for your first mouthful of piping-hot noodle soup to cool down enough for a first taste.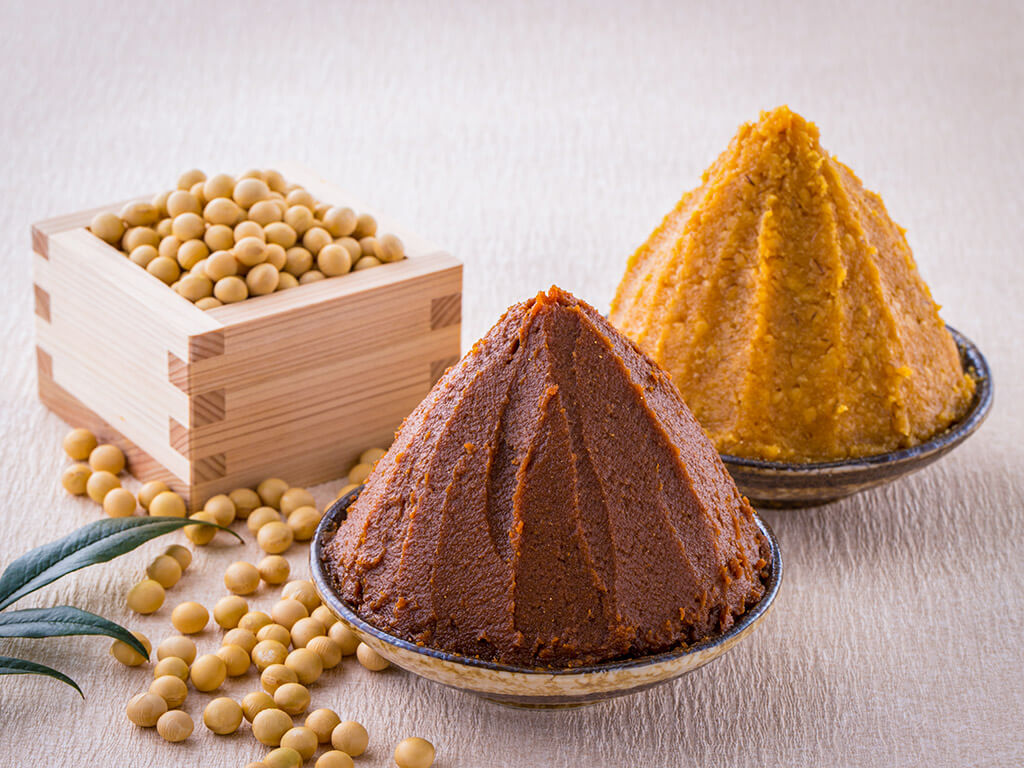 The star ingredient of Miso Nikomi Udon is Miso, a fermented soybean paste, and real health food, that in recent years is gaining more and more popularity even outside of Japan with health-conscious people. As a fermented food, Miso provides the gut with beneficial bacteria that help us to stay healthy, vibrant, and happy. It is also rich in vitamins and other essential minerals.
Miso, especially red Miso, popular in Nagoya has a rich and salty taste to it, unlike any ingredient found in western countries. It makes foods taste savory and fulsome, which is especially great news for anyone who has ever complained about Japanese dishes being too bland.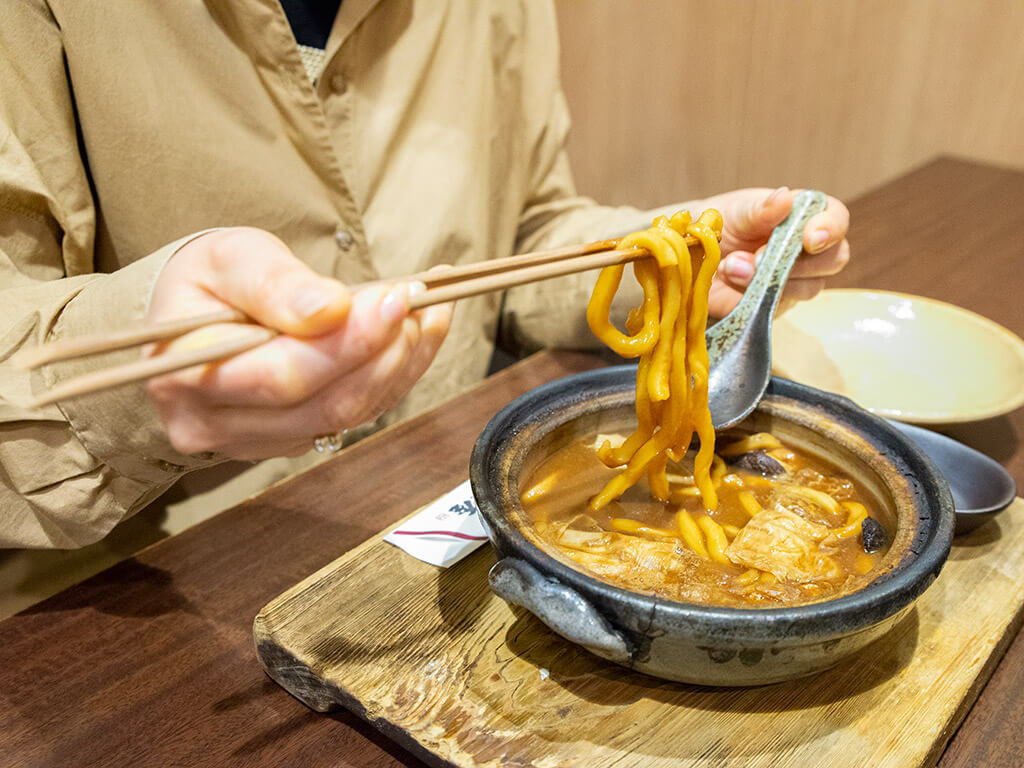 If you were just thinking "Miso Nikomi Udon sounds great, but I am vegan", we have great news. Yamamotoya Okute is one of the only restaurants in Nagoya offering a vegan food menu including their staple dish Miso Nikomi Udon. The broth is made from Shiitake mushrooms instead of dried bonito fish flakes, and there is no egg or fish cake as a topping, instead, they use Tofu skins, a Japanese delicacy, and deep-fried tofu.
Compared to the regular Miso Nikomi Udon the vegan version tastes lighter because of the mushroom aroma coming from the broth, and the overall texture is less creamy without the egg. Apart from Miso Nikomi Udon you can savor other vegan local delicacies like Oden or Tenmusu.
Yamamotoya Okute (山本屋 大久手店)
Opening Hours: 11:00 – 22:00; closed Mondays
Address: 5-9-2 Okutecho, Chikusa Ward, Nagoya, Aichi 464-0854
Google Maps
If you want to learn more about the local food of Nagoya you can either read this article or join a Specialties of Nagoya Food Tour, 3.5 hours tasting a wide variety of local dishes and snacks while learning about history, food culture, and Nagoya in general. (Currently not available for vegetarian or vegan travelers)

Get Body and Mind Back into Balance with Japanese Traditional Medicine!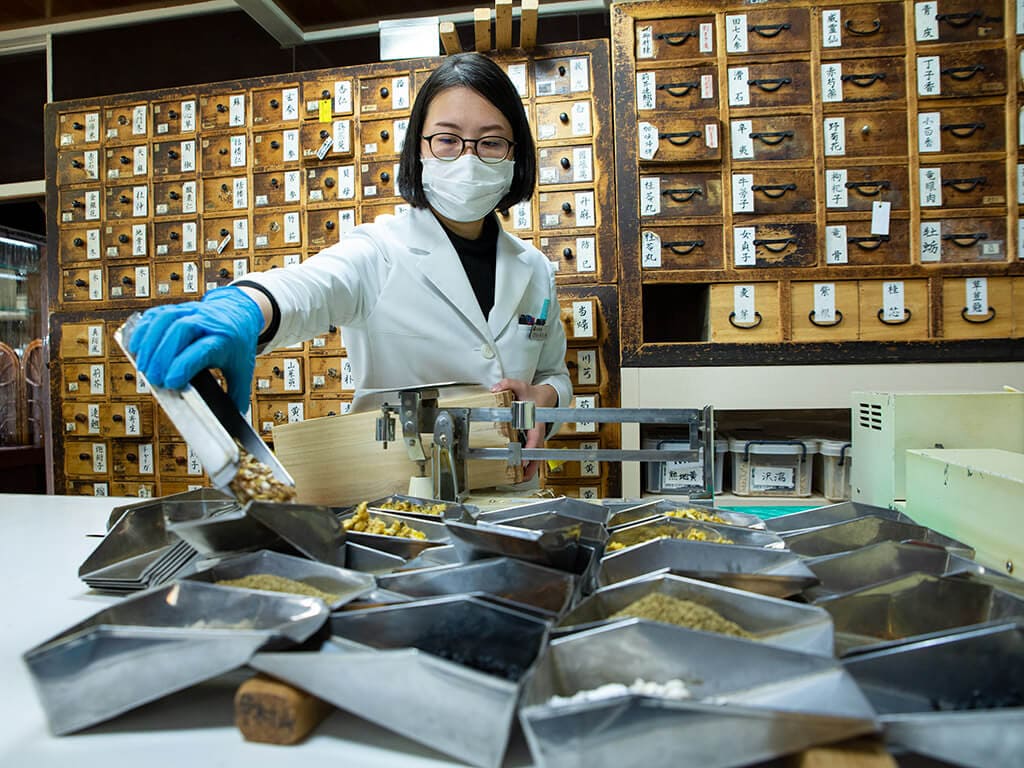 Herbal medicine or Herbalism is a great way to support your physical and even mental health without the use of chemicals found in modern supplements and medicine.
Japan was introduced to herbal medicine from China around the 5th to 6th century. And Nagoya was actually one of the centers for medicine during the Edo Period (1610-1868) as it was supported by the rulers of the region.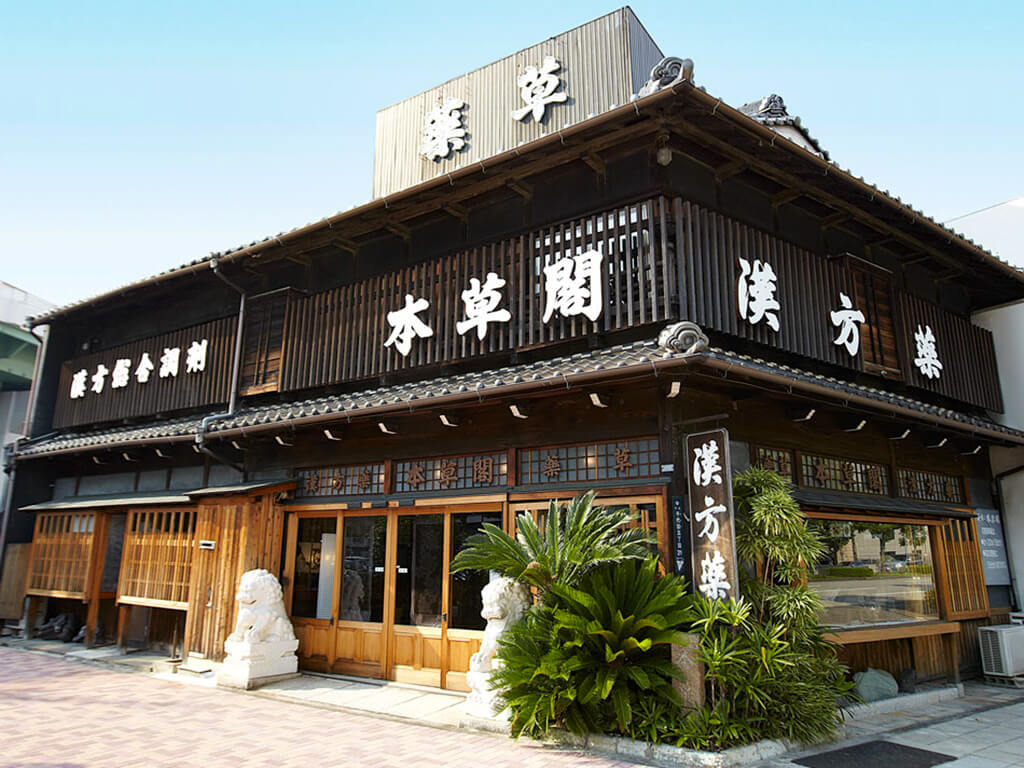 Honsokaku is a traditional Japanese medicine clinic with a history of more than 190 years. Not only the exterior of the building but also the interior and the many small details speak to a long history.
You can consult with a doctor and pharmacist and they will combine many kinds of herbs to prepare the Japanese herbal medicine called Kampo, a tea-like medicine, that is boiled and drunk 2 or 3 times per day. Kampo supports your overall health.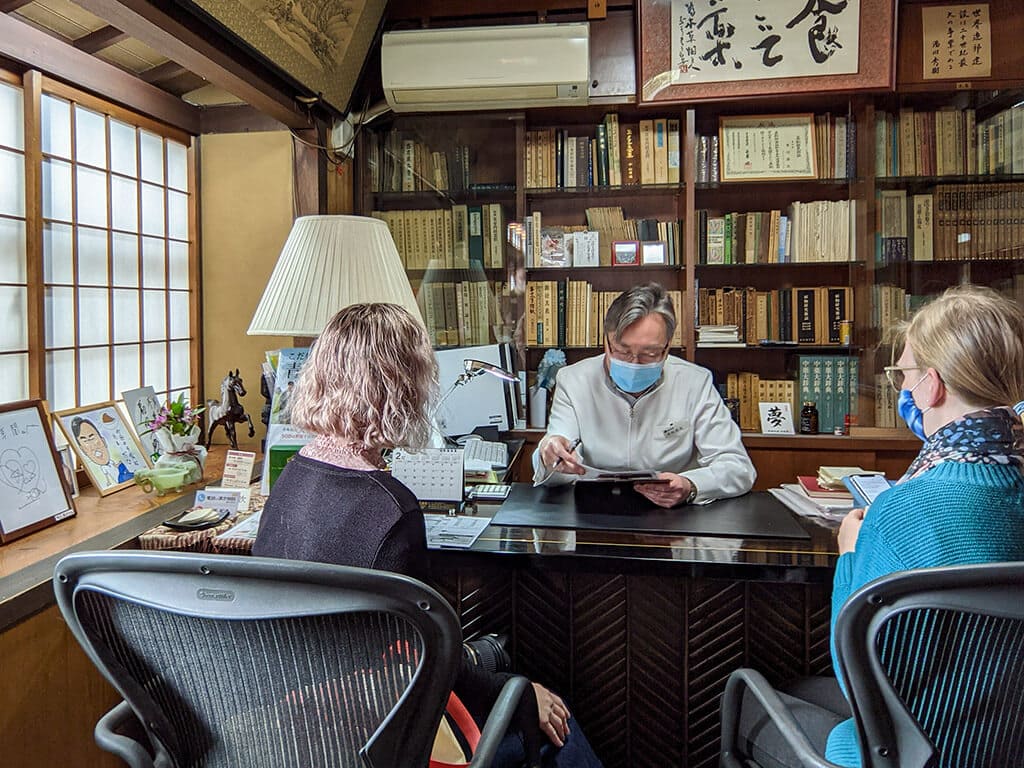 The initial consultation fee is 1,000 to 3,000 yen (price depending on the doctor in charge) and the medicine costs extra.
For international clients, you can get your personal recipe and find a herbalist in your country to continue the treatment. Online consultations with a Honsokaku doctor are also possible at an additional charge.
To make an appointment you need to reserve via email in advance. Please also send along a brief overview of your current health status in English.
If you have never been to a traditional medicine clinic before it is quite an interesting experience. During your one-hour consultation, the doctor will not only ask about your physical wellbeing but also your state of mind. Based on your answers he will explain which of the five elements in your body are out of balance and how the herbs will help balance them again.
To get to Honsokaku from the restaurant Yamamotoya Okute, take the subway to Tsurumai Station.
Honsokaku (本草閣)
Opening Hours: 10:00 – 19:00; closed Thursdays and Sundays
Address: 5-21-17 Chiyoda, Naka Ward, Nagoya, Aichi 460-0012
Google Maps
Website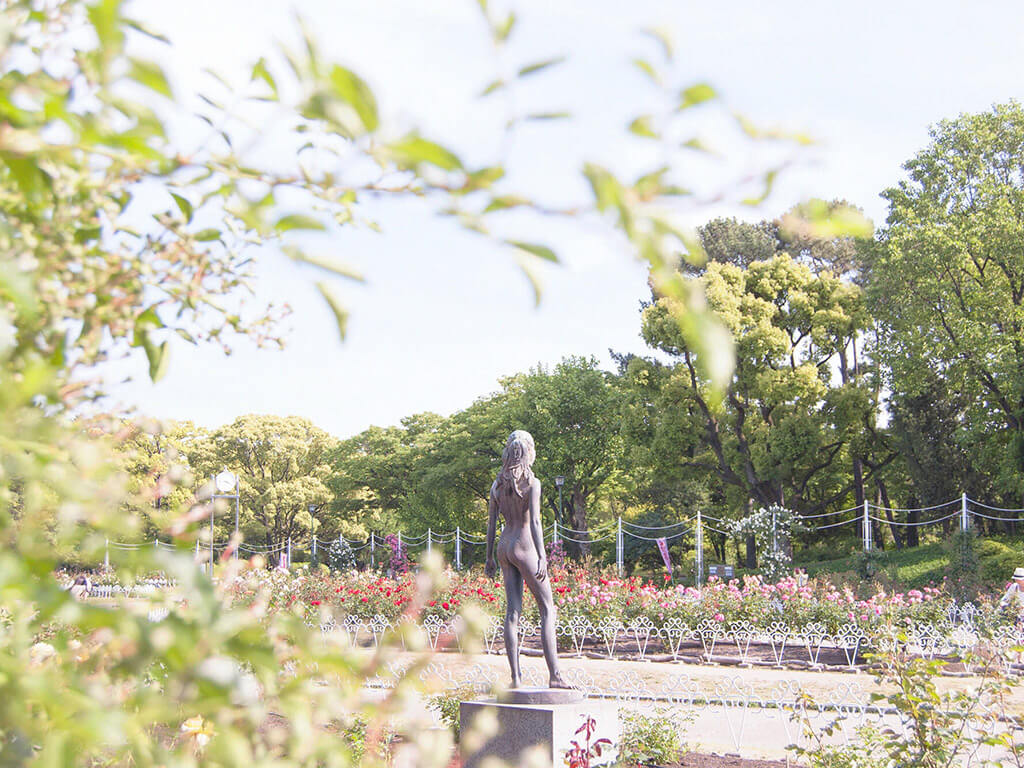 At Tsurumai Station, you will also find Tsuruma Park, a great place for a relaxing walk in Nature after your appointment. Tsuruma Park is especially beautiful during cherry blossom season at the end of March/beginning of April, but also during June-July to see the hydrangeas (during early morning or late afternoon) and late November to the middle of December to see the colorful autumn leaves.
For such an industrial and modern city Nagoya has a lot of bigger and smaller parks and gardens. We especially love the Shirotori Landscape Garden. Find out more about it and other parks and gardens in Nagoya here.
Have a Rest at a Japanese Teahouse.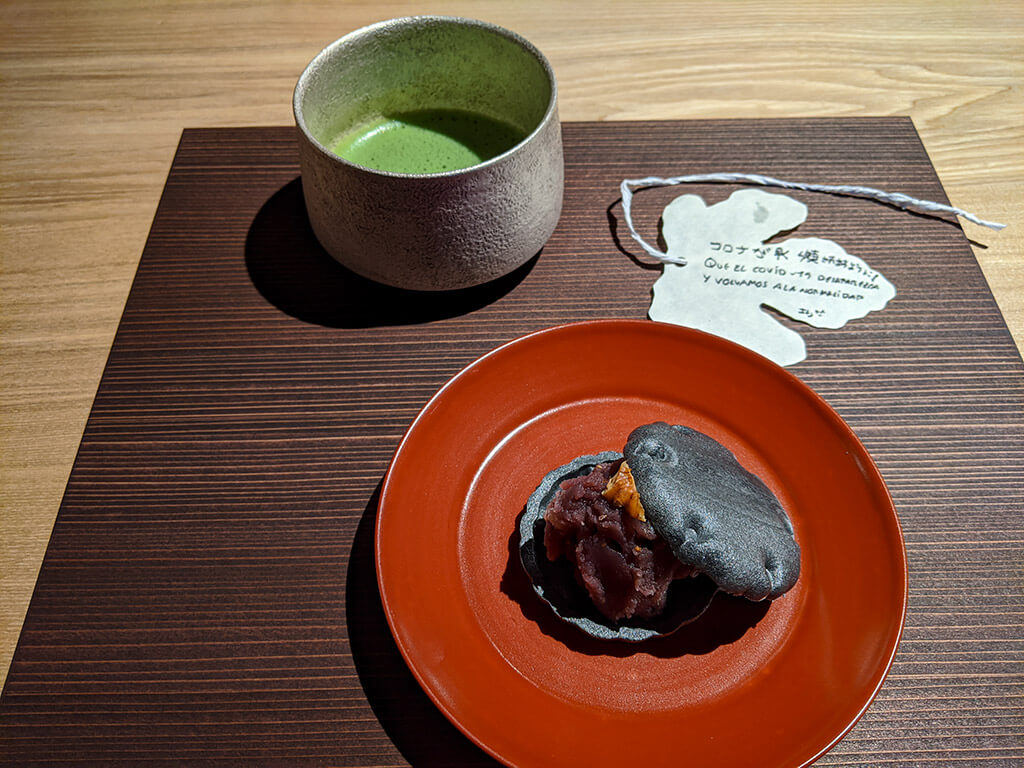 Green tea and especially Matcha green tea has many health benefits. The tea is rich in antioxidants and other bioactive compounds which promote brain function and lower the risk for certain diseases. So, it's the perfect drink to promote your health and wellbeing.
The traditional Japanese medicine teas are famously not that delicious. But if you crave a quiet place to have some delicious Matcha tea you will love the tea house Hanasenka.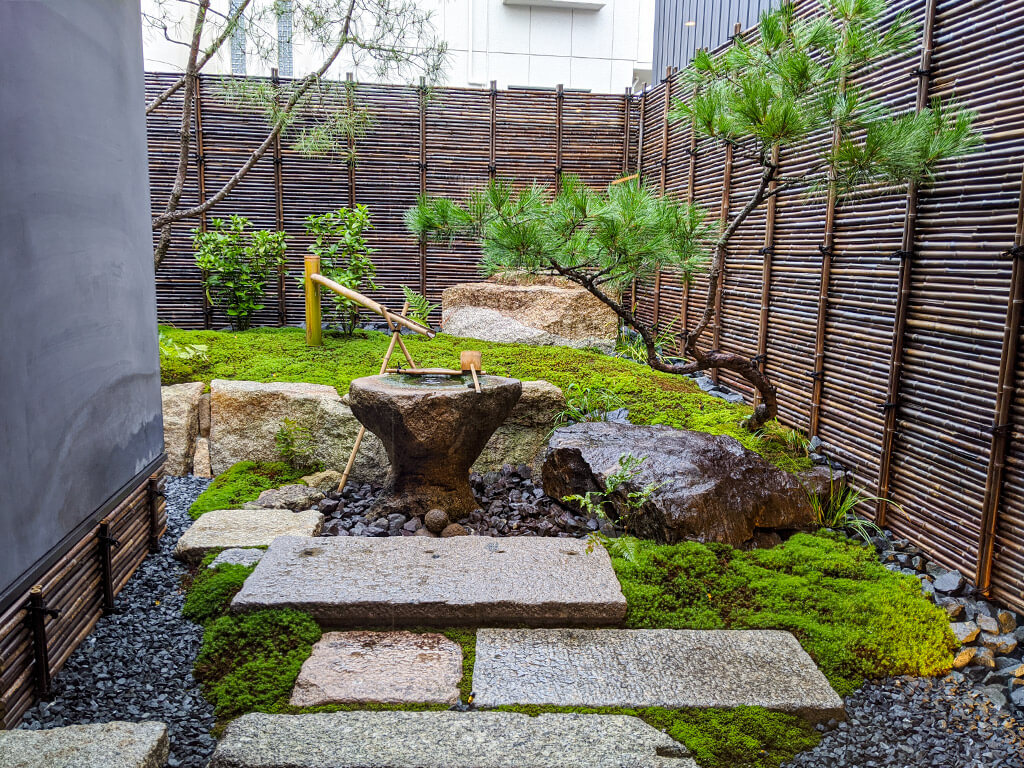 It's a modern-style tea house where you can enjoy the stylish interior as well as the views of the traditional Japanese landscape garden.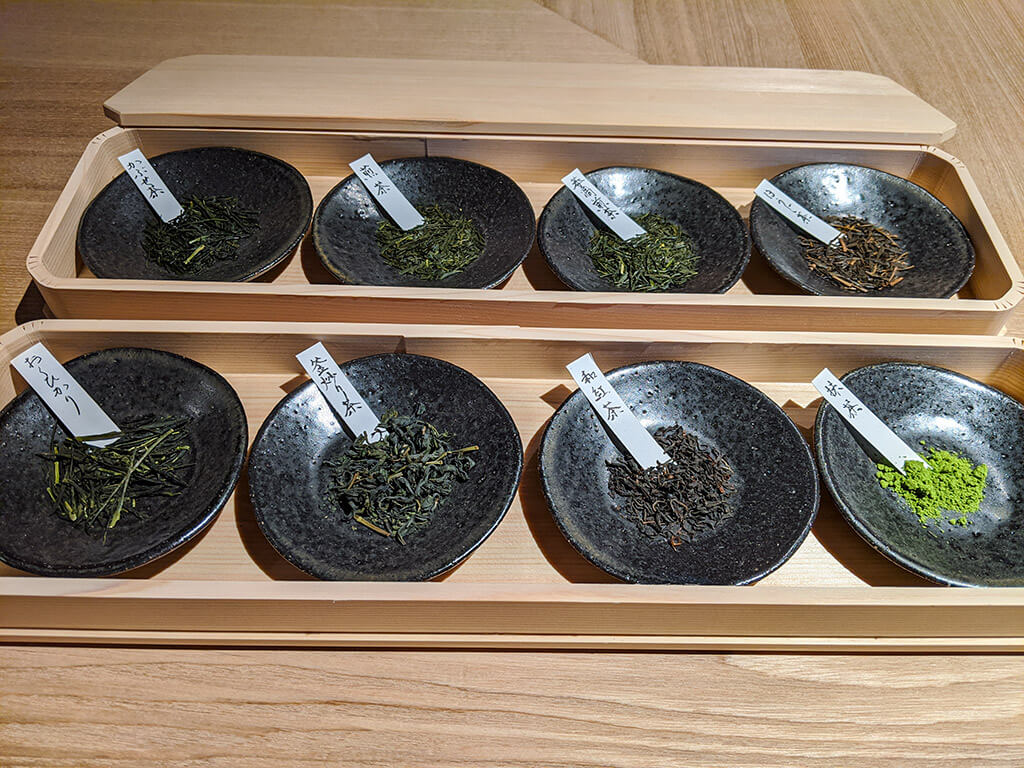 They serve not only Matcha tea sets with sweets but also other types of green tea, such as Hojicha (roasted green tea), Sencha (standard green tea), and Kabusecha(green tea leaves that were covered while growing), as well as black tea.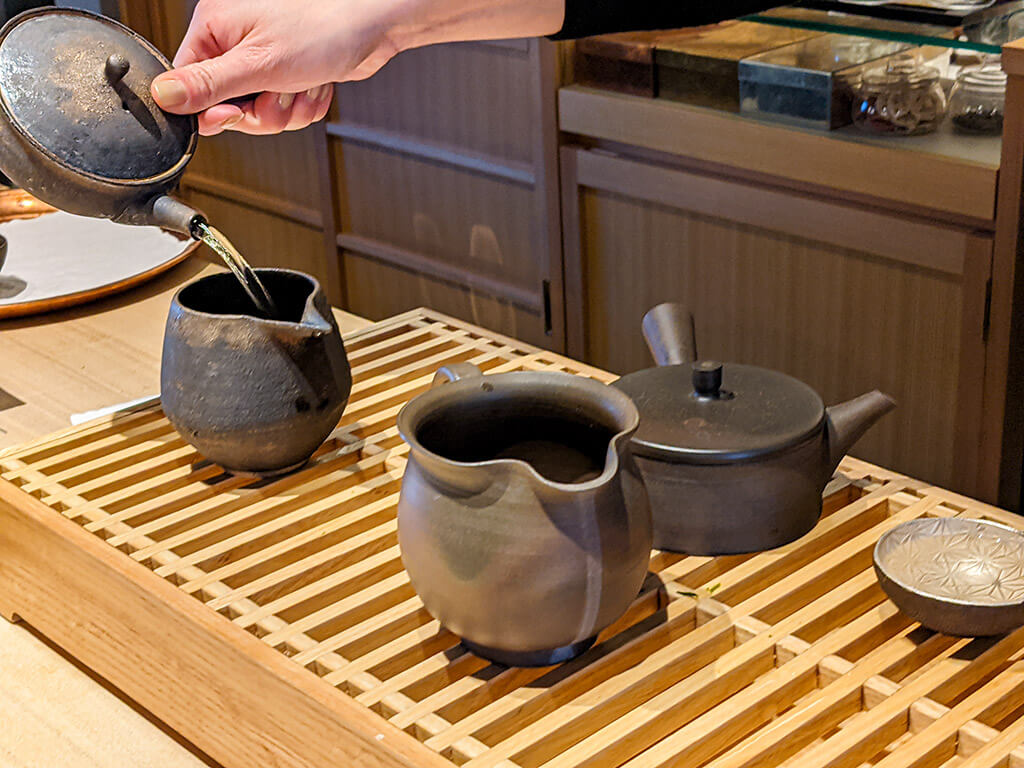 At Hanasenka they serve your tea in exquisite Japanese pottery bowls, and you can even choose the bowl you want your tea to be prepared in. After you have made your order they prepare your order in front of you so you can follow the whole brewing process.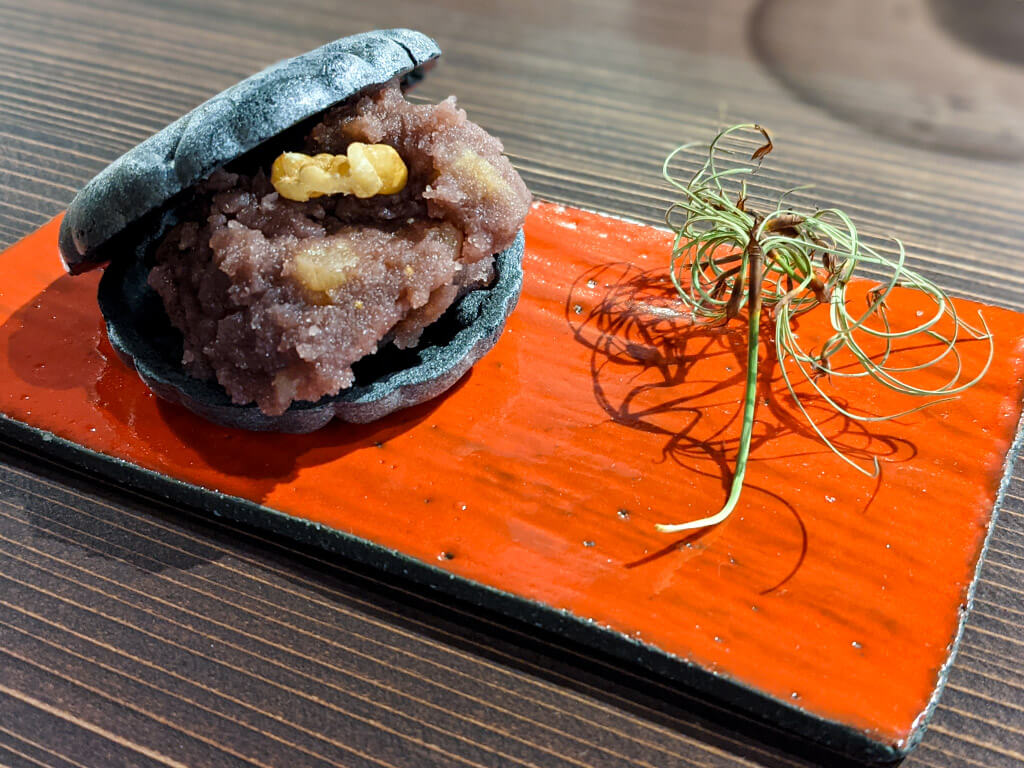 Tea in Japan is typically served with a traditional sweet called a Wagashi. The specialty at Hanasenka is a Black Monaka, a black wafer filled with sweet red bean paste, a typical ingredient in Japanese sweets, fig and, hazelnuts.
From Honsokaku take the subway Tsurumai Line to Marunouchi Station and walk 10 minutes to Hanasenka.
Nagono Sabo Hanasenka (那古野 茶房 花千花)
Opening Hours: weekday 12:00-19:00, weekend 12:00-18:00; closed Wednesdays
Address: 1-18-6 Nagono, Nishi Ward, Nagoya, Aichi 451-0042
Google Maps
Around Nagoya, you can find more tea houses, including places that offer tea ceremonies (click here).
If you want to learn more about the Japanese tea ceremony join an online tea ceremony experience from the comfort of your home.
Explore the Oldest Parts of the City.
Hanasenka is located in the historic Shikemichi/Endoji area of Nagoya. Shikemichi used to be a merchant district and it is the oldest part of the city with buildings from the early 18th century still remaining today. It is a very picturesque area with art galleries, small shops, and restaurants.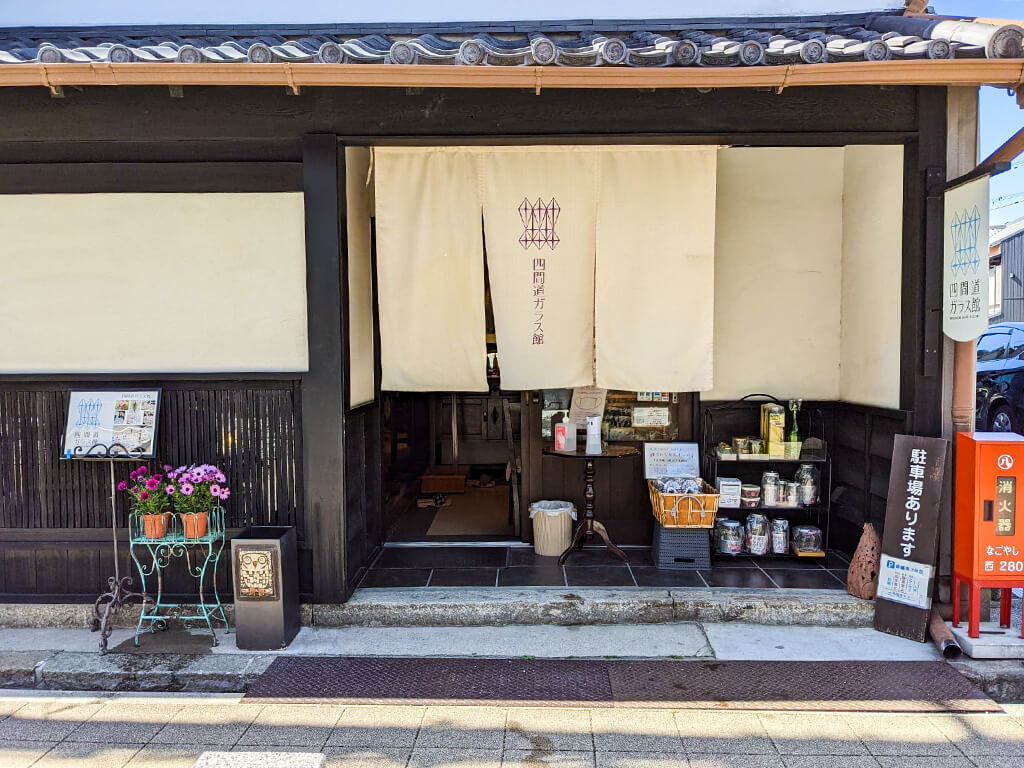 Don't miss the Shikemichi Glass Gallery and Shop, where you can find amazing hand-made pieces of glass art.
Endoji on the other hand is Nagoya's oldest roofed-over shopping street. While it used to be a bustling place of commerce, nowadays it is a quiet street with old, charming shops next to new, modern ones.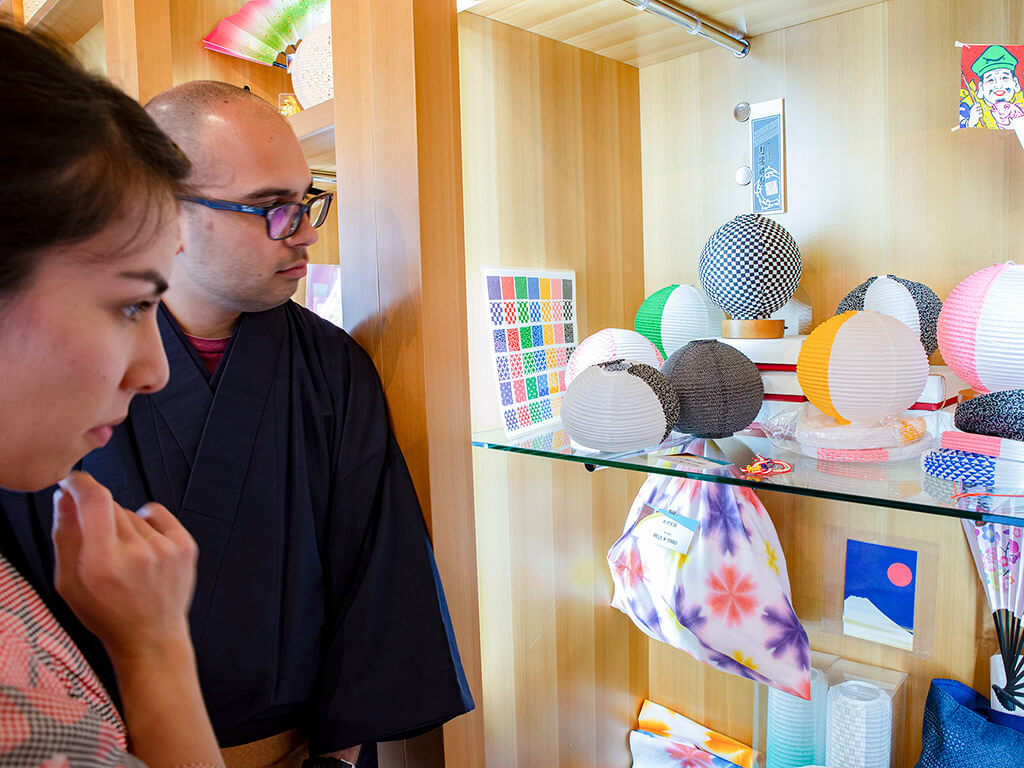 Endoji is also a location for traditional local crafts like the paper lantern. If you have time before dinner we recommend visiting the shop Wazamon, where you can buy unique traditional craft souvenirs like paper lanterns, hand-held fan, tie-dye fabrics, and socks made from Washi paper.
Wazamon Chaya (わざもん茶屋)
Opening Hours: 12:00 – 19:00; closed Mondays
Address: 1-20-34 Nagono, Nishi Ward, Nagoya, Aichi 451-0042
Google Maps
The Shikemichi/Endoji area is also the perfect place to have dinner before heading to your accommodation for the night.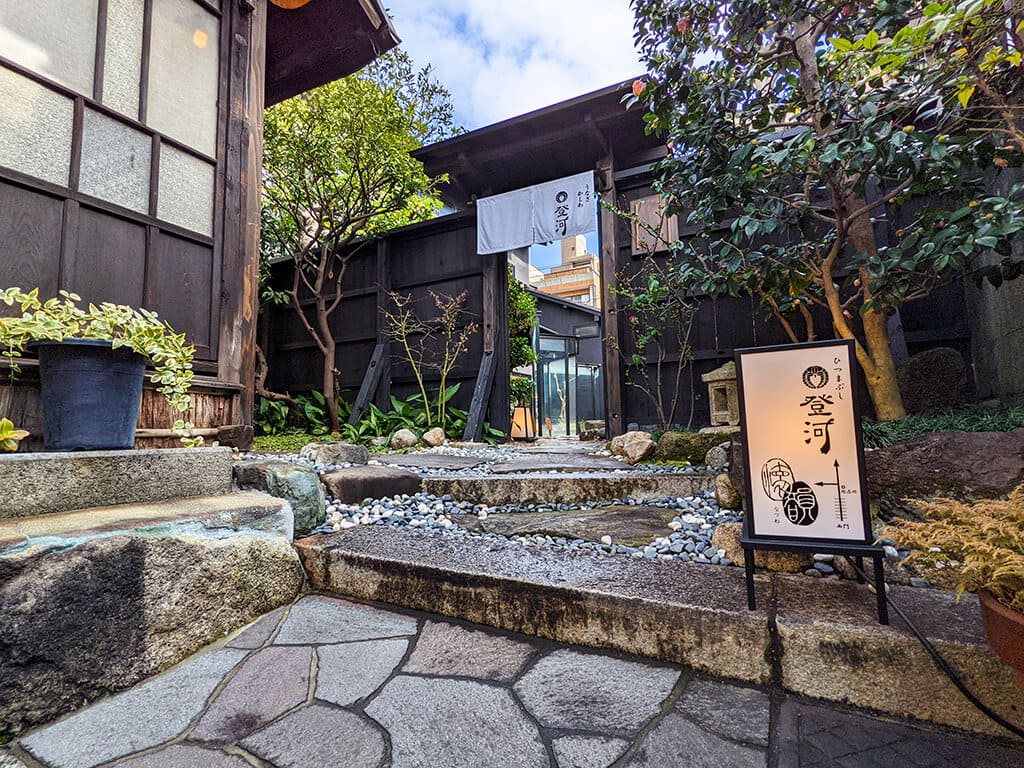 Among the interesting number of restaurants in this area, we recommend having dinner at Hitsumabushi Togawa Nagono. The building is a black 320-year-old merchant house. Here you can not only enjoy the sophisticated private rooms which are oriented to the beautiful Zen garden but you will also enjoy the exquisite number one local food, Hitsumabushi, or the specialty Unaju set with Nagoya Cochin Omelet.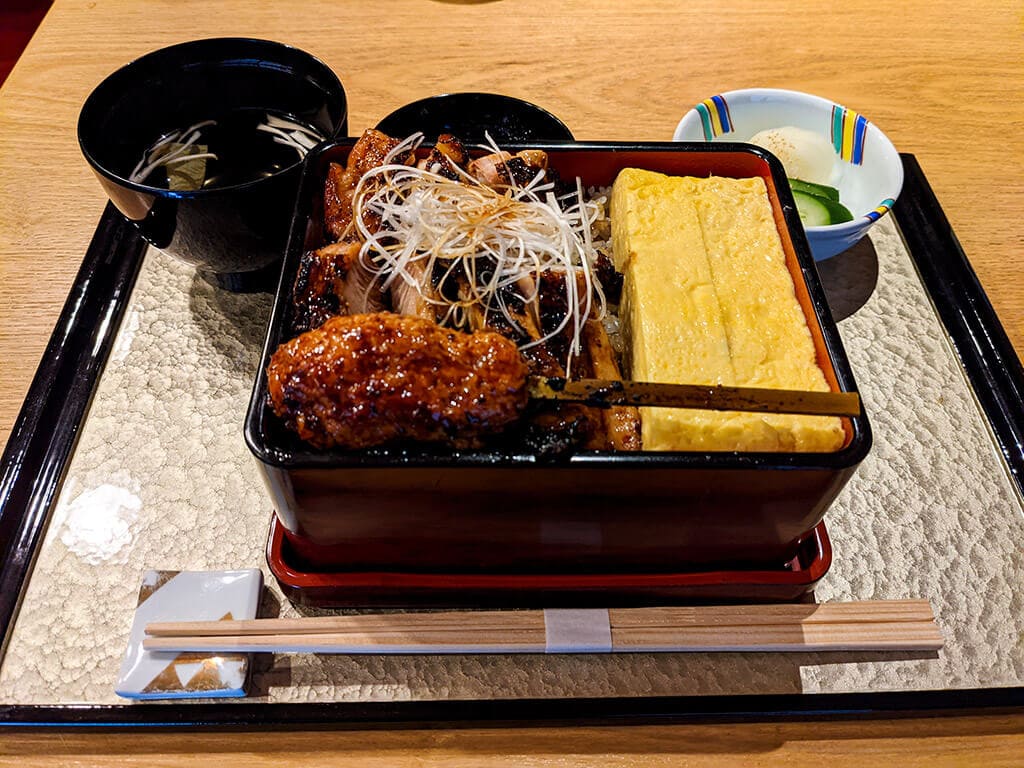 Hitsumabushi Togawa Nagono (ひつまぶし登河那古野)
Opening Hours: weekdays 11:30 – 14:00 and 17:00 – 23:00, weekends 11:30 – 15:00 and 17:00 – 23:00
Address: 1-2-11 Nagono, Nishi Ward, Nagoya, Aichi 451-0042
Google Maps
Stay the Night at a Traditional Inn with a Typical Shared Bath for Maximum Recovery.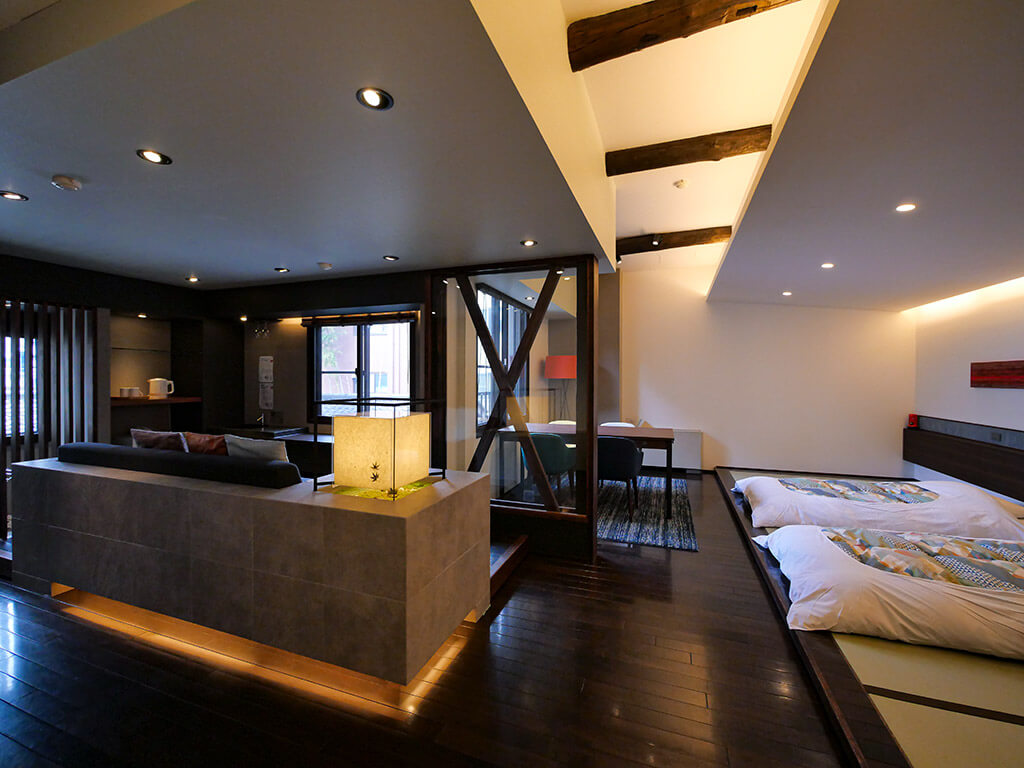 To really integrate all the benefits to your mind, body, and soul from exploring Nagoya, where you spend the night becomes very important.
For this reason, we recommend staying at Kyoya Ryokan. It is one of few traditional Japanese guesthouses in Nagoya, a modern city dominated by western-style business hotels.
At the guest house, you will stay in a traditional Japanese-style room with Tatami mat flooring and views of the landscape garden, or one of the recently renovated modern Japanese designer rooms. Each room is unique and has its own charm.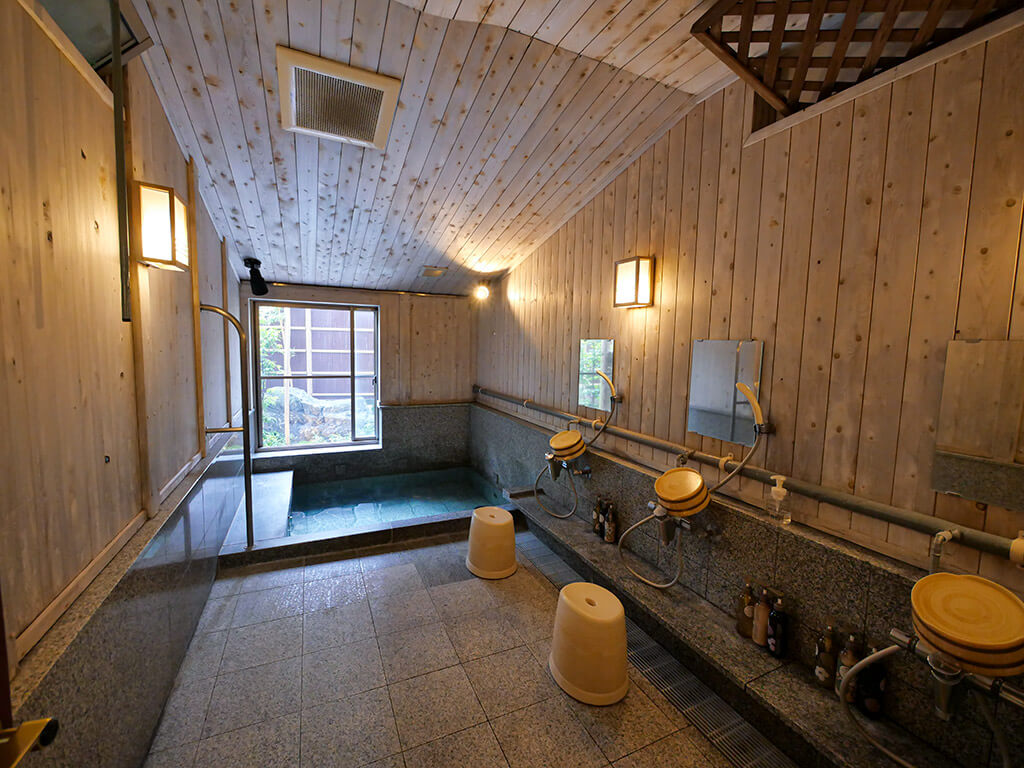 And the best part: the Ryokan even has a shared bath. Also often referred to as a public bath, this small bathhouse is divided by gender. Wash yourself thoroughly and then have a relaxing soak in the hot stone tub.
Taking a hot bath is said to have a multitude of health benefits including relieving sour muscles and improved blood circulation, which has many benefits for the body.
Kyoya Ryokan (京屋旅館)
Address: 2-11-4 Habashita, Nishi Ward, Nagoya, Aichi 451-0041
Google Maps
Book your stay on booking.com
You can find more places to take a relaxing bath in Nagoya in this article.
You Want to Spend More Time in Nagoya?
Then check out this post for other things to do in Nagoya, or read this article about the best day trips from Nagoya.
---
Did you enjoy this article?
Make sure to also check out our other posts about Nagoya and trust us if we say Nagoya is not boring!
Be sure to follow us on Facebook for new articles every week, and see our Instagram for pictures and stories about Nagoya!
Tag us 📲
If you have done any of the activities in this article share your experiences on social media and tag us with #nagoyaisnotboring