The Nagoya Festival, which takes place annually in mid-October, is one of the greatest autumn festivals in Nagoya. The entire city is filled with a festive atmosphere, celebrating its past, present, and future.
If you love Japanese festivals and want to experience the vibrant energy and a mix of entertainment, culture, and history, this event is a must-see.
How Did the Nagoya Festival Come to Be?
The Nagoya Festival began in 1955 under the name "Nagoya Trade and Industry Festival". It was created by the government of Aichi Prefecture, the City of Nagoya, and the Nagoya Chamber of Commerce with the aim of promoting the city's economy and commerce.
However, the citizens of Nagoya also wanted a festival that could culturally entertain and educate citizens. Thus began the Nagoya Festival.
Highlights of the Nagoya Festival Parade
The Nagoya Festival is, first and foremost, a colorful parade with more than 700 participants spanning approximately 2 km in length. It commences at Nagoya Station, proceeds towards Nagoya City Hall, then continues down to Sakae, culminating at its destination in Yabacho.
Here are some of the highlights of this parade.
Dashi Festival Floats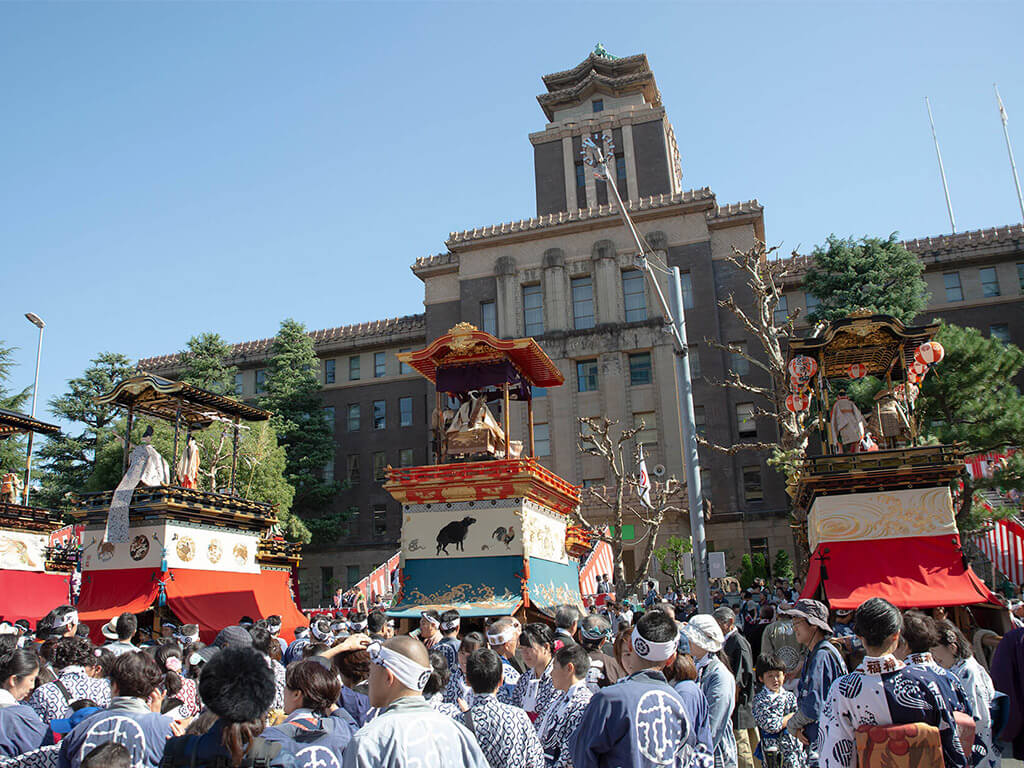 Designated Cultural Property of Nagoya, Dashi Floats are the first act of the festival. Nine floats adorned with their finest attire, make their appearance in the vicinity of Nagoya City Hall.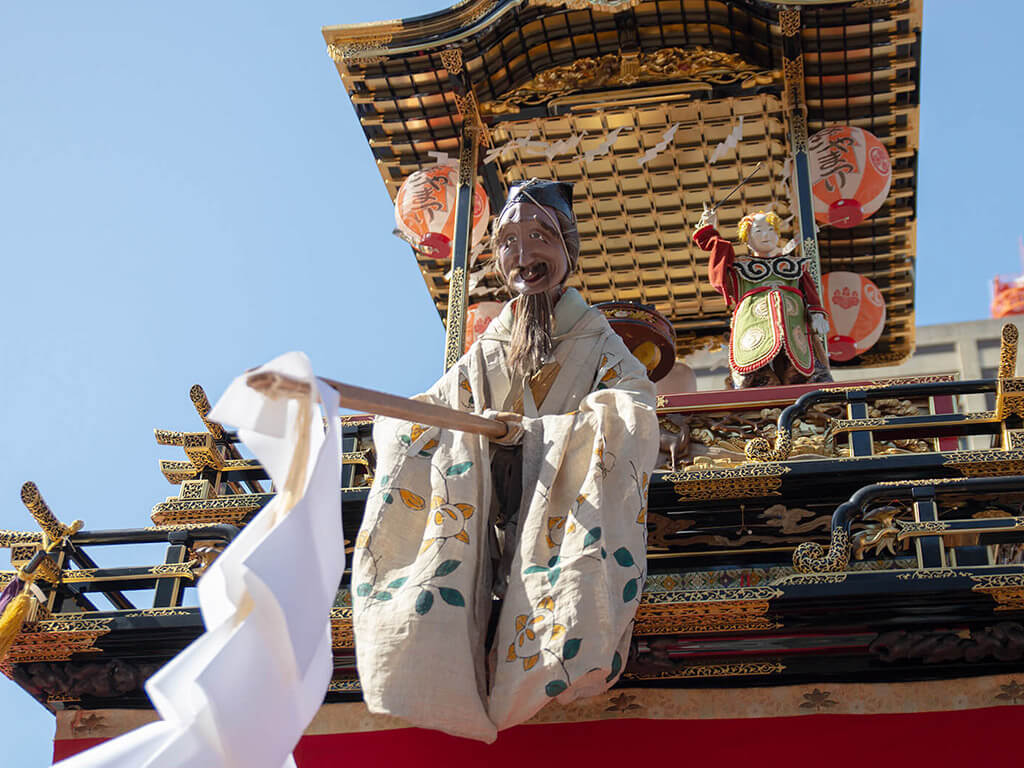 Each of these floats has Karakuri Ningyo, which are traditional Japanese mechanical puppets, mounted on the top. They perform reenactments of myths and legends, often depicting a single scene from a larger play.
Don't worry if you're not entirely sure of the storyline; it's still enjoyable to witness the incredible craftsmanship and ingenuity of the puppet makers at work. This craft boasts a history of around 1400 years.
Learn about the local food during a Food Tour in Nagoya. Click on the banner below for more details!

Kagura Zoroe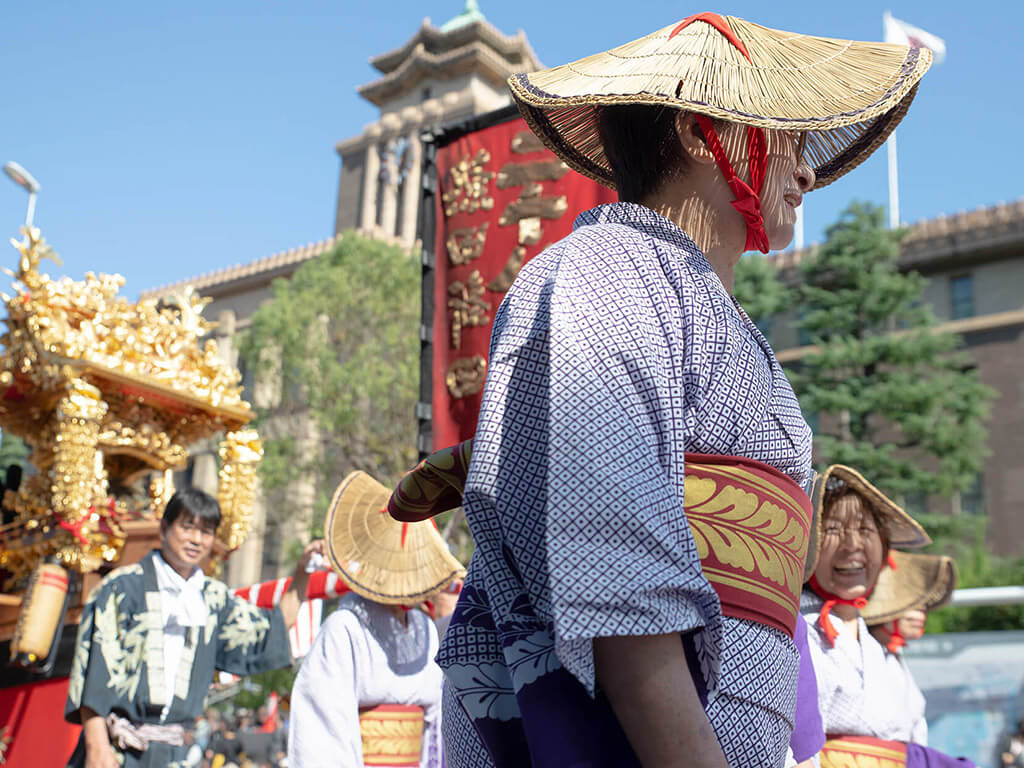 The Kagura Zoroe are portable altars found exclusively in the Nagoya region. They hold the designation of Cultural Assets. These smaller altars, adorned with gold leaf, make their appearance alongside the Dashi Floats.
Other Parades
After the more traditional parades showcasing the Festival Floats and Kagura Zoroe, it's time for a wide variety of different parades.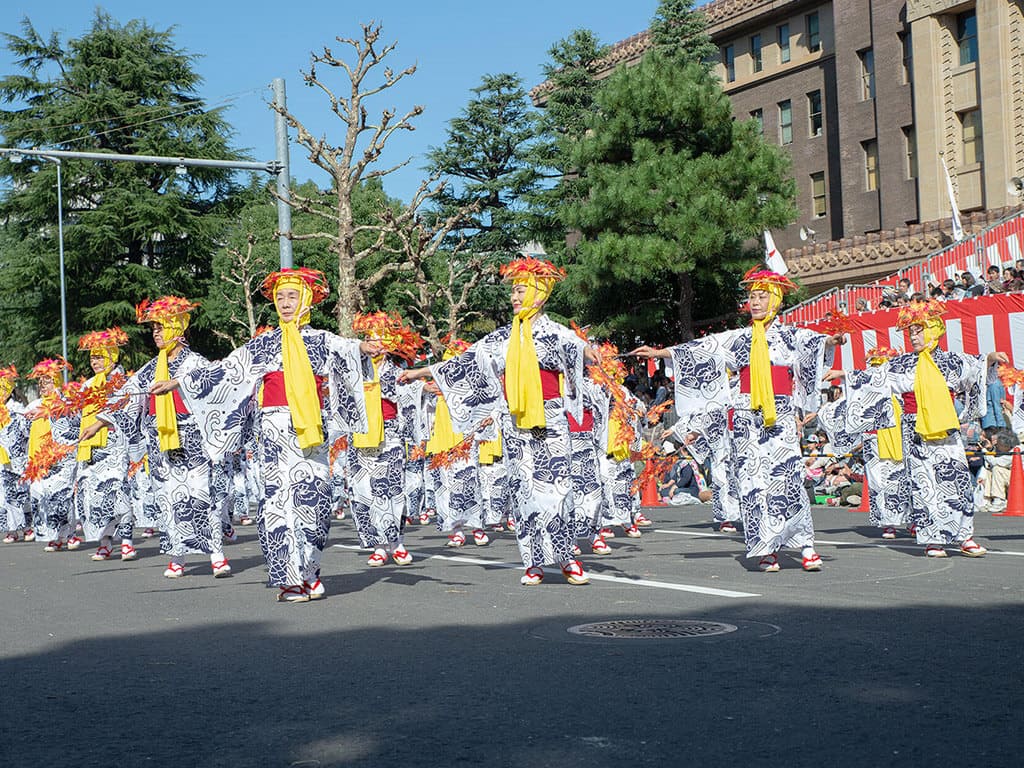 Traditional and modern dance groups showcase their skills, brass bands play familiar tunes, cosplayers show off their costumes, and cheerleaders jump, shout, and cheer.
Representatives from Nagoya's sister cities (Los Angeles, Mexico City, Nanjing, Sydney, Turin, and Reims) are in attendance and participate in the parade.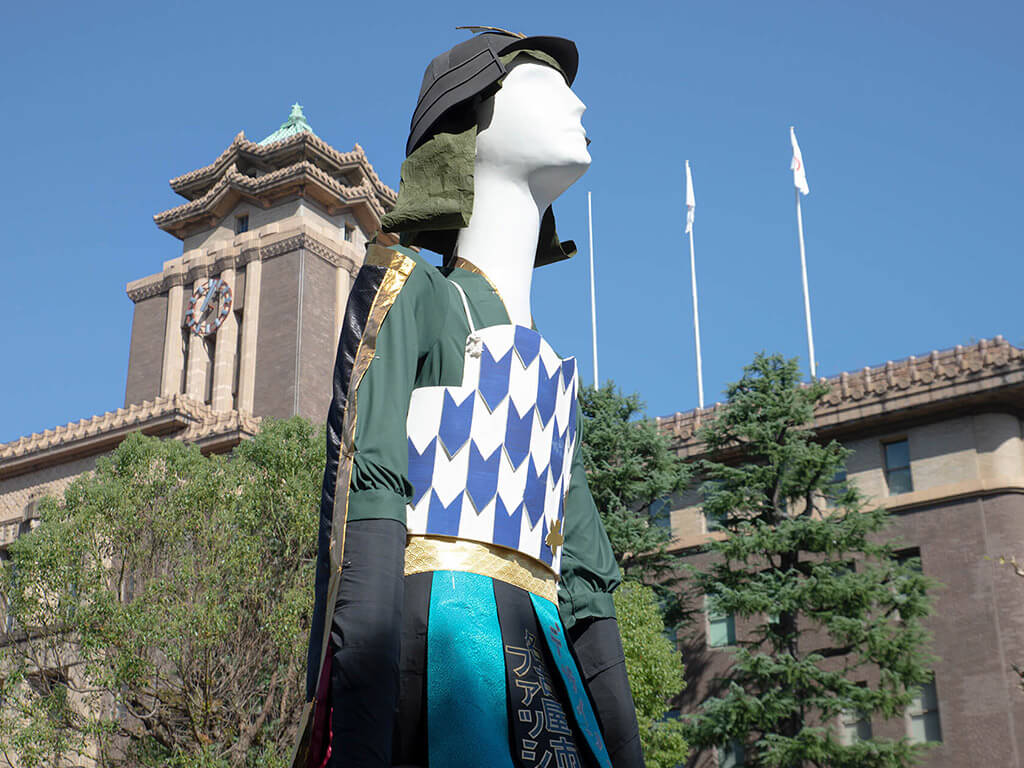 Nana-chan, the gigantic mannequin usually standing outside the Meitetsu Department Store at Nagoya Station, is paraded through the whole city.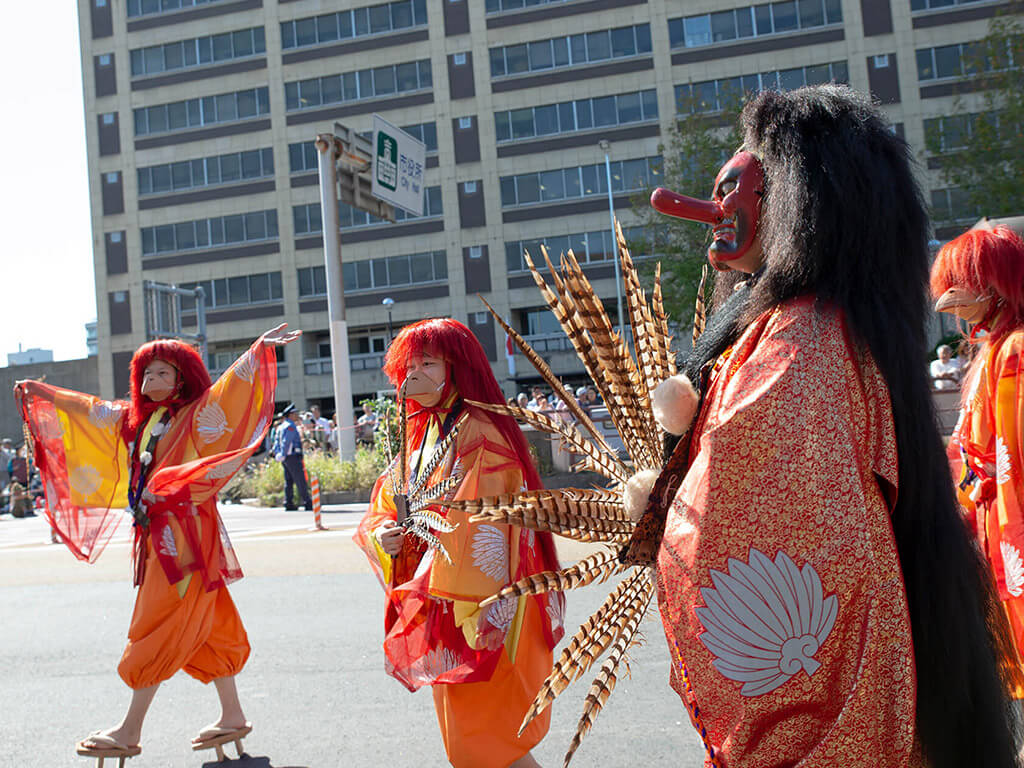 Each year there are different sports and cultural groups, showing off their varied skills so it will never be boring to attend the Nagoya Festival.
The Three Great Feudal Lords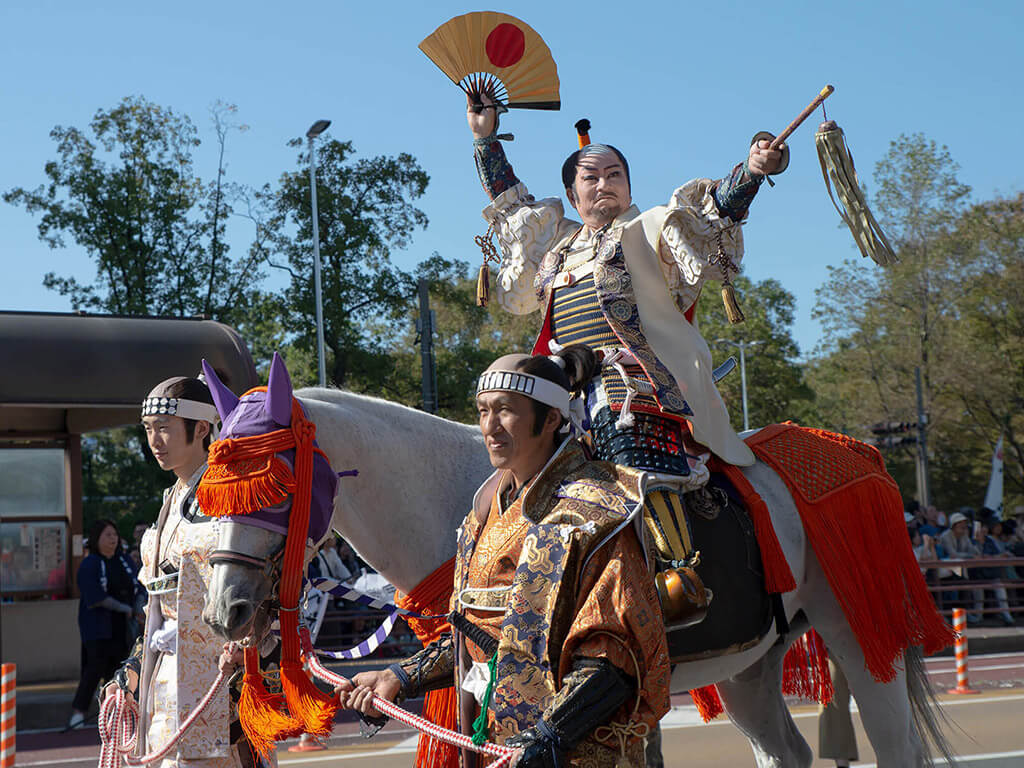 Another highlight of the Nagoya Festival is the appearance of Three Great Feudal Lords, the unifiers of Japan, and important historical figures with a significant connection to Nagoya and the region: Oda Nobunaga (1534-1582), Lord of Owari; Toyotomi Hideyoshi (1537-1598), Lord of Owari Nakamura; and Tokugawa Ieyasu (1542-1616), Lord of Okazaki.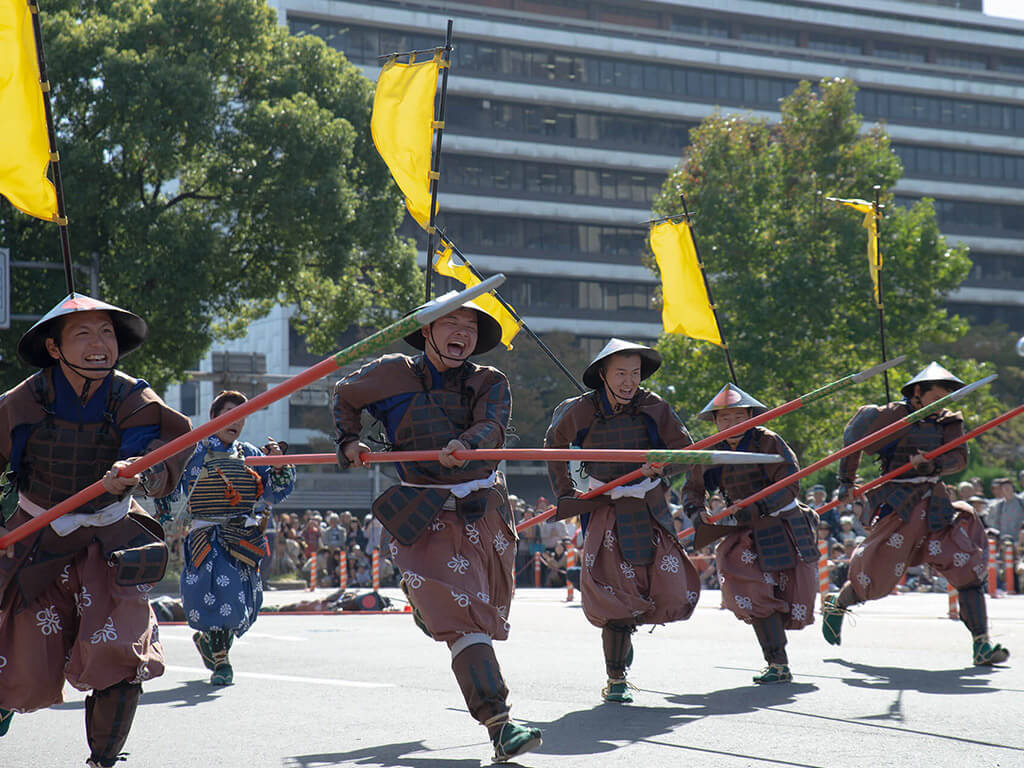 Along with the appearance of each feudal lord, important historical battles from the Sengoku Period, also commonly known as the Warring States Period, are reproduced.
The feudal lords would be nothing without their wives, and so Nohime (Nobunaga's wife), Nene (Hideyoshi's wife), and Senhime (Ieyasu's wife), accompanied by their entourage of servants, follow their husbands.
Don't Miss the Other Events During the Nagoya Festival!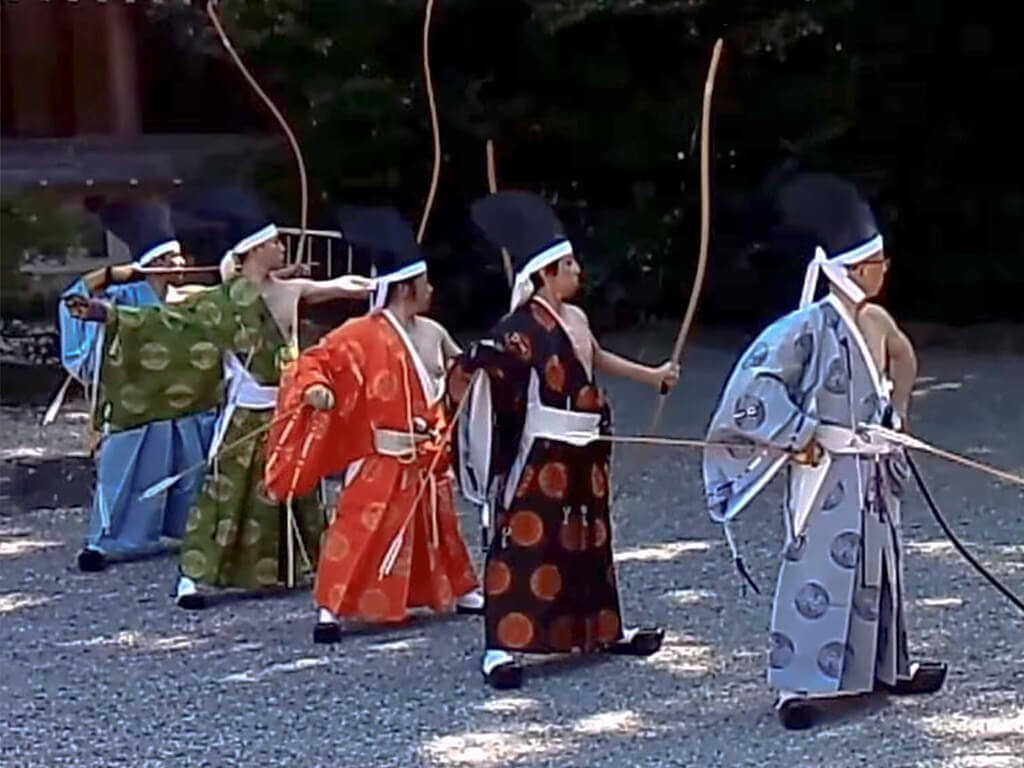 During the Nagoya Festival, traditional martial arts performances such as Kyudo (Japanese traditional archery) and Kendo are held in different locations around the city.
The Kobudo Tournament, held during the Nagoya Festival, sees the participation from various martial arts schools of Aichi and Gifu. Kobudo is a collective term for Japanese traditional techniques for the use of armor, blades, firearms, and techniques related to combat and horse riding.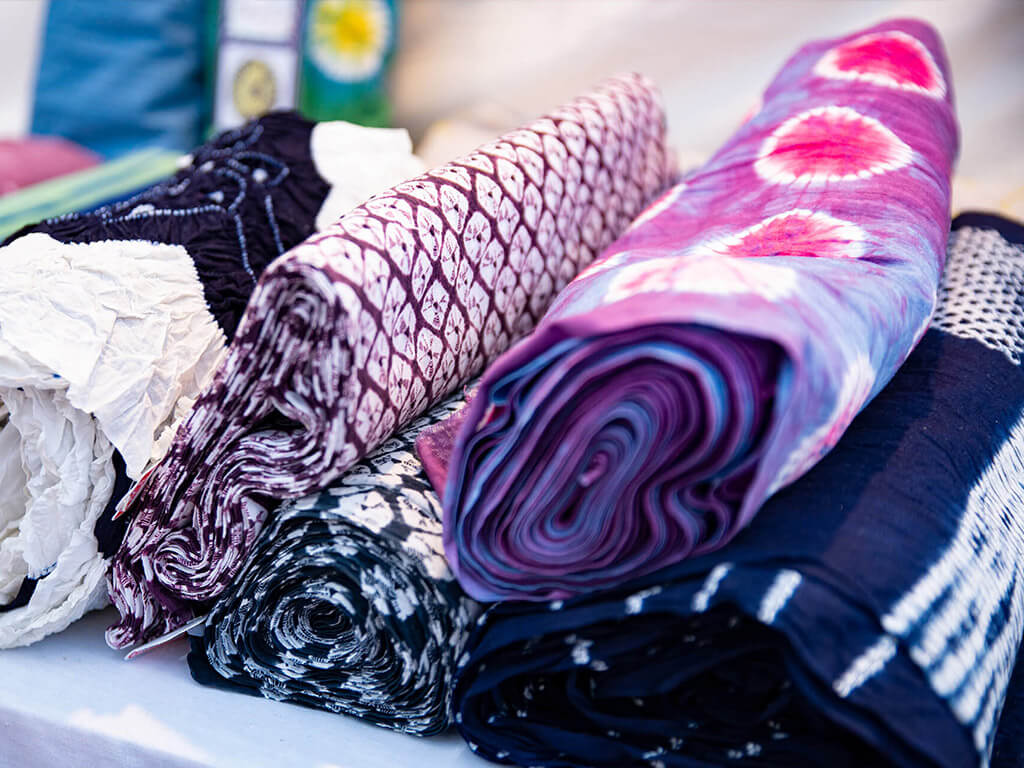 At Oasis 21, there are exhibitions and sales of handicrafts from the Aichi region, including Arimatsu tie-dyed fabrics, items crafted from wood, and Washi, Japanese paper.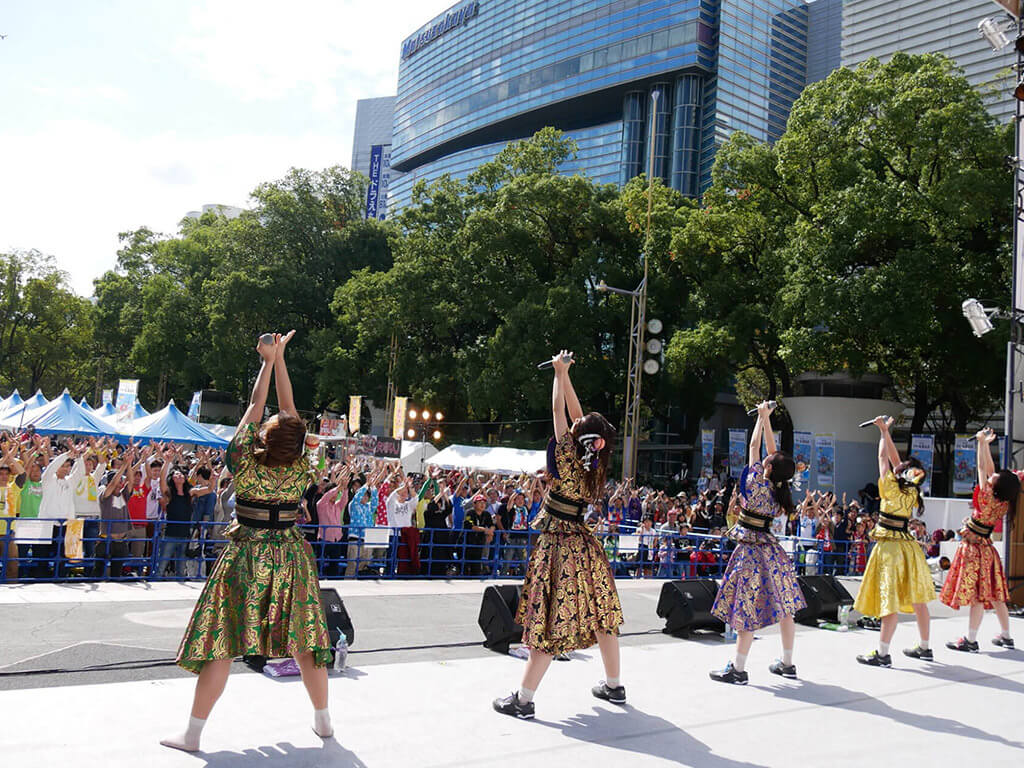 Hisaya Odori Park, running along the center of the city, becomes the stage for idol groups, live music performances, comedy shows, and much more.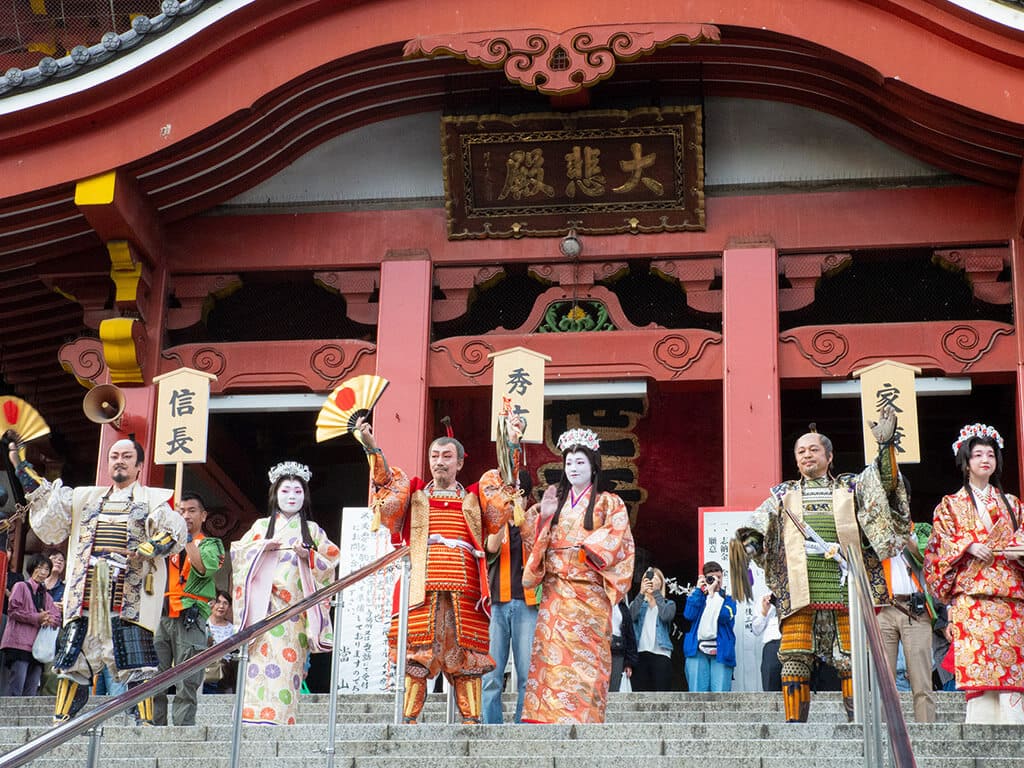 After parading through the city the three great feudal lords along with their wives make an appearance in the Osu district. This is a great opportunity to see the beautiful costumes up close.
While in Osu, join a Street Food Walking Tour! Click on the banner to see all the information:

Visit Nagoya's Museums and Attractions for Free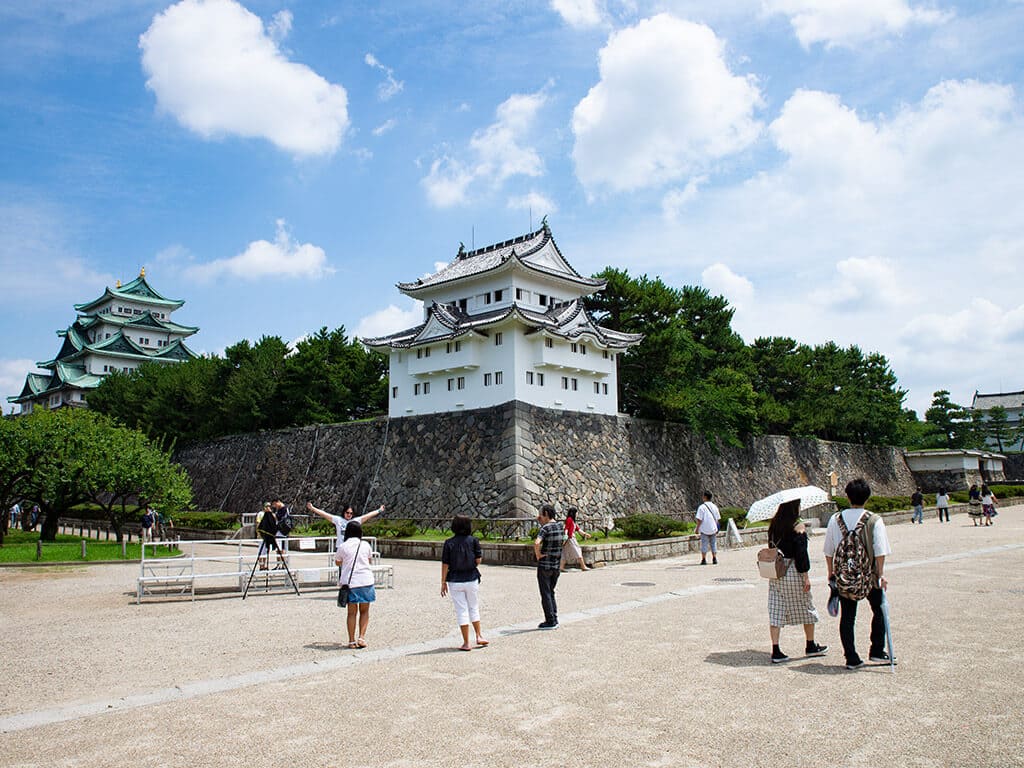 Many of the popular attractions and museums in Nagoya will offer free admission during the two days of the Nagoya Festival.
These include places like Nagoya Castle, Higashiyama Zoo and Botanical Gardens, Tokugawa-en Garden, Shirotori Garden, and more.
Please be aware that these places may be more crowded than usual, as Japanese people, like anyone else, love free things.
Will the Nagoya Festival Be Held in 2023?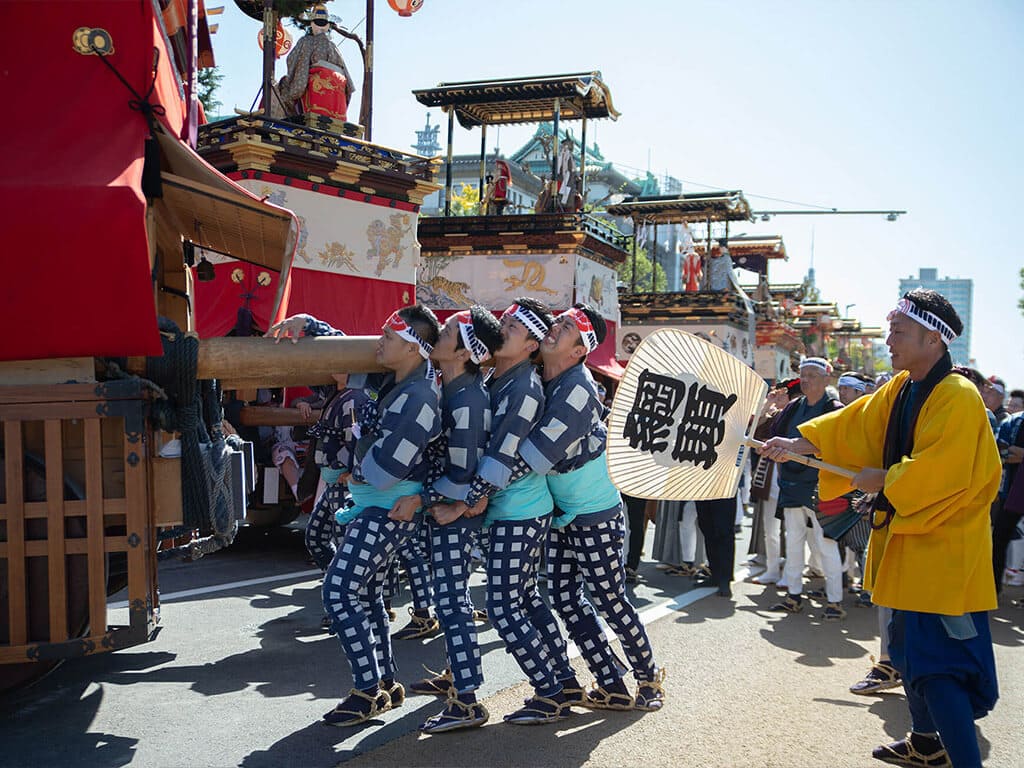 We are happy to announce that the Nagoya Festival will be held again this year on October 21st and 22nd in full for the first time since the pandemic.
For the first time in four years, this year's festival will feature the full collection of activities, events, and city-designated cultural property floats and the Children's Mikoshi Parade.
For the latest information please visit the official website.
Nagoya Festival (名古屋まつり)
Date: 21st and 22nd of October 2023
Location: Various locations in central Nagoya
💻 Website (Japanese Only)
Many of the attendees like to wear Kimonos for the occasion. If you are interested in doing the same, you can book your kimono dressing service by clicking the banner below.

If you want to find out about other autumn festivals read this post next:
Autumn Leaves and Autumn Festivals in Nagoya and Aichi
This post was last updated in October 2023.
Although we strive to provide you with the most accurate and up-to-date information possible, please note that changes may occur nonetheless. We recommend you confirm any relevant information such as event cancelations or changes, opening hours, or possible restrictions using a direct source. Please keep in mind that these sources might be in Japanese only.
---
Did you enjoy this article?
Make sure to also check out our other posts about Nagoya and trust us if we say Nagoya is not boring!
Be sure to follow us on Facebook for regular updates on Nagoya, and see our Instagram for pictures and stories about the city!
Tag us 📲
If you have been to any past Nagoya Festival, please share your experience and tag us on social media with #nagoyaisnotboring