Most people know Toyota as the name of Japan's leading car brand. But Toyota is also the name of a city in Aichi Prefecture.
Toyota city is the home of Toyota Corp. where thousands of cars are produced every year. The city is a paradise for car lovers with exciting museums to learn more about the history and development of the car manufacturer.
But Toyota isn't just interesting because of its industry and technology. The city has a surprising amount of beautiful nature as well as other unique cultural experiences on offer.
Learn About Assembly Lines and the Future of Driving at the Toyota Kaikan Museum and Plant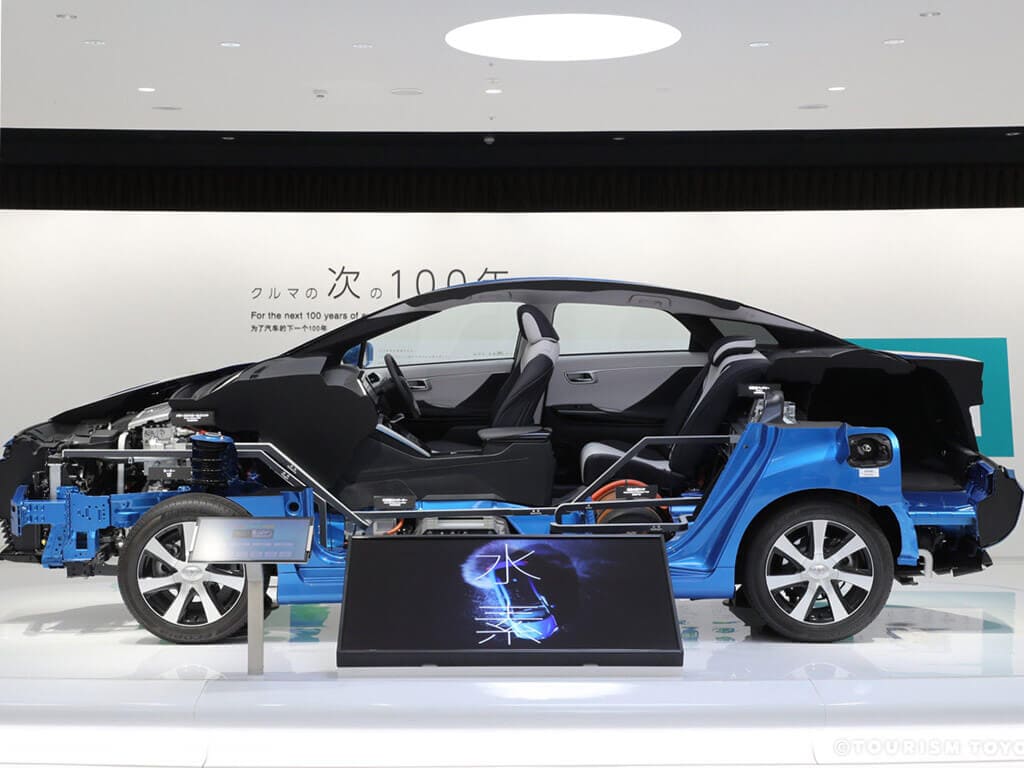 The Toyota Kaikan is part museum and part working manufacturing plant. The museum has a wide variety of sections with topics ranging from the development of cars that are eco-friendly to continuous improvement of driver safety. There is also a collection of the newest Toyota and Lexus models any car lover will surely enjoy.
There are different types of plant tours from 60 to 150 minutes that will introduce you to the car manufacturing process Toyota is so proud of. It is amazing to see the highly efficient streamlined processes where robots and humans work together to assemble cars in record time.
Toyota Kaikan Museum (トヨタ会館)
Entry Fee: free
Opening Hours: 9:30 – 17:00, closed Sundays
Address: 1 Toyotacho, Toyota Aichi 471-0826
Website | Google Maps
Feel Toyota's Passion for Craftsmanship at the Toyota Kuragaike Commemorative Hall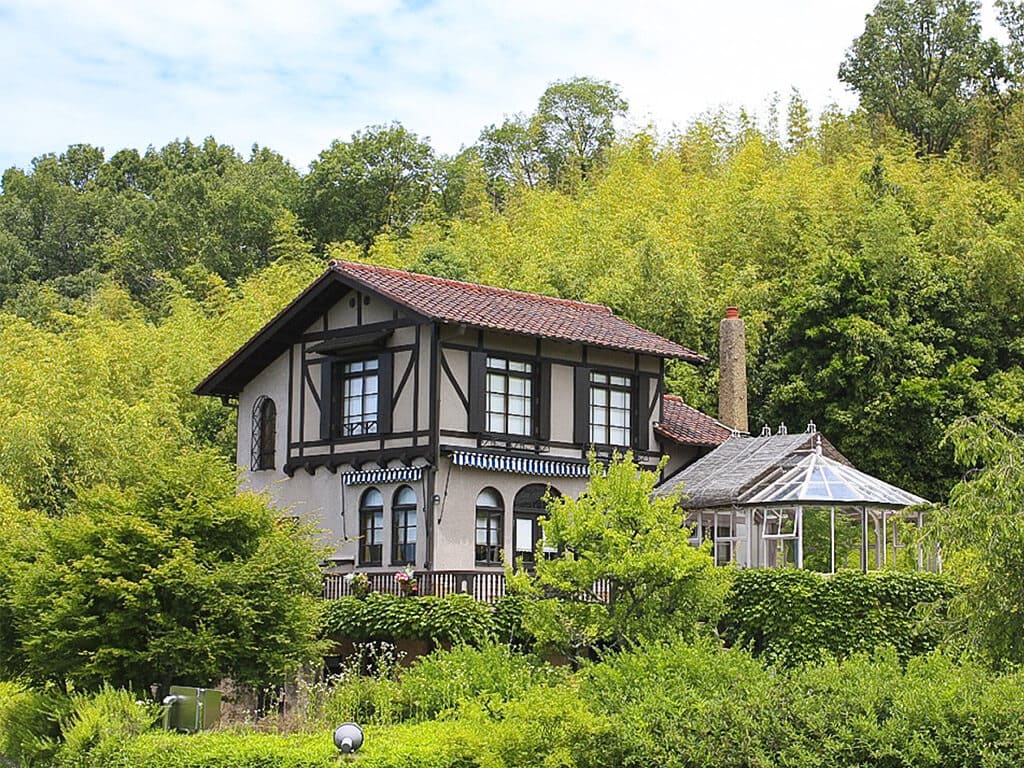 To commemorate the 10 millionth car manufactured, the Toyota Kuragaike Commemorative Hall was opened in 1975.
Inside the hall, you have the opportunity to learn about the early history of Toyota by admiring the first Toyota passenger car the Model AA as well as the heart and soul of craftsmanship that goes into creating new Toyota cars then and now.
If you want to learn more about the founder of Toyota Kiichiro Toyoda visit his former residence next door.
Toyota Kuragaike Memorial Museum (トヨタ 鞍ヶ池記念館)
Entry Fee: free
Opening Hours: 9:30 – 17:00, closed Mondays
Address: 250 Minami, Ikedacho, Toyota, Aichi 471-0001
Website | Google Maps
Try Excellent Sake at the Source During a Brewery Tour at Sekiya Jozo Sake Brewery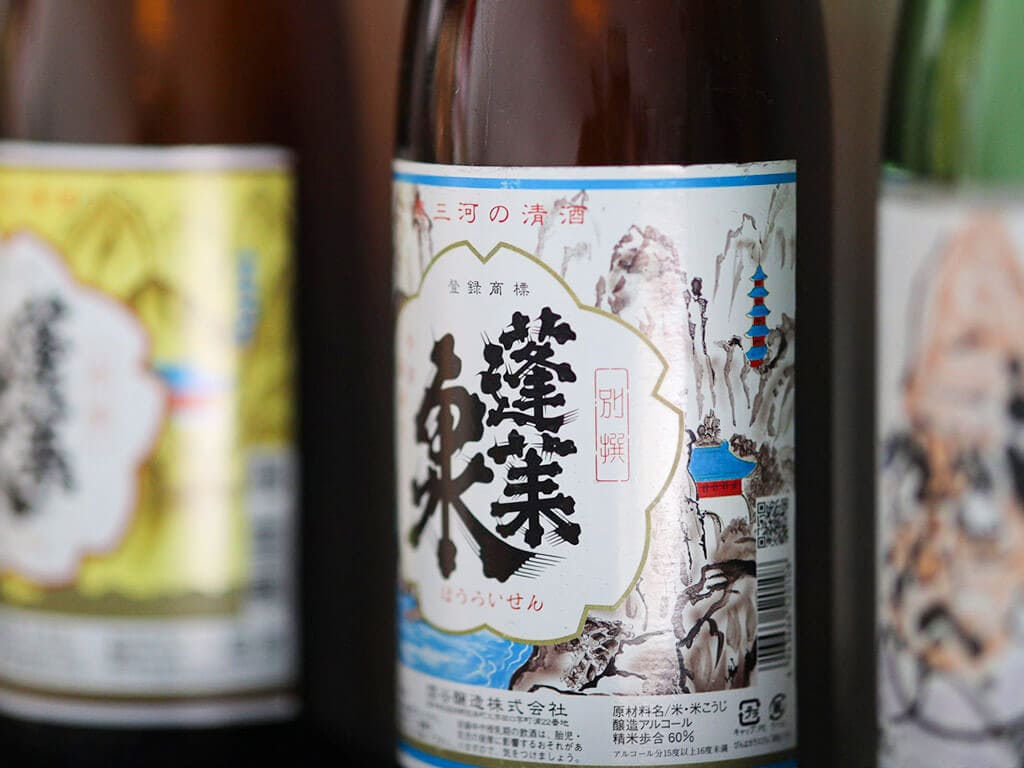 It's not just all cars in Toyota. Other products have an even longer history in the area. One example is Sake. The famous Horaisen Sake produced by Sekiya Sake Brewery is brewed in Toyota and beloved by Japanese as well as foreign Sake sommeliers.
At the Sekiya Sake Brewery, you can learn more about the production process of Sake by joining a brewery tour which also includes a tasting (reservation at least 1 week in advance is required). Don't forget to stop by the shop to buy different kinds of Horaisen to take home as a souvenir.
Sake is generally only produced from autumn to spring each year, the rest of the year you can visit to buy Sake and see the inside of the brewery without a tour.
Sekiya Brewery Inabu Factory (Ginjo Kobo) (ほうらいせん吟醸工房)
Entry Fee: 500 yen
Opening Hours: Monday – Friday 10:00 – 18:00, Saturday + Sunday 09:30 – 18:00
Address: Minamimizuwakare-713 Kurodacho, Toyota, Aichi 441-2524
Website | Google Maps
Modern Art Inside and Out at the Toyota Municipal Museum of Art
The Toyota Municipal Museum of Art is a striking structure on the site of a former castle. The modern white building houses art inside as well as outside creating a continuous experience. The collections include a wide range of works from Japan and overseas that span the modern era to contemporary work.
Don't forget to visit the tea house in the garden where you can have a delicious match set accompanied by a Japanese sweet for 400 yen. The tea room is a rare style with tables and chairs to sit on rather than Tatami mats so you can enjoy your tea in comfort.
Toyota Municipal Museum of Art (豊田市美術館)
Entry Fee: adults 300 yen, students 200 yen, children junior high school student and under free
Opening Hours: 10:00 – 17:30
Address: 8-5-1 Kozakahonmachi, Toyota, Aichi 471-0034
Website | Google Maps
Korankei Valley – An Autumn Dream in Shades of Red and Yellow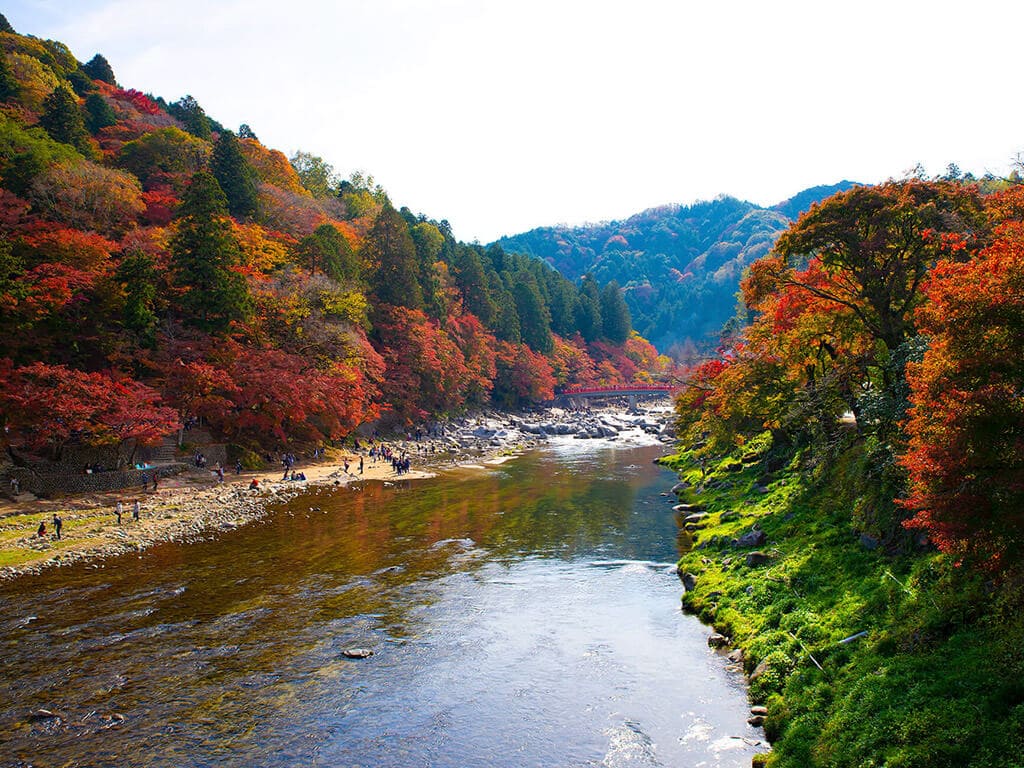 Korankei is one of the most famous locations in Aichi Prefecture to see the autumn leaves.
It is said that in the early Edo Period (1603 – 1868) the chief priest of the temple Kojakuji, a temple of the valley, planted the first maple trees on the approach leading from the Tomoe River while chanting sutras. The local people continued the tradition by planting more of the tree, and now in the fall each year, the beautiful autumn foliage draws huge crowds to enjoy the scenes of the valley during short walks or longer hikes in the mountains of the area.
The best time for autumn color is around mid-November to the end of November. Outside of the autumn leave season, the Korankei Valley with its hills and many temples and shrines is a popular destination for hikes in nature.
Korankei Valley (香蘭渓谷)
Entry Fee: free
Opening Hours: Open 24 hours
Address: Iimori Asukecho, Toyota, Aichi 444-2424
Google Maps
Craftsmanship and Folk Culture at the Sanshu Asuke Yashiki Museum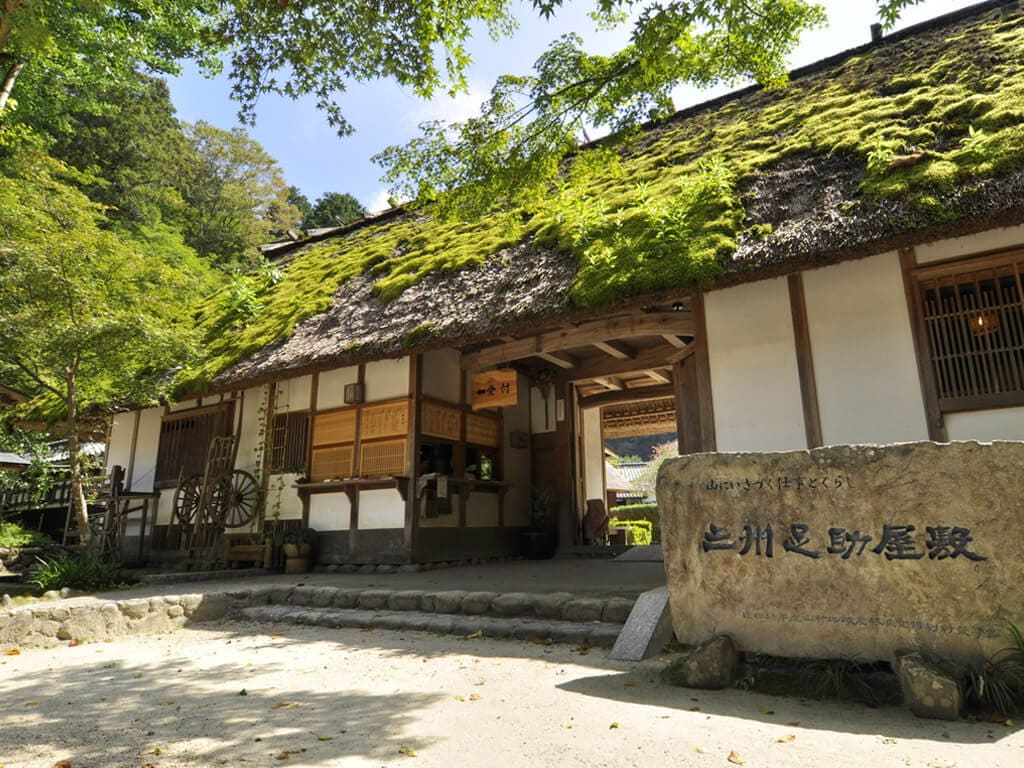 At this folk culture museum located in the Korankei Valley, you have the opportunity to learn about different aspects of crafts that were part of life in the mountains. At the reconstructed Asuke Mansion, a large property of a wealthy farming family you can learn about and even try your own hands at 10 different handicrafts including charcoal brazier cooking, traditional paper making, and weaving.
Sanshu Asuke Yashiki Museum (三州足助屋敷)
Entry Fee: free
Opening Hours: 9:00 – 17:00; close Thursday
Address: Iimori-36 Asukecho, Toyota, Aichi 444-2424
Website | Google Maps
Cherry Blossoms and Autumn Leaves? Only in Obara Where the Winter Cherry Blossoms Bloom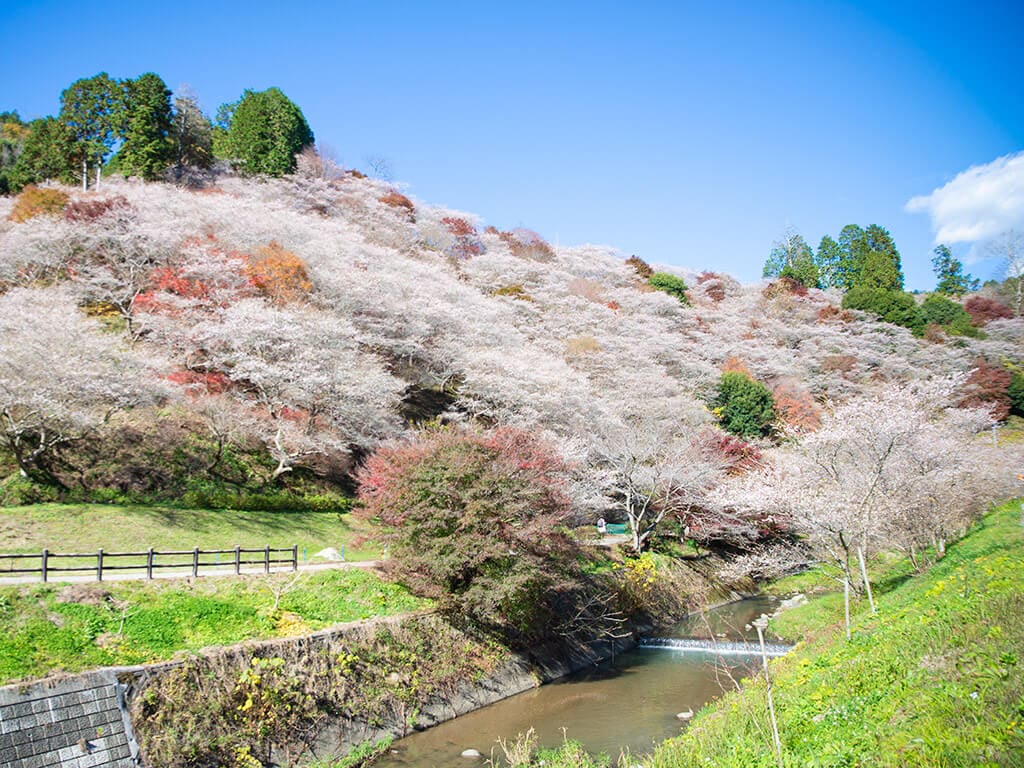 Did you know that you can see two of Japan's most beautiful seasonal events at the same time in one place?
Obara Winter Cherry Blossoms is one of the rarest and most spectacular of all Aichi Prefecture. The Shikizakura Cherry trees, also known as winter cherry blossoms, bloom once in spring and again in autumn (October to December). Autumn is also a time for colorful autumn foliage, most notably the red-colored leaves of the Japanese maple. The autumn leaves together with the Sakura flowers in bloom is an incredible and rare landscape to see.
In Obara, which is a part of Toyota, you can find this symphony of cherry and maple at multiple locations includingObara Fureai Park or Kawami Shikizakura no Sato.
The most beautiful spot is at Senmi Shikizakura no Sato, a low mountain planted with the winter cherry trees and occasional red Japanese maple trees in between. Not only the scenes from the bottom of the mountain but also the view during the short hike to the top are spectacular.
Senmi Shikizakura no Sato (川見四季桜の里)
Entry Fee: free
Opening Hours: Open 24 hours
Address: Senmicho, Toyota, Aichi 470-0506
Website | Google Maps
Learn How to Make Obara Washi Paper and Handmade Paper Crafts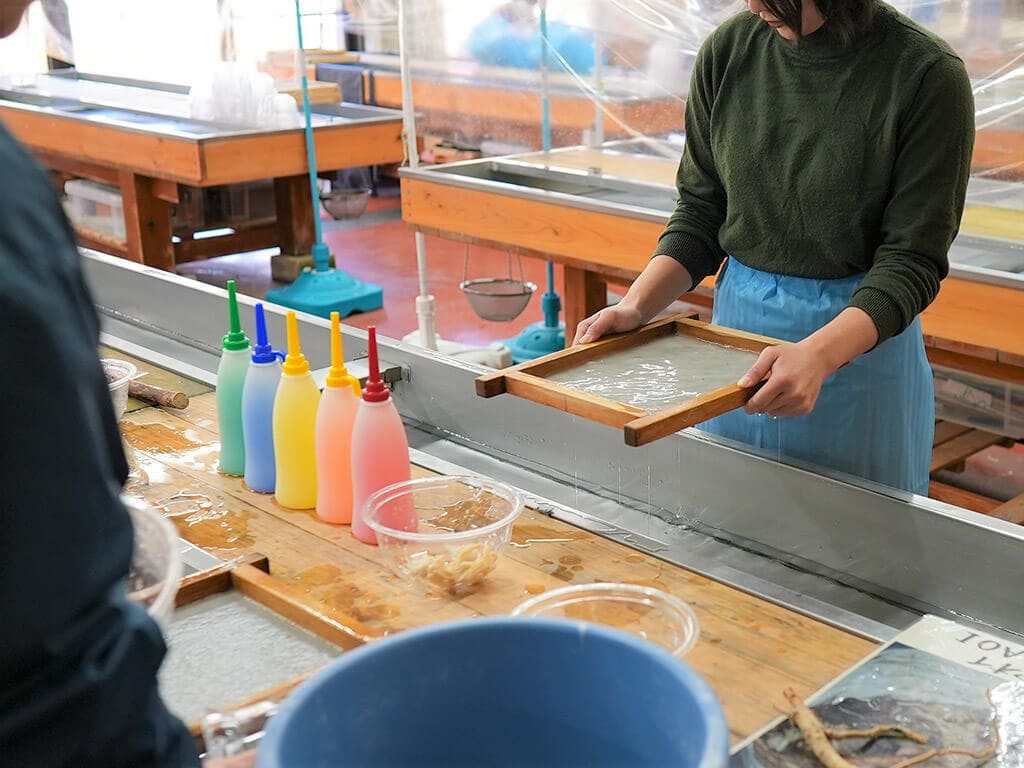 Toyota is famous for its cars and the autumn sceneries, but did you know that they are also famous for their Washi paper?
Washi, a type of paper unique to Japan is made of fibers from the barks of mulberry called Kozo, Gampi trees, and the Mitsumata shrub.
It has been manufactured for hundreds of years using traditional methods. Compared to other types of paper, Washi is thicker and lasts longer than conventional paper made of wood pulp.
The word Washi is the combination of two words: "Wa", meaning "Japanese" and "Shi", meaning "Paper."
Washi paper is used in making a variety of traditional Japanese objects like lamps, fans, kites and it is used as well as material for ritual objects used by Shinto priests and for Buddhist statues.
The process of making Washi is an intricate process that is oftentimes done during the cold months because cold running water is essential in the production process.
Washi paper has been traditional local produce for over centuries in the Obara area. Until the Meiji Period (1868 – 1912), they have been producing their paper to be used for traditional Japanese umbrellas and book covers. Over the years, they have been developing the techniques and modernized the use of Washi, and also incorporated it into Art.
If you want to experience the Washi making process, you have to visit the Obara Paper Art Museum. You will learn about the essential ingredients of Washi, the history and the techniques to create your own Washi.
You can learn more about this activity and book here.
History Buffs Shouldn't Miss Matsudaira Go, Home of the Influential Matsudaira Clan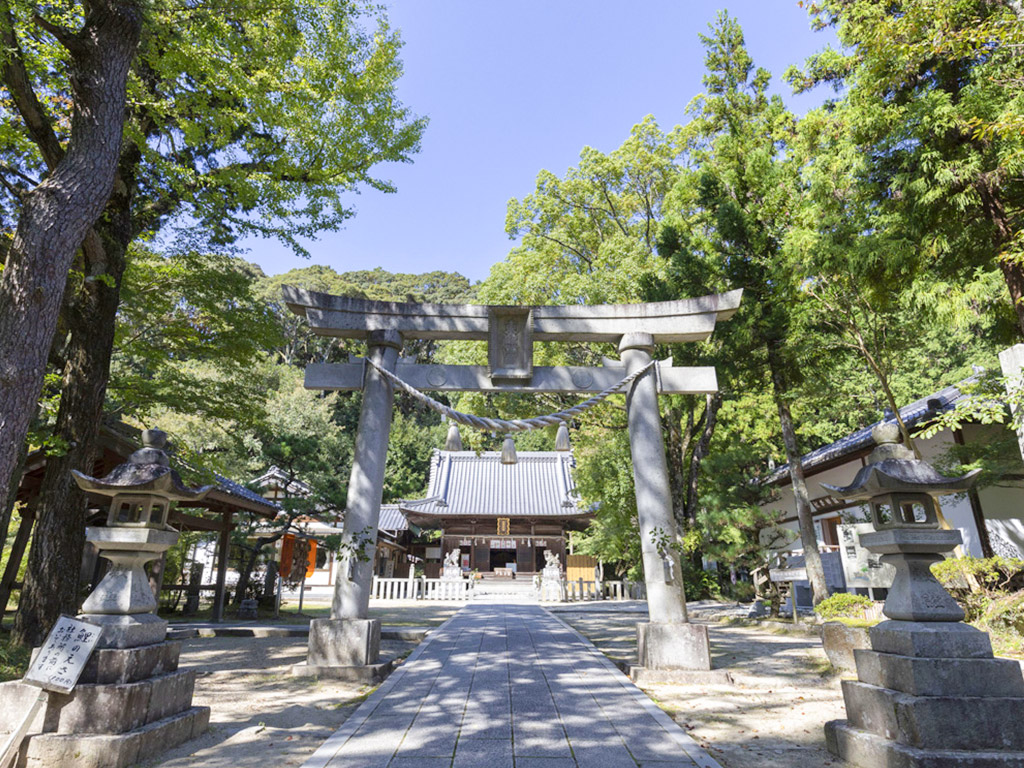 If you are a fan of Japanese history you will want to visit Matsudaira Go. This used to be the residence of the influential Matsudaira clan, which brought forth important historical figures such as Tokugawa Ieyasu, the warlord who succeeded in unifying Japan and bringing prosperity under his rule.
Matsudaira Toshogu Shrine is dedicated to Matsudaira Chikauji, the founder of the Matsudaira Clan as well as Tokugawa Ieyasu, the most prominent figure of the clan.
Make sure to visit the well located on the shrine grounds where newborns of the Matsudaira clan received their first bath. It was believed that the water would give them a long life, and you as a visitor can also benefit from the sacred water by washing your hands with it.
At the Matsudaira Go Hall adjacent to the shrine you will find artifacts of the Matsudaira and Tokugawa clans.
The beautiful Kogetsuin Temple dates back to 1367 when it was erected with the support of the Matsudaira clan. During the Tokugawa Period (1603-1868) the temple enjoyed the patronage of the Tokugawa Shoguns and some of the buildings still standing today date back to 1641.
Matsudaira Go (松平郷)
Entry Fee: free
Opening Hours: open 24 hours
Address: Akabara, Matsudairacho, Toyota, Aichi 444-2202
Website (Japanese only) | Google Maps
How to Get to Toyota
The center of Toyota is located around 25 kilometers to the south-east of Nagoya.
From Nagoya Station, you have 2 options to get to Toyota Station. Either take the Subway Higashiyama Line to Fushimi Station and then transfer to Tsurumai Line bound for Toyota. The one-way trip takes around 52 minutes and costs 780 yen. Or go by Meitetsu Train bound for Toyohashi, transfer at Chiryu Station to a train going to Sanage and get off at Toyotashi Station. This will take 54 minutes and cost 810 yen.
The city and surroundings make up a big part of the prefecture, and attractions are spread out and sometimes hard to get to on public transport.
If you want to visit multiple places in Toyota we recommend renting a car for the day.
---
Did you enjoy this article?
Make sure to also check out our other posts about Nagoya and trust us if we say Nagoya is not boring!
Be sure to follow us on Facebook for regular updates on Nagoya, and see our Instagram for pictures and stories about the city!
Tag us 📲
If you have visited Toyota before and you would like to share your experience on social media, tag us with #nagoyaisnotboring