Tokoname is home to Chubu Centrair International Airport, the largest airport in the region. What many people don't know, it is also a city with a long tradition of pottery and amazing craftsmanship. Tokoname is an excellent place to visit as a day or half-day trip from Nagoya (or the airport if you have a long layover).
Let Yourself Be Transported to Tokoname by Watching A Whisker Away.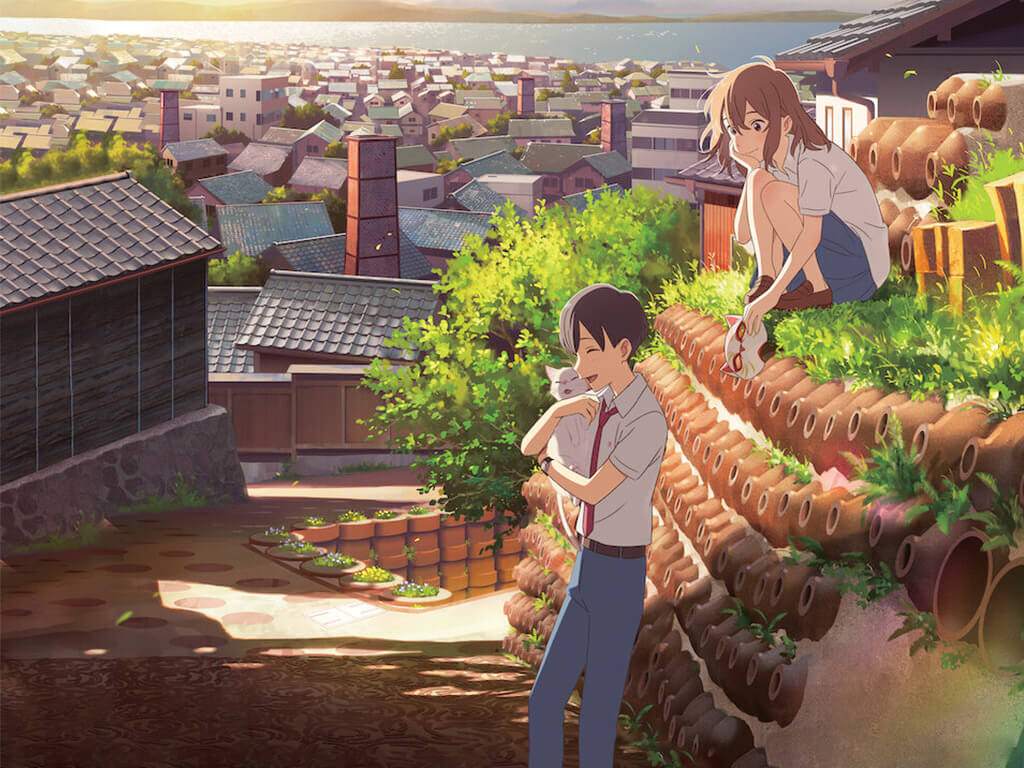 Tokoname was recently featured in the Netflix Anime movie 'A Whisker Away' which plays in Tokoname. It is about an energetic middle school girl called Muge who transforms into a cat to get closer to her crush Hinode.
It's a movie about growing up, first love, and the struggle of a girl who has to decide if she is a better cat or young girl.
Make sure to watch the movie before your visit to Tokoname and check out all the beautiful spots featured. Because it can really bring out the magic that can be found in Tokoname.
Top Spots to Learn All About Tokoname's Famous Pottery.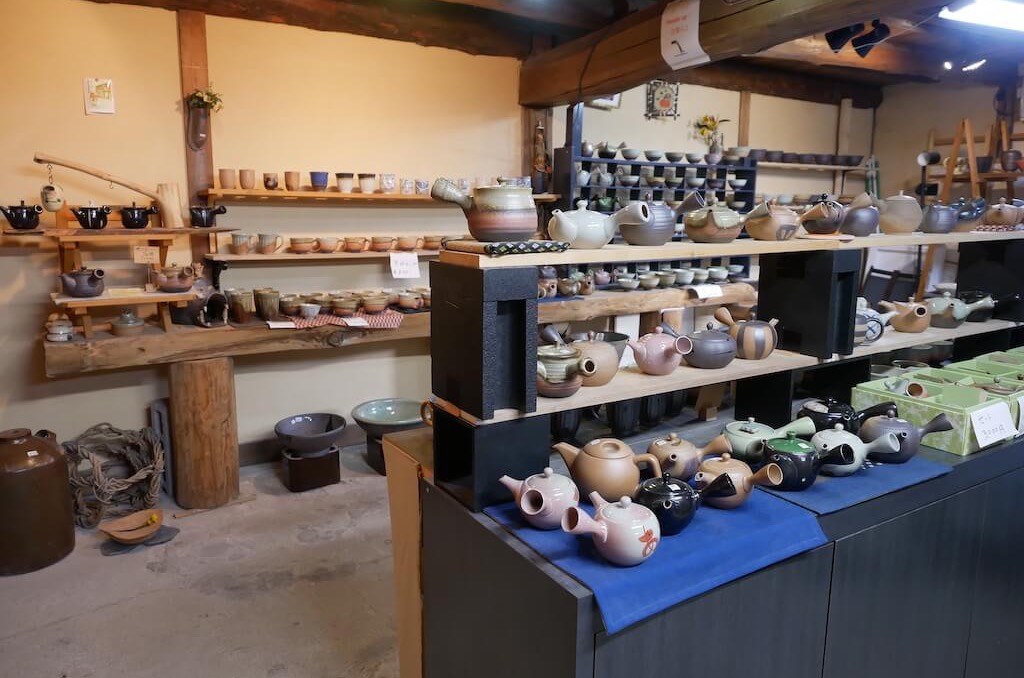 Tokoname is the oldest of the Six Ancient Kilns in Japan which are spread out all across the country —Shigaraki, Bizen, Tanba, Echizen, Seto, and Tokoname. These places in Japan are strongly associated with their long pottery producing history.
Tokoname's pottery history begins in the Heian Period (794-1185) with the manufacturing of ceramic pots and vessels. The city was specialized in teapots, bottles, and containers to transport water, sake and for the storage of Buddhist sutras and scrolls, as well as tiles, bricks, and pipes.
The characteristic of Tokoname pottery or Tokoname Yaki is the bright red color of the clay that is used to make the many different products.
During the hight of pottery production in Tokoname, there were more than 3000 kilns located around the city. Nowadays you can still get an idea of what Tokoname used to look like by visiting the older parts of the city.
Manekineko Street, the Beckoning Cat Open-Air Art Gallery.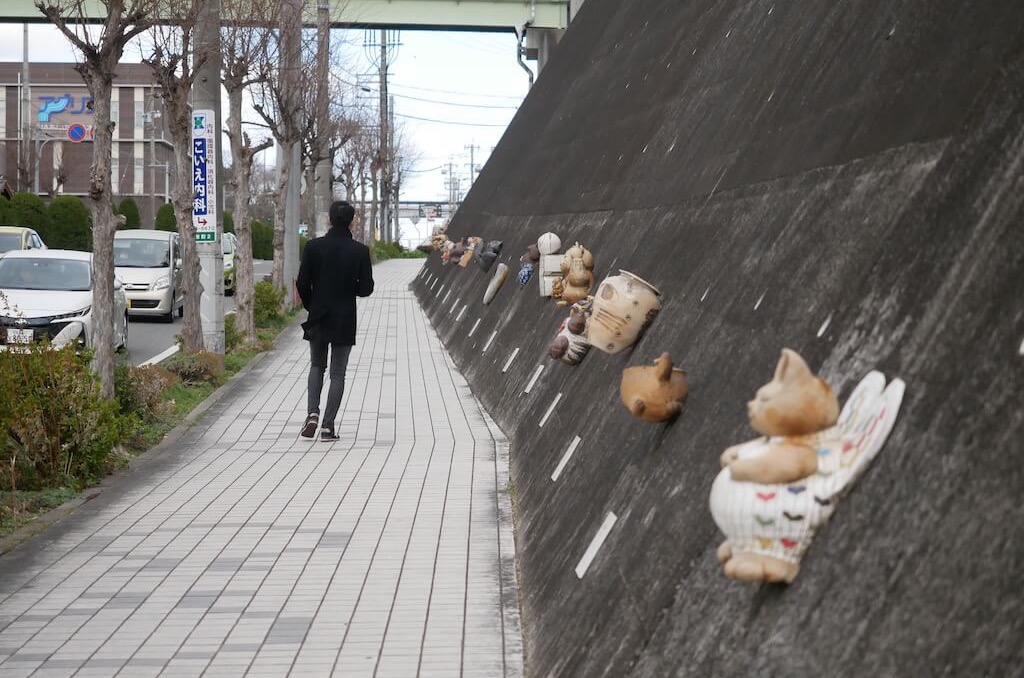 The walking path leading from Tokoname Station to the mouth of the Pottery Foot Path is called Manekineko Street and is lined with 39 clay beckoning cats created by talented artists. Tokoname is the largest producer of ceramic lucky cats in Japan and is very proud of that fact.
Why don't you try to find your favorite piece of art while strolling along the street.
Take a Walk along the Pottery Footpath.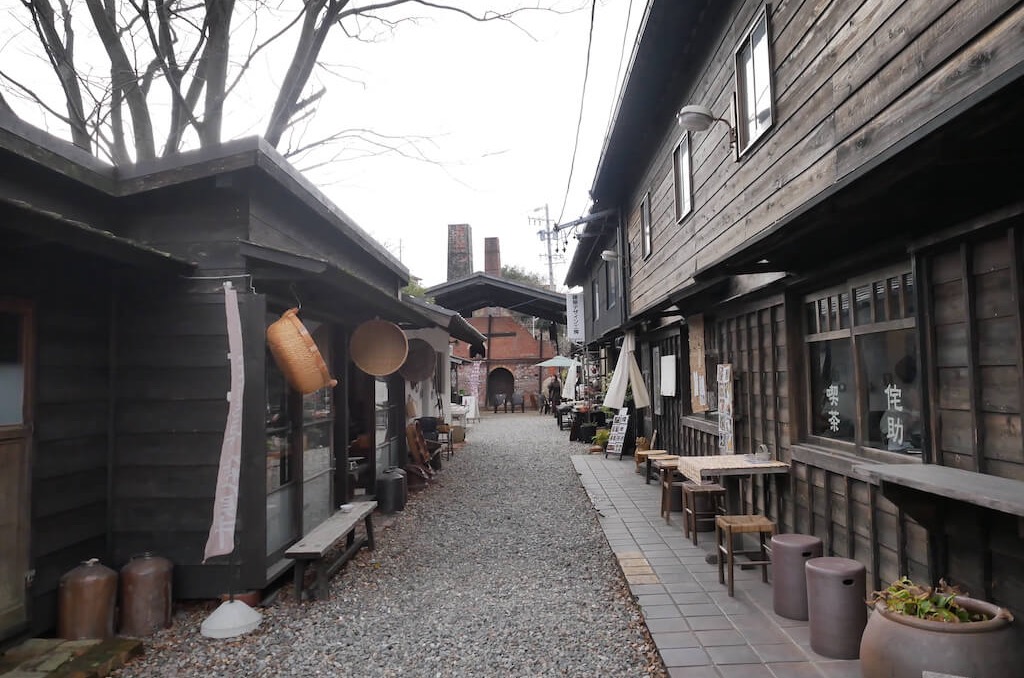 The best way to experience Tokoname Yaki is by following one of the two Pottery Footpaths. The 1.5 kilometers long Course A is the shorter of the two leading past the highlights of Tokoname including the scenic spots such as the Dokanzaka and Climbing Kilns, as well as countless pottery shops, workshop studios, and the Takita Family Residence.
Course B is longer and less visited. The 4-kilometer long course leads past the Tokoname Ceramic Art Institute, Tokoname City Folk Museum, and the INAX Museum Complex.
We will introduce you to all of these spots and more in detail below. So you can make an informed decision which of the paths you would like to follow for your visit to Tokoname.
Pottery Making Experience at a Famous Potter's Studio.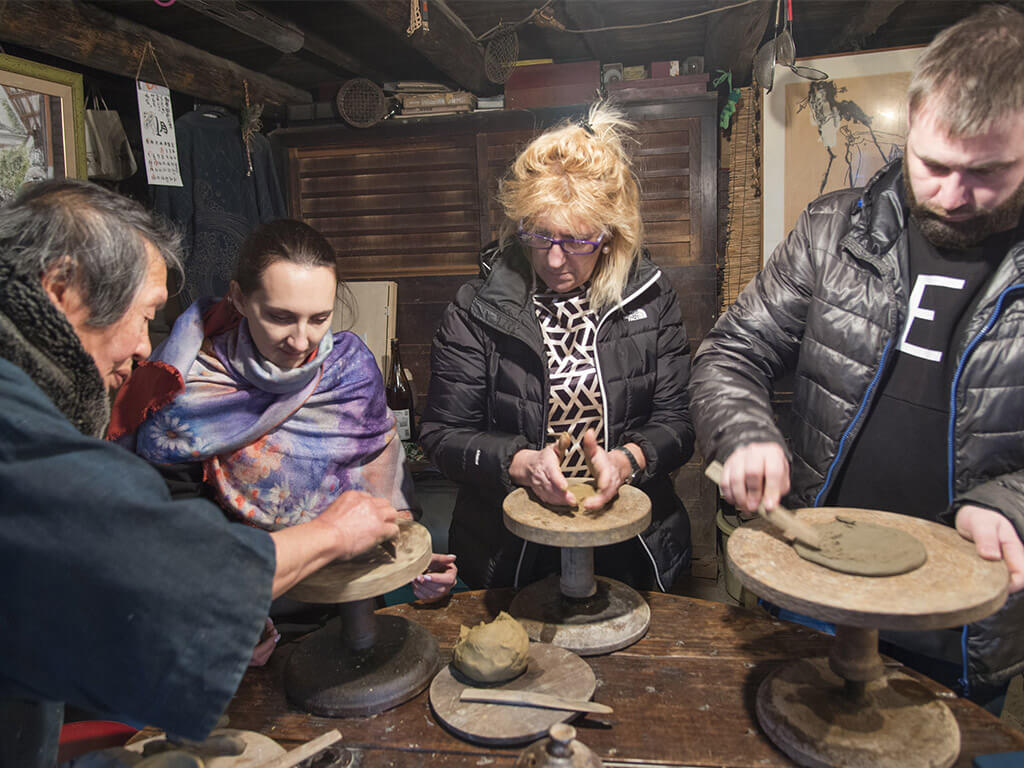 If you really love pottery and don't just want to have the same pottery experience as everyone else, you should seriously consider this experience at the studio of a renowned potter. Mr. Hirano Yuichi is a fourth-generation potter and his works have been exhibited in the Boston Museum of Art among other places.
The pottery master picks up his own clay at secret spots in the mountains, which makes every piece he creates unique because of the inclusions of minerals in the clay leading to fascinating coloring in the finished item.
This experience feels a lot like a real apprenticeship with a Japanese master. It is intense with a master who really takes his art seriously and expects a certain amount of respect and seriousness from his pupils, even those who only come for a day to learn.
The location is also exceptional as the master lives in an old house in the pottery path's winding streets. The master's house has an underground atelier with every corner filled with piles of old books and other undefined objects long forgotten. Thousands of bold and strange pottery items decorate every free space.
Whatever you create under the watching eye and helpful hands of the master will be fired and once finished sent to your home anywhere in the world.
A truly unique and once-in-a-lifetime experience for real pottery fans.
You can learn more about this activity and book here.
Tokonyan, the Big Beckoning Cat Watching Over Tokoname.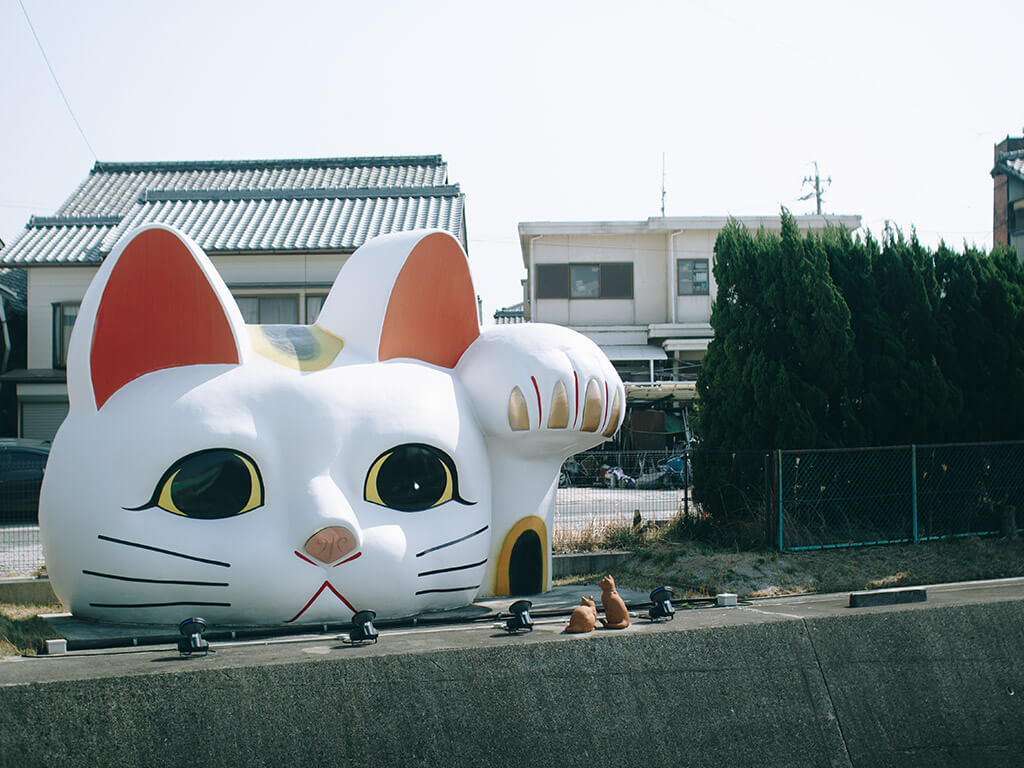 On the top of Manekineko Street, the giant head of a Manekineko called Tokonyan is overlooking the city. Another sign of Tokoname's connection with the lucky cats, Tokonyan is a popular picture spot.
The Edo Period Takita Family Residence.
During the Edo Period (1603–1868) the Takita family was responsible for the logistics of shipping locally produced pottery and other goods such as rice to the capital Edo.
It was a very lucrative business that afforded them a beautiful residence in Tokoname. The old building has been preserved and turned into a museum where you can learn more about the families' history and the way pottery and other goods used to be shipped around the country.
Takita Family Residence (廻船問屋 瀧田家)
Entry Fee: 200 yen
Opening Hours: 9:30 – 16:30; closed Wednesdays
Address: 4-75 Sakaemachi, Tokoname, Aichi 479-0836
Google Maps
Dokanzaka, the Most Photogenic Spot in Tokoname.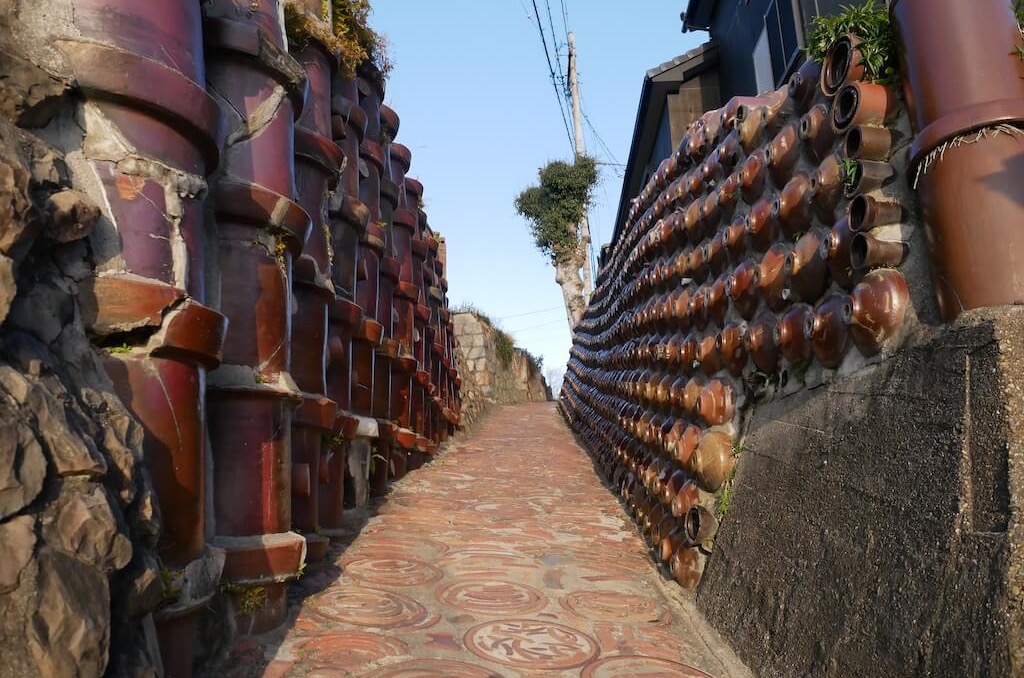 This slope called Dokanzaka or Clay Pipe Hill lined with Sake barrels and big pipes and plastered with broken pieces of ceramics might just be the most photogenic spot in Tokoname.
Tarumi Hongu Shrine, Viewing Point on Top of Hongu Mountain.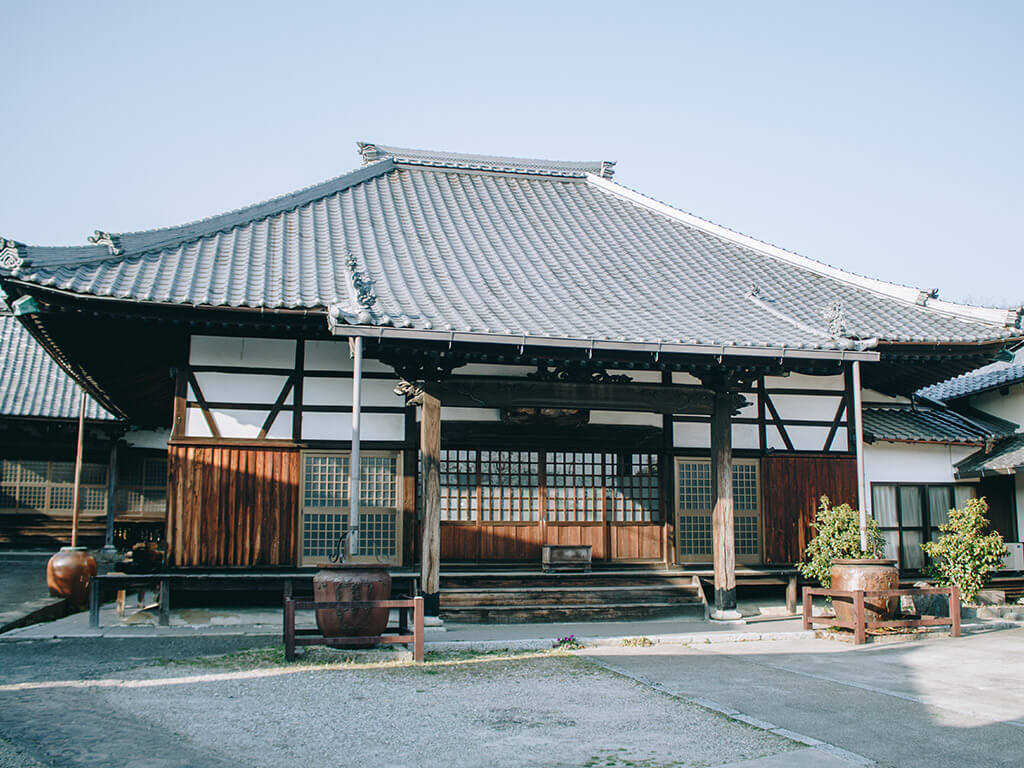 Tarumi Hongu Shrine is a little-noticed Shinto shrine and also a great lookout spot from which you can see Tokoname City from above. This shrine is a little away from the path, so if you don't look for it carefully you might overlook it.
Tarumi Hongu Shrine (樽水本宮神社)
Entry Fee: Free
Opening Hours: Open 24/7
Address: Hasugaike Tarumi, Tokoname, Aichi 479-0801
Google Maps
The Biggest Climbing Kiln in Japan, an Impressive Construction Telling of a Different Time.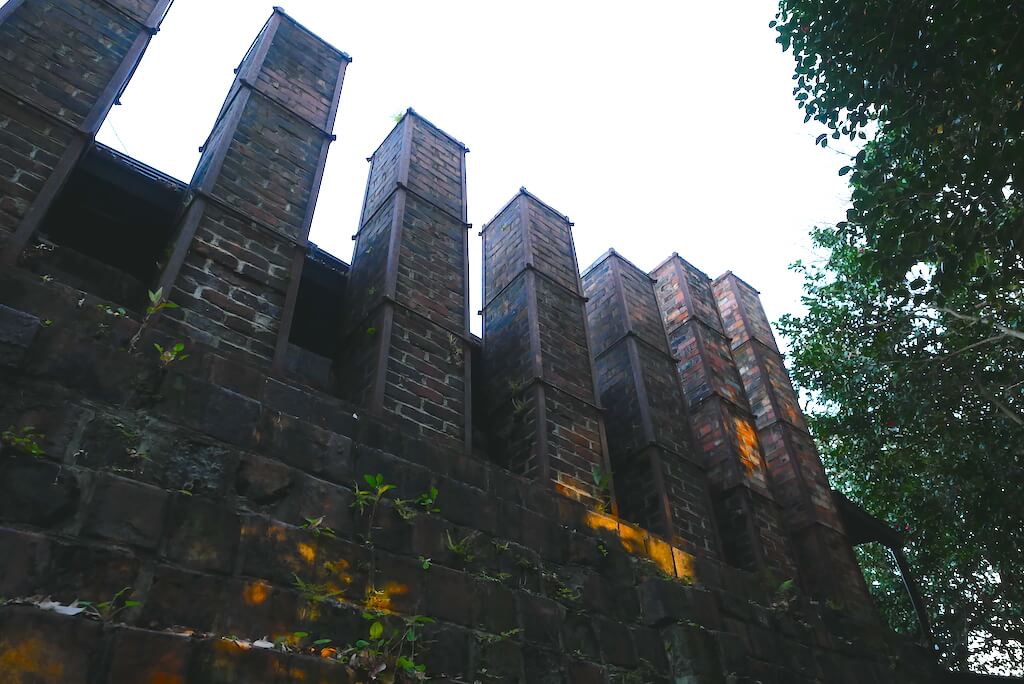 Built onto the hillside the Climbing Kiln with its 10 chimneys is the only one of its kind left in Tokoname. It is also recognized as the biggest climbing kiln in Japan.
The impressive kiln isn't used anymore, mainly because of the environmental impact and the great effort necessary to fire it up. But there are still people in Tokoname today who remember a time when the kiln was used to produce beautiful pottery.
Get to Know the Pottery of the Edo Period at Tokoname Tou No Mori Museum.
The Tokoname Art Institute incorporates the Tokoname Tou no Mori Museum displaying Edo Period redware and shallow tea bowls as well as the Tokoname Tou no Mori Togei Research Institute which functions as a training center for aspiring potters.
Tokoname Tou no Mori Museum (とこなめ陶の森資料館)
Entry Fee: free
Opening Hours: 9:00 – 17:00; closed Mondays
Address: 4-203 Segicho, Tokoname, Aichi 479-0821
Website | Google Maps
INAX Live Museum, A Huge Complex Dedicated to Pottery.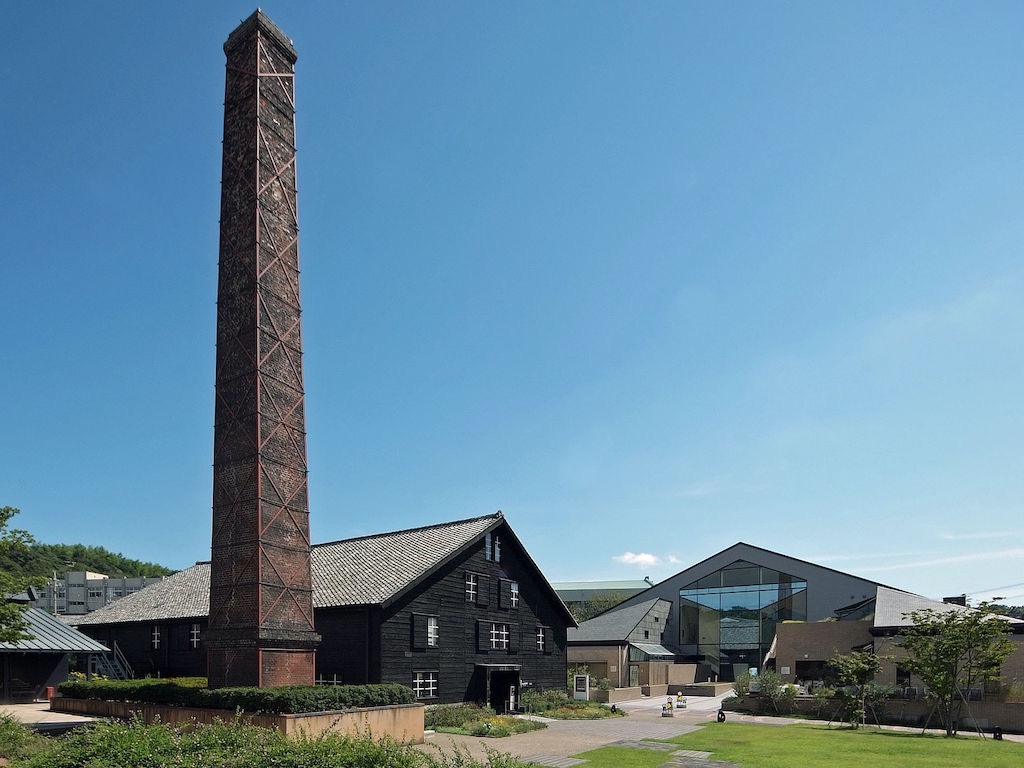 INAX Live Museum is a complex of six museums all dedicated to pottery in different ways.
The Kiln Plaza is located on the site of an old kiln constructed in 1921. This particular kiln used to be dedicated to the production of clay pipes. Not only the exterior is impressive but on the inside, you can find tools and machines used for the production of pipes as well as an informative video that shows how such a kiln used to be fired up for production.
At the Tile Museum, more than 1000 decorative tiles are on display as well as recreated tile-adornments from Mesopotamian civilizations over Egyptian tiles to Islamic architecture using tiles. This museum is dedicated to the history and development of decorative tiles around the world.
Clay Works is the place to learn about the raw material used in making pottery: the soil, and clay. At this building built from clay, you can experience the material hands-on through workshops. Try making your own shiny clay ball or clay pastel colors.
At the Architectural Terracotta Museum and Terracotta Park, you can experience the terracotta artworks popularly used in Japanese architecture of the early 1900s. It is an impressive collection on display inside as well as in an outside area.
At the LIXIL Ceramics Lab, you can learn about the history and future of craftsmanship. Recent projects range from the restoration of historic structures to the creation of new, innovative ceramics with the collaboration of artists, architects, and experts from various fields.
The Tiling Workshop is a place to express your creativity with clay. Different workshops are held here, including a mosaic art workshop, tile, and clock painting workshops, and strangest of all a mini toilet painting workshop.
INAX Live Museum (INAXライブミュージアム)
Entry Fee: free
Opening Hours: 10:00 – 17:00; closed Wednesdays
Address: 1-130 Okueicho, Tokoname, Aichi 479-0823
Website | Google Maps
Learn How to Create Your Own Pottery Masterpiece at the Seiko Pottery Workshop.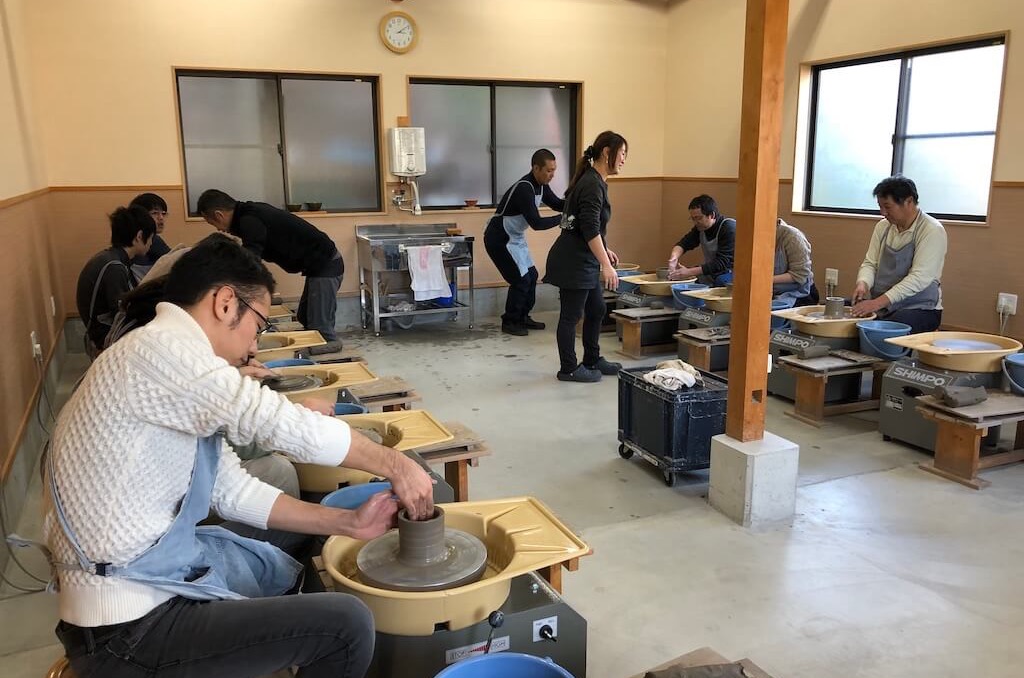 Around Tokoname you will find numerous studios offering workshops to create your own pottery. Many offer workshops to walk-in guests as well as to those who reserve in advance.
One of these places is the Seiko Pottery Workshop. During a 40-minute workshop for 3300 yen, you get 1 kilogram of clay to shape into a plate, cup, or bowl. Even though there are no workshops on offer in English following the instructions of the skilled teachers is easy as they will show you what to do.
Since pottery has to be burned before it is ready, you can't take home your creation right away and delivery takes around one month. If you don't plan on staying in Japan for that long you can take home someone else's work and leave yours for someone else to pick up and enjoy in the future.
Chill Out at the Stylish Tokoname Store.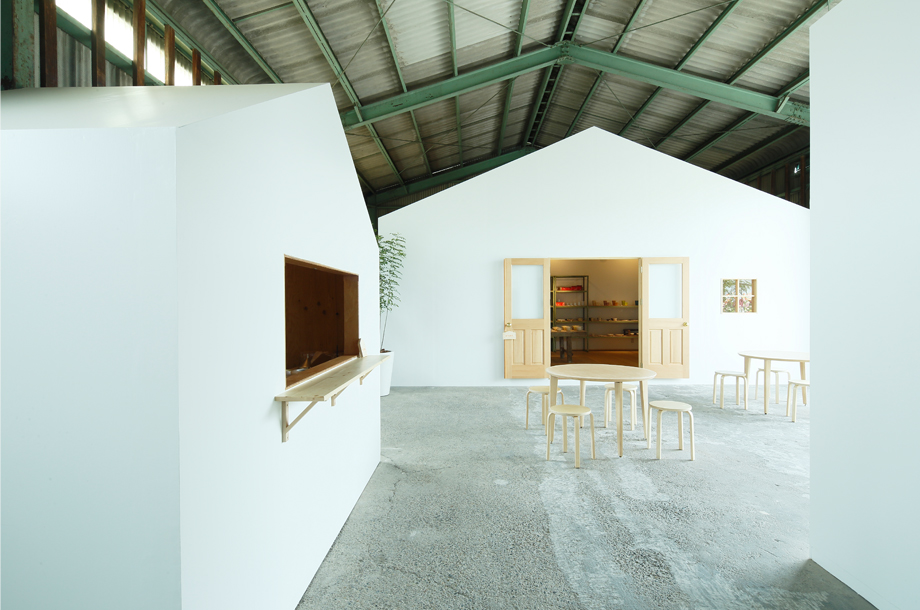 Another famous and very modern place to enjoy a workshop, buy some simplistic ceramics, or enjoy a delicious cup of coffee is the Tokoname Store located inside a repurposed warehouse.
Tokoname Store
Opening Hours: 11:00 – 18:00; closed Wednesdays
Address: 6-70-2 Haramatsucho, Tokoname, Aichi 479-0832
Website (Japanese only) | Google Maps
Ceramall, Get Ready for Some Pottery Shopping!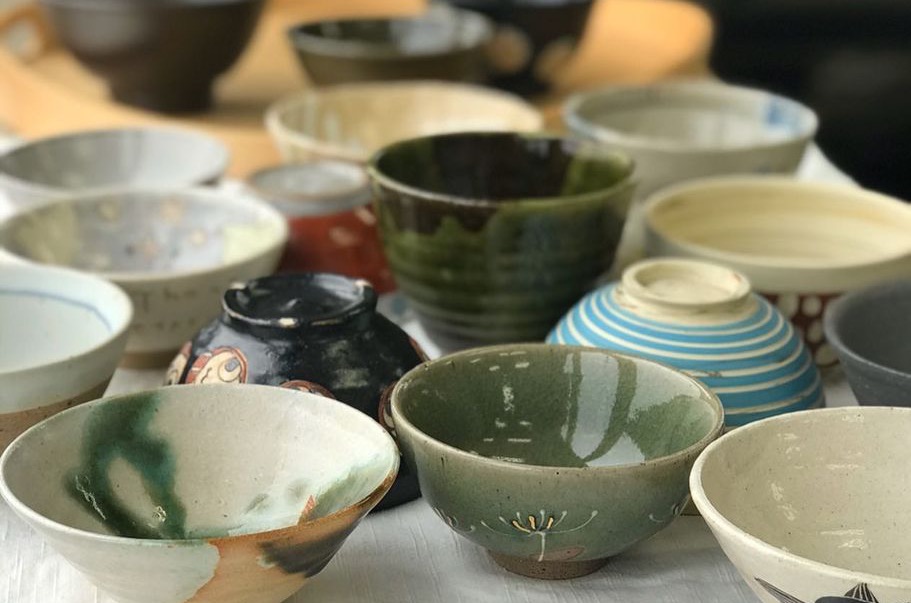 Countless shops selling all kinds of household wares are located along the Pottery Path. But for the biggest selection, you need to check out Ceramall. A shopping mall dedicated to ceramics. The top reasons to shop at Ceramall are the great prices, a wide selection of products, and the opportunity to do workshops or eat food served on Tokoname ware.
Ceramall (セラモール)
Opening Hours: 10:00 – 17:00
Address: 99 Kamisuhara, Kanayama, Tokoname, Aichi 479-0003
Website (Japanese only) | Google Maps
Participate in the Tokoname Pottery Town Walk & Studio Visit.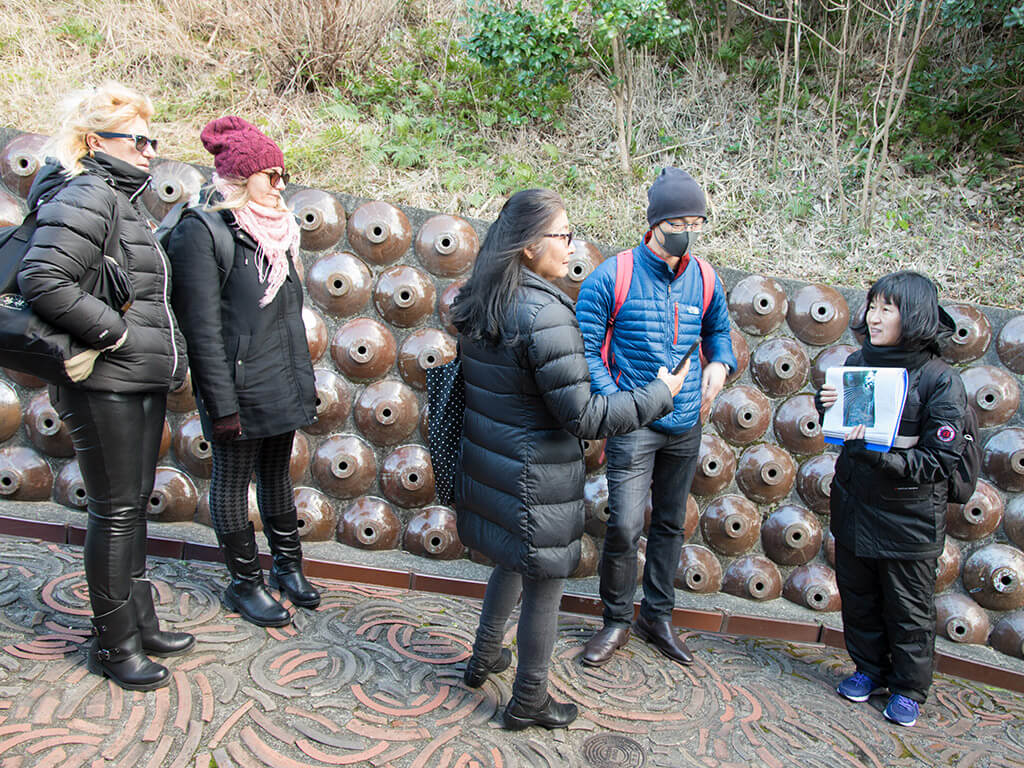 The best way to experience the pottery of Tokoname is during a guided tour. The Tokoname Pottery Town Walk & Studio Visit introduces you to the highlights of Tokoname during a 3-hour walking tour.
Your guide will lead you past Manekineko Street, visit Takita Family Residence, take pictures of you at the most photogenic spots, and even take you to a studio where you can watch a professional at work.
Book your tour directly with us!
From Sweet to Savory. The Best Places to Eat in Tokoname.
Tokoname has a couple of cafes, restaurants, bars, and sake breweries worth checking out during your visit.
Try the Delicious Curries at Madoyama.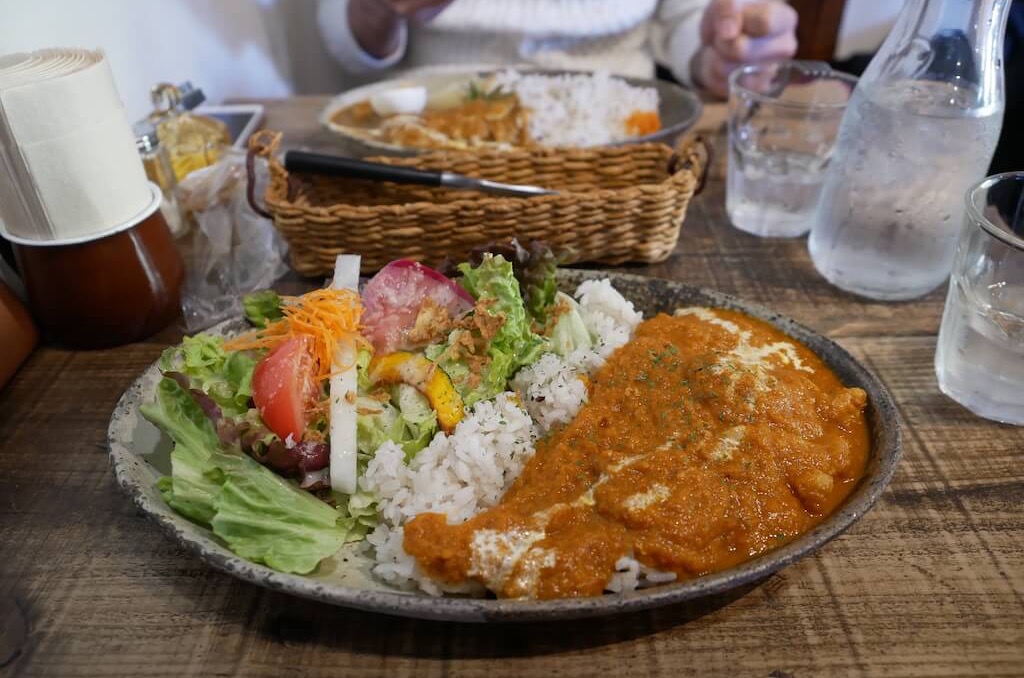 Madoyama is the perfect restaurant if you are looking for a delicious lunch spot or an afternoon dessert. It is housed in an old wooden building but has been renovated with great care. The first floor is a little shop selling ceramics but also other decorative items.
Madoyama is specialized in curries that are served with rice and a fresh green salad. Make it a lunch set and choose between hot and cold coffee or tea and one of their delicious desserts.
Madoyama (マドヤマ)
Opening Hours: 10:00 – 17:00
Address: 3-111 Sakaemachi, Tokoname, Aichi 479-0836
Google Maps
Try Nagoya's Typical Eel Dish at Unagi no Nakamuraya.
If you haven't had a chance to try Hitsumabushi (grilled eel on rice) in Nagoya, Unagi no Nakamuraya is a great place to try the dish. This little typical Japanese diner is located on the Pottery Footpath and is specialized in eel dishes.
Unagi no Nakamuraya (うなぎの中村屋)
Opening Hours: Weekdays 11:00 – 13:30, Weekends 11:00-15:30; closed Wednesdays
Address: 2-24 Okueicho, Tokoname, Aichi 479-0823
Google Maps
Have a Fresh Veggie Lunch at ni:no Homewares & Cafe.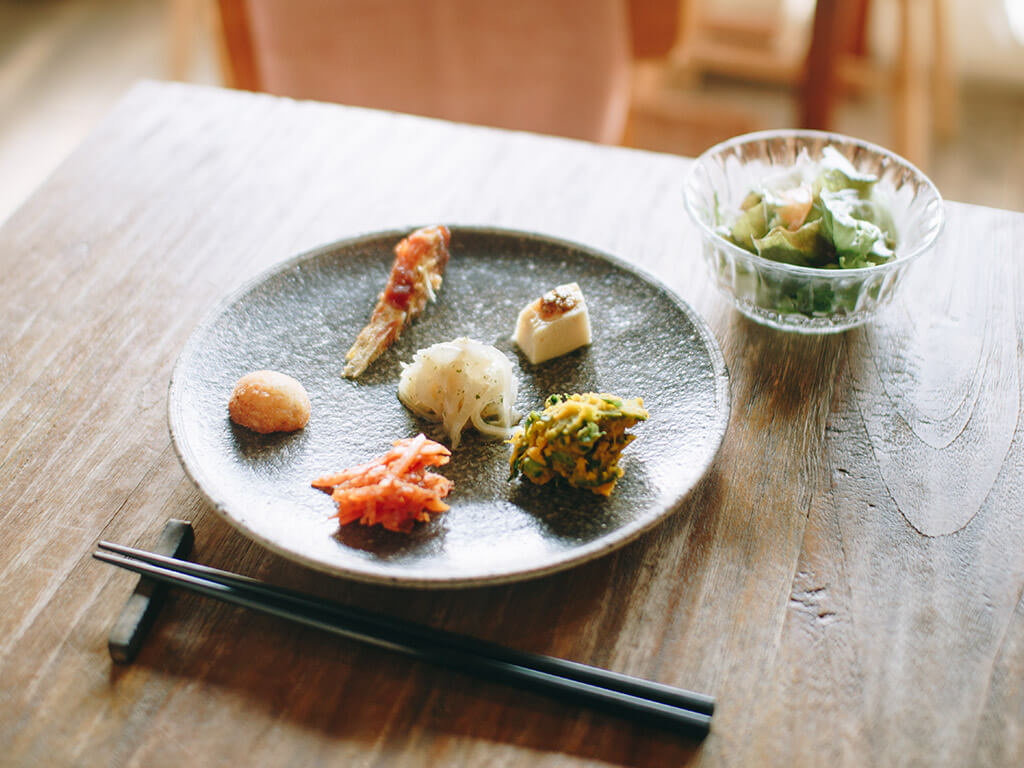 Ni:no Homewares & Cafe serves a delicious lunch menu which includes one drink for only 1000 yen. The food is Western-inspired made with local products, and the fresh vegetables are the main protagonist. The lunch menu includes a starter, salad, and the main course accompanied by rice or bread.
The building has 2 floors. You will find the restaurant on the second floor with antique and very comfortable couches and chairs. The first floor is a store where you can find items such as women's clothing, handbags, hats, furniture, decoration, and gardening items.
Ni:no Homewares and Cafe
Opening Hours: 10:00 – 17:00; closed Thursdays
Address: 1-1 Togocho, Tokoname, Aichi 479-0835
Google Maps
Okuramochi's Shaved Ice Is the Best Way to Cool Down in Summer.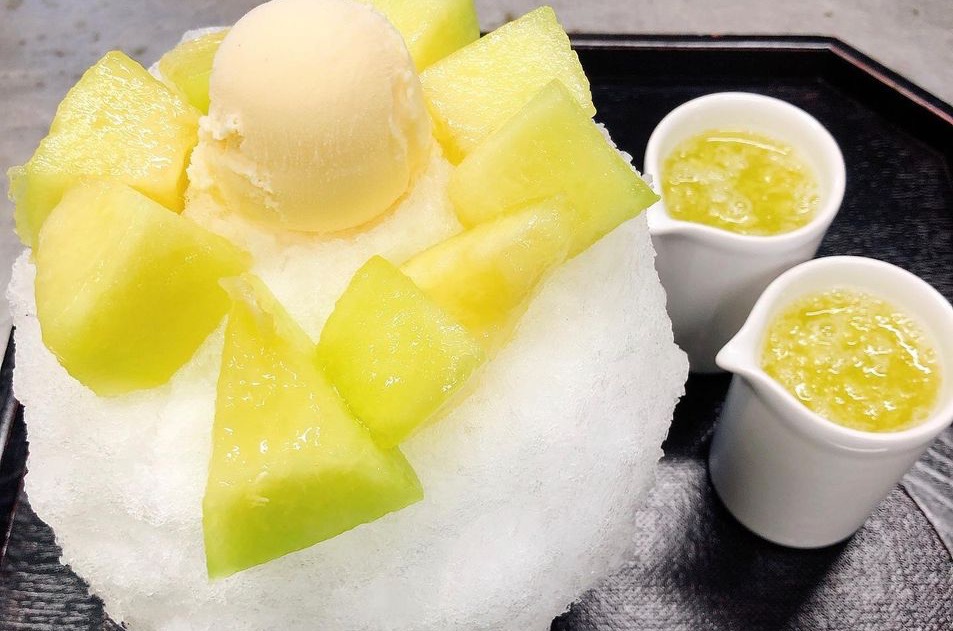 Okuramochi is an extremely popular traditional Japanese sweets shop. They are specialized in different kinds of Wagashi. During summer they serve Kakigori shaved ice as well as other summary sweets at their cafe.
Fair warning, if you visit on a weekend you have to expect a long wait to get a seat at this beautiful traditional cafe overlooking a Japanese garden.
Okuramochi (大蔵餅)
Opening Hours: weekdays 9:00 – 18:00, weekends 9:00-18:30; closed Mondays
Address: 2-2-1 Koiehonmachi, Tokoname, Aichi 479-0838
Google Maps
Learn About Sony, Sake, and Soy Sauce at Morita Aji no Yakata.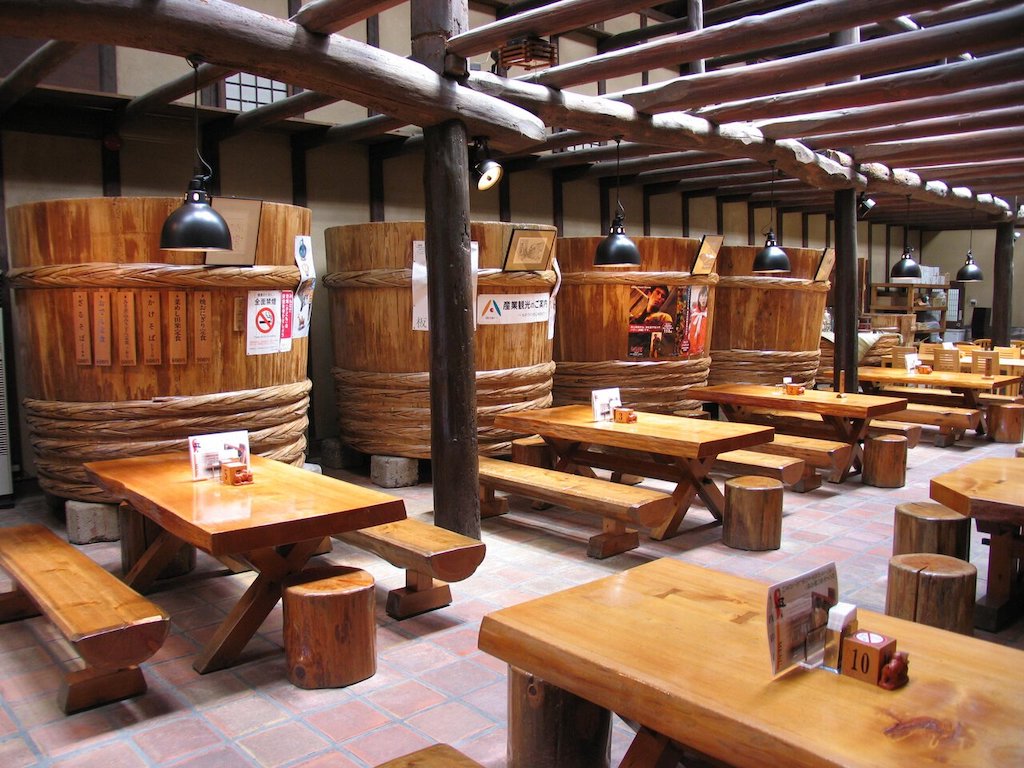 The Morita family has been producing Sake in Tokoname since 1665. They diversified into other fields such as Soy sauce and Miso production and have made a name for themselves over the years.
What many people don't know is that Akio Morita the co-founder of the Sony Corporation comes from this Morita family and as the oldest of 4 children was expected to take over the business in Tokoname.
You can learn all about Morita and Akio Morita at the Morita Aji no Yakata, a beautiful old building housing a small museum, shop, and restaurant where you can try Miso-based dishes as well as Soy sauce soft-serve ice cream.
Morita Aji no Yakata (盛田味の館)
Opening Hours: weekdays 10:00 – 16:00; closed Tuesdays and Wednesdays
Address: 10 Kosugaya Wakihama, Tokoname, Aichi 479-0807
Website | Google Maps
Learn How Sake Is Produced on the Sawada Brewery Tour.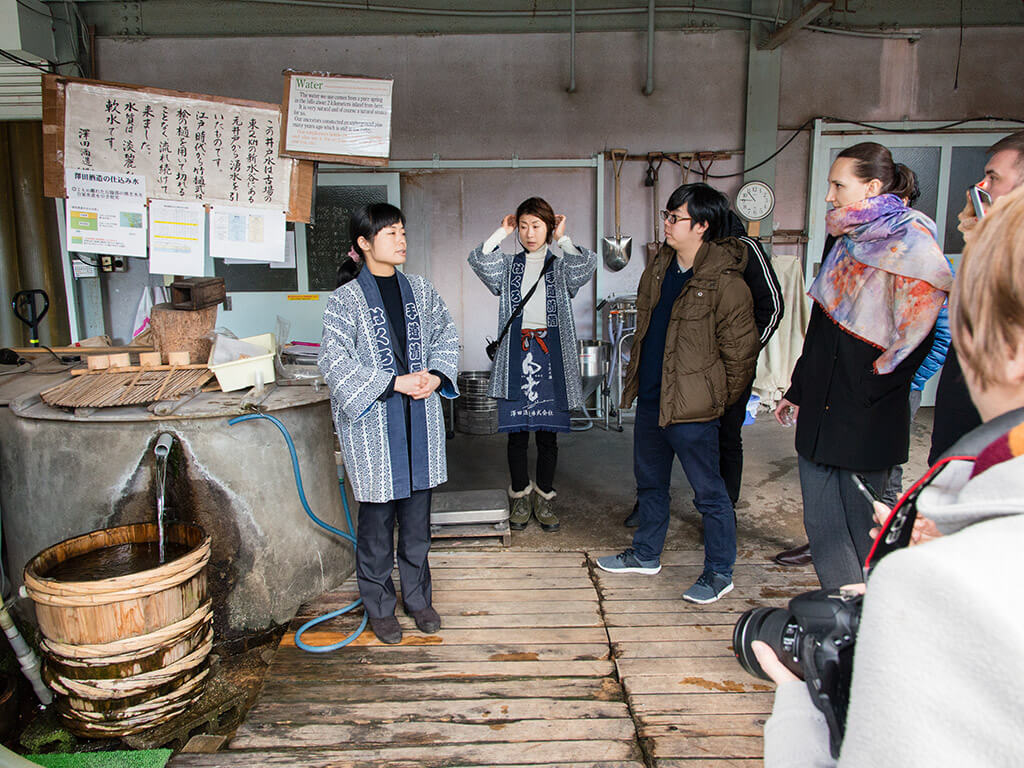 Another famous Sake brewery with a long history (more than 170 years) is the Sawada Brewery. During a Sake Brewery & Tasting Tour in Tokoname, you can learn about the production process of Sake, tour the brewery, and sample different kinds of their famous Sake.
Don't forget to buy the Sake you liked best to take home with you.
You can book this tour here on Nagoya is not boring.
Go Bar Hopping in Tokoname and Mingle With the Locals.
If you want to experience Tokoname at night like a local, book a Bar Hopping Night Tour in Tokoname. Together with your local guide, you will visit two bars where you have the chance to try local dishes and drinks and mingle with the locals.
This tour is the perfect end to a perfect day in Tokoname. Book it here.
There and Back Again. Visit Tokoname From Nagoya.
Tokoname is easily accessible from Nagoya via Meitetsu train. The trains bound for Central Japan International Airport all pass through Tokoname Station. The one-way trip takes 30 minutes and costs 680 yen for a non-reserved seat.
If you want to visit Tokoname from the airport take the Meitetsu line to Tokoname Station. It's a 5-minute ride that costs 310 yen. Tokoname is actually an excellent place to visit if you have a long layover at Chubu Centrair International Airport.
If you want to know more about Chubu Centrair International Airport read our post about all the things you can do there.
---
Did you enjoy this article?
Make sure to also check out our other posts about Nagoya and trust us if we say Nagoya is not boring!
Be sure to follow us on Facebook for lots of information, and see our Instagram for pictures and stories about Nagoya!
Tag us 📲
If you have visited Tokoname before, share your favorite places on social media and make sure to tag us with #nagoyaisnotboring