Japan is home to 430 inhabited islands and almost 7,000 total islands!
Located a short distance from Nagoya is Sakushima, a crab-shaped island home to amazing seafood and a number of modern art installations that you are able to touch, sit on and crawl all over.
Sakushima, also known as "the island of the winds", is one of the 3 islands located in Mikawa Bay, which together with Himakajima and Shinojima form the Aichi Archipelago. Sakushima is the largest of the three islands with a circumference of 11km.
Sakushima is a part of Nishio City which is another very interesting city and famous for its Macha. You can find more about Nisho City and its delicious green Matcha here.
The island is mostly forest with roughly 300 inhabitants living in two small villages on the east and west side of the island. With no traffic lights or convenience stores Sakushima not only offers an escape from the hustle and bustle of the city, but it is also "an outdoor art gallery" with around 22 pieces of modern art scattered throughout the island. You will not want to miss this amazing place!
History and Modern Art Combine on Sakushima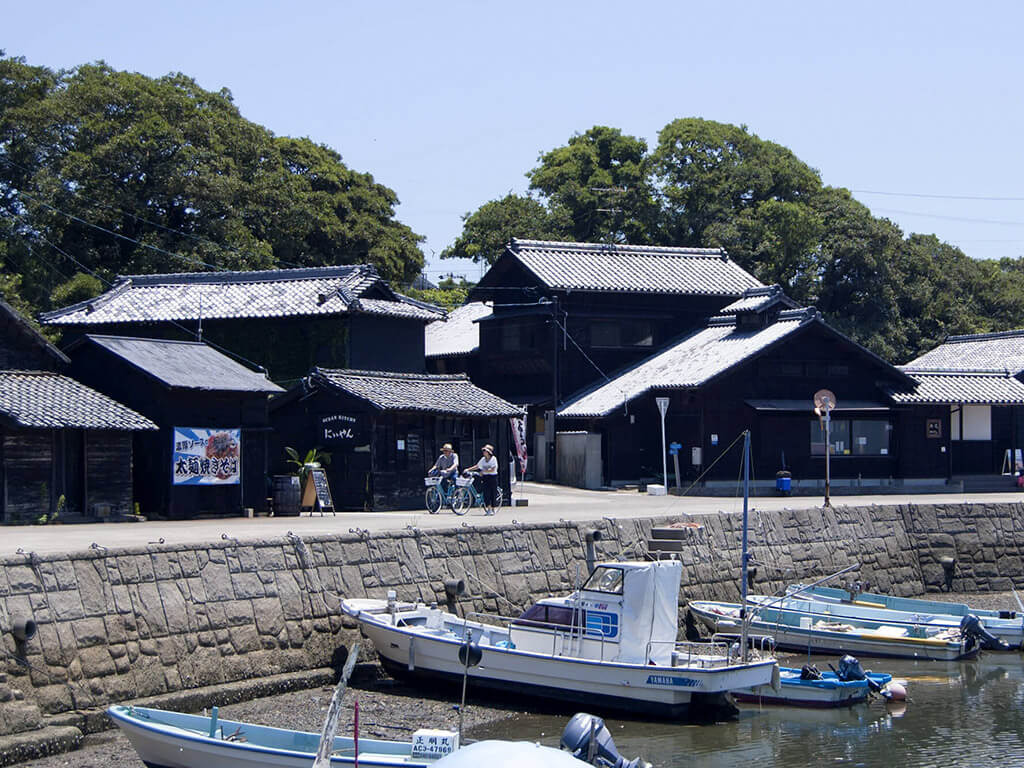 Sakushima has about 15,000 years of history. Various ceramics from the Jomon period (Japan prehistoric period, between 14,000 and 300 BC) and the Yayoi period (300 BC-300 CE) were discovered on the island. Would you like to learn more about ceramics and pottery as well as visit a studio to see how it is still being made nowadays? Join our unique experience in Tokoname!
During the Edo period (1600 – 1868), the island was very prosperous thanks to the shipping industry. Numerous small local temples and shrines were built during this period. Do you know the difference between a temple and shrine as well as how to pray at each correctly? Have a look at this post for the answers.
In 2000, several art installations and sculptures were built as part of the ArtPlan21 project to encourage visitors to visit and enjoy the beauty of the island.
Where to Experience Traditional Scenery Seen Through Modern Art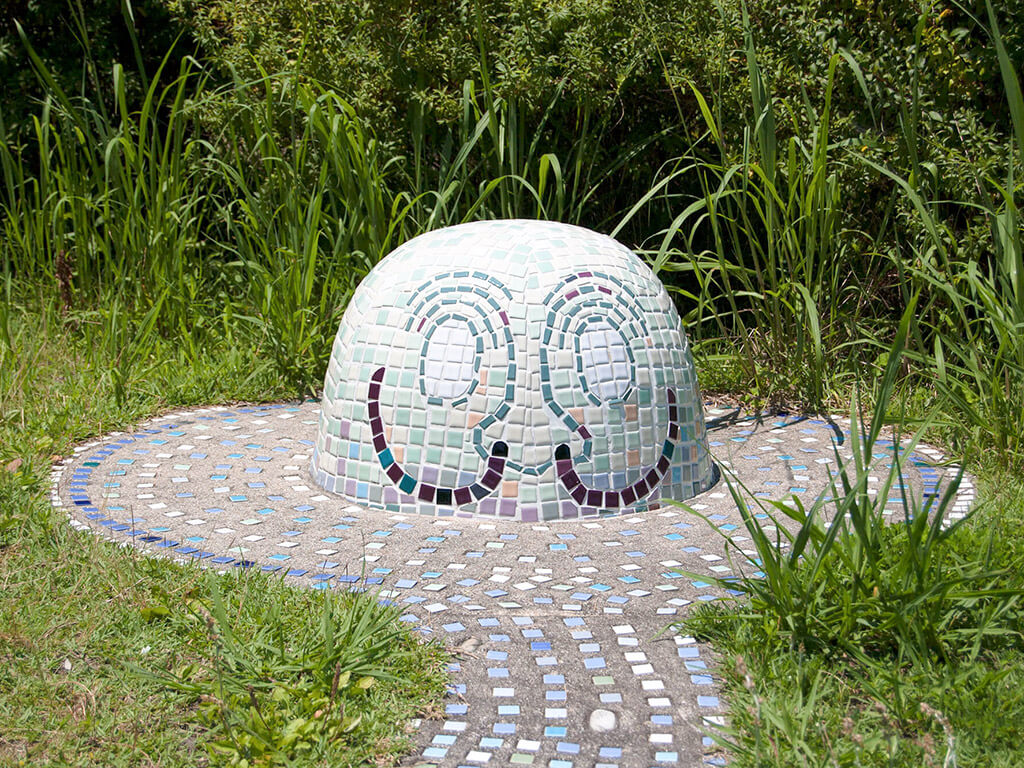 Despite being only a small island, there is quite a lot to see and do in Sakushima. The villages are small and filled with narrow, maze-like crooked streets. This was done to block the wind as well as discourage pirate attacks. The traditional homes are called Kurokabe, or black walls, as they were originally painted with coal tar to protect them from the salt filled sea breeze. Today the black color is created using black paint.
Apart from some stretches of the coastline, most of the island is covered by forest, with bamboo forest and bushes of camellia, plum trees, and Japanese wild radish.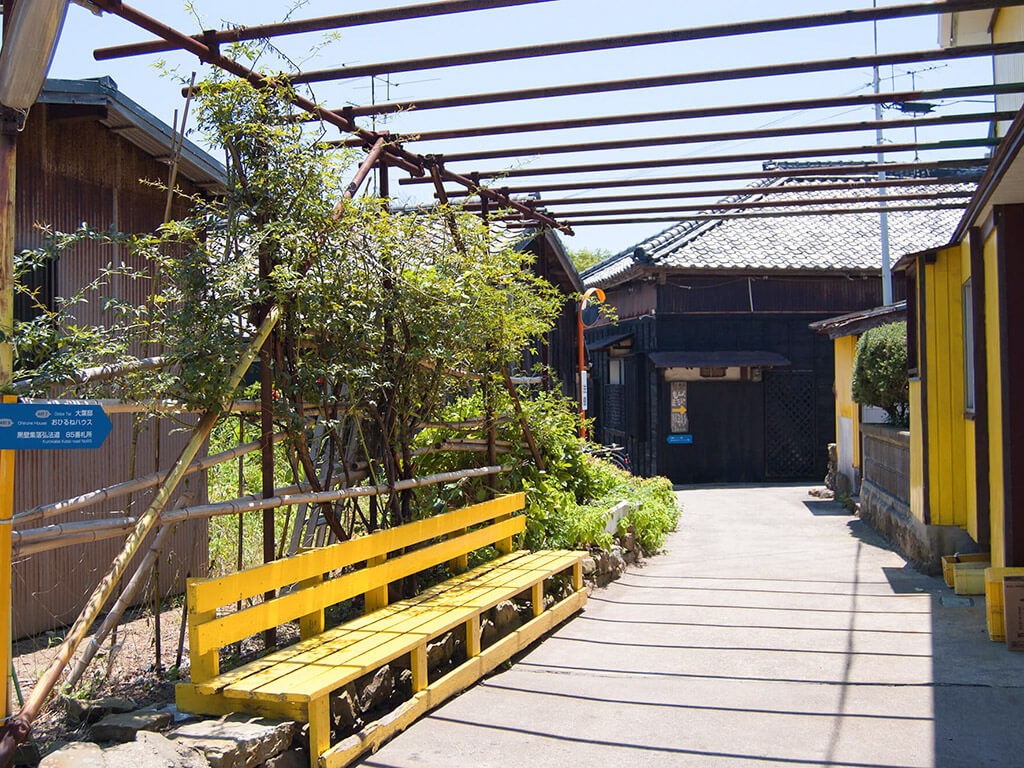 While you walk around the island, admiring the art, you may find one of the 88 small temples scattered around the island. You may even be able to find an old grave covered by trees, which is said to be a thousand years old.
Sakushima is inspired by Japan's most famous art island, Naoshima, located in Kagawa Prefecture. Just like Naoshima, art and nature are keywords to help you appreciate your visit to the island even more.
Twenty-two works of sculpture and modern architecture are exhibited around the island. It is worth highlighting the Hirune House (The Nap House), East House and Kamome Chushajo (literally meaning The Seagull Parking Lot).
Hirune House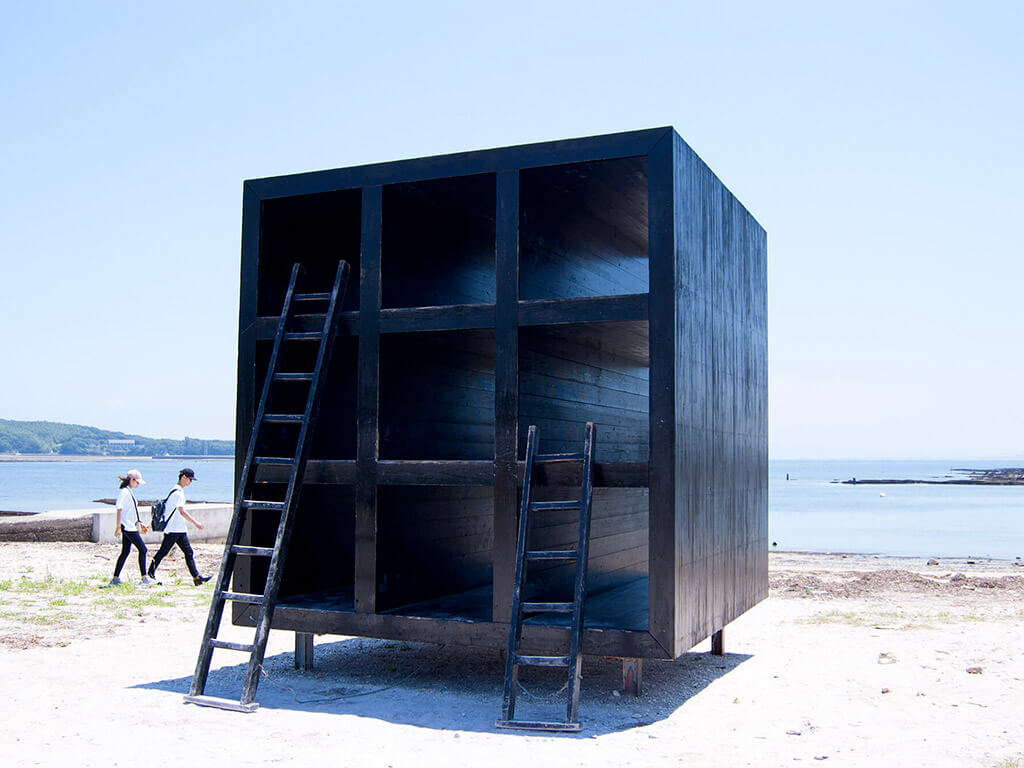 Hirune House was designed by artist Yuki Minamikawa in 2004. It is a box structure painted black, with nine windows that evokes nine different views of the Island. People can climb the ladders to see the island in alternative ways.
Hirune House (おひるねハウス)
Entry Fee: Free
Opening Hours: Open 24 hours
Address: 16 Ishigaki, Isshikicho, Sakushima, Nishio, Aichi 444-0416
Access: Located south-east of the West port. Roughly a 25-minute walk from the East port or a 10-minute walk from the West port.
Website (Japanese Only) | Google Maps
East House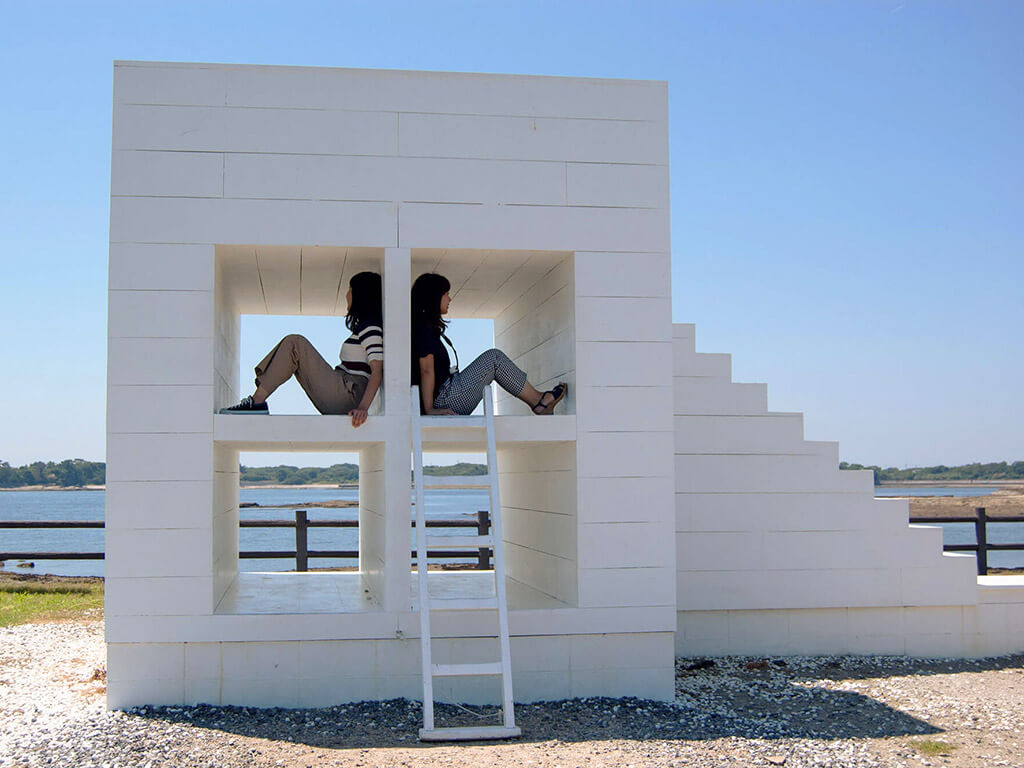 Minamikawa also designed East House' in 2010. It is a white structure in the shape of a box that serves as a frame for the views of its surroundings. Your view is different wherever you view it from, including from on top!
East House (イーストハウス)
Entry Fee: Free
Opening Hours: Open 24 hours
Address: Oshima, Nishio, Aichi 444-0416
Access: Located on the causeway heading from the East port to Oshima Island. Roughly a 3-minute walk from the East port or a 25-minute walk from the West port.
Website (Japanese Only) | Google Maps
Kamome Chushajo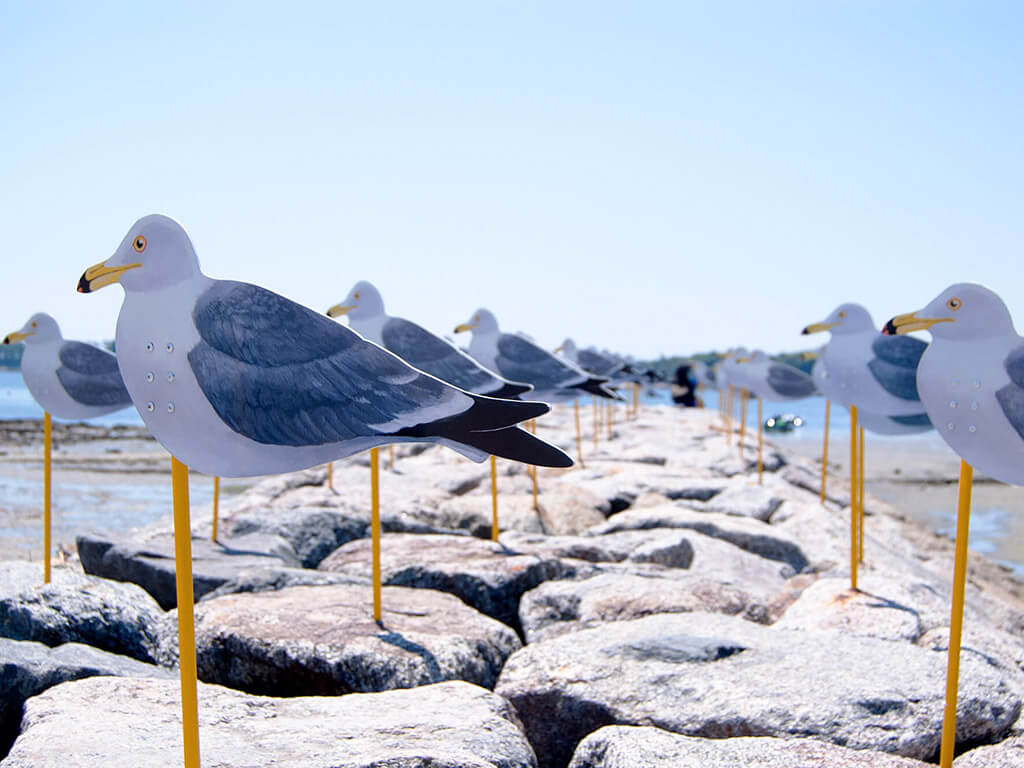 The Kamome Chushajo is a flock of metallic gulls on stilts standing along a breakwater. This artwork allows you to see how the direction of the wind changes as it enters the bay.
Kamome Chushajo (カモメの駐車場)
Entry Fee: Free
Opening Hours: Open 24 hours
Address: Kokobata 17, Isshikicho, Sakushima, Nishio, Aichi 444-0416
Access: Located between the East and West ports. Roughly a 10-minute walk from the East port or a 20-minute walk from the West port.
Website (Japanese Only) | Google Maps
Sakushima Seafood Delicacies and Where to Find Them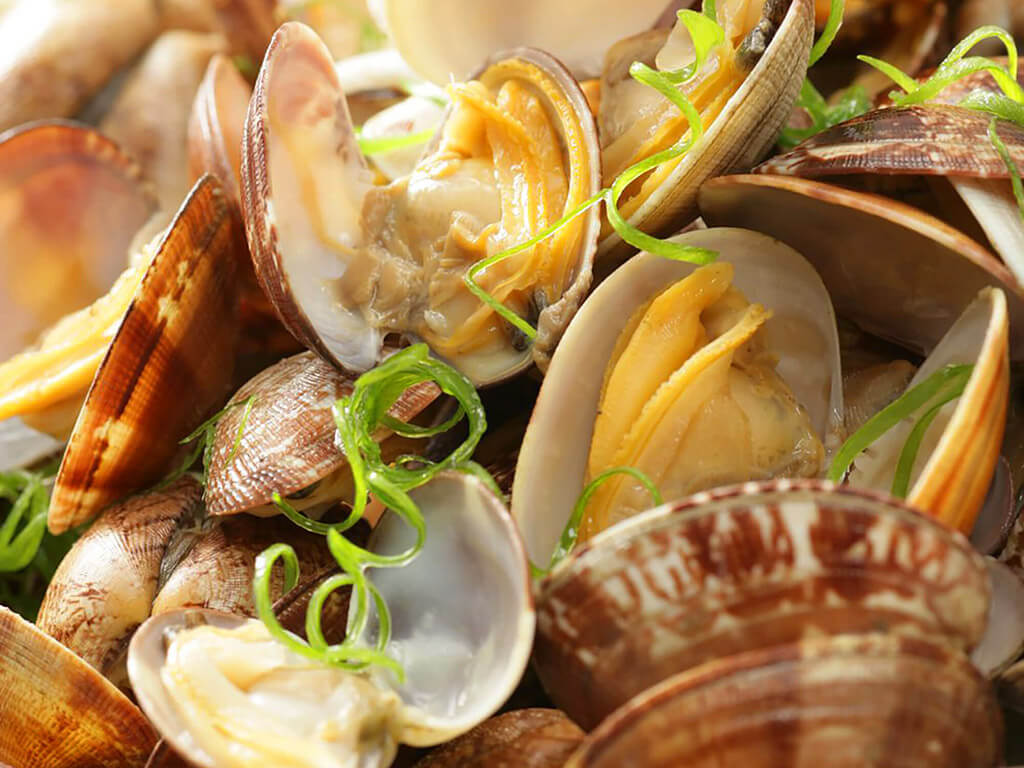 After visiting the art facilities and exploring the island, you can cool off by visiting the many small shops and cafes that populate the island.
As fishing is abundant throughout the year, the main diet of the locals is fish including seafood and sea cucumbers. The main specialty of Sakushima is giant clams. Each restaurant has its own style of cooking them. Some grill with butter or others, steamed.

Also, do not miss the octopus, the second most specialty of the island. It is often served whole or as Shabu Shabu (a hotpot dish where vegetables and thinly sliced octopus are quickly swished in boiling water to cook them).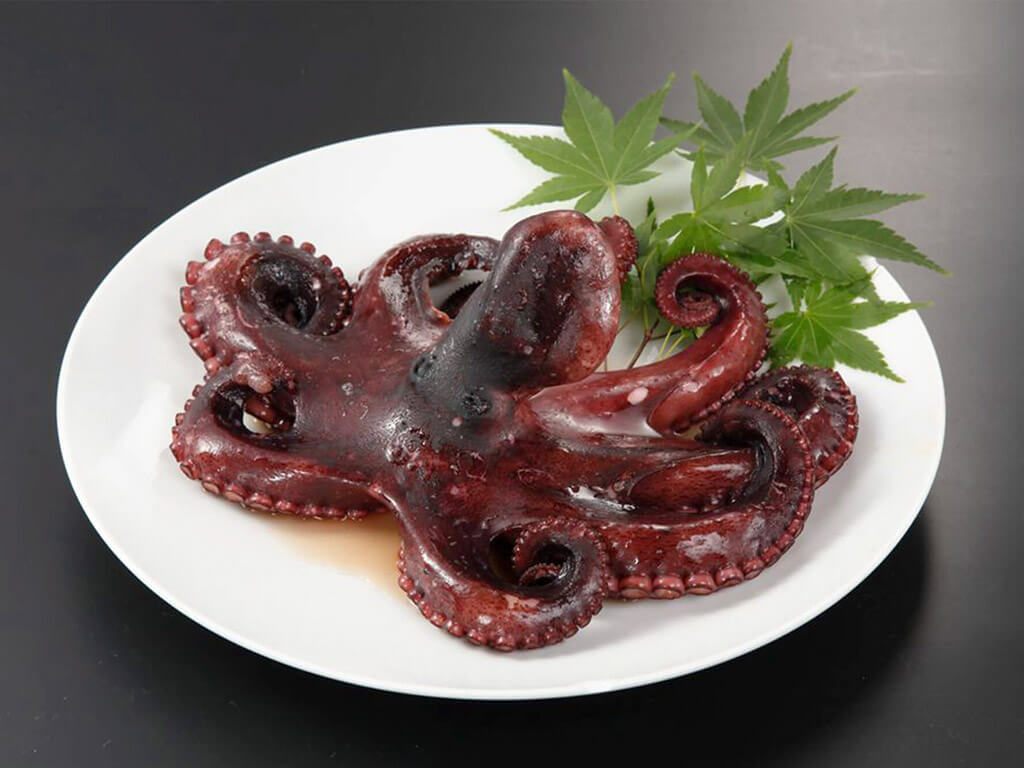 You can also try other dishes made with local vegetables and homemade sweets.
Did you know that edible cactus is a local vegetable in Kasugai City, not too far from Nagoya? Try (cooking) it together with a local during the Local Cooking Experience with Cactus.
Cafe OLEGALE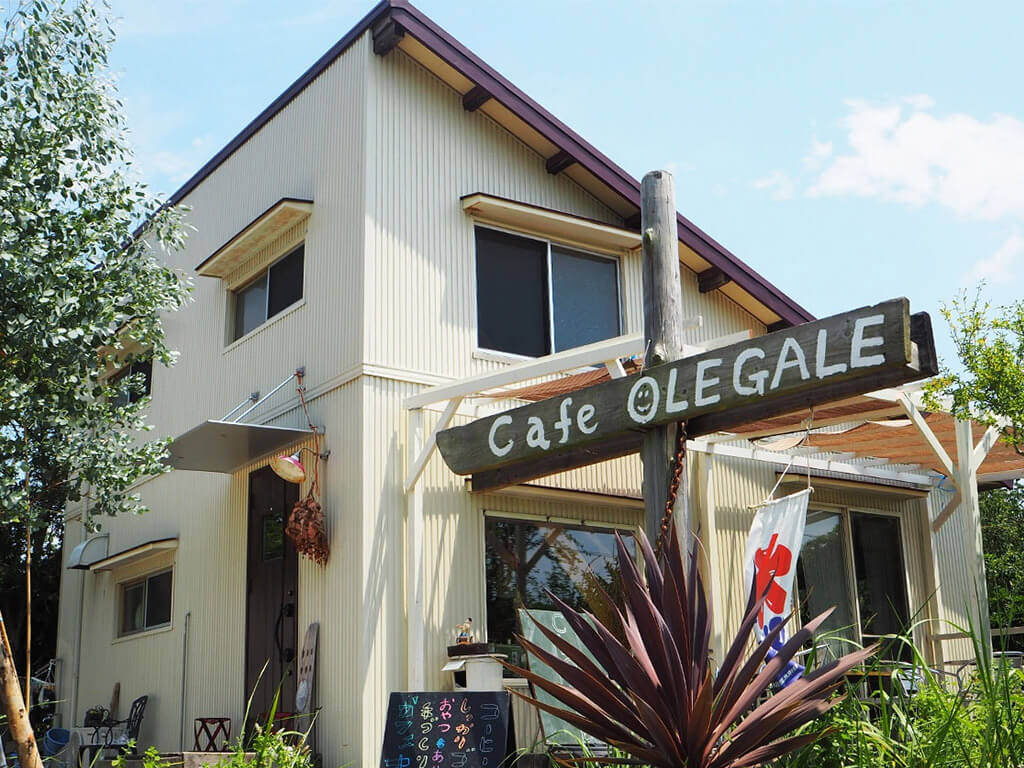 One great option for lunch or a snack is cafe OLEGALE. Located in the middle of Sakushima along the main road running through the island. All ingredients are locally sourced from Sakushima itself as well as the main part of Nishio City on the mainland. The owner also free dives to collect some of the freshest seafood from around the island!
Cafe OLEGALE (カフェオレガレ)
Opening Hours: Weekdays 11:00 – 17:00, Weekends and National Holidays 10:00 – 17:00; closed on Tuesdays
Address: 34 Shimoenda Isshikicho, Sakushima, Nishio, Aichi 444-0416
Website (Japanese Only)| Google Maps
Did you know that many cafes in Nagoya offer breakfast for free? If you are curious to find out more about this have a look here.
How to Get to and Around Sakushima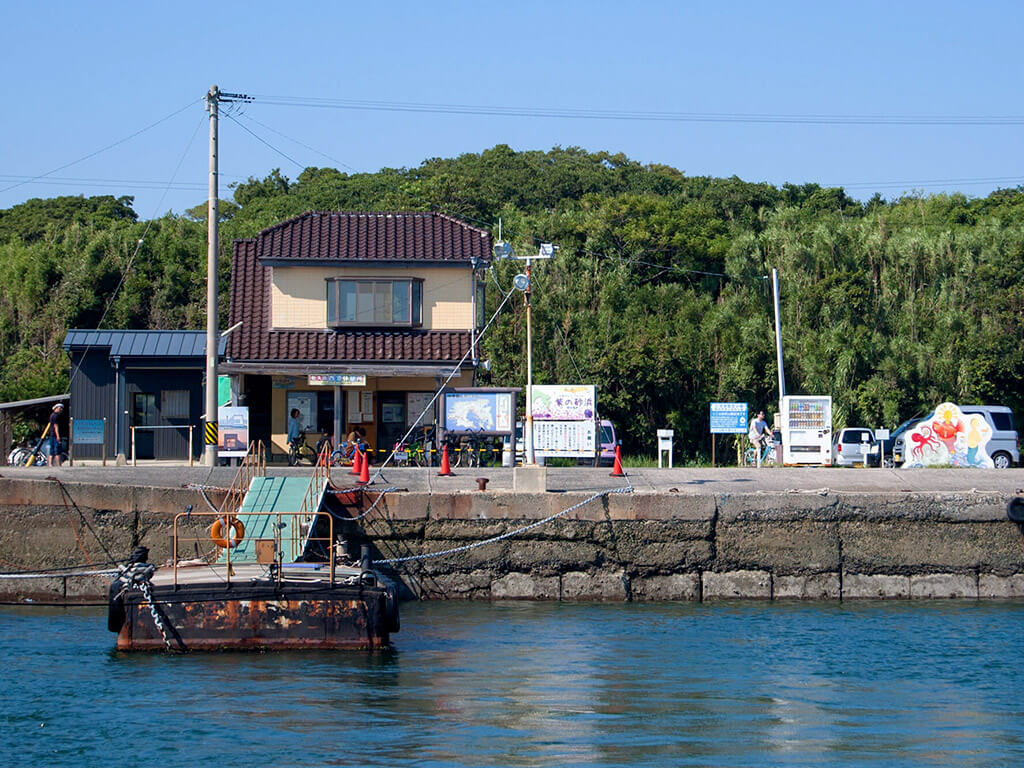 From Kanayama station, take the Meitetsu Line train to Nishio station. Take the Meitetsu bus bound for Isshiki Sakana Hiroba (roughly 30 minutes). There you will arrive at the Sakushima Ferry terminal. Take the next ferry to Sakushima and within 15-20 minutes you will arrive at Sakushima.
If you go by public transport, the last bus back to Nishio station is at 18:00. To catch the last bus you have to get on the 17:15 (East port) or 17:22 (West port) ferry back to the mainland.
If you are short on time or want to try and see as much as possible it is also possible to rent bikes after you arrive on the island.
Sakushima (佐久島)
Address: Hirako, Isshiki Cho Sakushima, Nishio, Aichi 444-0416
Website | Google Maps
---
Did you enjoy this article?
Make sure to also check out our other posts about Nagoya and trust us if we say Nagoya is not boring!
Be sure to follow us on Facebook for regular updates on Nagoya, and see our Instagram for pictures and stories about the city!
Tag us 📲
If you have visited Sakushima please share your experience and tag us on social media with #nagoyaisnotboring