Okazaki is a peaceful city with a rich history that can be seen in its castle, temples, and historical sites. It is a city that prides itself as being the birthplace of one of the most famous men in Japanese history Tokugawa Ieyasu, who was a major player in the unification of Japan and the establishment of the feudal system that ruled Japan for centuries.
It was able to thrive as one of the main post towns on the Tokaido (Eastern Sea Road) that links Kyoto to Edo (now Tokyo). Today it functions as a successful hub of business and commerce, but has still kept much of its history that you not only can see but even participate in! Okazaki is a living bit of modern history for you to enjoy that is located a short trade ride away from Nagoya.
Okazaki – A Step Through Time
The history of Okazaki can be said to stretch as far back as 8,500 years into Japan's Jomon period. As you can imagine, a lot has changed since then! It continued to grow thanks to the many rivers that contributed to an ever-successful agricultural industry and its perfect mid-way point between Kyoto and Edo (Tokyo) offered much-needed respite to travelers.
As we reach the Kamakura period (1147-1199), Tokugawa Ieyasu (born in Okazaki castle) would change not only Okazaki but Japan forever, and it all started there. For over two hundred years the foundations of the city were laid and the historical festivals and traditions were established, many of which persevered through the rapid modernization of the Meiji period and can still be experienced today.
Although much of the city was changed yet again post-World War II, the traditions still stay as strong as ever.
Things to Do in Okazaki
Okazaki is a fantastic place to experience Japan as it was with all the conveniences of the modern-day. You don't need to venture too far from the station before you start thinking you just got out of a time machine!
Okazaki Castle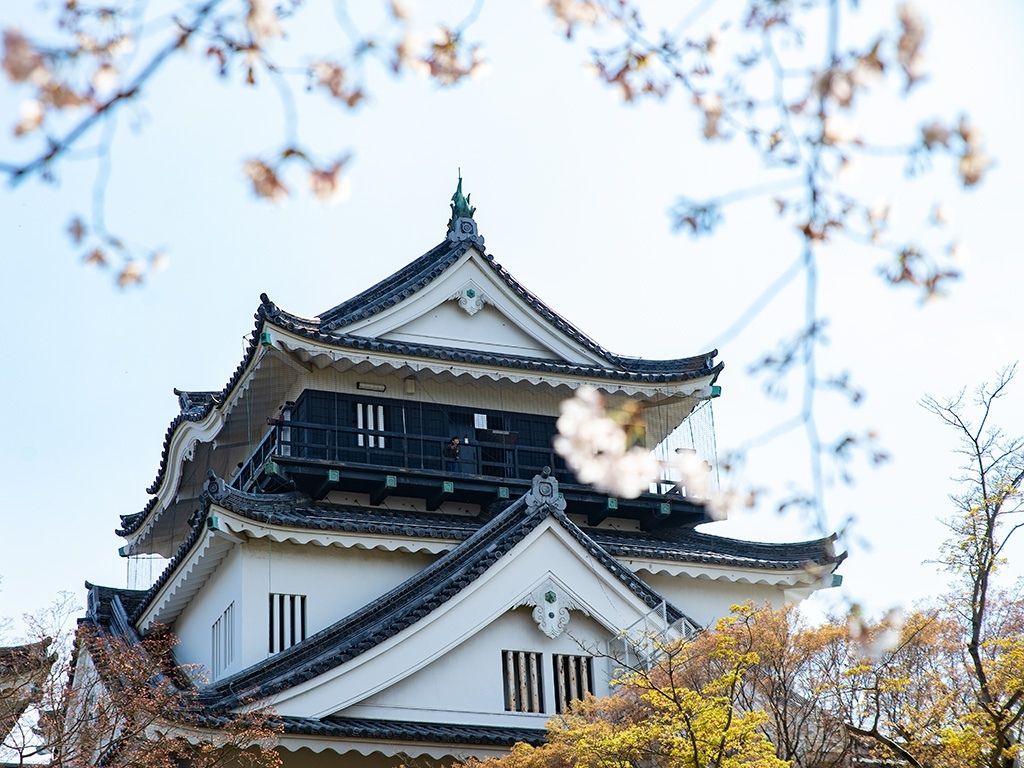 The birthplace of Tokugawa Ieyasu. Like many castles in Japan, what you see today is not what once was. The original castle was built in 1455 and then demolished in 1873 during the Meiji period, to then be rebuilt after World War II. While it may not function as a castle anymore (do any?) it is not only a visually impressive structure, but a fascinating museum that holds many historical artifacts of times gone by.
Here you can find genuine weapons and armor amongst other articles in the castle's donjon, surrounded by a wonderful park that is very popular in the spring when the cherry blossoms are in full bloom and wisteria hanging from above. The castle and its grounds hold a very special part in all locals' hearts, acting as the symbol of Okazaki's past and present. If you're lucky, you may even have the chance to run into a real-life Samurai!
Okazaki Castle (岡崎城)
Opening Hours: 9:00 – 17:00
Price: Adults: 200 yen, children: 100 yen. Discount available when purchasing combined Ieyasu and Mikawa Bushi Museum ticket. See below.
Address: Nakashinkiri 1, Hashimecho, Okazaki, Aichi 444-8501
Website | Google Maps
Okazaki Park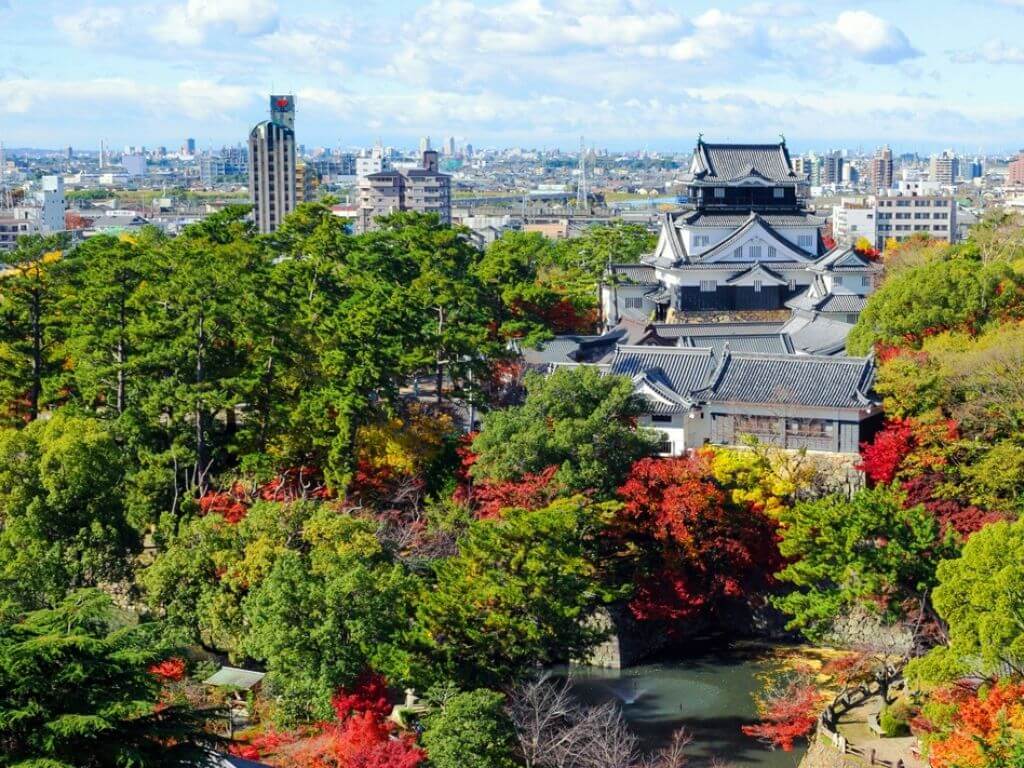 The eponymous park is found on the grounds of Okazaki Castle and is an absolute must-visit if you plan to visit the castle. In the spring (typically between April and early May) it holds the Okazaki Park Wisteria Festival that covers approximately 1,300 square meters of land in the beautiful pink petals for everyone to enjoy and admire. This, in combination with the castle and its museums, will give you plenty to do.
Every year the park holds the "Ieyasu Procession" in which you can witness hundreds of people taking part dressed as Samurai and warriors on horseback. It's quite the spectacle! If you go in the summertime, you can witness a great firework display in the Okazaki Fireworks Festival with the impressive Okazaki Castle in the background. Enjoy the festive fun!
Okazaki Park (岡崎公園)
Opening Hours: 24 Hours
Address: 561-1 Kosei-cho, Okazaki, Aichi
Website | Google Maps
The Ieyasu and Mikawa Bushi Museum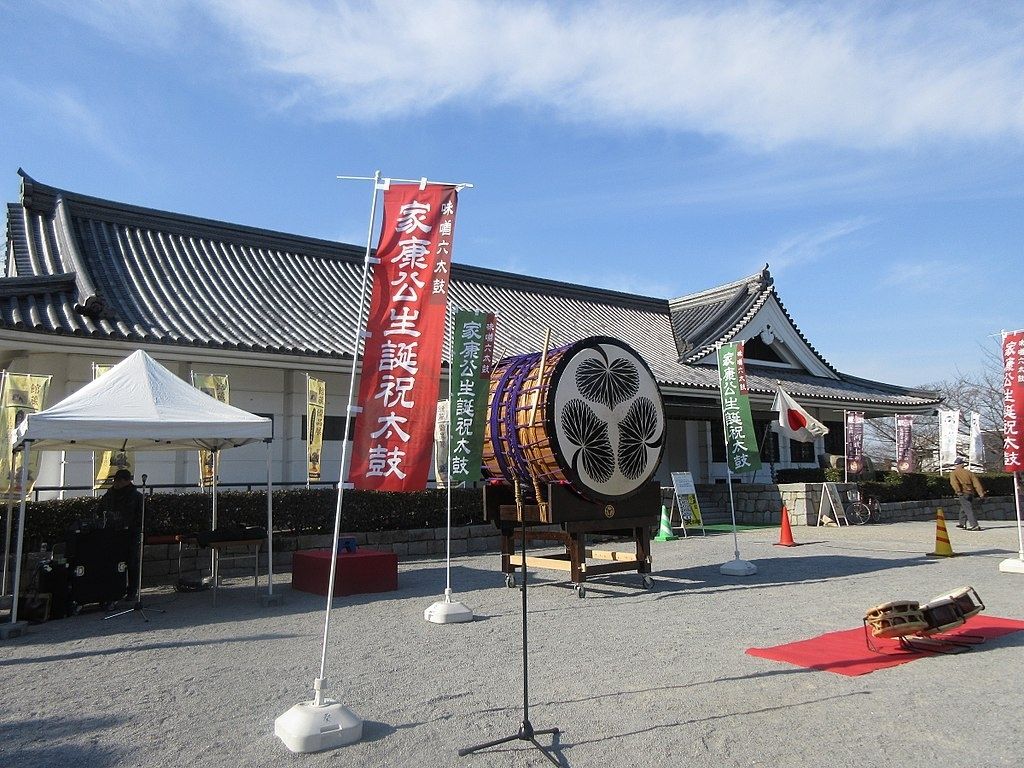 On the castle grounds, you also have the chance to check out the museum dedicated to the famous Shogun. Here you will find out all there is to know not only about Tokugawa Ieyasu but also the Mikawa Bushi, a famous group of warriors that served in the region during the same period.
Ieyasu and Mikawa Bushi Museum (三河武士のやかた家康館)
Entry Fee: Adults: 360 yen, children: 200 yen. Discount available when purchasing combined Okazaki Castle ticket.
Opening Hours: 9:00 – 17:00 (closed Dec 29th – 31st)
Address: 561-1 Koseicho, Okazaki, Aichi 444-0052
Website (Japanese only) | Google Maps
Hozoji Temple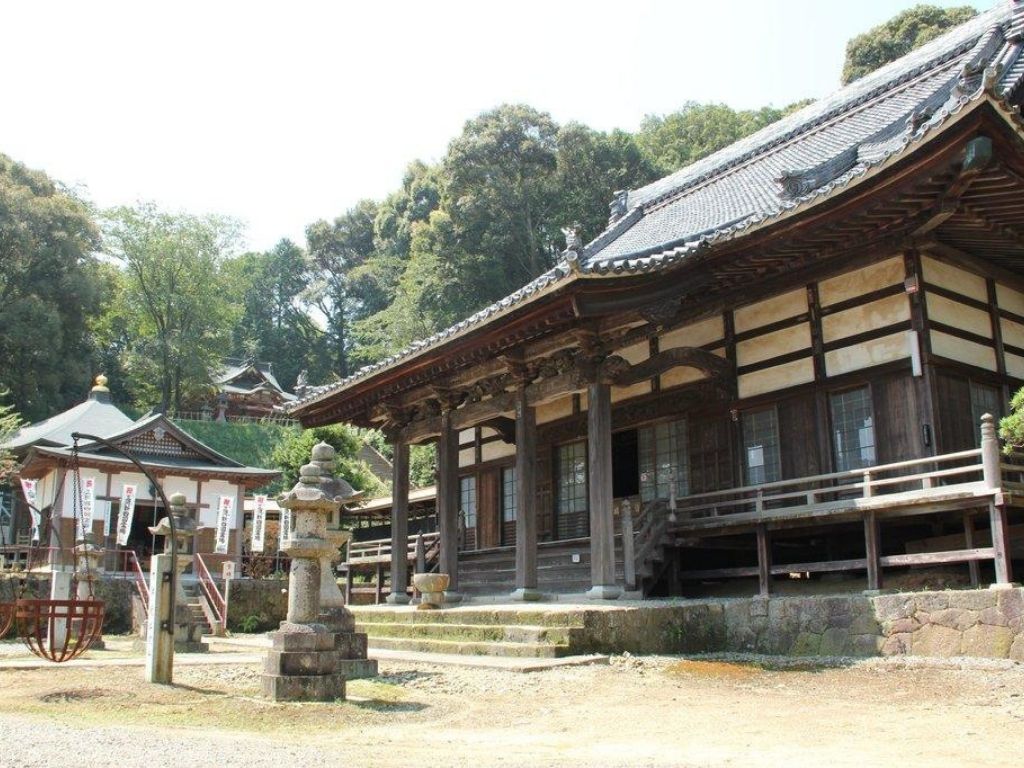 Believed to date back to 701, it is said to have served as the primary school for Tokugawa Ieyasu in his younger years and as such, many of the artifacts here relate to the famous ruler, including some of his own personal items. The grave of his eldest daughter also still remains.
Hozoji Temple (法蔵寺)
Opening Hours: 24 hours
Address: Terayama-1 Motojukucho, Okazaki, Aichi 444-3505
Website (Japanese only) | Google Maps
Daijuji Temple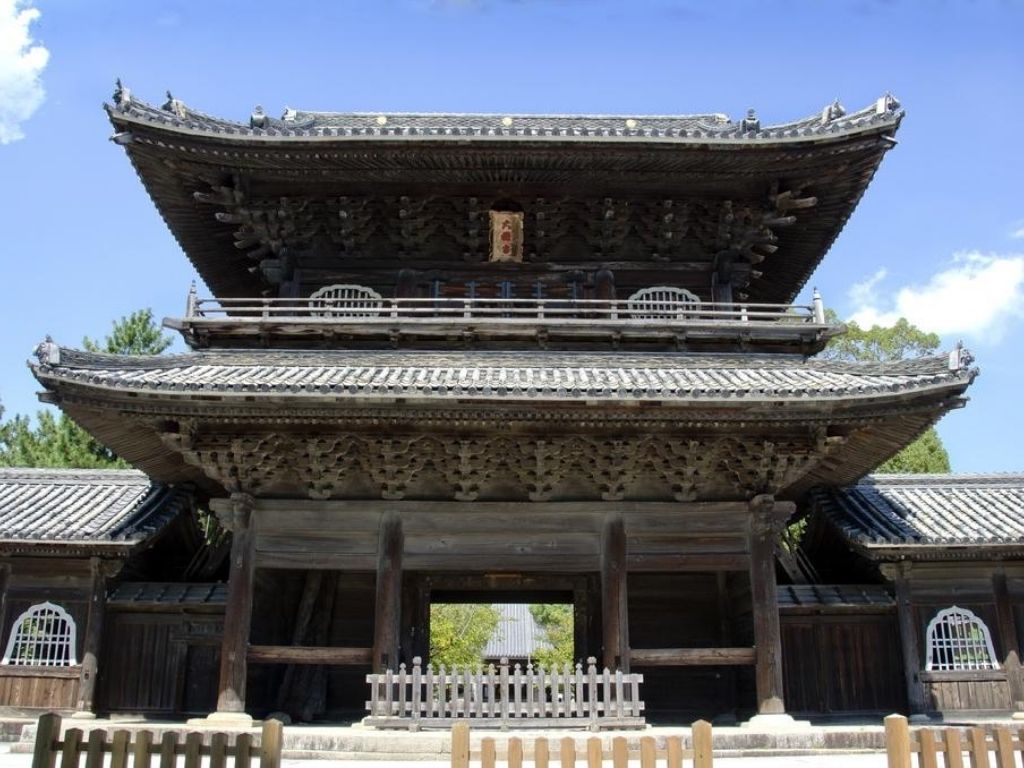 This temple is an important place in Japan's history. Here Tokugawa Ieyasu nearly killed himself as his confidence in the cause dwindled. However, the priest of this temple at the time convinced him otherwise and on he fought to help reshape Japan. In addition to the temple itself, you can find other fascinating structures such as the Bell tower and the Sanmon Gate that will give you the perfect photo opportunity.
Daijuji (大樹寺)
Opening Hours: 24 hours
Address: Hiromoto-5-1 Kamodacho, Okazaki, Aichi 444-2121
Website (Japanese only) | Google Maps
Takisan Temple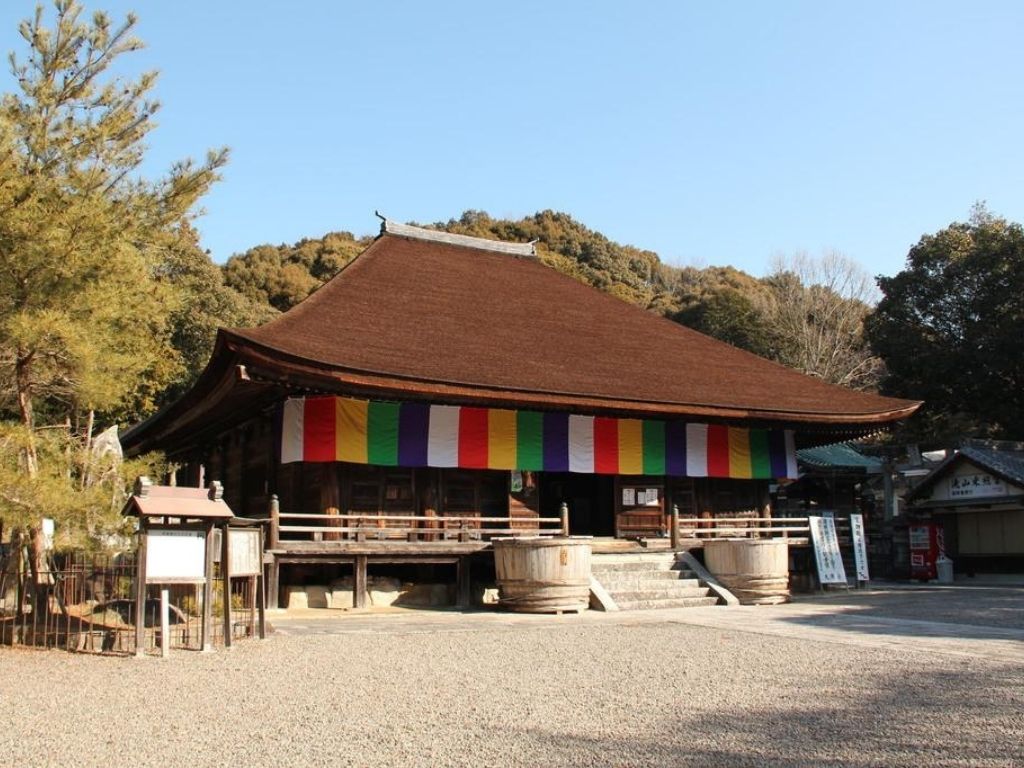 Takisan Shrine is a very important part of Okazaki as it includes the shrine of the famous Tokugawa shogunate, Tokugawa Ieyasu. Built in the 1600s, it has continued to play an important part in many religious events throughout the year, such as the Takisan Temple Oni (Demon) Festival, where you will find an impressive display of fiery demons parading the temple grounds.
Takisan Temple (瀧山寺)
Opening Hours: 24 hours (Treasure Hall: 9:00 – 17:00)
Price: General entrance is free. Treasure Hall: 400 yen
Address: Yamagomori-107 Takicho, Okazaki, Aichi 444-3173
Website (Japanese only) | Google Maps
Mitsubishi Motors Factory Tour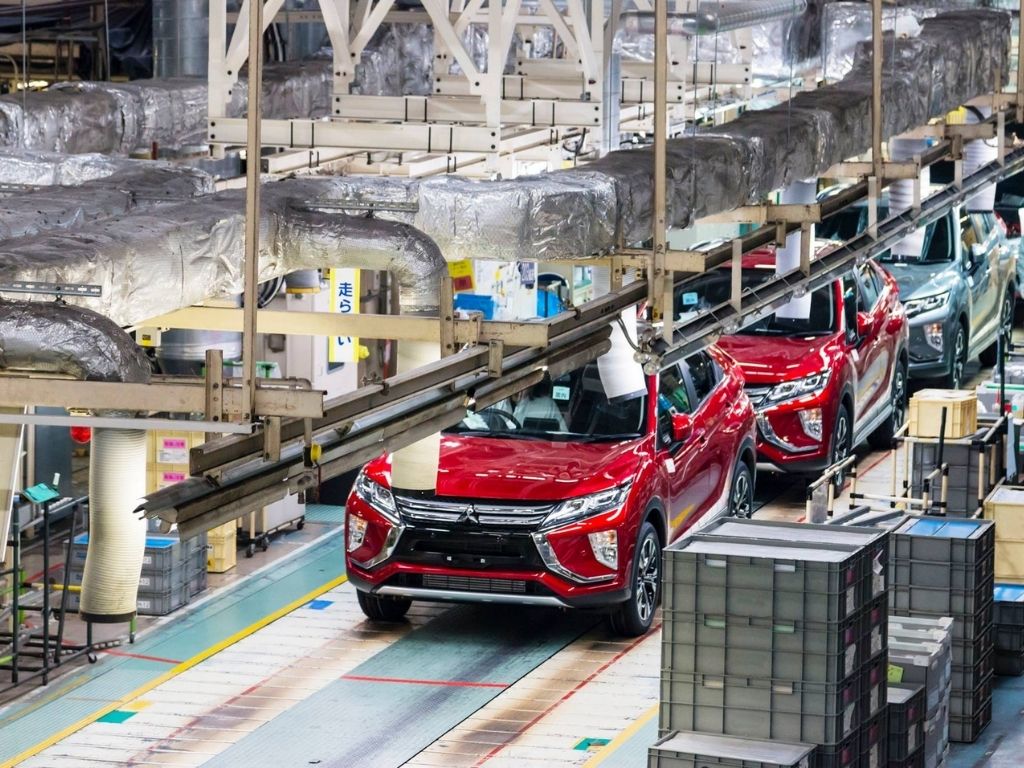 Okazaki has an undeniably strong historical heritage that its locals are proud of. But there's more to Okazaki than its temples and parks, as fascinating as they are.
Mitsubishi Motors offers daily tours of its factories, giving you the chance to see first-hand how its vehicles are manufactured on the plant floor as well as the opportunity to see some of their finished models on their Gallery Tour. Note that these tours are conducted in Japanese only, so if you'd like to experience it fully, it might be a good idea to bring an interpreter along with you.
Mitsubishi Motors Okazaki Plant (三菱自動車工場 岡崎製作所)
Opening Hours: 10:00 – 11:30 (12:00 with Gallery Tour) and 13:15 – 14:45 (15:30 with Gallery Tour)
Price: Free
Address: Nakashinkiri 1, Hashimecho, Okazaki, Aichi 444-8501
Website | Google Maps
Stretch Your Legs on a Nature Walk
Downtown Okazaki may still offer a wealth of nature to be enjoyed, but it is also surrounded by mountains and green areas that not only offer a great view from a distance but also a perfect way to get in some exercise and to see the city from a totally different angle. If you have a vehicle we'd highly recommend you take the time to get out of the city and into nature.
Kuragari Gorge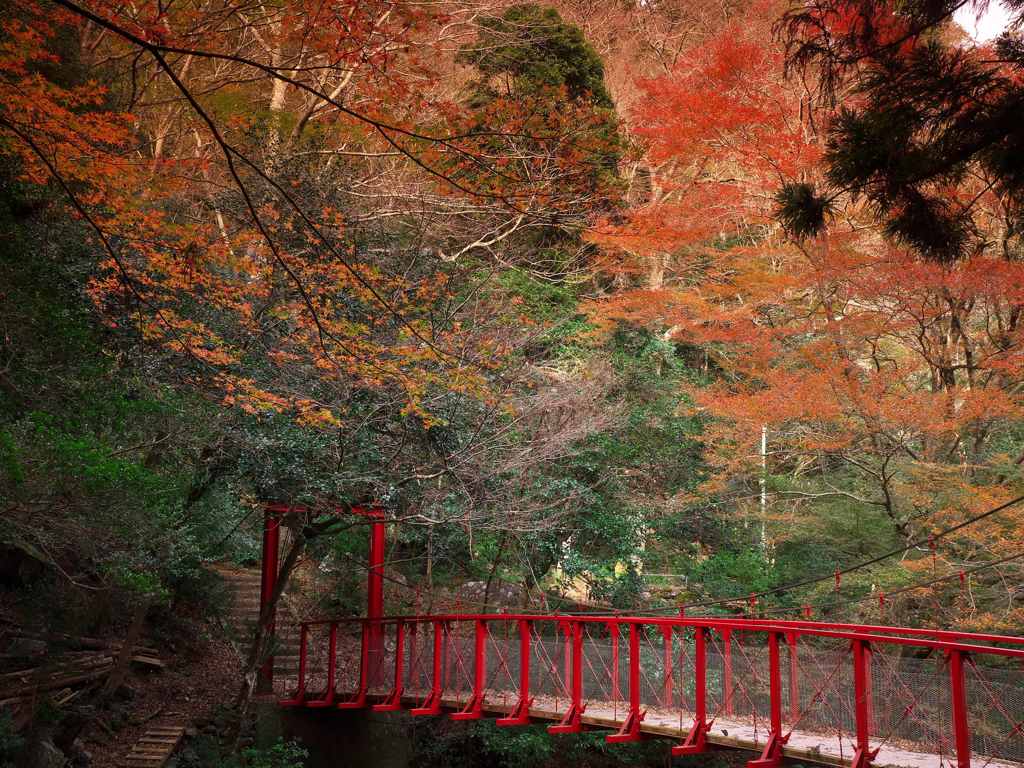 Located on the eastern outskirts of Okazaki, Kuragari Gorge is full of natural beauty that you can enjoy on a slow and relaxing walk. Deep, natural forests are accompanied by beautifully clear streams that run throughout. In the summer you can enjoy barbecues, trout fishing, and camping and in the autumn you will find the magnificent fall leaves that will turn the valley red.
Kuragari Gorge (くらがり渓谷)
Opening Hours: 24 hours
Address: 2-2 Makibarahikage, Ishiharacho, Okazaki, Aichi 444-3601
Website | Google Maps
Mt. Tokkawa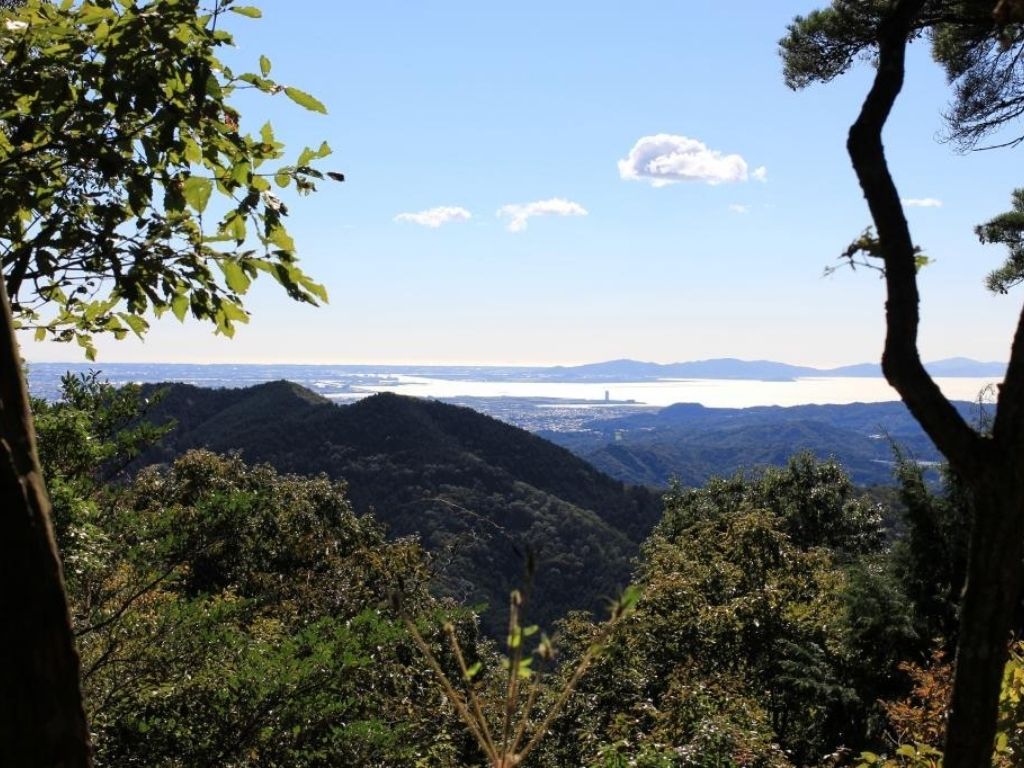 If you travel a bit further southwest of Okazaki center, you will find Mt. Tokkawa that has a hiking trail that will take you all the way up! On your way up you can experience the nature that Okazaki has to offer with a fantastic view of the surrounding area when you finally reach the top! If you happen to be in the area in the evening during the summer, you may be lucky enough to spot the famous Genji fireflies nearby streams that brighten up the evening with their mystical green glow. There are plenty of mountains to choose from in Okazaki, so get your hiking boots on!
Mt. Tokkawa (鳥川山)
Opening Hours: 24 hours
Address: Torikawacho, Okazaki, Aichi 444-3614
Website (Japanese only) | Google Maps
Satisfy Your Hunger with Okazaki's Famed Foods
Okazaki Castle is undoubtedly the main attraction of the city, but it's certainly not the only slice of history that you can experience there. You can find many historical buildings and areas dotted about the city along with plenty of restaurants eager to introduce you to the local cuisine, the most popular of all being Hatcho.
Hatcho Miso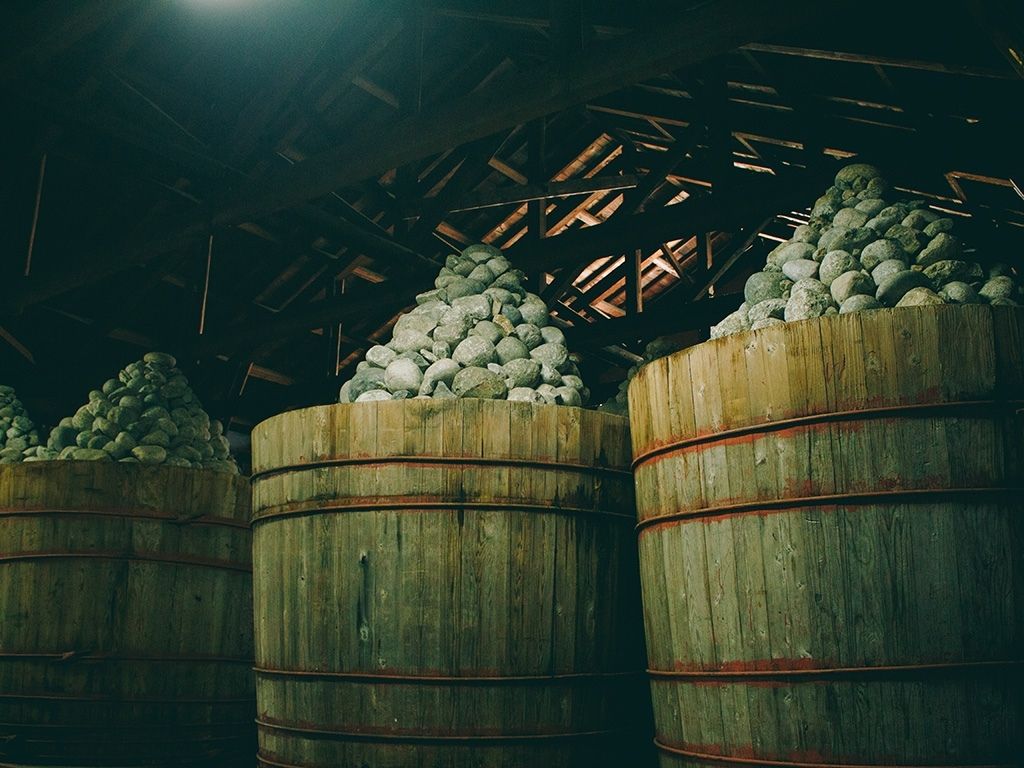 Hatcho is located west of Okazaki castle next to the Yahagi River that flows down from much further north of the city. It's famous for its unique take on the Japanese paste called Miso, which is a fermented soybean paste that has a history as rich as its flavor. It's a very versatile ingredient that many Japanese use in their home cooking. The oldest remaining company producing Hatcho Miso was established in 1337 and you can read more about this and other Miso facts here. Ieyasu's longevity (73 years!) is often attested to his love of this rich, red paste.
Here you can get a taste of the real stuff in a variety of dishes such as Mazemen Santa (a dry noodle dish with mince), Hatcho Miso stewed Udon, Ieyasu Ramen (Ramen noodles in a Hatcho Miso broth) and even Hatcho Miso ice cream!
Hatcho Miso Kakukyu (合資会社 八丁味噌)
Entry Fee: Free
Opening Hours: 9:00 – 17:00
Tour Times: Weekdays: Tours on the hour between 9:00 – 16:00. Saturday & Sunday: Every 30 minutes between and from 9:00 – 16:30.
Address: Okandori 69, Hatchocho, Okazaki, Aichi 444-0923
Website | Google Maps
Okazaki Ohan
People might not think of different types of chickens, but Okazaki has its very own locally bred chickens that not only have a unique taste and texture in themselves but also produce different types of eggs as well! Their eggs are smaller but better suited to cooking and have unusually large yolk! The meat also is of a higher quality with a chewy texture – they say the more you chew the more delicious it is!
Where Can I Get These?
Being a famous commodity of Okazaki, many restaurants in the area will offer a variety of dishes using Hatcho Miso and Okazaki Ohan. If you want a quick bite to experience them both, why not try Abarenbo Chicken near Okazaki Park, where you can get some delicious fried chicken with Hatcho Miso!
Abarenbo Chicken (暴れん坊チキン)
Opening Hours: 11:00 – 20:00
Address: 2-7 Koseidorihigashi, Okazaki, Aichi, Japan 444-0045
Website (Japanese only) | Google Maps
Festival Fun in Okazaki
Japan loves its festivals and Okazaki is no exception. Throughout the year the city holds nationwide festivals amongst some exclusive to Okazaki that you won't experience anywhere else.
Ieyasu Parade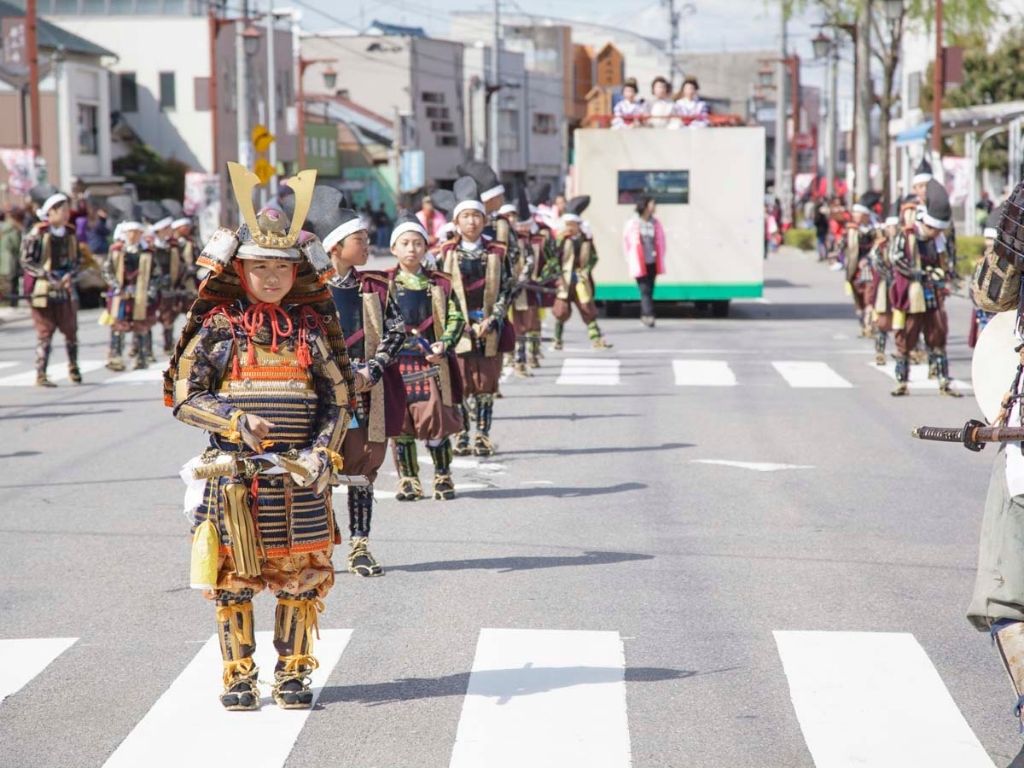 If you visit the city in spring, you'll be able to witness an impressive parade celebrating the famous Tokugawa Ieyasu. Up to 700 participants walk through the streets in various costumes: Samurai warriors, archers, Geisha and even warriors on horseback! It's an exciting event that brings in floods of crowds each year.
Ieyasu Parade (家康行列)
Event Hours: 13:00 – 16:00
Address: 86 Higashigonaka, Igacho, Okazaki, Aichi 444-0075
Website (Japanese only) | Google Maps
Okazaki Firework Festival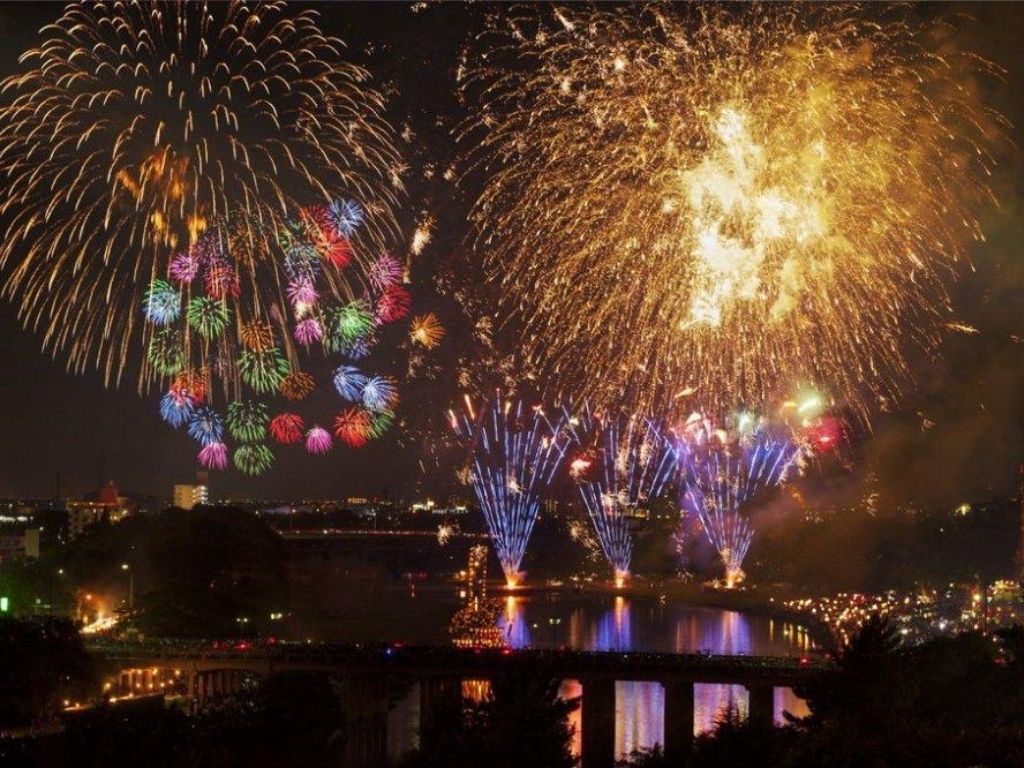 We think you can agree now that Tokugawa Ieyasu is obviously a big shot in Okazaki's history and image, and his influence spread all throughout Japan not only with the forming of the Shogunate, but also the spread of fireworks! You can't go anywhere in Japan without seeing a firework festival, particularly in the summer, and this is said to be thanks to Ieyasu. Okazaki offers an impressive firework display near Okazaki castle in early August where the evenings offer a pleasant warmth to enjoy the festivities with a nice cold drink!
Okazaki Firework Festival (岡崎花火大会)
Event Hours: 18:50 – 21:00 (park is open 24 hours)
Address: Okazaki Park, 5611 Koseicho, Okazaki, Aichi 444-0052
Website (Japanese only) | Google Maps
The Takisanji Oni Matsuri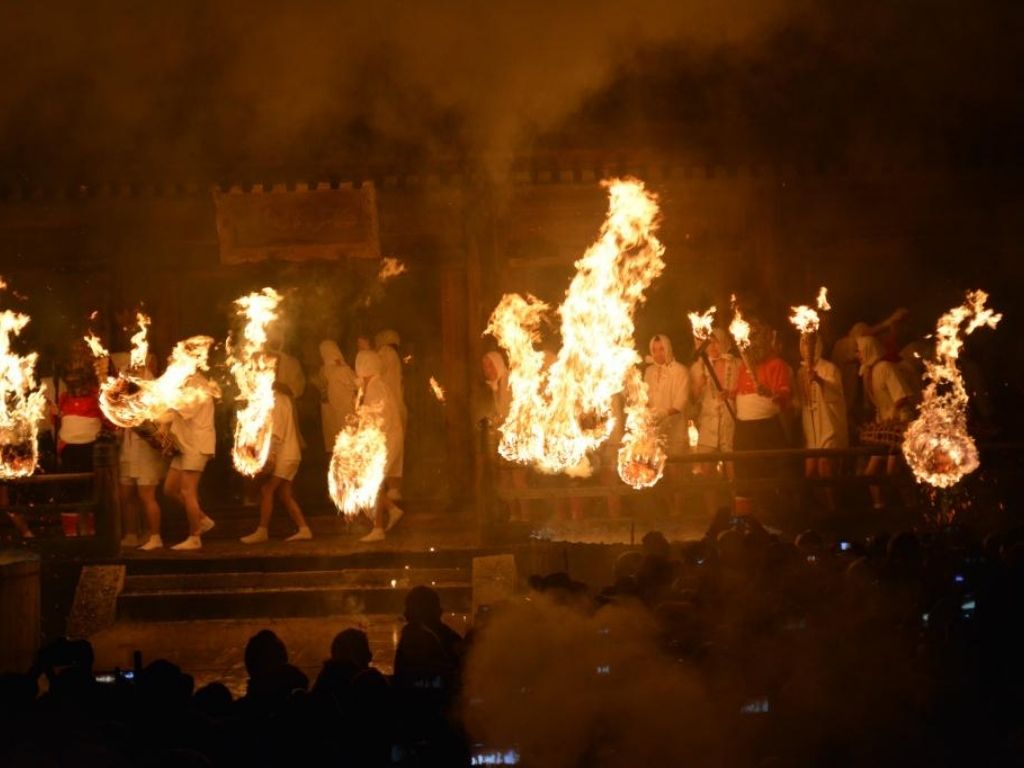 Oni (demon or ogre) festivals are celebrated all over the country, but Okazaki showcases a special event whereby the Oni will come out to play with fire. With some handpicked representatives acting as the Oni, others will parade around with lit torches (questionable in a wooden temple, but so far no fires!) while the audience crowds around to get a good view.
The Takisanji Oni Matsuri (滝山寺鬼まつり 火祭り)
Event Hours: 16:30 onwards
Address: Takisan Temple, Yamagomori-107 Takicho, Okazaki, Aichi 444-3173
Website (Japanese only) | Google Maps
Wisteria Festival and Plum Festival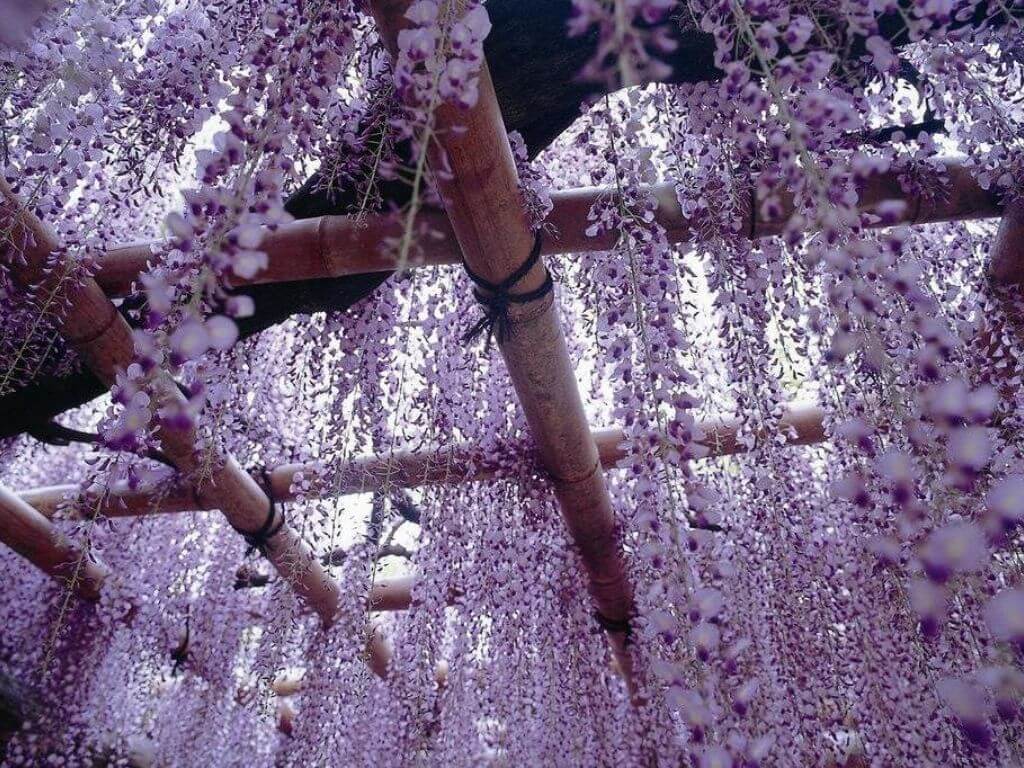 Spring is busy with its festivals and two that Okazaki holds during this season give visitors the chance to appreciate the city's love of flowers. Wisteria, said to be the "flower of Okazaki" will hang from trellises all around Okazaki park providing a colorful display of various shades of pinks and purples. It's another great excuse to go out with friends and family for a drink or two! Around the same area, you will also find plum blossom trees in full bloom, which are just as popular as the well-known cherry blossom festival, Hanami.
Wisteria Festival (藤まつり)
Opening Hours: 24 hours (late-April to early-May)
Address: Okazaki Park, 5611 Koseicho, Okazaki, Aichi 444-0052 (viewable at other locations throughout the city)
Website (Japanese only)| Google Maps
How to Get To Okazaki
Okazaki City is located southwest of Nagoya and can be easily accessed by train. While Okazaki Station is its main station, if you want to check out the major tourist destinations, we recommend you take the Meitestu Line from Nagoya station to Okazaki Koenmae (Okazaki Park) station (approximately 40 mins total), which will put you within walking distance to the castle, parks and also Hatcho Town as well.
If you are looking to put your walking shoes on and do a bit of hiking, we highly recommend that you go by car as it is not easily accessed by public transport. Local buses are available to some areas but they may be a bit tricky to navigate and can add a lot of time to the journey.
---
Did you enjoy this article?
Make sure to also check out our other posts about Nagoya and trust us if we say Nagoya is not boring!
Be sure to follow us on Facebook for regular updates on Nagoya, and see our Instagram for pictures and stories about the city!
Tag us 📲
Have you been to Okazaki before? Please share your experience, videos, or photos and tag us on social media with #nagoyaisnotboring