If you think that Matcha is only from Kyoto and you can only enjoy it there, then you are in for a big surprise. Matcha tea can be enjoyed across Japan. Three of the most famous tea-producing regions recognized for producing the best Matcha in Japan are Uji in Kyoto, Fuji in Shizuoka, and just a short train ride from Nagoya is Nishio in Aichi.
Nishio is located roughly 40km south-east of Nagoya making it an easy day trip. It is one of the top sources of Matcha production, responsible for approximately 20% of the Matcha sold in Japan. There is a wide variety of green tea types but only the Tencha variety can be turned into Matcha. Unique among tea-producing areas in Japan, 90% of all green tea grown in Nishio is the Tencha variety.
A Brief History of Matcha Production in Nishio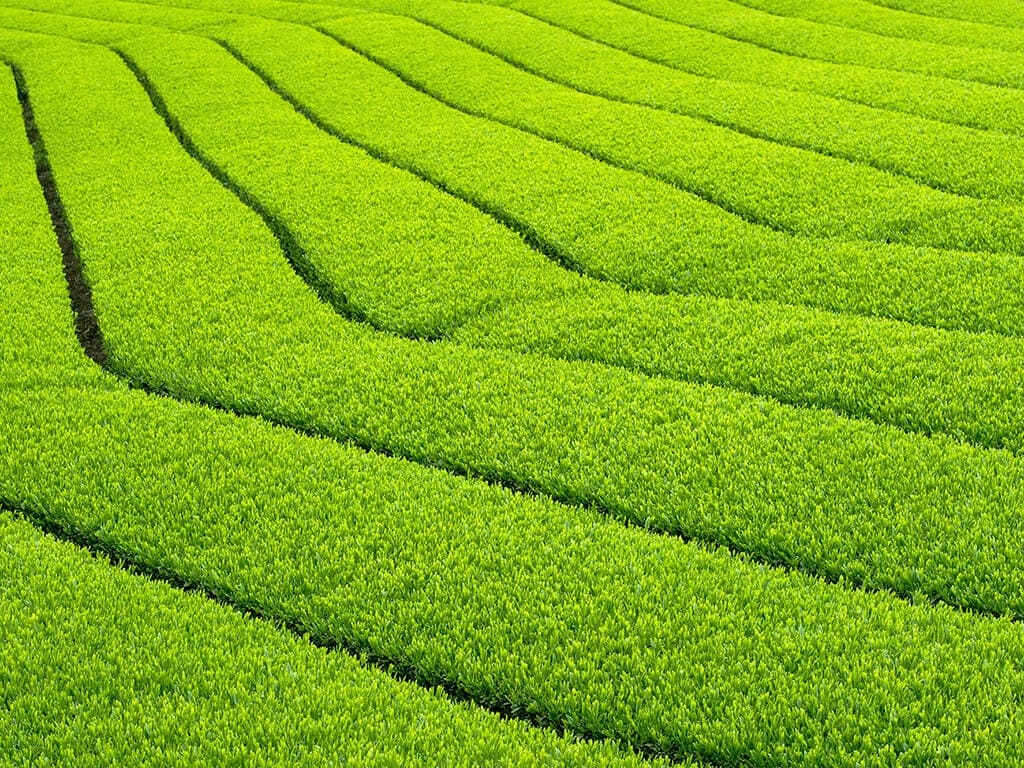 The origins of tea in Nishio date back to the 13th century when Shoichi Kokushi, a Zen Buddhist monk, founded the Jissoji Temple (1271) and began growing tea bushes on the temple grounds. At that time, Matcha was a well-known product both for its exquisite flavor and for its medicinal properties. It was without a doubt the favorite drink of priests and aristocrats of the time. Later, in the first years of the Edo Period (1603 – 1868), the cultivation of tea gradually extended to the entire region.
Matcha production in Nishio took off during the Meiji Period (1868 – 1912), after Jundo Adachi, the main priest of the Koju-in temple brought with him tea seeds and production techniques from the city of Uji (Kyoto).
From the beginning of the 20th century, Nishio started focusing more exclusively on growing the Tencha variety of green tea, which is the raw material for Matcha powder. Nowadays 90% of the tea grown in Nishio is Tencha. It is the only city in Japan that specialized in Matcha production.
Top Things to See and Do In Nishio
Nishio City History Park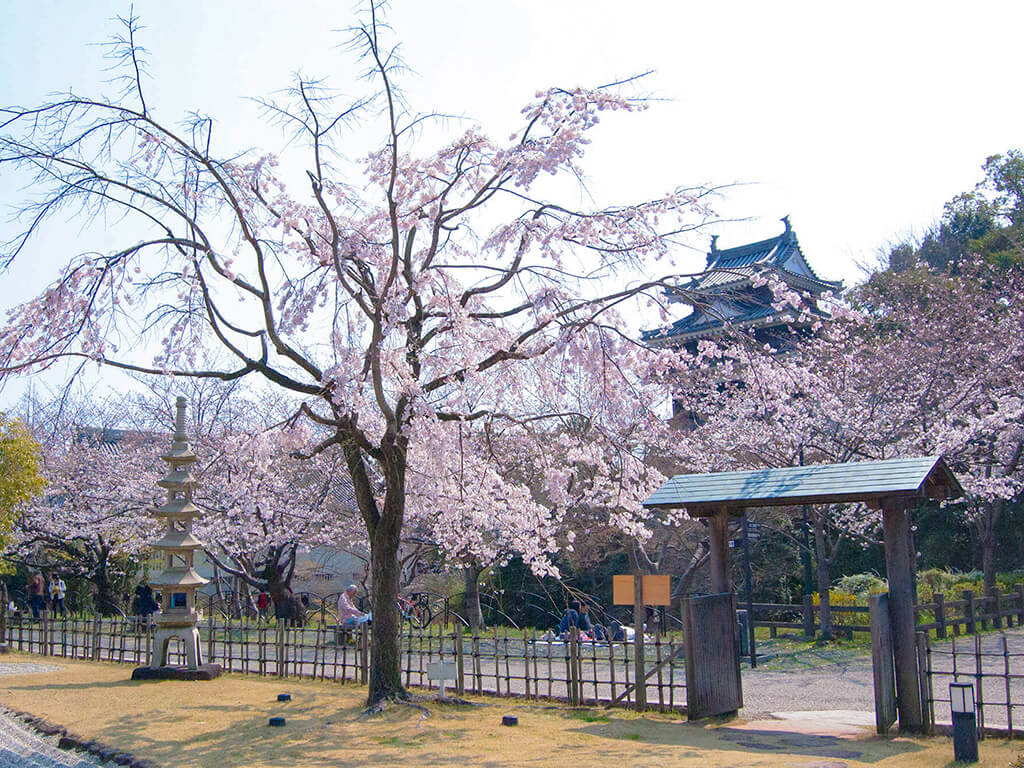 The city of Nishio was once a well-fortified city. The original castle was built during the Kamakura Period in the 13th century and was called Saijo Castle. In 1585 after having captured the castle, Tokugawa Ieyasu, the famous unifier and ruler of Japan, had the castle strengthened and the name changed to Nishio Castle.
Following the Meiji Restoration in 1868, Nishio Castle was dismantled in 1872 and a park was created on its grounds. Two of the original gates were left intact and in 1996 some parts of the castle were reconstructed including a three-story Yagura watchtower and the Nishio City Historical Park was created. Further parts of the castle were reconstructed in 2014 and 2020.
Nishio City History Park (西尾市歴史公園)
Entry Fee: free
Opening Hours: Open 24 hours
Address: 231-1, Kinjocho, Nishio, Aichi 445-0864
Website (Japanese only)| Google Maps
Former Konoe Residence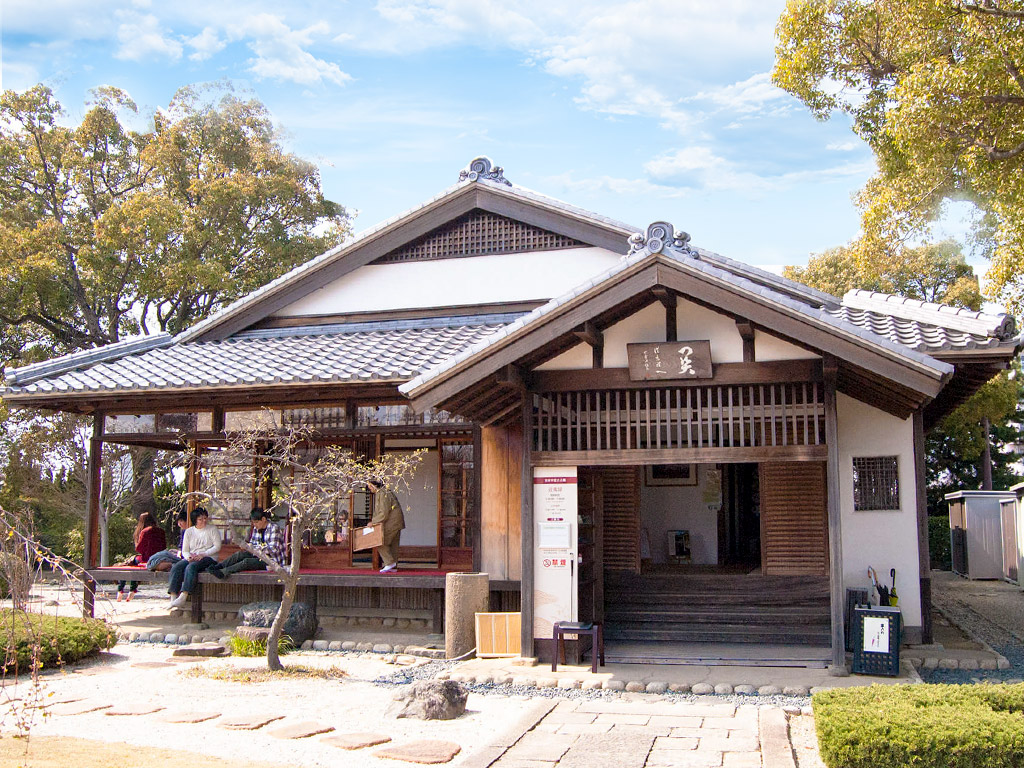 In 1995, the former Konoe Residence was relocated from Kyoto to its current location on the grounds of the Nisho City Historical Park. The Konoe clan was a powerful and eminent family with a history dating back to the Heian Period (794 – 1185).
Despite being only part of what was once a much larger and more elaborate structure, the details of the craftsmanship and beauty of the ancient construction techniques can still be seen.
For a small fee, you can have Matcha in the tea house or while sitting on the terrace appreciating the landscape with the castle, the garden, and (when in season) the cherry trees as your background.
You can enjoy a bowl of Matcha along with a sweet for 400 yen.
Former Konoe Residence (旧近衛邸)
Entry Fee: free
Opening Hours: 9:00 – 18:00 (October to March, 9:00 – 17:00); closed Mondays
Address: 231-1 Kinjocho, Nishio, Aichi 445-0864
Website (Japanese only)| Google Maps
Nishio City Museum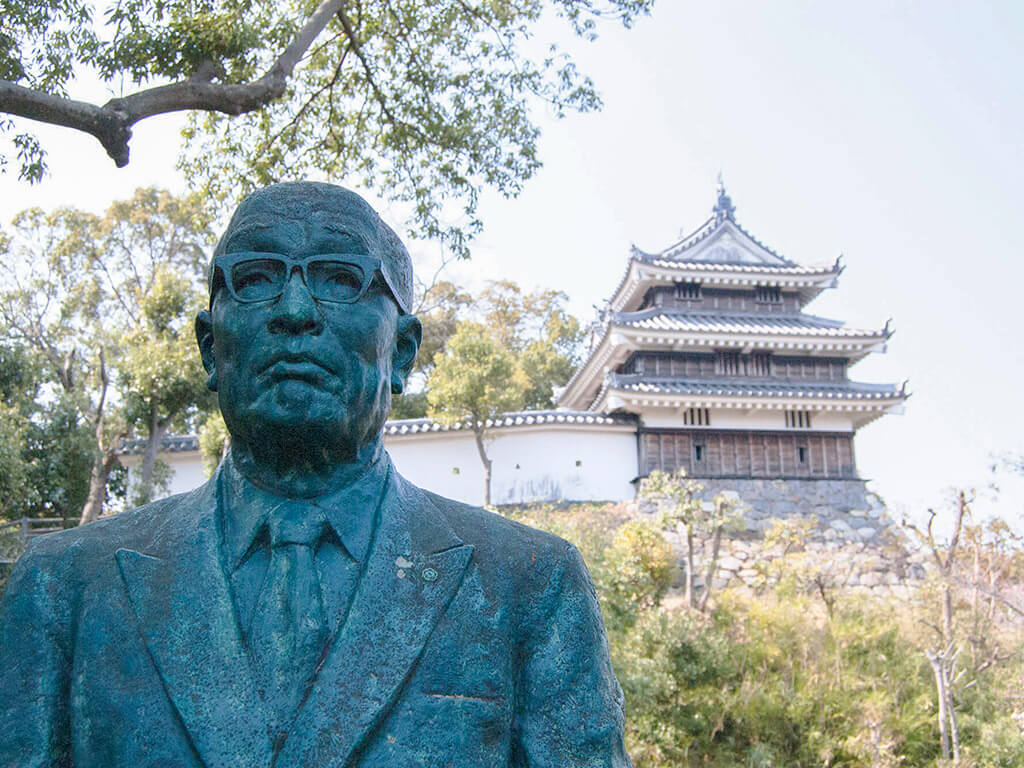 The museum has a collection of samurai swords and armors, maps of the original castle, and numerous historical clocks. Depending on the season, the museum also hosts temporary exhibitions, such as the exhibition of Japanese Hina Matsuri dolls in February.
Info: Nishio City Museum is closed for renovations until the end of September 2021
Nishio City Museum (西尾市資料館)
Entry Fee: free
Opening Hours: 09:00 – 17:00; closed Mondays
Address: 229 Kinjocho, Nishio, Aichi 445-0864
Website (Japanese only)|Google Maps
Shokoso Garden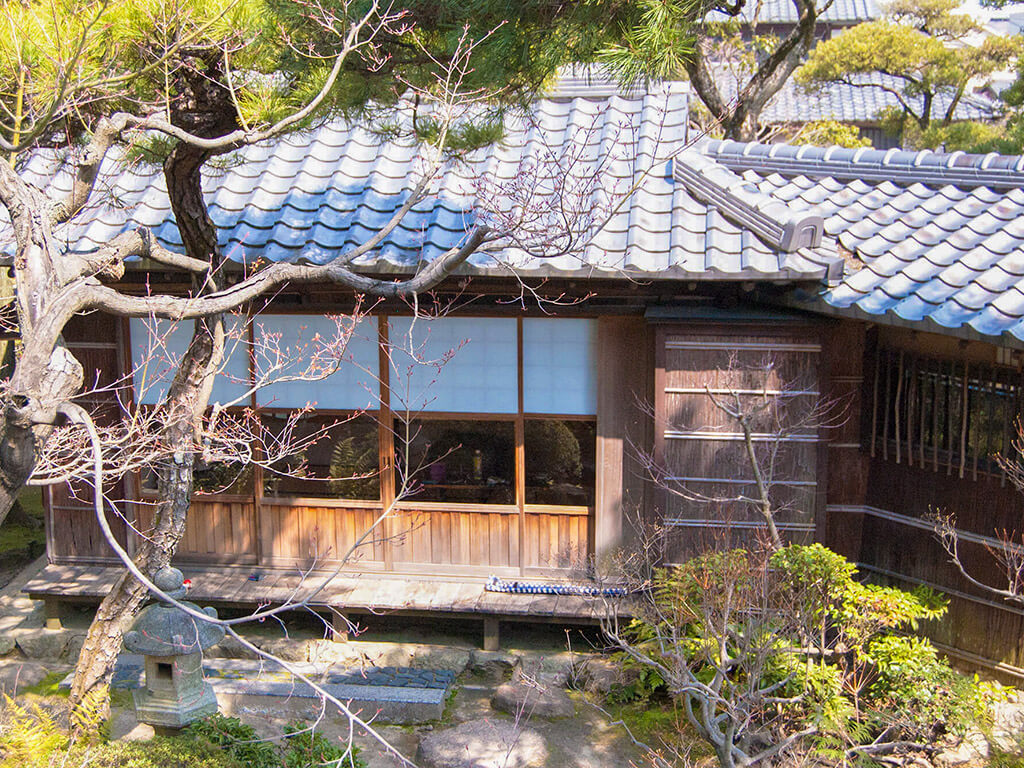 After Nishio Castle was dismantled a garden was created utilizing some of the former castle walls. Shokoso Garden is located outside the Nishio City Historical Park partway between the park and Nishio Station.
Shokoso Garden is a Kyoto-style dry landscape garden created at the beginning of the Showa era (1926 – 1989). An arbor is located on the hill offering views of the garden. Shokoso Garden has two tea houses that are rented out for various events.
Shokoso Garden (尚古荘庭園)
Entry Fee: free
Opening Hours: 09:00 – 17:00; closed Mondays
Address: 176-1 Kinjocho, Nishio, Aichi 445-0864
Website (Japanese only)|Google Maps
Kira Onsen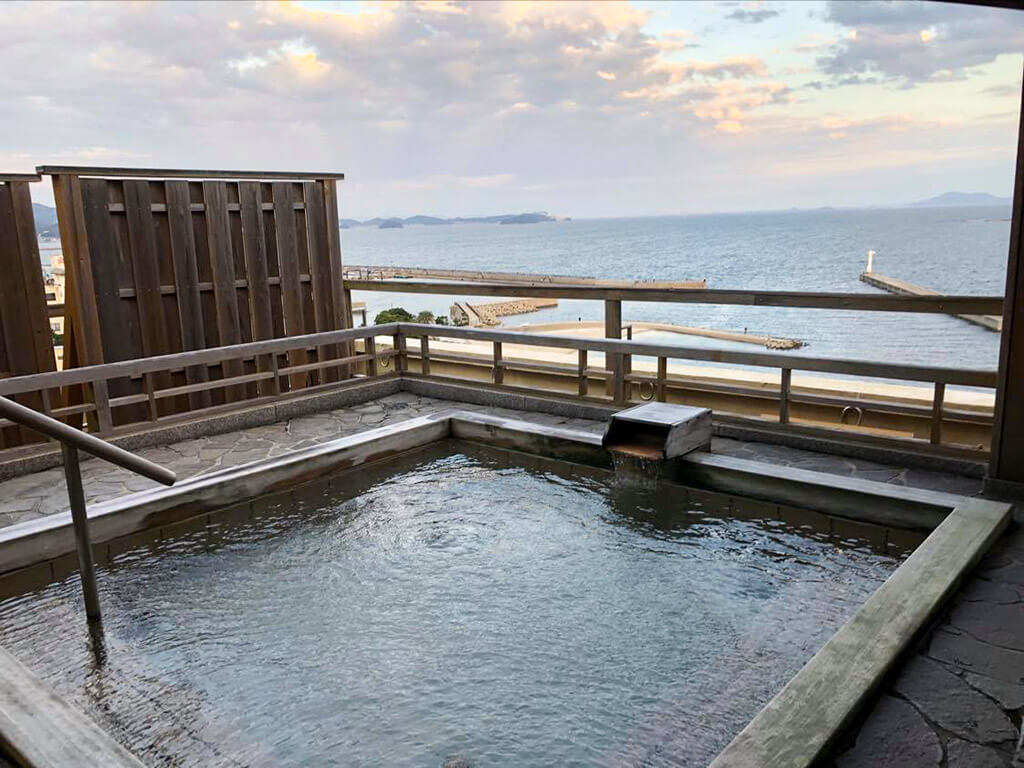 Located at the southern end of Nishio is the hot spring/beach area called Kira Onsen. The 570 meters of sandy beach is planted with palm trees that lend the area to being called Kira Waikiki Beach and gives the area a resort feel. The beach is equipped with showers and changing rooms. In late August each year, Kira Onsen hosted a Hawaiian Festival which attracts hula dancers from all over Japan.
Kira Onsen(吉良温泉)
Opening Hours: Open 24 hours
Address: Kiracho Miyazaki, Nishio, Aichi 444-0513
Website (Japanese only)|Google Maps
The Best Places to Find Matcha as Well as a Bite to Eat
Matcha Lab Nishio Idea Teahouse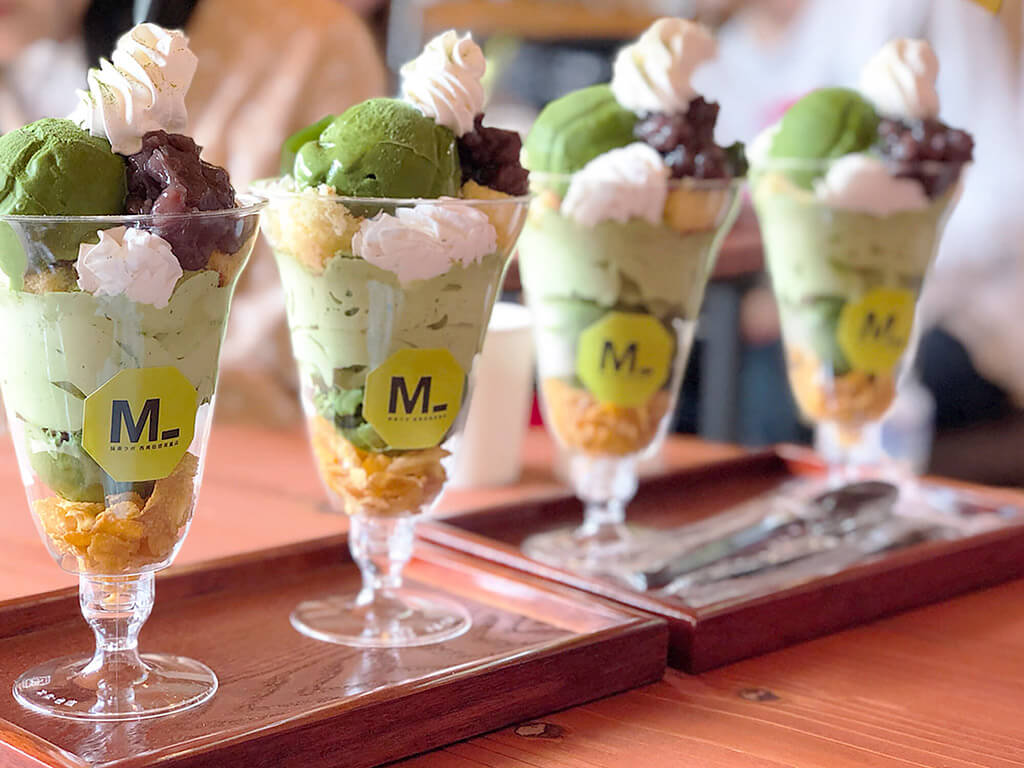 If you want to try some great desserts made with Matcha then you need to visit Matcha Lab, which is located about a 10-minute walk from Nishio Train Station. Under the slogan "LOVE more MATCHA", this small cafeteria reopened in February 2018 and offers a varied menu of sweets made with Nishio Matcha. This place is a perfect excuse to make a small stop along the way.
They specialize in gelato, with three different Matcha flavors as well as other delicious flavors such as strawberry, caramel, and chocolate. From their gelato, they make mouthwatering parfaits. You can choose between Matcha, Matcha & Caramel, and Matcha & Chocolate.
You can also order hot or iced tea drinks such as straight Matcha or Hojicha (roasted green tea), latte (mixed with milk and sugar), and soy latte (mixed with soy milk and sugar). This is the perfect place to relax for a couple of minutes.
Matcha Lab Nishio Denso Chaya (抹茶ラボ 西尾伝想茶屋店)
Opening Hours: 09:00 – 17:00; closed Mondays (except National holidays)
Address: 122 Kinjocho, Nishio, Aichi 445-0864
Website (Japanese only)|Google Maps
Shokakuen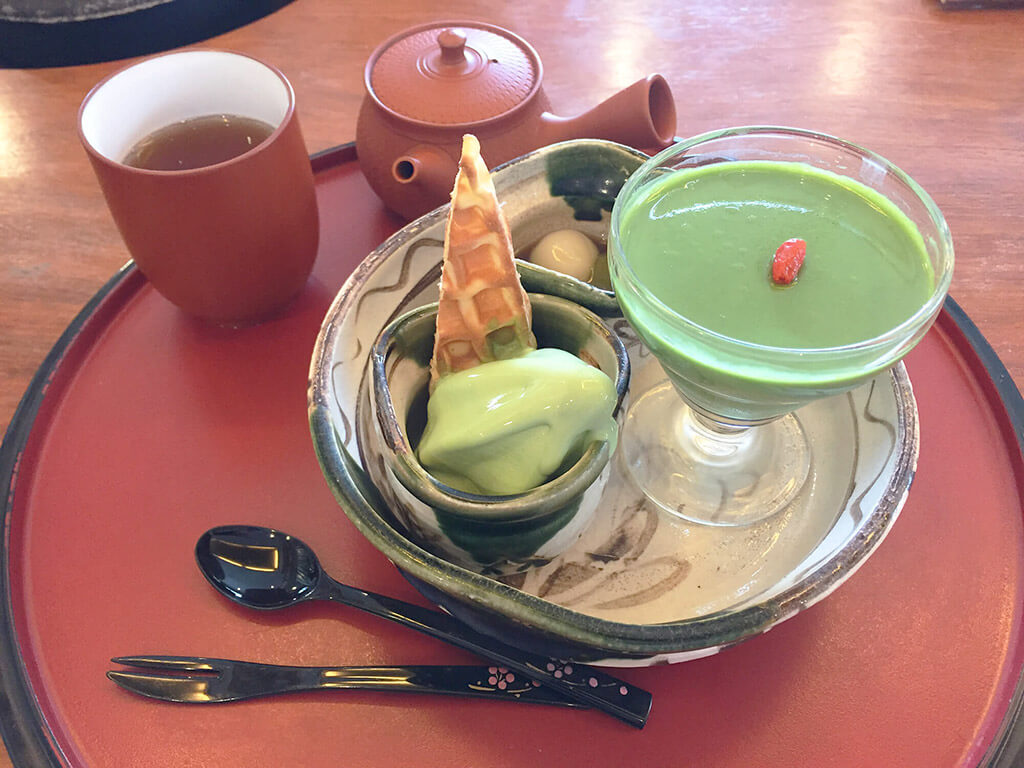 Shokakuen is your best lunch option in Nishio if you want to eat something made from Matcha. Shokakuen serves a wide variety of Matcha sweets but also delicious Matcha Soba noodles either hot or cold together with Tencha rice (rice steamed together with the fragrant dried Tencha leaves). The volume of their dishes is surprisingly good and includes dessert.
Shokakuen Sabosayu (松鶴園 茶房茶遊)
Opening Hours: 09:00 – 18:00; closed Tuesdays
Address: Minamiarako-50-2, Nishio, Aichi 445-0894
Website (Japanese only)|Google Maps
Uotora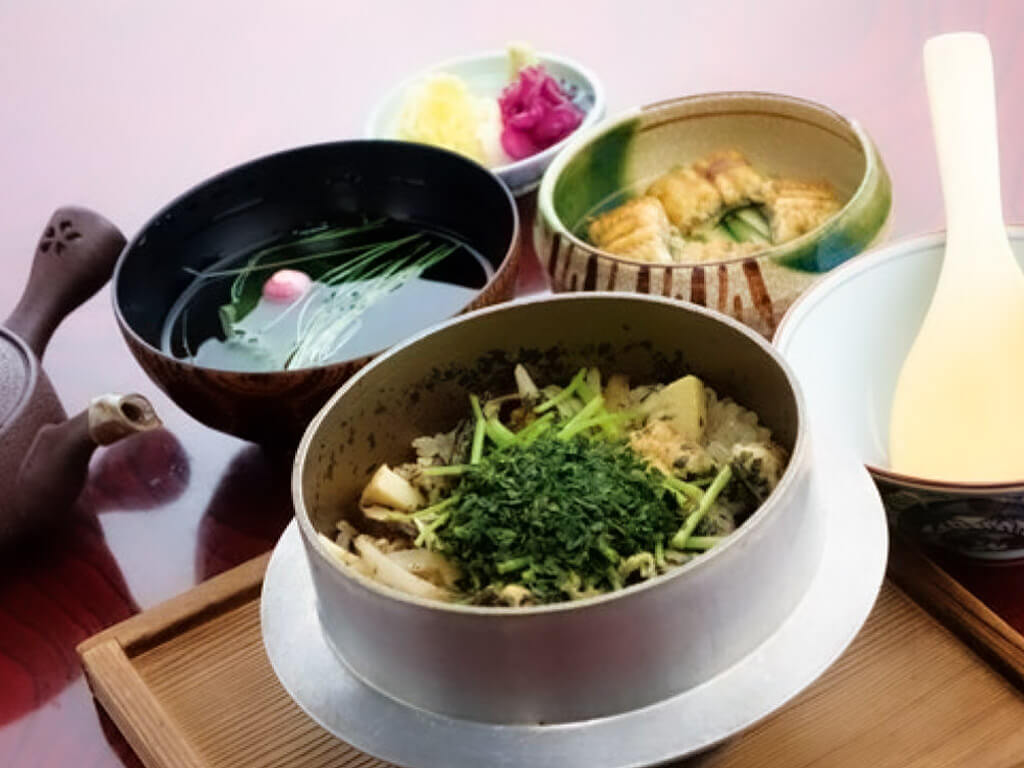 If you prefer to try something that isn't Matcha for lunch check out Uotora where you can try the other specialty of Nishio, Unagi. Unagi is a Japanese eel and is considered a delicacy. A big proportion of the eel raised in Japan comes from Nishio city.
At Uotora you can try this freshly caught eel in the form of Chameshi-unagama. A type of pilaf cooked with Nishio Tencha, eel, and vegetables.
Uotora (魚寅)
Opening Hours: 11:00 – 14:00, 17:00 – 22:00; closed Thursdays
Address: 1-10 Yakushimae, Kamimachi, Nishio, Aichi 445-0894
Website |Google Maps
TSUTAYA Patisserie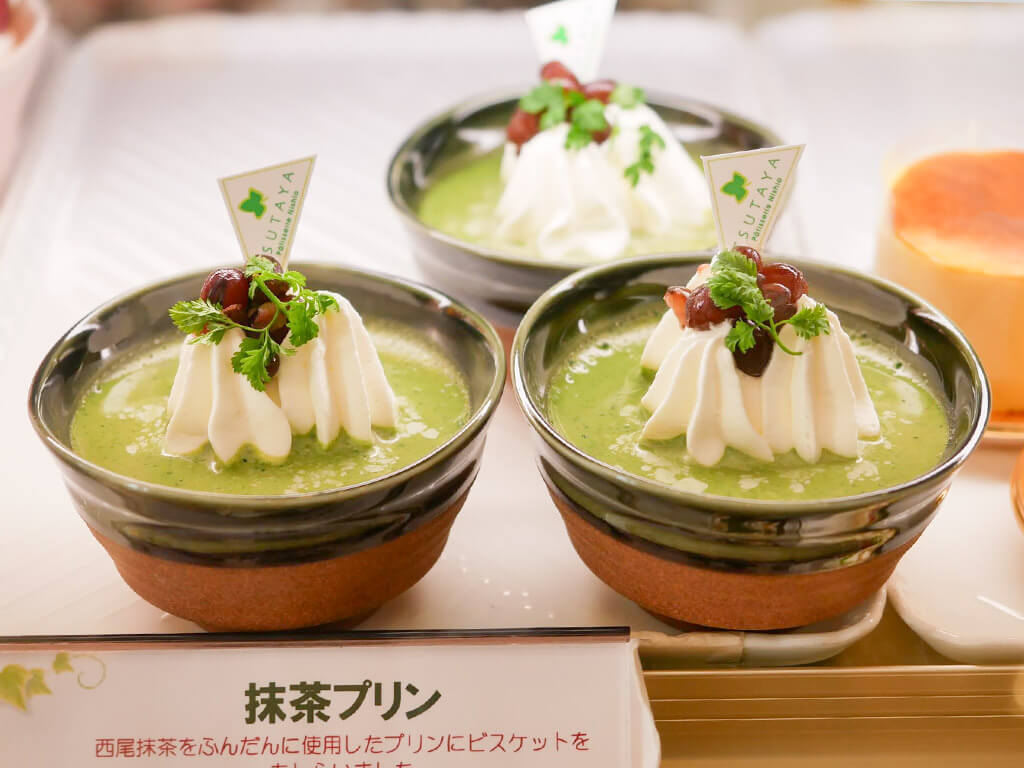 Located near the Nishio City Historical Park this bakery/cafe offers light sandwiches but its main draw is their desserts. If you are looking for a small snack then the cakes, tarts and parfaits they offer are a great option.
They offer multiple parfait options, but their seasonal parfaits are too good to pass up. Matcha parfaits are available from March to November and strawberry parfaits are available from November to May.
TSUTAYA Patisserie (パティスリー ツタヤ)
Opening Hours: 08:30 – 20:00; closed Tuesday
Address: 3 Saiwaicho, Nishio, Aichi 445-0827
Google Maps
Katekindo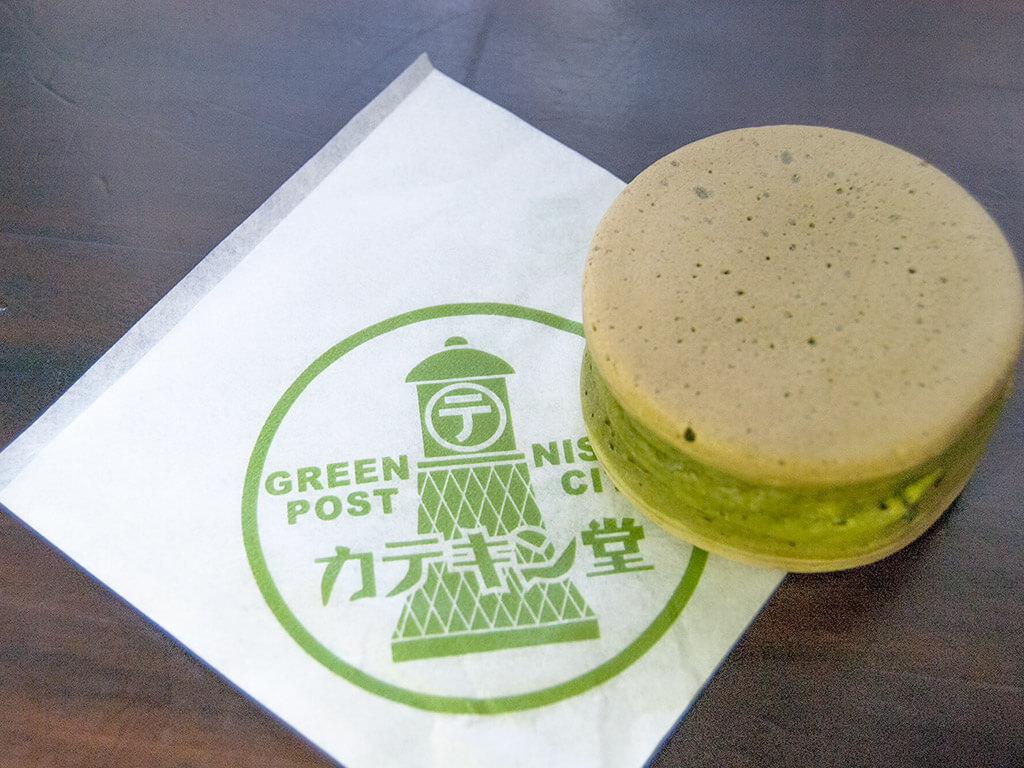 Located a short walk from the Nishio City Historical Park, this former Meiji Period (1868 – 1912) post office has been converted into a quirky little cafe. While only open three days a week (Friday – Sunday) this cafe is a great place to satisfy your sweet tooth.
The speciality of Katekindo is their Obanyaki which are cylinder-shaped sweets with Matcha dough on the outside and different kinds of fillings on the inside. You will find fillings like Matcha (Matcha and white bean paste filling), red bean paste, chocolate, and custard. We would recommend the traditional red bean paste version to anyone who isn't sure what to choose.
The shop also sells small Matcha crepes with custard, strawberries, and whip cream filling. In summer they also have shaved ice in a variety of flavors. You can either take your sweets to go or enjoy them at the tables inside the small shop.
Katekindo (カテキン堂)
Opening Hours: 10:00 – 18:00; closed Monday – Thursday (except National holidays)
Address: 4-11 Tsurugasakicho, Nishio, Aichi 445-0837
Google Maps
Unforgettable Festivals in Nishio All Year Round
Like most cities and towns across Japan, Nishio has a number of festivals during the year. The most famous/unusual as listed below, including one of the most dangerous fire festivals in all of Japan!
Mikawa Isshiki Lantern Festival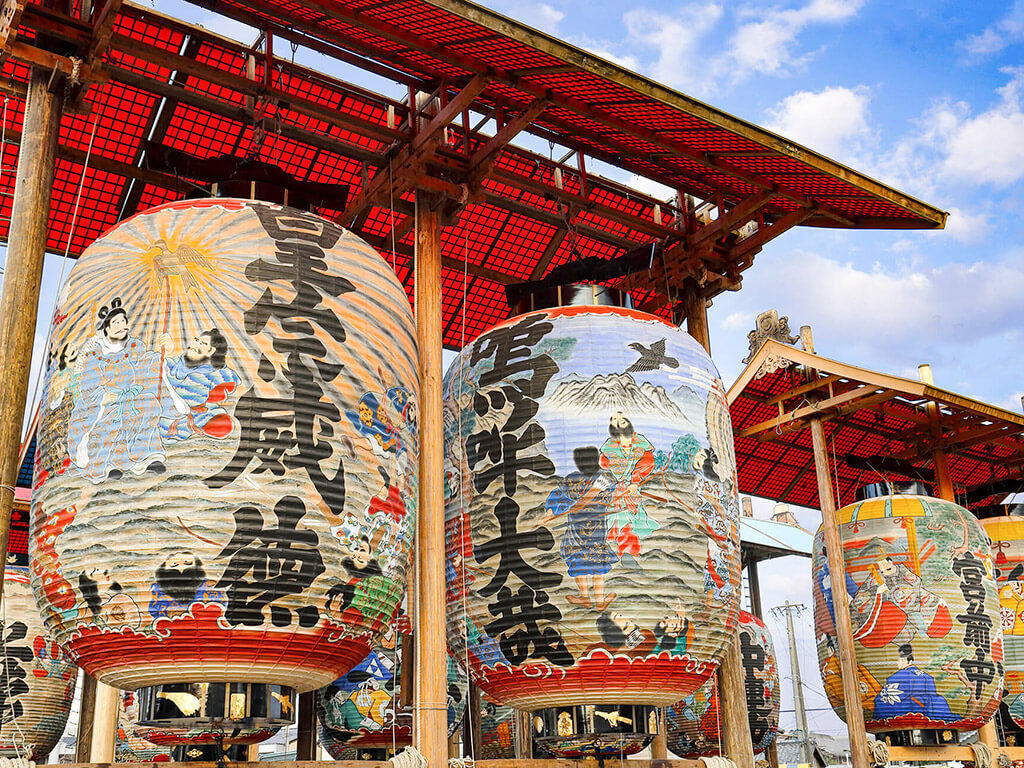 Being located along the sea, sea monsters are the terror of any community. For over 400 years to calm the sea monsters, giant lanterns are used to light up the night sky. There are six pairs of giant lanterns, each of which can be up to 10 meters tall. This annual festival takes place the last Saturday and Sunday of August at Suwa Jinja, a Shinto shrine located in Nishio.
In addition to the giant lanterns being lit up at night the area is filled with stands selling food and drinks, including Nishio Matcha.
Suwa Shrine (諏訪神社)
Festival date: Last Saturday and Sunday of August
Address: Miyazoe-129 Isshikicho Isshiki, Nishio, Aichi 444-0423
Website (Japanese only)|Google Maps
Tenteko Festival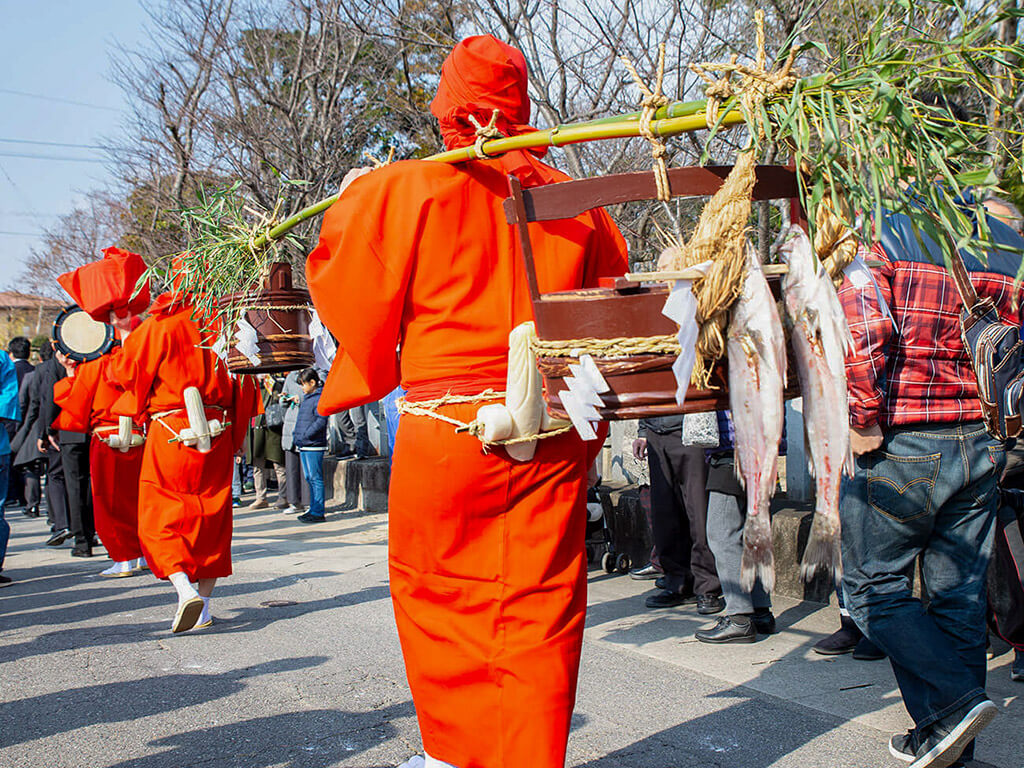 On January 3rd every year the Tentenko Festival is held at Niike Hachimon Shrine in Nishio. The festival began in 859 when the rice fields in the area were chosen to grow the rice that Emperor Seiwa would use as his offering to the gods at Ise Shrine in Mie Prefrecture. The festival is now used to pray for a rich harvest.
Each year 6 unlucky men are clad in red costumes and have daikon radishes that have been carved into the shapes of phalluses, dangling from their backs, parade through town. Some of the men carry bamboo brooms and scatter ash as they walk. Having the ash fall on you is said to bring good luck in the following year.
Niike Shrine (熱池神社)
Festival date: January 3rd
Address: Nakagiri-12 Niikecho, Nishio, Aichi 445-0881
Website (Japanese only)|Google Maps
Nishio Gion Festival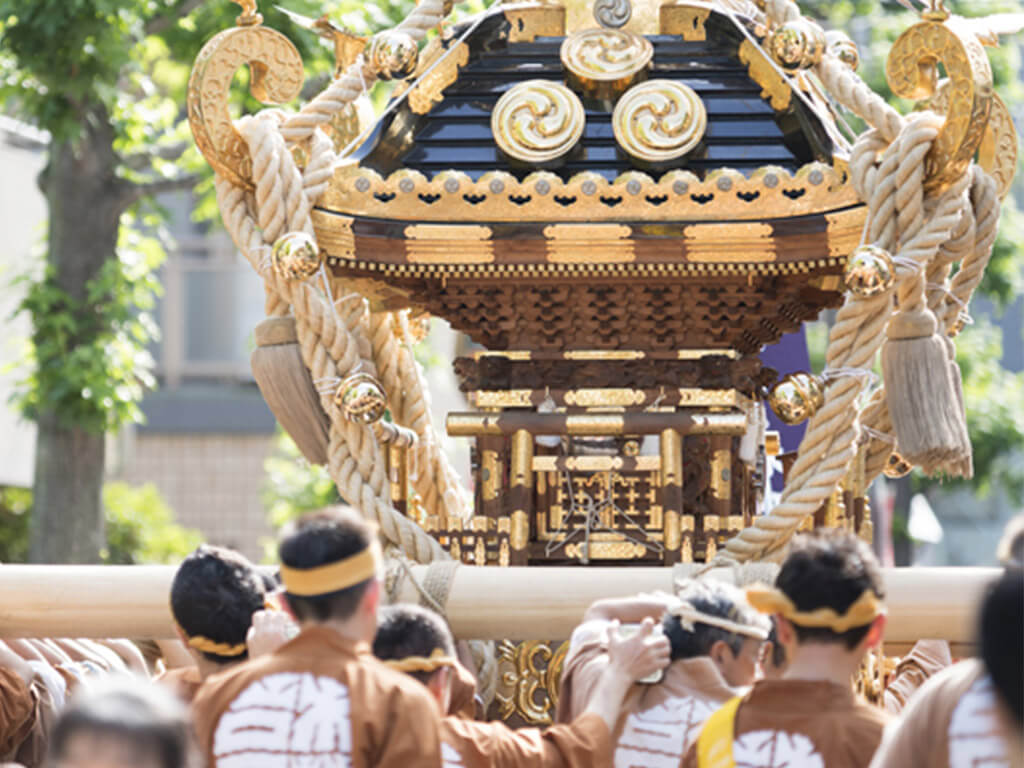 The Nishio Gion Festival has been held for over 400 years during the middle of July. A portable shrine holding the guardian deity of the city is carried from Ibun Shrine to Mitsurugi Hachimangu Shrine located on the grounds of Nishio Castle. It is said that if you pass under the portable shrine you will be blessed with good health.
In addition to the procession of the portable shrine, the six main areas around the castle grounds each join the parade with their own performances including floats and a lion dance.
Nishio City History Park (西尾市歴史公園)
Festival date: Middle of July
Address: 231-1, Kinjo-cho, Nishio-City, Aichi 445-0864
Google Maps
Toba Fire Festival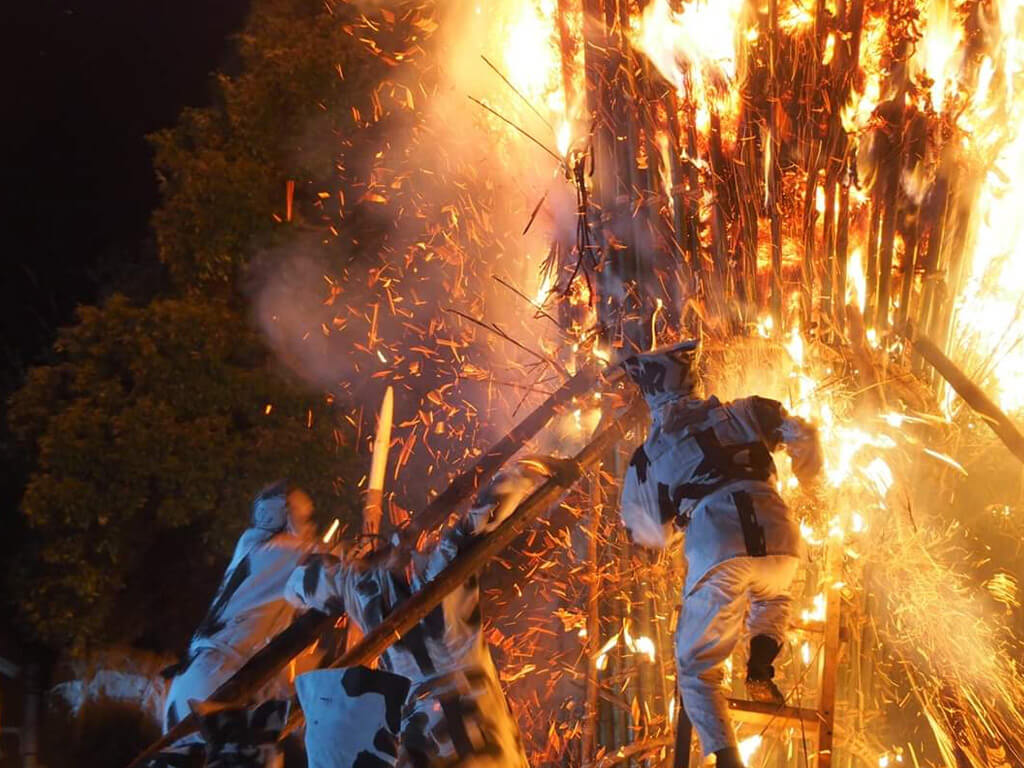 Japan is famous for an abundance of fire festivals, but one of the most dangerous has got to be the Toba Fire Festival (designated as a National Important Intangible Folk Cultural Property). This festival has been held for the last 1,200 years! It now takes place on the 2nd Sunday of February.
Two giant torches called "Suzumi," each of which is 5 meters high and weighs 2 tons, are lit by two men (one each on the east and west sides) who are of an unlucky age. Then, brave participants wearing costumes made of old banners climb up on the burning Suzumi and compete to take sacred wood and twelve ropes out from the Suzumi. Finally, the men offer the sacred wood and twelve ropes to the gods. The results of the competition are used to divine the year's weather and whether the harvest will be good or bad.
Toba Shinmeisha (鳥羽神明社)
Festival date: Second Sunday of February
Address: 89 Nishibasama, Tobacho, Nishio, Aichi 444-0704
Website (Japanese only)|Google Maps
How to Get Around Nishio
The center of Nishio is easily walkable from Nishio Station. English pamphlets are available at the Tourist Information Center right next to Nishio Station.
Information at the multiple sights and signs in Nishio are written in Japanese only, but they use a convenient translation app. Just scan the QR code on the signs and your smartphone will open a website with a short description in English.
A limited number of bikes are available for rent from the Nishio Tourism Office. Rental costs are 300 yen per bike for up to 3 hours and 500 yen per bike for rentals more than 3 hours. A 500 yen deposit per bike is required when renting the bikes. Please be aware that you need to return the bikes by 16:00 on the day you rent them.
How to Get to Nishio
Since Nishio is only around 40 kilometers away from Nagoya it is a perfect day trip destination. The Meitetsu express train from Nagoya Station takes 50 minutes, costs 810 yen and leaves every 30 minutes.
---
Did you enjoy this article?
Make sure to also check out our other posts about Nagoya and trust us if we say Nagoya is not boring!
Be sure to follow us on Facebook for regular updates on Nagoya, and see our Instagram for pictures and stories about the city!
Tag us 📲
If you have visited Nishio please share your experience and tag us on social media with #nagoyaisnotboring