A small town at the banks of a tranquil river, a castle at the top of a low hill, streets lined by dark wooden houses. Inuyama is a place where you can experience Japan from another time, with old traditions and masterful craftsmanship such as colorful festivals, pottery, and mechanical puppets.
Inuyama Castle: a National Treasure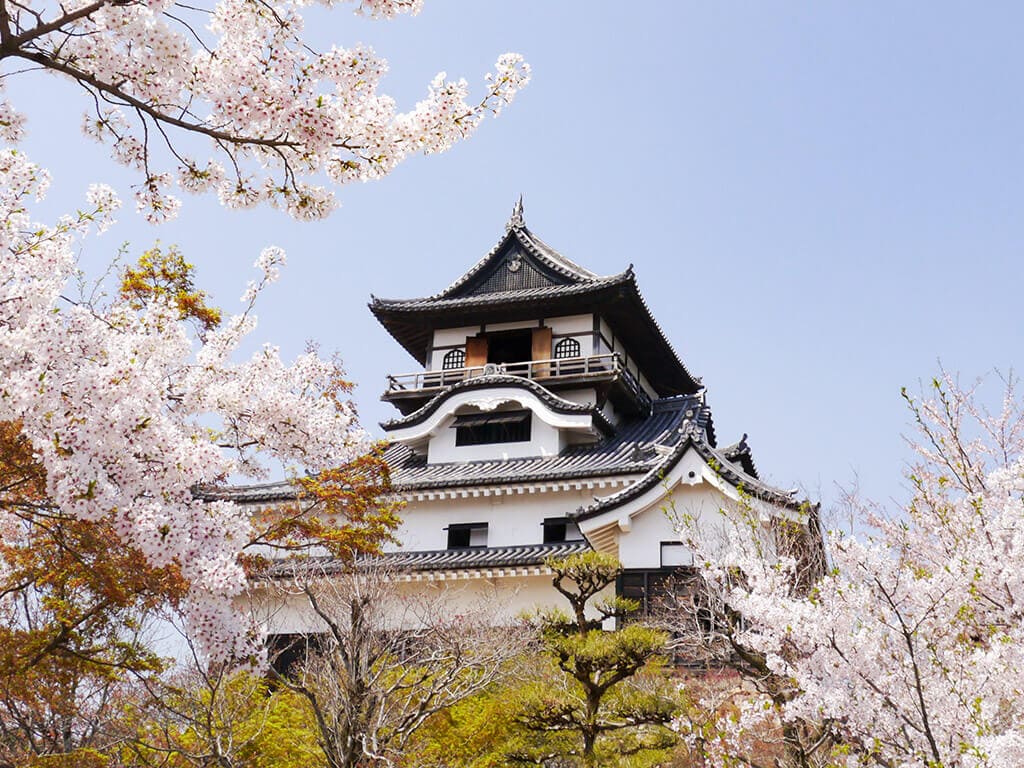 Inuyama Castle is the main draw of Inuyama. The small wooden castle is one of the last original 12 castles in Japan, which means it has not been destroyed since the end of the feudal age in 1867. It is also one of only 5 castles designated as national treasures.
The castle was built in 1537 by Oda Yojiro Nobunyasu, the uncle of Oda Nobunaga.
Inuyama Castle used to be the only castle in private possession. It belonged to the Naruse family, a very old and influential family of Japanese nobles until they transferred its property right to a judicial fund in 2005.
The castle is located on a hill overlooking the Kiso River. When you climb all the way to the top of the castle you have a wonderful 360-degree view of Inuyama, the Kiso River and even the faraway Nagoya skyline.
Because it is an original castle there is no elevator, no electricity, and no museum inside, just a small-scale model of the castle and some photos and images. This allows you to better appreciate what the castle was like during its use.
Inuyama Castle (犬山城)
Entry Fee: adults 550 yen, children under 14 years 110 yen
Opening Hours: 9:00 – 17:00
Address: Kitakoken-65-2 Inuyama, Aichi 484-0082
Website| Google Maps
Wish for Love at the Sanko Inari Shrine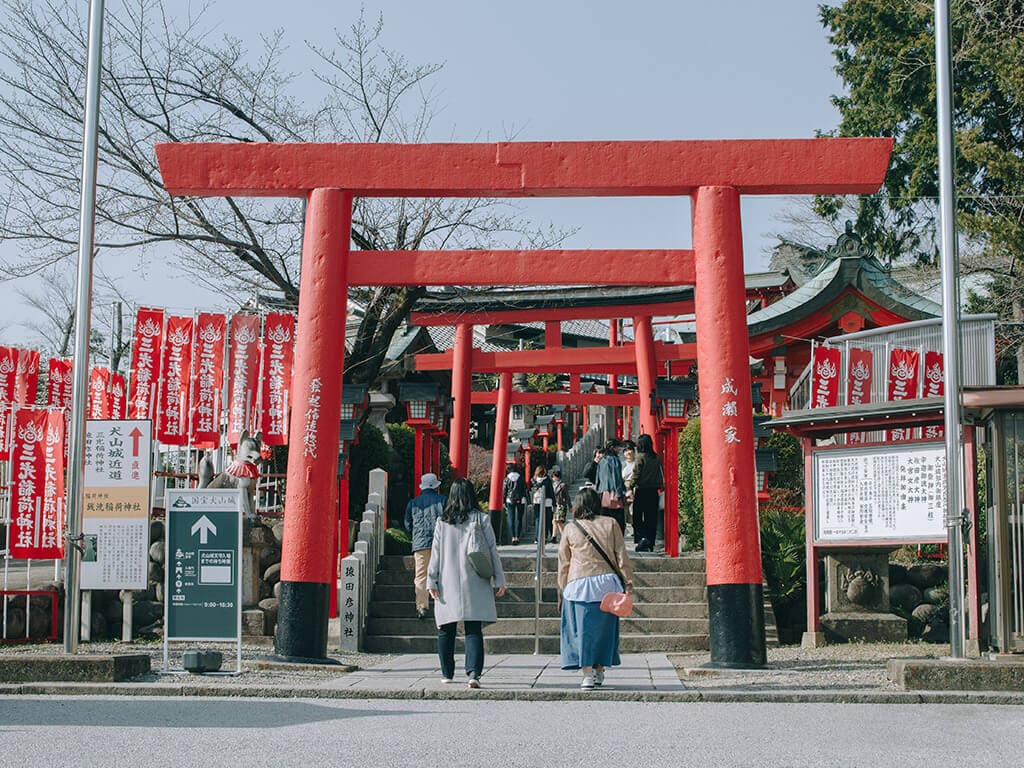 At the foot of the hill where Inuyama Castle is located, you will be greeted by a row of red Torii gates marking the entrance to Sanko Inari Shrine.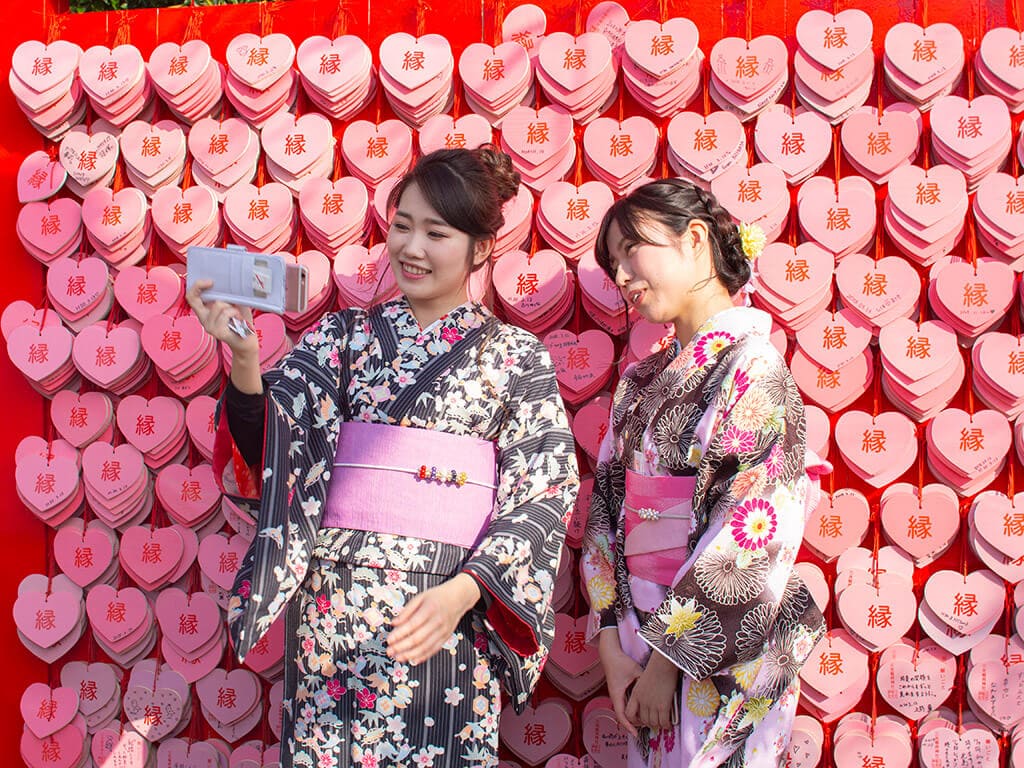 A popularly photographed feature of Sanko Inari Jinja is the pink heart-shaped wishing plaques that hang in the hundreds all around the shrine. It is said that if you write your wish for finding a partner and happiness at home on a plaque it will come true (hopefully).
Sanko Inari Shrine (三光稲荷神社)
Entry Fee: free
Opening Hours: 9:00 – 17:00
Address: Kitakoken-41-1 Inuyama, Aichi 484-0081
Website | Google Maps
Nostalgic Japan at Showa Alley – Inuyama's Castle Town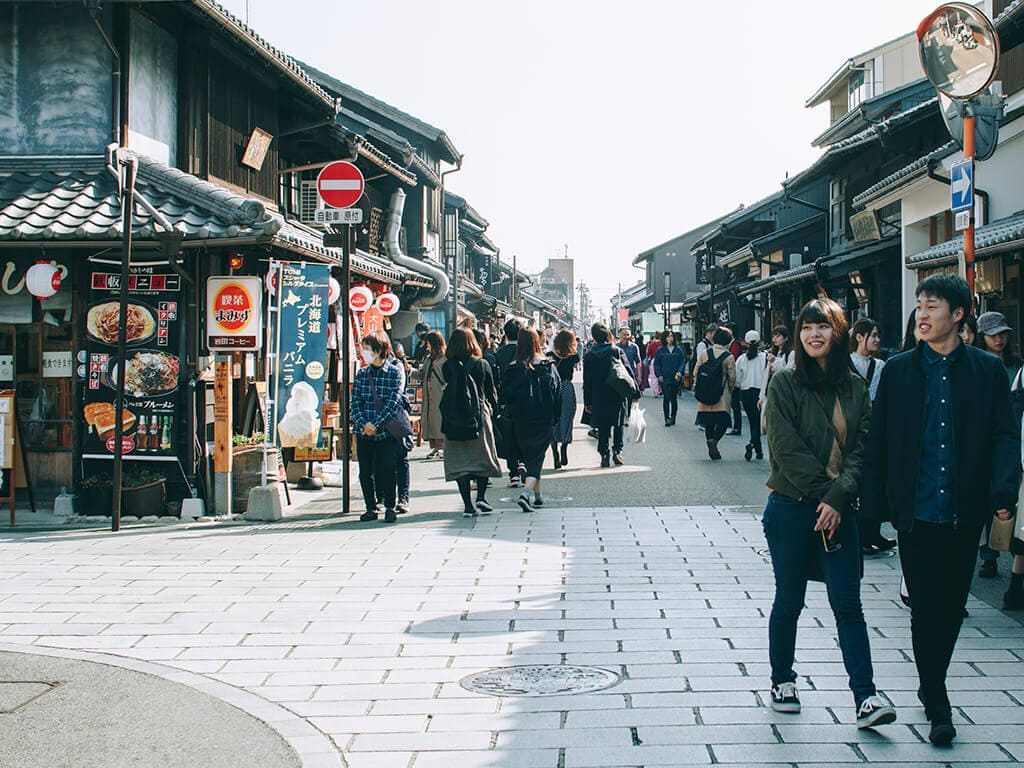 The Castle Town, also known as Showa Alley, between Inuyama train station and Inuyama Castle is a popular tourist attraction in itself.
The name Showa Alley refers to the nostalgic post-war years when life was simpler and Japan experienced an influx of westernization.
There are countless shops, stalls, cafes, and restaurants along the street.
The houses lining the road are old-fashioned wooden buildings and a perfect photo opportunity.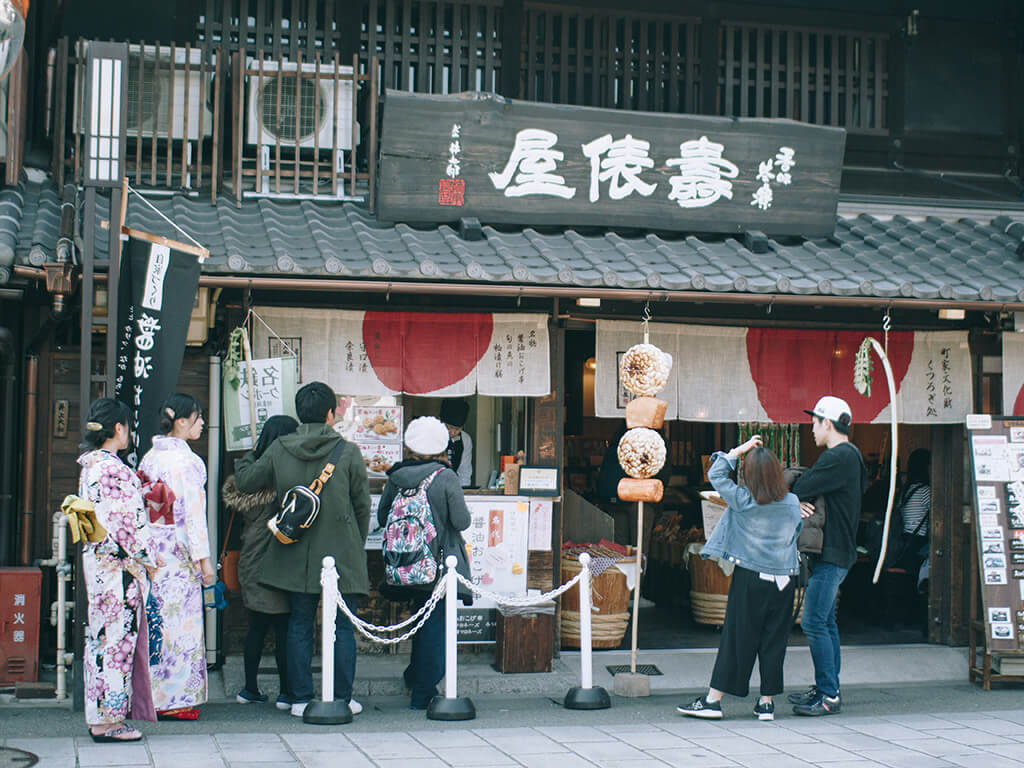 Make sure to try some Dango, sweet dumplings made from rice flour, or soft-serve ice cream while wandering around the street. Wagyu Beef Sushi, a popular street food all over Japan, can also be found among the street stalls.
If you are an ice cream fan or you like challenges, don't hesitate to try the Moriguchi-zuke ice cream, a pickled radish ice cream that you can buy in the Tsukedokoro Juhyoya pickle shop.
Explore Inuyama in a Beautiful Kimono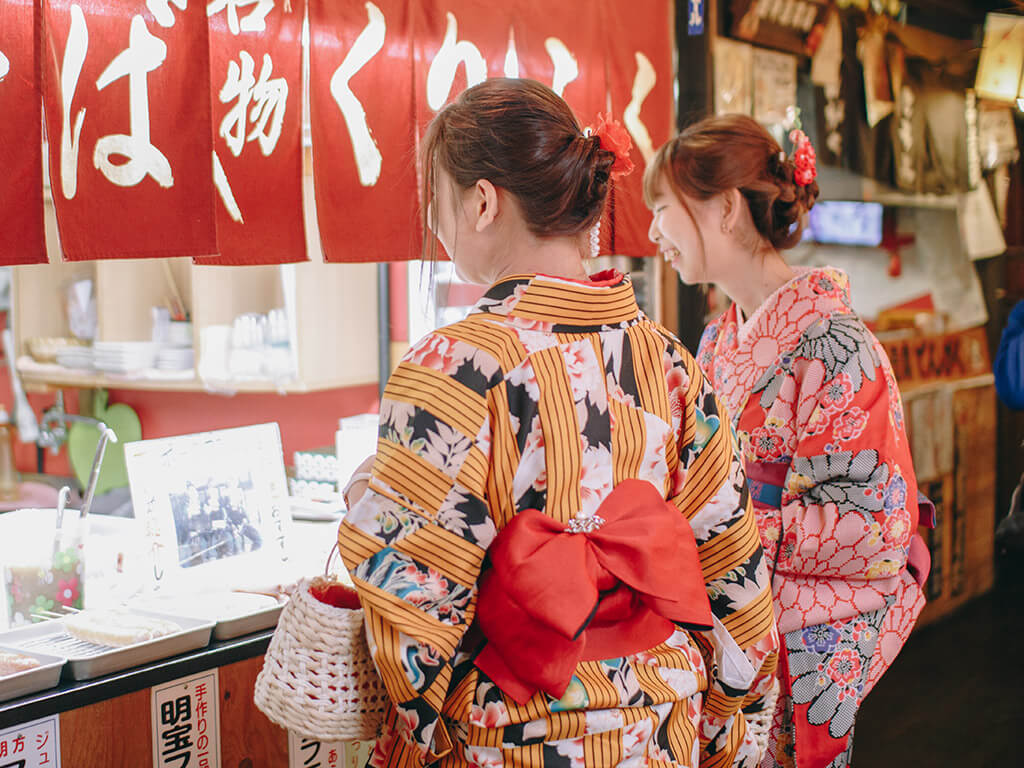 It's the most fun to explore Inuyama clad in a Japanese Kimono, or in the summer months a summer Kimono called Yukata. You can find multiple shops for Kimono rental in Inuyama's Showa Alley.
One of them is Inuyama Biyori, which offers colorful Yukata and Kimono at reasonable prices and you don't even need a reservation.
Inuyama Biyori Kimono Rental (犬山日和)
Fee: 3850 yen
Opening Hours: 10:00 – 18:00; closed Tuesdays
Address: Higashikoken-195 Inuyama, Aichi 484-0081
Website | Google Maps
Learn about Japanese Automaton at the Karakuri Exhibition Museum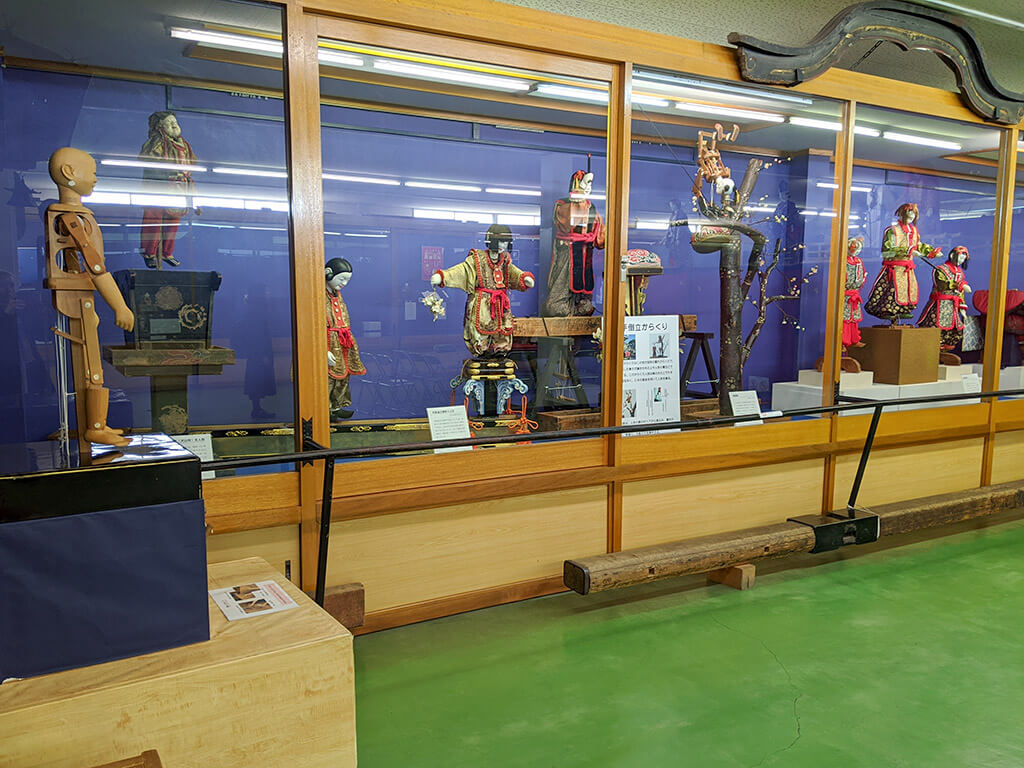 At the Karakuri Exhibition Museum, you can view multiple mechanical dolls called Karakuri Ningyo, the ancestors of modern robots, and learn of their historical importance.
Karakuri Dolls are little automatons made from wood, which were used to entertain guests by serving tea and doing other things like writing or painting.
You can also find them mounted on the top of festival floats all over the country.
The museum in Inuyama holds periodical workshops with the last Karakuri craft master alive whose family has been making these mechanical dolls since the 17th century.
Karakuri Exhibition Museum (犬山からくりミュージアム)
Entry Fee: 100 yen
Opening Hours: 9:00 – 17:00
Address: Kitakoken-69ー2 Inuyama, Aichi 484-0081
Website | Google Maps
Karakuri Doll Experience and Dinner in Nagoya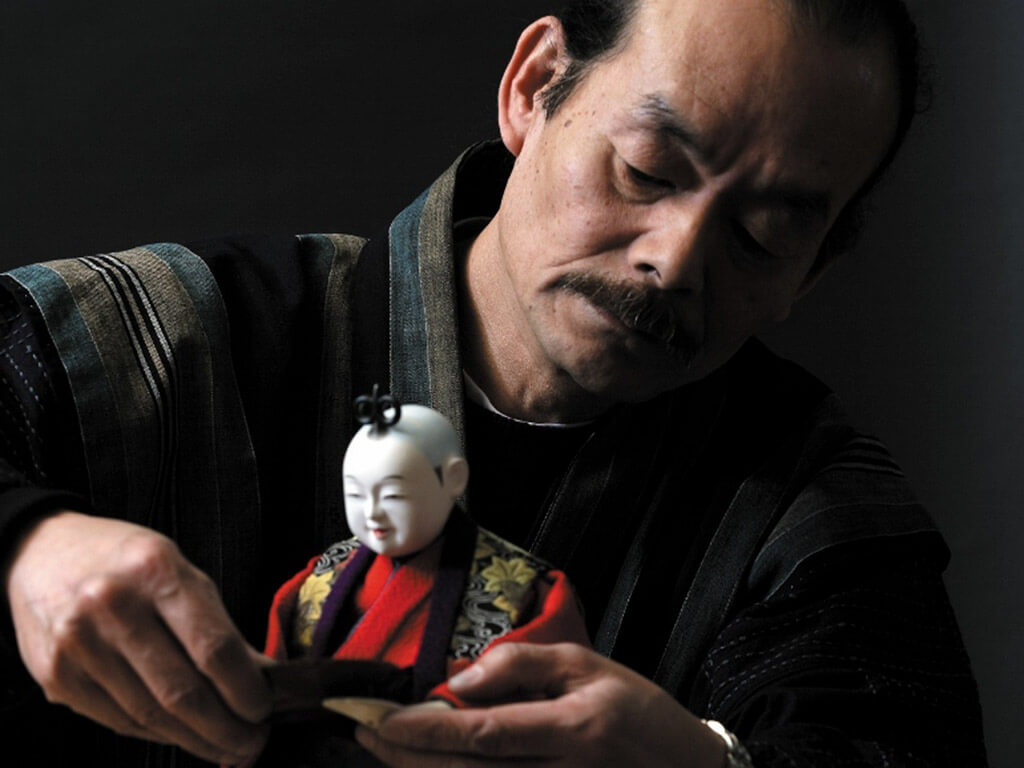 If you are fascinated by Karakuri Dolls and want to experience them really up close you can book a very exclusive Karakuri experience at a high-class Japanese restaurant in Nagoya.
The Karakuri Master will demonstrate his handcrafted tea delivering dolls to you and you will have the rare opportunity to ask and talk about his craft. It is fascinating to see the complicated mechanisms inside the dolls and to imagine how the masters came up with them hundreds of years ago.
After this once-in-a-lifetime experience, you will have an excellent Japanese multi-course Kaiseki dinner using local and seasonal ingredients artfully presented in a beautiful setting.
Book this luxurious experience here.
Support the Locals During a Premium Inuyama Yaki Pottery Experience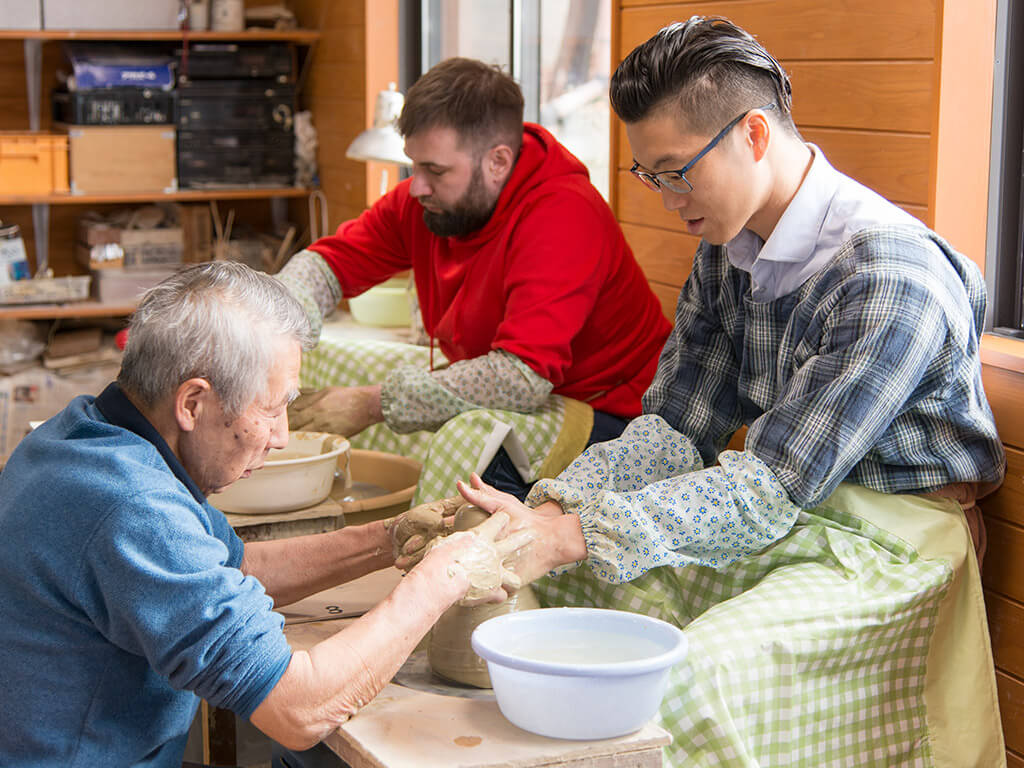 Inuyama Yaki or Inuyama Ware is said to have originated in the Meiji Period around the 18th century, at the time created by only two kilns in Inuyama. Characteristic was their use of multiple colors in a single piece of pottery, with colors like red and green as well as motives of cherry blossoms, flowers, and other motives found in nature popularly used.
During this premium pottery experience, you will get to know 3 different aspects of the pottery process. Create something on the pottery wheel, craft by hand, and decorate pottery with paint. Your crafts will be finished in one of the last climbing kilns of Japan.
This experience is a great chance to support a family-owned business and to get to know the locals and their everyday life in Inuyama surrounded by nature and lots of stray cats coming by to say hello.
Everything you make will be sent to your home anywhere in the world, but you won't leave empty-handed as you can choose a Matcha bowl made by the artisan to take with you on the day of the experience.
Book your pottery experience here.
Lacquered Masu Cup or Chopstick Making Experience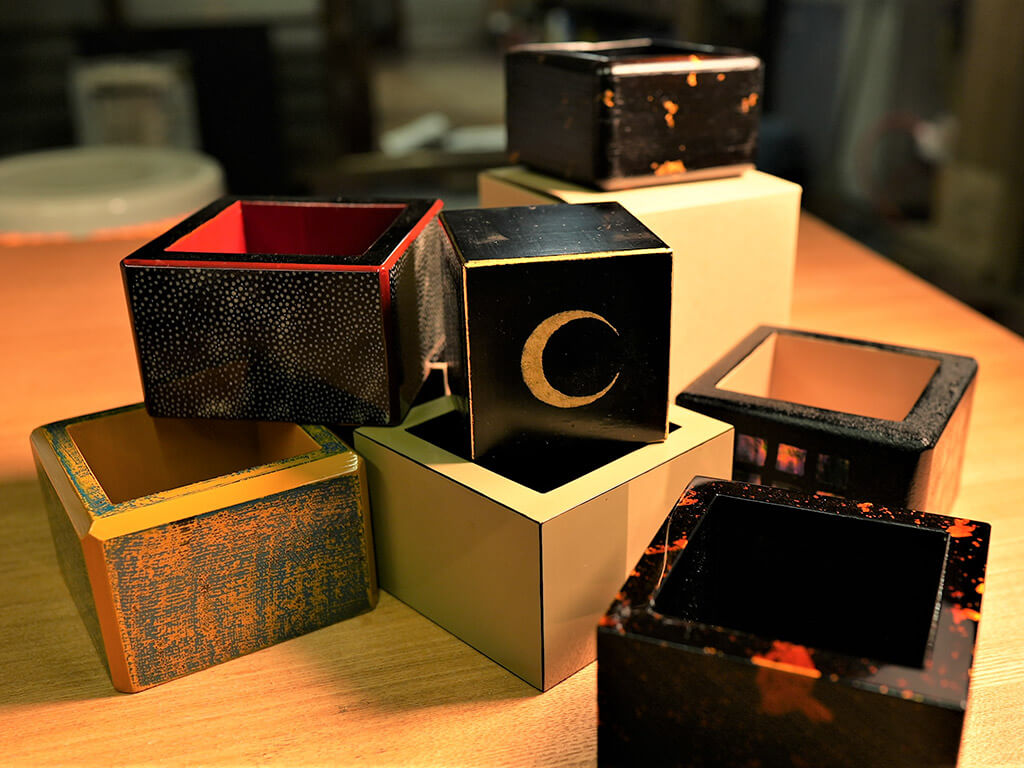 Lacquered items such as bento boxes and even Buddhist altars have a long tradition in Japan. The lacquer is won from tree sap and used to protect the wood to make it water-resistant, easier to clean, and simply keep longer. But most of us don't spend much time wondering how these objects are produced.
During this experience, you have the chance to learn about the month-long process involved in creating a single lacquered item.
Choose between chopsticks or a Masu cup (used for measuring rice or drinking Sake) and put the finishing touches on them by sanding down the lacquered surface and revealing a pattern below.
Book here if you want to make your own chopsticks, learn how to use them, and even play a chopstick game.
Or book here if you want to try making a Masu cup using shark skin.
Experience the Inuyama Festival All Year Round at the Inuyama Festival Floats Museum Donden Kan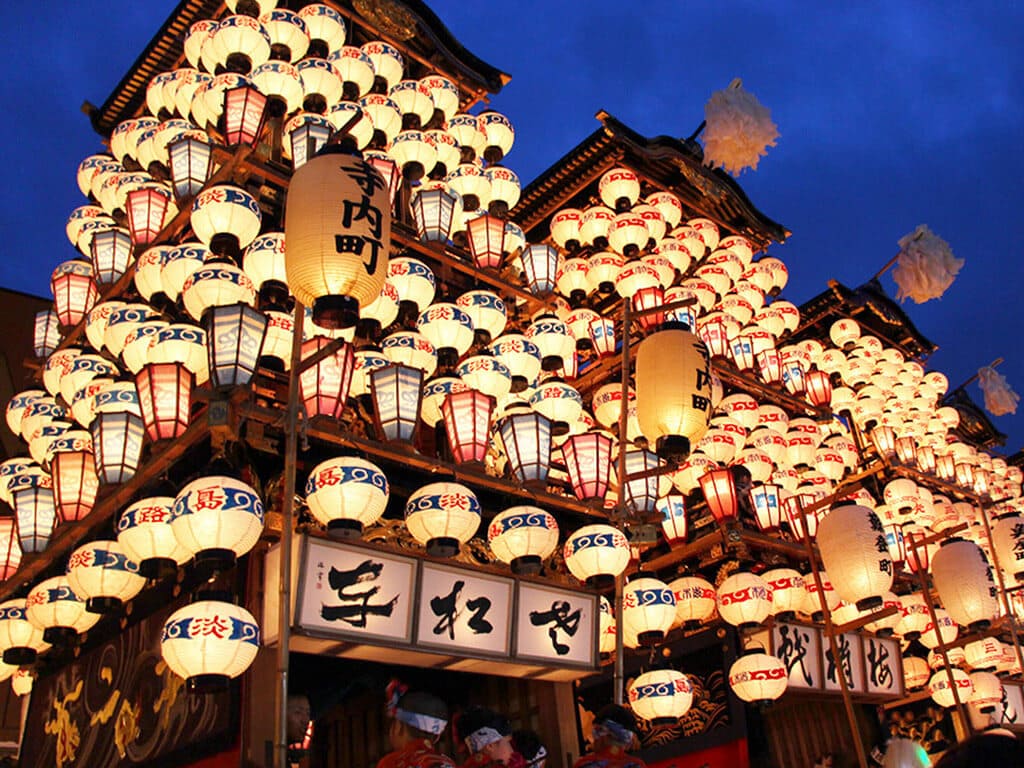 During the first weekend in April each year, the Inuyama Festival is held. It is celebrated with 8-meter tall floats being pulled through the streets of Inuyama.
If you cannot visit during the festival, no problem, you can experience parts of the festival by visiting the Donden Kan, the Inuyama Festival Floats Museum all year round.
It houses some of the impressive festival floats which you can see up close. The floats are decorated in gold and lacquer and are very impressive, not only in their size but also in their craftsmanship.
Inuyama Festival Floats Museum Donden Kan (どんでん館)
Entry Fee: 100 yen
Opening Hours: 9:00 – 17:00
Address: Higashikoken-62 Inuyama, Aichi 484-0081
Website (Japanese only) | Google Maps
Tea at One of the Best Tea Houses in Japan at Urakuen Garden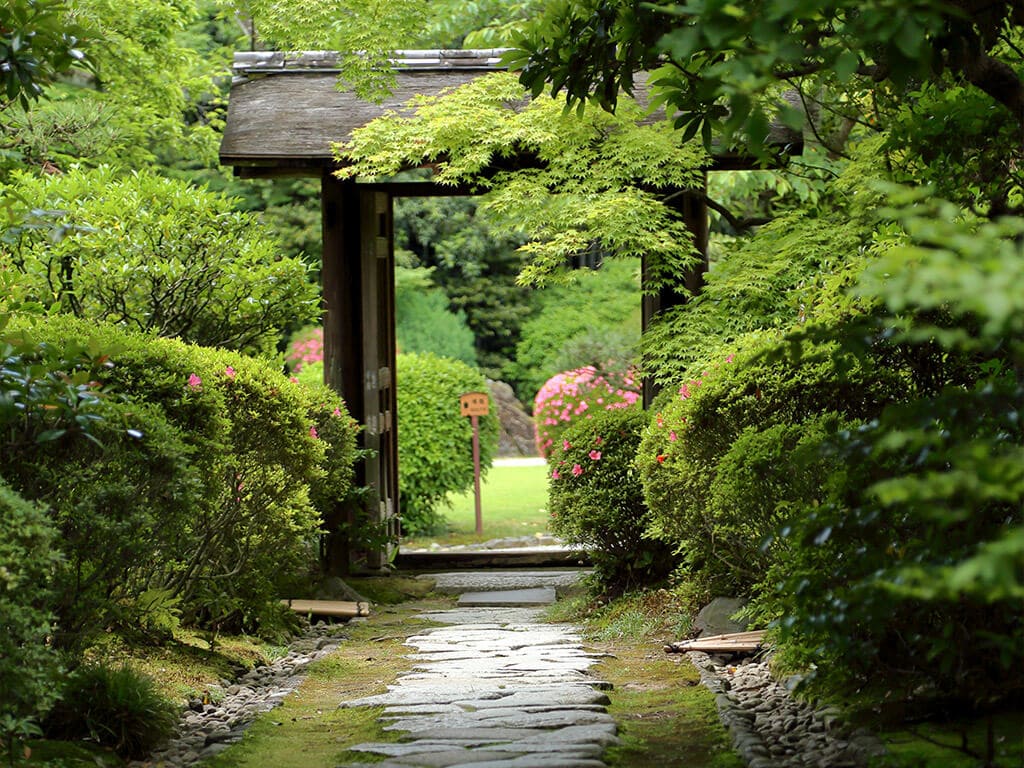 Urakuen Garden is a small Japanese garden with multiple tea houses not far from Inuyama Castle.
The most important teahouse at Urakuen called Jo-an was constructed in Kyoto in the 17th century by Oda Nobunaga's younger brother, a famous tea ceremony master. It was later moved to Urakuen.
Tea house Jo-an has been designated a national treasure and is the main draw of Urakuen. Together with two tea houses in Kyoto it is famed for being one of the best tea houses in Japan and is a very important asset in the history of the Japanese tea ceremony.
It has low ceilings made of wooden tiles and bamboo lattice work covered in clay. Inside you can see several sliding paper doors, as well as an ancient lunar calendar. Their style and design are harmonious, elegant, and surprisingly simple. Jo-an is considered by many to be a masterpiece of teahouse architecture.
NOTE: Urakuen is currently closed for reconstruction work until autumn 2021 and it is not possible to visit.
Urakuen Garden (有楽苑)
Notice: Closed for reconstruction until autumn 2021
Entry Fee: 1000 yen
Opening Hours: 9:00 – 17:00
Address: Gomonsaki-1 Inuyama, Aichi 484-0081
Google Maps
Witness a 1300-year-old Tradition – Cormorant Fishing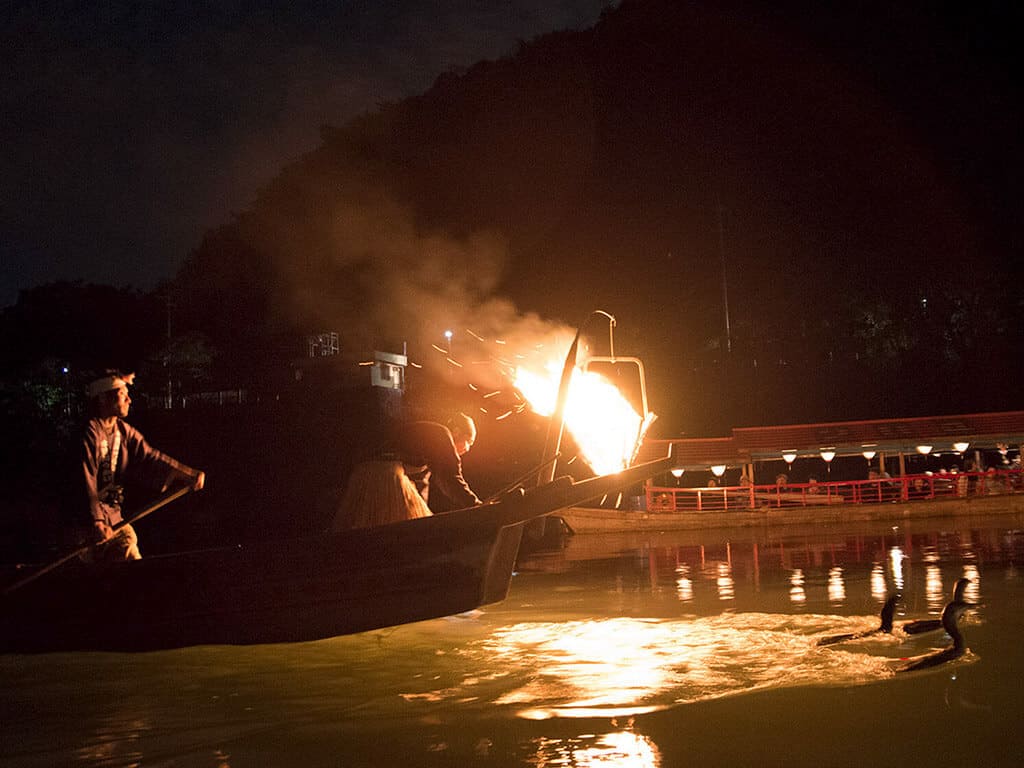 Cormorant Fishing, called Ukai in Japanese, has a 1300 year long tradition. It is a fascinating spectacle to watch and nowadays is mainly performed as a tourist attraction.
Cormorant birds tied to a leash held by the cormorant trainer will dive into the river to catch fish. The trainer will then pull the cormorant toward himself and make the cormorant spit out the fish.
This technique is used to catch small freshwater fish called Ayu or Sweet Fish.
In Inuyama, cormorant fishing takes place on the Kiso River, with Inuyama Castle in the background.
You can book a daytime tour which includes a delicious lunch box, or a nighttime tour excluding dinner.
Kiso River Cormorant Fishing (木曽川鵜飼)
Entry Fee: 5000 yen for daytime with lunch, 3000 yen for nighttime
Opening Hours: June 1st – October 15th, 9:00 – 20:15
Address: Kitahakusanbira-2 Inuyama, Aichi 484-0081
Website (Japanese only) | Google Maps
River Ride with Local Food and Sake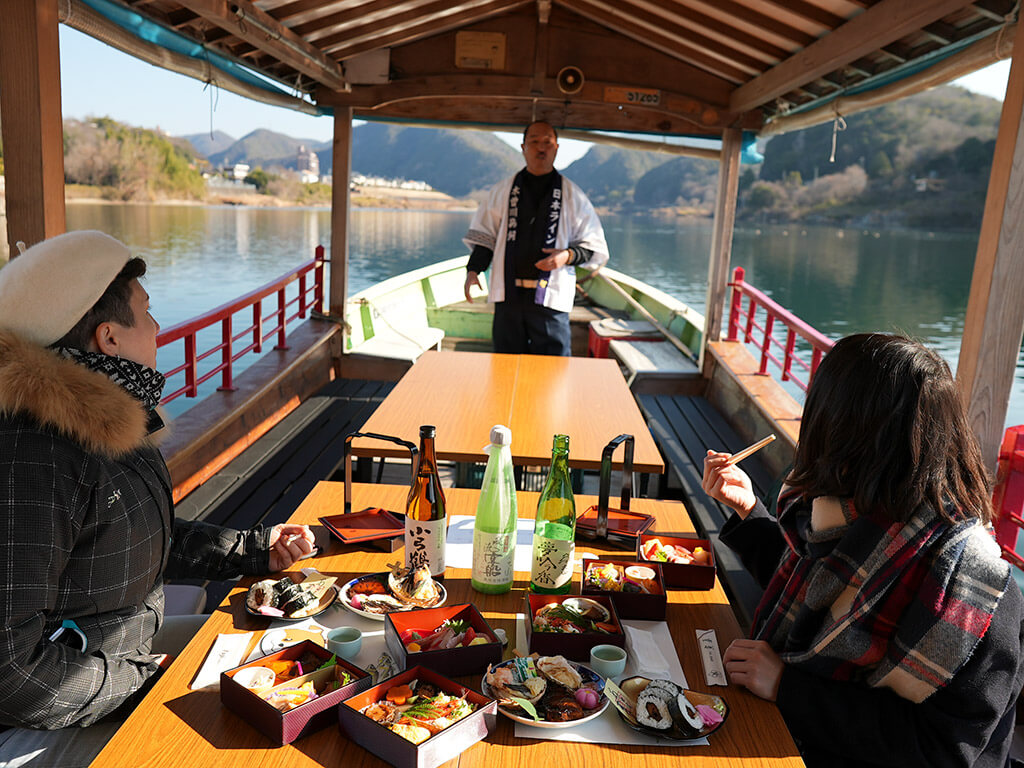 Outside the Cormorant Fishing season, which runs from June to October, you can book a private boat ride to see the beautiful landscape of the Kiso River and Inuyama.
This experience includes a delicious lunch box and a chance to taste local Sake while riding down the river in a Japanese wooden boat together with your friends and family.
Book the exclusive boat ride here.
Step into a Fairy Tale at Momotaro Shrine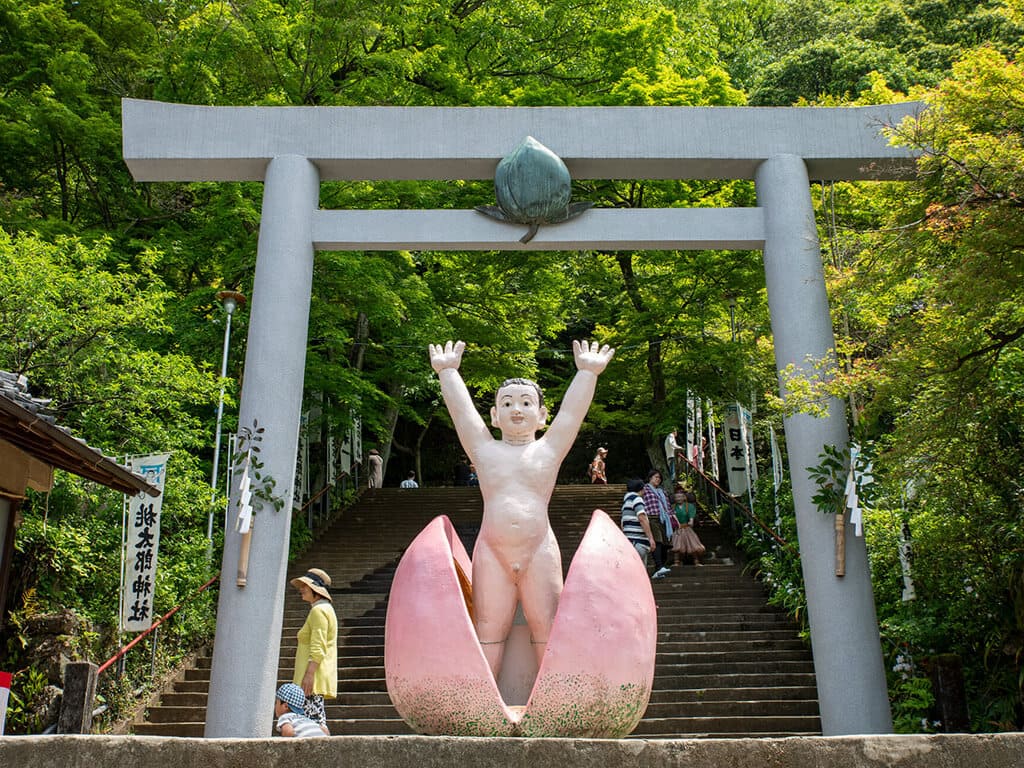 The Momotaro shrine attracts visitors from all over the world.
It is dedicated to one of the oldest folk tales in Japan: Momotaro, the boy born from a peach who together with a monkey and a dog defeated some evil Oni, Japanese demons. The statues of Momotaro himself as well as his loyal companions and other characters from the story can be found on the grounds of this unique shrine.
Momotaro Shrine (桃太郎神社)
Entry Fee: free
Opening Hours: 10:00 – 16:00
Address: Ohira-853 Kurisu, Inuyama, Aichi 484-0002
Website (Japanese only) | Google Maps
Japanese History through Architecture at Meiji Mura
Meiji Mura is one of the most popular open-air museums in Japan. It houses more than 40 buildings constructed during the Meiji Period (between 1868 and 1912).
The characteristic of the architectural style of the period is the strong influence of Western architecture. Most of the buildings from the era have been destroyed in Japan, partly because of the wars, and partly because of city redevelopment efforts in the 20th century.
Meiji Mura is a great place to learn about the history and culture of the Meiji Period, Japan's restoration and modernization period. Buildings at the museum include the entrance hall of Tokyo's old Imperial Hotel, the former Kanazawa Prison, Sapporo's telephone exchange, as well as factories, sake breweries, hospitals, and other official buildings.
Meiji Mura (明治村)
Entry Fee: 1700 yen
Opening Hours: 9:30 – 17:00
Address: 1 Uchiyama, Inuyama, Aichi 484-0000
Website | Google Maps
---
Did you enjoy this article?
Make sure to also check out our other posts about Nagoya and trust us if we say Nagoya is not boring!
Be sure to follow us on Facebook for new articles every week, and see our Instagram for pictures and stories about Nagoya!
Tag us 📲
If you have visited Inuyama before and you would like to share your experience on social media, tag us with #nagoyaisnotboring