Hida Takayama is a beautiful city located in the heart of Japan's Gifu Prefecture. It is often referred to as "Little Kyoto" due to its Edo-era architecture and breathtaking restorations of many of its historic temples, making it a beloved destination among domestic and international tourists alike.
We (Nagoya is not boring co-founders Elly and Lena) recently spent a day exploring Hida Takayama and a second in Hida Furukawa, and these are our recommendations.
History Of Takayama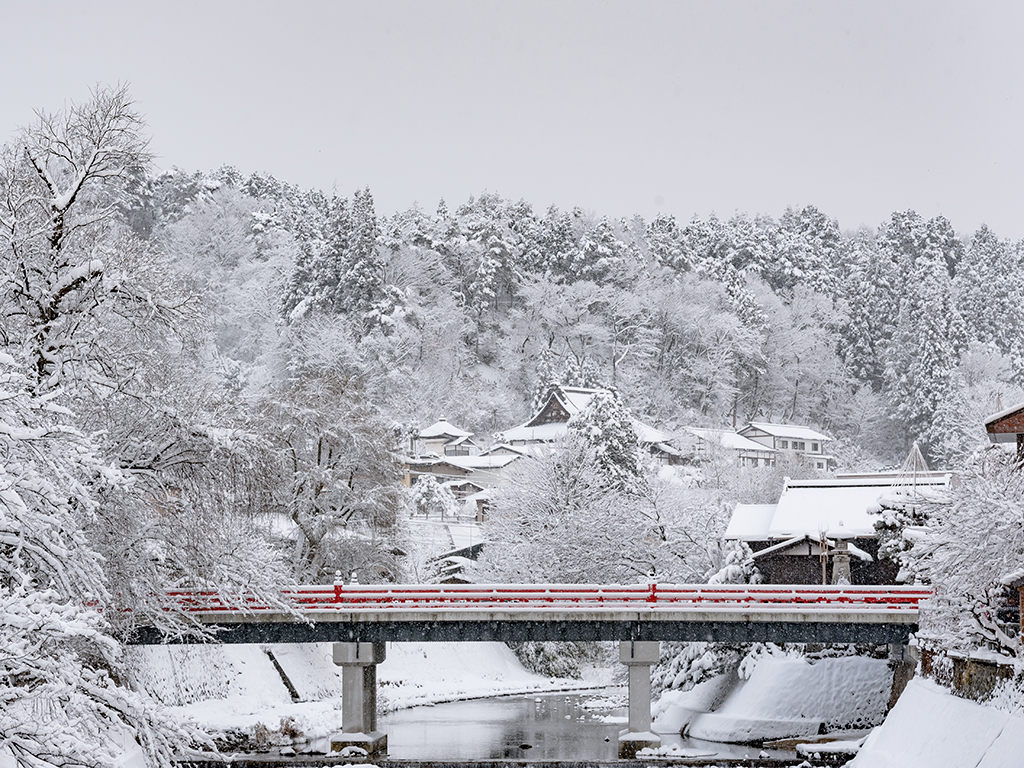 Takayama has a rich history that dates back to prehistoric times, but it wasn't until the 11th century that the city began to take shape as it is known today. The city was ruled by various warlords throughout the Edo period (1603-1867), including Lord Gamo Ujisato and Lord Maeda Toshinaga until the Meiji restoration in 1868.
In more modern times, Takayama has become a hotspot for tourists looking to experience traditional culture—from its festivals and quaint wooden merchant houses to its peaceful shrines and narrow alleyways.
The Best Reasons To Visit Takayama
Old Town Takayama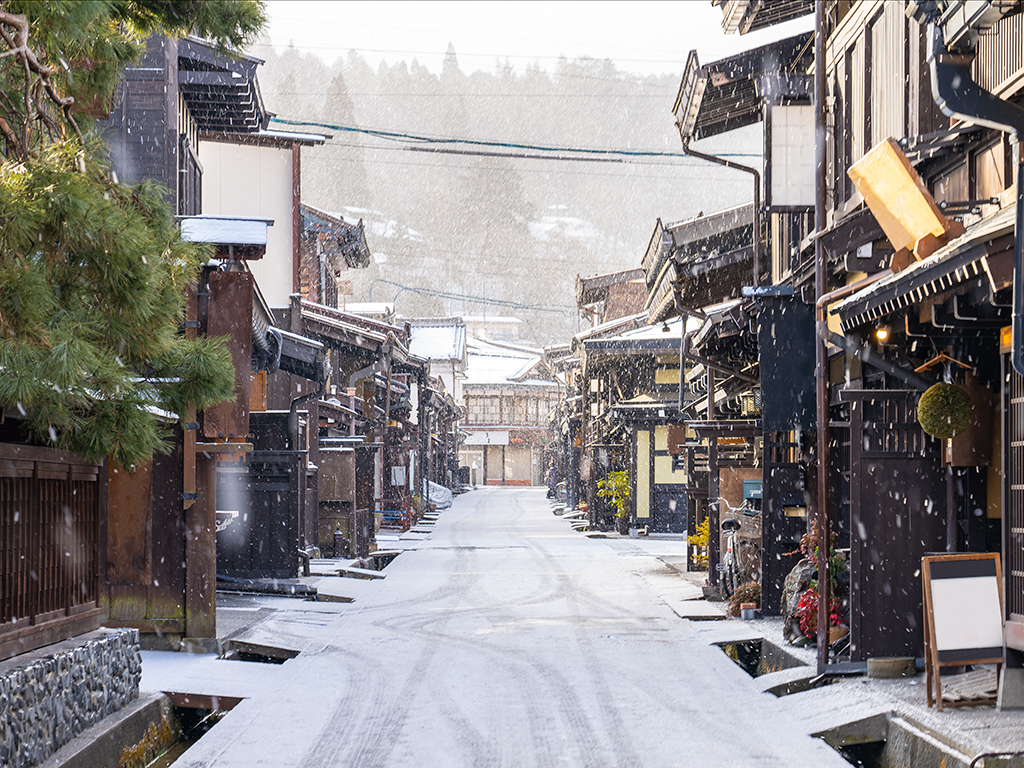 Take a stroll around the cobblestone streets of the Sanmachi Suji district, home to merchant houses, shrines, and temples, and a variety of souvenir shops and street food opportunities. The district consists of three streets lined with beautiful wooden houses typical for this part of Japan and unchanged since the turn of the last century. Here we tried some of the delicious local street food including Hida Beef Sushi, Mitarashi Dango, and Goheimochi, and visited one of several Sake breweries that can be found in Takayama.
Hida Folk Village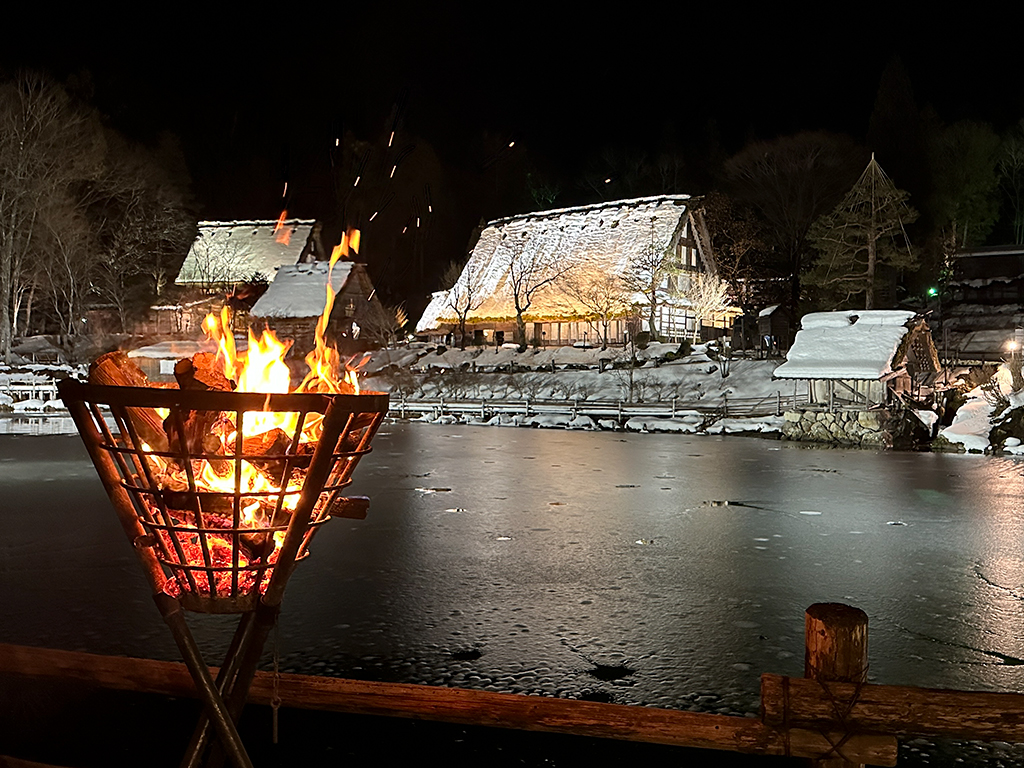 About 2 kilometers outside of Takayama is Hida no Sato, or Hida Folk Village a collection of around 30 18th-century houses that have been taken from all over Central Japan and reconstructed here to preserve the cultural heritage and amazing craftsmanship.
The thatched-roof houses are located around a scenic pond and you can visit many of the houses and learn about the life of the people who used to live in them.
There are also little workshops spread out around the village. Where you can watch masters of their crafts and even learn to do simple things yourself. Activities include weaving, wood carving, straw crafts, and ceramics making.
During the autumn (mid-October to mid-November) and winter ( mid-January to end of February), the village houses surrounding the pond are lit up. We really thoroughly enjoyed this magical nighttime experience. And it is a great reason to visit Takayama during the colder months.
Hida Folk Village (飛騨の里)
Entry Fee: Adults 700 yen, children 200 yen, illumination 300 yen
Opening Hours: 8:30 – 17:00, illumination 17:30 – 19:30
Address: 1-590 Kamiokamotomachi, Takayama, Gifu 506-0055
Access: By Sarubobo Bus from Hida Takayama Station, Nohi Bus Center it's a 10-minute ride. From Hotel Associa Takayama Resort it's also possible to reach in 10 minutes via bus or taxi.
Website | Google Maps
Sakurayama Hachimangu and Takayama Festival Float Exhibition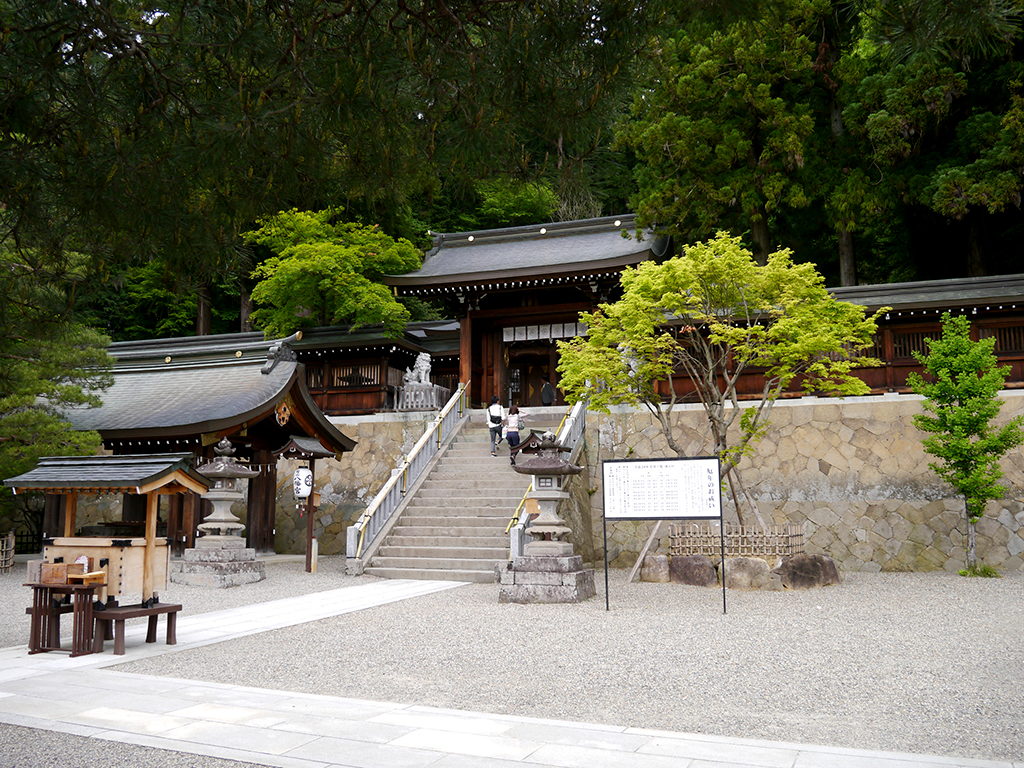 The Takayama Festival Float Exhibition houses 4 of the 11 floats from the Takayama Autumn Festival (more about the festival below). These floats are a work of art and incredible craftsmanship and each is several hundred years old.
The Takayama Festival Float Exhibition is actually part of the Sakurayama Hachimangu, the most important Shinto shrine in Takayama and the starting point of the Takayama Autumn Festival.
Sakurayama Hachimangu (桜山八幡宮)
Entry Fee: free
Opening Hours: open 24/7
Address: 178 Sakuramachi, Takayama, Gifu 506-0858
Access: From Takayama Station, it's a 22-minute walk.
Website | Google Maps
Takayama Festival Float Exhibition (高山祭屋台会館)
Entry Fee: free
Opening Hours: 9:00 – 17:00
Address: 178 Sakuramachi, Takayama, Gifu 506-0858
Access: From Takayama Station, it's a 22-minute walk. From Hotel Associa Takayama Resort take the shuttle bus to Takayama Station first.
Website | Google Maps
Higashiyama Walkway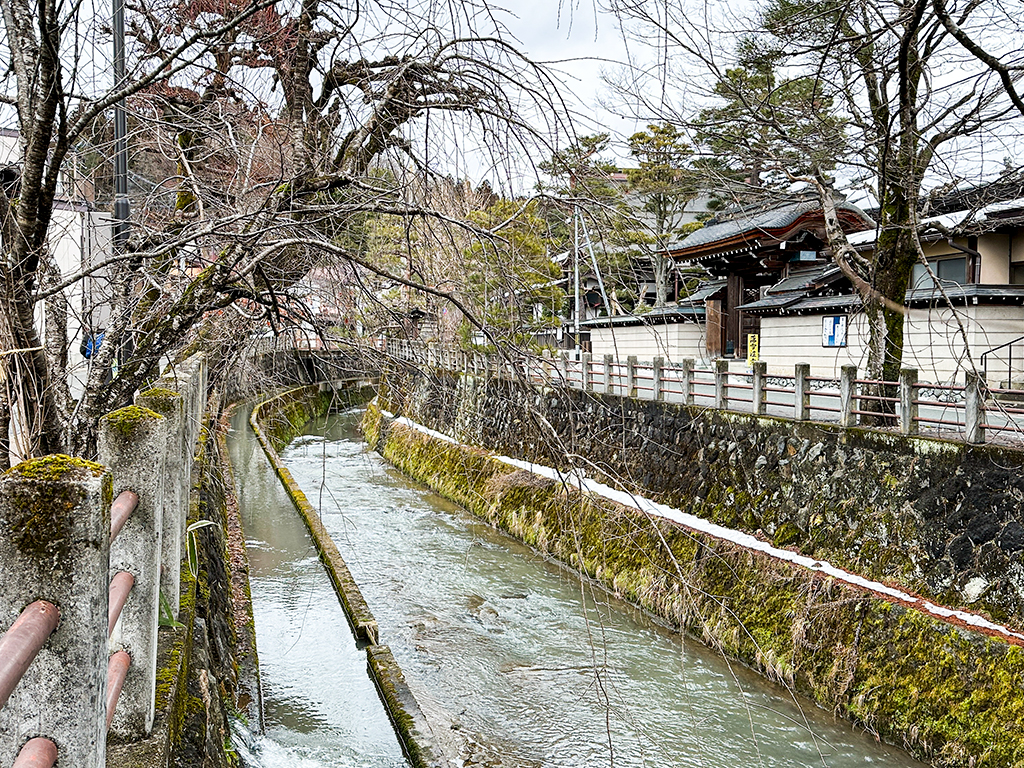 Starting just behind Sakurayama Hachimangu the Higashiyama Walkway invites you to take a walk in the eastern mountains of Takayama. The 3.5 kilometers (2.2 miles) long course leads past multiple small temples and shrines as well as the site of the former Takayama Castle in Shiroyama Park.
It is a pleasant walk to get to know the calmer side of Takayama and a nice change in pace away from the beaten tourist path. Unfortunately, we didn't have the time to walk it this time, but we will be back and can imagine a walk during Spring or Autumn to be magical.
Activities in Takayama no Traveler Should Miss
Taste Takayama's Local Sake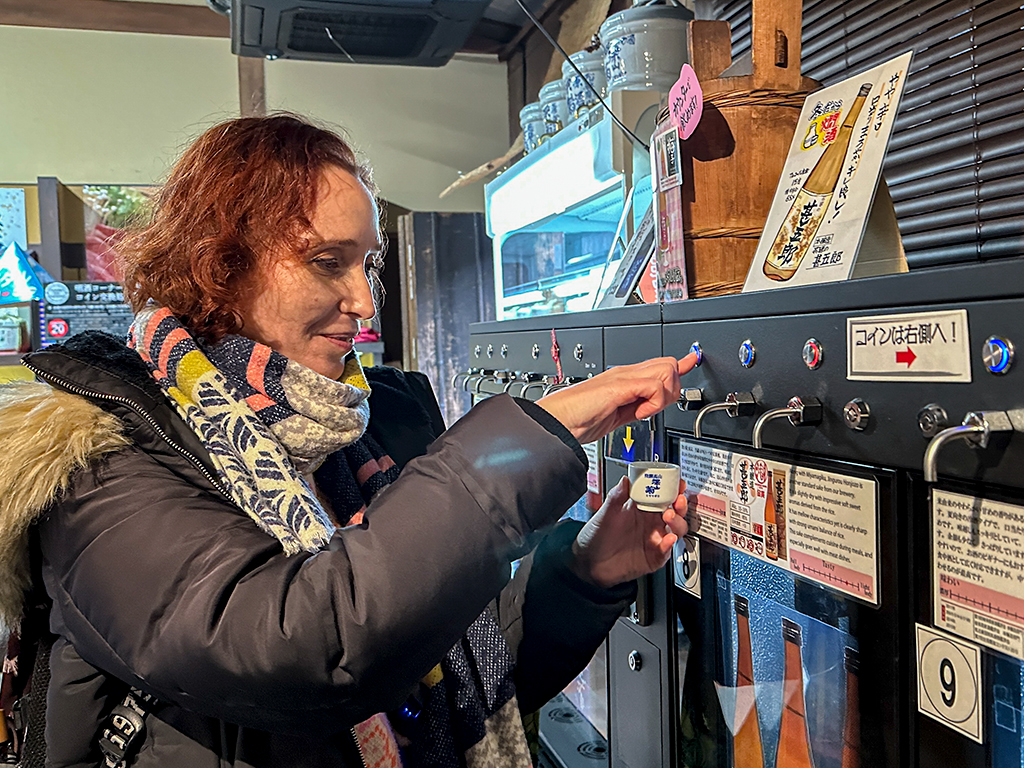 A number of Sake breweries call Takayama home. At many of them, you can not only buy local Sake but also sample a wide variety right then and there to find your favorite.
We did just that at the Funasaka Brewery. It is known as the Sake Themepark and it is the perfect place for Sake novices (Lena) as well as experienced Sake drinkers (Elly). For just 100 yen per cup, you can sample a variety of Sake and fruit liquors produced at the adjacent brewery. Sake is poured from coin-operated servers into tiny Sake cups, so you can sample to your heart's desire. Between us, we tried 9 different types! Yummy!
Funasaka Brewery (舩坂酒造店)
Opening Hours: 8:30 – 18:00
Address: 105 Kamisannomachi, Takayama, Gifu 506-0846
Access: From Takayama Station, it's an 11-minute walk. From Hotel Associa Takayama Resort take the shuttle bus to Takayama Station first.
Website | Google Maps
Use Your Hands at a Craft Workshop in Takayama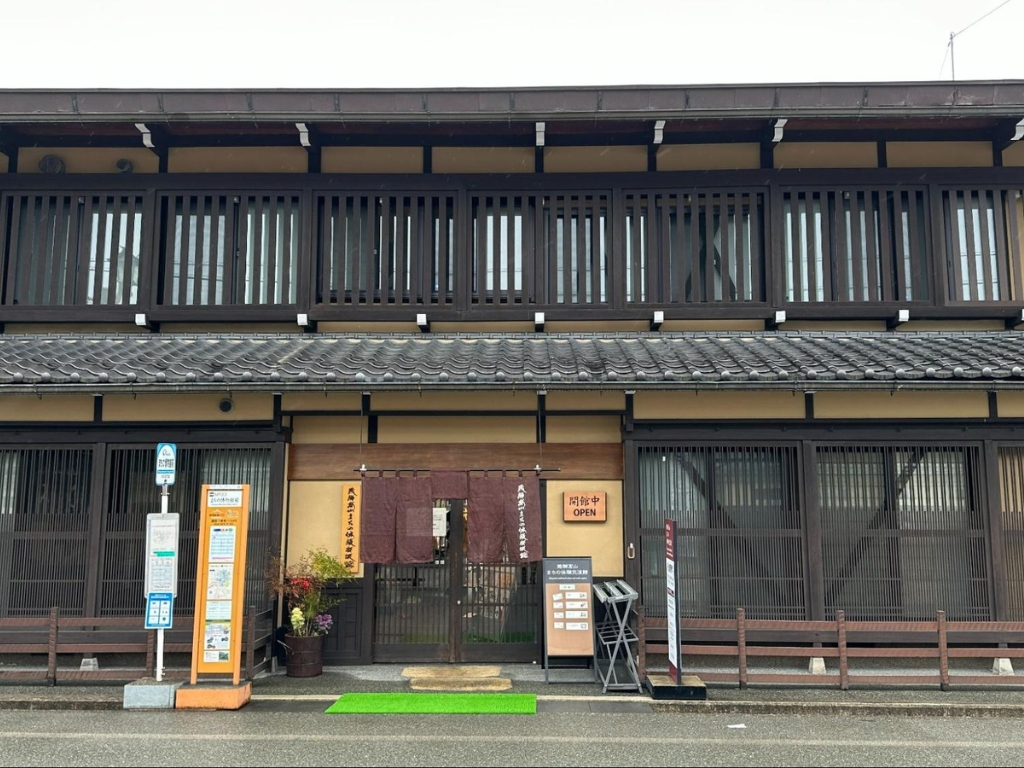 At the Hida Takayama Town Activity and Exchange Hall visitors can learn some of the traditional crafts of Takayama. Here you can learn to work with paper, straw, wood, and cloth to create unique souvenirs such as Sarubobo, the cute dolls found only in the Hida region, paper and bamboo lamps, and a variety of wooden items such as butter knives, scoops, and figurines.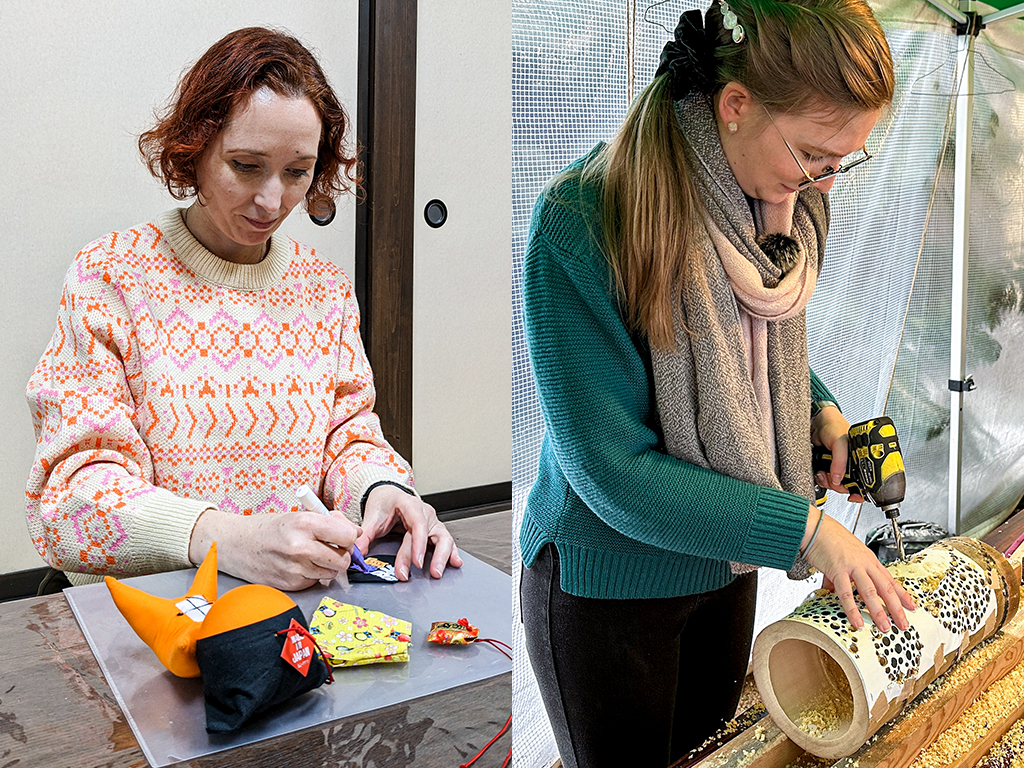 Elly did the Sarubobo experience where she dressed a bright orange Sarubobo doll in a bib and little jacket and Lena made a lamp out of bamboo by using drills and a lot of determination. We are very proud of the results!
Activities usually take a few minutes to an hour and do not generally require a reservation in advance but you can reserve online here.
Hida Takayama Town Activity and Exchange Hall (飛騨高山まちの体験交流館)
Opening Hours: 9:00 – 19:00
Address: 35-1 Kamiichinomachi, Takayama, Gifu 506-0844
Access: From Takayama Station, it's a 12-minute walk. From Hotel Associa Takayama Resort take the shuttle bus to Takayama Station first.
Website | Google Maps
Shop at the Takayama Morning Market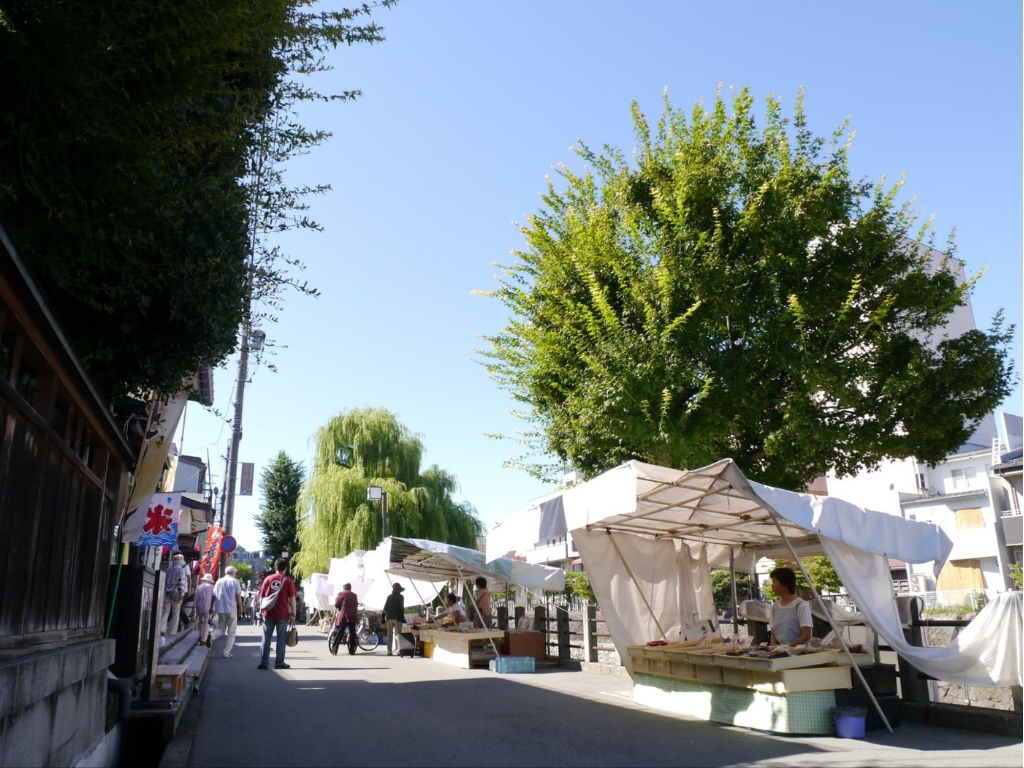 Takayama's morning markets are a great place to pick up souvenirs and local goods, including traditional crafts such as wooden spoons and sake cups.
There are two morning markets in Takayama, the Miyagawa Market along the river banks of the Miyagawa River in the center of the city and the Jinya Mae Market in front of the Takayama Jinya old government building. These markets are held daily from around 7 a.m. till noon. Locals and tourists alike stroll along the many stalls selling crafts, snacks, and produce such as vegetables and flowers.
Local Specialties of Takayama
Hida beef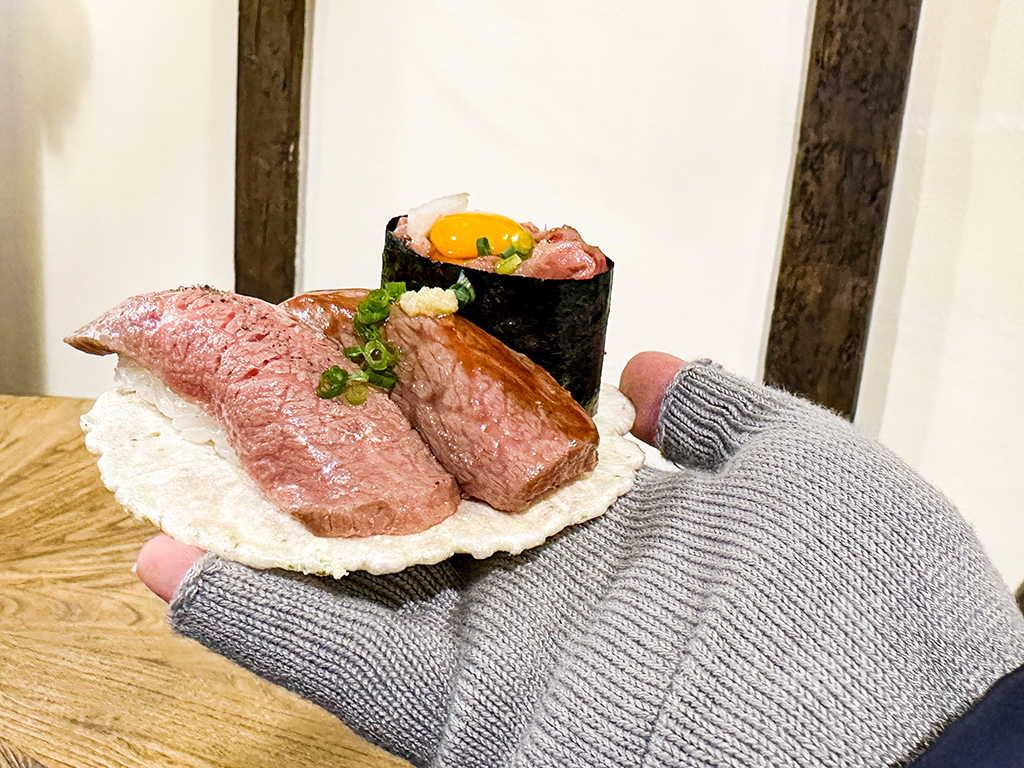 Takayama is famous for its delicious Hida beef, a renowned type of Wagyu beef from the region. It can be enjoyed in many forms, including juicy steaks, thinly sliced Sukiyaki, popular beef Sushi, or even a hamburger.
Lena especially enjoyed her Hida beef Sushi, as well as the delicious Hida Beef Shabushabu that was part of her dinner course at the Hotel Associa Takayama Resort (more about it below).
Soba Noodles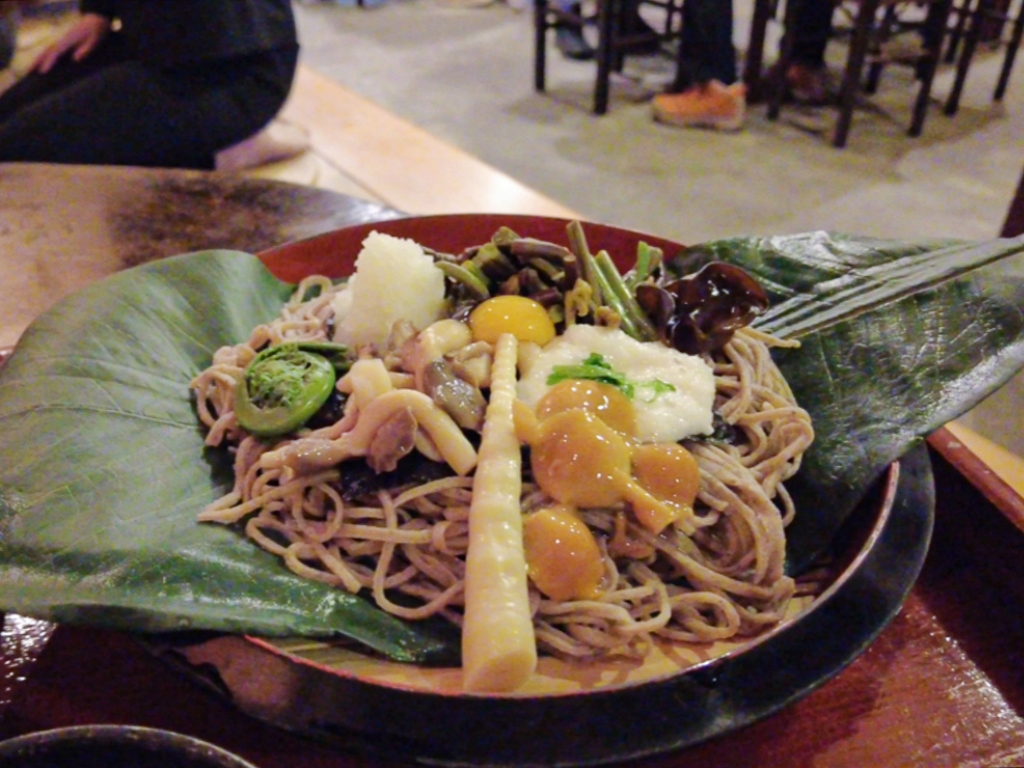 A regional specialty, Takayama Soba noodles are thin and chewy buckwheat noodles made using local flour and clear waters from the surrounding mountains.
A typical Soba dish is called Sansai Zaru Soba, served on a magnolia leave and topped with a variety of mountain vegetables. The dish is served cold and for that reason, it is especially popular in summer. And Elly enjoyed it thoroughly!
Takayama Ramen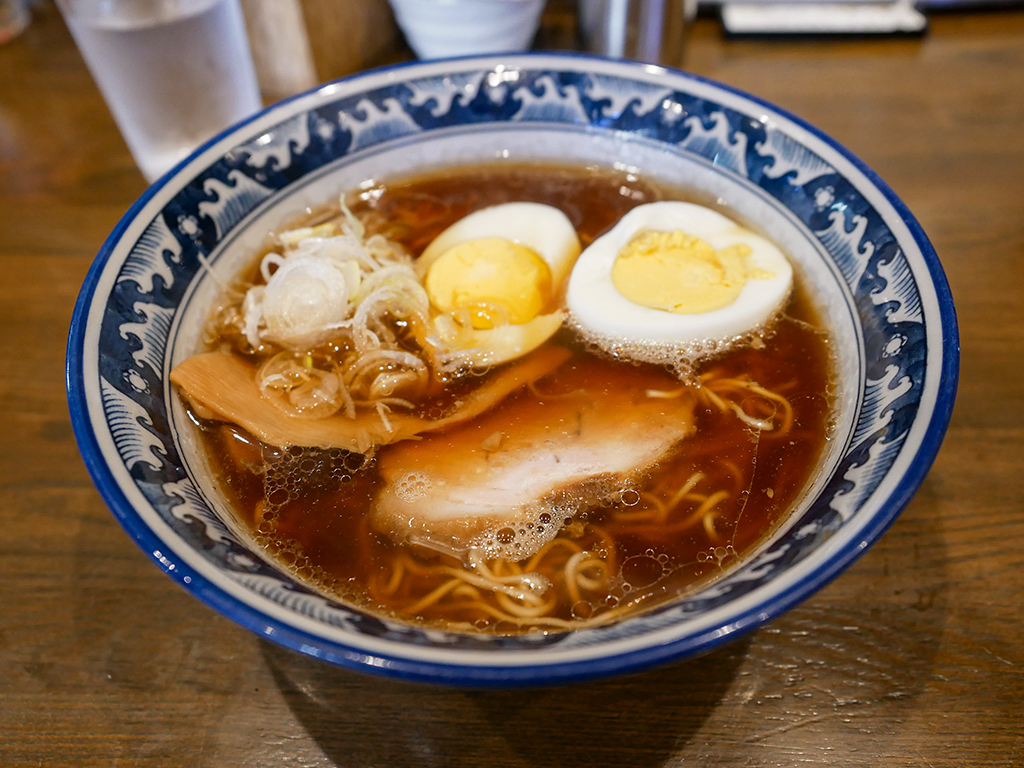 Takayama Ramen is a simple style of chicken broth and soy sauce Ramen popular with the locals. Leeks, grilled pork, and seasoned bamboo shoots are commonly used as toppings.
The Takayama Festival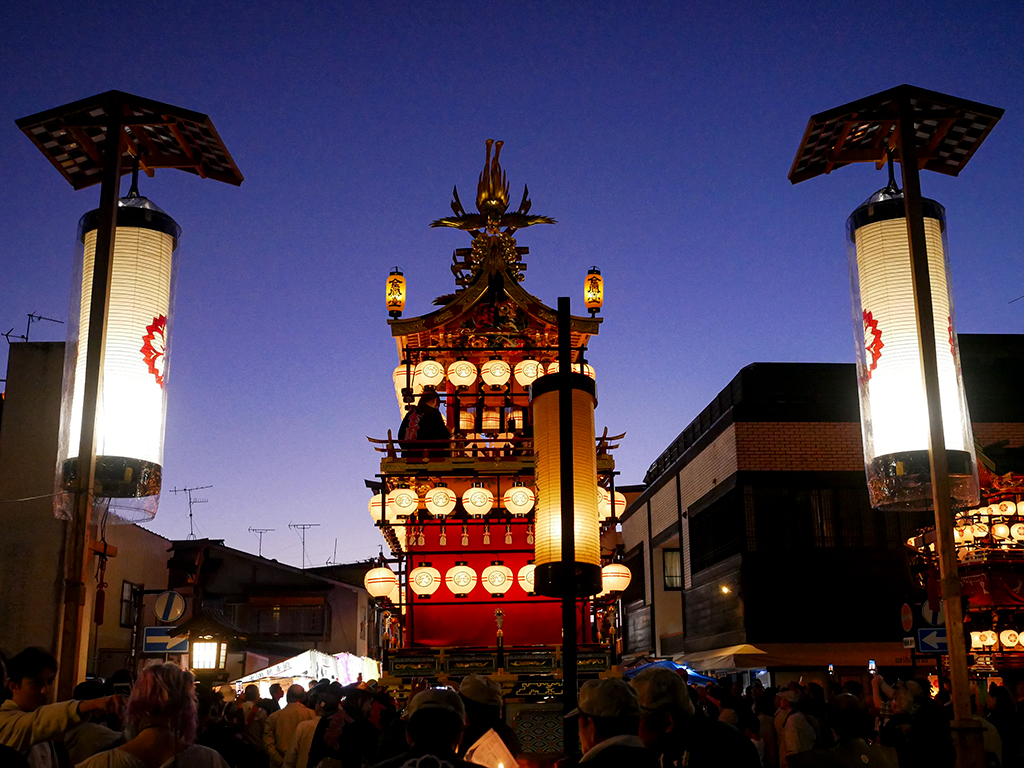 There are two annual Takayama Festivals, the Takayama Spring Festival which is held in April, and the Takayama Autumn Festival held in October.
The Takayama Spring Festival, also known as the Sanno Festival is the annual festival of the Hie Shrine in the southern part of Takayama. It is held each year on the 14th and 15th of April.
In autumn of each year, the annual festival of the Sakurayama Hachimangu is held in the northern part of Takayama, the festival is also known as the Hachiman Festival. It is held each year on the 9th and 10th of October.
Both festivals have similar schedules and attractions which include the display of the festival floats, Karakuri doll performances, the Mikoshi (portable shrine) procession, and the evening festival.
The Takayama Festival draws several hundred thousand visitors from Japan and all over the world, especially if the dates fall on a weekend. Therefore it is advisable to book your hotel as early as possible because they are usually fully booked several months in advance.
Accommodation in Takayama – Hotel Associa Takayama Resort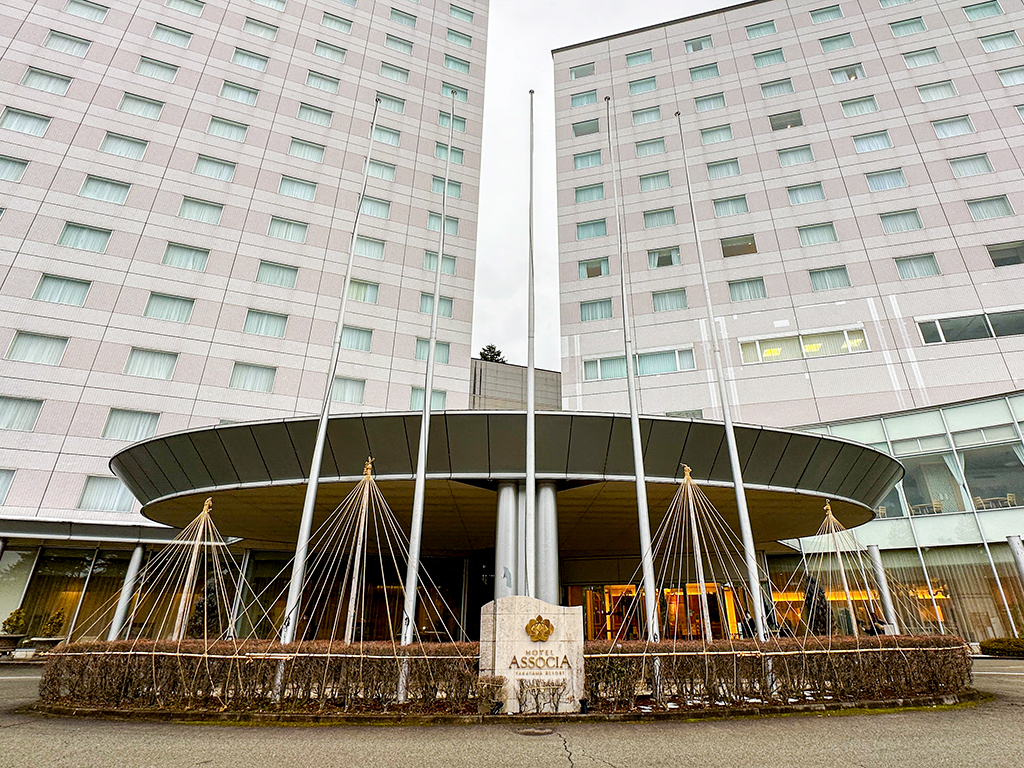 At the end of the day, a peaceful retreat is essential for any traveler looking to experience the best of Takayama. The Hotel Associa Takayama Resort is the perfect place to stay, situated in a tranquil location with beautiful views of the city.
Shuttle Bus & Luggage Service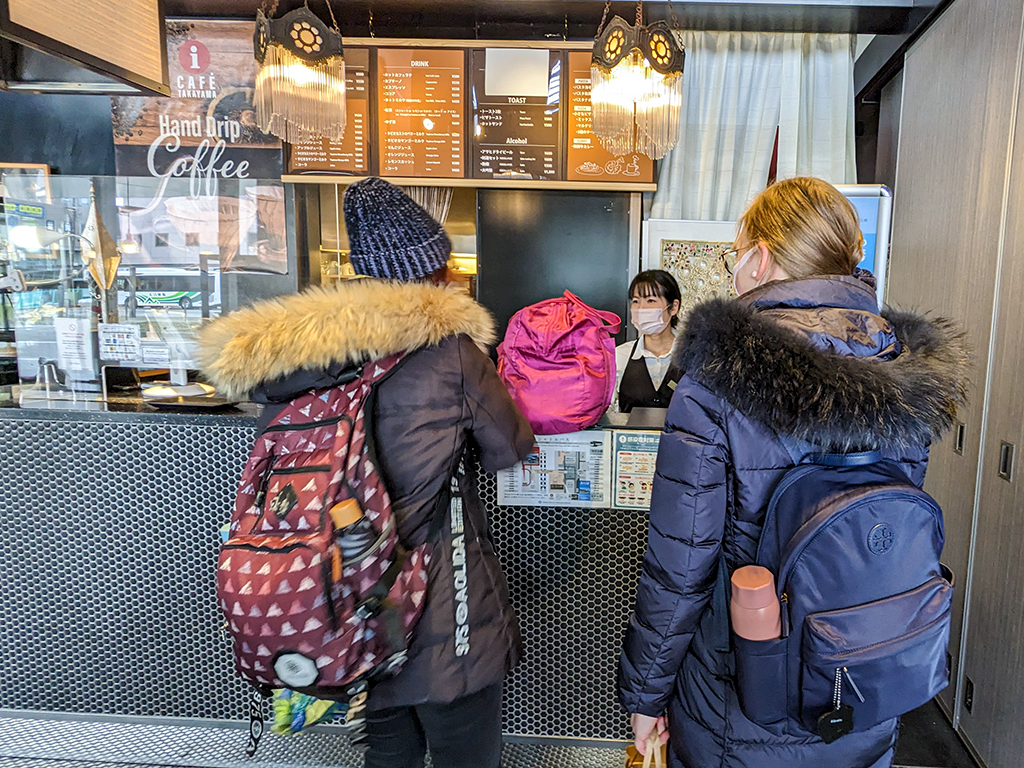 When we arrived in Takayama we left our luggage at the service counter of I Cafe just right of the Takayama Station. Here the luggage is checked in and sent right to the rooms! What a great service.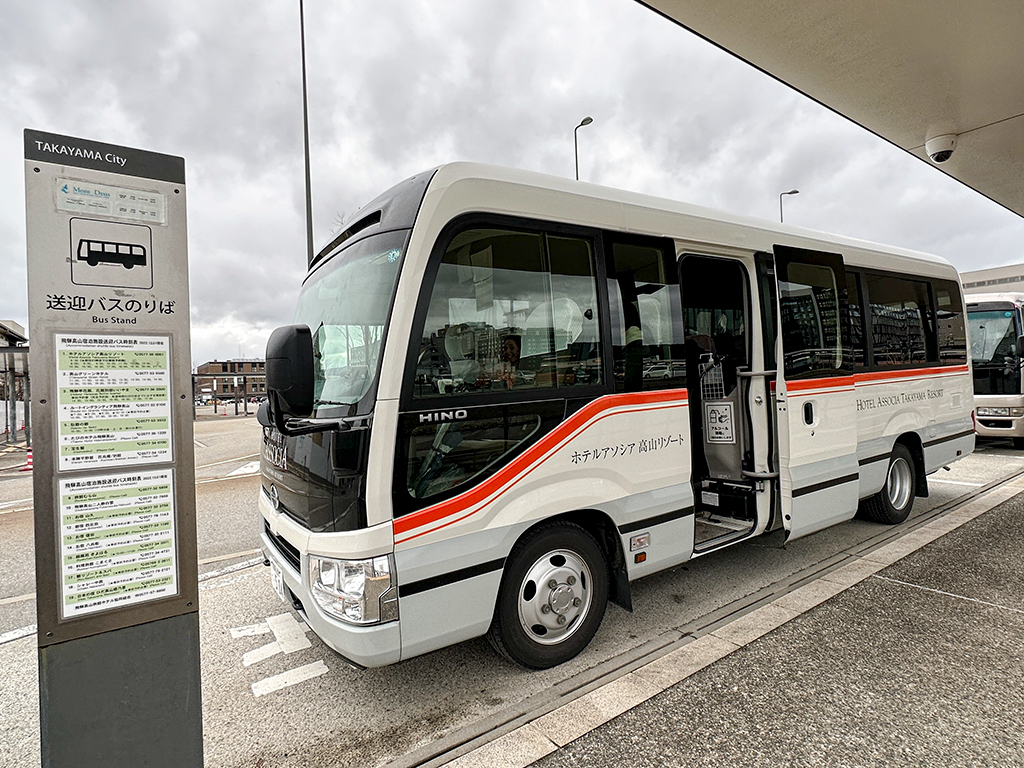 Once we were ready to head to the hotel after a day of exploring Takayama we hopped on the hourly shuttle bus and in under 10 minutes we arrived at the Hotel Associal Takayama Resort situated in the mountains surrounding Takayama.
Rooms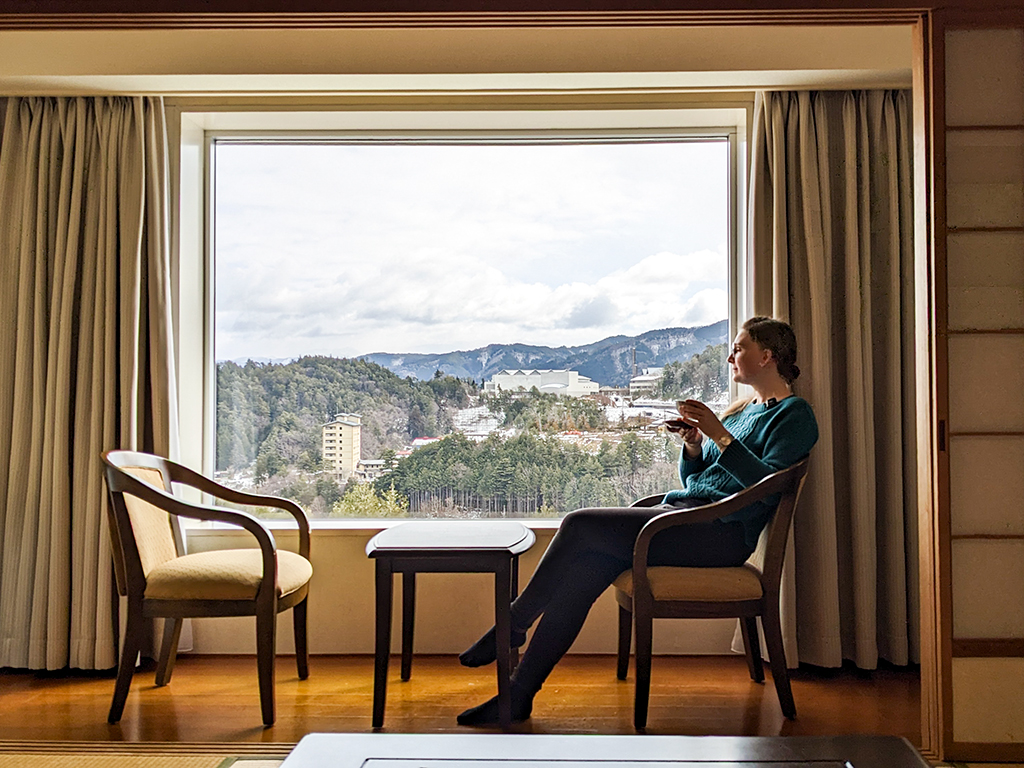 After checking in with the friendly English-speaking staff we headed to our room. A nice Japanese/western-style room. The comfort of sleeping in a bed, coupled with the feel of staying in a Tatami mat room. We had some green tea while enjoying the view over Takayama from the window.
The hotel also offers spacious western and Japanese-style rooms.
Dining Options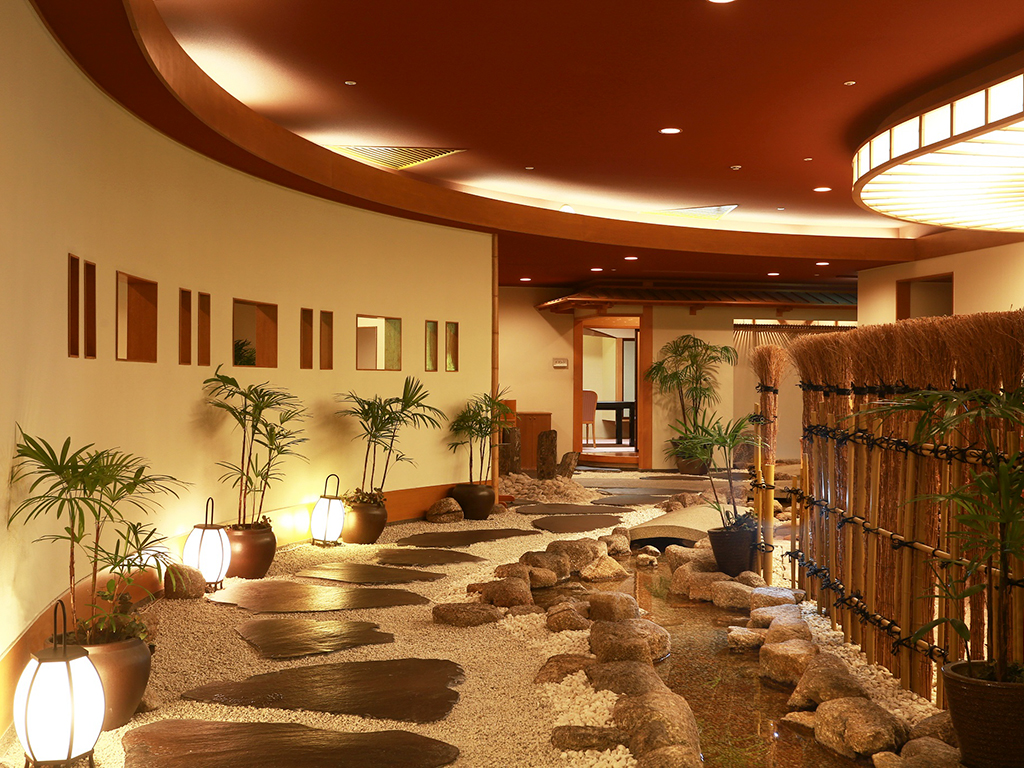 We had dinner at the Japanese restaurant Kaun, which impresses you from the first step you take inside with a beautiful entrance made with a stone path and running water like a Japanese landscape garden.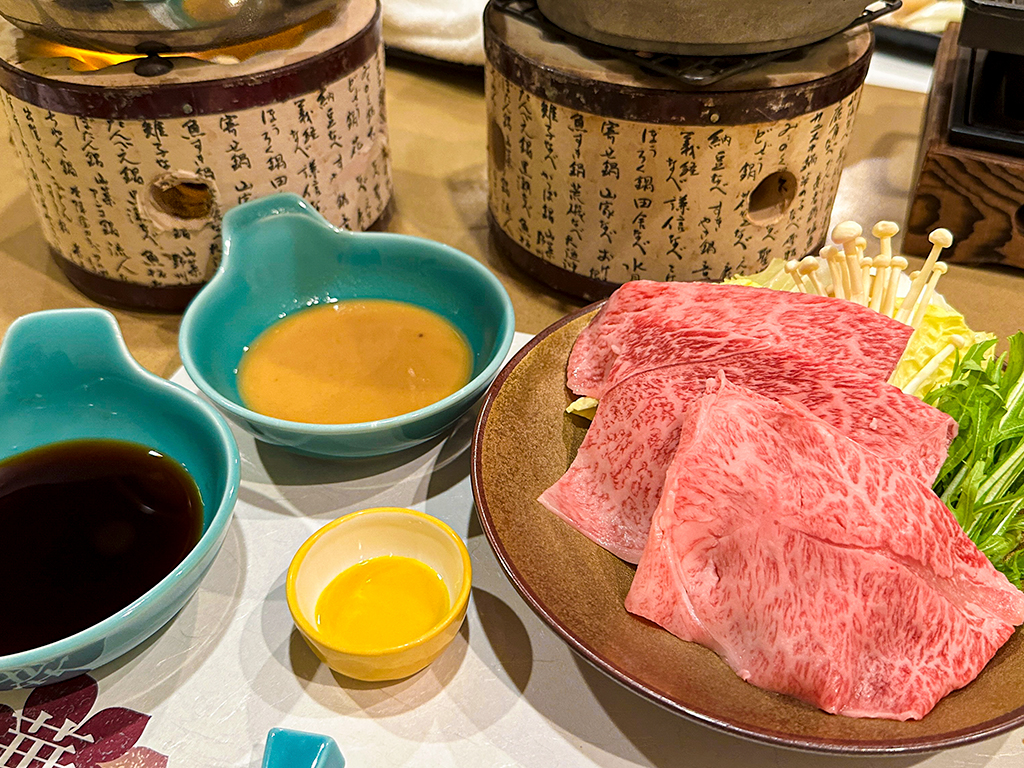 Lena had a Hida Beef dinner course with Hida Beef Sushi, grilled Hide Beef Hoba Miso, Hida Beef Shabushabu, and even some minced Hida Beef on rice. In between were a variety of other courses typical for a Kaiseki Ryori.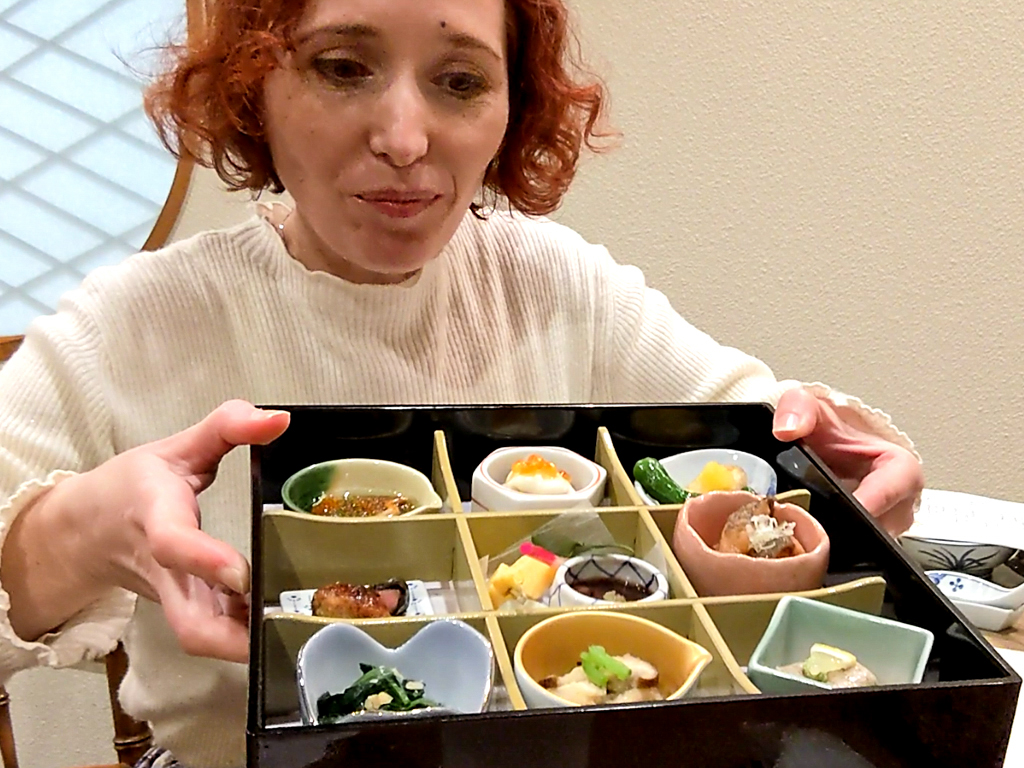 Elly had a fish-based dinner course using lots of ingredients from the Hida region. One of her main courses was a soy milk Nabe, and another one consisted of grilled seafood.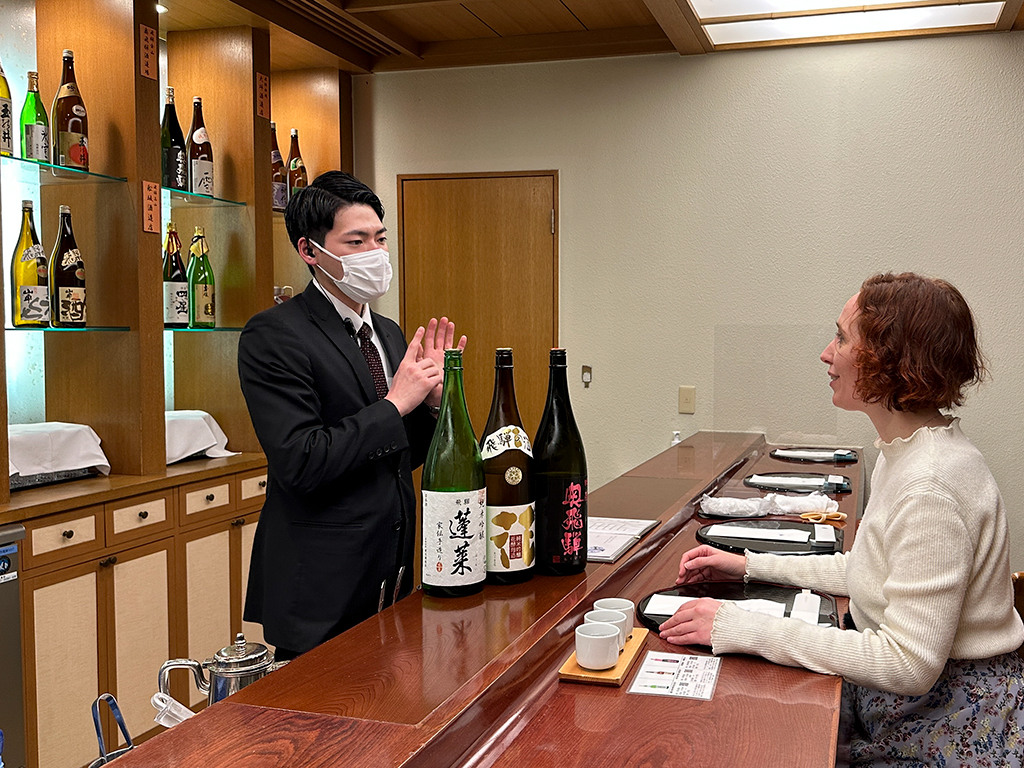 After dinner, Elly had to stop by Sakagura Bar, the restaurant's Sake bar, where visitors can sample a selection of local Sake from multiple Takayama breweries. Two tasting options are available as well with a selection of 3 types of sweet or dry Sake to compare.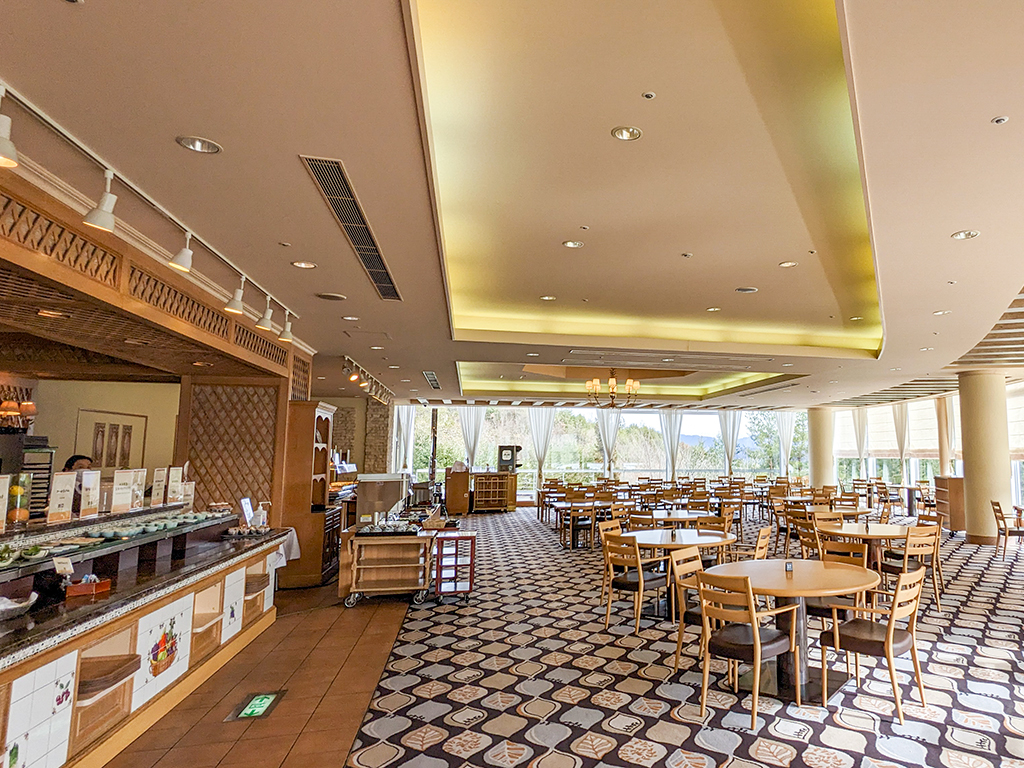 The hotel also has a buffet restaurant for breakfast and also dinner time on some days, as well as an exclusive Teppanyaki corner where skilled chefs prepare food on a hot plate right in front of the guest's eyes.
Onsen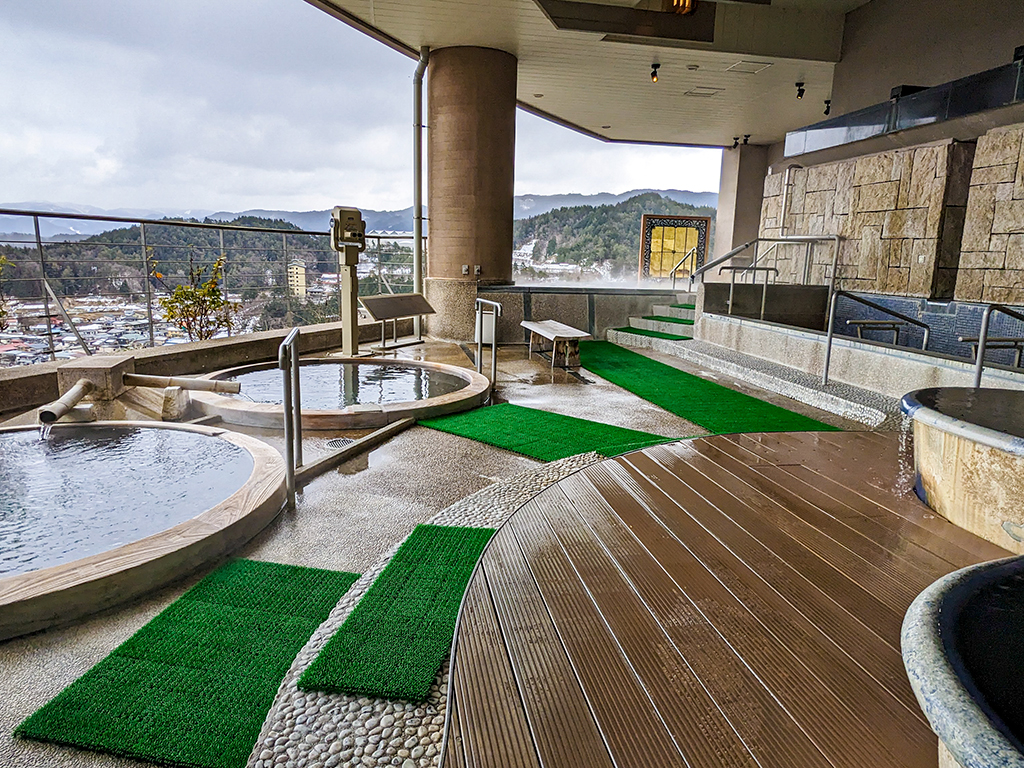 There is nothing better than to end the day soaking in a hot spring. And at Hotel Associa Takayama Resort you can enjoy the spacious indoor and outdoor bath with a variety of pools overlooking Takayama and the surrounding mountains.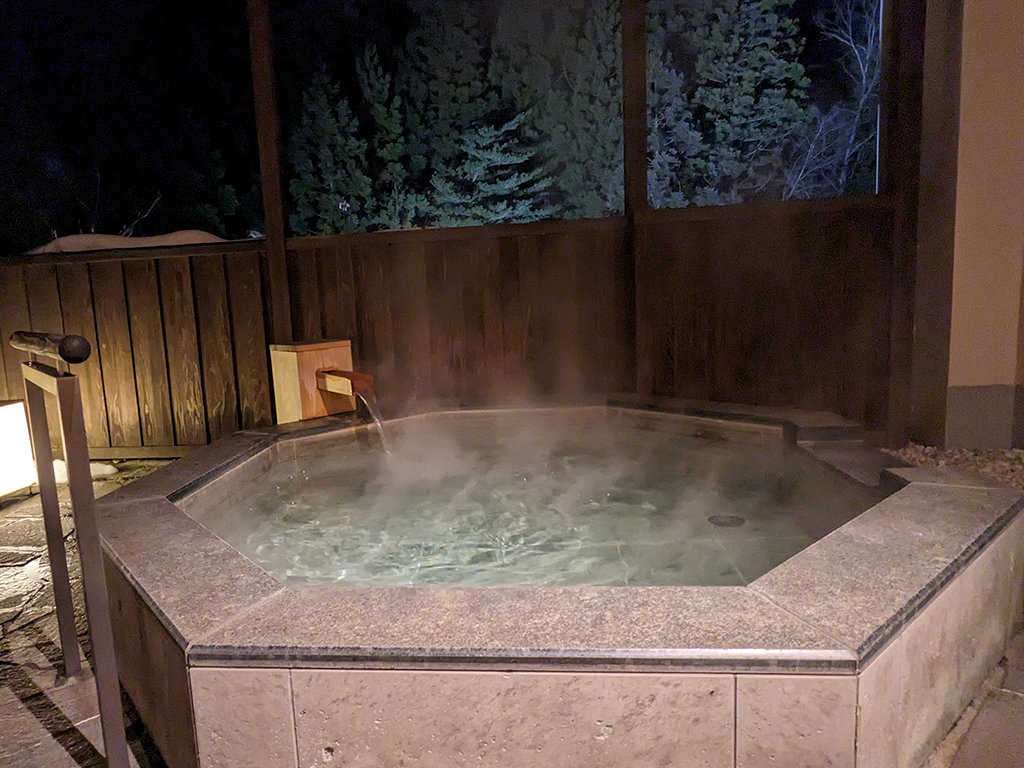 Perfect for couples, families, or travelers with tattoos are the private Onsen baths. 3 different types are available, all of them are outside overlooking the forest of Takayama's mountains. We tried the private bath and it was pure bliss at the end of an exciting day in Takayama.
Hotel Associa Takayama Resort (ホテルアソシア高山リゾート)
Address: 1134 Echigomachi, Takayama, Gifu 506-0033
Access: From Takayama Station, it's a 10-minute shuttle bus ride.
Website | Google Maps
Day Trips from Takayama
Takayama is a great starting point for exploring other nearby cities in the Gifu Prefecture. The city is easily accessible by highway, train, and bus, making it easy to get to some of the region's best attractions.
Hida Furukawa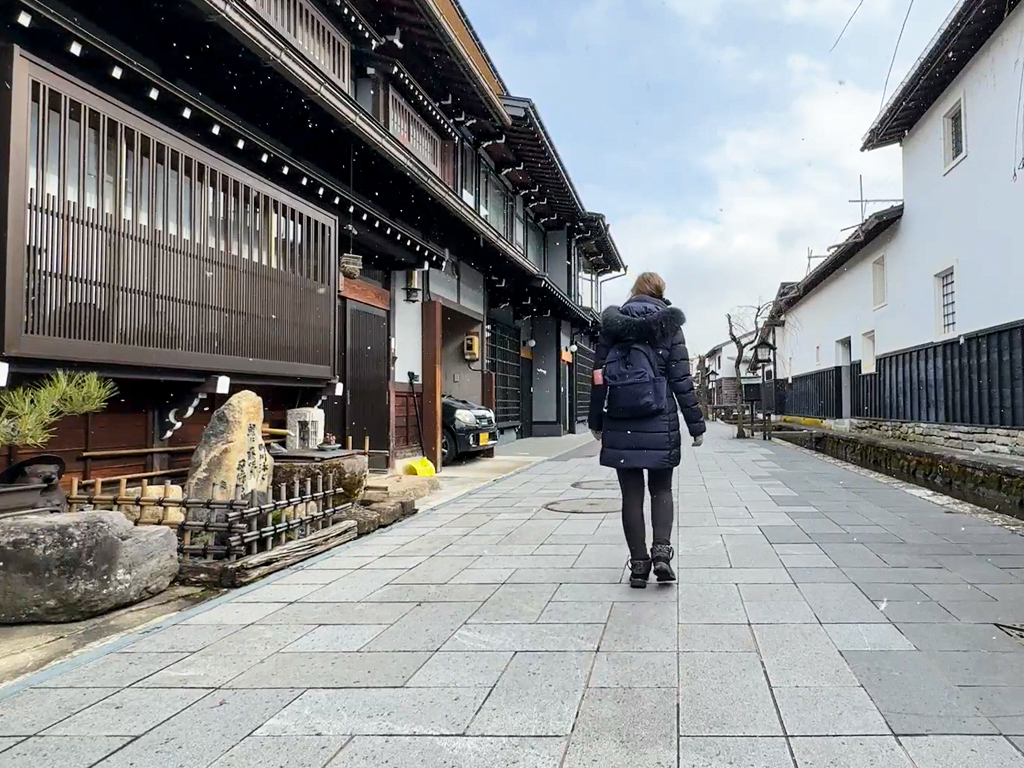 We spent our second day in Hida Furukawa. It is the more laid-back and authentic of the two towns. Here the wooden houses aren't filled with souvenir shops or street food, but rather lived in by the locals.
3 Sake breweries can be found in Hida Furukawa, as well as a traditional Japanese candle maker. We also visited the Festival Exhibition Hall, which tells the story of the local Hida Furukawa Festival held every year in April.
From Takayama Station take the Hida Express to Hida Furukawa Station. It takes 16 minutes.
Shirakawago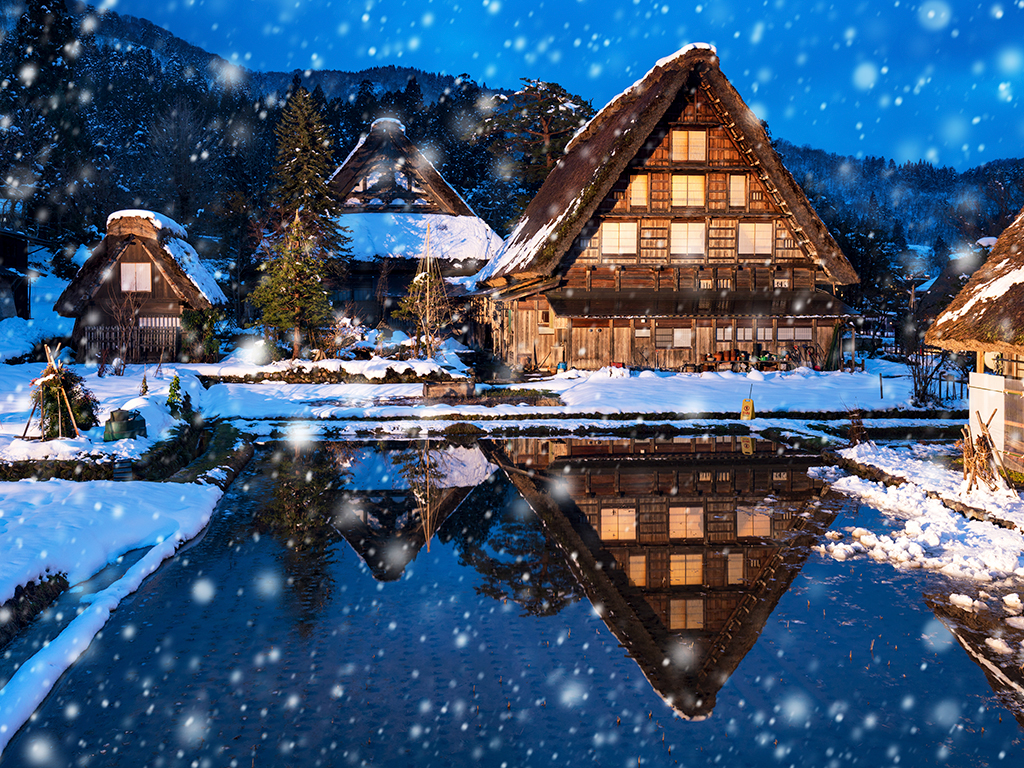 Shirakawago is a picturesque village with thatched-roof houses only 30 kilometers from Takayama. The village is a UNESCO world heritage site and a fun day trip from Takayama.
From Takayama to Shirakawago it's around 50 minutes by Nohi Bus.
Gujo Hachiman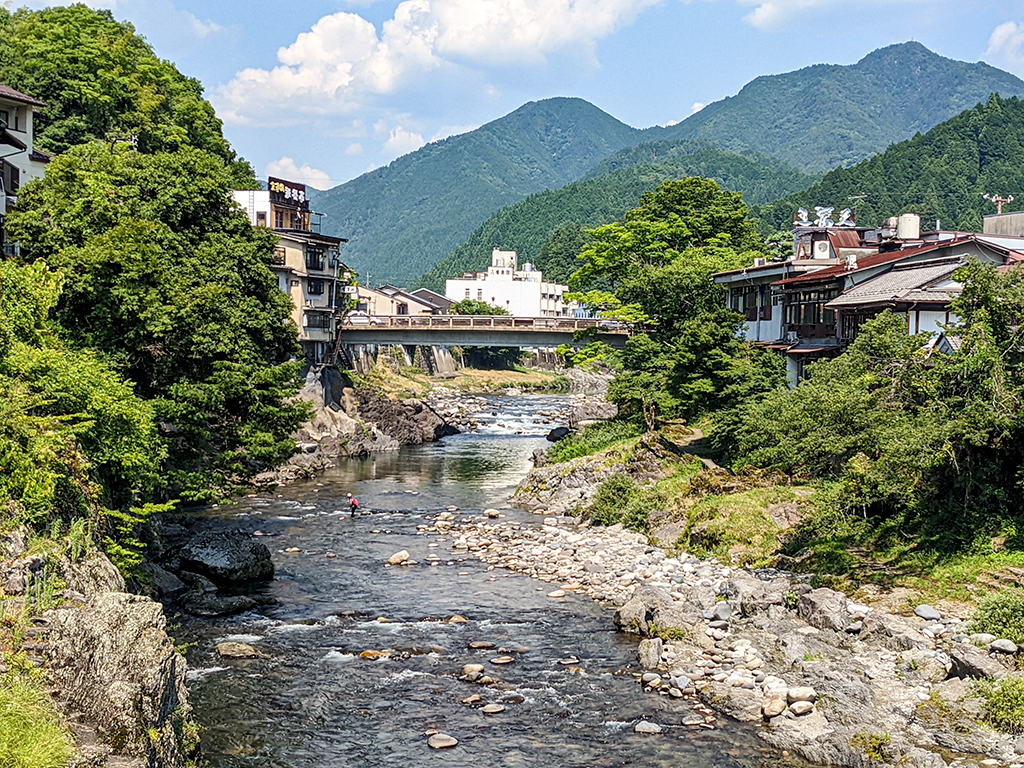 Famous for its summer dance festival Gujo Hachiman draws visitors from all over the world for a night of traditional Bon dancing. The town itself, overlooked by a castle, has the same kind of wooden merchant houses as Takayama, and the water in the form of rivers and streams plays a major role here.
To get to Gujo Hachiman from Takayama take the Nohi Bus. It takes around 1 hour and 20 minutes to the Gujo Hachiman Interchange. From there it's a 30-minute walk to the city center.
Gero Onsen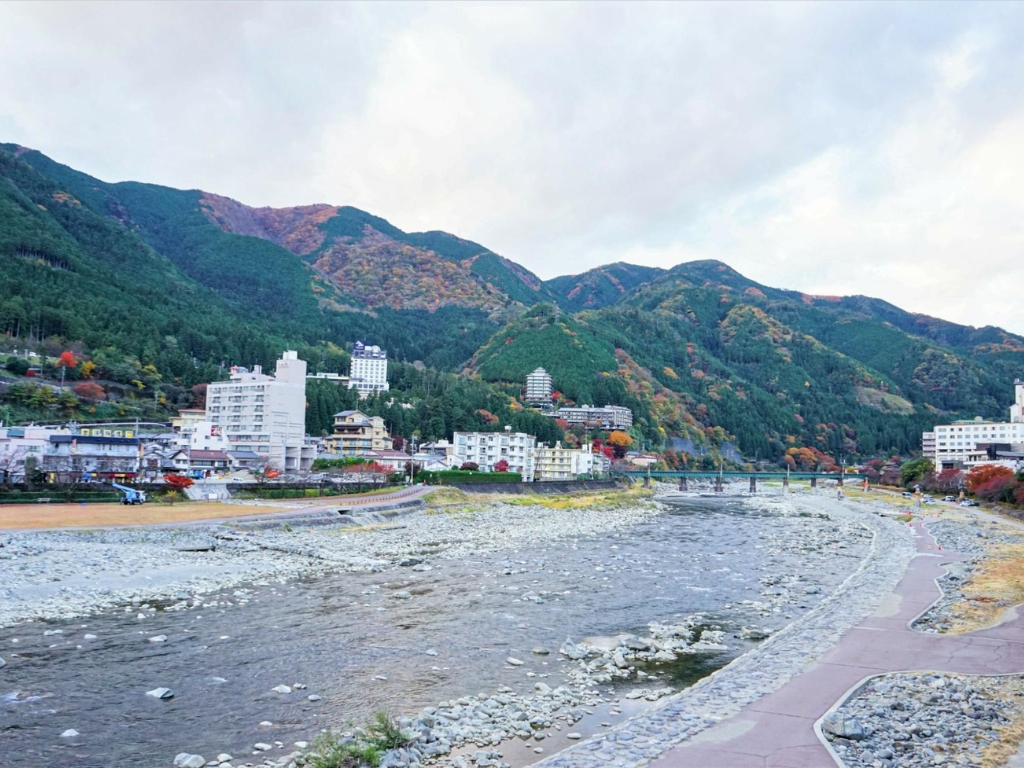 If you are looking for a different kind of Onsen experience check out Gero Onsen. The town has a more than 1000-year history and the hot spring waters are said to have beautifying and healing properties.
Take the Hida Express from Takayama Station to Gero Station. You will arrive in about 45 minutes.
How to Get to Hida Takayama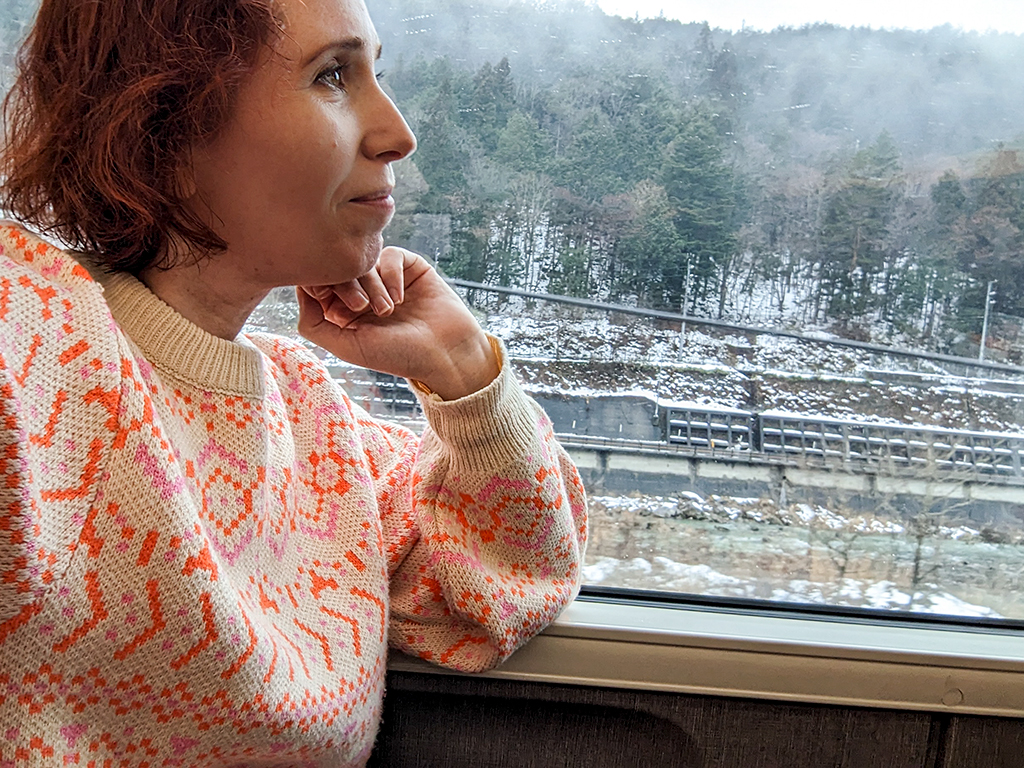 JR Hida express trains leave Nagoya every hour and are in Takayama in only 2 hours and 25 minutes. It is the fastest and most comfortable way to get to Takayama.
A much cheaper and not that much longer option to go to Takayama from Nagoya is a highway bus. They are operated by three different companies: JR, Meitetsu, and Nohi Bus. The trip takes a bit over 2 hours and 40 minutes.
Conclusion
Takayama is an iconic city with a wealth of cultural and historical attractions to explore and enjoy. From its picturesque streets and markets to its beautiful natural surroundings, a visit to Takayama is a unique experience that every traveler should experience. With its convenient transport links, excellent accommodation, and wide range of activities and attractions, Takayama is a destination that should not be missed.
---
Did you enjoy this article?
Make sure to also check out our other posts about Nagoya and trust us if we say Nagoya is not boring!
Be sure to follow us on Facebook for regular updates on Nagoya, and see our Instagram for pictures and stories about the city!
Tag us 📲
If you have visited Takayama, please share your experience and tag us on social media with #nagoyaisnotboring