For regular people, making tea is simply heating water and putting some tea into a cup. However, for Japanese people, this is not sufficient.
A higher purpose is required, and the straightforward act of preparing tea in a cup is transformed into a more intricate process by incorporating ceremony, rules, and a complete procedure into what would otherwise be a simple task.
This is the essence of a Japanese tea ceremony.
How Much Do You Know About Japanese Tea Ceremonies?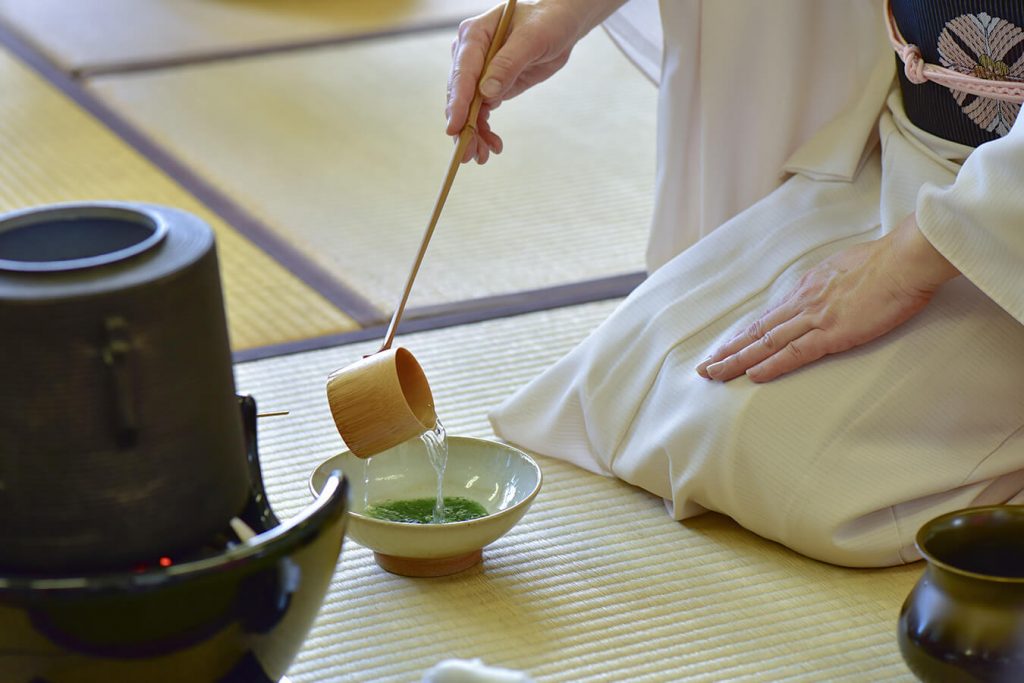 The first people to drink tea in Japan were Buddhist monks who had brought the tea plant in the form of seeds from China. Drinking tea at that time was a highly ceremonial affair, but it didn't closely resemble what one might imagine a traditional Japanese tea ceremony to be like.
The custom of tea ceremonies, as they are often performed today, originated from the Japanese court of the 16th century. However, there are many variations of tea ceremonies popularized during different periods in Japanese history. As a result, there isn't just one way to conduct a tea ceremony, and there is an almost infinite number of tea ceremony schools.
There are two main different types of gatherings related to the tea ceremony: one informal, the Chakai (茶会), and one formal, the Chaji (茶事). They vary in complexity, protocol, and duration. The tea ceremonies introduced below are all of the Chakai type.
You are lucky to live in a time where everyone can participate in a tea ceremony because it used to be a pleasure reserved only for the elites. In Nagoya, there are a few places where you can experience a traditional tea ceremony but it can be particularly challenging to find one that caters to foreigners who don't understand Japanese. That's why we have combined our extensive knowledge gathered over the years to present you with the best options.
A great alternative to a traditional tea ceremony is a visit to one of the many tea houses, where you will be served a tea set that you can enjoy while admiring the often beautiful Japanese garden or traditional architecture. These kinds of tea sets also have the added advantage that they are very affordable, and you don't require a reservation. This makes it a great option for people who don't want to plan too much in advance, or for those who don't fancy kneeling for an extended period. We can tell you from personal experience that it can become painful quite quickly.
Do you Want to Experience an Authentic Tea Ceremony in Nagoya? Check Out Your Options!
For people who want to experience a real tea ceremony in Nagoya, we recommend one of three places.
There are currently no experiences you can book privately, you can only join seasonal tea ceremony events at a couple of select locations in Nagoya.
Because we want you to have the best experience in Nagoya, we are working with a number of tea ceremony teachers on creating a tea ceremony experience in English bookable via Nagoya is not boring. Check back regularly for updates!
English Language Tea Ceremonies at a Great Price! Visit the Magical Shirotori Garden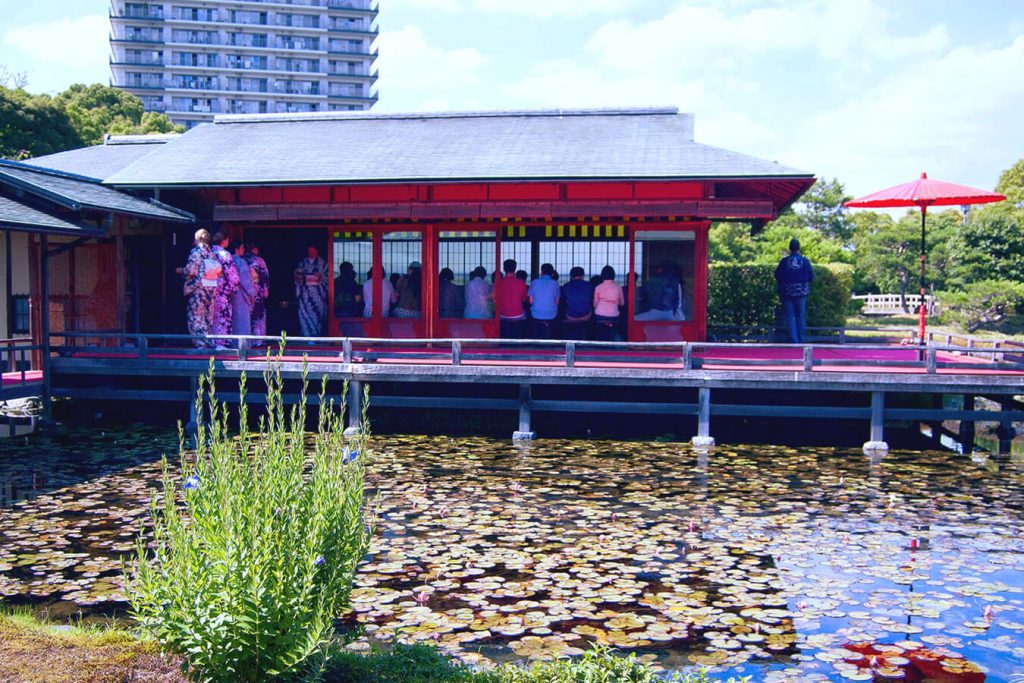 Shirotori Garden is a beautiful landscape garden located in the south of Nagoya. It features ponds, hills, walking paths with bridges, a wide variety of plants and flowers, a cozy café, as well as a traditional tea house.
At this tea house, regular seasonal tea ceremonies are held, and sometimes even conducted in English. These events are open to anyone, and while reservation is not required, it is recommended as it can get crowded. Participation, including a tea set with a Japanese sweet, usually costs around 500 – 1000 yen (excluding the entry fee to the garden).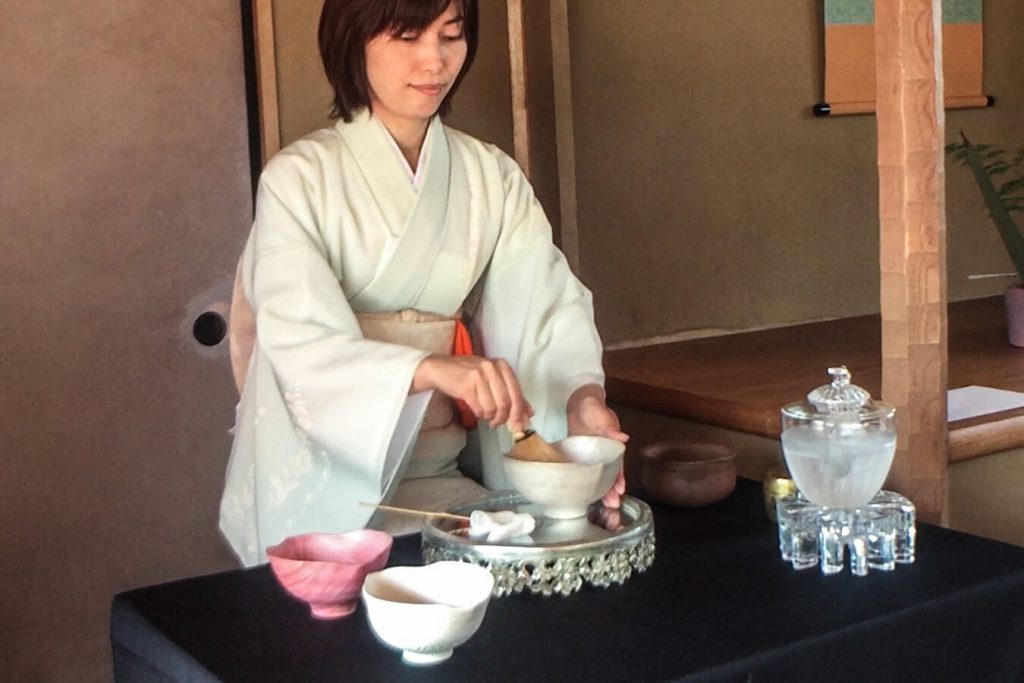 Unfortunately, information about these tea ceremonies is available on the Shirotori Garden website in Japanese only. If you would like more information about upcoming tea ceremony events at Shriotori Garden, and help to book one, please don't hesitate to contact us via email, phone, or our contact form.
Shirotori Garden (白鳥公園)
Entry Fee: Adults 300 yen; Seniors 100 yen; Children under 14 free
Opening Hours: 9:00 – 17:00 (admission until 16:30); closed Mondays
Address: 2-2-5 Atsuta Nishimachi, Atsuta Ward, Nagoya, Aichi 456-0036
Website (Japanese only) | Google Maps
A Tea Ceremony at a Shinto Shrine? Yes, at Tobe Shrine in Nagoya!
Tobe Shrine is located in the south of Nagoya. It is a beautiful neighborhood shrine.
On the 3rd Sunday of each month (except January and August) the shrine is offering a tea ceremony service open to everyone. No reservation is required. Just show up and watch the tea ceremony master serve tea as only the Japanese can.
Please note that the ceremony is in Japanese only.
Tobe Shrine (富部神社)
Entry Fee: free
Opening Hours: Open 24 hours
Address: 4-13-38 Yobitsugi, Minami Ward, Nagoya, Aichi 457-0014
Website (Japanese only) | Google Maps
Tea at One of the Richest Temples in Nagoya: Koshoji Temple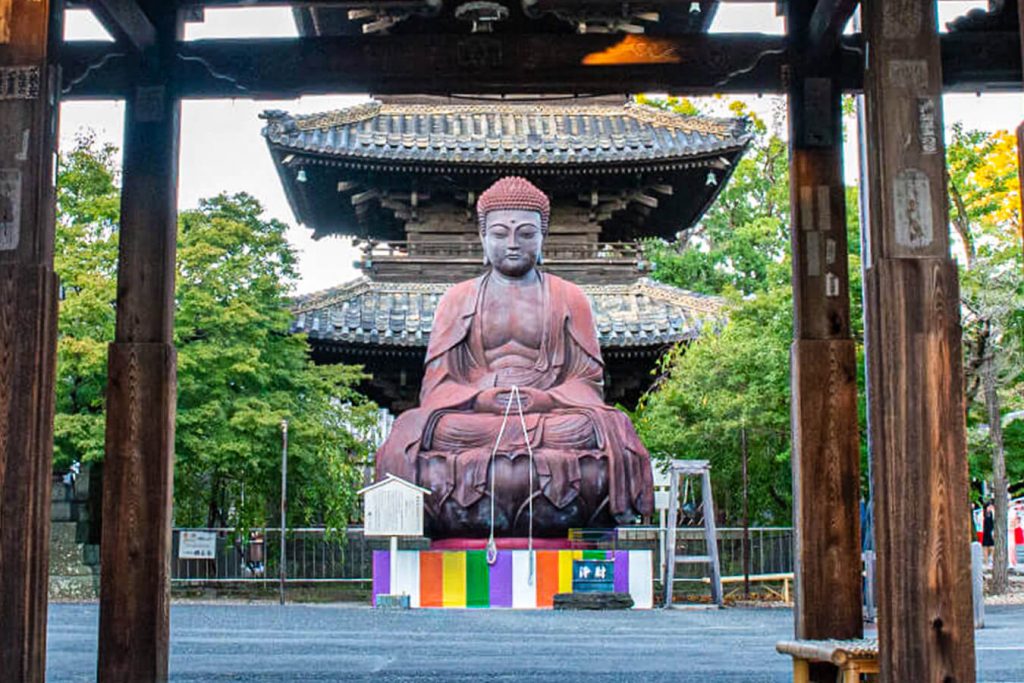 You can immediately appreciate the wealth of Koshoji Temple in Yagoto upon your visit. The grounds are spacious, and there is even an outdoor escalator that leads to the graveyard!
The temple has two tea houses located next to each other, and once or twice a month, a tea ceremony takes place there. Some of these events require a reservation, while others do not.
The information about these seasonal tea ceremony events can be found on the tea house's Facebook page (in Japanese only). If you would like information about upcoming events, please don't hesitate to send us an email or give us a call, and we will be happy to arrange a tea ceremony for you.
By the way, even on days when no tea ceremony event is held, Koshoji is worth a visit. The impressive grounds invite you to take a stroll, and once your feet are tired, drop by one of the two tea houses and enjoy a matcha tea and confectionery set for just 500 yen while admiring the beautiful garden.
Koshoji Temple (八事山興正寺)
Entry Fee: free
Opening Hours: 9:00 – 17:00
Address: 78 Yagotohonmachi, Showa Ward, Nagoya, Aichi 466-0825
Website | Google Maps
A traditional Tea Ceremony in Nagoya's Old Town Endoji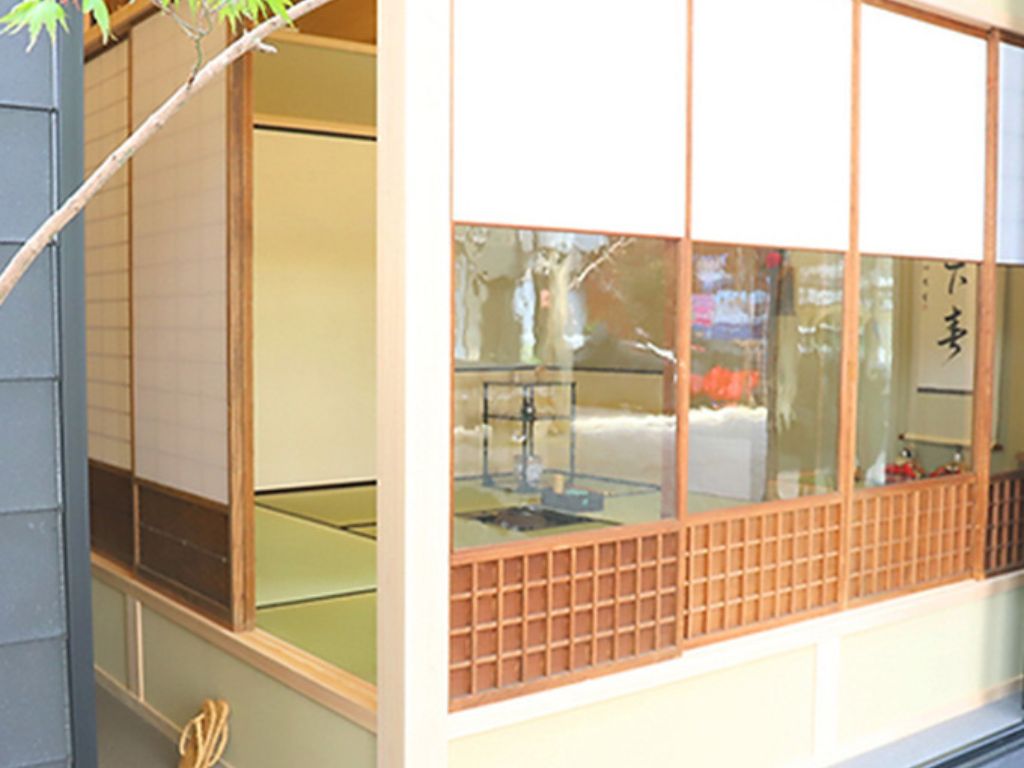 Held in the newly-opened tea room 'Nagomi Koan' in Endoji, this is likely one of your best options for a Tea Ceremony if you prefer not to venture far from the Nagoya Station area.
They provide traditional Tea Ceremony lessons, along with a tea room open to the public where you can enjoy affordable tea sets accompanied by traditional Japanese sweets served by the school's students.
Nagomi Koan (和水香庵)
Fee: 5,000 yen for the first time; 3,000 yen for the second and subsequent times.
Opening Hours: 11:00 – 17:00
Address: 1-20-28 Nagono Endoji Square 1F, Nishi Ward, Nagoya, Aichi 451-0042
Website (Japanese only) | Google Maps
Beautiful Japanese Tea Houses Where You Can Enjoy Tea Sets in and Around Nagoya
Rather than joining a tea ceremony, you might enjoy having a tea set with delicious frothy Matcha green tea and traditional Japanese confectionery at one of the amazing tea houses in and around Nagoya.
Try Matcha at the Source in Nishio at the Former Konoe House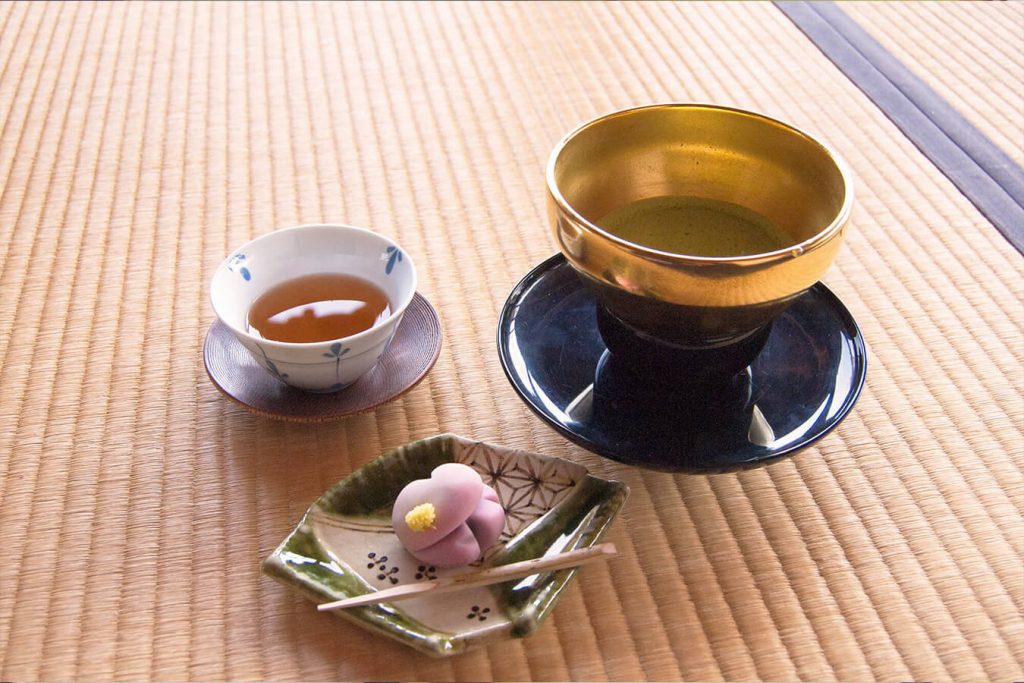 What many people don't know is that a large proportion of Matcha green tea is produced not far from Nagoya, in Nishio city. For this reason, the city is the best place to experience some delicious Matcha green tea, straight from the plant, so to speak.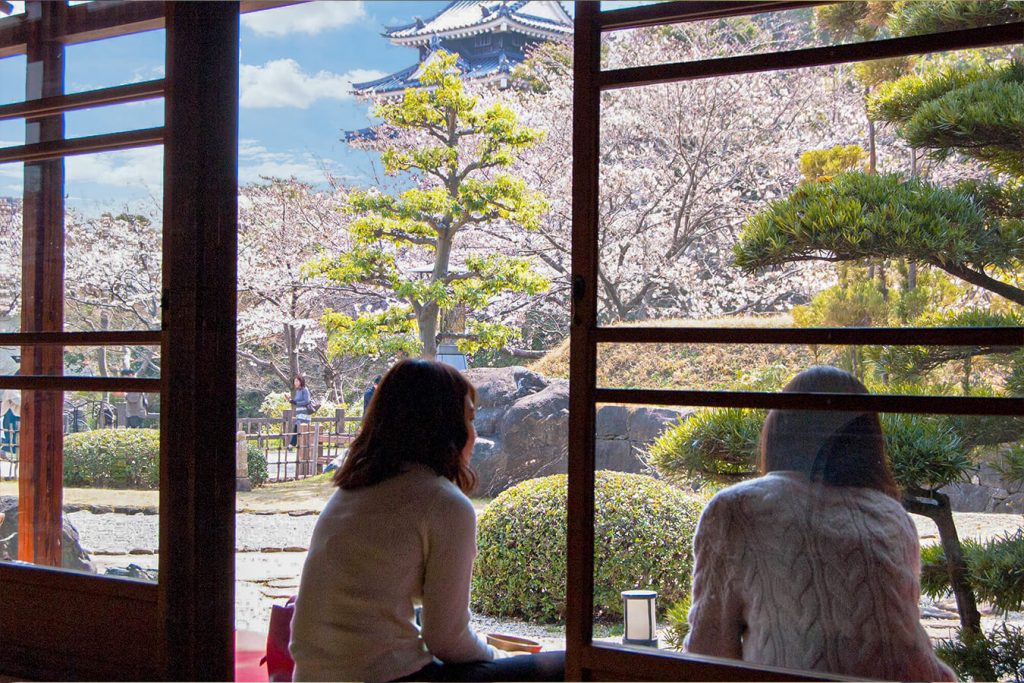 While there are countless cute cafes and shops where you can enjoy Matcha sweets and drinks, the most beautiful setting to enjoy a traditional Matcha tea set in Nishio is the Former Konoe Residence on the grounds of the former Nishio Castle.
The building features a beautiful garden, and for only 400 yen, you can enjoy a Matcha green tea set served with a Japanese confection.
Former Konoe Residence (旧近衛邸)
Entry Fee: free
Opening Hours: 9:00 – 18:00; closed Mondays
Address: 231-1 Kinjocho, Nishio, Aichi 445-0864
Website (Japanese only) | Google Maps
Marvel at the Beauty of Shurakuen Park While Enjoying Tea at the Oumeian Tea House in Tokai City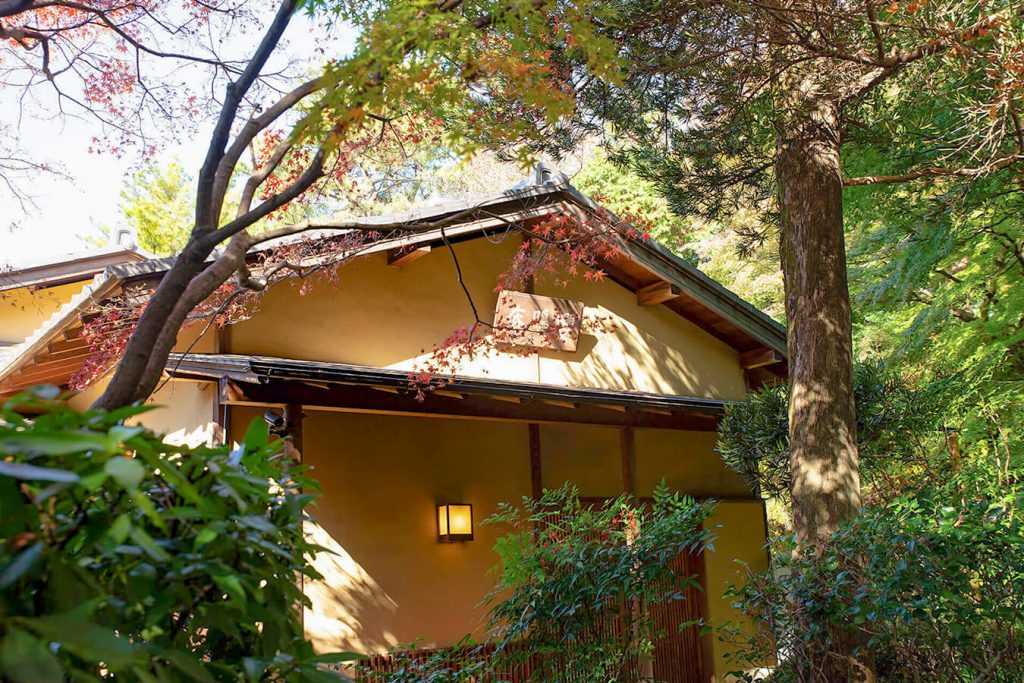 Shurakuen Park, in Tokai City, is especially popular in autumn because of its impressive display of autumn colors, but the park is worth the 15-minute train ride from Nagoya at any time of the year.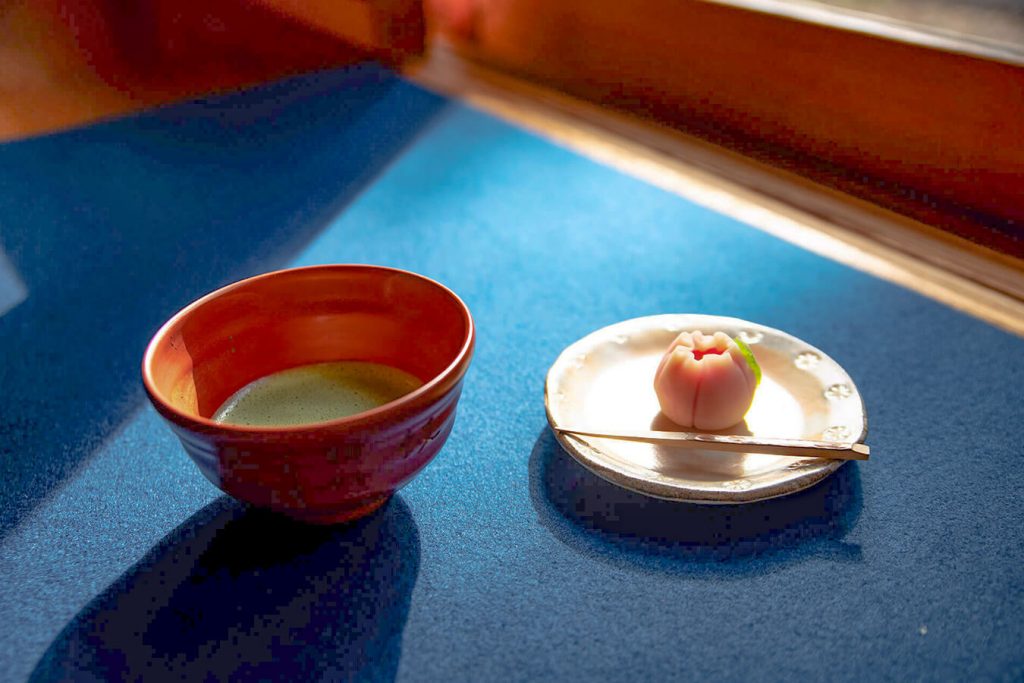 At Tea House Oumeian, you will also find one of the cheapest sets of green tea and sweets. At only 300 yen, it's a real bargain. The tea house is beautiful, with traditional Japanese Tatami mat flooring and paper sliding doors—exactly how you would imagine an old Japanese house to look.
Oumeian (嚶鳴庵)
Opening Hours: 10:00 – 16:00; closed Mondays
Address: Suzaki Nawamachi, Tokai, Aichi 476-0002
Website (Japanese only) | Google Maps
Matcha Like the Rulers of Nagoya Used to Enjoy It at Tokugawa Garden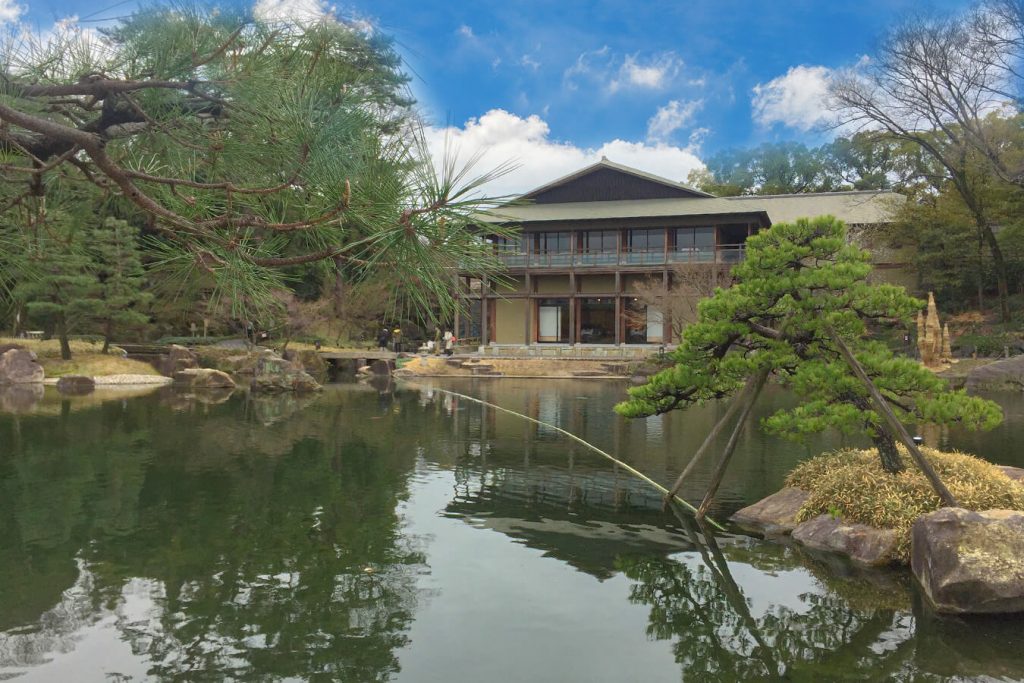 Tokugawa Garden used to be the private garden of the ruling Tokugawa Owari clan. It is located right next to the Tokugawa Art Museum, a highly educational museum showcasing the treasures of the Owari clan, including swords and armor, tea ceremony utensils, Noh theater masks, and an impressive library.
The Garden is the perfect place to enjoy a stroll after a visit to the museum. If your feet grow tired, you can relax and enjoy a Matcha set with seasonal Japanese sweets at the old-style cafe Sozansou next to the entrance.
A Matcha set costs 1100 yen, and you definitely pay a bit extra for the atmosphere, as this cafe is simply stunning.
Sozansou (蘇山荘)
Opening Hours: 10:00 – 17:00 and 19:00 – 23:00; closed Mondays
Address: 1001 Tokugawacho, Higashi Ward, Nagoya, Aichi 461-0023
Website (Japanese only) | Google Maps
Tea at the Yokiso Garden Is Like a Trip Back in Time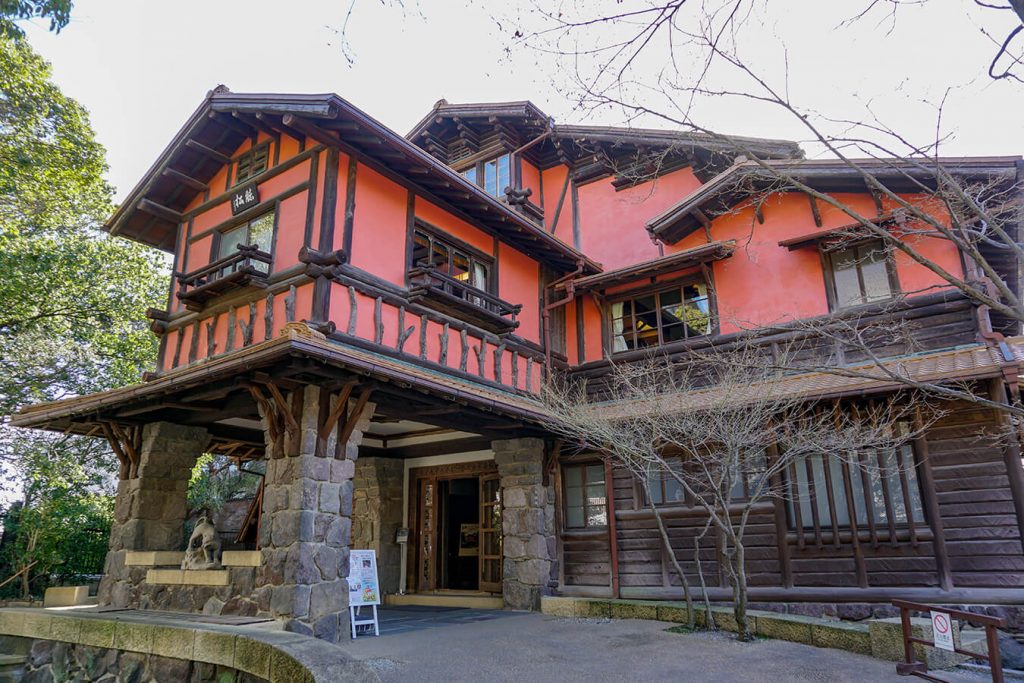 The Yokiso Villa and garden were the former residence of a wealthy Nagoya family, the owners of the Matsuzakaya Department Store. You can visit both the villa and the garden (English tour guides are available).
There used to be multiple tea houses on the grounds where family and friends would gather for tea parties. Unfortunately, most were destroyed and now only one remains.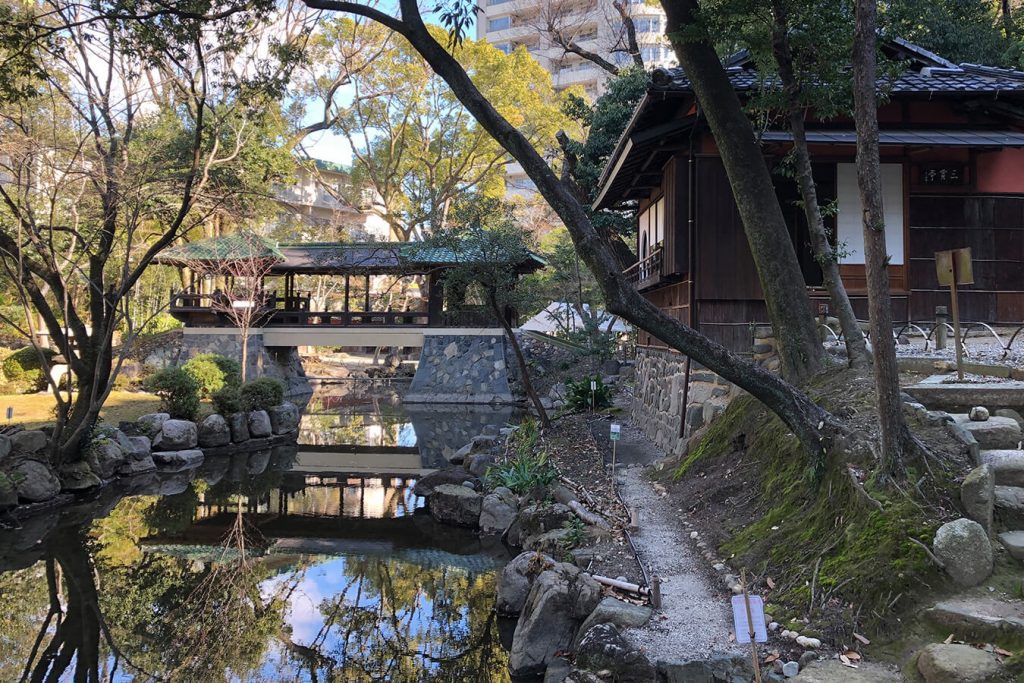 At this tea house, regular tea events are held every Sunday. Due to the style of the tea house, instead of Matcha, they serve traditionally brewed green tea. It is an interesting experience in a beautiful setting.
Youkisou (揚輝荘)
Entry Fee: 300 yen for adults; 100 yen for seniors; free for junior high school students; garden is free
Opening Hours: 9:30 – 16:30; closed Mondays
Address: 2-5-17 Hoocho, Chikusa Ward, Nagoya, Aichi 464-0057
Website (Japanese only) | Google Maps
Where tradition meets innovation: Tea at Mirume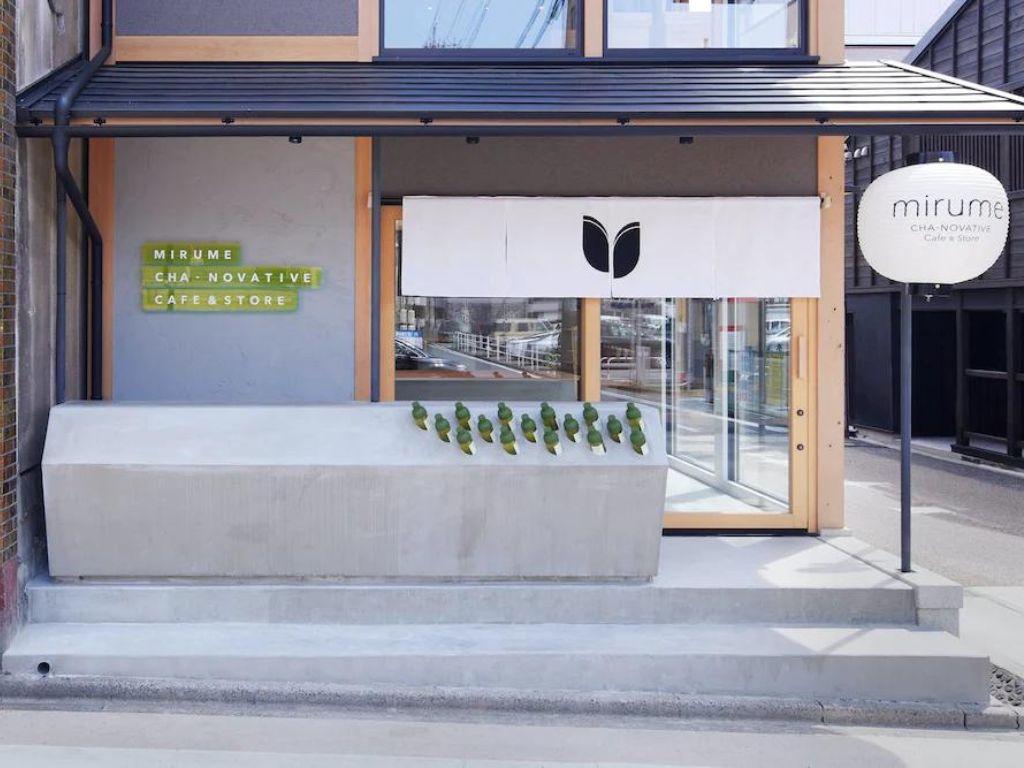 Located in the heart of Nagoya, Mirume offers an innovative tea experience in a relaxed setting. Situated at the crossroads of the refined Shikemichi Street and the easy-going Endoji Shopping Street, their recently-renovated store aims to provide customers with a sense of casual comfort, all while upholding authenticity and quality.
Mirume Cafe & Store features a sales and tasting space on the first floor and a cozy café area on the second, where you can sample their curated selection of teas. The certified Japanese Tea Instructor and owner, Matsumoto-san, is always on hand for any inquiries.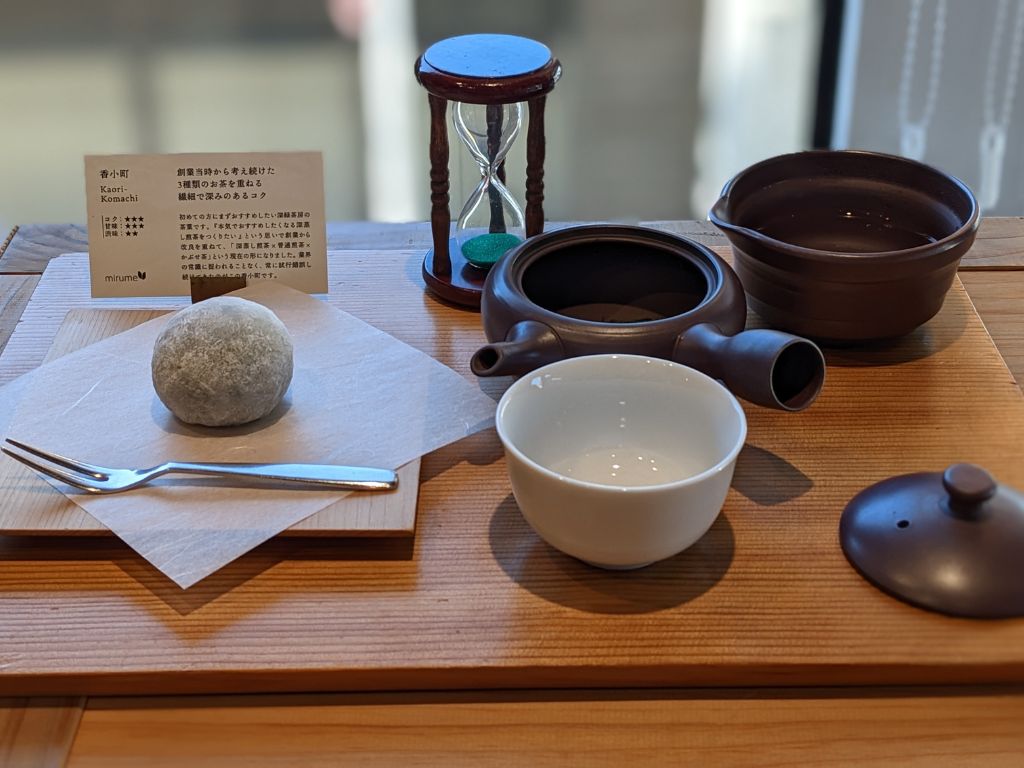 Coming from a family of tea farmers, the store owner is determined to make Japanese green tea accessible to everyone. The cafe offers tea from Shinryoku Sabo, a tea farm in Matsusaka City, Mie Prefecture, and sweets handmade at their main store in the same city.
You can also visit Mirume as part of our Old Town Nagoya Walking Tour + Tea which will take you on a journey to discover the secrets of Endoji, Nagoya's oldest shopping arcade.
Mirume
Fee: tea sets start from 650 yen
Opening Hours: 11:00 – 19:00 on weekdays; 09:00 – 19:00 on weekends
Address: 1-36-57 Nagono, Nishi Ward, Nagoya, Aichi 451-0042
Website (Japanese only) | Google Maps
Can't Get Enough of Matcha? Here Are Some Other Experiences Related to Green Tea
If you really love Matcha, there are some experiences we recommend that aren't tea ceremonies but might just be even better.
As mentioned before, Nishio is the home of Matcha and offers a multitude of experiences in cafes, shops, and restaurants where you can try Matcha in all of its forms.
From Plant to Drink: Learn About the Matcha Production Process at the Aoi Seicha Matcha Factory in Nishio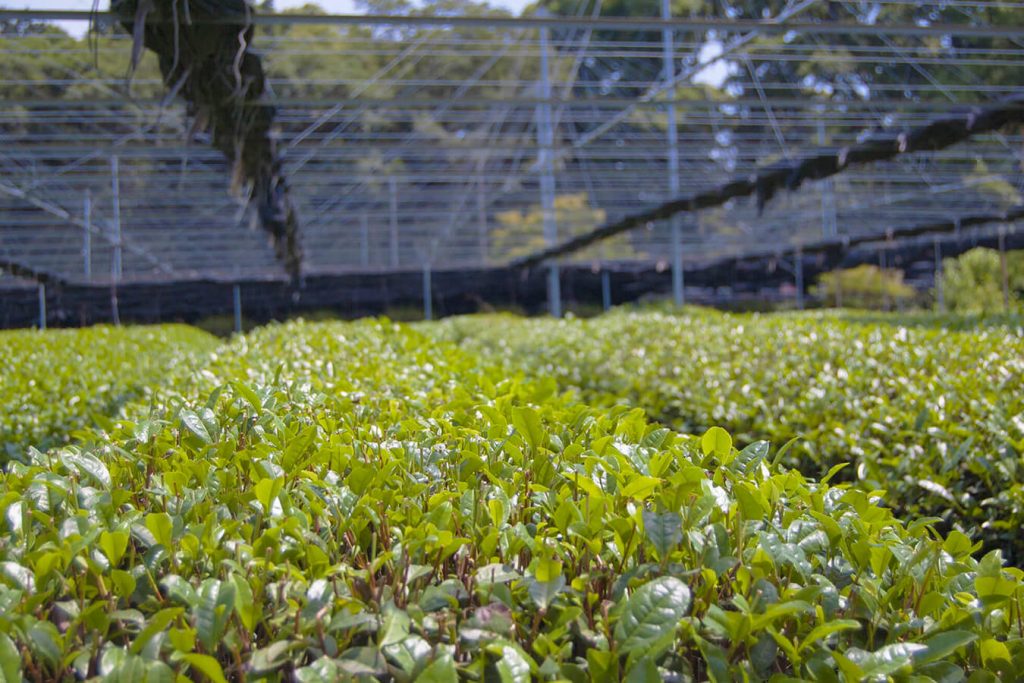 To learn about the process of producing Matcha head to Nishio, where you can spend a couple of hours immersing yourself in the green powder.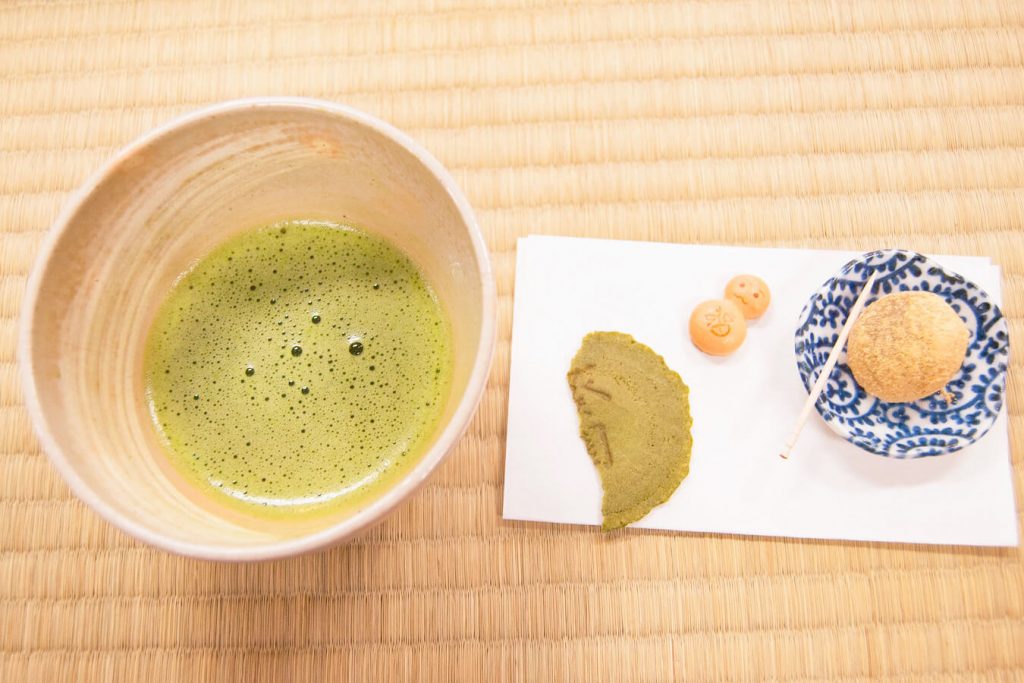 Visit the green tea fields (during a visit in April and May you can even help with the harvest), tour the factory where the leaves are ground into a fine powder, and finally try the delicious Matcha in the form of tea with a Japanese confection at the stylish café.
Aoi Seicha Matcha Factory hosts a unique experience that allows visitors to discover the world of Japanese green tea with a local English-speaking guide. Follow the production process from the tea fields through the grinding stones into the Matcha bowl and see, smell, taste, and feel the vibrancy of Nishio's Matcha. Click here to book your spot!
Aoiseicha (葵製茶)
Tour Fee: from 7,300 yen/person
Address: 7 Kamiyashiki, Kamimachi, Nishio, Aichi 445-0894
Website (Japanese only) | Google Maps | Tour Bookings
Experience Japanese Calligraphy & Tea Ceremony at a Traditional House in Nagoya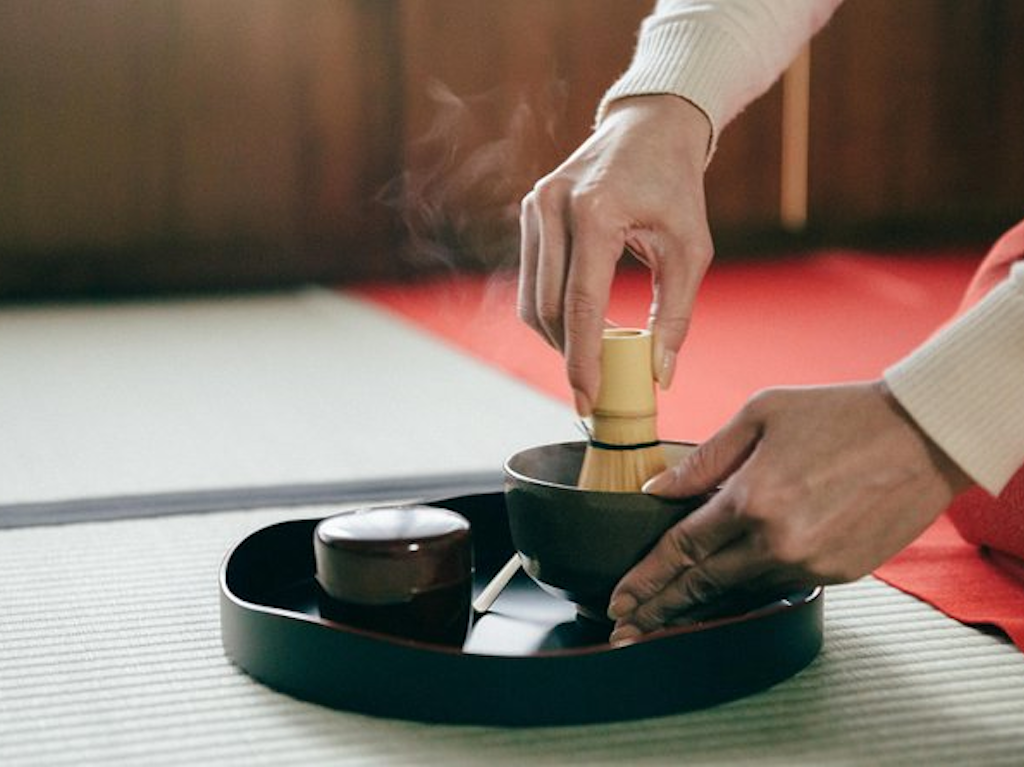 Ever dreamt of experiencing a traditional Japanese Tea Ceremony in a century-old kominka farmhouse? Even if it never crossed your mind before, now it will because you can have a close encounter with authentic Japanese culture at Chonoya, nestled just 10 minutes from central Nagoya.
Unlike typical tourist spots, Chonoya provides a genuine glimpse into everyday life in Japan. Step into a world of Tatami mats, Shoji screens, and traditional gardens – a rare encounter with Japan's past.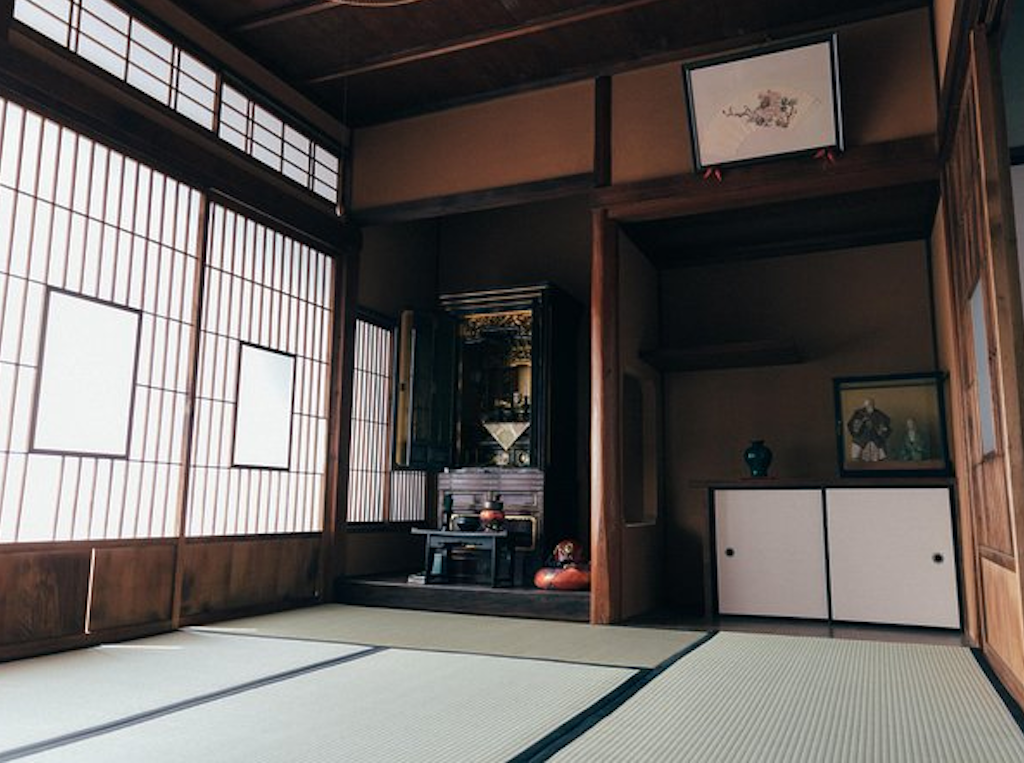 Immerse yourself in activities like calligraphy and tea ceremony in an intimate setting, all while gaining insight into their historical significance. This promises to be a truly memorable and unique experience during your visit to Japan, and you can book it now from the link below.
Chonoya (蝶ノ屋 )
Start Time and duration: 9:00 – 11:30 and 14:00 – 16:30 (2.5 hours)
Experience Price: 16500 yen/person
Book Now here!
Hands-on Japanese Sweets Making and Matcha Experience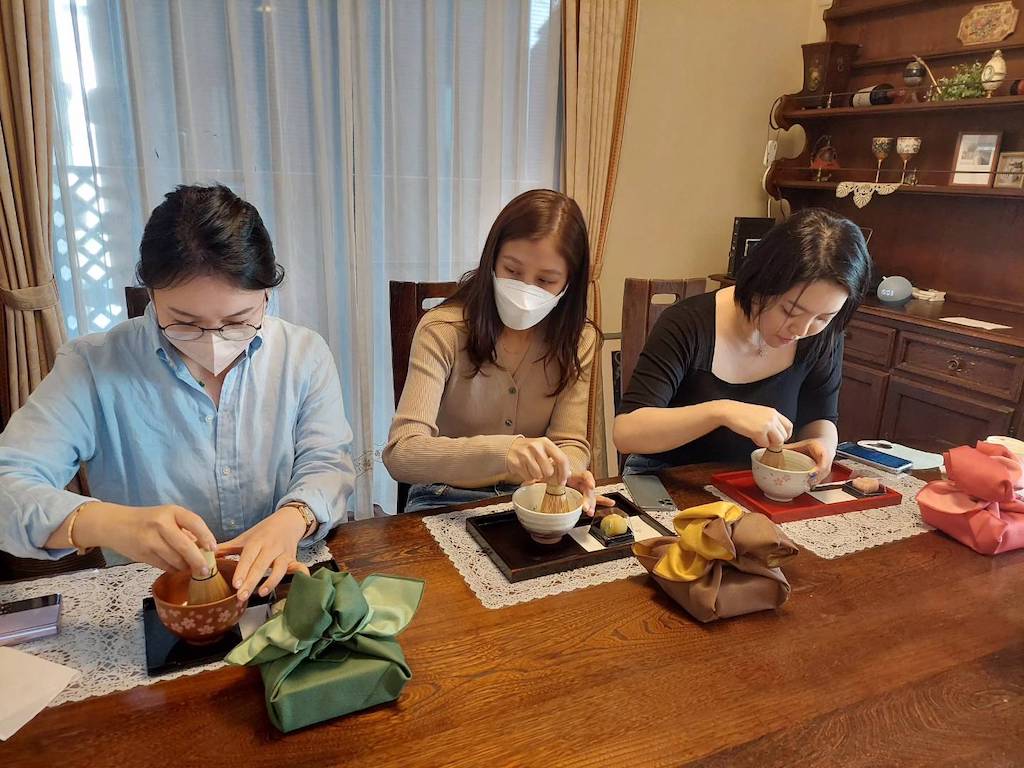 In this experience, you will discover the art of creating adorable Japanese sweets known as "Nerikiri" and immerse yourself in a casual tea ceremony, where you can savor the harmonious blend of sweetness and bitterness found in Matcha.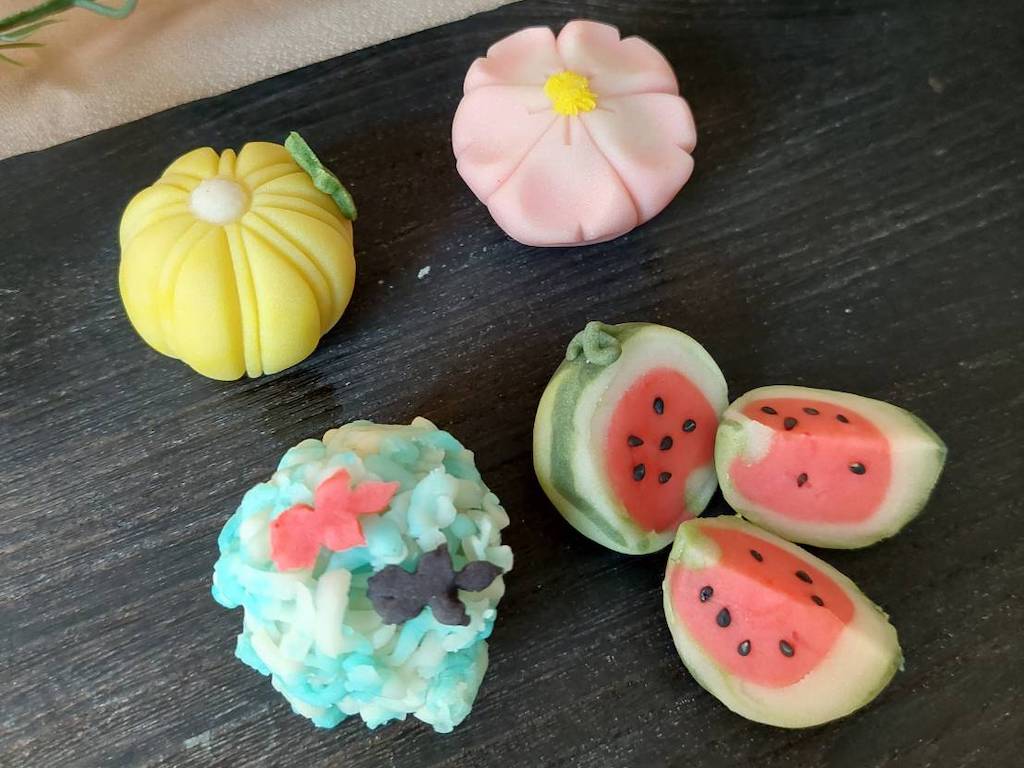 The lovely host Fumie will guide each guest in the art of making five pieces of Nerikiri, including one inspired by their own country's iconic landmarks. Following the crafting session, guests will have the opportunity to prepare their own Matcha tea and enjoy it alongside one of the Nerikiri sweets they made. This experience has been highly rated by our guests, so don't miss it! Book it now from the link below.
Beautiful Japanese Sweets "Nerikiri" and Matcha Experience
Start Time and duration: 10:00 – 12:30 and 13:00 – 15:30 (2.5 to 3 hours)
Experience Price: 6000 yen/person
Book Now here!
This post was last updated in November 2023.
Although we strive to provide you with the most accurate and up-to-date information possible, please note that changes may occur nonetheless. We recommend you confirm any relevant information such as event cancelations or changes, opening hours, or possible restrictions using a direct source. Please keep in mind that these sources might be in Japanese only.
---
Did we make you curious about Matcha and tea ceremonies in Nagoya? Hopefully, we did.
As we always say, Nagoya is not boring. You just have to know where to go looking!
Did you enjoy this article?
If you are a foodie, check out this post about the local Nagoya cuisine or read this post for other food experiences in Nagoya.
To browse all blog posts on Nagoya is not boring click here.
Be sure to follow us on Facebook for new articles every week, and see our Instagram for pictures and stories about Nagoya!
Share your comments below or message us using any of our SNS or send us an email.
Tag us 📲
If you have experienced a tea ceremony in Nagoya, or visited a nice tea house, share your experience on social media and make sure to tag us with #nagoyaisnotboring