A fairy tale might not have been what you were expecting when you opened this blog post, but we will tell you one anyway. It is a story of gods and love.
Orihime, the sewing princess and daughter of the Sky King, was sewing beautiful clothes by the Heavenly River, known in our modern understanding as the Milky Way. The Sky King loved his daughter very much and also her beautiful handmade clothing, but Orihime wasn't happy because she thought she would never find love due to her hard work.
So, the Sky King arranged a meeting between his daughter and Hikoboshi, the cowherd who lived and worked on the other side of the Milky Way. They fell instantly in love and married shortly after.
Once they were married Orihime and Hikoboshi spent all of their time together. Orihime stopped making clothes for her father and Hikoboshi did not take care of his cows as he should. They would walk freely all over the starry sky. This brought the wrath of the Sky King on them who separated them across the Heavenly River and forbade them to meet.
Orihime was heartbroken and pleaded with her father to let her see her husband again, and because the Sky King wasn't without mercy and because he loved his daughter very much, he promised she could meet Hikoboshi if she worked hard and finished her weaving.
They were to meet again on the 7th day of the 7th month, after Orihime had finished here weaving work as promised. But when Orihime tried to cross the Milky Way, to finally be with her love Hikoboshi she couldn't because there was no bridge to cross. Orihime cried so hard in desperation that a flock of Magpie, black and white birds, came who promised to make a bridge with their wings. And so they did and Orihime and Hikoboshi could be together for one day once more before returning to their separate sides of the Milky Way and continuing their hard work for another year.
The day Orihime and Hikoboshi meet is known as Tanabata and in Japan it has been transformed into a festival known as Tanabata Festival or Star Festival.
It is said that if it rains on Tanabata the magpie cannot come to make a bridge for Orihime and the two lovers have to wait for another year to see each other.
The Many Dates of the Tanabata Festival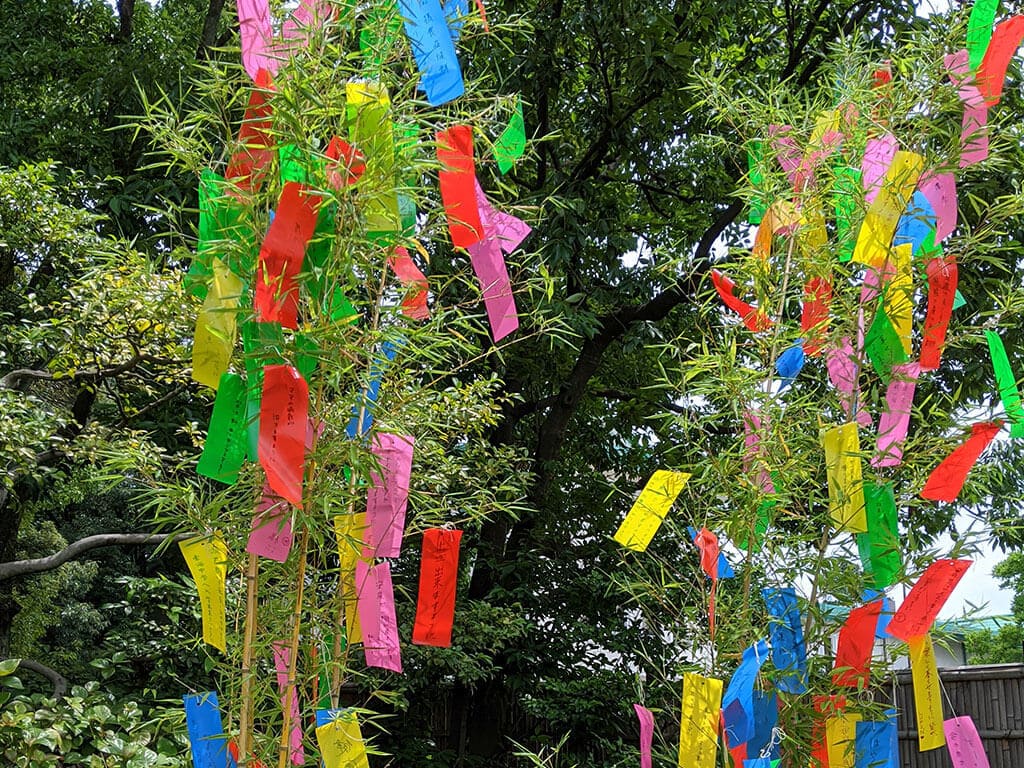 The Tanabata Festival is the celebration of this love story woven in with other traditions taking place around the 7th of July each year in Japan.
Because the festival was based on the lunar calendar the date of Tanabata Festivals in different parts of Japan differs widely. Some are held on the 7th of July, others on the 7th of August (which roughly correlates with the 7th day of the 7th month on the lunar calendar), and others are held exactly on the 7th day of the 7th month of the lunar calendar which differs from year to year. In 2020 it will be on the 25th of August.
In present-day Japan people usually celebrate the day by writing wishes on small pieces of paper and then tying them to bamboo. This so-called wishing tree is also decorated with other paper crafts and once Tanabata is over it is often set afloat on a river or burned in a bonfire.
Wearing a summer Yukata to a Tanabata Festival is a great experience. Here are a couple of places in Nagoya where you can rent one.
Tanabata Festivals in and Around Nagoya
Some of Japan's biggest Tanabata Festivals are held not far from Nagoya. Check them out for the full Tanabata experience or visit some of the smaller festivals held in Nagoya itself.
Ichinomiya Tanabata Festival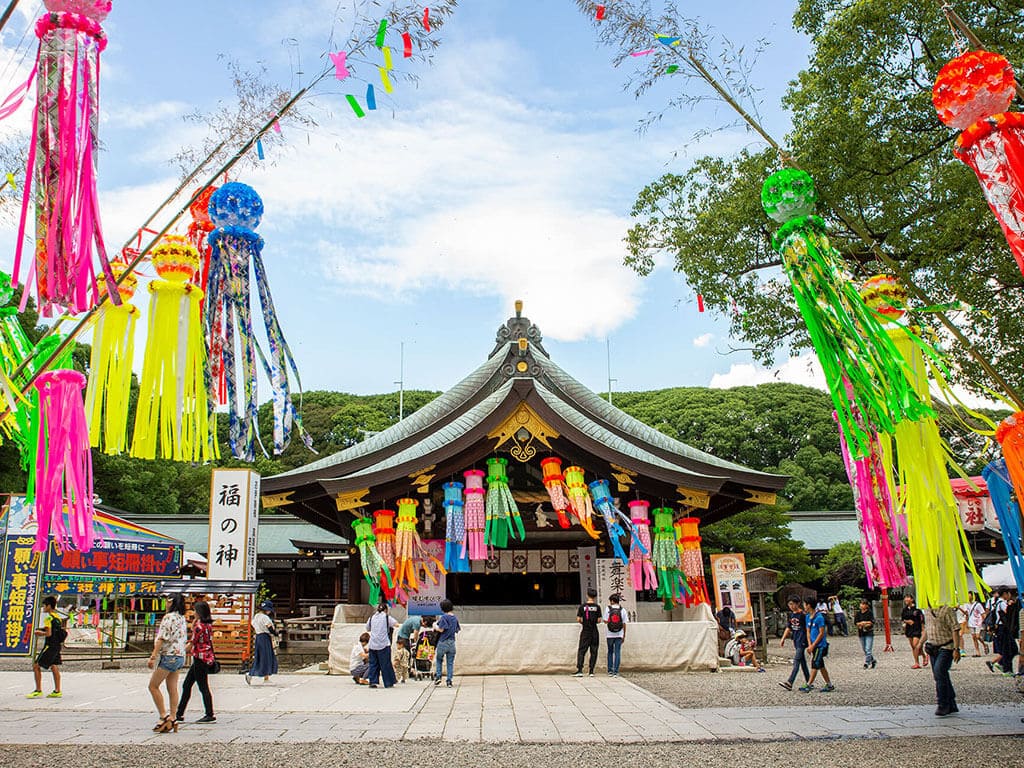 Around Nagoya many Tanabata Festivals are held, the most noteworthy is the Ichinomiya Tanabata Festival which goes on for 4 days around the last Sunday of July with decorations, festival stalls, parades, and stage shows. People wear their Yukata, summer Kimono, and enjoy the festivities with their family and friends.It is one of the most famous Tanabata Festivals in Japan.
NOTE: Events of the Ichinomiya Tanabata Festival have been canceled in 2021 due to COVID-19. However, decorations can still be found throughout the city to admire and add your own wishes.
For more beautiful shrines and temples worth a visit in Nagoya check out this post.
Anjo Tanabata Festival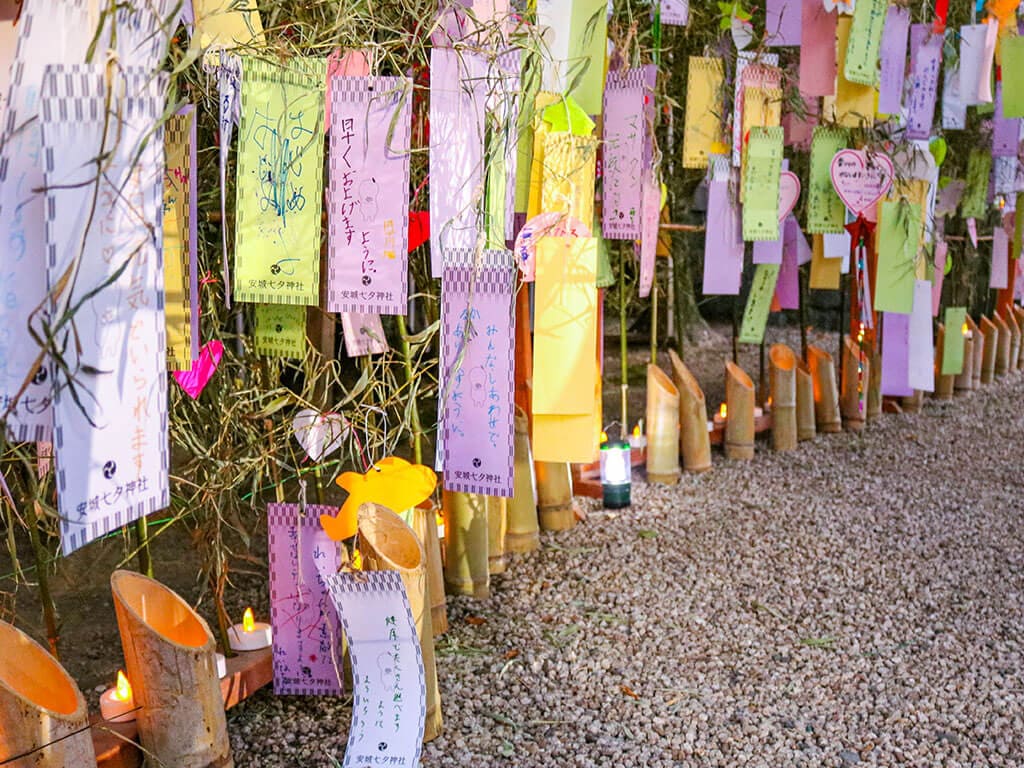 Another noteworthy Tanabata Festival is held in Anjo not far from Nagoya. The festival which aims to be the biggest in Japan is held on 3 days in August with fantastic decorations such as a street lined with bamboo where you can hang your wishing paper, music and dance performances of local idols, a parade, dances and more.
NOTE: The Anjo Tanabata Festival has been canceled in 2021 due to COVID-19.
Other Tanabata Festivals in Nagoya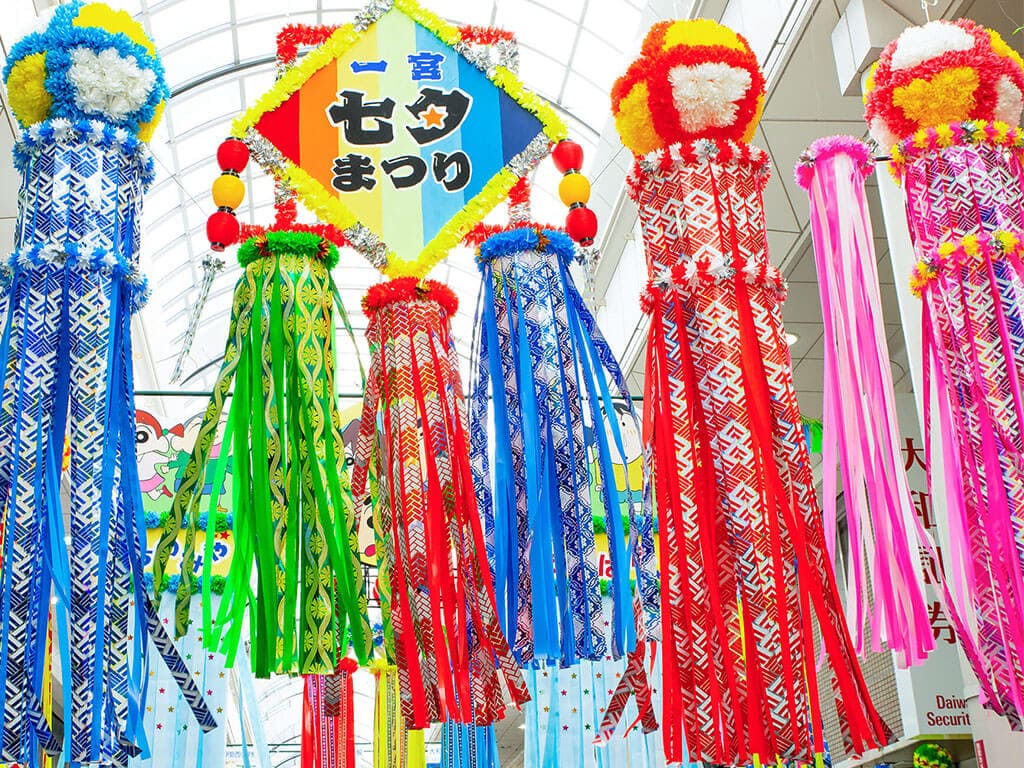 Other festivals in Nagoya include the Ozone Tanabata Festival in Nagoya and the Endoji Tanabata Festival.
NOTE: The Ozone Tanabata Festival and Endoji Tanabata Festival have been canceled in 2021 due to COVID-19.
The Endoji Shopping Street is one of the locations on the Nagoya Kimono Old Town Walking Tour. Check it out here.
A small Tanabata Festival decoration display can be viewed in the lobby (15F) of the Marriot Associa Hotel from June 9th to July 7th, 2020. It's a collaboration between the Ichinomiya Tanabata Festival and the hotel.
Celebrating Tanabata at Home
No matter if you live in Nagoya or Japan or in any other country around the world, here are some tips on how you can celebrate the Tanabata Festival at home to bring a little bit of Japan into your life.
You can celebrate Tanabata any time between July 7th and August 25th in 2020. So choose a day you like and get ready for some family fun.
Tell the story of Orihime and Hikoboshi and hope for good weather or else the two lovers won't be able to meet this year.
Find a bamboo branch with many twigs and leaves, if there is no bamboo in your country, no problem just use a different kind of wooden branch with twigs and leaves. This will be your wishing tree.
Place your wishing tree either at the entrance of your home or the backyard.
Decorate it with paper crafts such as Origami.
Write down your wishes on colorful paper strips and hang them on your wishing tree using some yarn.
On the next day (or after a couple of days enjoying your wishing tree) make a little bonfire and burn your wishing tree including all the wishes for them to come true.

This post has last been updated in June 2021. 
Although we strive to provide you with the most accurate and up-to-date information possible, please note that changes may occur nonetheless. Therefore, we recommend you confirm any relevant information such as event cancelations or changes, opening hours, or possible restrictions using a direct source. Please keep in mind that these sources might be in Japanese only.
---
Did you enjoy this article?
Then you might also enjoy this post: Things to do in Nagoya
Be sure to follow us on Facebook for new articles every week, and see our Instagram for pictures and stories about Nagoya!
Share your comments below or message us using any of our SNS or send us an email.
Tag us 📲
If you are celebrating Tanabata or have done so in the past, tag us on social media with #nagoyaisnotboring