Lovers of Studio Ghibli listen up!
You might have heard that a gigantic theme park dedicated only to Studio Ghibli will open here in Aichi in autumn 2022. (If this is news to you, you can find out more here)
We can't wait for it to open and so can't the rest of the world it seems.
To give a taste of what's to come, Studio Ghibli created an exciting exhibition in Nagoya.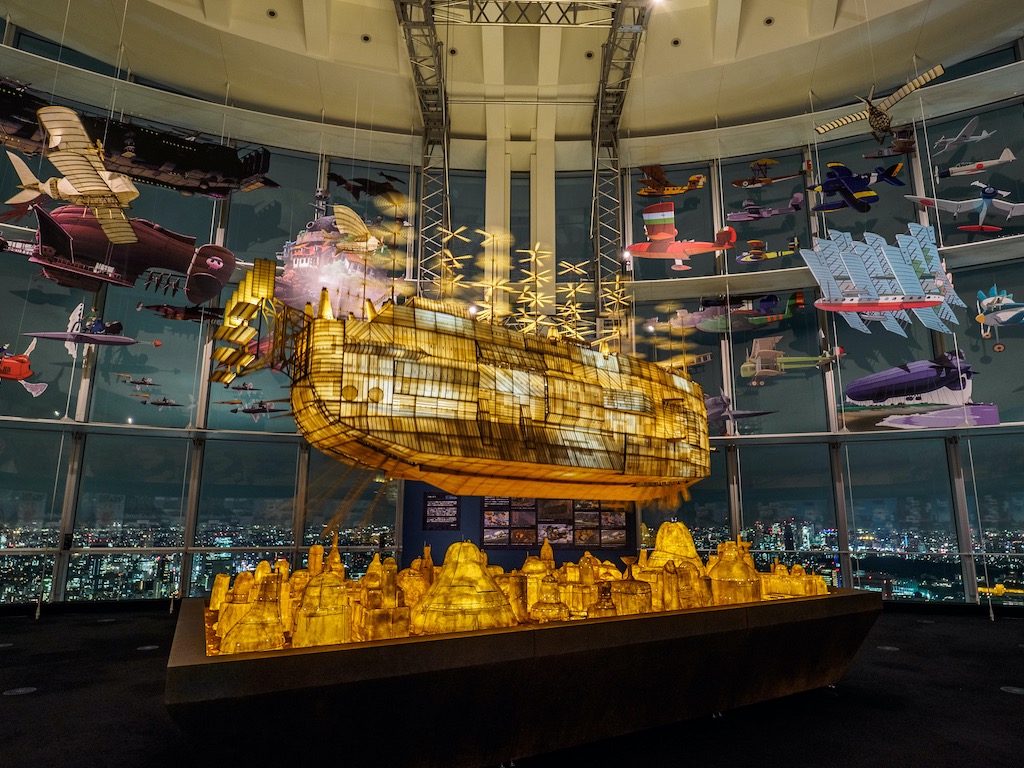 At the Aichi Prefectural Museum of Art, you have the opportunity to admire almost 35 years of Studio Ghibli history. Walk down memory lane of Studio Ghibli through planning boards, production materials, and posters. Although there is hardly any information in English, as the saying goes: a picture is worth a thousand words.
When you enter the museum a big Totoro will welcome you behind a bar counter, and you simply want to sit down opposite him and order a drink. But this is no time to linger, Ghibli's wonders await you.
Hundreds of posters of Ghibli movies through the history of the studio published across the globe and in different languages, gigantic models of a flying ship from Castle in the Sky and otherworldly bugs from Nausicaä of the Valley of the Wind, and the first sketches of Princess Mononoke, are just some of the highlights of this exhibition.
A small online souvenir shop, exclusive to visitors of the exhibition, offers exclusive Nagoya-inspired Studio Ghibli merchandise and other collectible items of Studio Ghibli's most popular movies.
The exhibition ends on September 23. 2021, so if you hurry you can still make it. If you plan to visit, make sure to book your tickets in advance. Tickets are limited.
But if you cannot make it to the exhibition this year, no worries! You will be able to admire everything at the Ghibli Warehouse at Ghibli Park next year.
GHIBLI EXPO (ジブリの大博覧会)
Event period: July. 17 – September. 23, 2021
Opening hours: Saturday – Thursday 10:00 – 18:00, Friday 10:00 – 20:00, Closed September 21.
Address: 1-13-2 Higashisakura, Higashi Ward, Nagoya, Aichi 461-8525, Japan
Access: From Sakae Station on the Higashiyama Line, it is a 3-minute walk.
Website (Japanese only) | Google Maps
This post has last been updated in July 2023. 
Although we strive to provide you with the most accurate and up-to-date information possible, please note that changes may occur nonetheless. Therefore, we recommend you confirm any relevant information such as event cancelations or changes, opening hours, or possible restrictions using a direct source. Please keep in mind that these sources might be in Japanese only.
---
Did you enjoy this article?
Which of these Studio Ghibli places in Nagoya are you most looking forward to visiting?
Let us know in the comments!
Be sure to follow us on Facebook for new articles every week, and see our Instagram for pictures and stories of Nagoya!
Share your comments below or message us using any of our SNS or send us an email.
Tag us 📲
Did you take a picture with Totoro in Nagoya? Tag us and share your pictures on social media with #nagoyaisnotboring