The Japanese have a peculiar relationship to religion. Most people identify as both Shinto and Buddhist, or nothing at all. Still following rituals of either, depending on the occasion. Weddings are often Shinto, burials almost exclusively Buddhist. They also like to sprinkle in Christian holidays for good measure.
Because of this very inclusive mindset, anyone is welcome at shrines and temples in Japan and no one is barred from praying or making a wish in front of the holy objects. So feel free to visit as many shrines and temples as you like during your visit to Japan.
Below, you will find a list of the most noteworthy shrines and temples in Nagoya. But we recommend to also keep your eyes open while exploring the city. You will find a neighborhood shrine or temple around almost every corner.
What's the Difference Between a Shrine and a Temple?
In the English language, the words shrine and temple are often used as if they were the same thing. Just generally describing a place of worship. But we need to make a distinction when it comes to describing places of worship in Japan.
There are two main belief systems, Shintoism and Buddhism. Buddhism was an imported religion originally coming from China, while Shinto is the Japan-exclusive belief system. They happened to be compatible and nowadays a large number of Japanese identify as both Shintoist and Buddhist following different rituals from both religions.
A place of worship for Shinto gods is always referred to as a shrine, a Buddhist place of worship is always a temple in the English language.
But How Can You Tell Them Apart During a Visit?
Here are a couple of distinctions that will help you: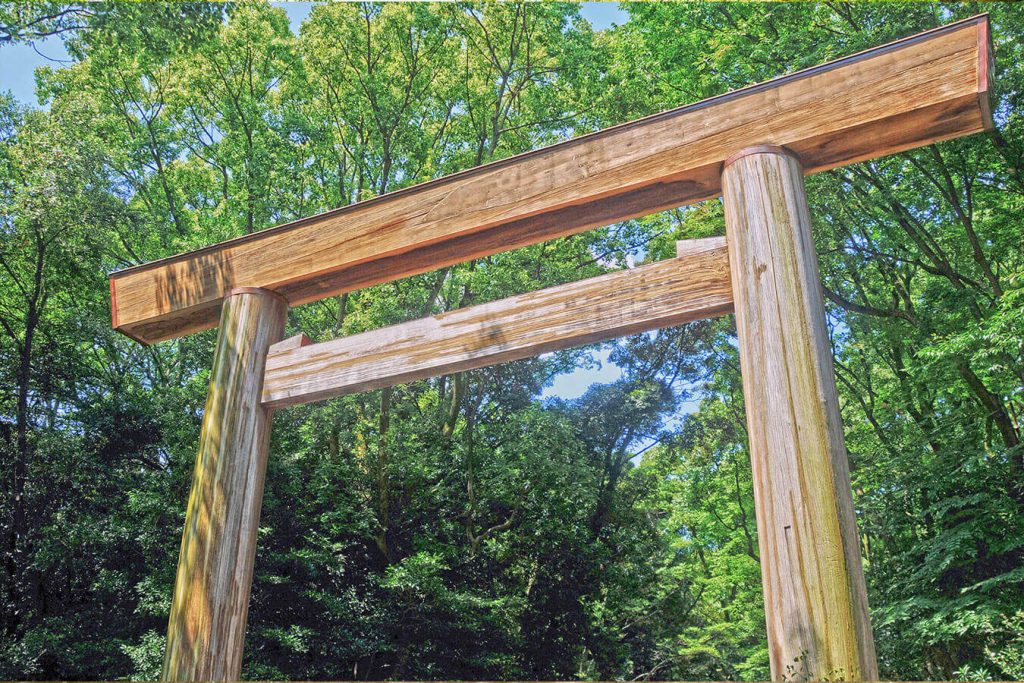 The entrance at a Shinto shrine will always have a so-called Torii gate, a simple structure made from either wood, stone, or metal, with two horizontal bars held up by two vertical ones. They can be brown, gray, or bright red.
Entry gates at Buddhist temples are more elaborate structures often with multiple levels, and roofs and often guarded by dangerous-looking figures called Nio.
You will never find human statues at Shinto shrines, but commonly at Buddhist temples. These statues are Buddhas or Bodhisattvas, humans who found enlightenment.
At Shinto shrines, you will commonly find animal statues. The first ones you will see are two guardians standing on either side of the entrance. These animals can be dogs, foxes, or other animals.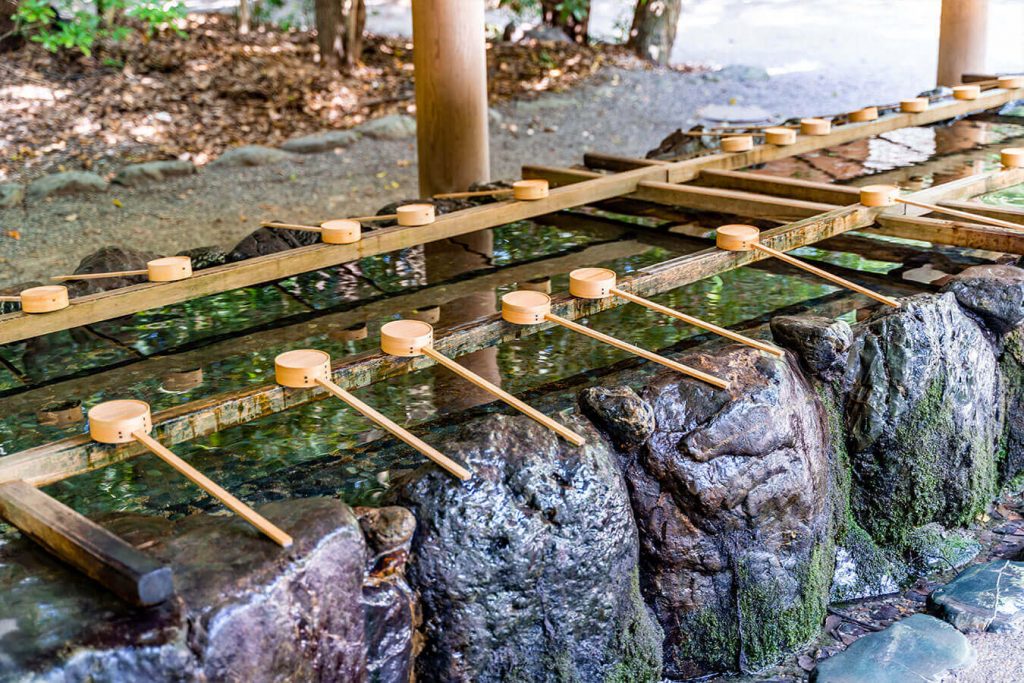 For purification, shrines have a washbasin close to the entrance, and most people quickly rinse their hands and sometimes their mouths before entering.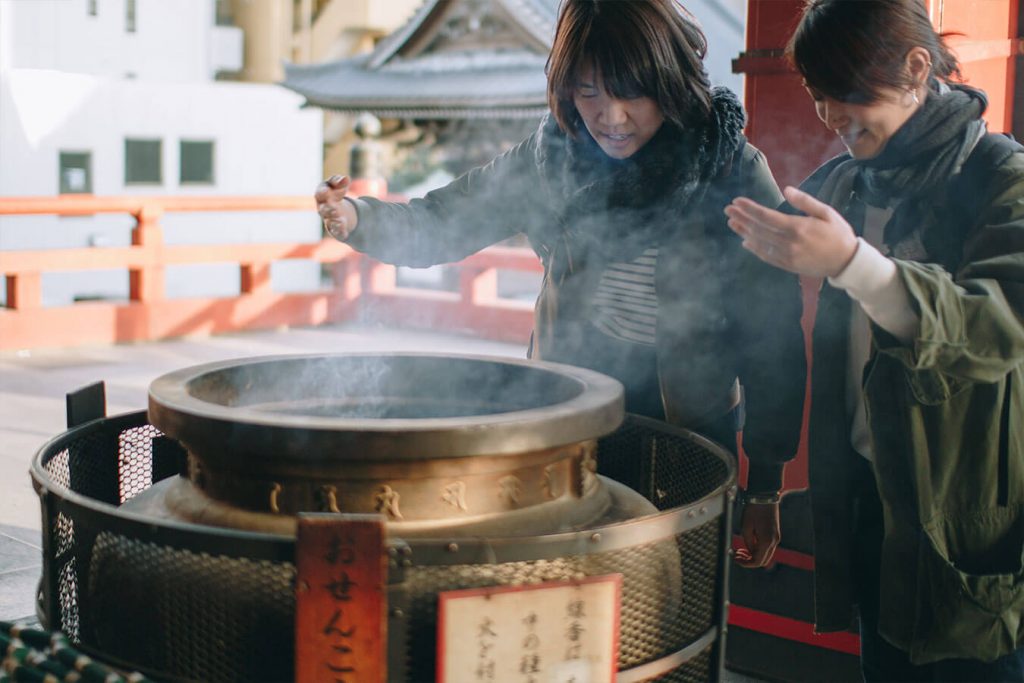 Temples use the smoke of incense to cleanse the body. Just waft the fragrant smoke toward you to ward off evil spirits.
There are many more indicators to tell you the difference but these are the easiest to recognize.
By the way, if you are ever at a place of worship where you seem to find Shinto as well as Buddhist elements side by side, don't get confused. It just means that these places are Shinto shrine and Buddhist temple at the same time. Something that used to be quite common before the Meiji Restauration of 1868 when nationalistic influences tried to separate the national Shintoism from the imported Buddhism.
You can get even more detail about shrines and temples during the Street Food Walking Tour of Osu. It's not just about street food!
How to Make a Wish at a Shrine or Temple?
As you might have noticed, if you know anything about Japan, the Japanese love rituals and so it really is no wonder that a prayer would be very ritualistic as well.
Making a wish at a shrine and temple is different, and even many Japanese tend to mix up the correct process.
Praying at a Buddhist Temple in Japan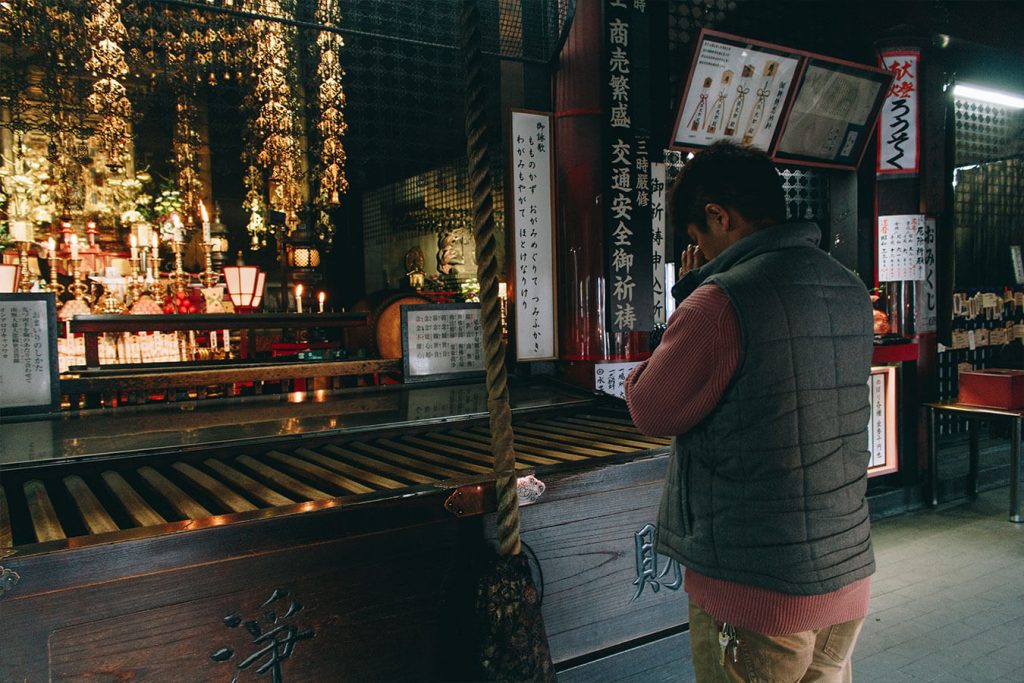 When making a wish at a temple make an offering by throwing a coin (it doesn't matter which one) into the offering case. Bow once, make your wish and bow again once you are finished.
The Japanese believe the 5 yen coin to be the luckiest one as the Japanese word for connection or good relationship and the word for 5 yen sound almost the same ('go-en'). If you want to pray for a good relationship or meeting new people you might want to try using a 5 yen coin for your prayer.
Praying at a Shinto Shrine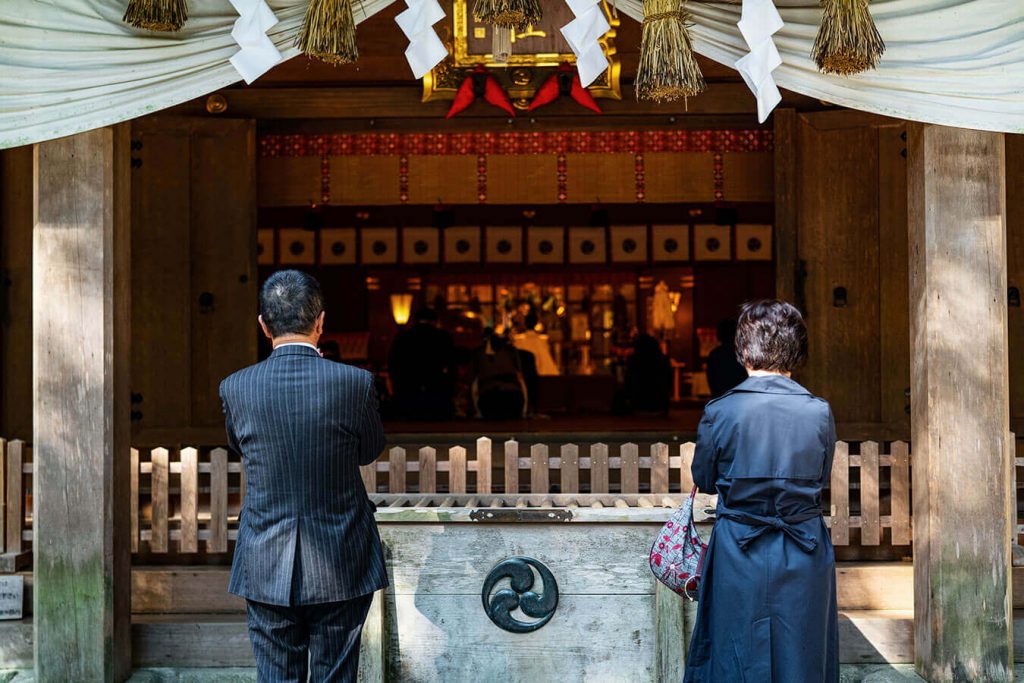 First you have to purify your body correctly.
At the washbasin take a ladle and fill it up with water. Take it into your right hand and pour a little bit over your left hand, switch hands to pour water over your right hand. Switch hands again, pour some water into your left hand and use it to rinse out your mouth. Don't swallow! Pour some more water over your left hand again to clean it, and use the remaining water to clean the ladle.
Now you are ready to face the deity. Make your offering in the form of a coin. Bow once, clap your hands together twice, make your wish with your hands together in front of your heart. When you are done, bow once more.
Don't Forget to Bring Your Goshuincho With You!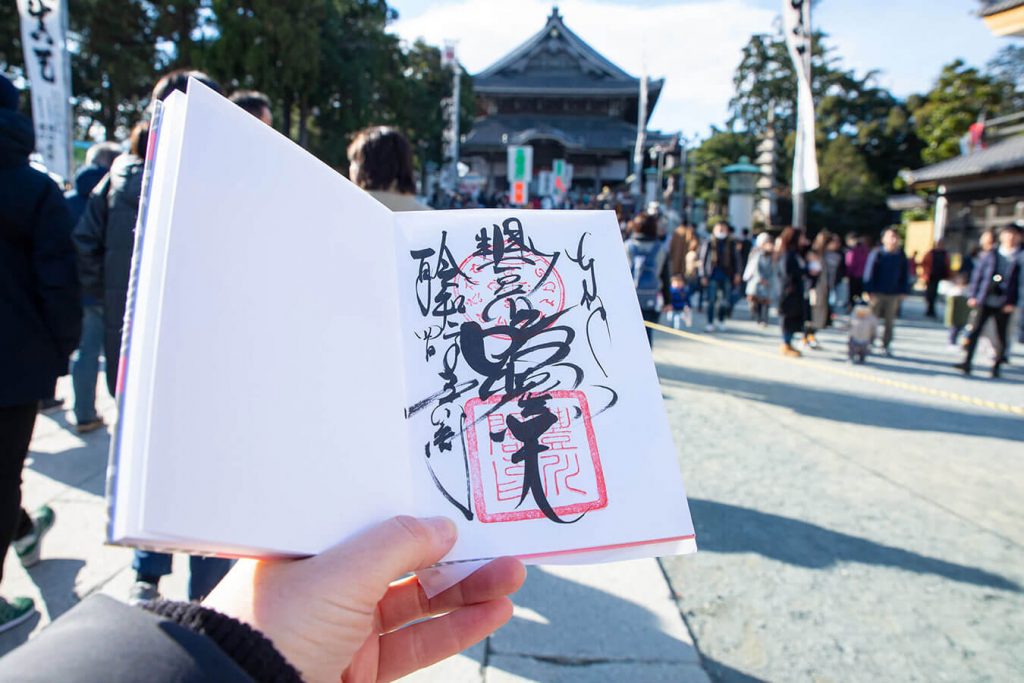 The Japanese love to collect stamps. No matter if it's a stamp of a city often found at tourist information centers or a stamp at the different train stations. There are also stamps at famous tourist spots throughout the country.
So, it is really no wonder at all that temples would have stamps to collect as well. You collect your temple stamps or seals in a so-called Goshuincho, a stamp book. Buy these at many bigger temples or shrines, choosing one with a nice cover is definitely part of the fun!
Each time you visit a bigger shrine or temple you hand over your Goshuincho and for a modest fee of usually around 300 to 500 yen will get a temple stamp and the name of the temple written in beautiful calligraphy. Filling your Goshuincho with shrine temple seals is a lot of fun and a great memory of your trip to Japan!
Shrines and Temples Worth Checking out in Nagoya!
As we mentioned before, no matter where you travel in Japan it is always a good idea to keep your eyes open, you will find small neighborhood shrines and temples around every corner. Most of them are quite beautiful and worth checking out. In general, most shrines and temples are open to the public, so don't hesitate to have a look around.
The following are some of the most interesting shrines and temples to be found in Nagoya.
Atsuta Shrine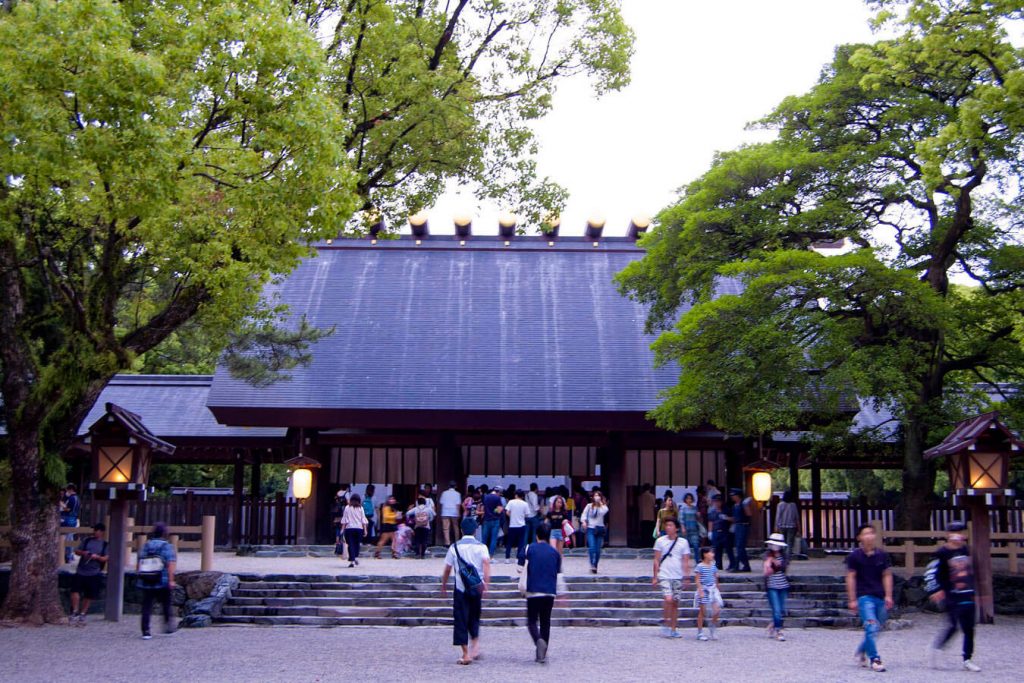 Atsuta Shrine is one of the most important Shinto shrines in Japan. It is almost 2000 years old and therefore predates the city of Nagoya by more than 1000 years. It houses one of the three Imperial regalias, the sword Kusanagi no Tsurugi which according to legend was given to the Emperor by the sun goddess Amaterasu.
The shrine with its spacious grounds is a beautiful place for a visit to get away from the hustle and bustle of the big city. Follow the path through the woods past holy trees and other objects housing various Kami. Feel free to make a wish and don't forget to thank the gods for hearing you out. The course ends at the main shrine.
Throughout the year Atsuta Shrine holds many festivals, the most important of which is the Atsuta Festival. If you want to find out more about it, check out this article.
Don't forget to stop by Miya Kishimen, a simple shop right on the shrine grounds selling flat and broad Udon noodles called Kishimen.
Atsuta Jingu (熱田神宮)
Entry Fee: free
Opening Hours: open 24 hours
Address: 1-1-1 Jingu, Atsuta Ward, Nagoya, Aichi 456-8585
Website | Google Maps
Toganji Temple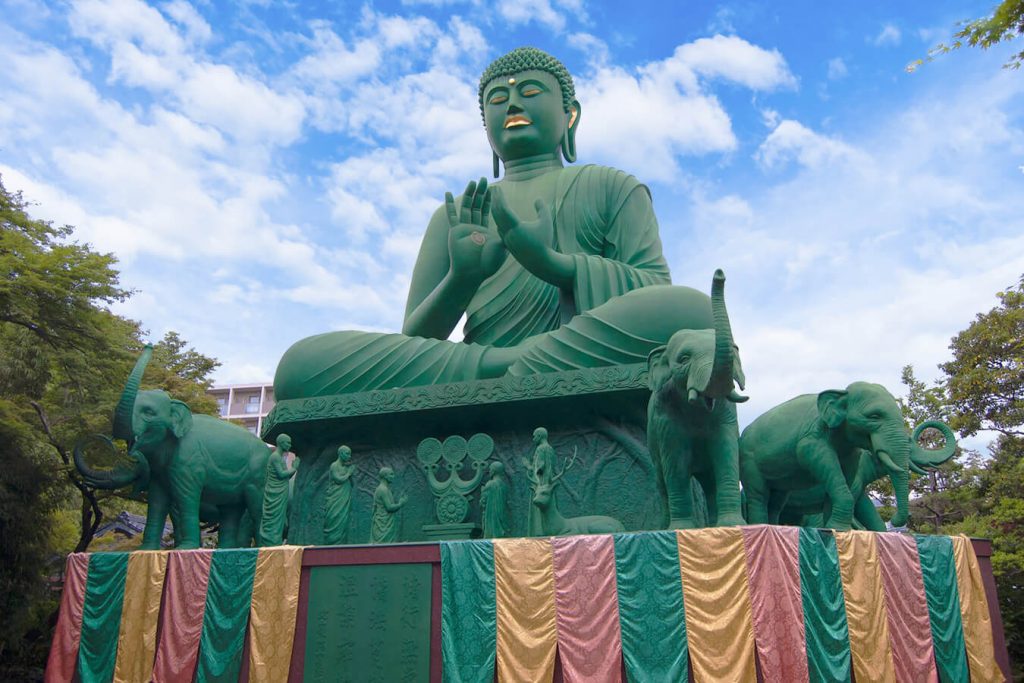 Toganji Temple impresses with a gigantic vividly green seated Buddha statue. But it is not the only reason to visit. Though the grounds are small they are quite lovely and cared for. The Chinese-style entry gate, a thick bamboo grove, and an ancient pine tree invite for a visit.
The temple has many links to India as one of their high priests completed his studies there. Because of this, the temple features a Shiva-Lingam as well as a shrine dedicated to the Goddess Saraswati, the Hindu goddess of knowledge, music, art, wisdom, and learning.
Toganji (桃巌寺)
Entry Fee: free
Opening Hours: Summer 9:00-18:00, Winter 9:00-17:00
Address: 2-16 Yotsuyatori, Chikusa Ward, Nagoya, Aichi 464-0819
Google Maps
Koshoji Temple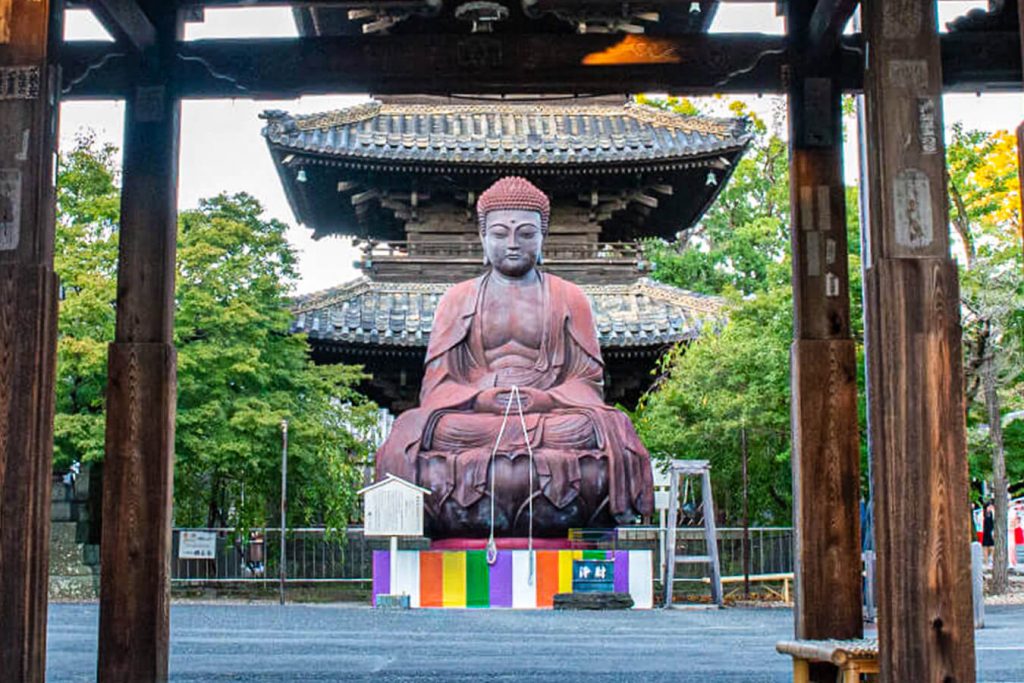 Koshoji Temple is located close to Yagoto Station in Nagoya. It is the only temple in the Tokai region boasting a 5-story wooden pagoda. The 30-meter tall pagoda was completed in 1808 but the temple itself is still older than that.
Koshoji enshrines an image of Amida Nyorai, the Buddha of the Afterlife and the main hall also includes a small shrine where visitors can pray for a painless death (and who doesn't want that?).
It is quite a rich temple, something that will become quite clear during a visit. The grounds are spacious and there is even an outdoor escalator leading to the graveyard.
Complete your visit to Koshoji by having some tea at the tea house and enjoying the beautiful landscape garden. On a couple of days per month a tea ceremony is held here as well.
Find out more about the tea ceremony at Koshoji and other tea ceremonies in Nagoya.
Koshoji (興正寺)
Entry Fee: free
Opening Hours: 9:00 – 17:00
Address: 78 Yagotohonmachi, Showa Ward, Nagoya, Aichi 466-0825
Website | Google Maps
Osu Kannon Temple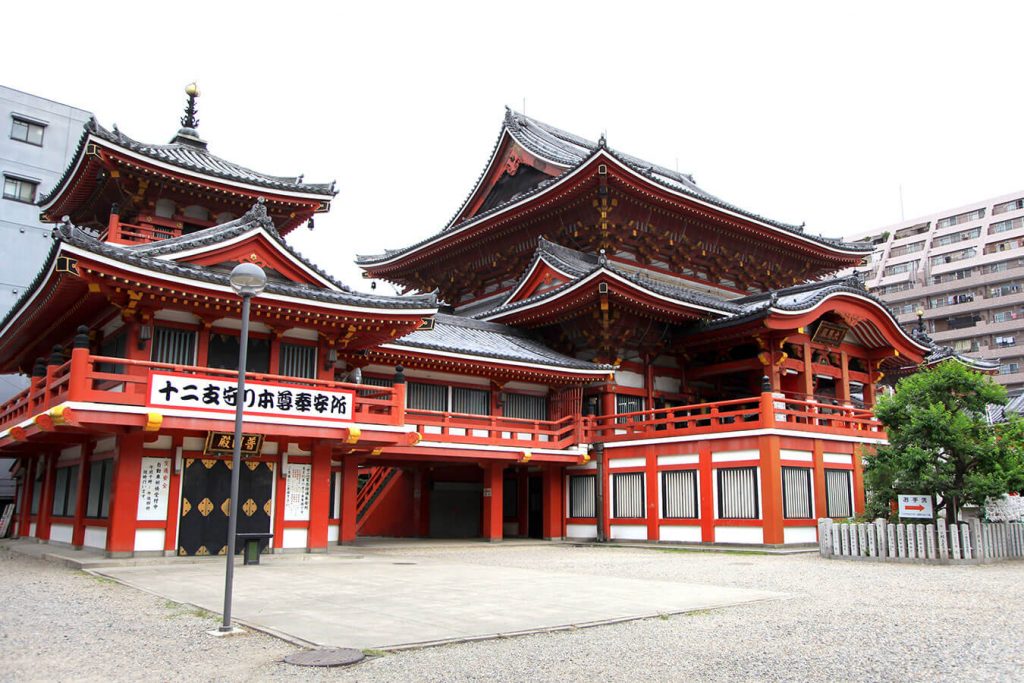 Osu Kannon is one of the most popular temples in Nagoya located at the mouth of the Osu Shopping Streets. It was constructed in the 14th century in Gifu Prefecture north of Nagoya and relocated to its current location by Tokugawa Ieyasu when Nagoya was founded.
The temple burned down partly during a fire in 1820 and was further destroyed during the Second World War. The current temple is a reconstruction completed in the 1970s. But that doesn't make it any less impressive.
Osu Kannon draws crowds on the 18th and 28th of each month when a regular flea market is held. Even if you don't plan on buying anything it is a lot of fun to browse, and watch the sellers haggle with potential buyers.
For more shopping ideas in Nagoya read this post.
Osu Kannon (大須観音)
Entry Fee: free
Opening Hours: 6:00 – 19:00
Address: 2-21-47 Osu, Naka Ward, Nagoya, Aichi 460-0011
Website (Japanese only) | Google Maps
Banshoji Temple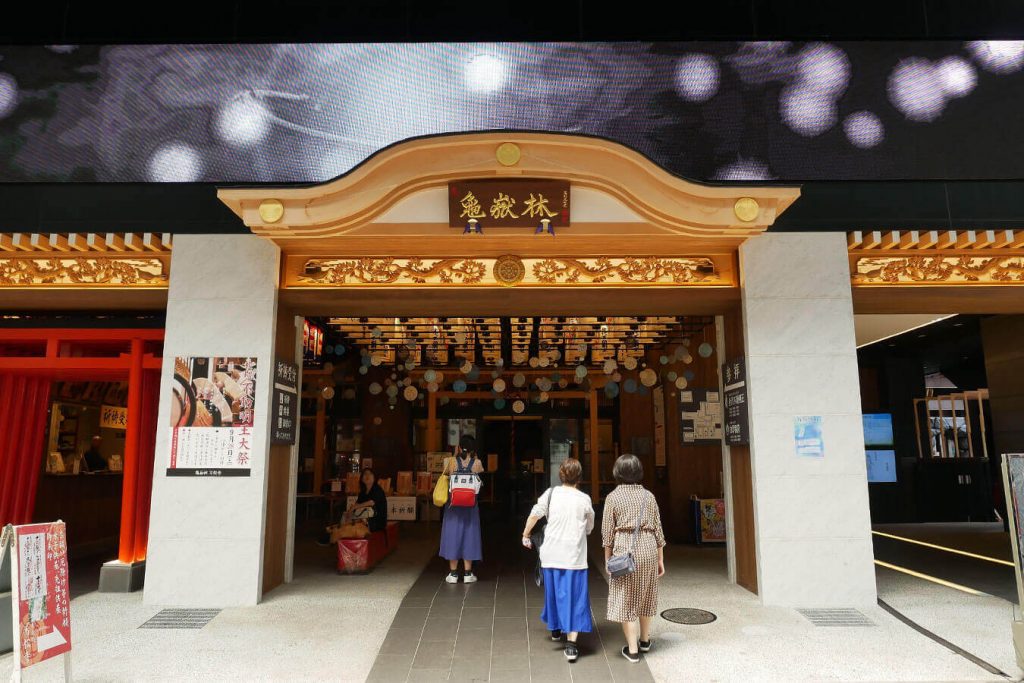 Banshoji is also located in the Osu Shopping Streets. It is one of the most modern temples you can find in Nagoya, with a gigantic LED light display over the entrance and a white dragon that spits water and smoke during daily performances.
The temple was originally built by Oda Nobuhide, the father of local warlord Oda Nobunaga in 1540. Like Osu Kannon and many other temples and shrines, Banshoji was moved to its current position in 1610 during the founding of Nagoya.
Banshoji (万松寺)
Entry Fee: free
Opening Hours: 9:30 – 18:00
Address: 3-29-12 Osu, Naka Ward, Nagoya, Aichi 460-0011
Website (Japanese only) | Google Maps
Nittaiji Temple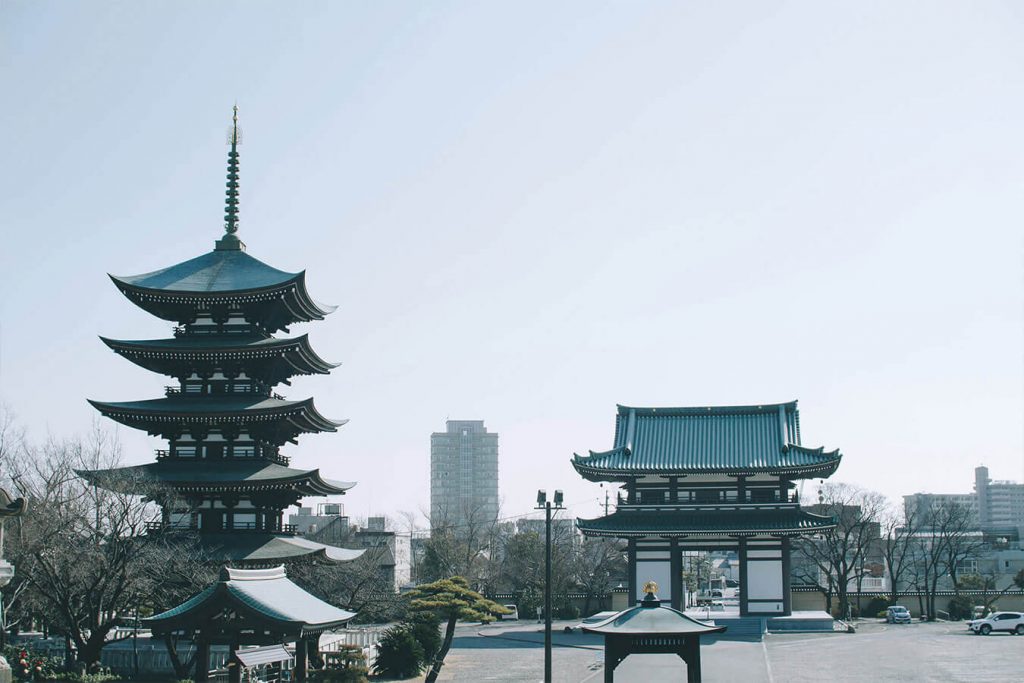 Nittaiji which means Japan-Thai Temple was founded in 1904 and is one of the largest non-affiliated temples in Nagoya. It houses a portion of the ashes from the historical Buddha, which was donated by the Thai King Chulalongkorn.
Aside from spacious grounds and a five-storied pagoda, the temple also has a Thai-style stupa.
A regular morning market is held at Nittaiji temple on the 21st of each month on the grounds as well as along the approach of the temple. It is one of the biggest markets of its kind in Nagoya.
The Kakuozan area surrounding the temple is also worth a visit because of many interesting shops and historical buildings. It is also a center for the arts and design.
Nittaiji (日泰寺)
Entry Fee: free
Opening Hours: 5:00 – 16:30
Address: 1-1 Hoocho, Chikusa Ward, Nagoya, Aichi 464-0057
Website | Google Maps
Higashi Betsuin Temple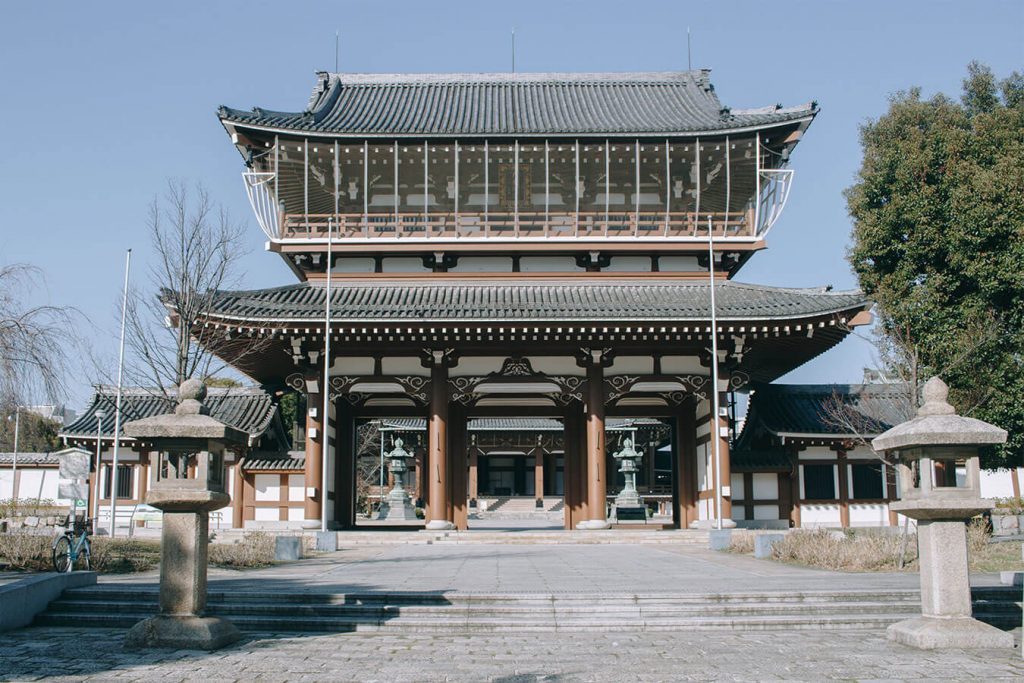 Higashi Betsuin, a sub-temple of Higashi Honganji Temple in Kyoto is located on the site of former Furuwatari Castle. A fortress built in 1542 by Oda Nobuhide, who also built Banshoji Temple.
Like many historical sites in Nagoya, Higashi Betsuin was destroyed during World War II and was reconstructed in the 1960s. The huge bell in the bell tower, is an original bating to 1692.
Higashi Betsuin has a popular handicraft market held on the 28th of each month where you can buy a wide variety of handmade items as well as a large selection of delicious food.
Higashi Betsuin (東別院)
Entry Fee: free
Opening Hours: October to April 6:00 – 16:30, May to September 6:00 – 17:30
Address: 2-8 Tachibana, Naka Ward, Nagoya, Aichi 460-0016
Website (Japanese only) | Google Maps
Jimokuji Kannon Temple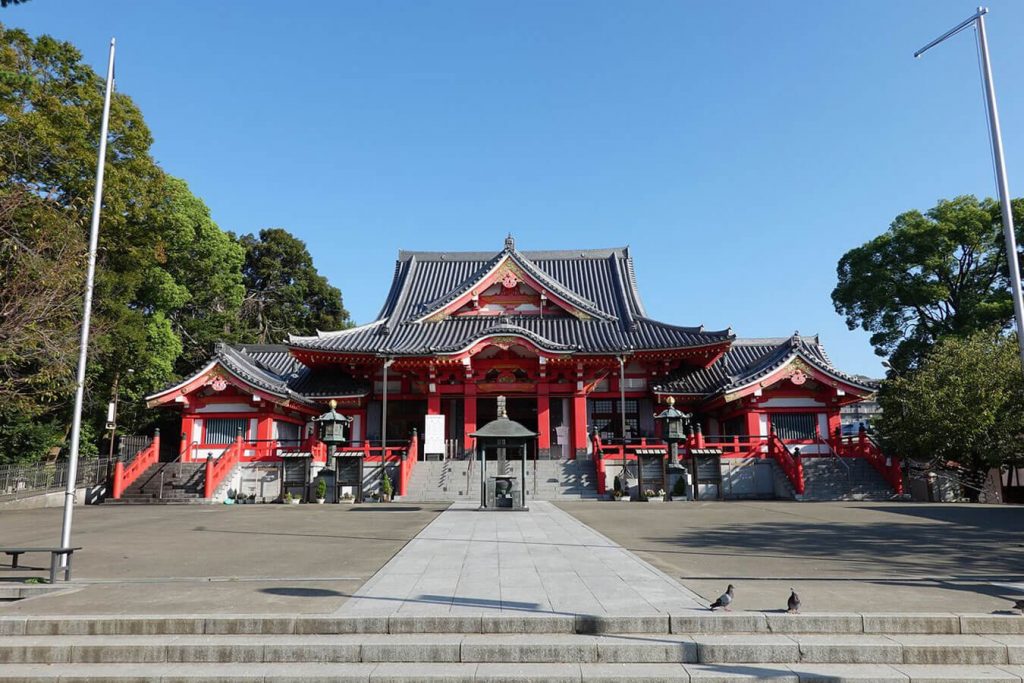 Jimokuji Temple, just outside of Nagoya in Ama city is one of the 4 Temples of Owari which was worshiped during the Tokugawa Period (1603 to 1868).
The temple is said to have started as early as the Nara period (710 to 794) as a thatched hut when a fisherman caught a golden statue of the divine kannon in his fishernet.
Jimokuji Kannon has multiple structures designated as Important Cultural Properties including the southern and eastern gates and the three-storied pagoda.
A popular handmade morning market is held at Jimokuji Kannon on the 12th of each month.
Jimokuji Kannon (甚目寺)
Entry Fee: free
Opening Hours: 8:00 – 16:00
Address: 24 Higashimonzen, Jimokuji, Ama, Aichi 490-1111
Website (Japanese only) | Google Maps
Ryusenji Temple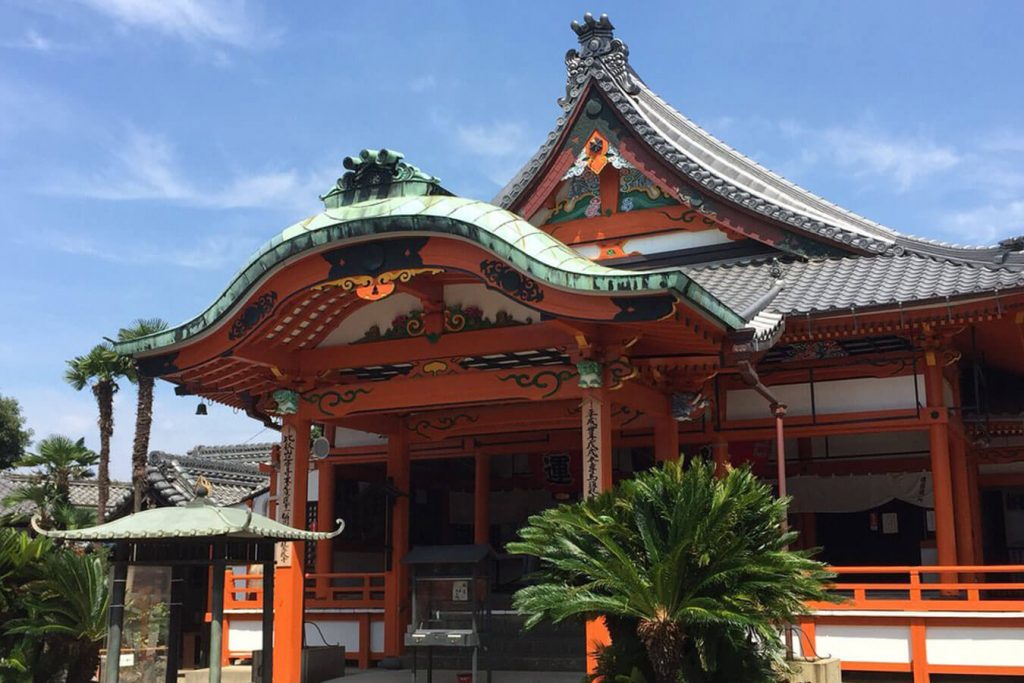 Ryusenji Temple is another one of the four Kannons of Owari. It is believed to date back to the Enryaku Period (782-806).
When Nagoya Castle was built in the early 17th century Tokugawa Ieyasu, the founder of Nagoya and first Tokugawa Shogun of Japan, designated 4 temples that lay in unlucky directions to the castle's construction as the protectors of the castle and the ruling Owari clan.
Ryusenji is right next to one of the best Super Sento (a gigantic bathing complex) called Ryusenji no Yu. To find out more about it and other bath houses and Onsen in Nagoya, read this post.
Ryusenji (龍泉寺)
Entry Fee: free
Opening Hours: 9:00 – 16:00
Address: 1-902 Ryusenji, Moriyama Ward, Nagoya, Aichi 463-0801
Website (Japanese only) | Google Maps
Arako Kannon Temple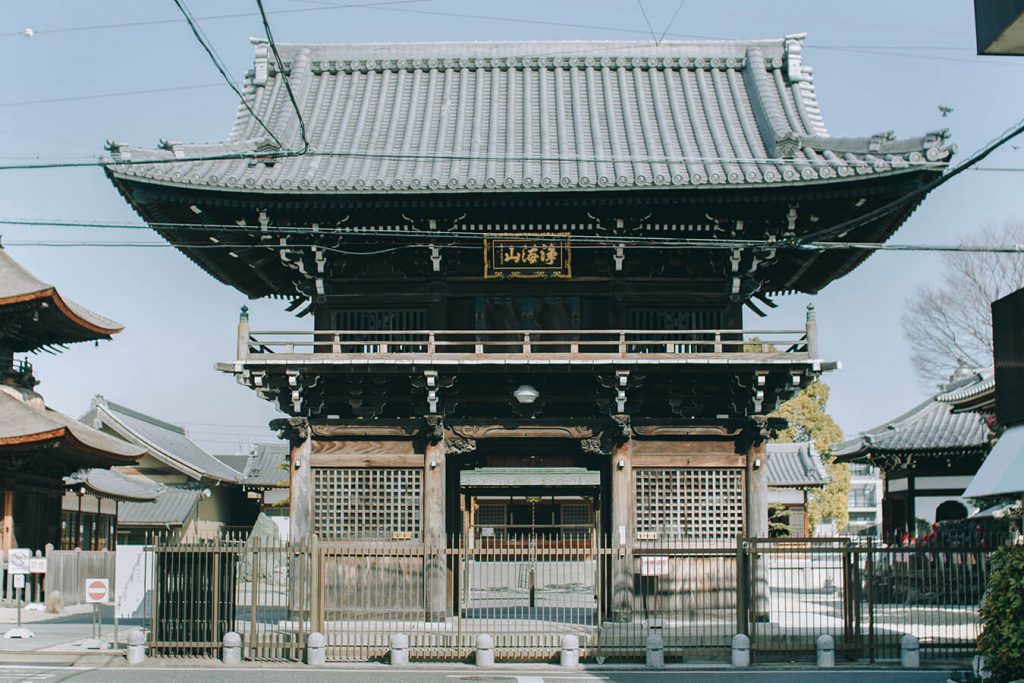 Arako Kannon has the oldest wooden structure in the city. The two-story pagoda dates from 1536. Also impressive are the 3-meter tall Nio guardians carved in the late 17th century standing on either side of the main gate.
Arako Kannon is one of the four Kannons of Owari, a protector temple of Nagoya Castle.
Arako Kannon (荒子観音寺)
Entry Fee: free
Opening Hours: 7:00 – 17:00
Address: Miyamado-138 Arakocho, Nakagawa Ward, Nagoya, Aichi 454-0861
Google Maps
Kasadera Kannon Temple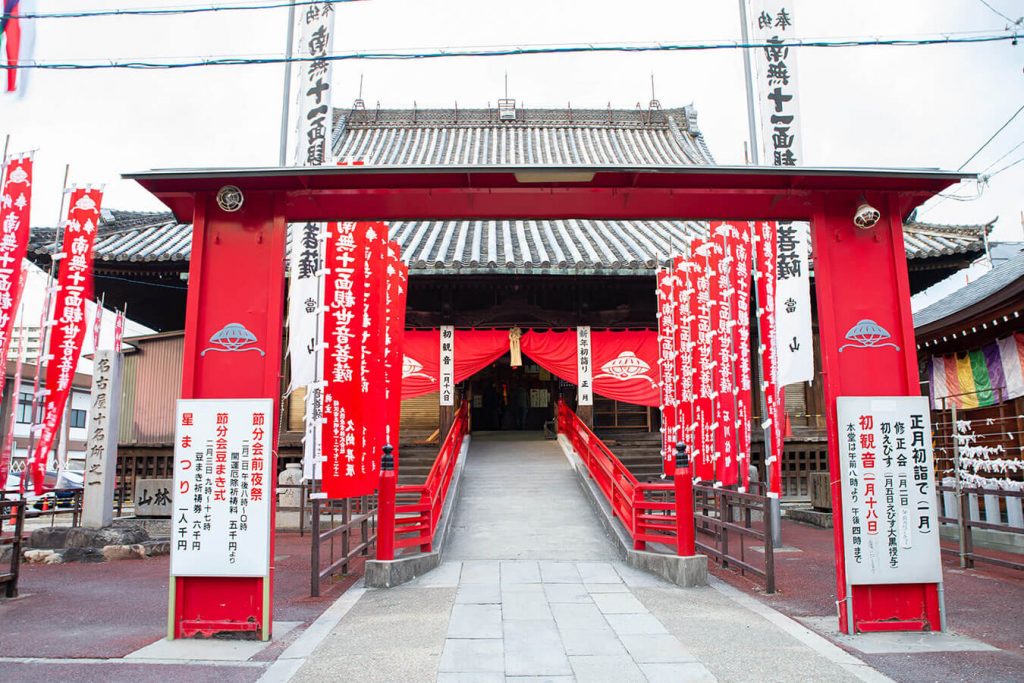 Kasadera Kannon the 4th of the Kannons of Owari is a temple with a long history, having been founded in either 733 or 738.
It houses the eleven-faced Kannon Bosatsu as well as Ebisu, one of Nagoya's seven deities of good fortune.
Despite being destroyed a couple of times over the centuries, most parts of the temple date from 1238. From then on, the temple has undergone multiple repairs and renovations.
Kasadera Kannon has a popular fair on every 18th of the month where it is possible to enter the main hall at specific times to pray.
Kasadera Kannon (笠寺観音)
Entry Fee: free
Opening Hours: 8:00 – 16:00
Address: 83 Kamishinmachi, Kasaderacho, Minami Ward, Nagoya, Aichi 457-0051
Website (Japanese only) | Google Maps
Toyokawa Inari Temple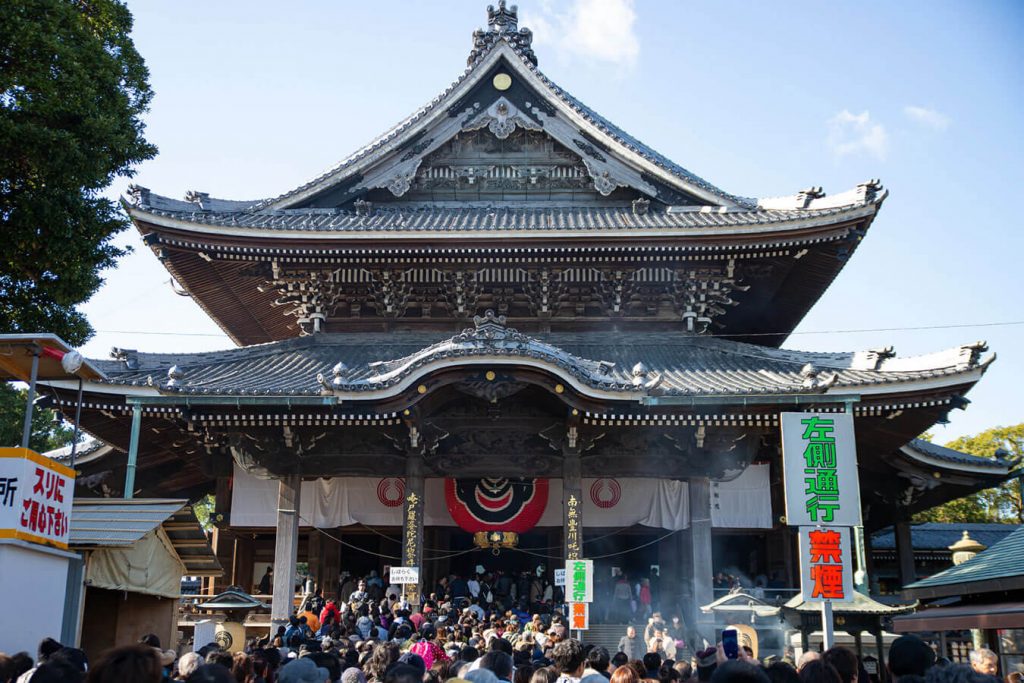 Toyokawa Inari, in Toyokawa City, about 1 hour by train from Nagoya, is one of the three big Inari Temples in Japan, together with the famous Fushimi Inari in Kyoto. It is both a Sodo sect Buddhist Temple, as well as a Shinto Shrine, dedicated to Inari Okami, the god of fertility, rice and agriculture, industry and worldly success.

You will find countless stone fox statues here. This is one of the reasons this temple is so popular with visitors.
The Buddhist temple has a big hall and impressive wooden gate.
Toyokawa Inari (豊川稲荷)
Entry Fee: free
Opening Hours: 9:00 – 17:00
Address: 1 Toyokawacho, Toyokawa, Aichi 442-0033
Website | Google Maps
Mama Kannon Temple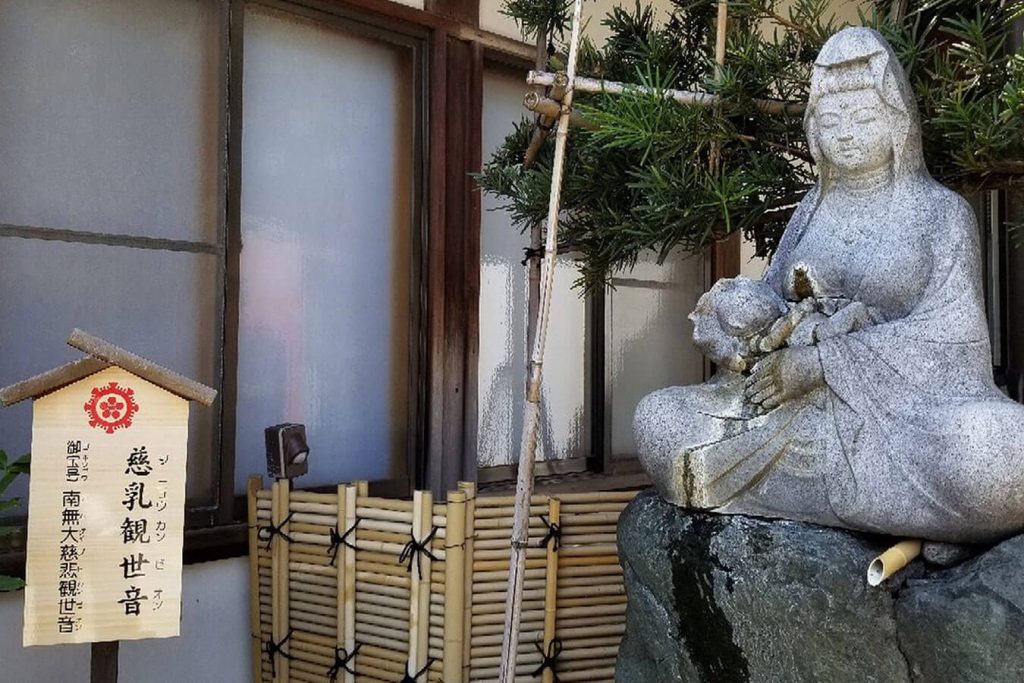 The official name of Mama Kannon is Ryuonji, but it is widely known by foreigners as the "Breast Temple".
This temple attracts especially female visitors from around the country and the world. They come to pray for safe childbirth, plentifull lactation and healthy babies. Some even come to pray for a more beautiful bosom, or so we have been told.
The temple has a long history and was founded in 1492. It became known as the Mama Temple in 1665 when a woman who couldn't feed her baby came to pray at the temple and began to lactate afterwards.
Mama Kannon (間々観音)
Entry Fee: free
Opening Hours: 7:30 – 17:00
Address: 152 Mamahonmachi, Komaki, Aichi 485-0048
Website (Japanese only) | Google Maps
---
With all of these temples and shrines to choose from, it is really difficult to decide which one to visit, right? If you have the time feel free to explore, but if you are on a schedule the most popular are Atsuta Shrine and Osu Kannon.
If you want to know more about shrines in Nagoya, check out this in-depth website about spirit animals, protection charms, and important parts of a Shinto shrine.
Did you enjoy this article?
Find more things to do in Nagoya here, or browse our full list of blog posts about Nagoya by clicking here.
You can visit Osu Kannon and learn more about its fascinating history during a Street Food Walking Tour of Osu.
Be sure to follow us on Facebook for new articles every week, and see our Instagram for pictures and stories about Nagoya!
Tell us which of these temples and shrines you would want to visit most and share any other comments below or message us using any of our social media channels.
Tag us 📲
If you have visited one of these or any other shrine or temple in Nagoya, and you want to share about your visit, tag us on social media with #nagoyaisnotboring