If Nagoya is not boring was a hotel rather than a booking site for tours and experiences, it would be the lifestyle hotel Nikko Style Nagoya. Both started operation only last year during the height of the coronavirus pandemic; both like to show off their love for Nagoya, Aichi, and the region in everything they do.
So it was only natural for us to partner with Nikko Style Nagoya.
In July, we (co-founders of Nagoya is not boring Lena and Elly) got to spend a night at Nikko Style, and in this article, I, Lena, would like to share our experience with you.
A Concept for all Senses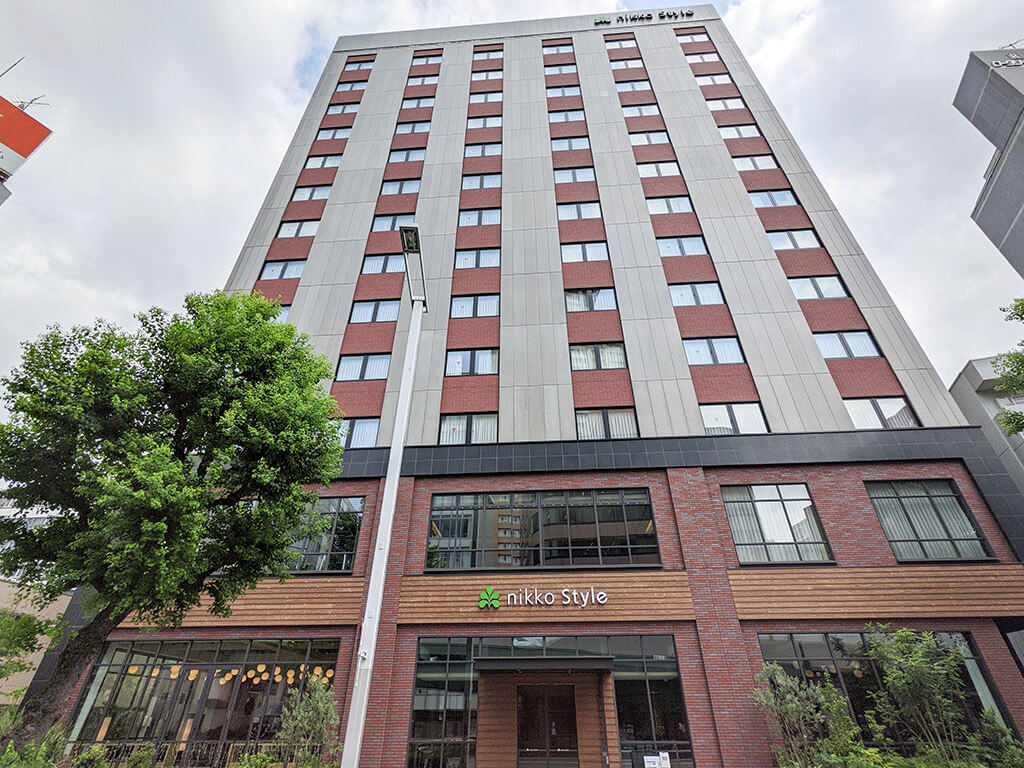 The hotel is conveniently located just 10 minutes by walk from Nagoya Station or around 4 minutes from Kokusai Center Station.
While the hotel's facade looks like any other hotel in the city, you will be in awe of the stylish space that greets you when you enter. We were impressed the first time we visited this lifestyle hotel. You arrive at the spacious hall that functions as a modern French-fusion restaurant and cafe bar on the one side and a comfortable lounge on the other with great windows to let in the daylight.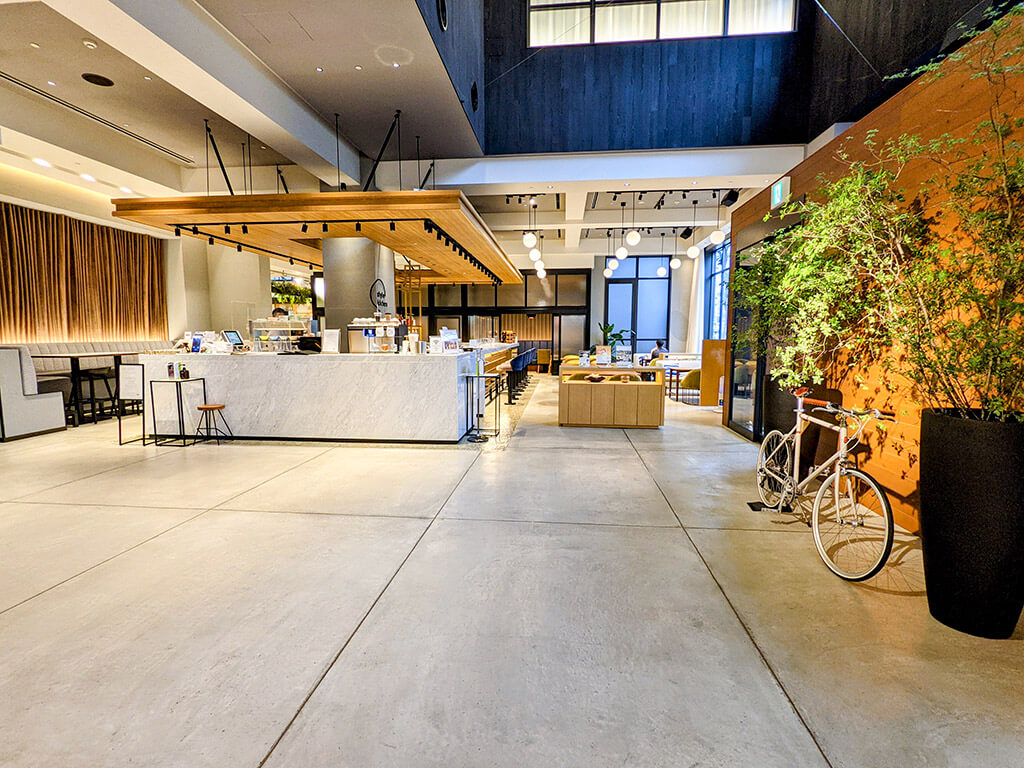 The moment you arrive, you will relax and unwind because the little details calm all senses. Something Nikko Style Nagoya manages to do seamlessly and effortlessly. The whole hotel smells fantastic as if you are in a spa. A significant focus is put on design to please the eye by choosing local artworks that complement the overall concepts of the hotel.
The music throughout the hotel was carefully composed and selected by sound director Kenichiro Nishihara. It is arranged in 24-hour cycles, so songs do not repeat, and within that 24-hour period, songs are selected based on time of day with different tracks played in the morning, noon, and night, resulting in a BGM that is as natural as the air surrounding you. Your room, on the other hand, is equipped with a high-quality Geneva Bluetooth speaker, so you can listen to your own favorite music in the best possible quality. Ensuring great music throughout the hotel.
Rooms at Nikko Style Nagoya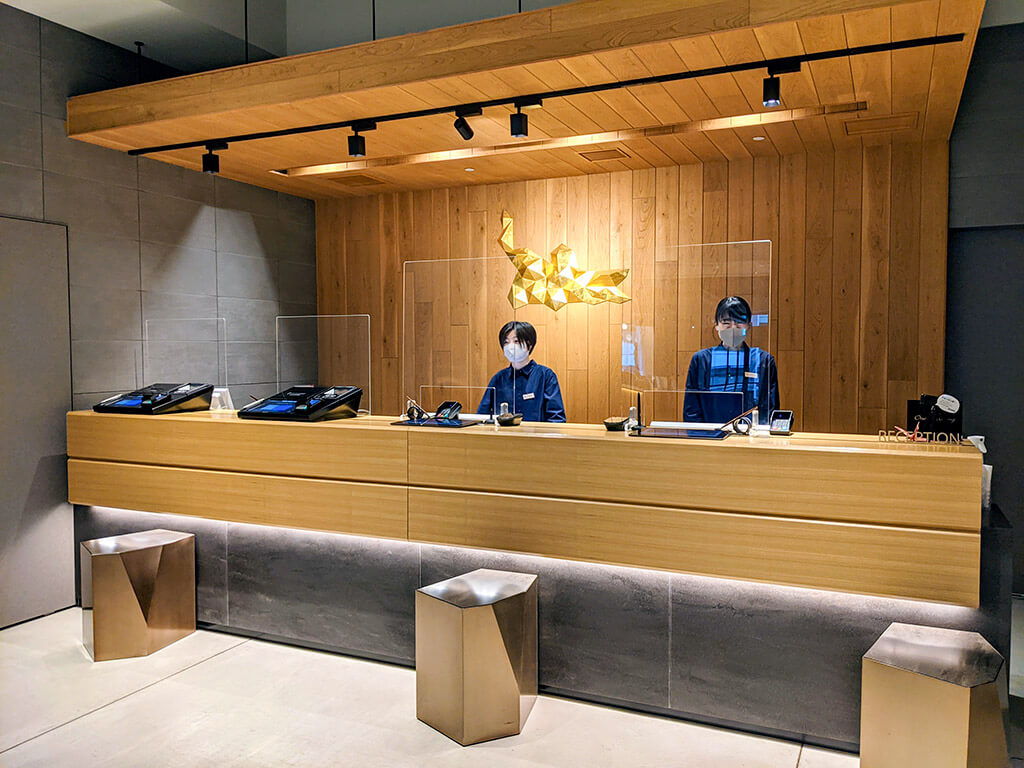 Checking-in goes smoothly thanks to friendly staff proficient in English and the digital check-in via tablet. We were ready to go to our rooms in no time.
Nikko Style Nagoya has three room types, divided by floor.
Deluxe Floor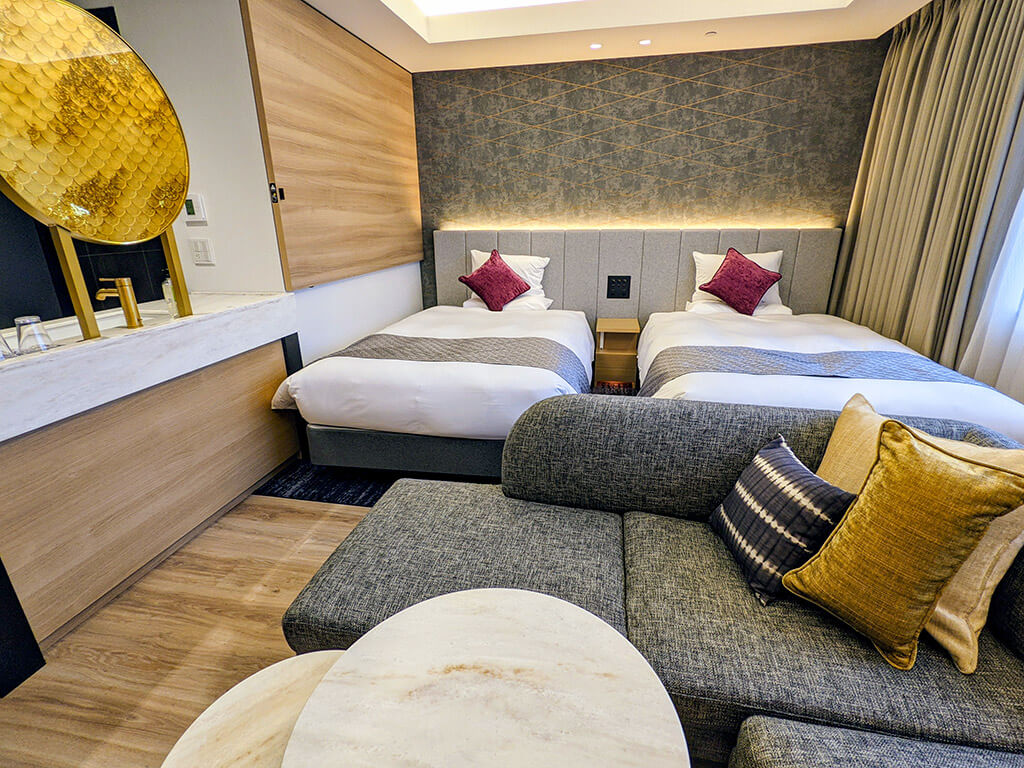 The standard rooms are found on the Deluxe Floor. As the name suggests, these rooms aren't your basic hotel room. They are bright and stylish, with each item carefully selected from the Geneva Bluetooth speaker, Balmuda electronic kettle, the 49 inch 4k TV, and the Simmons mattresses designed for good sleep.
The items that will come into contact with your skin most during your stay are towels, slippers, and room wear. That's why Nikko Style Nagoya is particular about using high-quality items.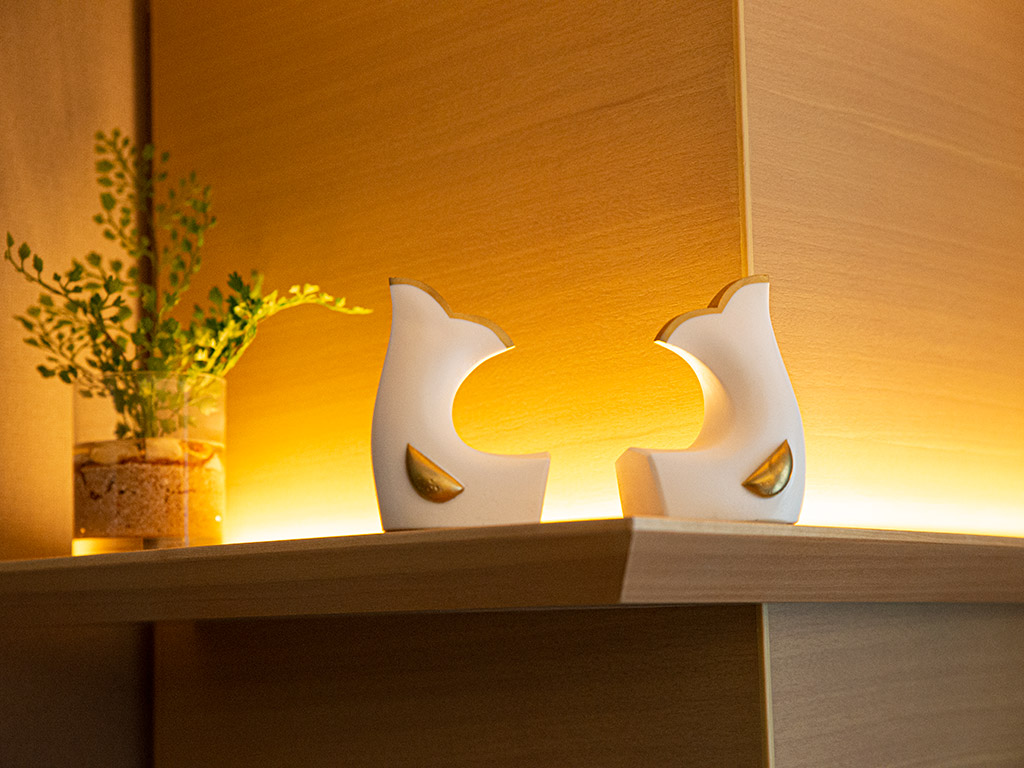 Little locally inspired design touches such as the Shachihoko figurines (the symbol of Nagoya) and the round gold mirror make a stay at Nikko Style Nagoya a seamless extension of your explorations of Nagoya and its culture.
For visitors with children, Nikko Style Nagoya makes sure your stay is as stress-free as possible by providing a wide range of rental items such as cribs, strollers, picture books, toilet seats, soap, nightwear, and more.
Deluxe + Floor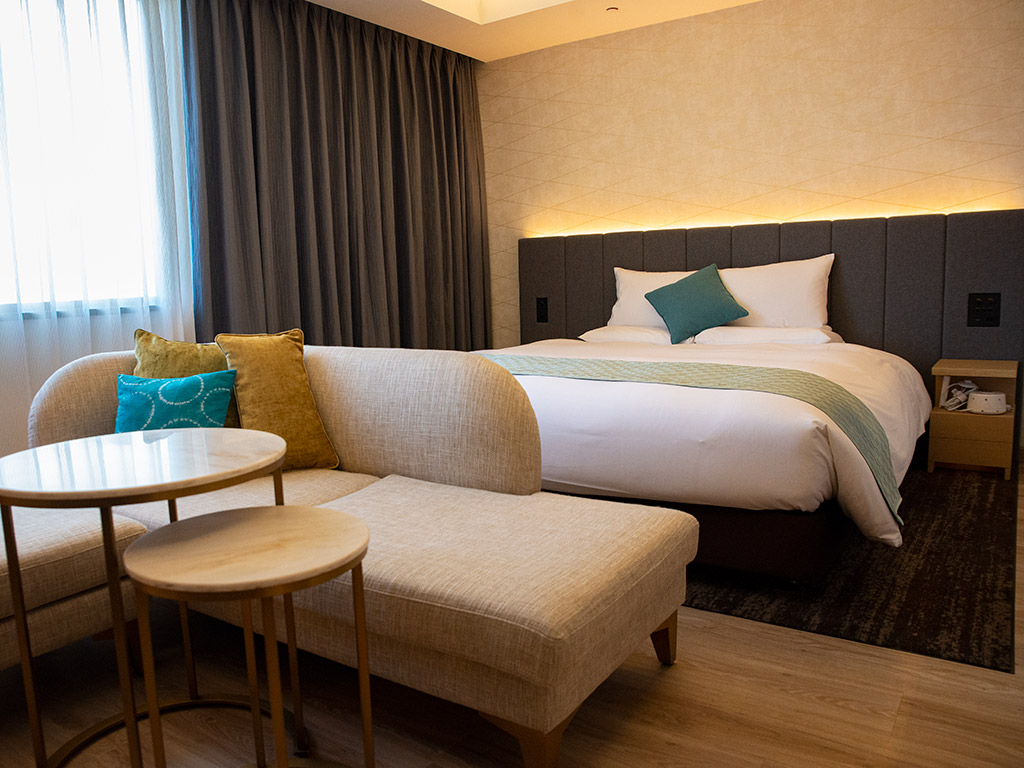 I got to spend the night in a Deluxe + Floor room where everything is about getting a good night's sleep. It was my first time to sleep on an Airweave mattress, and I slept like a baby. This could, of course, also have something to do with the special pillows or the warming eye mask and herbal tea by Ronnefeldt available in this room.
Also available in Deluxe + is a white noise machine to help you sleep, foot pillows, and late check-out at noon, perfect for those who like to sleep in when on holiday.
Premiere Floor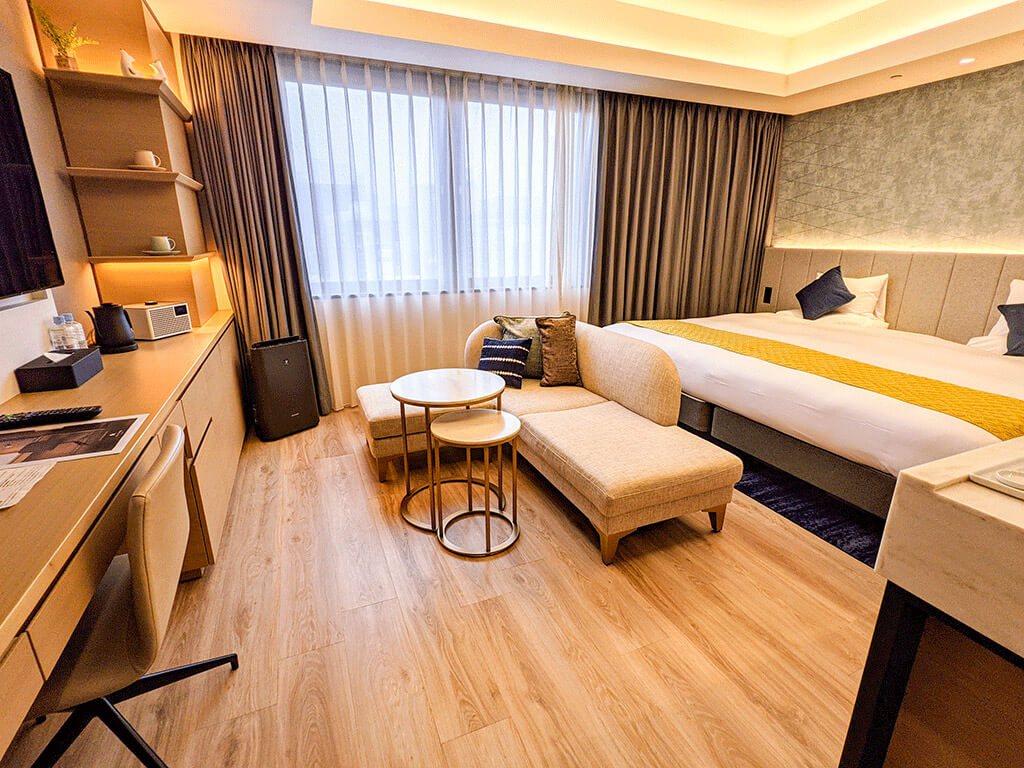 Elly, on the other hand, got to enjoy a Premiere Floor room for a premium experience. In this room, everything is of the highest quality: top-of-the-line organic amenities by PAÑPURI, high-quality tea from Dilmah's t-series, video on demand on the flatscreen TV. This room really makes you feel at home, as it is designed as a premium extension of your home away from home.
Work and Play at Nikko Style
Work in Style…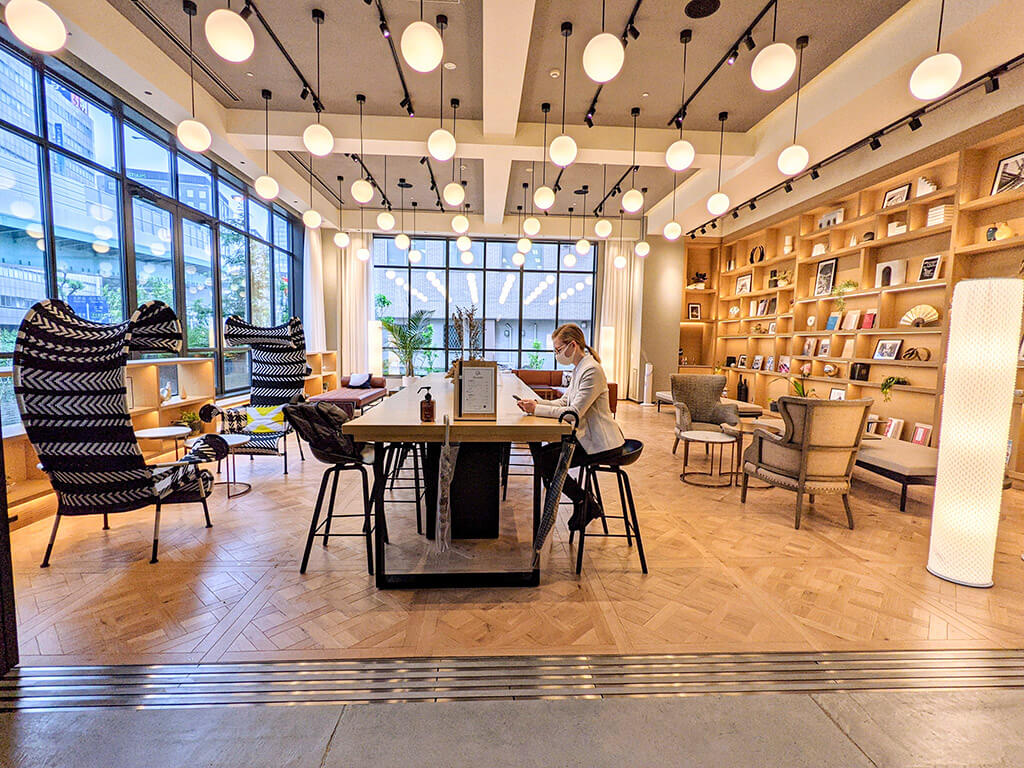 After thoroughly enjoying our rooms, taking funny pictures in front of the stylish and totally instagramable round gold mirror, we had to get a couple of hours' work in.
There are few better places in Nagoya to work at than the lounge at Nikko Style Nagoya. Many seats have outlets and USB ports, and the stylish space is excellent for concentration but also creativity. We felt inspired by the many objects and books decorating the walls, shelves, and tables around us.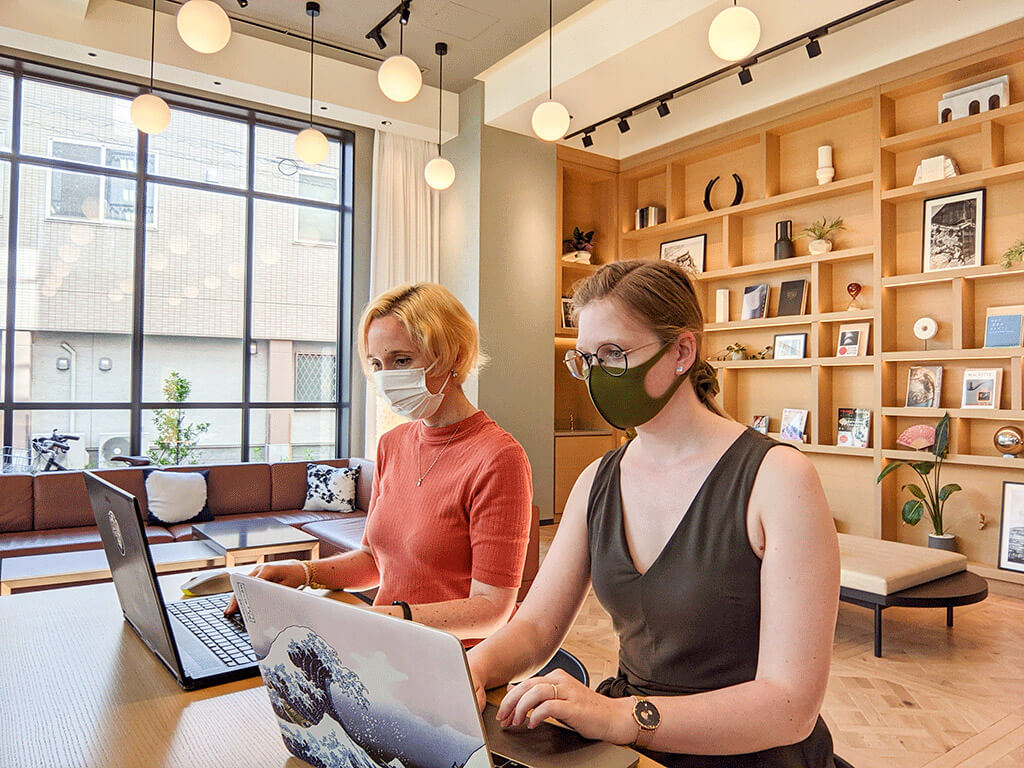 If you happen to stay at a Premiere Floor, this would be an excellent time to get your free drink. And if you are one of those people who works best fueled up on coffee, like me, Nikko Style Nagoya is the best place in Nagoya to get your coffee fix.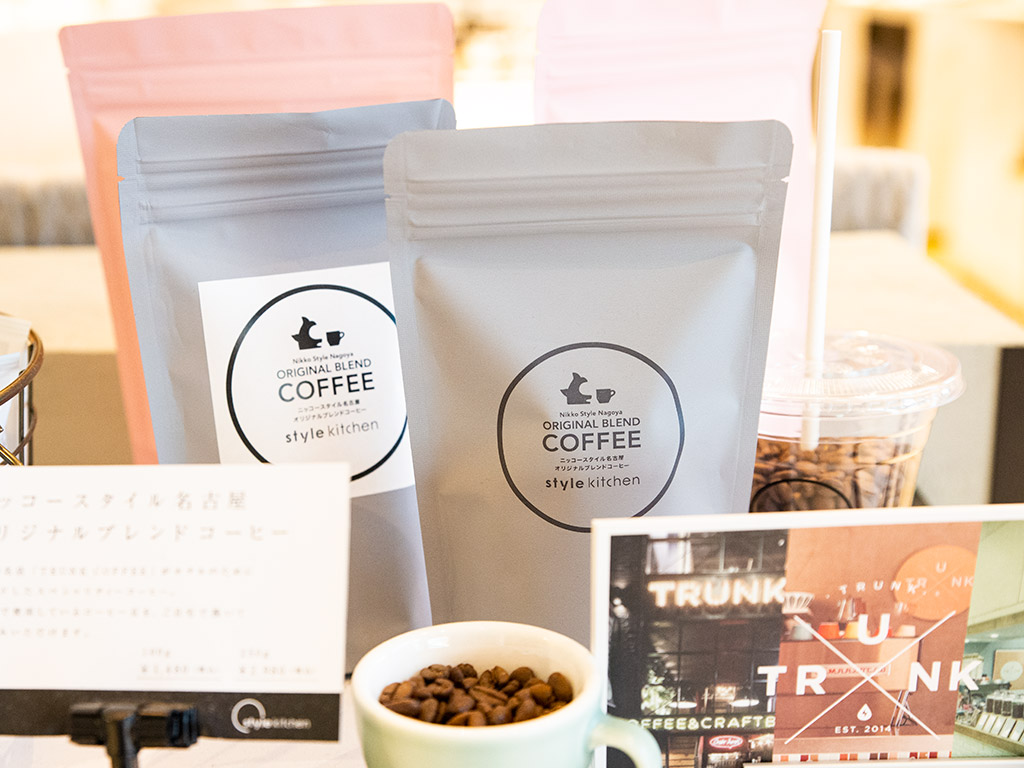 They have partnered with Trunk Coffee, a specialty coffee company here in Nagoya, to receive an exclusive and fair trade coffee blend found only at Nikko Style. But using a great blend of coffee beans isn't the only secret of Nikko Styles' delicious Coffee.
At a cafe, baristas would be in charge of preparing the perfect cup of coffee; at Nikko Style each cup of drip coffee is precisely prepared based on the recipe of Trunk Coffee's owner and barista, and automatically poured using top-of-the-line coffee equipment called POURSTEADY developed by an ex NASA engineer.
Everyone knows good wine is made better by pouring it in the right wine glass. Nikko Style and Trunk Coffee believe the same is true for coffee. That's why they developed the perfect cup for their coffee made from Mino ware (Gifu), with a wine barrel shape to hold the coffee aroma.
And to be honest, my morning coffee was the best I have had in Nagoya so far.
…Or do a different kind of Workout at the Fitness Gym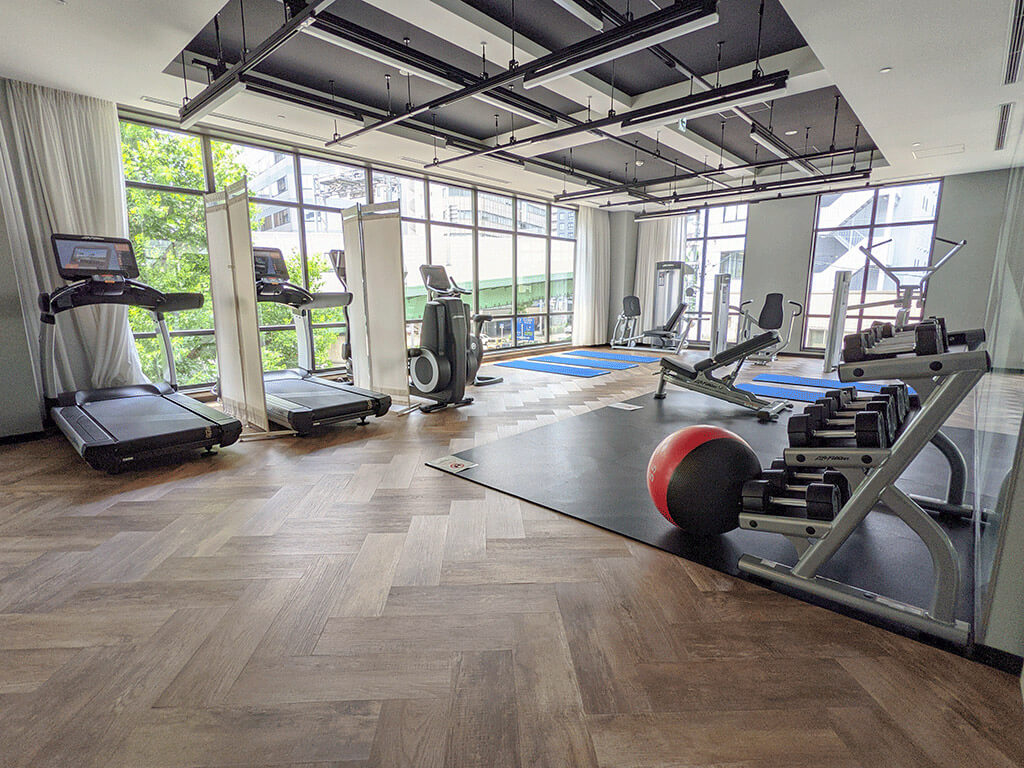 If you don't want to work, which is understandable, you are on holiday, after all, you could spend your afternoon at the complimentary fitness gym. We were astounded at the size of the gym and equipment available, a better selection than I have seen at many luxury hotels around Japan.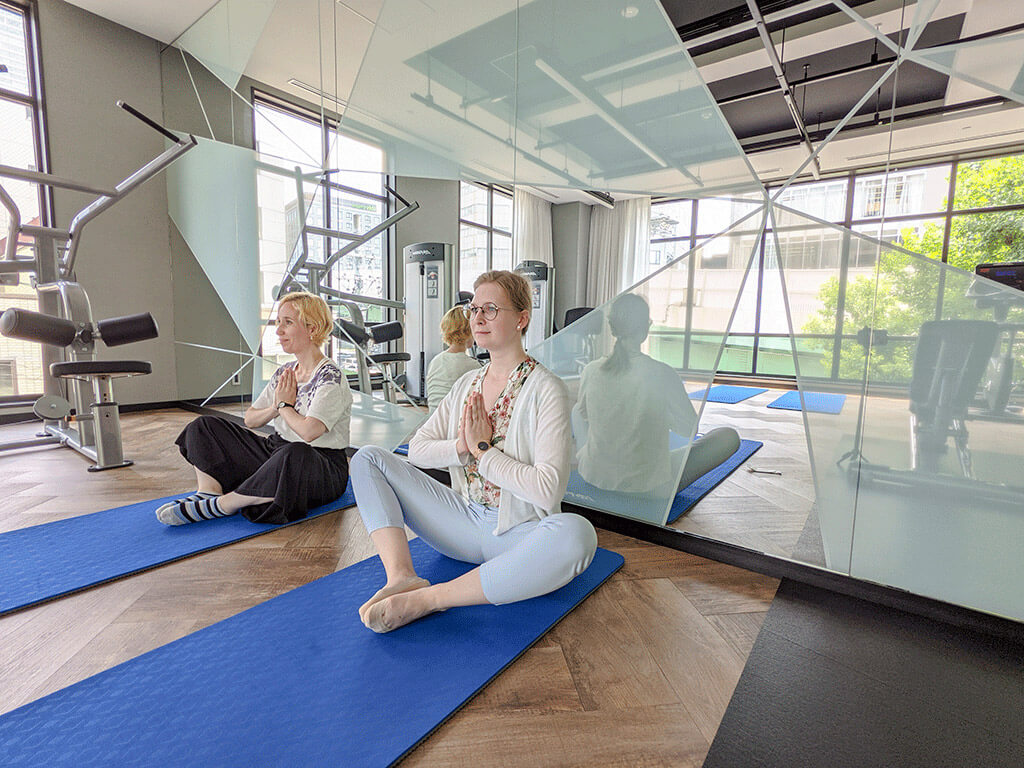 The gym is open 24 hours a day, so you can use it whenever it suits you. You could start with cardio on the Life Fitness Premium Elevation Series running machines while looking out through the floor-length windows. Do some strength training using a selection of dumbbells or devices, and finish off with some yoga or stretching on the many available yoga mats. We tried some yoga poses to feel more focused for the rest of the day.
Proverbially a picture says more than a thousand words, and a video says more than any picture. Have a look at what it's like to spend your day at Nikko Style:
Rent a Bicycle and Explore the City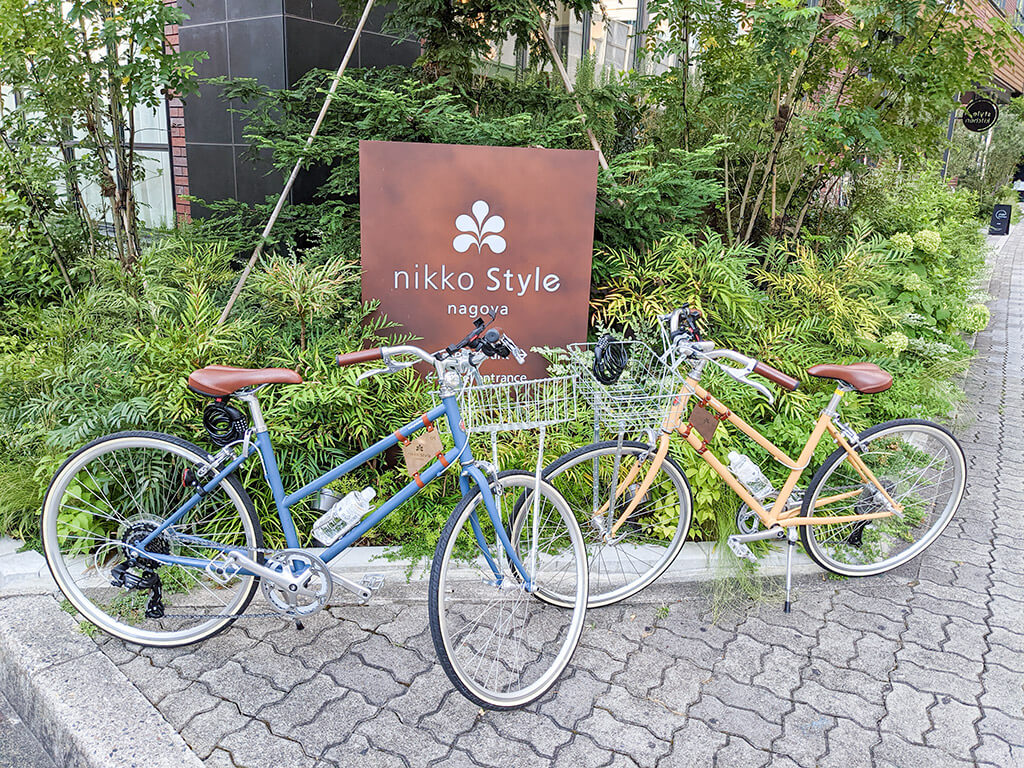 Of course, if you have come to Nagoya as a tourist, the best way to spend your afternoon is by exploring the city. And at Nikko Style Nagoya, you have the option to rent a bicycle to do so.
The service is available upon request at the front desk; no reservation is required. The bicycles from Tokyobike are stylish, functional, and comfortable. Perfect for a bicycle tour around the city.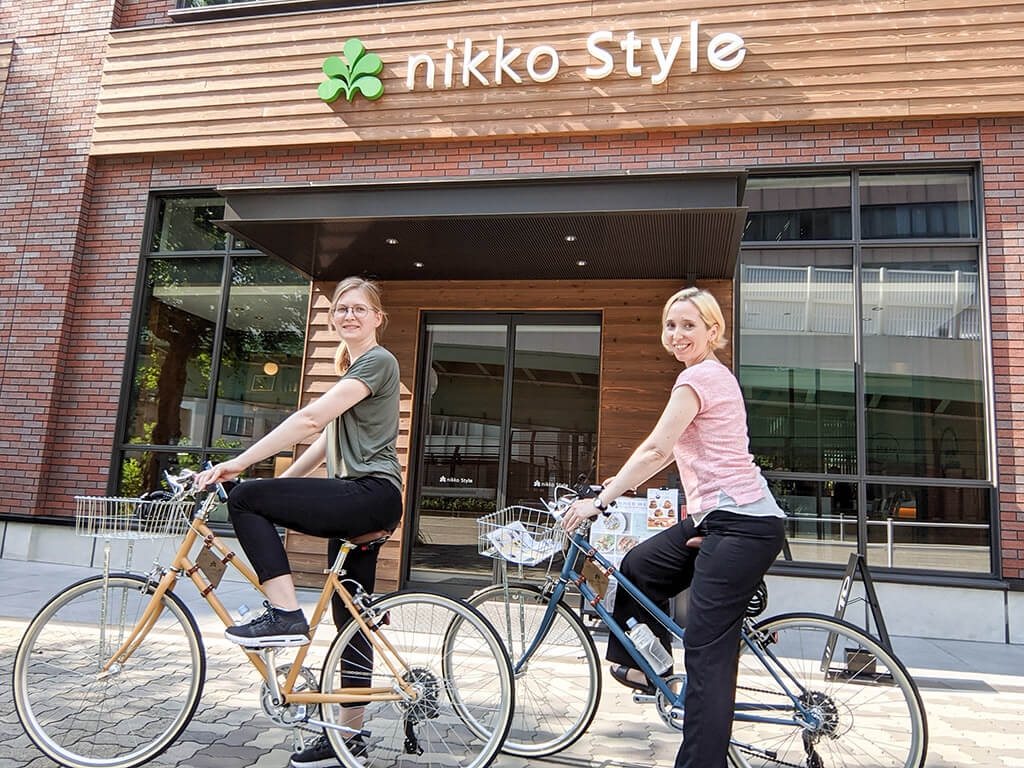 The area around Nikko Style has a lot to offer as well. We just started riding randomly and happened upon a beautiful Shinto shrine and a Buddhist temple just behind the hotel. The central fish market is just around the corner as well, as is Endoji, a charming roofed-over shopping street.
Dine in Style at Nikko Style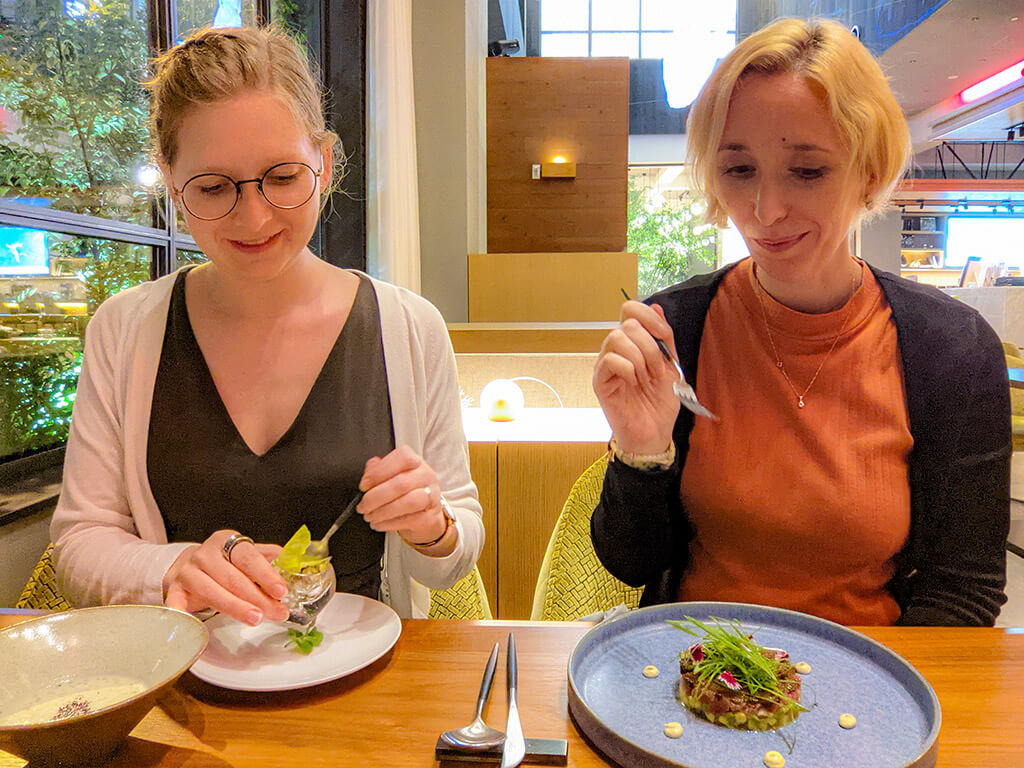 No matter if you spent your afternoon working, working out, or exploring the city when dinner rolls around, you will probably be famished. At least we were.
At the Style Kitchen, the restaurant of Nikko Style Nagoya, guests of the hotel, as well as other patrons, can enjoy a French-inspired fusion a la carte or a course dinner.
If you choose the Dinner Course, a multi-course menu from soup, salad, and fish and meat dishes to dessert and coffee (or tea) await you. All are made from carefully selected local and seasonal ingredients, presented with much attention to detail on locally crafted tableware from Mino (Gifu).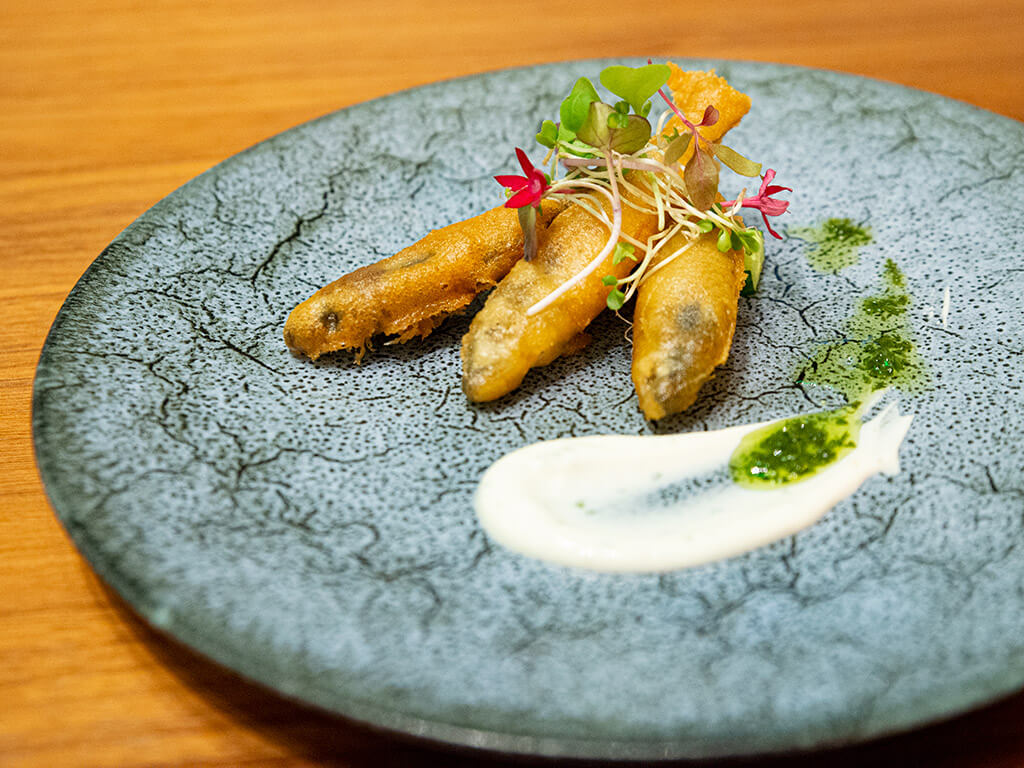 During our dinner, I especially loved the deep-fried baby sweetfish with two types of sauce. Sweetfish (or Ayu) is a local river fish, especially popular during the summer months. The fish is so delicate that it can be eaten whole.
A la carte is also an option, especially if you prefer to choose what dishes arrive at your table. Cold appetizers such as a selection of cheeses or hot appetizers such as fish tacos with baked banana and a hint of cinnamon are just two delicious options to start your dinner. Main dishes range from fish plates to burgers and steak.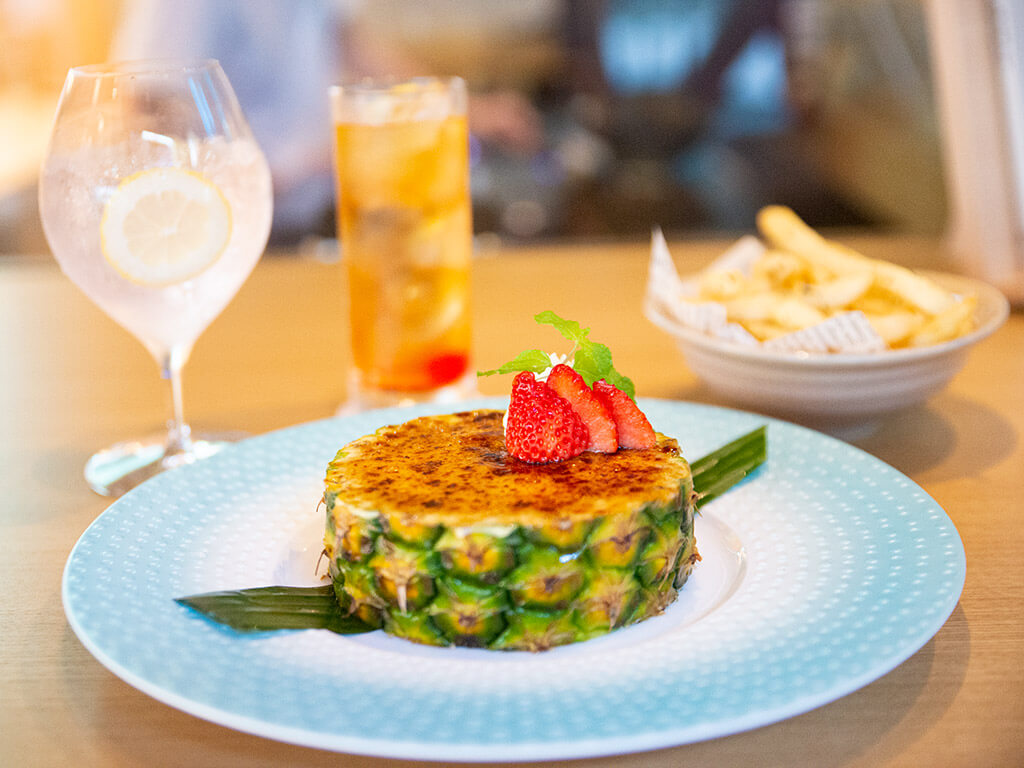 Make sure to leave room for dessert! The perfect end to a perfect dinner at Nikko Style is the pineapple Cream Brulee. A match made in heaven that we both fell in love with at first bite.
Read this article to find out more about our experiences at the Style Kitchen for lunch, dinner, and cocktails.
Chill Out and Fall Asleep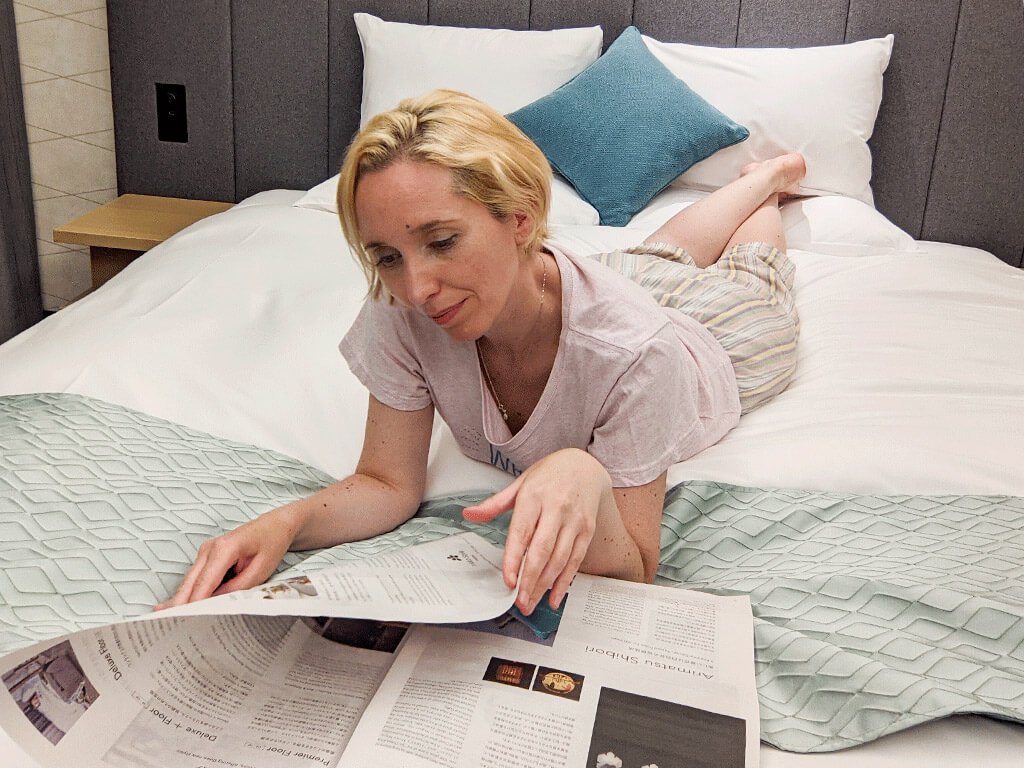 I spent the late evening thoroughly relaxing in my room by taking a long shower and just chilling on the comfortable bed watching Netflix on the big tv.
Before going to sleep, I turned on the white noise machine, put on the warming eye mask, and enjoyed the feel of the fresh sheets. I was asleep in no time, and I felt very rested when I woke up early the following day.
Elly, on the other hand, spent the whole night using the on-demand video service to watch a couple of movies while applying the organic beauty treatments she had in her room. She felt so relaxed that after a couple of movies, she finally fell asleep.
Breakfast, the Most Important (and Satisfying) Meal of the Day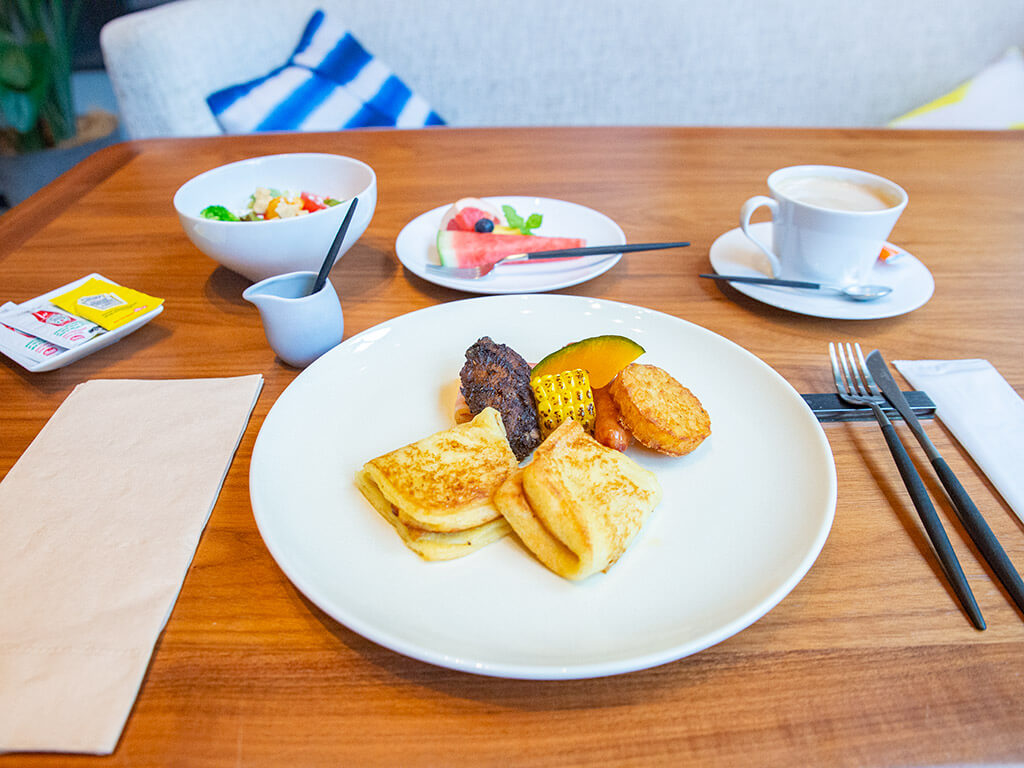 I have to admit after our voluminous dinner the night before; I wasn't particularly hungry in the morning. I'm not usually a breakfast person, so I didn't think I would eat very much. And Elly felt the same way.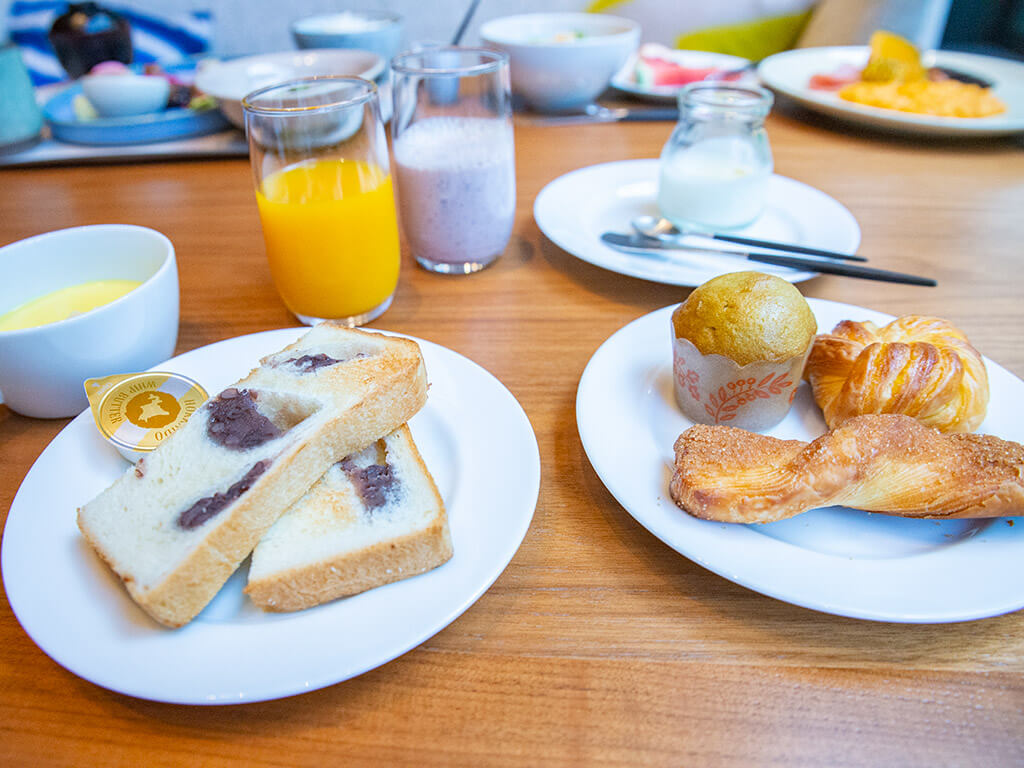 But we were wrong. The selection of breakfast items on the bar counter, including the choice of bread from a local Nagoya bakery, soup, yogurt with honey from Kuwana (Mie), local premium mandarin and tomato juices, coffees, and teas were so tempting. Not even mentioning the three different breakfast sets to choose from: scrambled eggs, french toast, or Japanese-style breakfasts.
It was served with a colorful side of sausage, chicken, hashbrowns, as well as a salad and also fruit for dessert.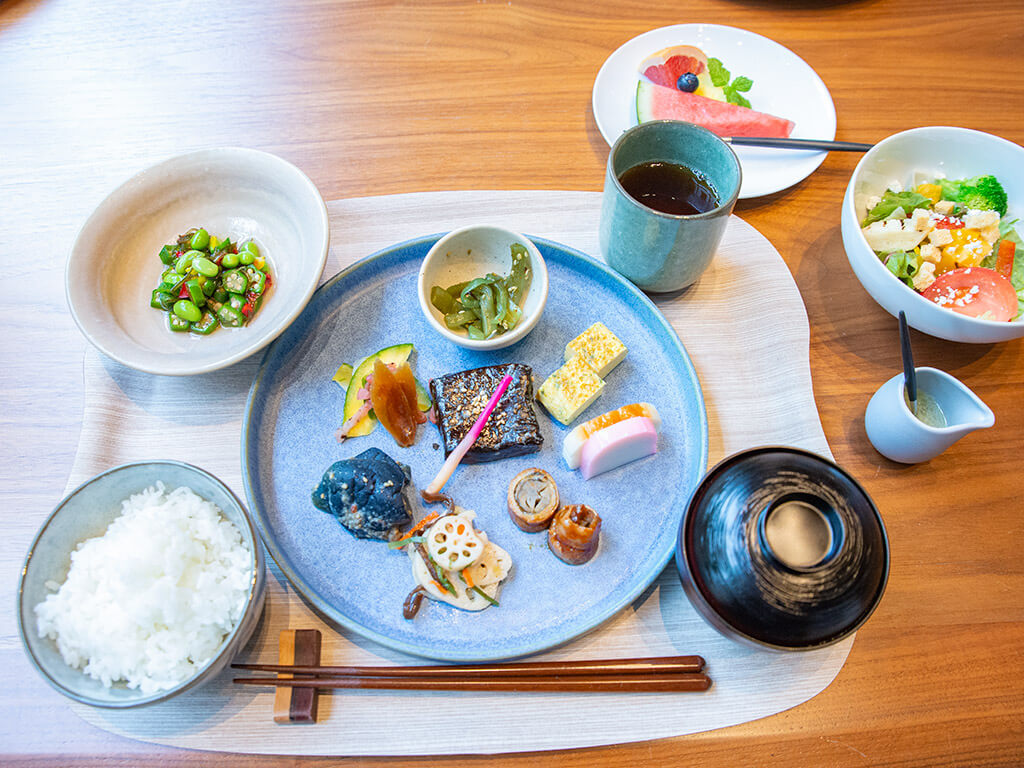 I ate more than my fill and enjoyed every bite. Elly tried the healthy Japanese-style breakfast and some red bean paste toasts.
The Hotel as an Event Space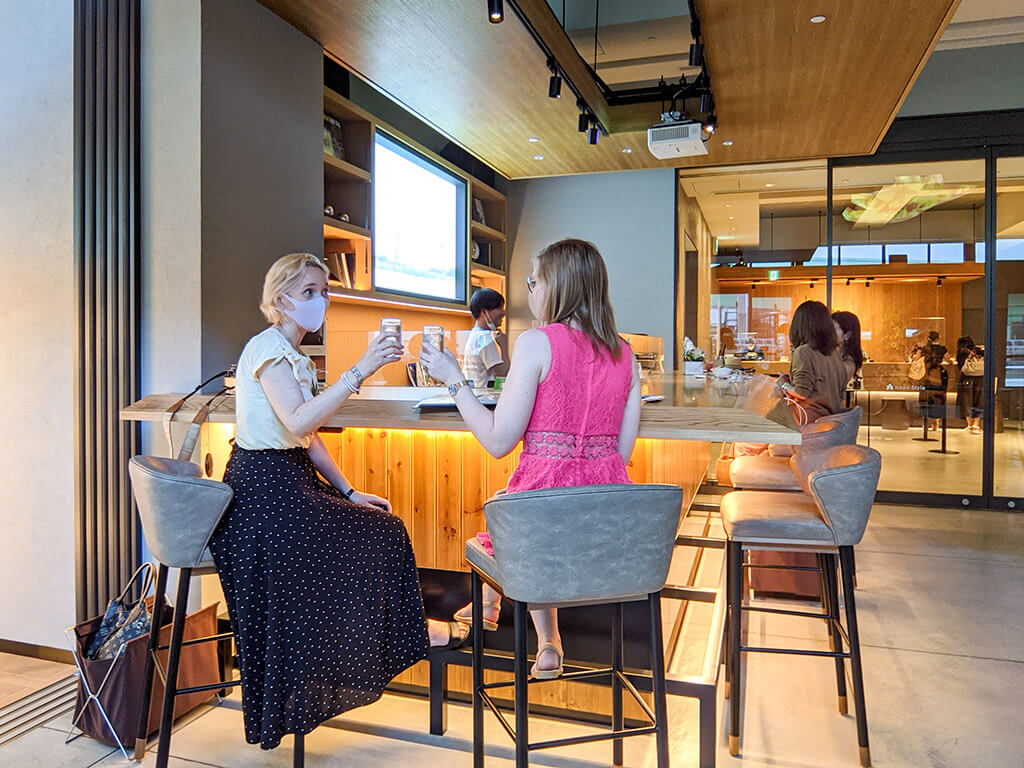 Nikko Style Nagoya hosts regular events for their guests and the general public, such as DJ live events, music performances, and fitness classes.
We enjoyed a DJ live event by Kenichiro Nishihara, the sound director of Nikko Style while drinking some stylish cocktails and delighting in some snacks and sweets. Watch our Instalive of the DJ live event.
Find out about upcoming events on the Nikko Style Nagoya website.
And let this video of Nikko Style Nagoya at night convince you to come by for dinner, drinks, or the next DJ live event:
How to Stay at Nikko Style Nagoya
After breakfast and quick checkout, we decided to enjoy the atmosphere a little longer by working for a couple of hours at the lounge. But eventually, it was time for us to leave the luxury and comfort of Nikko Style Nagoya.
We will be back to enjoy more lunches and dinners, live events, and maybe even another hotel stay. After all, everyone needs a relaxing staycation once in a while.
If you want to stay at Nikko Style during your trip to Nagoya, you can book a room via the usual booking websites such as booking.com or book directly on the Nikko Style Nagoya website.
Nikko Style Nagoya (ニッコースタイル名古屋)
Access: 10-minutes walk from Nagoya Station
Address: 5-20-13 Meieki, Nakamura Ward, Nagoya, Aichi 450-0002
Website | Google Maps
---
Did you enjoy this article?
Make sure to also check out our other posts about Nagoya and trust us if we say Nagoya is not boring!
Be sure to follow us on Facebook for new articles every week, and see our Instagram for pictures and stories about Nagoya!
Tag us 📲
Would you like to stay at Nikko Style Nagoya? Tell us why or why not in the comments or on social media! Also, don't forget to tag us with #nagoyaisnotboring