If you are planning a trip to Nagoya, or have just arrived, and now you are wondering about the best way to explore the city (or simply how to best get to your hotel) this post is for you.
It outlines all possible modes of transportation in Nagoya, as well as your options to explore the surrounding areas outside of the city.
This guide includes multiple tips that can save you quite a bit of money, so we suggest you read it carefully.
How to Get Around the City?
For travel inside the city limits, you have almost unlimited budget-friendly options. Choose the mode of transport that seems best for you. And when in doubt, ask Google Maps. It usually has a good answer telling you how to get from point A to B.
Explore Nagoya on Foot!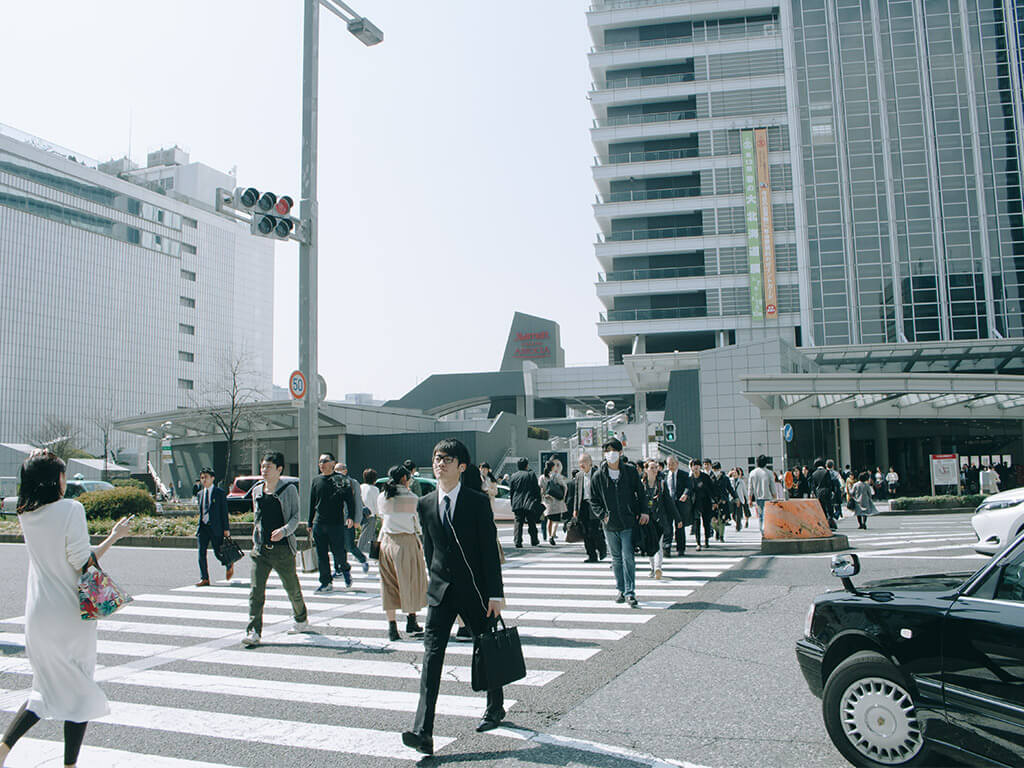 The center of Nagoya, with many of the interesting sights, isn't as spread out as you might think. If you are good on foot and you enjoy walking you can get to many places just by walking between them.
This is, of course, the cheapest option, at least if you don't have to get a foot massage at the end of the day because your feet are tired from walking.
To give you an idea of distances, here are a couple of examples.
From Nagoya Station, you walk for about 15 minutes to reach the Toyota Commemorative Museum of Industry and Technology, a distance of 1.3 kilometers (0.8 miles). Noritake Garden lies on the way and is also worth a visit.
Do you love industry and technology related museums? Read this post!
You can also walk to Sakae, the downtown area of Nagoya, which is 30 minutes from Nagoya Station (2.2 kilometers or 1.3 miles). You will pass through business and nightlife districts on your way. Sometimes exploring your surroundings on foot is half the fun.
Rent a Bicycle and See More of the City in Less Time.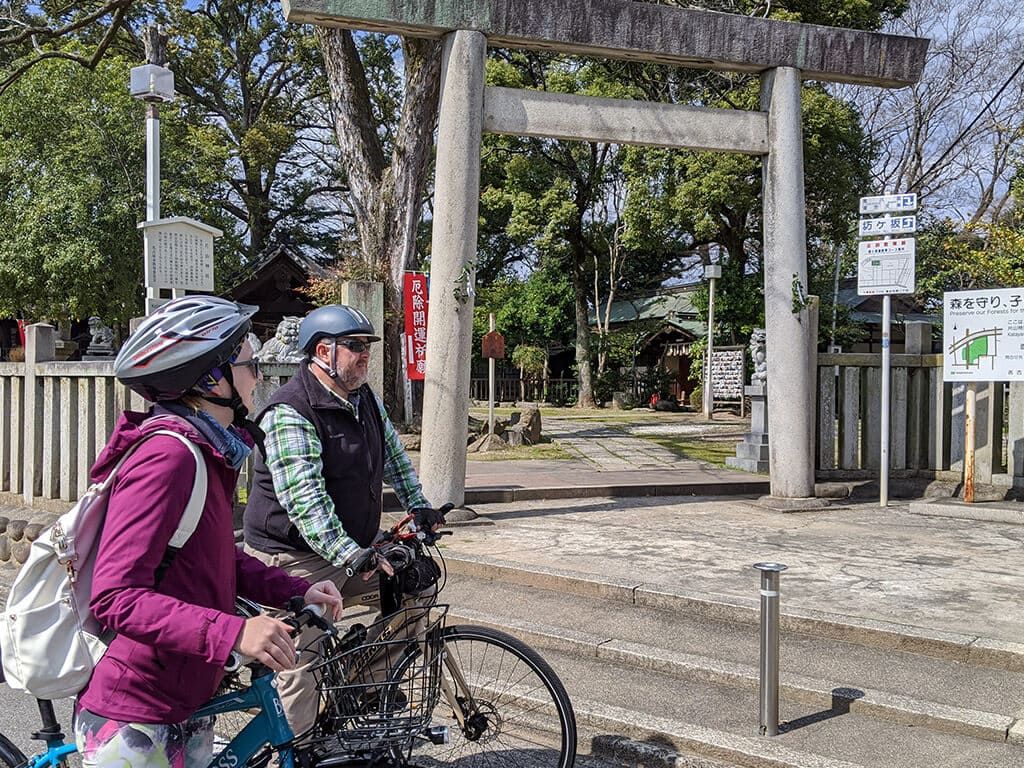 Getting around on a bicycle might just be the most convenient option. We can understand that for many people 2.2 kilometers walking seems quite a distance, but by bicycle, you will arrive within just a couple of minutes.
Nagoya is also mostly flat making it the perfect place to get around by bicycle.
Some hotels and hostels in Nagoya offer bicycle rental to their guests for free or for a reasonably cheap fee. It's best to inquire at the time of booking.
If the hotel doesn't offer bicycle rental the hotel staff might know a place where you can rent one instead.
Or you can try checking out the following rental options.
One bicycle rental service can be found to the west of Nagoya Station. Rentalin Nagoya doesn't have an English website. But we are sure you could ask your hotel to help you make a reservation. Rentalin has a bicycle delivery service that seems very convenient and their price for a standard city bicycle is only 1,500 yen with an additional 500 yen for extra days.
As in other places, multiple companies offer bicycle rentals at locations all over the center of Nagoya. Some examples are Derachari, Cariteco Bike, and Charichari. Unfortunately, their websites and apps are in Japanese only and we believe it is very hard to sign up to and use these services without being able to read Japanese.
Make sure to park your bicycle only in places where it is permitted to do so. In some cases, bicycle parking costs 100 yen per day. In other places it is free. If you park somewhere where it is not permitted, you run the risk of your bicycle being confiscated.
Getting Around the City via Taxi. Probably the Most Expensive Option to Explore Nagoya.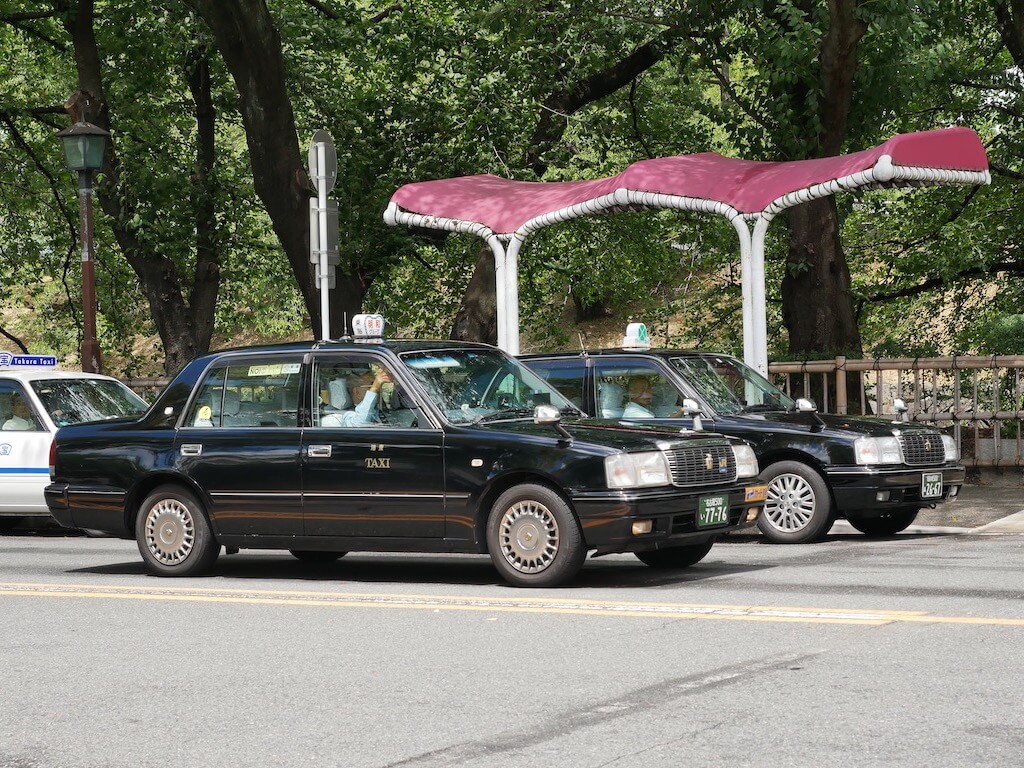 Taxis are another convenient way to get around Nagoya, especially popular with business people. Because time is money. And a taxi is in many cases the fastest option to get around the city.
It is not a cheap option, however. And in fact it is probably the most expensive one on this list.
There are multiple taxi companies in Nagoya but they all have a similar price setting. For a trip that is less than 1.2 kilometers (0.7 miles), you pay a flat fee of around 480 yen for a normal sized taxi. After that, every 276 meters (885 feet) cost an additional 80 yen. Most taxi companies charge a 20% surcharge between 10 p.m. and 5 a.m.
At most major stations such as Nagoya Station or Kanayama Station, you will find a taxi stand at the entrance. In other places you can also hail taxis on the street. You want to look for taxis with the sign reading '空車' which means this taxi is not currently transporting a customer. The sign will be lit up in red. If you see a green light reading '満車' it means the taxi is currently transporting a passenger. Flag it down by raising your hand and it will stop at a safe location.
Taxi doors in Japan usually open and close automatically, so you don't have to do that yourself.
You can pay cash or with a credit card for most taxis and you also have the option to pay with your IC Card such as Pasmo, Suica, or Manaca. Just to make sure that a credit card is acceptable, check with your driver at the start of your ride.
Most taxi drivers in Nagoya don't speak English. It helps if you have your destination written down.
Take the Nagoya City Bus to See More of the City.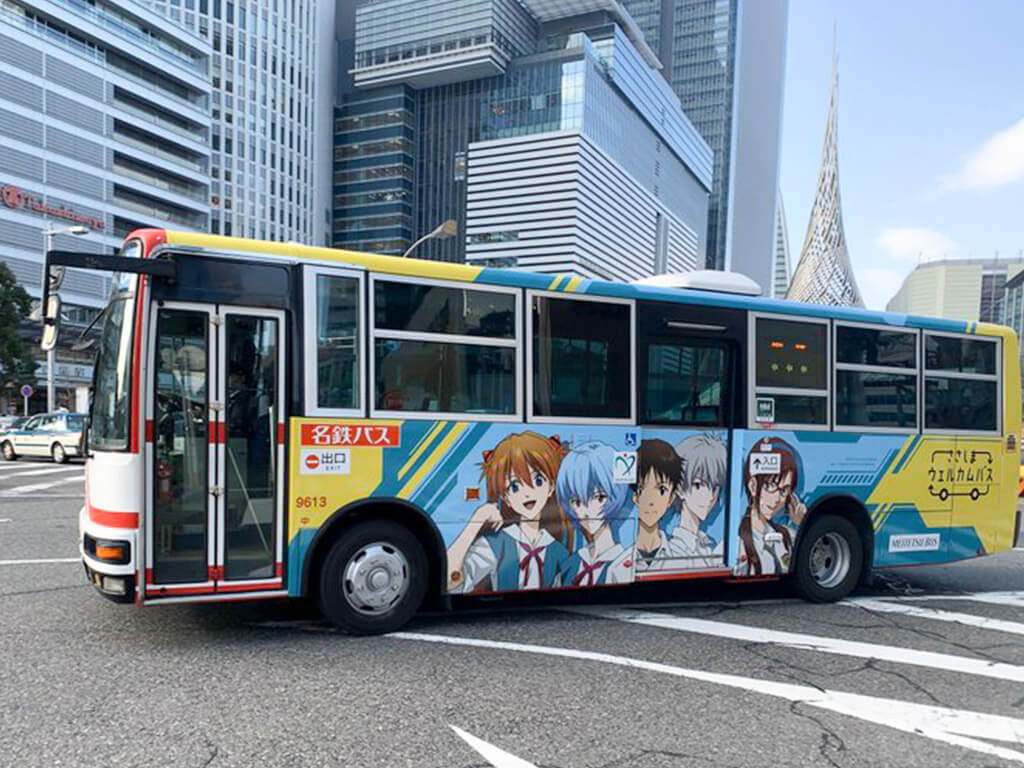 The city bus network reaches all parts of Nagoya city with the two biggest bus terminals at Nagoya Station and Sakae Station (Oasis 21). Smaller bus stops can be found all over the city.
A single ride on all buses in Nagoya costs a flat rate of 210 yen. In Nagoya, you board the bus from the front and pay the amount when boarding the bus. You can either pay cash (drop the exact change in the box) or use your IC card (by touching it to the reader next to the driver).
In addition to city buses, Meitetsu also operates a bus fleet that can be convenient for travel within the city but also to get to destinations outside. The Meitetsu Bus Terminal is located between Meitetsu and Kintetsu Nagoya Station.
Buses in Nagoya can be confusing and while they are cheap to use they are often not very tourist-friendly. It can be difficult to find the right bus stop and bus without knowing Japanese. Google Maps can help, but sometimes it just isn't enough.
Explore the City Like a Tourist by Riding the Meguru Sightseeing Route Bus.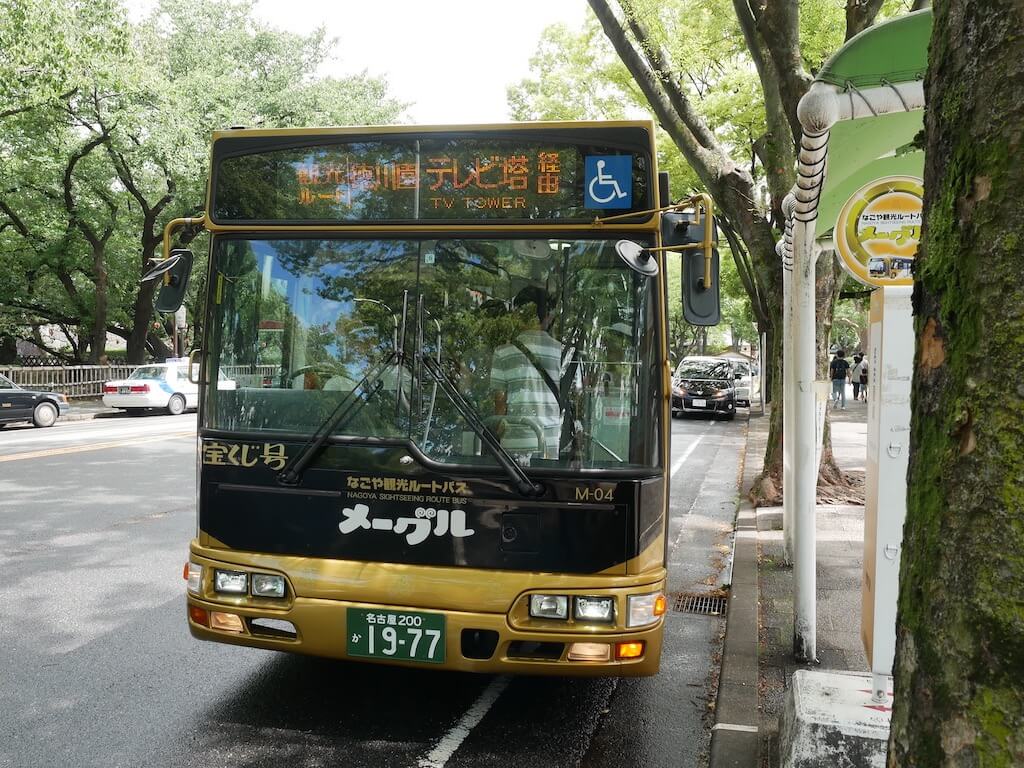 One bus that is very tourist-friendly is the Me~guru Sightseeing Route Bus. It passes some of Nagoya's best sights including the Toyota Commemorative Museum of Industry and Technology, Nagoya Castle, and the Tokugawa Art Museum and Garden. It also passes through Sakae and along lesser-known spots in Nagoya.
If you love Japanese Gardens like Tokugawa Garden, read this post for a list of gardens and parks in Nagoya.
A single ride costs 210 yen, and a day ticket just for this sightseeing bus costs 500 yen. Many attractions and restaurants along the route offer amazing discounts to holders of this day ticket, which makes it a very economical option.
Since most museums in Nagoya are closed on Mondays, the Meguru Bus also only runs from Tuesdays to Sundays. On weekdays buses leave every 30 to 60 minutes, on weekends and holidays every 20 to 30 minutes.
You can buy your ticket on the bus from the bus driver, or at the bus stop at Nagoya Bus Terminal.
Do It Like the Locals, and Ride the Subway in Nagoya.
Subways might just be the most convenient and easiest way to get around Nagoya. There are 6 subway lines: Higashiyama Line (yellow), Sakuradori Line (red) , Meijo Line and Meiko Line (purple), Tsurumai Line (blue), and Kamiida Line (pink).
Meijo Line is a loop connecting all the other lines, and there are many options to transfer between the lines to get to your destination as quickly as possible.
Depending on the distance a one-way fare costs between 210 and 340 yen. Transfers between subway lines are counted as one trip. Compared to prices in Tokyo, the Nagoya subway system is a bit expensive.

Buy your one-time use ticket at the ticket machine. The newer machines can be switched to English language. On the board above the machine check the station you want to go to. Displayed below the station name is the amount it costs to get there. Select the right amount on the display and press the buttons on the left side to select the number of passengers. Insert your money and you will get your ticket and change.
Pass the ticket through the ticket gate when entering the station. Hold on to your ticket and insert it into the ticket gate at your destination. The one-time ticket slip will not be ejected again once you have arrived at your destination.
Other Train Lines in Nagoya You Might Want to Use.
Aside from subways, there are 2 other train lines in Nagoya not operated by the same company.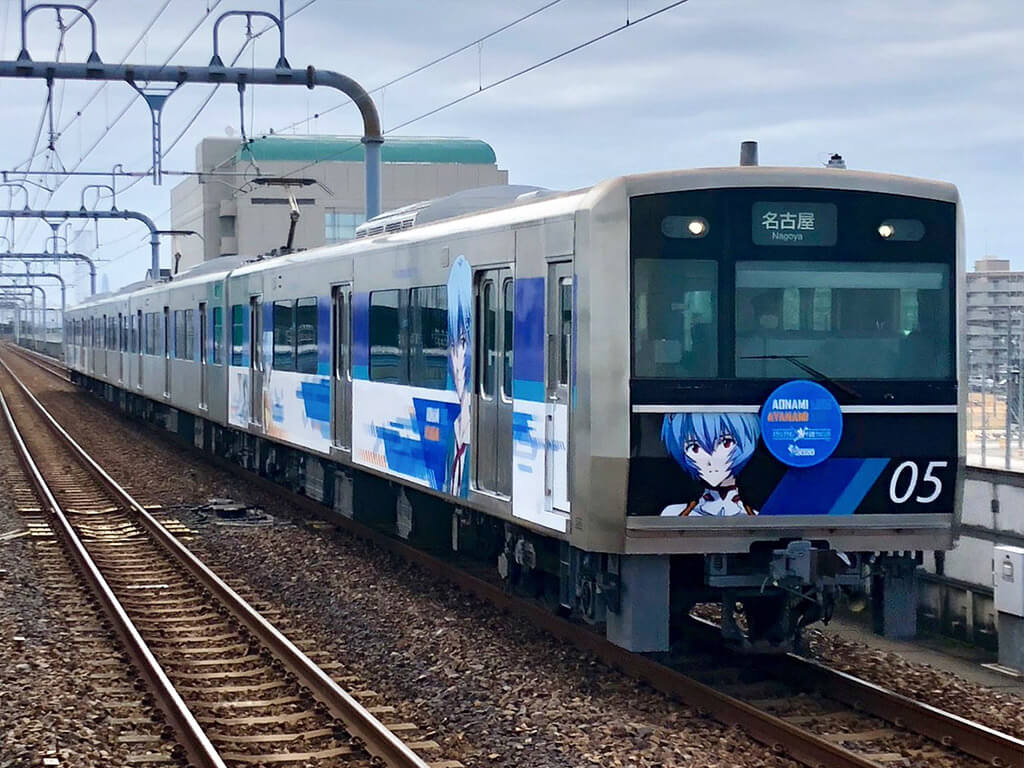 Aonami Line runs between Nagoya Station and Kinjo-Futo Station where Legoland Japan, SCMaglev Rail Park, and Sealife are located. The whole line is 15 kilometers long and it takes 24 minutes to go from one end to the other. The cheapest fare is 200 yen, to go all the way it costs 350 yen.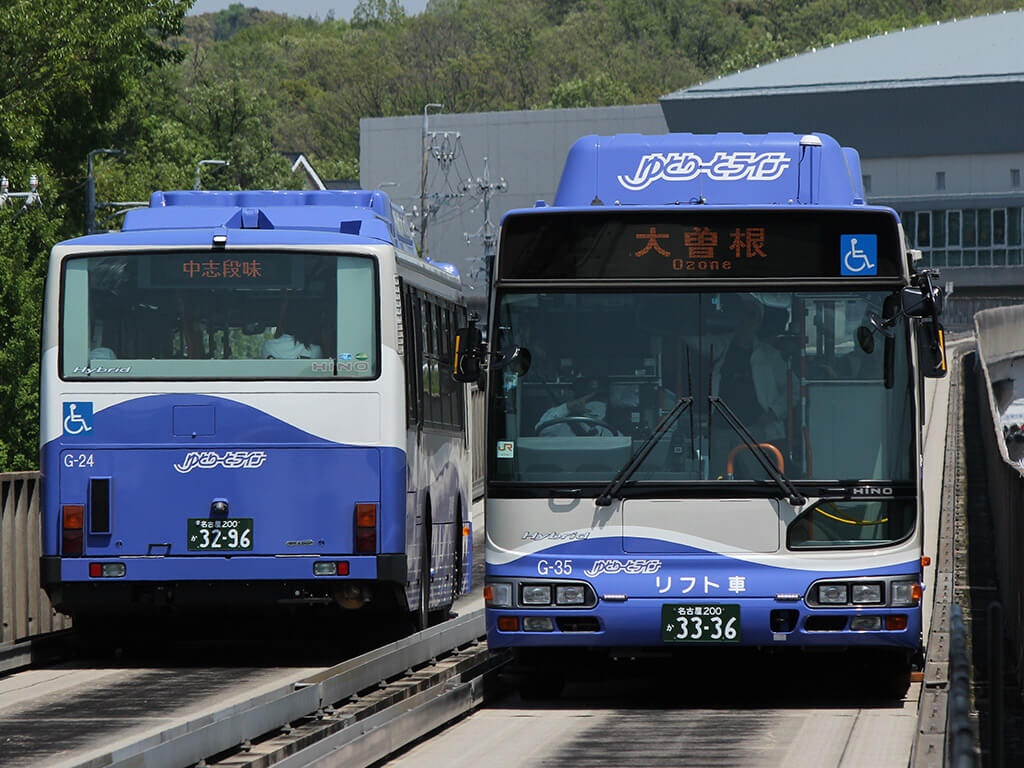 The Yutorito Line runs from Ozone Station to Nakashidami/Kozoji. Interesting about this line is the fact that it is a bus route with a guideway bus system operating on elevated tracks in the city center, and functioning as a normal bus in less congested areas.
To ride the Yutorito Line enter the bus at the rear, and take a ticket. When exiting the bus at the front pay your bus fare. If you use an IC card touch it when boarding and when getting off the bus. The one-way fare costs between 200 and 440 yen.
Money-Saving Day Tickets for Subways and Buses in Nagoya.
Aside from the one time tickets, there are convenient one day and 24-hour tickets for the subway and buses in Nagoya.
If you are planning on riding the bus or subway more than 2 to 4 times, it already makes sense to purchase a day ticket (depending on the ticket and price per ride).
| Ticket | Adult Fare (Yen) | Child Fare (Yen) | Subway | Bus | Meguru Bus | Days |
| --- | --- | --- | --- | --- | --- | --- |
| Shoryudo Nagoya 1-Day Ticket | 620 | – | yes | yes | yes | Everyday |
| Weekend Eco Ticket | 620 | 310 | yes | yes | yes | Weekend Public holiday 8th day of the month |
| Bus & Subway 1-Day Ticket | 870 | 430 | yes | yes | yes | Everyday |
| Nagoya Subway 24-Hour Ticket | 760 | 380 | yes | no | no | Everyday |
| Bus 1-Day Ticket | 620 | 310 | no | yes | yes | Everyday |
| Meguru Sightseeing Bus 1-Day Ticket | 500 | 250 | no | no | yes | Tuesday to Sunday |
The best option for tourists on a temporary visitor visa is the SHORYUDO Nagoya Subway & Bus 1-Day Ticket. It costs 620 yen and with it, you can use all subways, buses, and the Meguru Sightseeing Bus. You can use this ticket every day of the week and it is cheaper than all the other options.
The only downside is that there is no discounted ticket for children and that you have to buy it at specific locations.
Find the list of locations here.

If you happen to be in Nagoya on a weekend, public holiday, or the 8th day of the month you can purchase a Weekend Eco Ticket (Donichi Eco Kippu) for 620 yen. A ticket for children is available and it costs 310 yen. With this ticket, you can use subways, buses, and the Meguru bus for 1 day. Tickets can be purchased using the subway ticket machines.
The standard Bus and Subway 1-Day Ticket which can be used on any day of the week costs 870 yen for adults and 430 yen for children. It makes sense to get this one for your child if you use a Shoryudo Nagoya Subway & Bus 1-Day Ticket. Or if you cannot get to one of the sales locations of the Shoryudo ticket. This ticket is only economical if you do more than 3-4 rides in one day depending on the cost per ride.
If you plan on taking only the subway, there is a 24-Hour Subway Ticket for 760 yen, which has the advantage that if you activate it in the afternoon you can use it until the same time the next day. You can purchase it at subway ticket machines.
For bus rides only, a 620 yen Bus 1-Day Ticket can be purchased on all city buses and the Meguru Sightseeing Bus.
As mentioned above the 1-day ticket for the Meguru Sightseeing Bus costs 500 yen and can be used only on the Meguru buses. Tickets can be purchased from the bus driver.
Get a Convenient IC Card for Your Time in Japan.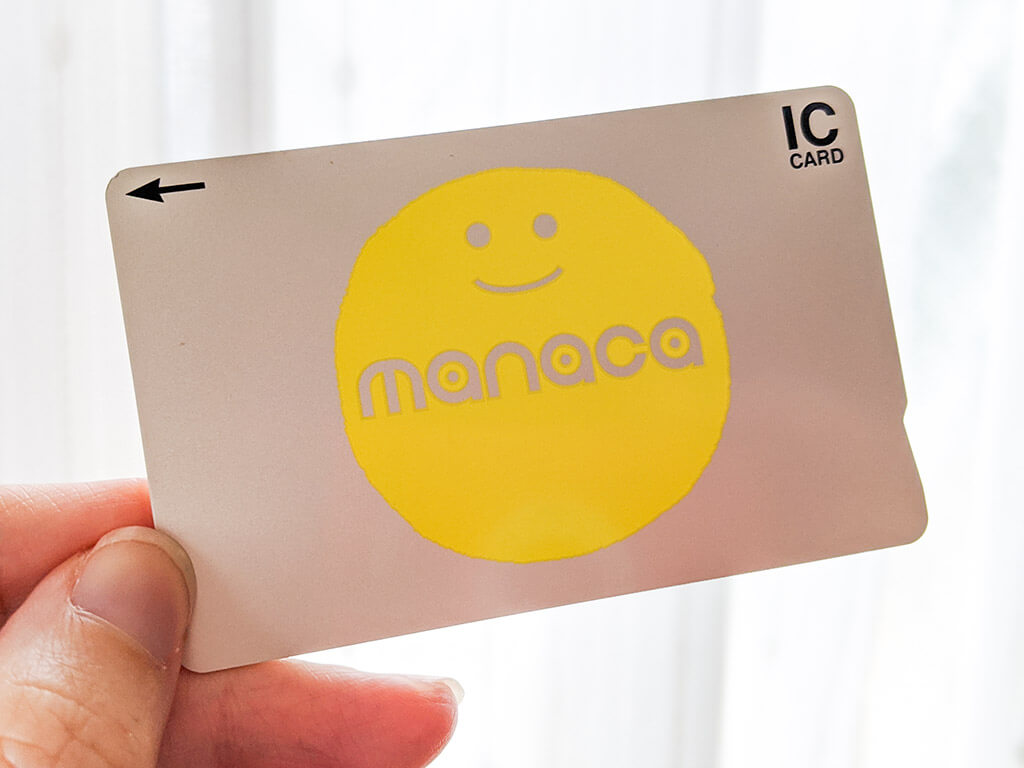 Aside from standard one-time-use tickets and the above mentioned day tickets your third option is an IC Card.
IC Cards are the size of a credit card. They can be charged with money and then used to pay for train or bus rides by touching the card to the sensor.
The sensor for subways and other trains is at the ticket gate when entering and exiting the station. You need to touch your card both times.
When paying for your bus you only need to touch the card to the sensor when boarding the bus.
You can see your current balance on the display when you touch it to a sensor or when you insert your card into a ticket machine. Recharging can be done at ticket machines outside the ticket gates or recharging machines inside the ticket gates of the subway.
Your IC Card is also convenient to make purchases at convenience stores and some vending machines.
The local IC Cards of Nagoya are called Manaca (operated by Meitetsu and Kintetsu) and Toica (operated by Japan Rail). They can be used for all trains and buses in Nagoya and other cities in Japan. Purchase your IC Card at ticket machines of either Meitetsu, Kintetsu or JR stations in Nagoya.
You can also use cards from other cities such as Pasmo or Suica from Tokyo or Icoca from Osaka in Nagoya without a problem.

Transportation Options to Explore the Area Around Nagoya.
Now that you know all the possibilities to travel within the city limits of Nagoya, it is time to talk about the big train operators connecting Nagoya with nearby (and not so nearby) cities.
Nagoya is not only a great place because of what attractions the city itself has to offer, but also because it is a convenient place for explorations of central Japan and other places in Honshu.
Meitetsu Railways – the Best Option to Explore All of Aichi Prefecture.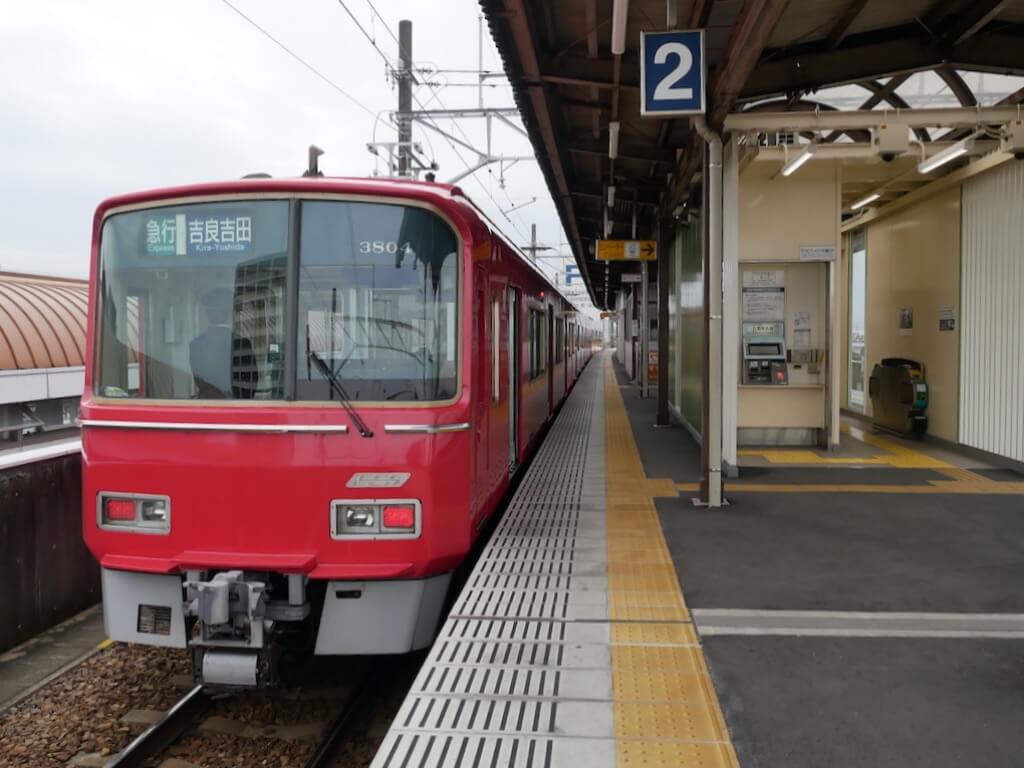 Meitetsu trains connect Nagoya with its suburbs and surrounding cities. It operates mainly in Aichi and Gifu Prefectures and offers not only an extensive train network but also a bus terminal with city and highway buses in Nagoya.
The biggest Meitetsu train stations in Nagoya are Meitetsu Nagoya Station next to JR Nagoya Station, and Kanayama Station.
Most tourists use Meitetsu to travel between Nagoya Station and Nagoya's Central Japan International Airport. It is the most convenient option.
For more info about Central Japan International Airport read this post next.
Other Meitetsu trains go to Inuyama, Nishio, and Toyota. All of which are amazing day trip options.
Want to Go Further Afield? Use Kintetsu Railways.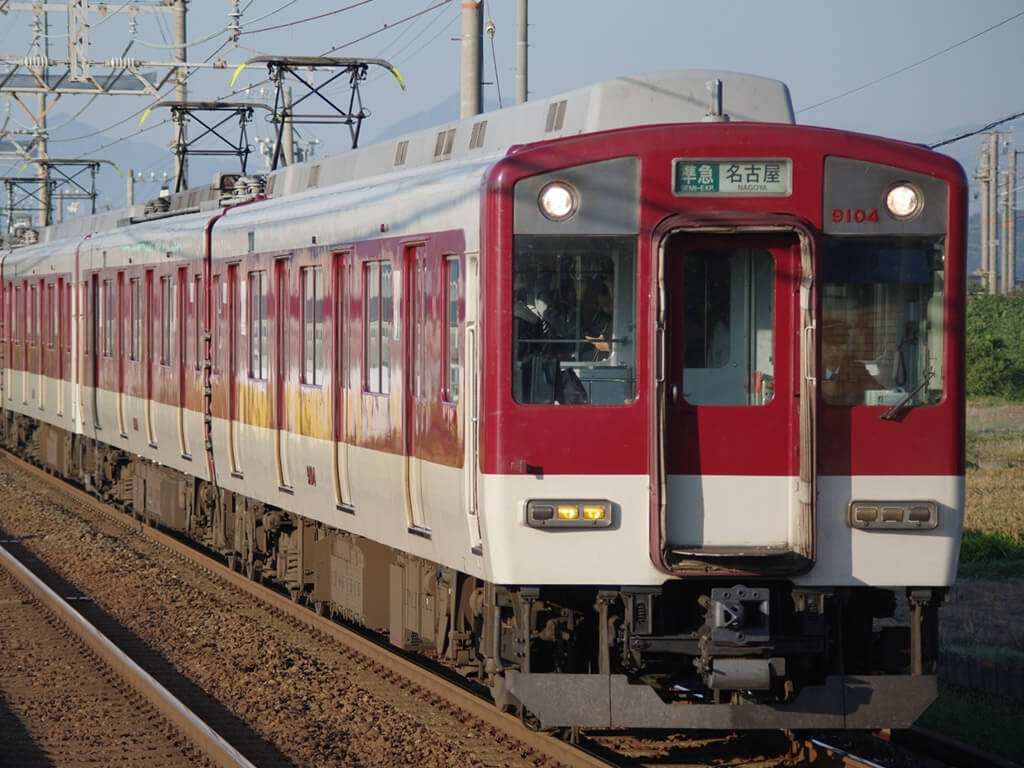 Kintetsu, located at Kintetsu Nagoya Station right next to JR Nagoya Station connects Nagoya with Ise and cities in Mie Prefecture and the Kansai region to the west, including Nara and Osaka.
Kintetsu is a convenient option for day trips or to get relatively cheap transport to Kansai, for travel within Nagoya it isn't really an option.
Use JR, the Biggest Railway Company in Japan to Explore the Whole Country From Nagoya.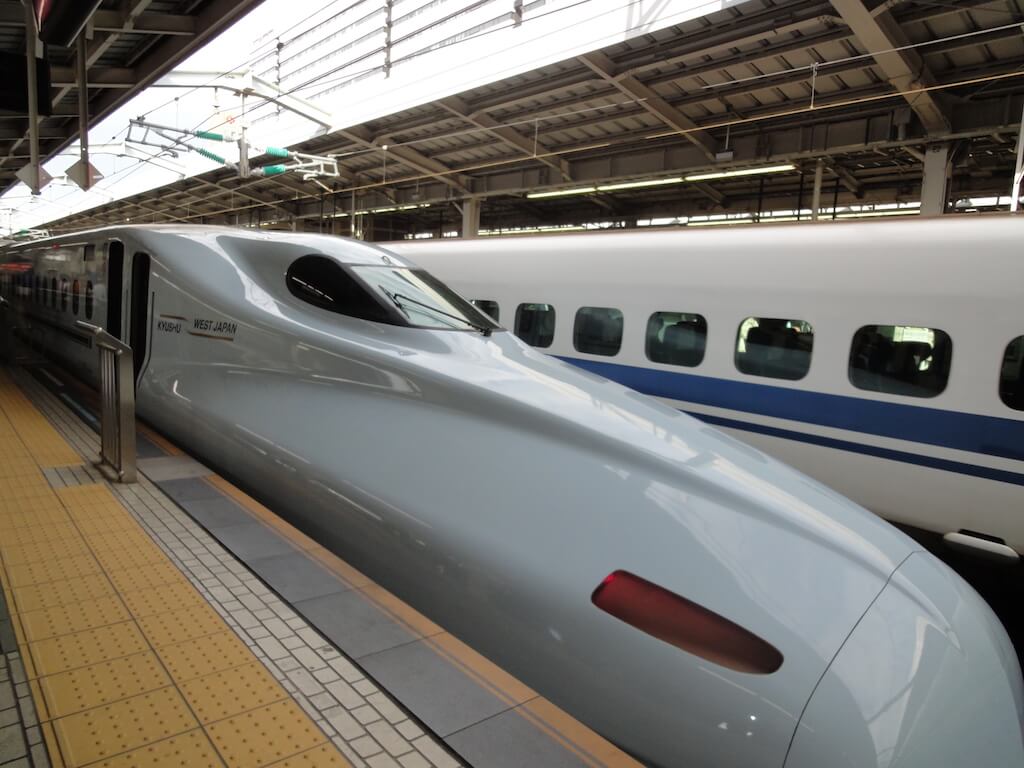 Japan Rail or JR, the biggest railway company in Japan connects Nagoya via Tokaido Shinkansen with Tokyo, Kyoto, Osaka, and many other cities.
Other lines passing through Nagoya are the Tokaido Main Line, Chuo Line which goes to the Kiso Valley and Nagano, Kansai Line in the direction of Ise, and Takayama Line to Takayama.
The JR Lines are very convenient for day trips from Nagoya but are not a very good transport option for travel within Nagoya.
If you have a Japan Rail Pass, you can ride as many Japan Rail trains as you like during a set period of time. This is especially useful if you are planning on traveling a lot between cities.
Highway Buses Are a Great Option to Explore the Country From Nagoya.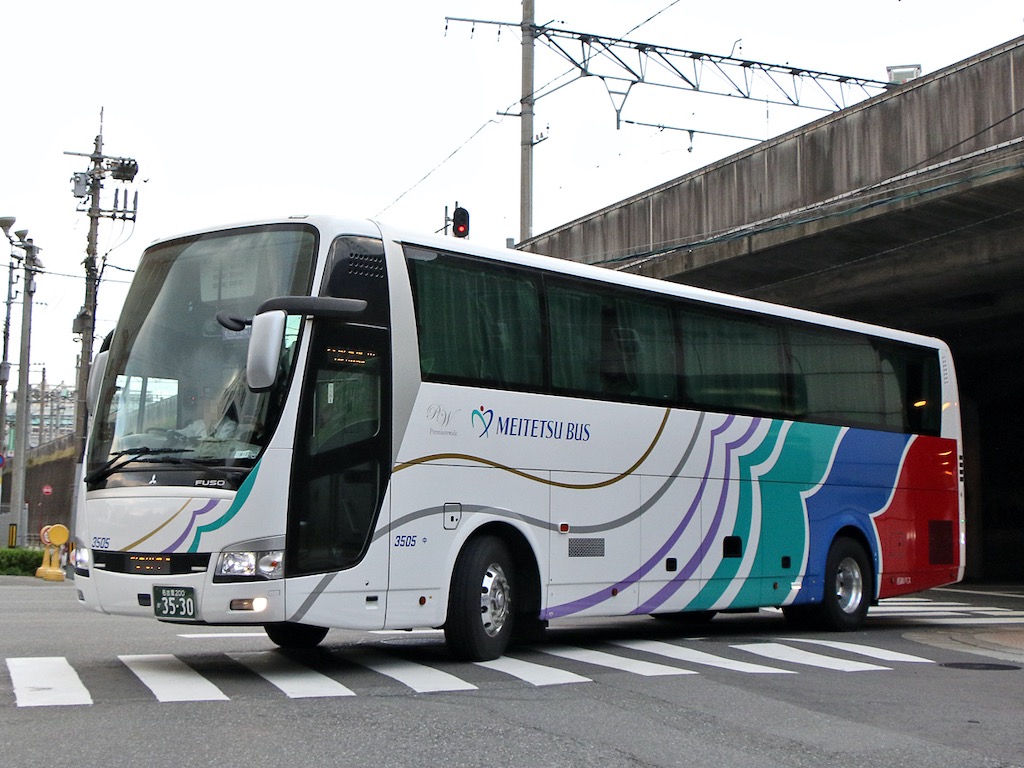 To get to other destinations in Japan from Nagoya, you have the option of taking Highway buses instead of trains. The advantage is that they are usually cheaper than trains, the disadvantage that they sometimes take more than double the amount of time to reach their destination.
Buses also make it possible to reach some destinations that would otherwise require multiple transfers. For example to get to the Fuji Five Lake Area where Mount Fuji is located.
The biggest highway bus terminals in Nagoya are around Nagoya Station. The Meitetsu Bus Terminal between Meitetsu and Kintetsu Nagoya Station on the east side, and the Nagoya Bus Terminal on the west side of Nagoya Station.
You can buy your bus tickets online or simply go to the bus terminal ticket counter to get your ticket directly. Round-trip tickets are usually cheaper than buying 2 one-way tickets.
And, if you plan on exploring Central Japan by bus or are looking for the cheapest option to explore Takayama, Shirakawago, and Kanazawa from Nagoya, the Shoryudo Bus Pass is your best option. On 3 or 5 consecutive days you can ride a selection of highway and local buses in the area.
This ticket is only available to foreign visitors on a temporary visitor visa.
---
Did you enjoy this article?
With all of this information in mind, you will be prepared to travel in and around Nagoya.
Make sure to also check out our other posts about Nagoya and trust us if we say Nagoya is not boring!
Be sure to follow us on Facebook for new articles every week, and see our Instagram for pictures and stories about Nagoya!
Tag us 📲
What's your favorite mode of transport in Nagoya? Please share it and tag us on social media with #nagoyaisnotboring