Do you love sweets and trying them wherever you go? Then, you are at the right place! In this post, we will take you on a sweets journey through Nagoya.
We will start with a very brief introduction to sweets in Japan and then continue with the historical development of Japan's sweets scenery. Next, we will look closely at Nagoya's famous Wagashi. Finally, we will provide you with a guide to further explore the most popular and delicious local Nagoya sweets to find your favorite(s).
What Are Japanese Sweets?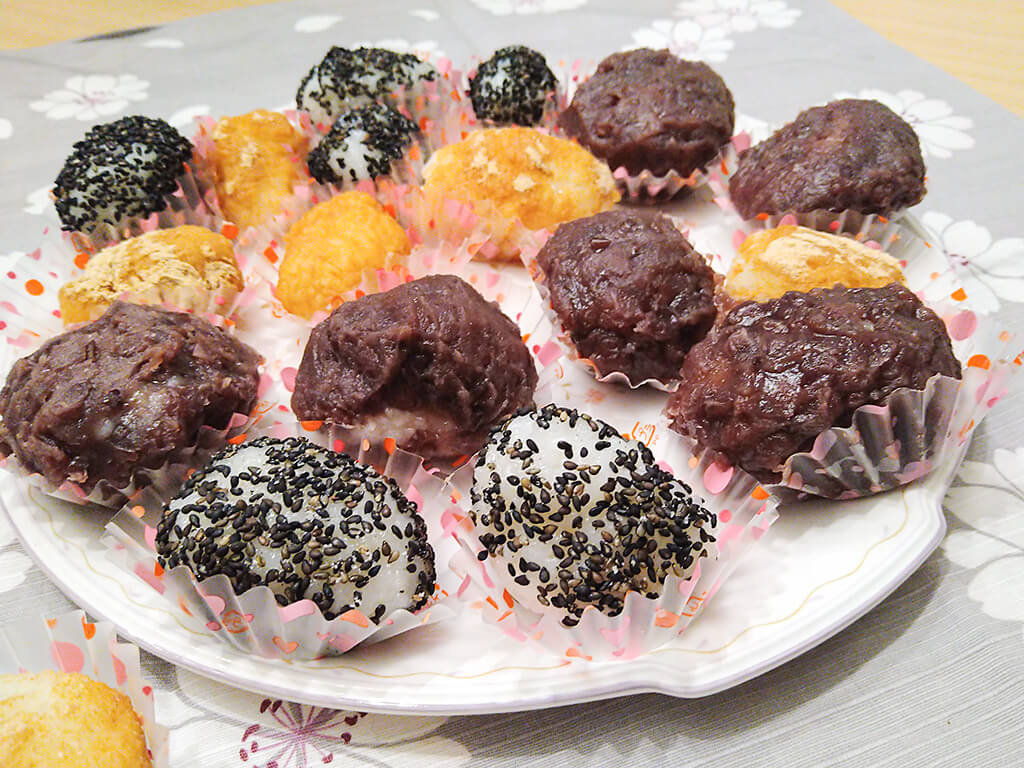 Japan is already globally famous for its popular food such as Sushi and Ramen. While other savory dishes such as Okonomiyaki, Onigiri, and Japanese Curry are also gaining popularity worldwide, Japan's sweets scenery remains relatively unknown yet. Except for Mochi (sticky rice cake) and Japan's unique, sometimes even intriguing, flavored KitKats. However, Japan's sweets scenery offers much more besides KitKat and Mochi.
After Japan opened its borders to foreign countries, the sweets scenery in Japan experienced significant changes, particularly regarding ingredients and equipment. As a result, the term Wagashi was created.
Wagashi translates into Japanese (Wa) sweets (Gashi) and thus refers to traditional Japanese sweets. On the other hand, Yogashi refers to Western (Yo) sweets. Wagashi come in different shapes and types, often represent the season, and can either be enjoyed as a daily sweet or on special occasions. Continue reading to find out more about the history of sweets in Japan.
The Development of Japan's Sweets Scenery
Mochi has been around since ancient times and is arguably Japan's sweet with the longest history. It is said to have been made since the Yayoi period (300 BC – 250 AD) after rice cultivation was introduced in Japan. Mochi is made by steaming and pounding Mochigome (glutinous rice) until it becomes soft and stretchy. It is then ready to be eaten or used in other kinds of Mochi sweets, such as Daifuku.
The history of sweets in Japan continues with confections that were brought back by Japan's missions to China in the 8th century. Rice and wheat flour and various types of beans were used to create these confections. To sweeten them, a boiled down liquid of certain vines was added as sugar was not available yet at that time.
In the 12th century, formal tea preparation from China was brought back by Japanese monks. This resulted in the tea ceremony, as it is known nowadays, which greatly influenced Japanese sweets. It became customary among Samurai to enjoy Matcha (green tea) accompanied by sweets. The sweets eaten at the occasion of a tea ceremony are called Chagashi.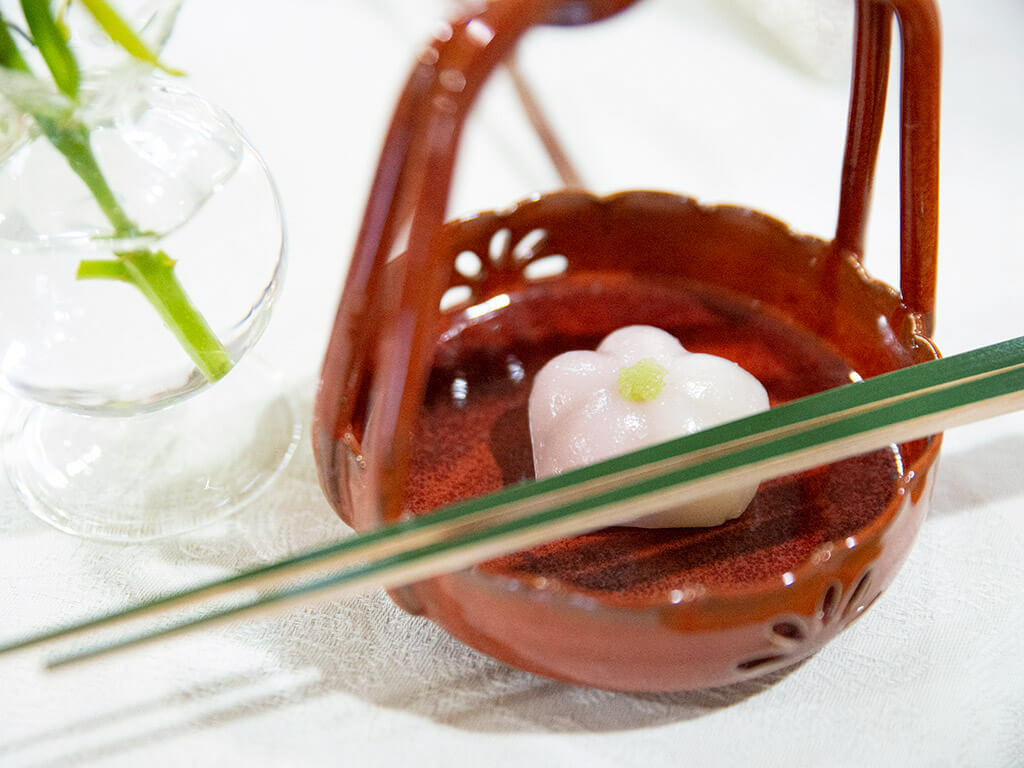 With the arrival of merchants from Europe, sugar also made its way to Japan in the middle of the 16th century. Sugar quickly gained popularity among elites and brought forth a significant change in sweets.
When peace reigned over Japan in the 17th century, not only did the country prosper, the sweets scenery also happily joined these excellent times. The opportunities to enjoy sweets increased, and techniques to create sweets progressed greatly. At the same time, Japan started producing its own sugar. Sweets began to become more colorful and also fitting the season.
More Sweets: Modern and Foreign Creations
From the 20th century onwards, baked sweets and other Western sweets also started gaining popularity in Japan. A prominent example is Baumkuchen. While famous in Japan, this treat can hardly be found in Germany. It was presented for the first time by German confectioner Karl Juchheim in 1919 and gained immense popularity. Even nowadays you can easily find Baumkuchen in department and convenience stores.
KitKat made its way to Japan in 1973, and the first unique Japanese flavor was introduced in 1998: strawberry. Today, you can find regional specialty-flavored KitKats all around Japan!
In Nagoya, you can find Azuki Toast-flavored KitKat, which is limited to the Tokai and Hokuriku regions. It refers to the famous Ogura Toast, which originated in the Sakae district in Nagoya.

Nowadays, you can enjoy the best of both the Eastern and Western sweets in Japan. Nagoya also offers plenty of Wagashi (traditional Japanese sweets), modern creations, and other types of sweets that can exclusively be found in this city.
The Ultimate Guide to Nagoya Sweets
Are you ready to try out Wagashi and discover the wide variety of other local sweets in Nagoya? Then satisfy your sweet tooth by trying the ones which we have listed for you below. While some of the sweets can only be found at designated places, others can be found all over the city.
Enjoy your sweet journey through Nagoya!
Although other regions such as Odawara, Kyoto, and Yamaguchi are also famous for their Uiro, Nagoya is one of the biggest producers of Uiro. It has been producing this Wagashi ever since the Edo Period (1603 – 1868). In the middle of the 20th century, Uiro gained nationwide recognition as a Nagoya specialty.
Uiro is a Wagashi made by steaming a mixture of rice flour, water, and sugar. Other flavors such as Yuzu (citrus fruit), Matcha (green tea), Azuki (red bean), and Sakura (cherry blossom) can be added as well. Finally, it is cut into rectangular blocks. Uiro is usually served with tea, has a very pleasant chewy texture and slightly sweet taste.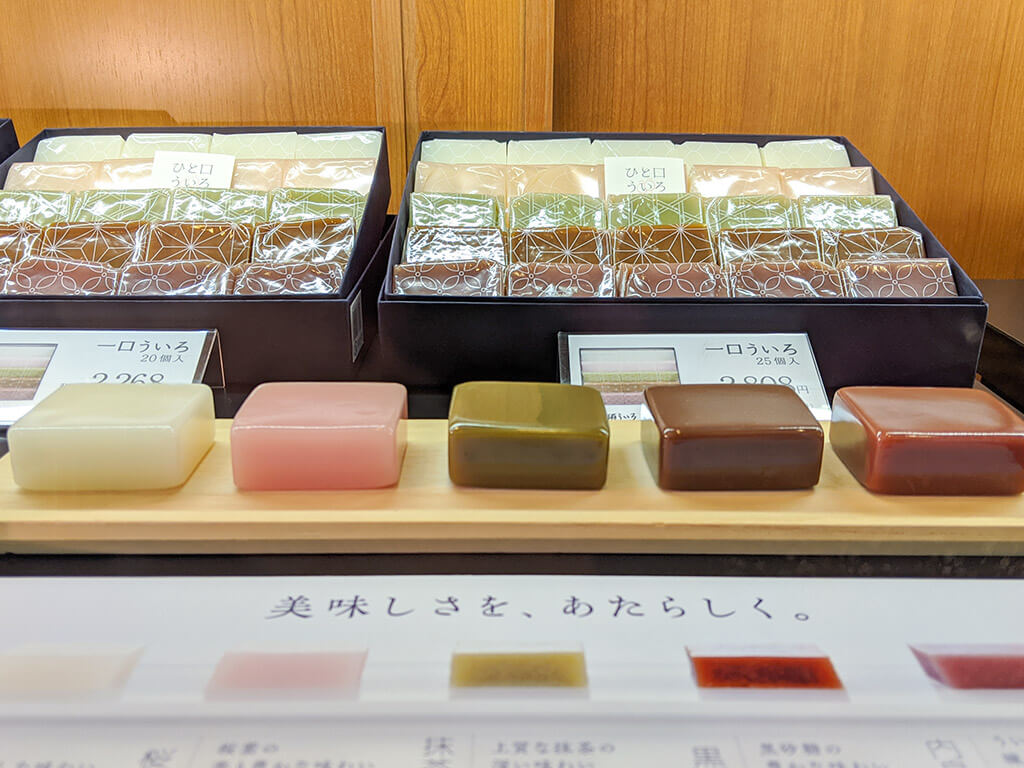 While there are many popular Uiro shops in Nagoya, the following three could well be considered the most famous ones.
Aoyagi Sohonke, founded in 1879, started producing Uiro in 1931. Their Uiro was the only kind of sweets sold on the Tokaido Shinkansen in 1964, which lead to its instant fame nationwide. They were also the first to sell Hitokuchi (bite-sized) Uiro, which is more convenient than the big blocks you have to cut yourself before serving. Their Hitokuchi Uiro comes as a set of between 5 and 25 pieces with five flavors: white sugar, brown sugar, Matcha, Azuki, and Sakura. A set of 5 costs 540 yen.
Aoyagi Sohonke (青柳総本家)
Opening Hours: 10:00 – 18:30; closed Wednesdays
Address: 2-18-50 Osu, Naka Ward, Nagoya, Aichi 460-0011
Website (Japanese only) | Google Maps
Osu Uiro was established in 1949 in the Osu district of Nagoya. They are famous for their Uiro as well as Nairo: Uiro mixed with Koshi-an (smooth, sweet red bean paste). Just like Aoyagi Sohonke, Osu Uiro also sells bite-sized sets of Uiro of between 5 and 25 pieces with similar flavors, replacing Azuki for their Nairo. A set of 5 costs 540 yen.
Osu Uiro (大須ういろ)
Opening Hours: 9:30 – 19:00
Address: 2-18-42 Osu, Naka Ward, Nagoya, Aichi 460-0011
Website (Japanese only) | Google Maps
The oldest producer of Uiro in Nagoya is Mochibun Sohonten, founded in 1659. Besides Uiro, this Japanese confection maker also sells different Japanese sweets such as Dorayaki and Oni Manju. Their Uiro comes in four different flavors: white sugar, brown sugar, Matcha, and chestnut. Here they are only sold by blocks which cost between 500 and 750 yen, depending on the flavor.
Mochibun Sohonten (餅文總本店)
Opening Hours: 9:00 – 18:00
Address: 2-36-24 Yutaka, Minami Ward, Nagoya, Aichi 457-0863
Website (Japanese only) | Google Maps
All of the shops mentioned above sell their Uiro at their designated shop, department stores, and souvenir shops all over the city. The most accessible place to find Uiro is likely the Gift Kiosks at Nagoya Station. While you are there trying some Uiro, you can do some shopping as well.
Kaeru Manju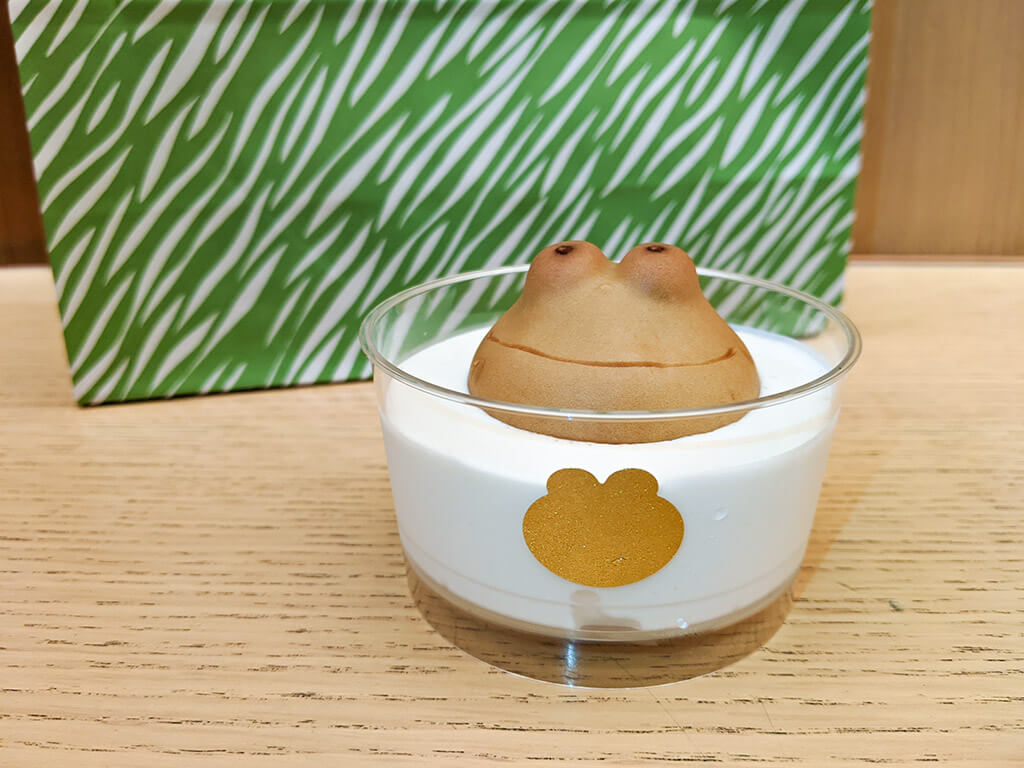 Aoyagi Sohonke also produces a second popular Nagoya sweet called a Kaeru Manju. A little frog-shaped confection filled with different seasonal flavors. The logo of Aoyagi Sohonke is a frog, and that appears to be the origin of the frog-shaped sweet.
The Kaeru Manju, with its cute expression and delicious seasonal fillings (Matcha, Sakura, sweet potato, chocolate), is a popular souvenir. But you can also try one taking a milk bath at the Aoyagi Sohonke KITTE store next to Nagoya Station. A pack of 3 Kaeru Manju costs 324 yen.
Aoyagi Sohonke KITTE Nagoya (青柳総本家 KITTE名古屋店)
Opening Hours: 10:00 – 21:00; Sat + Sun 10:00 – 20:00
Address: JP Tower Nagoya 1F, 1-1-1 Meieki, Nakamura Ward, Nagoya, Aichi 450-0002
Website (Japanese only) | Google Maps
Nagoyan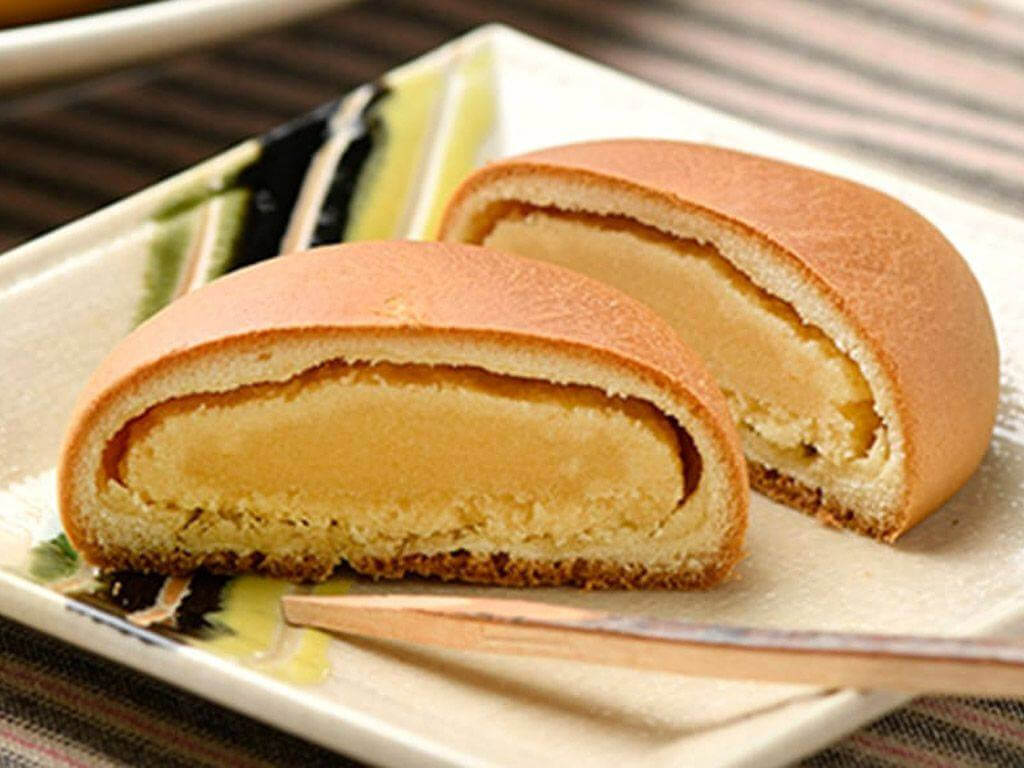 Nagoyan, as the name might suggest, is a popular local sweet. For the past 60 years, it has been a favorite of young and old. This round dumpling is made from eggs, honey, butter, sugar, flour and filled with a yellow sweet bean paste.
You can find Nagoyan everywhere in Nagoya. At supermarkets, convenience stores, department stores, and of course souvenir shops. Enjoy Nagoyan with a glass of cold milk, coffee, or hot tea. The gentle sweetness goes very well with both hot and cold beverages. A set of 8 Nagoyan costs 648 yen and can be purchased, for example, at the Omiyagekan at the Chubu Centrair International Airport.
Omiyagekan (おみやげ館)
Opening Hours: 6:30 – 19:00
Address: Terminal 1, 3rd floor Departures Lobby, 1 Chome-1 Centrair, Tokoname, Aichi 479-0881
Website (Japanese only) | Google Maps
Oni Manju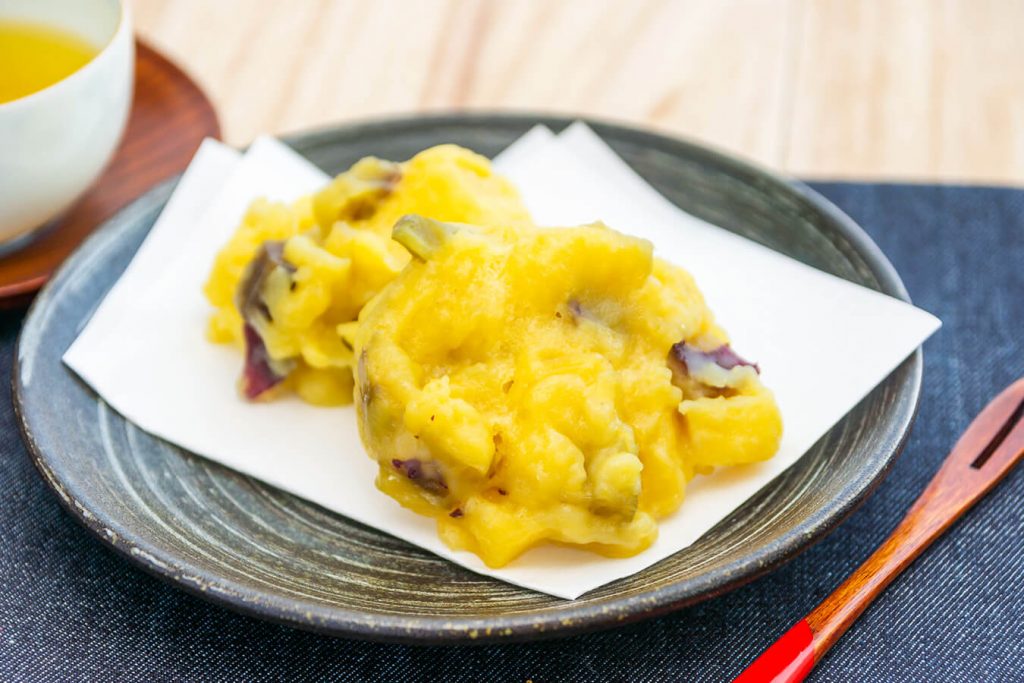 These little dumpling creations are a true local specialty. Oni Manju, which translates to "Devil's Rice Cake," is the favorite sweet snack of the locals. It is made from sugar, rice flour, and sweet potato chunks which give the confection its characteristic yellow color and uneven shape. Because of the sweet potato, it is quite filling and makes for a great snack when you feel an energy slump in the afternoon.
You can find Oni Manju everywhere. At the most traditional confectionery shops and supermarkets, convenience stores, and even as a festival food. Depending on the shop, one Oni Manju costs between 100 and 150 yen. Arguably the most famous shop for Oni Manju is Baikado. It is even recommended to make a reservation beforehand or go there early in the morning as they often sell out by noon.
Baikado (梅花堂)
Opening Hours: 8:00 – 17:00
Address: 1 Chome-6-2 Suemoritori, Chikusa Ward, Nagoya, Aichi 464-0821
Google Maps
Oni Manju is one of the sweets you get to try on the Specialties of Nagoya Food Tour. Check here for more details.

Ogura Toast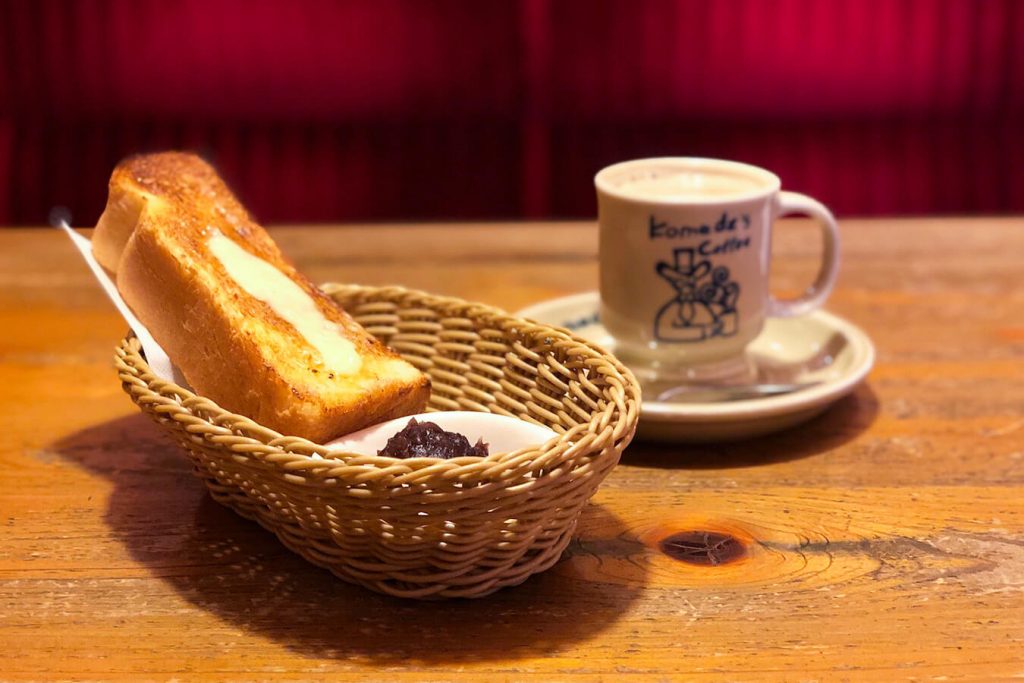 Nagoyans love their cup of coffee in the morning. And there is nothing better to accompany a hot cup of coffee with than an Ogura Toast. An ultra-thick slice of golden toast spread with lightly salted butter and topped with a generous amount of Ogura-an sweet red bean paste. It's the typical breakfast item at many coffee shops in the city.
You can actually try Ogura Toast for free by visiting any Komeda's Coffee until 11 in the morning, where you will be served a complimentary breakfast with any beverage you order. This culture is called Nagoya Morning Service, and you can learn more about it here.
Until you can try Ogura Toast in person in Nagoya, you can try making your own at home with our online experience. During this online experience, you will learn how to make the famous local Nagoya-style breakfast at home and learn more about the local food culture while munching on your creation.
Komeda's Coffee (コメダ珈琲店)
Opening Hours: 7:00 – 22:00
Morning Service: 7:00 – 11:00
Address: Esca Underground Shopping Street, 6-9 Tsubakicho, Nakamura Ward, Nagoya, Aichi 453-0015
Website | Google Maps
Piyorin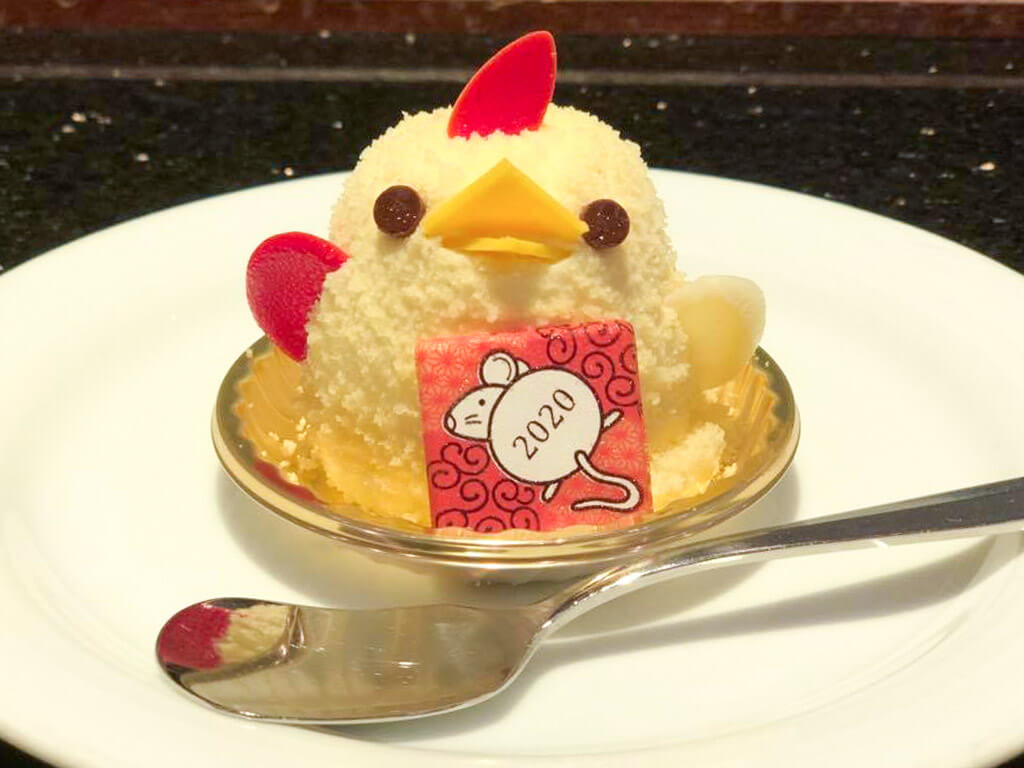 Almost too cute to eat is this chick-shaped creation skillfully crafted at Cafe Gentiane at Nagoya Station. Piyori is a pudding-filled sponge cake made from Nagoya Cochin Chicken eggs. This special breed of local poultry is said to have superior meat and better quality eggs than your standard chicken, with a creamier texture and intensely color yellow yolk.
Piyorin is best eaten directly at Cafe Gentiane as this delicate dessert can only be safely transported for up to 3 hours. The cute chick-shaped cake comes in different flavors and cute details according to seasonal events, holidays, and festivals. It is always fun to see Piyorin changing throughout the year. Around the beginning of July, you can find a Tanabata Piyorin. A Piyorin costs around 500 yen, depending on the edition.
Cafe Gentiane (カフェ ジャンシアーヌ)
Opening Hours: 7:00 – 22:00
Address: 1-1-4 Meieki, Nakamura Ward, Nagoya, Aichi 450-0002
Website (Japanese Only) | Google Maps
Sasaragata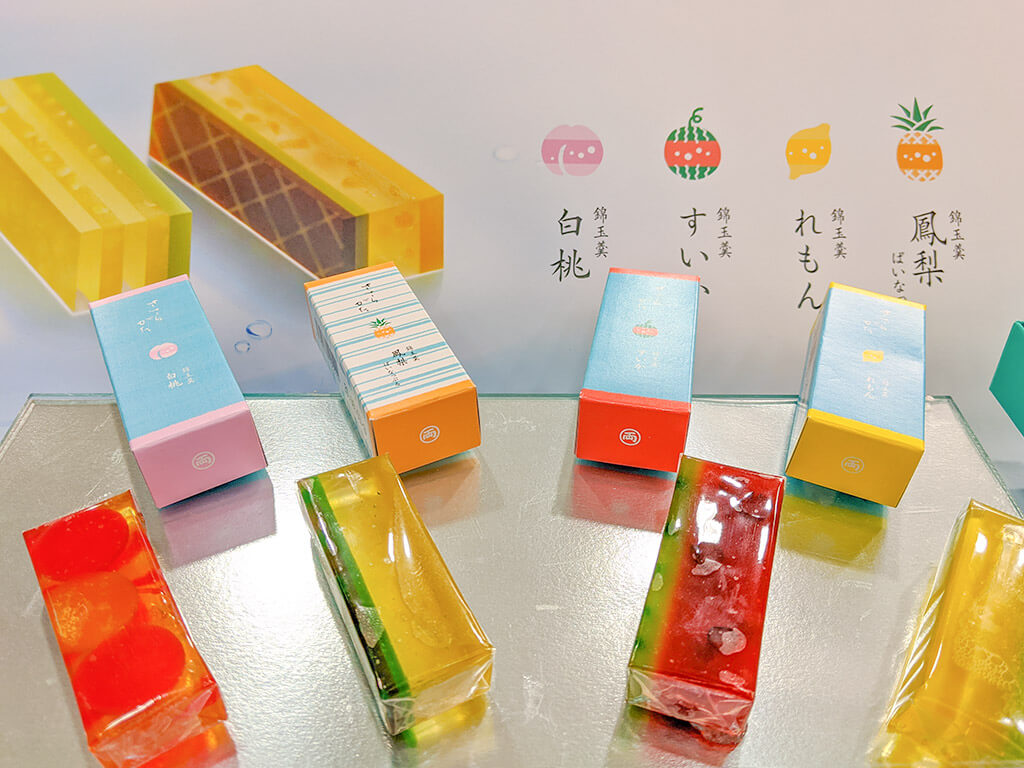 Sasaragata is a beautiful jelly-like bar combining traditional flavors such as Matcha, red and white bean paste. Seasonal Sasaragata is also available. If you happen to be in Nagoya in summer, don't miss the beautiful lemon, watermelon, pineapple, or white peach Sasaragata.
These beautiful creations are produced by the long-established Ryoguchiya Korekiyo. It was founded in 1634 to serve as the official confection maker of the Owari Feudal Domain.
Sasaragata is a real Nagoya treat and a popular souvenir. You can buy it at one of the many Ryoguchiya shops or souvenir shops at Nagoya Station, at the airport, or at department stores throughout the city. A set of 5 Sasaragata costs 1404 yen. To enjoy Sasaragata, serve with Japanese hot or cold tea and coffee.
Ryoguchiya Korekiyo (両口屋是清)
Opening Hours: 9:00 – 18:00; closed Thursdays
Address: 4-4 Higashiyamatori, Chikusa Ward, Nagoya, Aichi 464-0807
Website (Japanese only) | Google Maps
Tabimakura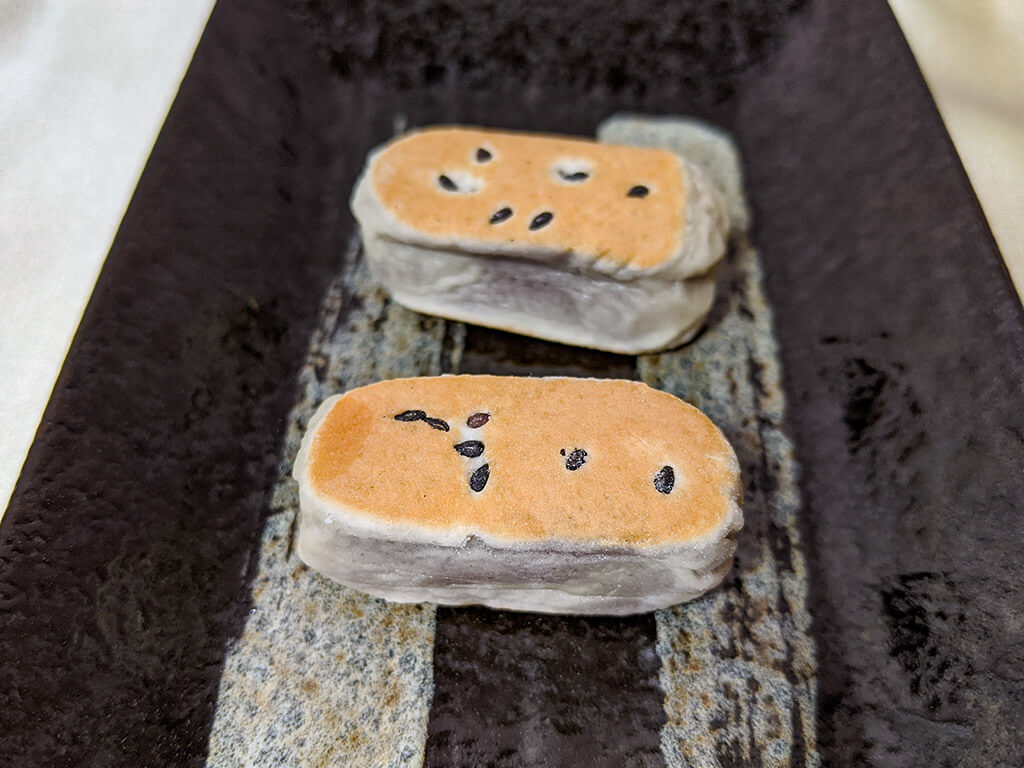 Another creation of Ryoguchiya Korekiyo is the popular Tabimakura confection. A simple baked creation made by wrapping sweet red bean paste in a wafer sprinkled with black sesame seeds. The name and shape of the confection come from a kind of vase. 
You can buy a set of solely Tabimakura or in a set with similar baked confections at any Ryoguchiya shop or department stores and souvenir shops throughout Nagoya. A set of 8 Tabimakura costs 507 yen. 
Tabimakura makes a great sweet to have with your everyday cup of tea. How about changing your regular tea time for once and treating yourself to a traditional Japanese tea ceremony from home? During our online "Table Style Sado" Tea Ceremony Experience, you will learn everything about this unique Japanese custom, including how to eat your Wagashi (Japanese sweet) correctly.
Ryoguchiya Korekiyo (両口屋是清)
Opening Hours: 9:00 – 18:00; closed Thursdays
Address: 4-4 Higashiyamatori, Chikusa Ward, Nagoya, Aichi 464-0807
Website (Japanese only) | Google Maps
Agemanbo
The word Agemanbo could be roughly translated as deep-fried rice cake on a stick, and that's exactly what it is. At Nayabashi Manju Bansho-an in the Osu district, they tried to create street food inspired by their specialty: a traditional Japanese Manju (sweet bun) filled with Anko (red bean paste). So they put it on a stick, coated it with some batter, and deep-fried it in oil. And the result is so delicious it is almost unbelievable no one else is doing it.
The Agemanbo is best fresh out of the fryer when it's still hot and gives off a scent like a deep-fried donut. The Anko filling is soft and creamy, which harmonizes perfectly with the crispy coating. One Agemanbo costs 200 yen.
Nayabashi Manju Bansho-an (納屋橋まんじゅう万松庵)
Opening Hours: 10:00 – 19:00
Address: 3-27-24 Osu, Naka Ward, Nagoya, Aichi 460-0011
Website (Japanese only) | Google Maps
Agemanbo is one of the street foods you get to try when you participate in a Street Food Tour of Osu. Book your tour today!

Shiro-Noir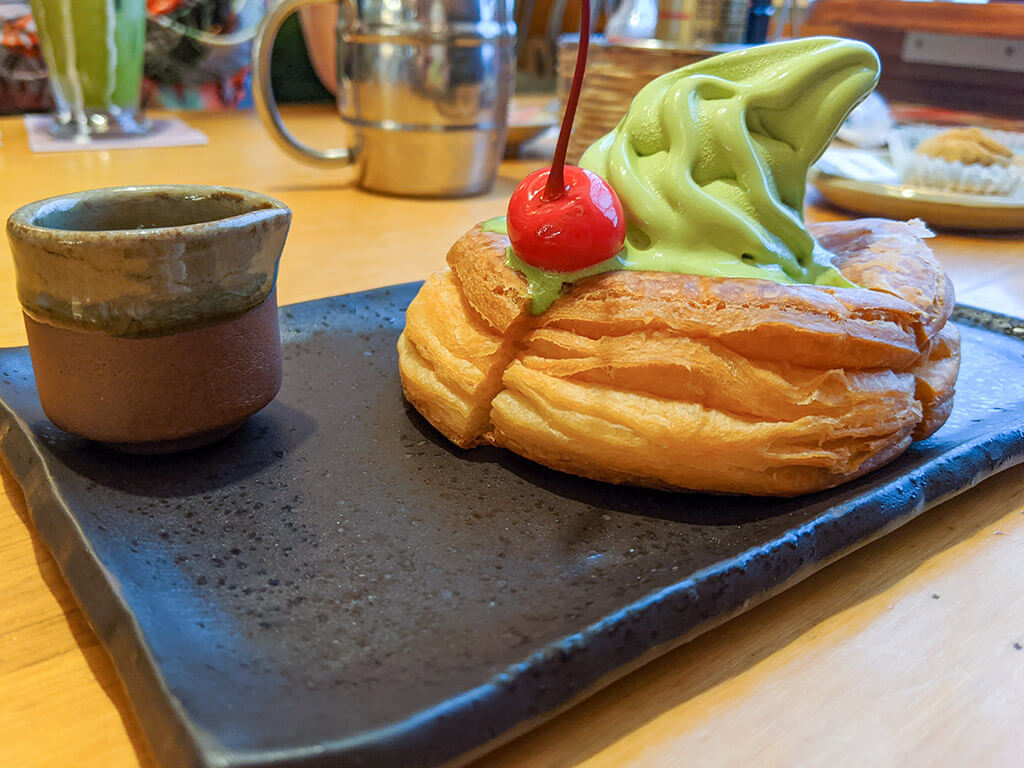 Shiro-Noir is a creation you can find at Komeda's Coffee, which is one of Nagoya's most popular coffee chains. A round Danish pastry is topped with a generous serving of milk soft-serve ice cream, accompanied by a serving of sweet syrup.

This dish is simple yet so delicious. The Shiro (white in Japanese) refers to the ice cream on top of the Noir (black in French) pastry. The name also reflects the contrast between hot (pastry) and cold (ice cream).
Komeda's Coffee offers many limited editions of Shiro-Noir throughout the year. It is always fun to try the seasonal flavors. These include Matcha, Azuki, chocolate, melon, strawberry, pudding, and sweet potato. A Shiro-Noir comes in two different sizes: mini and regular. The mini version costs 550 yen, the regular size 750 yen.
Komeda's Coffee (コメダ珈琲店)
Opening Hours: 7:00 – 22:00
Address: Esca Underground Shopping Street, 6-9 Tsubakicho, Nakamura Ward, Nagoya, Aichi 453-0015
Website | Google Maps
Fruit Daifuku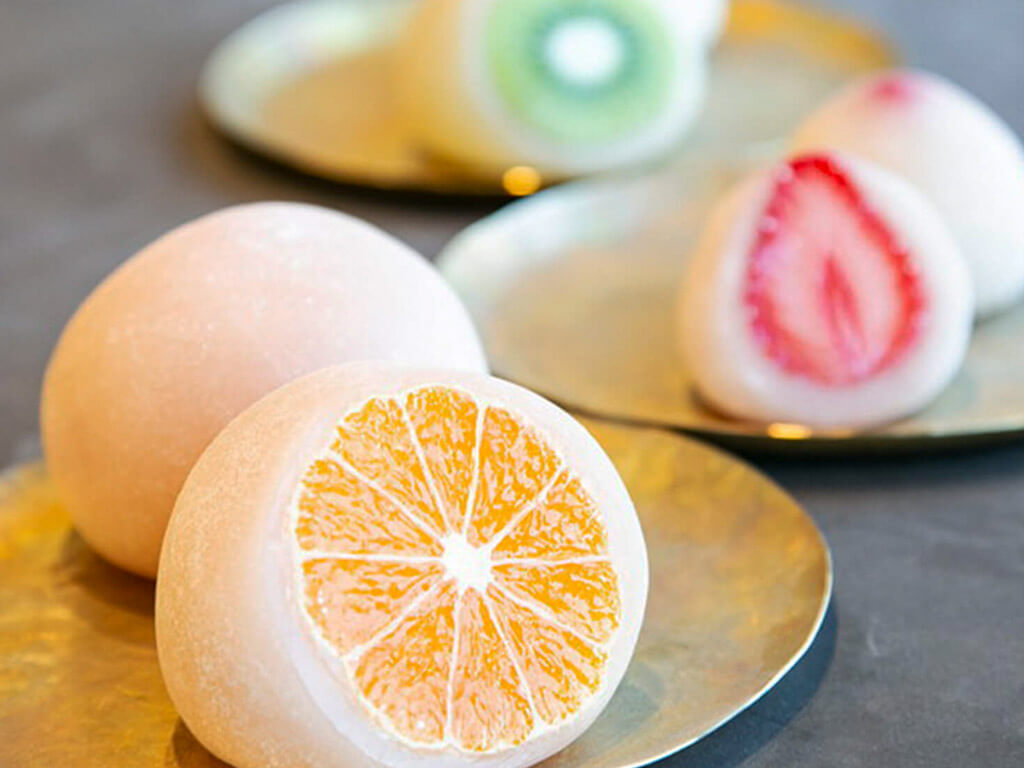 Although Fruit Daifuku itself might not be a local specialty, the growing popularity of Benzaiten, the shop that produces this sweet, calls for a mention on this list.
As the name suggests, Fruit Daifuku is a Daifuku filled with fruit. Daifuku, which translates to Great Luck, is a red bean paste-filled Mochi (sticky rice cake made from rice flour). The Fruit Daifuku at Benzaiten is filled with only the most expensive and exclusive fruit: white strawberry, green or purple grapes, white Momo (peach), and the sweetest Mikan (mandarin). A single Daifuku can cost between 350 and 950 yen, making this a very exclusive gift for a special occasion.
Kakuozan Fruit Daifuku Benzaiten (覚王山フルーツ大福 弁才天)
Opening Hours: 10:00 – 19:00
Address: 5-2-4 Nisshintori, Chikusa Ward, Nagoya, Aichi 464-0844
Website (Japanese only) | Google Maps
This post has last been updated in May 2021.
Although we strive to provide you with the most accurate and up-to-date information possible, please note that changes may occur nonetheless. We recommend you confirm any relevant information such as event cancelations or changes, opening hours, or possible restrictions using a direct source. Please keep in mind that these sources might be in Japanese only.
---
Did you enjoy this article?
Make sure to also check out our other posts about Nagoya and trust us if we say Nagoya is not boring!
Be sure to follow us on Facebook for new articles every week, and see our Instagram for pictures and stories about Nagoya!
Tag us 📲
If you have tried any (or all) of these Nagoya sweets share your pictures on social media and tag us with #nagoyaisnotboring