Are you looking for a stylish location to enjoy a burger and steak dinner?
Or would you rather have delicious cocktails in a modern lounge?
Or yet still, you are looking for a place to have a long and healthy lunch with your girlfriends? Or a couple of glasses of craft beer with the guys?
You can get all of these things and more at the Style Kitchen!
We, Lena and Elly, founders of Nagoya is not boring, and enthusiastic foodies had a chance to experience the many delights the Style Kitchen has to offer during our 2-days, 1-night stay at Nikko Style Nagoya. And today, I, Lena, would like to share its many delights with you.
It's All About the Region
At the Style Kitchen, it is all about Nagoya and the region that surrounds the city. The chefs are using locally sourced seasonal ingredients from the surrounding prefectures of Aichi, Gifu, and Mie. Such as honey from bees in Kuwana (Mie), the characteristically dark and intense tasting Hatcho Miso (fermented soybean paste) from Okazaki, and bread from a local bakery in Moriyama ward here in Nagoya (Aichi).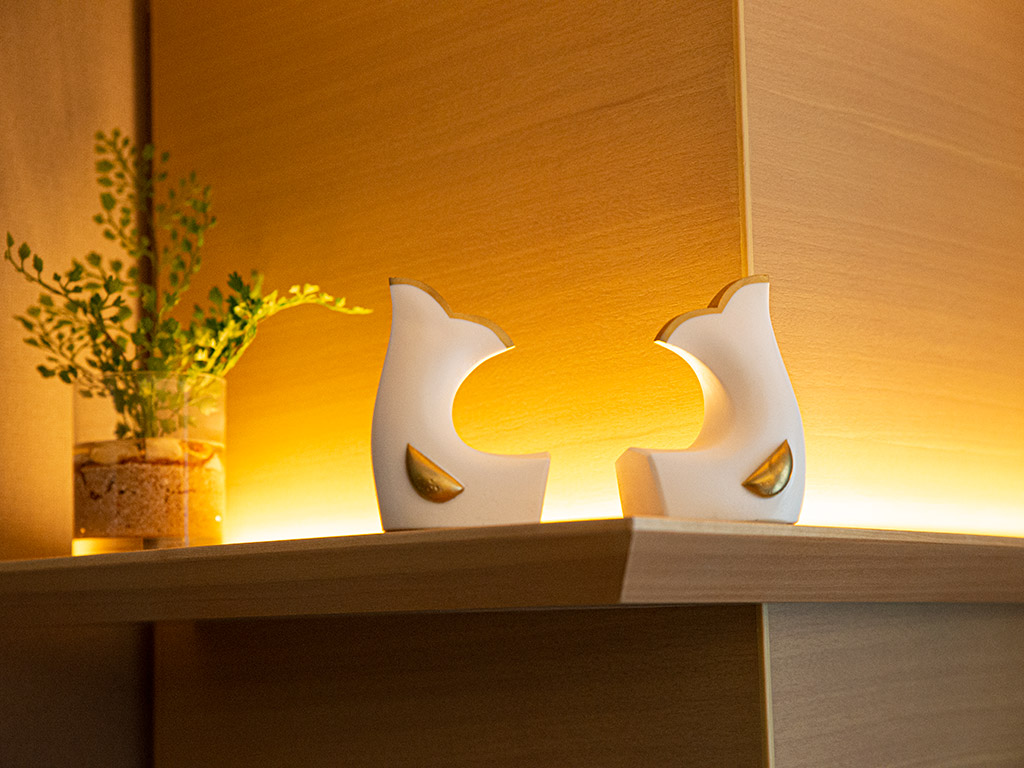 But it's not just the food ingredients arranged in distinct French fusion cuisine with influences, not only from Japan but also other countries; the design, artworks, and even tableware are inspired by local artisans, craftsmanship, and traditions. Such as the tie-dyed pillows from Arimatsu (Aichi), the plates from Mino (Gifu), and the images of Kinshachi (the golden tiger carp mounted on the roof of Nagoya Castle).
Every little detail here speaks of the love for the region.
Business Lunch? Luncheon with the Girls? Or Family Meal? Yes, at Style Kitchen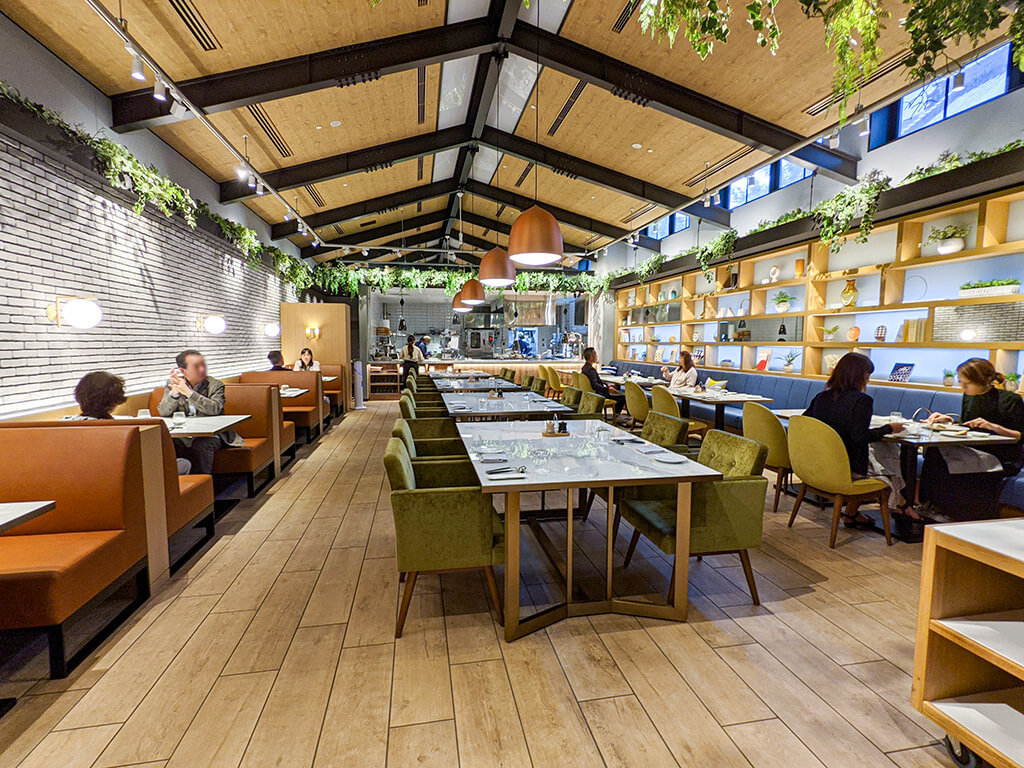 We've had the pleasure of eating lunch at Style Kitchen multiple times by now. And every time, it has been a delight for all senses. When we're not focusing on the delectable food itself or the chefs busily preparing meals in the open kitchen, we look around to see who is there. It's a colorful mix of business people, young couples, groups of women, and families who enjoy the exquisite food and bright and comfortable, upper-scale atmosphere.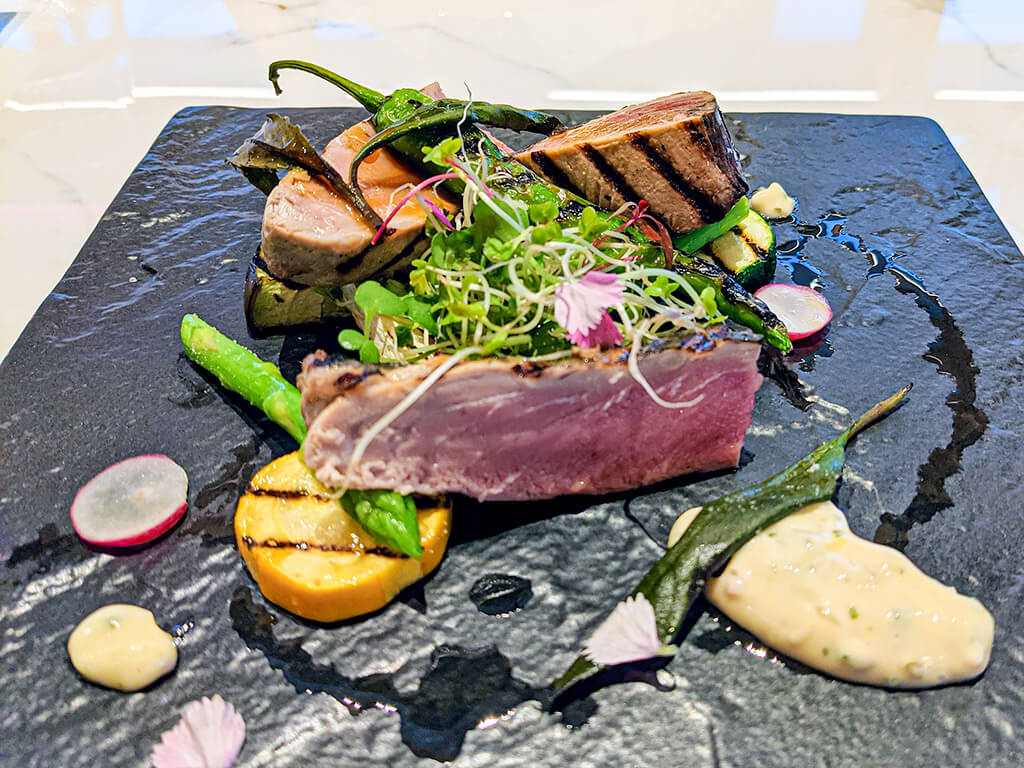 For lunch, you get to choose between a multi-course Chef's Lunch Course and lunch set with a selection of main dishes. Steak, pork, or fish plates are always available, as is fresh mango and chicken salad. Each set is served with a regularly changing choice of soup or salad, fresh bread, coffee or tea, and a dessert.
This menu is supplemented with a changing special menu. And sometimes, they even collaborate with other local restaurants such as Midtown BBQ, a popular local burger joint, to create a unique and delicious menu.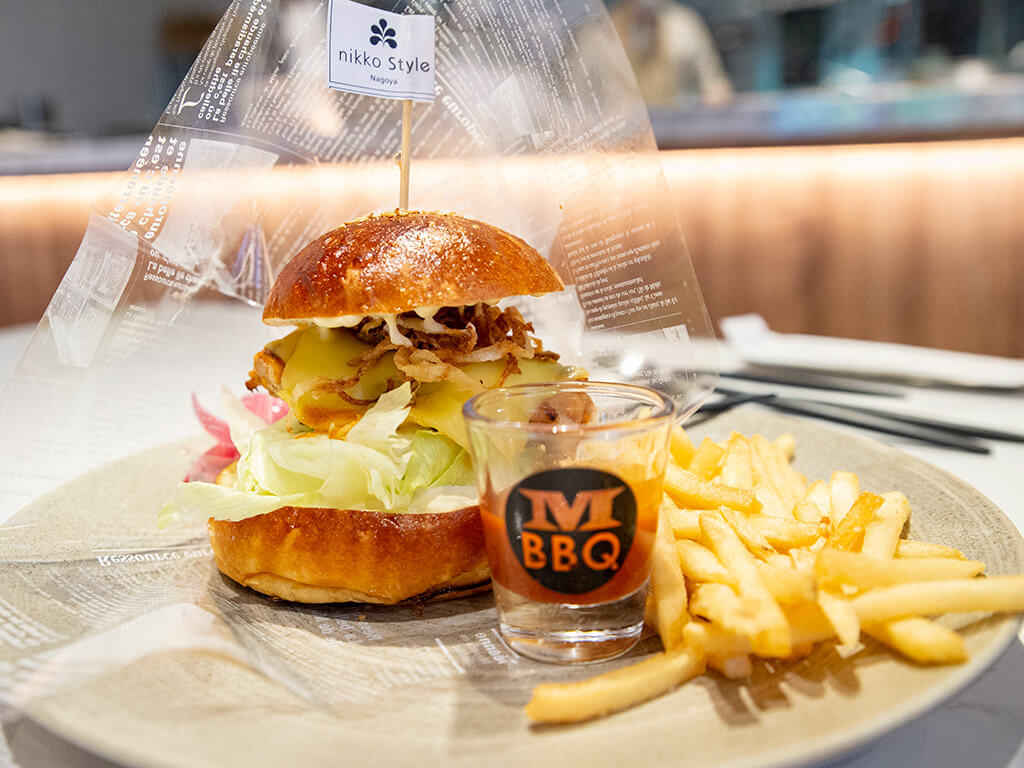 For up-to-date information about the current menu, visit the Style Kitchen website.
Candle-light or Party Dinner? It's up to you at Style Kitchen.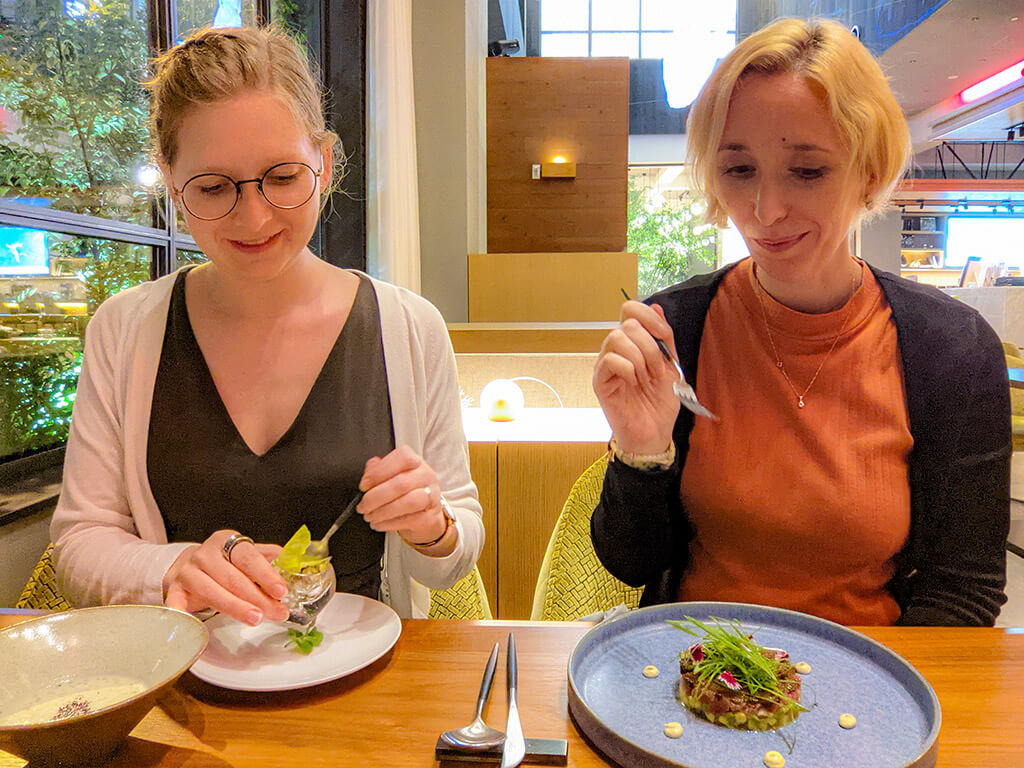 Having lunch at Style Kitchen is nice, but dinner is even better!
Thanks to the carefully composed and selected music by sound director Kenichiro Nishihara, lower light, and candles on every table, the atmosphere of Style Kitchen changes at night; making it the perfect place for a romantic dinner or a special celebration.
We highly recommend the Dinner Course if you want to have a long-winded dinner for two. Seasonally changing courses from soup, salad to a fish and meat dish, as well as dessert, await you and your significant other.
During our dinner, I especially loved the Peach and French Beans Salad with Balsamico Sauce. The sweetness of the two kinds of peaches paired perfectly with the sour taste of the balsamic vinegar and the fresh, snappy texture of the beans gave the arrangement a well-rounded finish.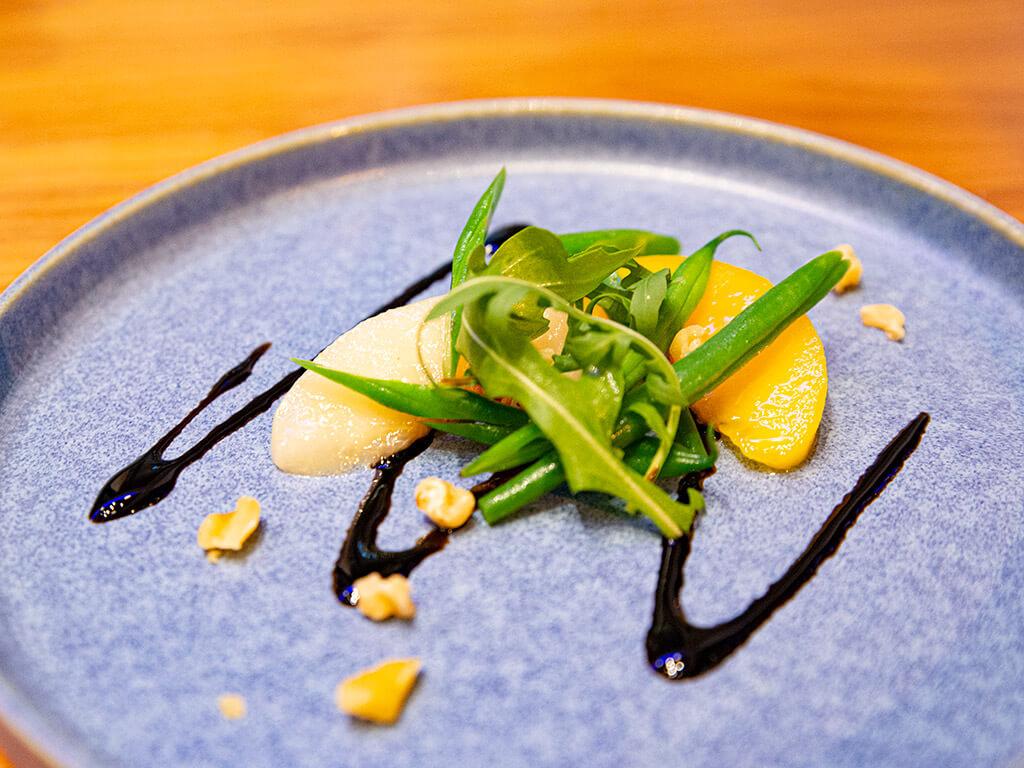 You don't have to choose the Dinner Course, however. If you prefer to order a la carte, there are hot and cold appetizers, as well as main dishes, and a selection of desserts to choose from.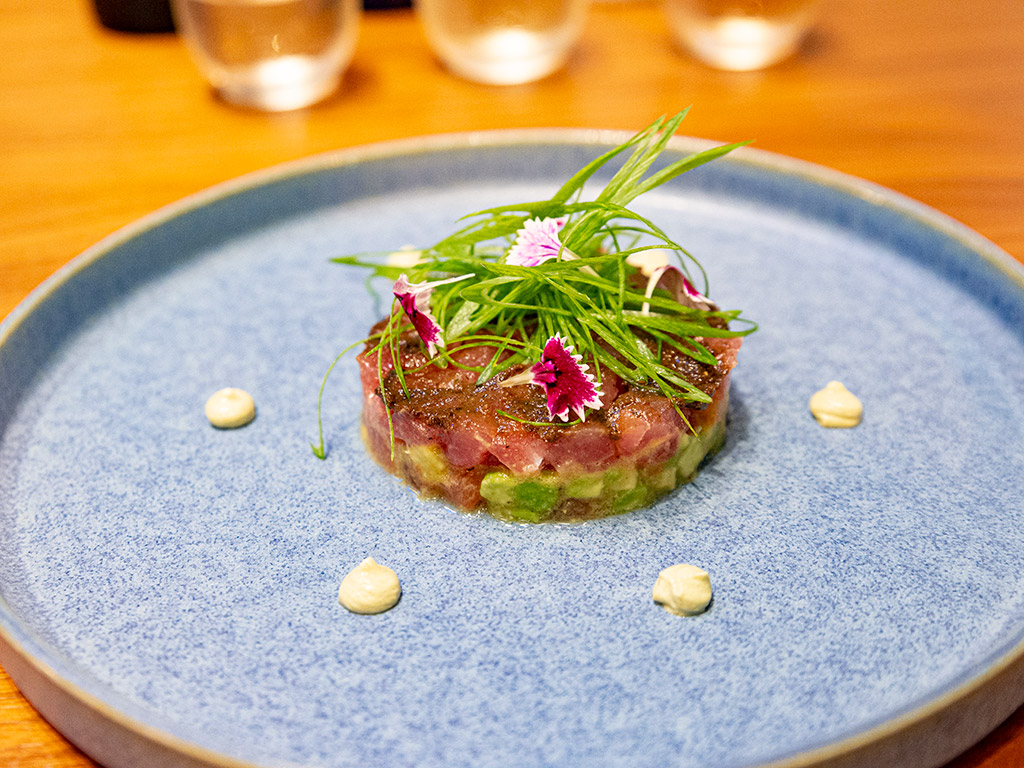 Elly enjoyed the Poke Style Tuna and Avocado as a cold appetizer. I saw her eyes light up when the plate came to our table. She had that bright gleam when you feel extreme happiness. The presentation of the dish is Insta-worthy, and the taste is even better. Creamy and ripe avocado with pickled tuna, and just a hint of Hatcho Miso, this dish is a meatless masterpiece.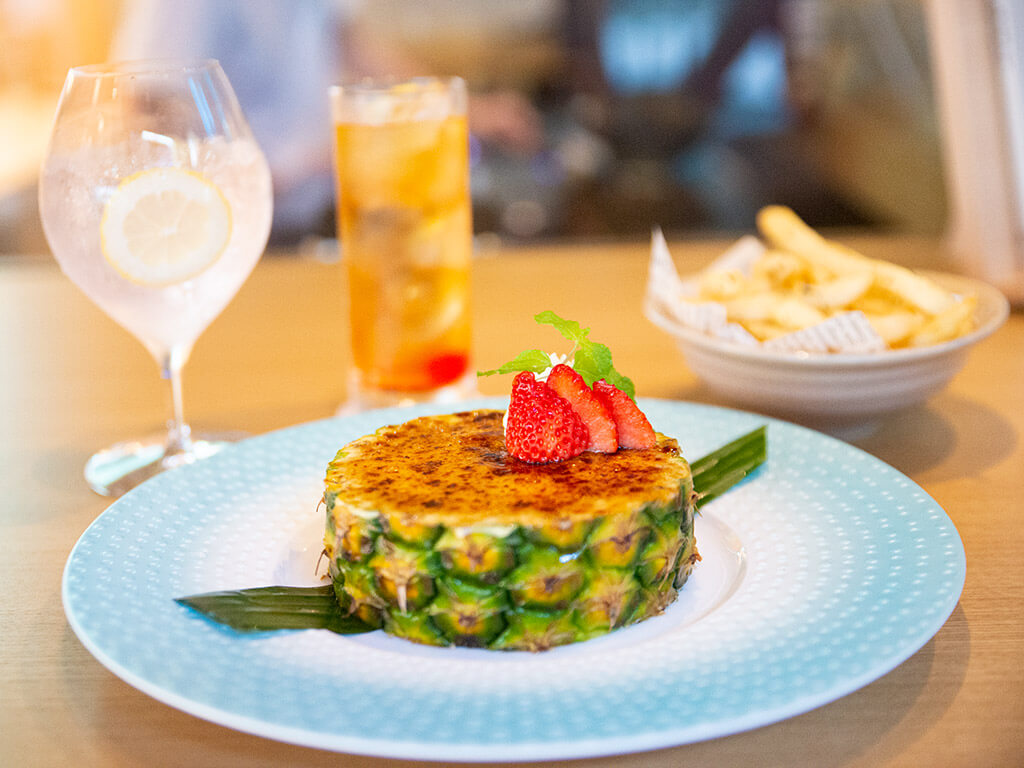 We tried the Pineapple Cream Brulee for dessert, cream glazed with caramel on top of caramelized pineapple served in a slice of pineapple. Fresh and sweet, it is the perfect indulgence after a meal. This was the first Cream Brulee with fruit either of us had tried, and we agreed it is the ideal match for summer.
But it's not only the taste; every little detail is perfect, including the presentation of all dishes on locally crafted plates, each unique and matched to enhance the visual appeal of the dishes.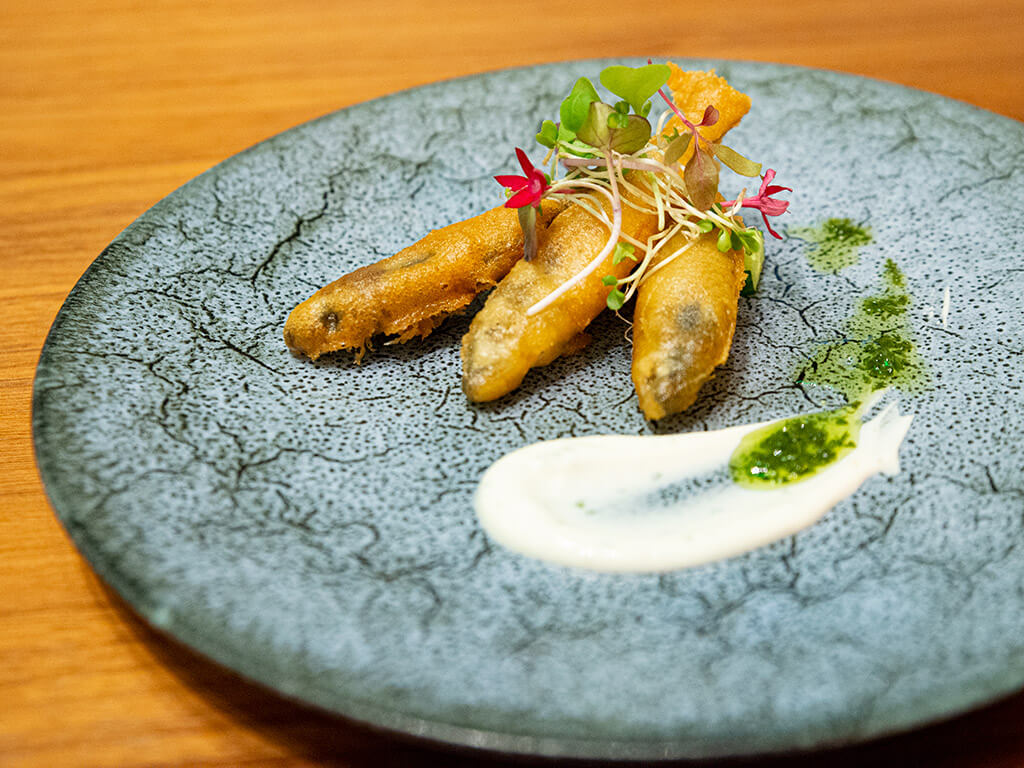 The Style Kitchen also has private rooms and party plans that include an all-you-can-drink option if you are planning a small party of any kind.
Style Kitchen's Cafe and Bar is for Every Time of Day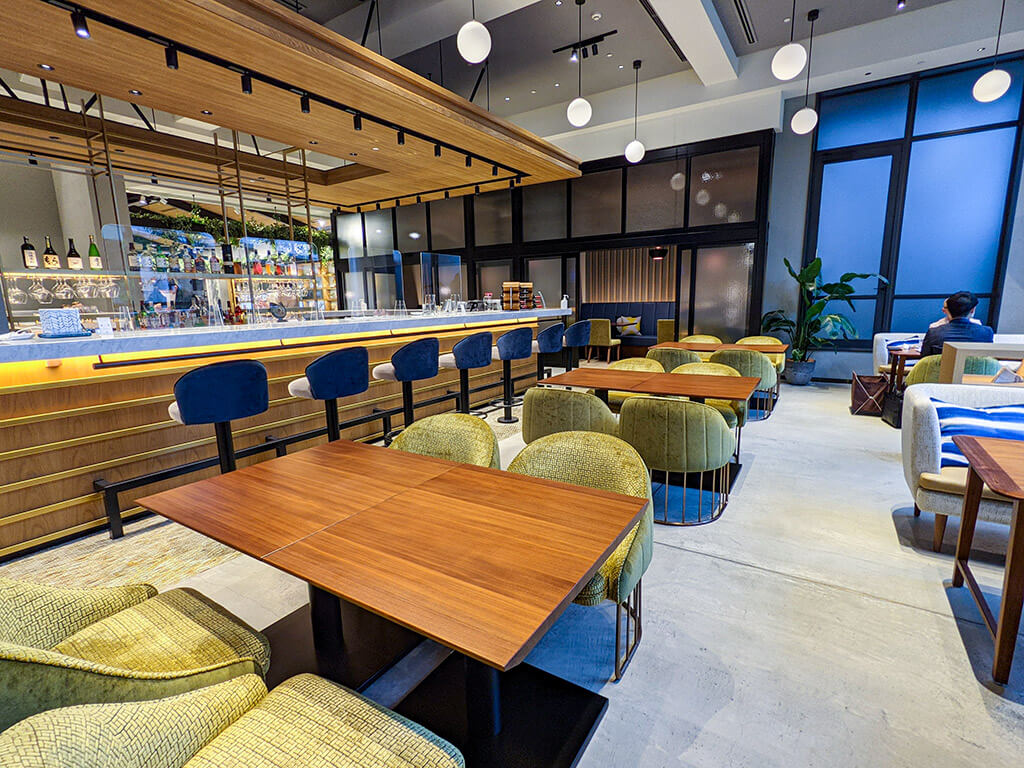 Even when the Style Kitchen isn't serving lunch or dinner, guests can always come by to enjoy the atmosphere and have a drink at the Cafe and Bar.
Really, Style Kitchen is the perfect place to get some work done (with free WIFI and plenty of outlets). If you are like me and need a coffee fix in the afternoon to re-energize, you need to try the coffee at Style Kitchen.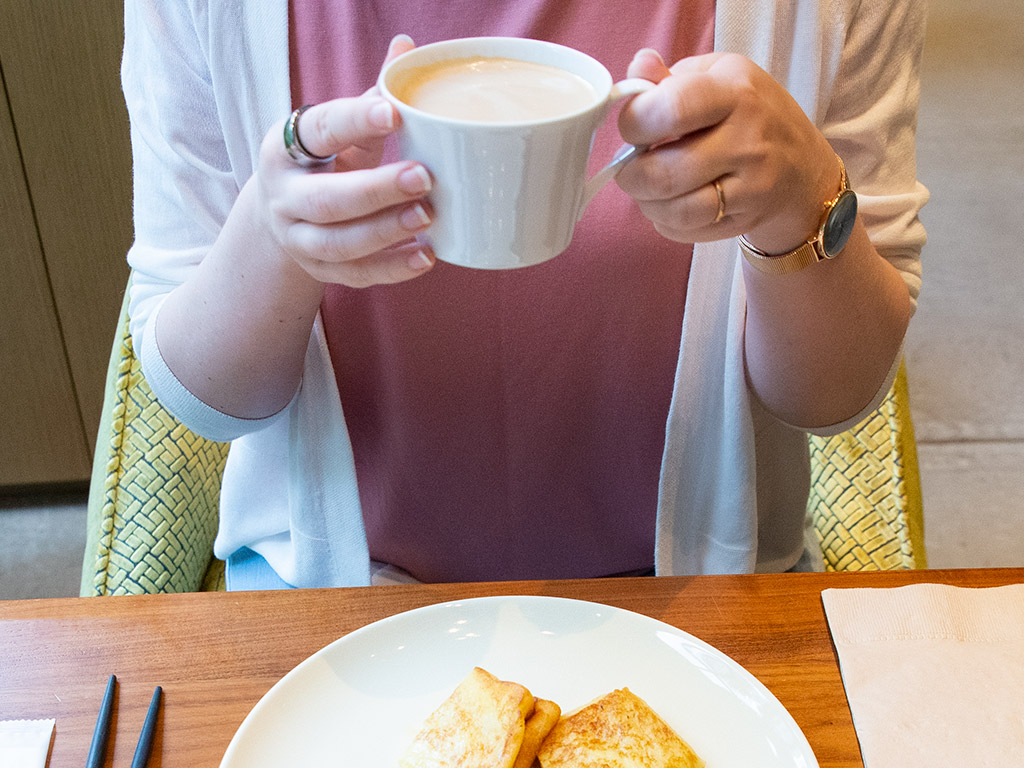 The hotel is supplied by Trunk Coffee, one of the best coffee shops in the city for specialty coffee. They are also using high-quality equipment to ensure every cup of coffee is perfectly made. The cappuccino for breakfast was probably the best I have ever had in Nagoya, with a generous amount of creamy milk foam and a rich, well-rounded coffee taste.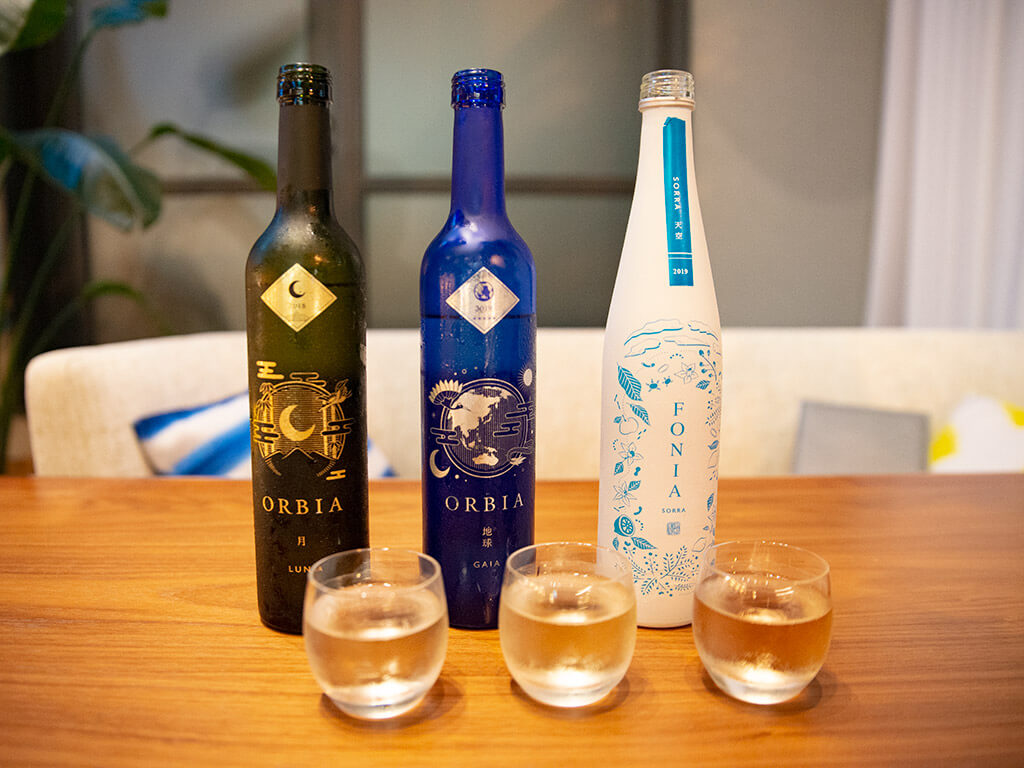 In the evenings, you can choose from a selection of alcoholic drinks, including local craft beer and Sake, as well as European and Japanese organic wine and flashy cocktails. This part was the one Elly enjoyed most during our dinner. The Sake she tried had a fancy bottle, and it had a lovely taste and aroma.
A Menu to Reflect the Changing Nature of the Seasons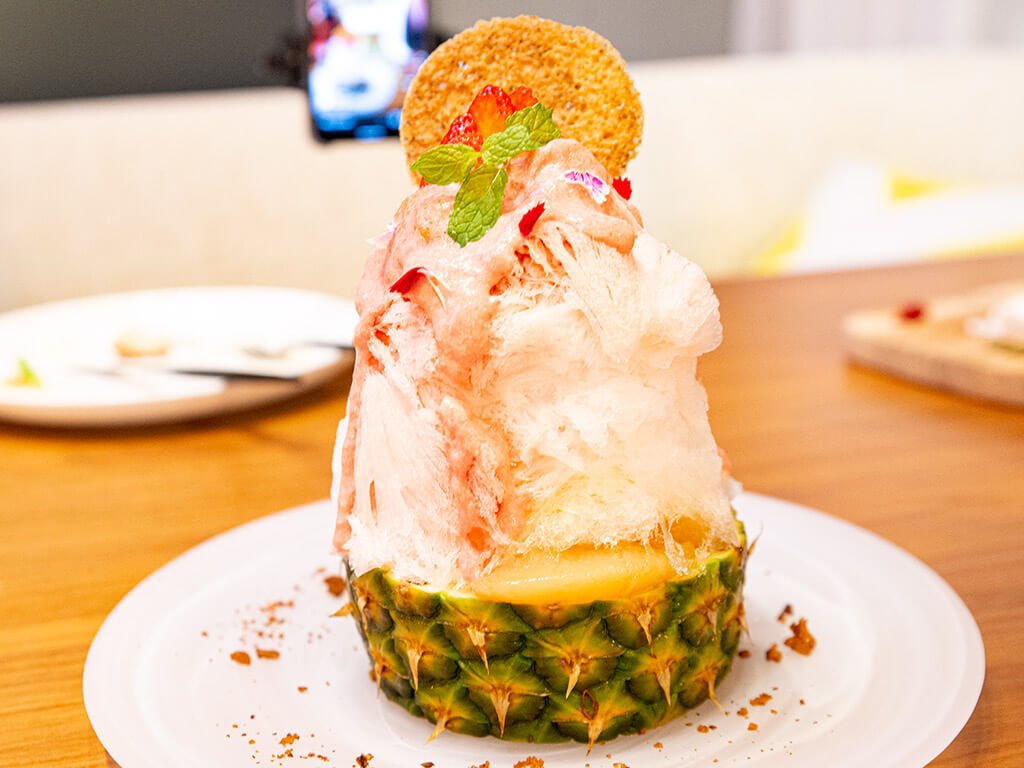 If you visit until the end of August (which we personally think you should), you can try the best-shaved ice we have ever had. The masterpiece is called Lahaina, and it consists of a pineapple base filled with caramelized pineapple and mango, slices of peach, and sweet and sour lemon. The shaved ice is topped with rosehip syrup. Each spoonful is an explosion of different summer flavors, sweet and refreshing.
And if you can not make it this summer, other seasonal specialties will await at Style Kitchen no matter when you visit.
Each time we visit, we thoroughly enjoy our time there, and we highly recommend Style Kitchen to everyone looking for a restaurant for a special occasion, big or small, or as a bit of self-indulgence. It's a great place to invite friends and family to, and with their changing seasonal menu, there is always something new to look forward to for the next visit.
Style Kitchen (スタイルキッチン)
Opening Hours: Mon – Fri 10:00-21:30 (L.O. 20:30), Sat10:00-22:00(L.O. 21:30), Sun10:00-18:00 (L.O. 17:30)
Lunch 11:30-14:30(L.O. 14:00)
Dinner 17:30-21:30(L.O. 20:30)
Access: 10-minutes walk from Nagoya Station
Address: 5-20-13 Meieki, Nakamura Ward, Nagoya, Aichi 450-0002
Website | Google Maps
---
Did you enjoy this article?
Make sure to also check out our other posts about Nagoya and trust us if we say Nagoya is not boring!
Be sure to follow us on Facebook for new articles every week, and see our Instagram for pictures and stories about Nagoya!
Tag us 📲
If you have been at Style Kitchen, share it with everyone in the comments below. Also, don't forget to tag us on social media with #nagoyaisnotboring