Let's be honest here, cultural experiences and nature are nice, but shopping in Japan is one of the things many people really look forward to. You can buy so many things here you get nowhere else in the world!
If you are one of these people this post is for you. Here we will introduce to you the best shopping opportunities in Nagoya. No matter what you are looking for, Nagoya has a place where you can buy it! Guaranteed!
Don't Pay Japanese Consumption Tax! Here is how Tax-Free Shopping in Nagoya works.
Consumption tax in Japan was raised to 10 percent in 2019. It still isn't much, but as a visitor you will be happy to know you don't have to pay consumption tax in many cases making your shopping just a little bit cheaper.
Shops, where you can get a tax refund, have a tax-free sign.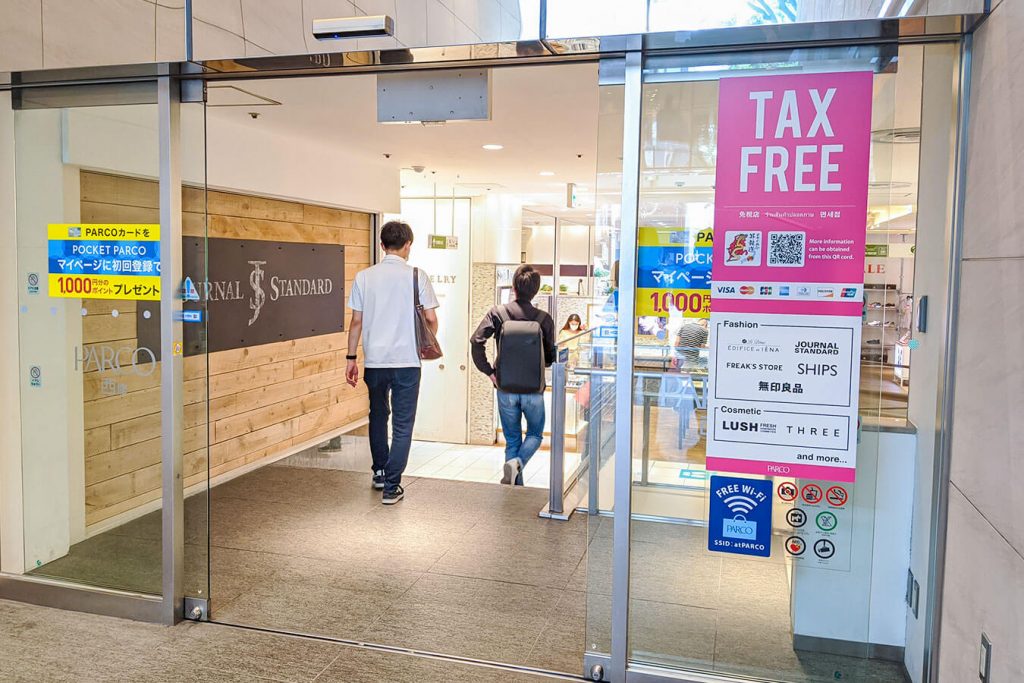 There are a couple of complicated rules, but for the purpose of this article you are eligible if you pay more than 5,000 yen at a single shop, and you need to get your tax refund in the shop, either at the cash register or a special tax-free counter. You can only do this on the day of your purchase, and you will need to carry your original passport with you.
Some shops, like department stores, offer tax-free but charge a service fee of around 3 percent which reduces your refund percentage, but it's still better than nothing!
When leaving the country it is best to have the purchased items in your carry-on.
Have you heard of Omiyage? The Japanese-style Souvenirs!
For most travelers to Japan, souvenirs for themselves or others are quite high on the shopping list. So, let's start with the best place to buy souvenirs in Nagoya.
Gift Kiosk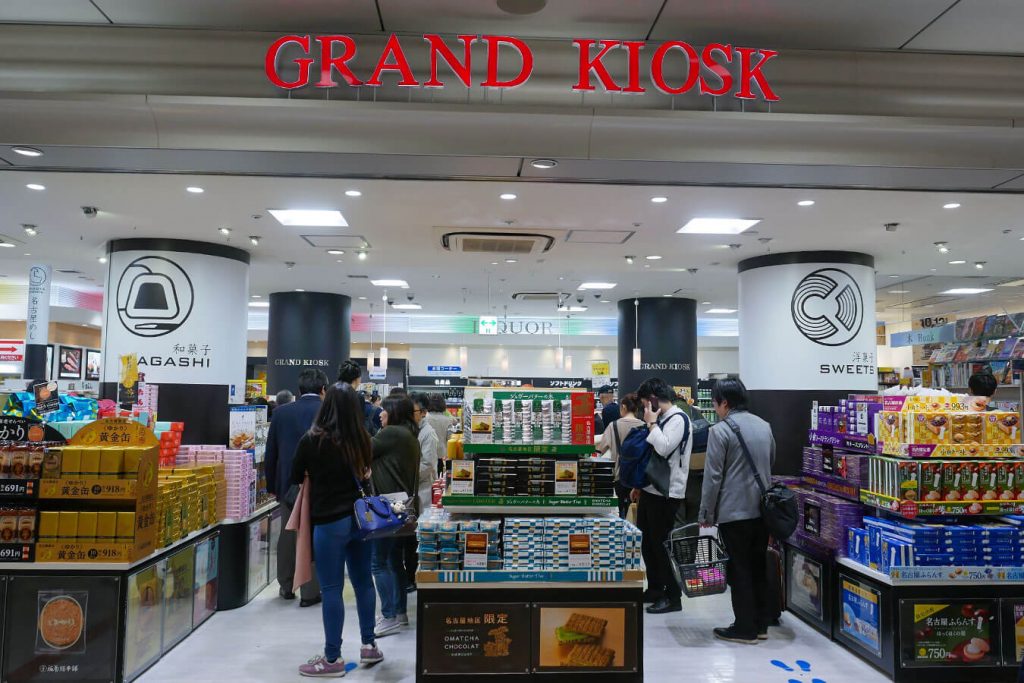 Nagoya Station is definitely the best place to buy souvenirs if you are looking for something edible. Multiple gift shops around the station offer all the local delicacies to take home with you.
You'll find Shrimp Rice Crackers (Ebi Senbei), Uiro (a chewy steamed cake), Miso Nikomi Udon, and Kishimen home cooking kits, and even vacuum packaged raw chicken wings called Tebasaki (careful chances are you won't be able to bring them into your home country).
The reason gift shops all over Japan are stocked to 90 percent with food items is because of their Omiyage culture. Instead of buying useless trinkets, the Japanese buy local snacks and sweets at their travel destination to give to family, friends, and even co-workers. The Japanese can't go anywhere without buying some Omiyage for everyone, that's why no matter where you go in Japan you will find local sweets to be readily available.
Grand Kiosk Nagoya (グランドキヨスク 名古屋)
Opening Hours: 6:15 – 22:00
Address: 1-1-4 Meieki, Nakamura Ward, Nagoya, Aichi 450-0002
Website (Japanese only) | Google Maps
Nagoya Castle Gift Shop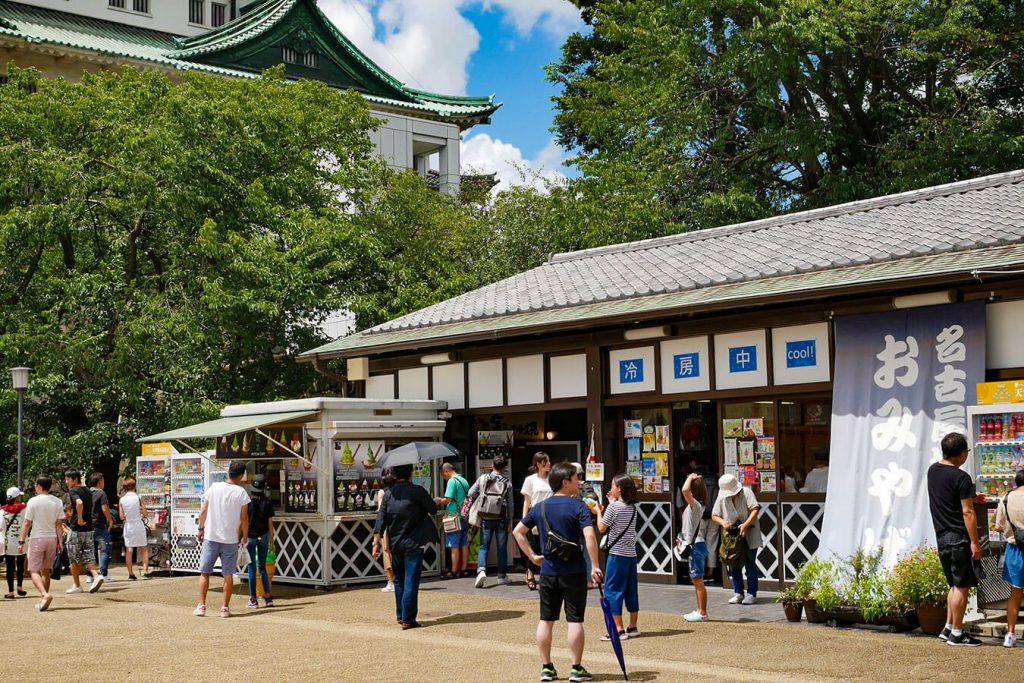 The second best place for souvenirs is the souvenir shops on the grounds of Nagoya Castle. Here you will also find some trinket-like souvenirs like keychains with the symbol of Nagoya, Nagoya Castle, or the golden tiger-fish Kinshachi.
Nagoya Castle Gift Shop
Opening Hours: 9:00 – 16:30
Address: 1-1 Honmaru, Naka Ward, Nagoya, Aichi 460-0031
Google Maps
If You Aren't Too Big or Tall, Get Ready to Shop for Japanese Clothing.
No matter if you are looking for brand items or young fashion, you will find what you are looking for in Nagoya.
Brand Shops in Sakae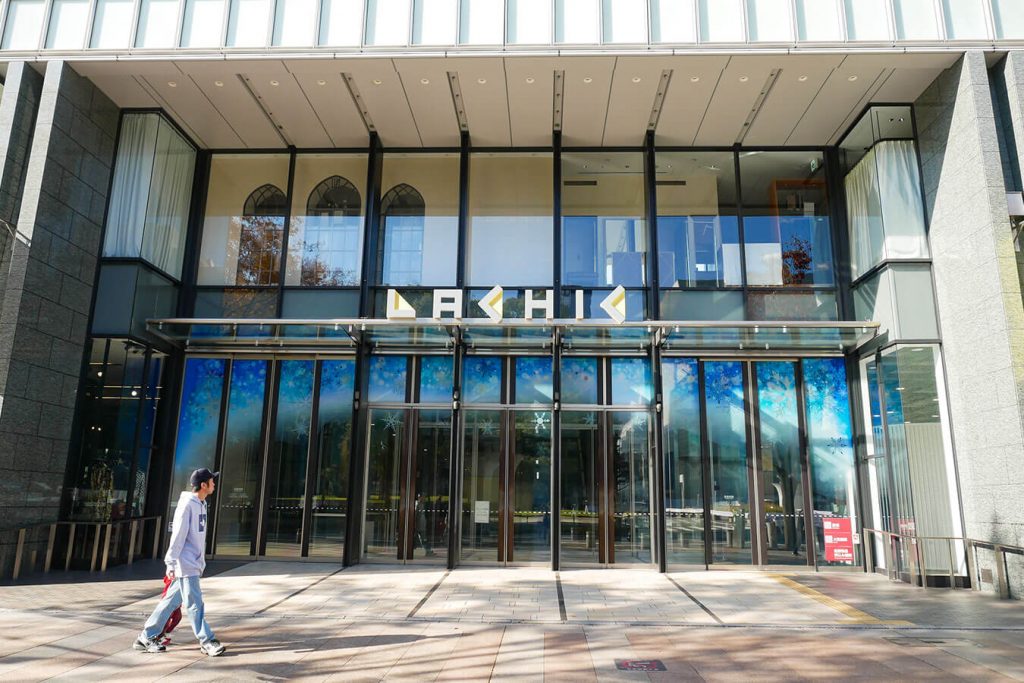 Sakae is the entertainment district of Nagoya and the place to go if you are looking for national and international brands. You'll find Gucci, Louis Vuitton, and Prada.
Lachic Shopping Mall is full of brand shops as are the gigantic department stores (Mitsukoshi and Matsuzakaya) to its left and right.
Lachic (ラシック)
Opening Hours: 11:00 – 21:00
Address: 3-6-1 Sakae, Naka Ward, Nagoya, Aichi 460-0008
Website | Google Maps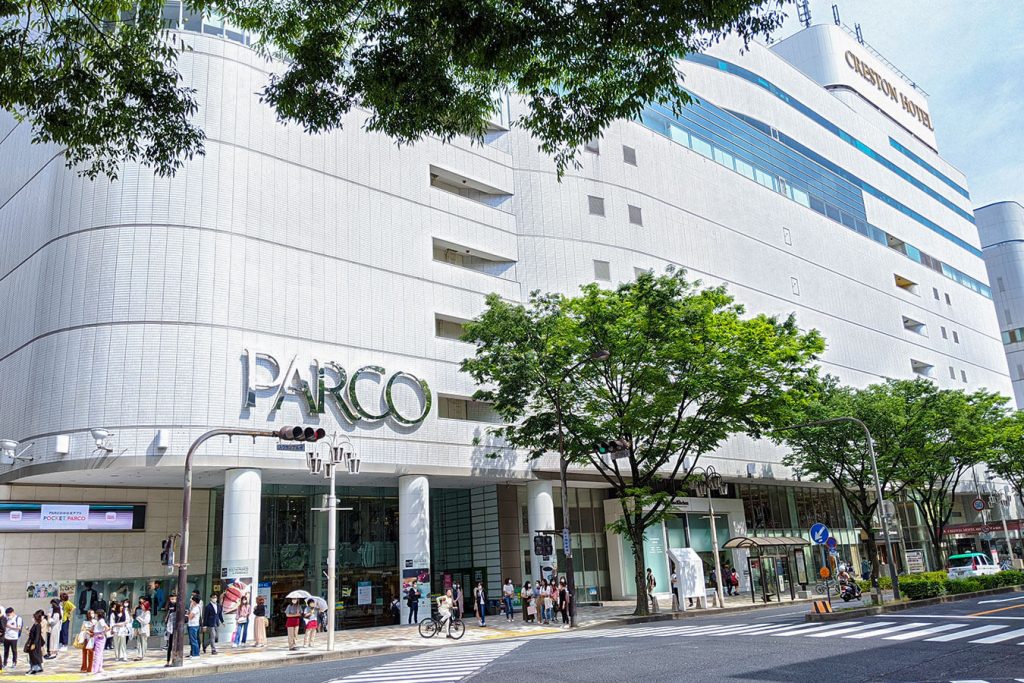 Some cheaper shopping is possible at PARCO fashion mall just two blocks south of Lachic.
PARCO Nagoya Store (名古屋 PARCO)
Opening Hours: 10:00 – 21:00
Address: 3-29-1 Sakae, Naka Ward, Nagoya, Aichi 460-0008
Website | Google Maps
Cheap Shopping in Osu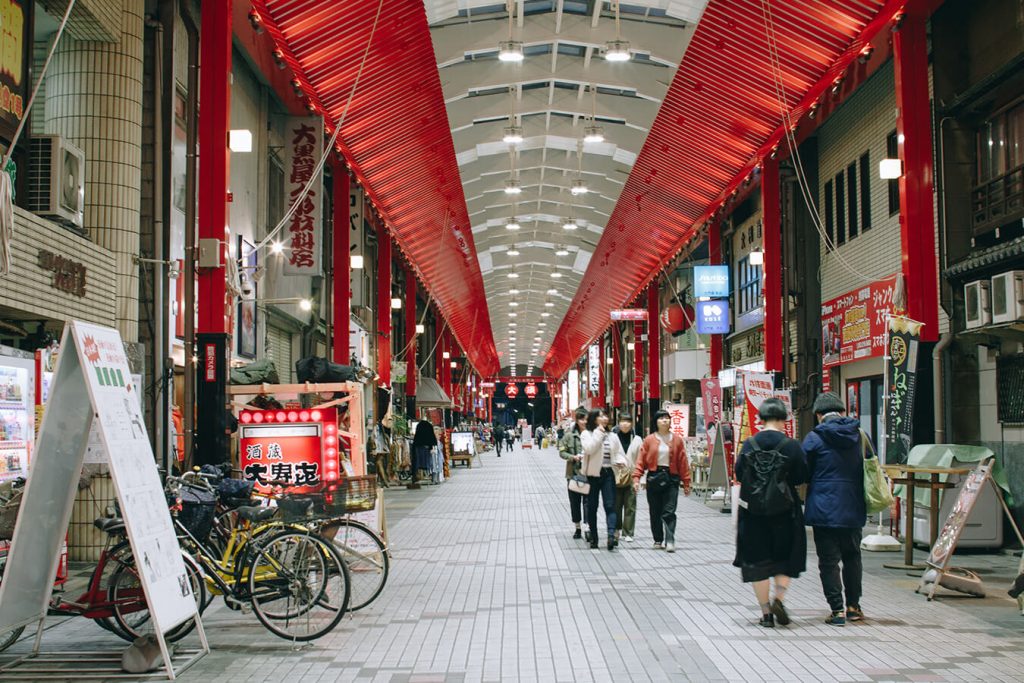 Osu consists of a network of roofed-over shopping streets where you will find many delights. One of which is cheap clothing stores, as well as second-hand shops. If you are looking for young fashion Osu is a great place to start.
Uniqlo and GU
You can't leave Japan without having visited a Uniqlo store at least once. This might just be the most famous Japanese clothing brand by now. Uniqlo is specialized in basic items for everyday wear. They use technology to create the most comfortable innerwear you can imagine. Warm inner layers for winter, and airy base layers for summer. Their t-shirts, trousers, and even formal shirts are easy to combine with anything and so comfortable to wear that the brand is a huge success not only in Japan but steadily spreading across Asia.
Their biggest selling point is their cheap prices for the amazing quality you can get.
The best-sorted Uniqlo in Nagoya is located at Nagoya Station on the 11th floor of JR Gate Tower.
Uniqlo Nagoya JR Gate Tower (ユニクロJRゲートタワー)
Opening Hours: 11:00 – 21:00
Address: 1-1-3 Meieki, Nakamura Ward, Nagoya, Aichi 450-6611
Website (Japanese only) | Google Maps
GU is a sub-brand of Uniqlo and even cheaper, but the quality is also noticeably lower. This brand caters to younger people on a tight budget. You will usually find a GU close to most Uniqlo stores.
We All Want to Look Our Best. Japanese Cosmetics Might Help!
The most famous Japanese cosmetics brand is probably Shiseido, but there are many other amazing brands you shouldn't miss if you are interested in cosmetics. Not all of them will cost you an arm and a leg either.
Here are some ideas on where to shop for cosmetics in Nagoya.
Department Stores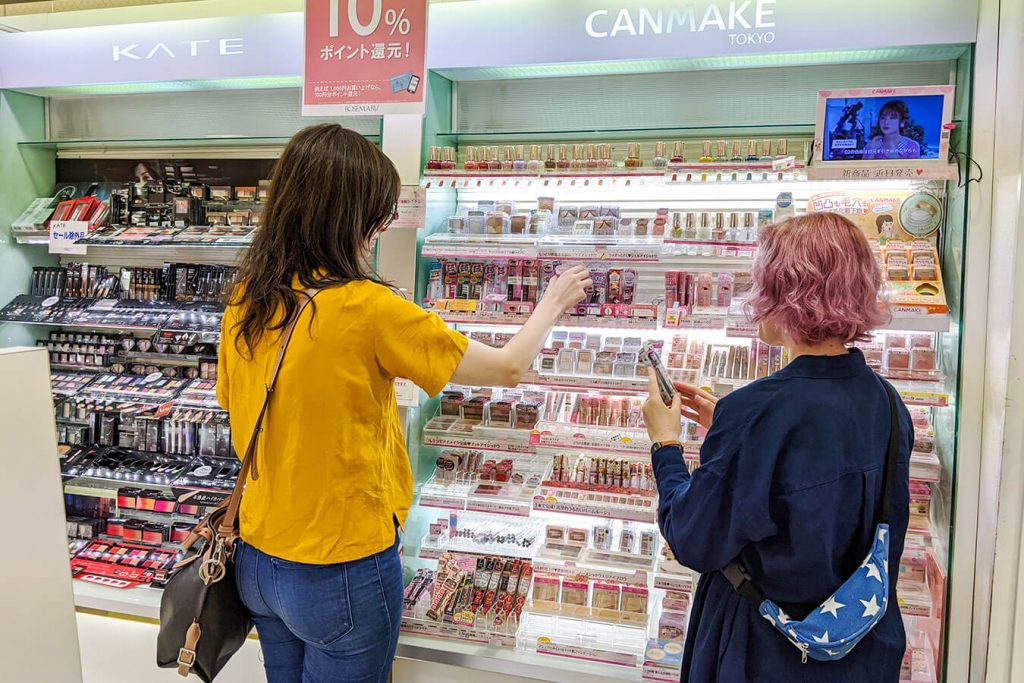 Department stores like Takashimaya and Meitetsu at Nagoya Station and Mitsukoshi and Matsuzakaya in Sakae all dedicate their first floor to cosmetics. Not only Japanese brands like Shiseido, SK-II, and Shu Uemura but mostly the world-famous top cosmetics brands can be found here.
Have someone assist and explain to you the differences between different products and even apply the products that most interest you. Let yourself be pampered, the Japanese ladies working at these cosmetics booths know what they are doing.
Drug Stores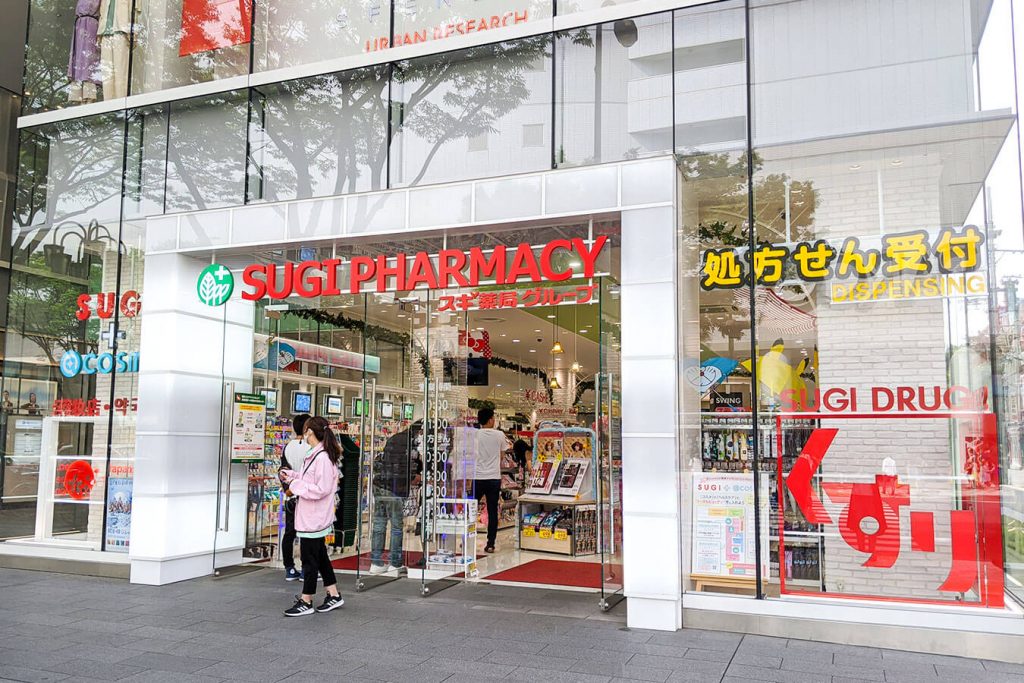 The cheaper alternative to department stores when it comes to cosmetics is drug stores. They are plentiful in Nagoya, and most of them are tax-free for tourists, provided you buy items for more than 5000 yen in one go.
Famous brands you can find in drug stores are Cezanne, Canmake Tokyo, and Kate Tokyo. These brands are reasonably priced but have the Japanese high-quality people are looking for while representing the unique style of makeup we associate with fashionable Tokyo.
100 Yen Shops
The cheapest place to get cosmetics are 100 yen shops. Daiso and Can Do have their own makeup brands that even though each item is sold for only 100 yen they are of high quality and tested under the high standards of the Japanese cosmetics industry.
In the Land of High-Tech Shop for Electronics!
Japan is famous for amazing electronics. Just think about their world-famous cameras and high-tech toilet seats. All of your electronics dreams will come true by visiting one of the following shops.
BicCamera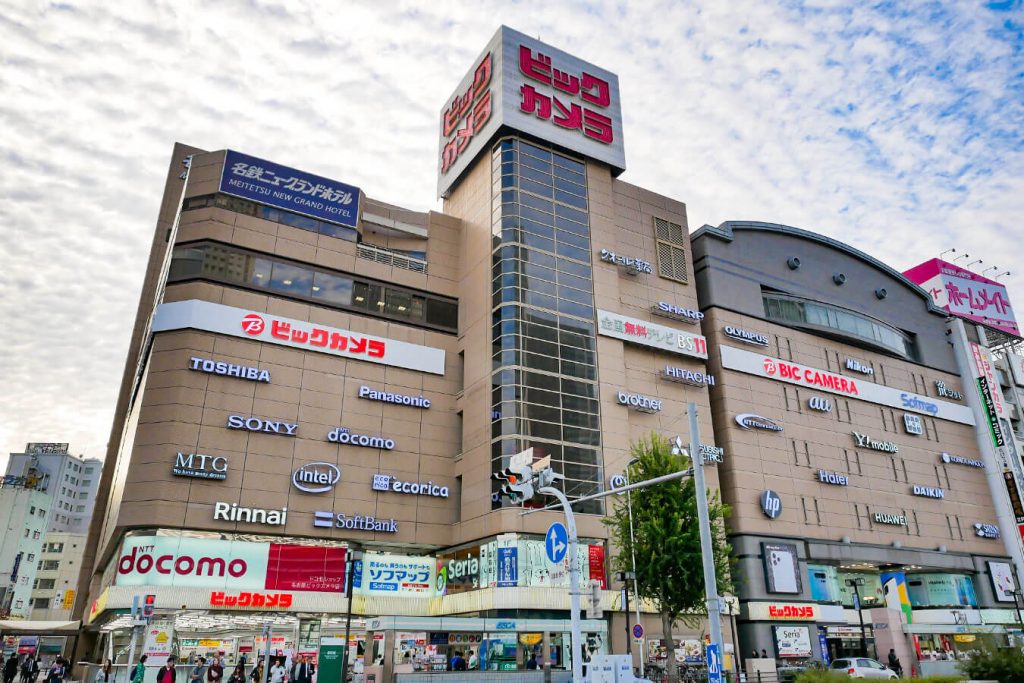 BicCamera is an electronics store you can find all over Japan. In Nagoya, the biggest BicCamera is located on the west side of Nagoya Station. On 6 floors you will find anything from home appliances to SIM cards. You can also buy TVs, computers, games, and toys.
Aside from tax-free shopping, which you can do in many shops in Nagoya, BicCamera offers additional discounts of up to 8 percent on many items to foreign visitors. Make sure you use them for an even cheaper shopping experience.
BicCamera Nagoya Station West Store (ビックカメラ名古屋駅西店)
Opening Hours: 10:00 – 21:00
Address: 6-9 Tsubakicho, Nakamura Ward, Nagoya, Aichi 453-0015
Website (Japanese only)| Google Maps
Yodobashi Camera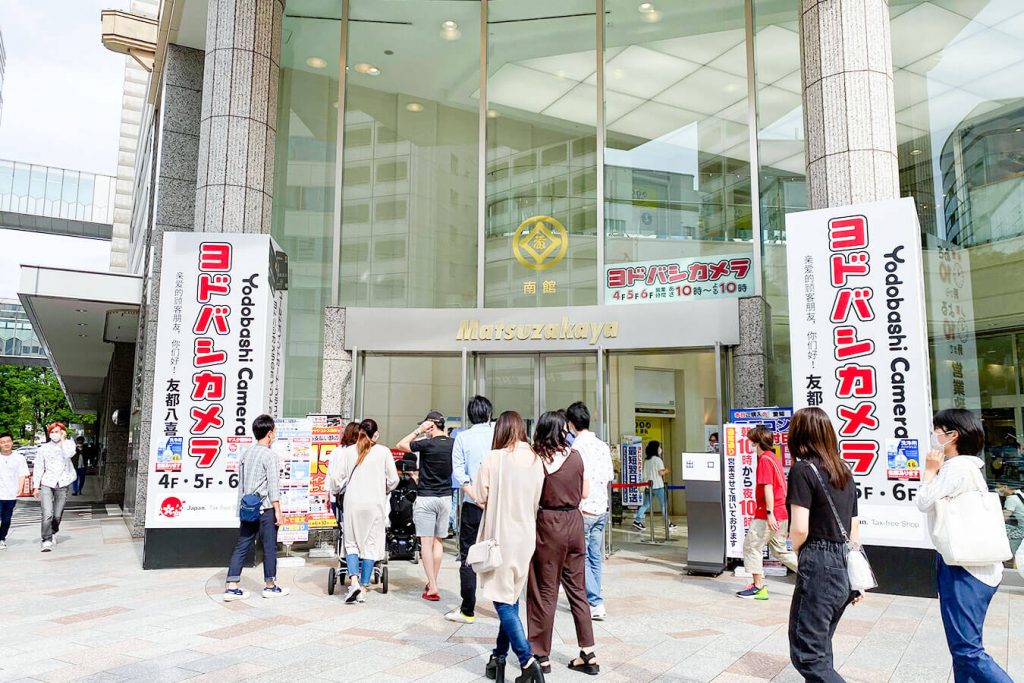 Yodobashi Camera is one of the biggest competitors of BicCamera and essentially they have the same range of products, around the same price point.
A big Yodobashi Camera can be found in Sakae, as part of the Matsuzakaya Department Store. They also offer additional discounts to foreign visitors. So there is really no advantage or disadvantage of visiting either.
Yodobashi Camera Multimedia Nagoya Matsuzakaya Store (ヨドバシカメラ マルチメディア名古屋松坂屋店)
Opening Hours: 10:00 – 22:00
Address: 3-16-1 Sakae, Naka Ward, Nagoya, Aichi 460-0008
Website | Google Maps
Ameyoko Building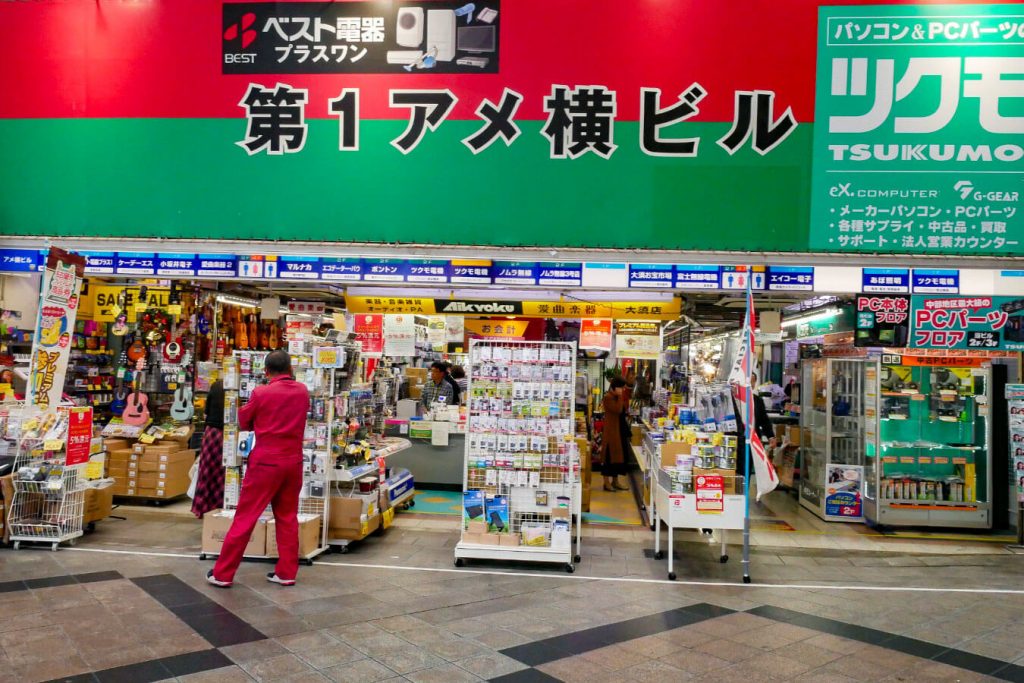 Ameyoko Building was one of the first electronics stores in the Osu shopping streets and it is the place to go if you are looking for parts for your computer, games, and everything else a computer geek might be interested in.
Nowadays Osu has multiple electronics stores catering to this interest as well as lots of second-hand electronics stores where you might be able to find a drastically cheap iPhone or computer.
First Ameyoko Building (第1アメ横ビル)
Opening Hours: 10:00 – 20:00
Address: 3-30-86 Osu, Naka Ward, Nagoya, Aichi 460-0011
Website (Japanese only) | Google Maps
Foodies Pay Attention! Here Is Where You Need to Go Shopping for Food in Nagoya.
We earlier touched upon the subject of food items when we talked about consumable food items to bring home for your family friends or, let's be honest, yourself.
For more snacks, instant foods, and cooking ingredients visit one of the following places.
Depachika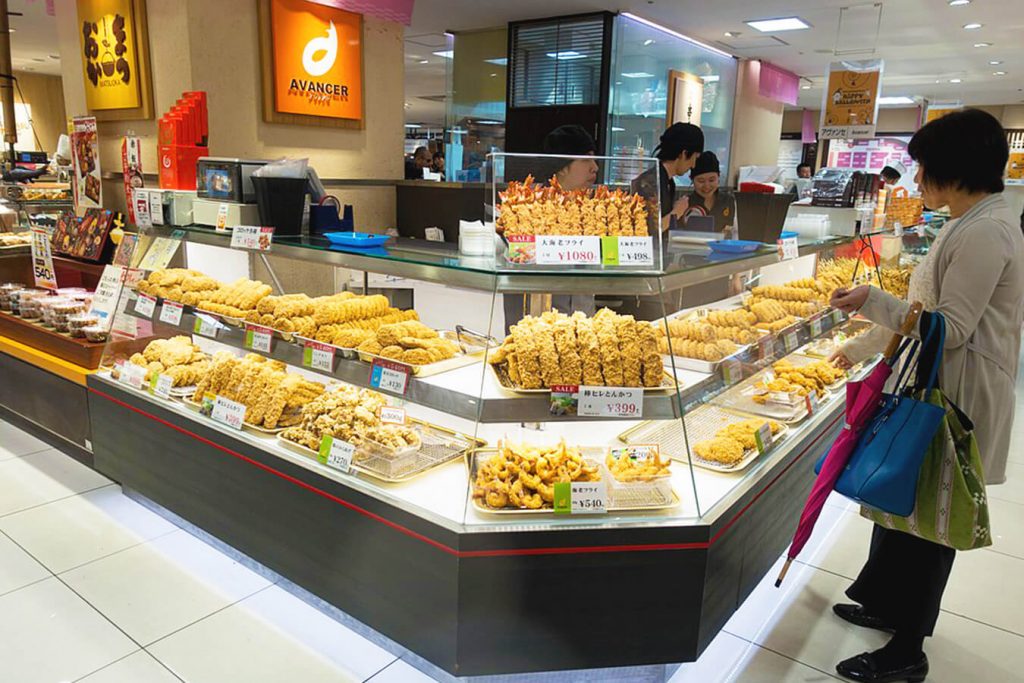 Depachika is what the underground levels of a department store are called. The floor or floors are usually divided into 3 food sections, an overpriced but very well-stocked supermarket section, a takeout prepared food section, and a gift section.
We recommend taking your time and exploring all of it, even if you aren't planning on buying much of anything. Staff will hand out samples, which you should feel free to accept. You will find a wide variety of food items you probably have never seen before and it is really almost like a theme park for food lovers down there.
There are a couple of big department stores in Nagoya. Takashimaya and Meitetsu are located right inside Nagoya Station, Mitsukoshi and Matsuzakaya are the two big department stores in Sakae. They are hard to miss so don't worry too much about remembering their names.
For more information on food experiences, you can have in Nagoya, read this post.

Supermarkets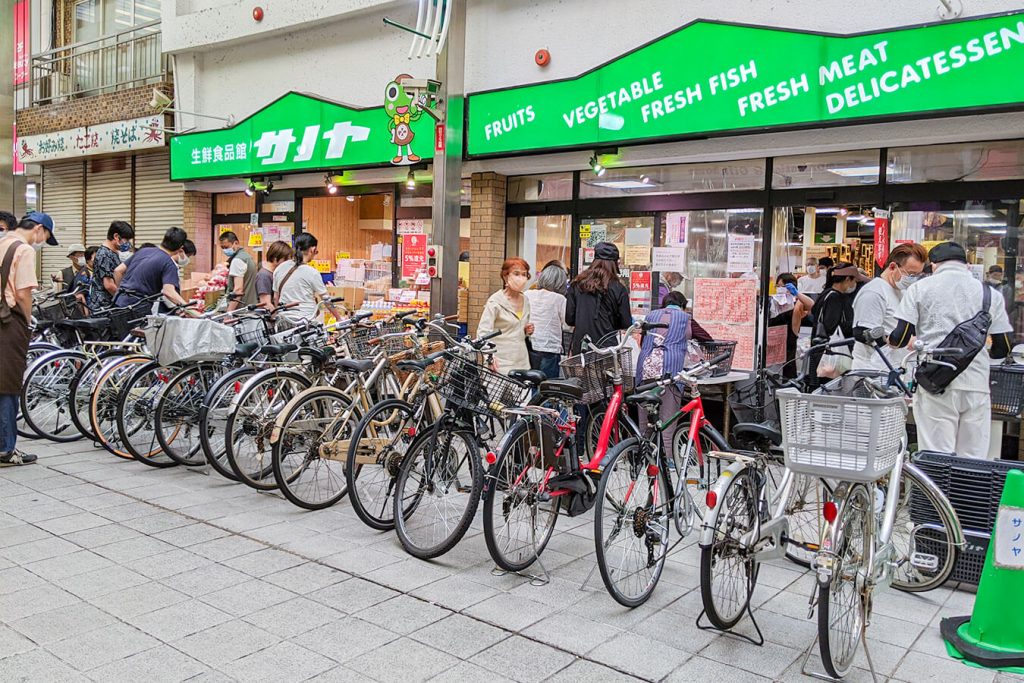 Supermarkets are another great and way cheaper place to find some foods to take home with you (or consume right away, we are not judging). You can find Japanese sweets, delicious instant food products you can prepare by adding just a couple of fresh ingredients, and of course delicious seasonings like Okonomiyaki and Yakisoba sauce.
You will usually find supermarkets close to every train station in Nagoya. One of the easiest to access to tourists might just be the one located right in the Osu shopping streets. It is a place for locals, but no one will say anything if you pop in and have a look around.
While you are in Osu you might also want to check at Amika Supermarket which is a very convenient place if you are looking for sweets and snacks in large quantities at a reasonable price.
Convenience Stores
Convenience stores in Japan are, there is no other word for it, convenient. They might just be the best convenience stores in the world with delicious prepared foods like Onigiri (rice balls) and Bentos (lunch boxes) of high quality.
You can find convenience stores in Nagoya at literally every corner so you won't have a problem with finding them. The biggest brands are Seven-Eleven, Lawson, and Family Stop.
Nagoya Is the Home of Second-Hand. Take Advantage!
If you are looking for something a little bit different to take home with you, how about some second-hand items?
Komehyo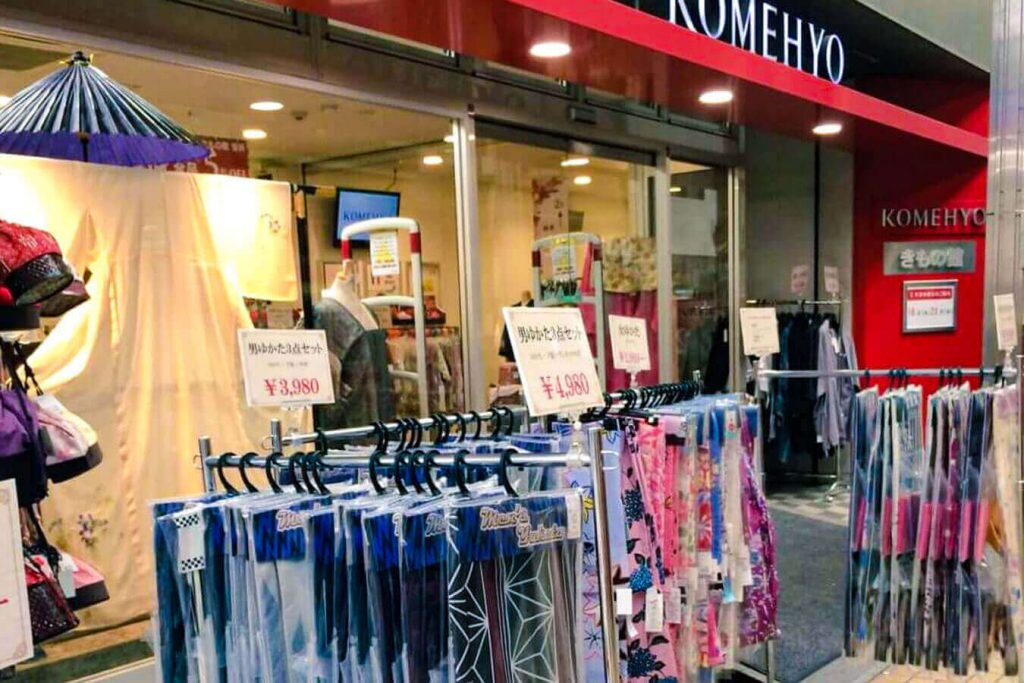 Komehyo is a shop selling nothing but second-hand items. Of course clothing items but also brand items, jewelry and watches, and even musical instruments.
Their main store is located in Osu, where they have two other stores as well, one specializing in second-hand Kimono, and one specializing in cheap clothing you buy by weight.
Komehyo is a famous shop in Nagoya and many domestic tourists like checking it out looking for a bargain.
Komehyo (コメ兵名古屋本店)
Opening Hours: 10:30 – 19:30
Address: 3-25-31 Osu, Naka Ward, Nagoya, Aichi 460-0011
Website | Google Maps
Antique Market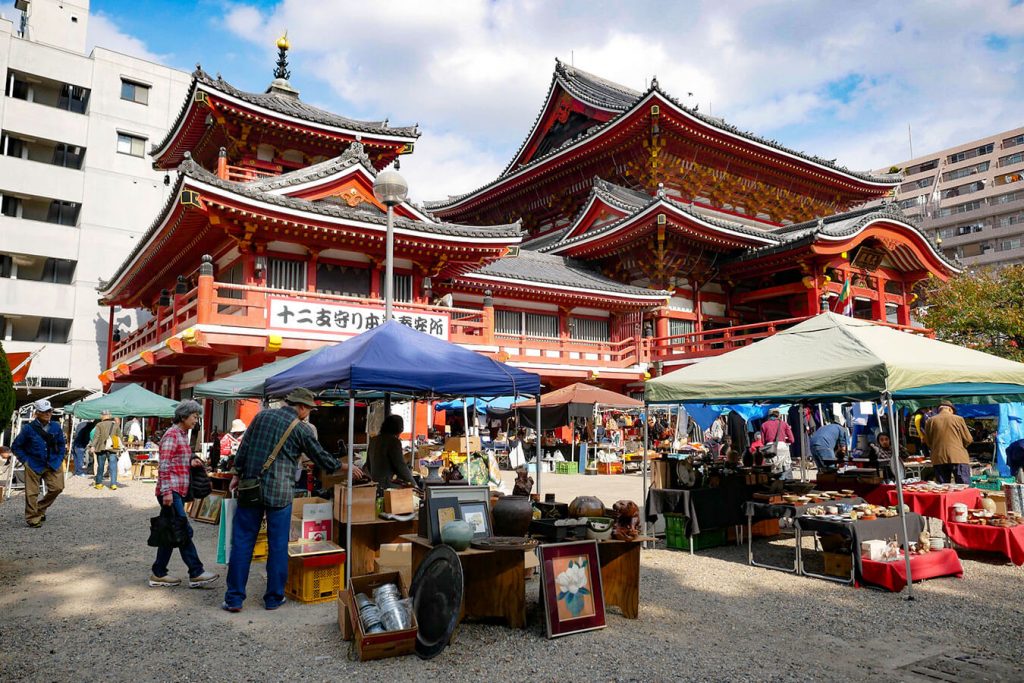 If it should be even older, and even cheaper, head to the Osu Kannon Antique Market taking place twice a month on the 18th and 28th. It's a pleasure strolling around the tents looking at items that might be treasure or junk, sometimes it is very hard to tell. At many of the stalls, you will find second-hand Kimono.
Bargaining is part of the fun, and even if you don't speak Japanese the sellers will find a way to bargain with you.
For more information on shops selling second-hand Kimono check out this post.
100 Yen per Item. It's Almost Too Good to Be True.
100 yen shops have almost nothing in common with the dollar shops and euro shops in America and Europe. They are bright, clean, and stocked with high-quality products, and incredibly useful goods for the household. At 100 yen apiece, which isn't even one US dollar.
You will really struggle not to buy too much, not because it's expensive, but because how will you fit everything into your suitcase?
Daiso
The biggest brand when it comes to 100 yen shops is Daiso and you will find one close to almost every train station in Nagoya. They come in bigger and smaller sizes but chances are you will find at least one item you kind of feel like you have to buy.
Seria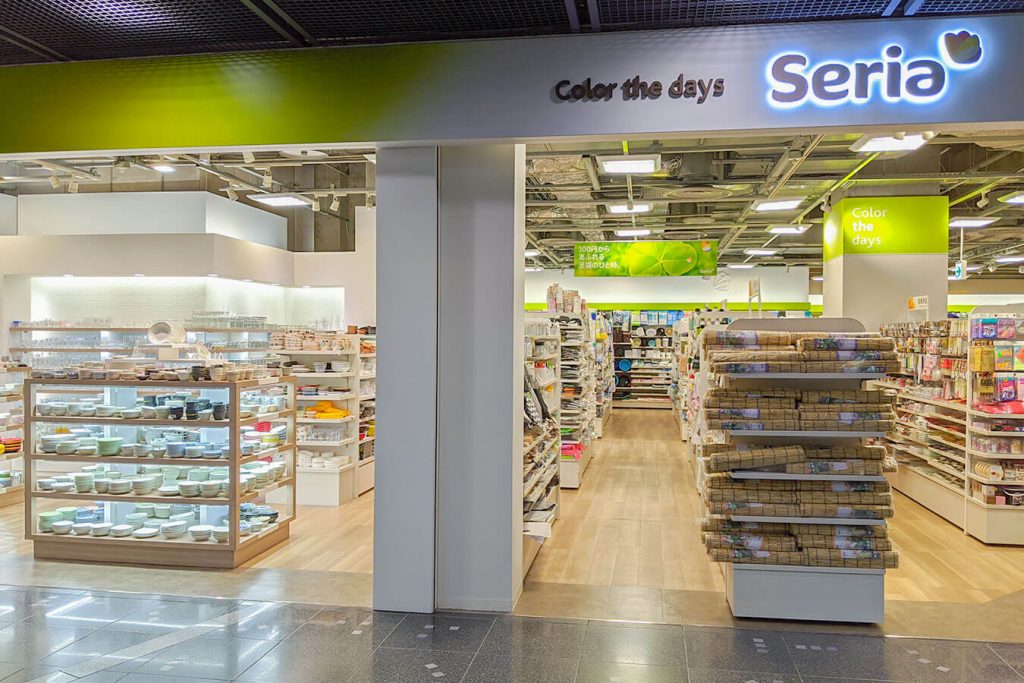 Seria is the biggest competitor of Daiso, and they are doing a good job of offering different things. For example, their goods for baking are much more diverse than Daiso, and they offer other tableware.
One of the bigger Saria in Nagoya is in the Osu Shopping Streets, another one can be found in BicCamera on the west side of Nagoya Station.
3 Coin Shops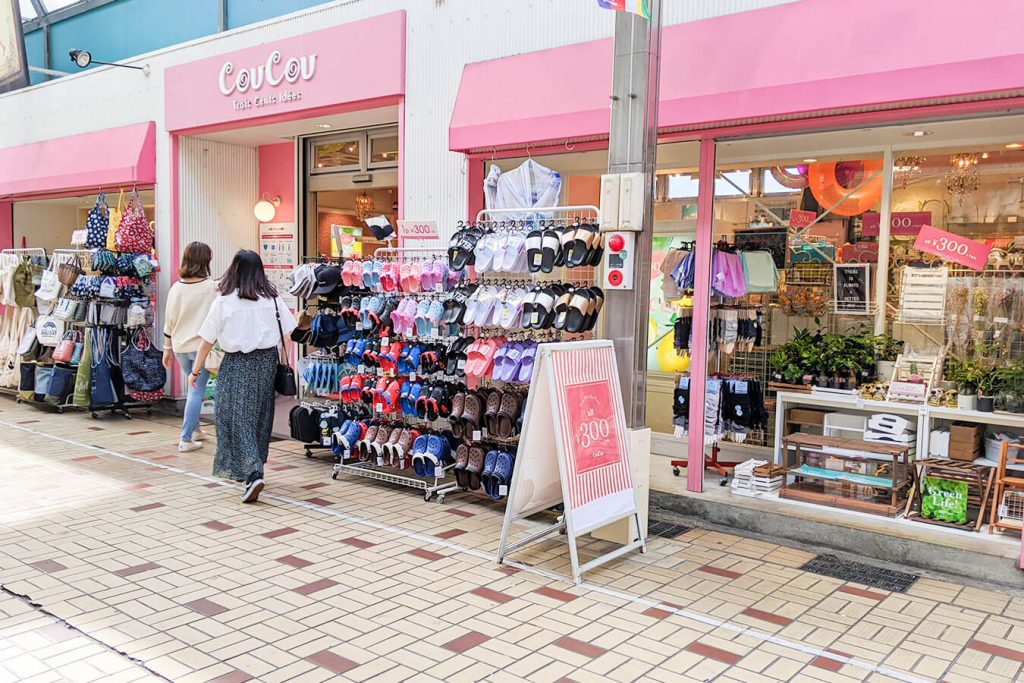 Some things you just can't produce so cheap that you can sell them for 100 yen. That's where the 3 coin shops come in. Similar to 100 yen stores but offering household items, accessories, and other goods with a greater focus on design where each item costs 300 yen (plus tax).
You will find one in Nagoya for example at Unimall the underground shopping street on the east side of Nagoya Station, at Kanayama Station, and in Osu.
If You Can't Decide, Shop Here!
Sometimes you just want to have a look around and go to one place where you can find a big selection of everything. For people like this we recommend one of the following places.
Don Quijote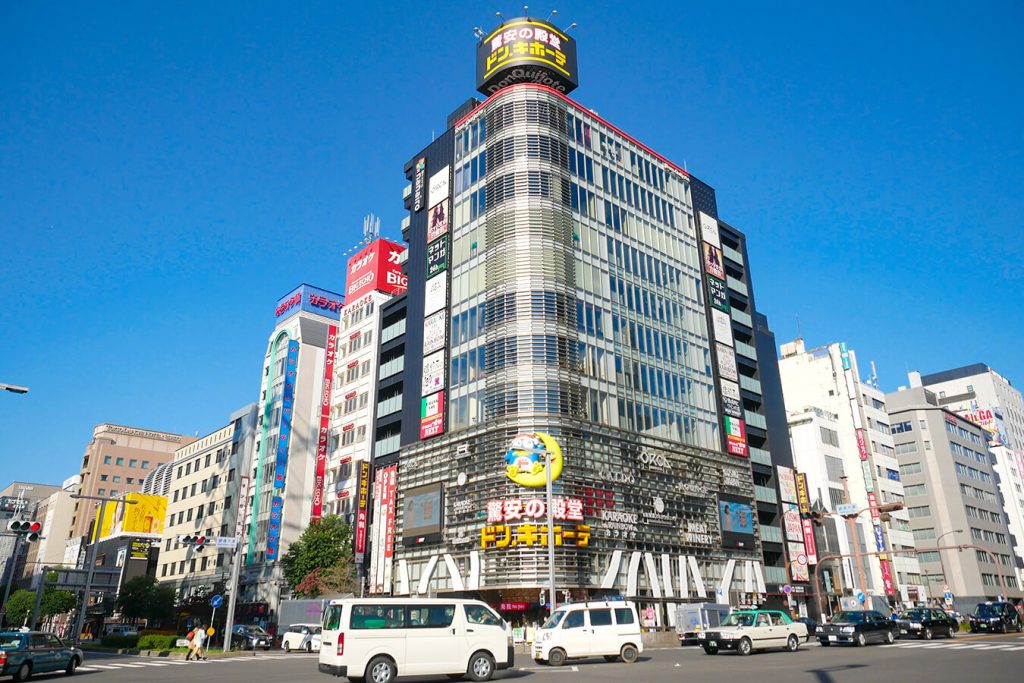 Don Quijote, more commonly known as "Donki" is one of the biggest shopping chains in Japan. It offers crazy discounted products including food, snacks, cosmetics, medicine, electronics, clothes, household items, silly costumes, and more. No matter what you are looking for Donki probably has it. And at a ridiculously cheap price.
The biggest Donki in central Nagoya is in Sakae, and it really is hard to miss. Amazing is also the fact that it is open 24/7 for those who want to go shopping at 3 o'clock in the morning.
Don Quijote Nagoya Sakae (ドン・キホーテ 名古屋栄店)
Opening Hours: open 24 hours
Address: 3-17-15 Nishiki, Naka Ward, Nagoya, Aichi 460-0003
Website | Google Maps
Department Stores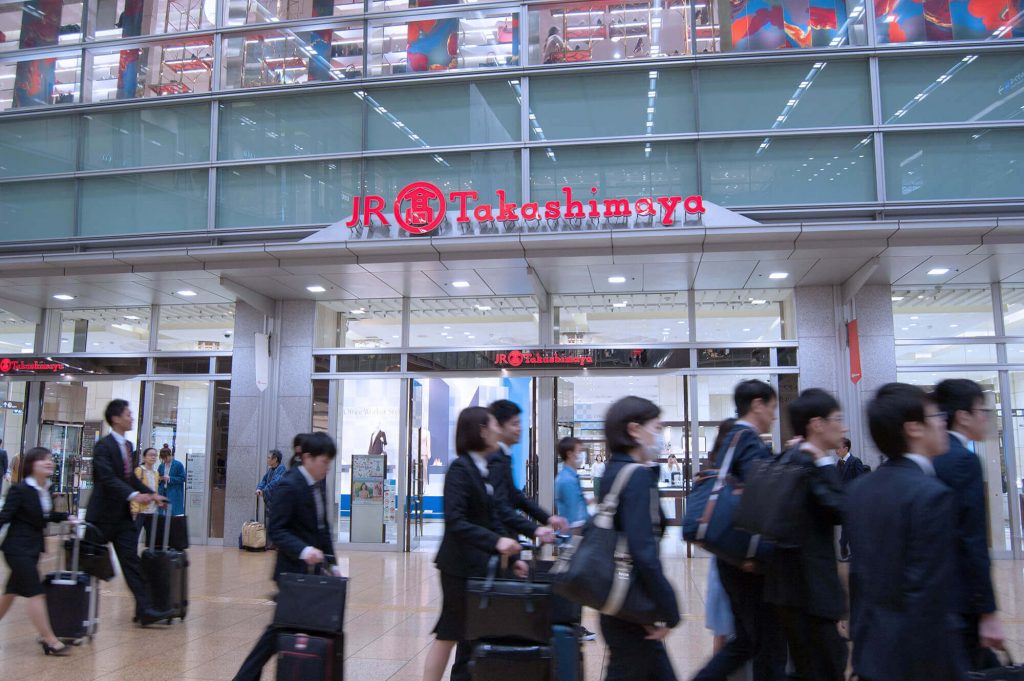 On the other end of the spectrum are department stores selling everything you can imagine anyone could need, but at a premium price. You will find famous clothing and cosmetics brands, jewelry, food, electronics, and household items. All from world-famous international as well as domestic brands. A true shoppers' paradise, if you have deep pockets.
As mentioned before the biggest and best department stores in Nagoya are Takashimaya and Meitetsu at Nagoya Station and Mitsukoshi and Matsuzakaya in Sakae. They are all basically the same, so just pick one and explore!
---
This concludes this detailed shopping guide of Nagoya. Was there anything we forgot to mention? Let us know in the comments, especially if you are looking for something not mentioned here.
Did you enjoy this article?
Make sure to also check out our other posts about Nagoya and trust us if we say Nagoya is not boring!
Be sure to follow us on Facebook for new articles every week, and see our Instagram for pictures and stories about Nagoya!
Tag us 📲
If you have done some shopping anywhere in Nagoya or bought some amazing items you would like to share, tag us on social media with #nagoyaisnotboring