You probably won't be surprised to hear that Japan loves its noodles, or Men as it's called in Japanese. There are all sorts of kinds: Ramen, Somen, Tsukemen, Tantanmen, Ikemen… OK, that last one actually isn't a type of noodle, but to anyone who knows some Japanese, you might get the joke!
Along with other well-known Meibutsu (specialty dishes), Nagoya has its own noodle dish to add to this list, Kishimen.
What Is Kishimen?
Officially Kishimen is a type of Udon noodle that you may be familiar with, simply made from water, wheat, and salt. While the noodles themselves may be simple, that makes them great for a mixture of different sauces and soups to go along with it.
Traditionally, Kishimen is served in a hot broth with various ingredients such as spinach, steamed fish cakes, deep-fried bean curd, topped off with some spring onion, and dry bonito flakes.
Let's have a look at what's on offer in Nagoya for its very own signature noodle, Kishimen.
Miya Kishimen
Miya Kishimen offers several Kishimen dishes in a newly renovated restaurant on the grounds of Atsuta Jingu Shrine, one of Japan's most famous Shinto shrines. You can enjoy a nice hot bowl of Kishimen in the cold winter months in a relaxing environment by the pond surrounded by nature. And in summer Kishimen is deliciously served chilled to refresh.
You might even see its most frequent customer, a rooster, as it parades around greeting visitors.
Miya Kishimen Atsuta Shop(宮きしめん 神宮店)
Opening Hours: 9:00 – 16:30
Address: Atsuta Jingu Keidai, Jingu 1-1-1, Atsuta Ward, Nagoya 465-8585
Website (Japanese only) | Google Maps
Nagoya Meshi Shokudo Maruhachi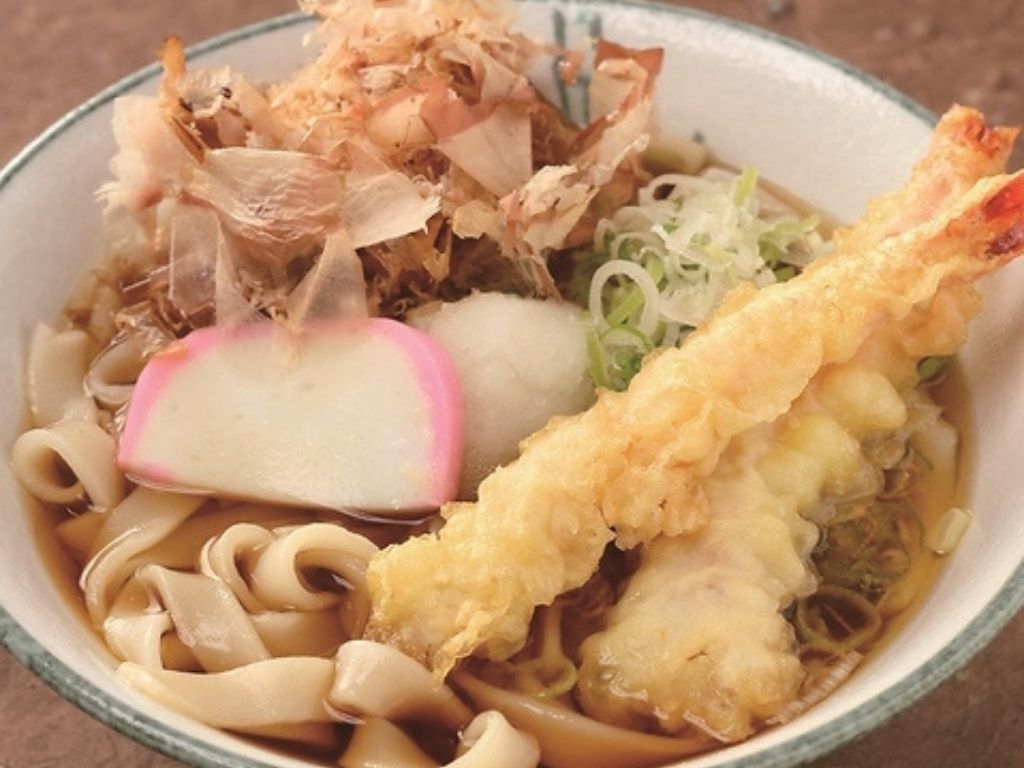 Nagoya station provides a lot of restaurants that just cannot wait to serve you everything that Nagoya has to offer. We'd like to introduce you to Maruhachi, which not only serves Kishimen but a wide spread of other Nagoya specialties as well if you want to add a bit of variety to your lunch.
Maruhachi serves various Kishimen, including Taiwan Mazeki Kishimen for a spicy kick or Misonikomi Kishimen for that rich red miso flavor that is synonymous with Nagoya itself.
Nagoya Meshi Shokudo Maruhachi Nagoya Station Shop (名古屋めし食堂 丸八 名古屋店)
Opening Hours: 11:00 – 22:30
Address: Nagoya Lucent Tower B1F, Ushijimacho 6-1, Nishi Ward, Nagoya
Website (Japanese only) | Google Maps
Yoshinoya
Taking us away from the busy streets of downtown Nagoya, Yoshinoya offers a different style both in its noodles and its atmosphere. If you want to experience a more traditional style of Japanese restaurant, this is a great place to go. It boasts a history of 60 years of family-run business and is very popular with the locals.
Their Kishimen noodles are known for being much wider and chewier than what you would find in other restaurants, but equally delicious! Be aware that this restaurant shares the same name (albeit with different Kanji) with a very popular chain Gyudon (a beef on rice dish) restaurant – quite the opposite of what this place has to offer.
Yoshinoya (芳之家)
Opening Hours: 11:30 – 20:00 (Closed on Mondays)
Address: Sakurayamacho 2-38, Showa Ward, Nagoya
Google Maps
Kishimen-Tei
Translated literally as "Kishimen Restaurant", Kishimen-Tei does precisely what it says on the tin. Kishimen-Tei provides a very relaxing atmosphere where you can partake in an excellent selection of Japanese sake as you slurp up your Kishimen noodles.
Kishimen-Tei (きしめん亭)
Opening Hours: 10:30 – 21:25
Address: Esca Chikagai, Tsubakicho 6-9 Nakamura Ward, Nagoya 460-0003
Website | Google Maps
Mentsurubi
Found in the downtown Sakae district, Mentsurubi serves up handmade Kishimen noodles that are prepared daily to each chef's own specifications.
You can get large portions of curry Kishimen or have them topped with a pork cutlet (Katsu) or fried shrimp (Ebifurai) along with other variations you may not find in other restaurants, like carbonara Udon!
This restaurant offers only counter seating and may not be ideal for those with children, but a good opportunity to experience Japanese dining in a really Japanese way.
Mentsurubi (めんつるび)
Opening Hours: 11:00 – 15:00 and 17:00 – 20:00
Address: Nishiki 3-20-10 Nishiki, Naka Ward, Nagoya 460-0003
Website (Japanese only) | Google Maps
Ekikama Kishimen
Another Kishimen restaurant located inside Nagoya station (there sure are a lot of them!), they boast a large number of customers, many of whom insist that you must try their noodles!
They're also known for their well-received Kishimen souvenirs that are popular for travelers to Nagoya.
Ekikama Kishimen (驛釜きしめん)
Opening Hours: 7:00 – 23:00
Address: Nagoya Chuo Dori Nagoya Station, Meieki 1-1-4, Nakamura Ward, Nagoya
Website (Japanese only) | Google Maps
Hoshigaoka Seimenjo
Further east of Nagoya in a very popular shopping street called Hoshigaoka Terrace, you will find a relatively new contender on the Kishimen block at Hoshigaoka Seimenjo, inside "The Kitchen" food court just outside of Hoshigaoka station.
Not only can you enjoy freshly-made noodles in the restaurant, you can also buy frozen noodles and soups to take away and eat at home.
Their motto is "Noodle (Is) Idol" – We're not entirely sure what that means, but we can tell they love their noodles!
Hoshigaoka Seimenjo (星が丘製麵所)
Opening Hours: 11:00 – 21:00
Address: The Kitchen, Hoshigaoka Terrace, Hoshigaoka Motomachi 15-5, Chikusa Ward, Nagoya
Website (Japanese only) | Google Maps
Sumiyoshi
If you really cannot wait to sate your Kishimen cravings and don't mind something cheap and cheerful, you can expose yourself immediately to Nagoya's noodles as soon as you get off the Shinkansen. There you will find Kishimen Sumiyoshi, one of a chain of small restaurants that can be found at various train stations around Nagoya.
The variety may not be as much as you would find in other restaurants, but a great choice if you're short on time. You can order from a ticket machine outside of the restaurant and then hand it to the clerk upon entry. Simple!
It's also a great option if you need a quick bite as you leave before you get on the train, too! Be aware that there is no seating, so don't be surprised when you walk in and see everyone standing while they eat, known as Tachikui in Japanese!
Nagoya Station Kishimen Sumiyoshi (名古屋駅 きしめん住よし)
Opening Hours: 6:00 – 21:40
Address: Nagoya Shinkansen Station, Platforms 16 and 17 (near car #4)
Website (Japanese only) | Google Maps
Grab a bowl and try the slippery delight that is Kishimen during your journeys through Nagoya. It won't disappoint!
---
Did you enjoy this article?
Make sure to also check out our other posts about Nagoya and trust us if we say Nagoya is not boring!
Be sure to follow us on Facebook for new articles every week, and see our Instagram for pictures and stories about Nagoya!
Tag us 📲
If you have any pictures or comments about Kishimen, share them with us on social media by tagging #nagoyaisnotboring