Eel is a Japanese delicacy. It is served in many different ways such as Unagi Sushi, Unagi Don (Unagi bowl), Unaju (Unagi rice) and every restaurant has its own special recipe, grilling technique, and secret sauce ingredients. There are countless Unagi eel dishes using grilled eel, steamed eel, cooked eel, or a combination. You get the idea.
There really are many places across the country where eel in all its forms is prepared exquisitely, but nothing can top the signature dish Hitsumabushi in Nagoya.
If you want to find out about other Nagoya signature dishes also known as Nagoya Meshi (like Miso Katsu, Miso Nikomi Udon, Kishimen, Tenmusu and much more), check out this post.
So, What's the Origin of Hitsumabushi in Nagoya?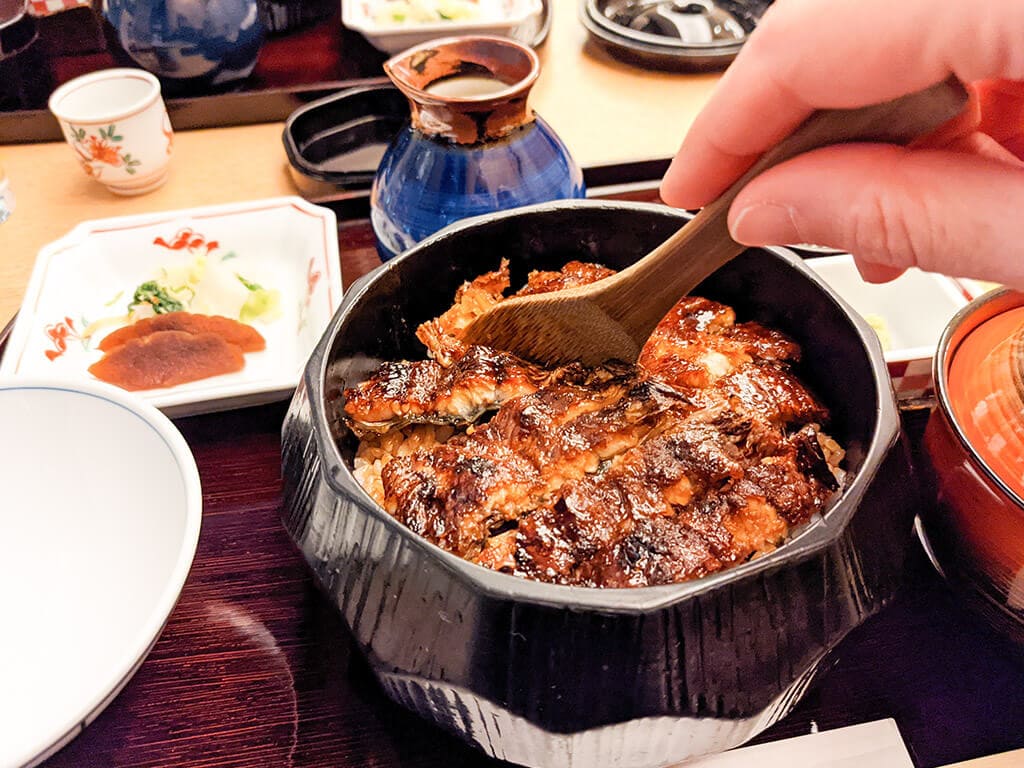 The word Hitsumabushi comes from the rice tubs called Ohitsu used by waitresses for serving cooked rice. They would put the grilled pieces of eel on the rice which in Japanese can be described as Mabushu.
The Japanese Ohitsu ni Mabushu became Hitsumabushi.
The origin of the dish Hitsumabushi itself is not known in detail but it is believed to have originated from the end of the Edo to beginning of the Meiji Period (1868-1912) in Nagoya.
As eel has always been an expensive delicacy it was considered wasteful to throw away cut off or misshaped pieces of grilled eel. They were served to customers on a bed of rice, which is where today's Hitsumabushi is believed to have originated.
The preparation process of Hitsumabushi in Nagoya is different from other eel dishes found in other places around Japan. The eel is sliced open at the belly and grilled whole over charcoal without steaming it.
Learn the Special Way to Enjoy Hitsumabushi Like a Local in 4 Steps!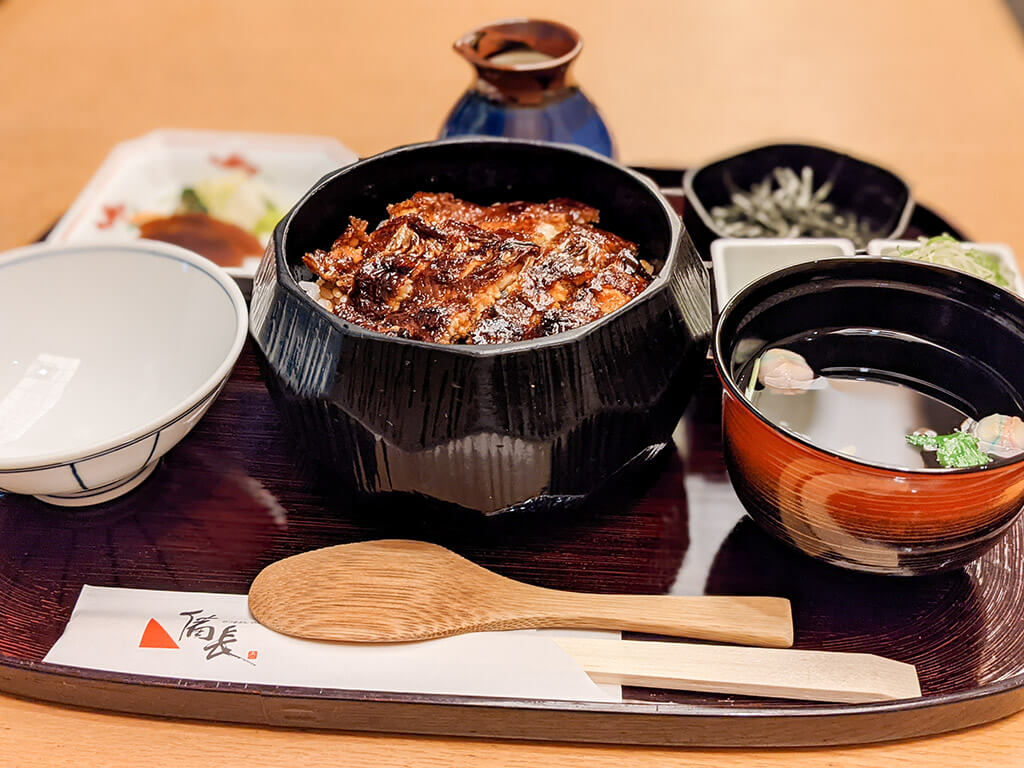 The preparation isn't the only thing special about Nagoya Hitsumabushi. It is actually the eating procedure that makes the whole dish so special and so delicious.
When you order Hitsumabushi you will get a tray, the main feature is, of course, the bowl filled with rice and topped with eel. There is often a layer of shredded Nori between the fish and the rice.
There will also be a second, smaller bowl that is empty. A spoon, often made from wood, some condiments like green onions and Wasabi as well as Japanese style pickles, called Tsukemono and Miso soup or another kind of soup or broth.
You will also get a little pot filled with a broth made from fish stock, which might look like a teapot but can come in different forms and sizes.
After you have taken a picture (or ten) you divide your serving of eel into 4 parts.
STEP 1 – Enjoy the Original Flavor During Your First Serving of Nagoya Hitsumabushi.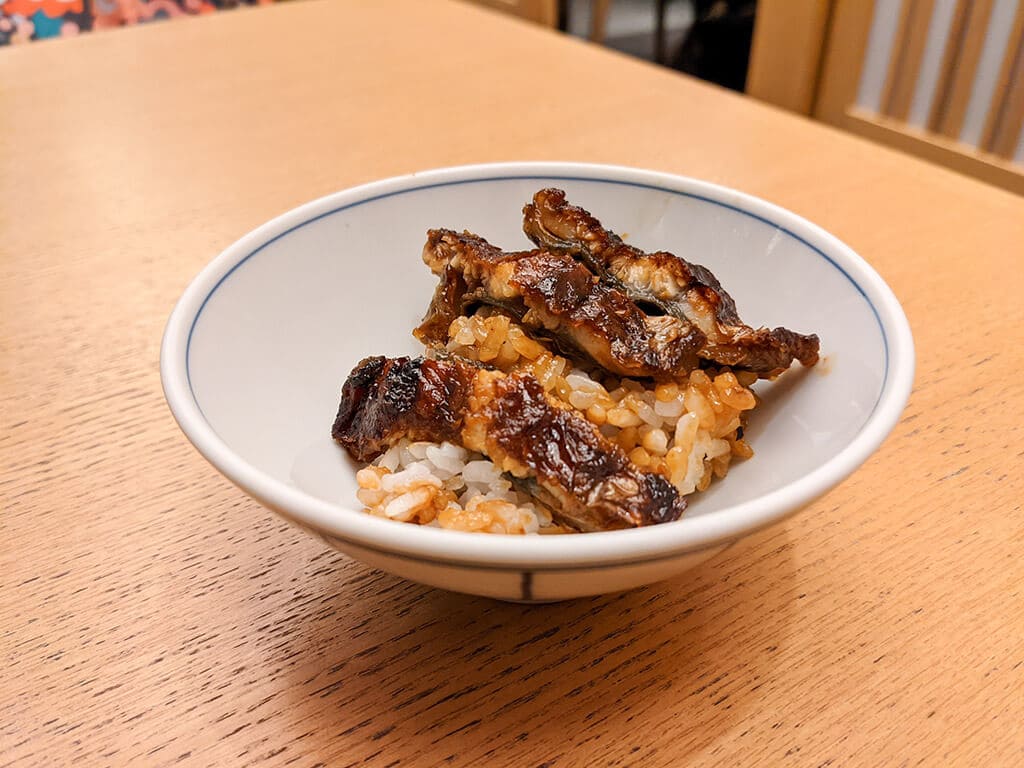 One-fourth of your rice with eel is your first serving. Use the spoon to place it into your empty bowl. You enjoy the first serving as it is. Rice served with grilled eel in a sticky, rich, and sweet soy sauce-based sauce with a bit of Nori.
STEP 2 – Change the Flavor of Your Hitsumabushi for Your Second Serving.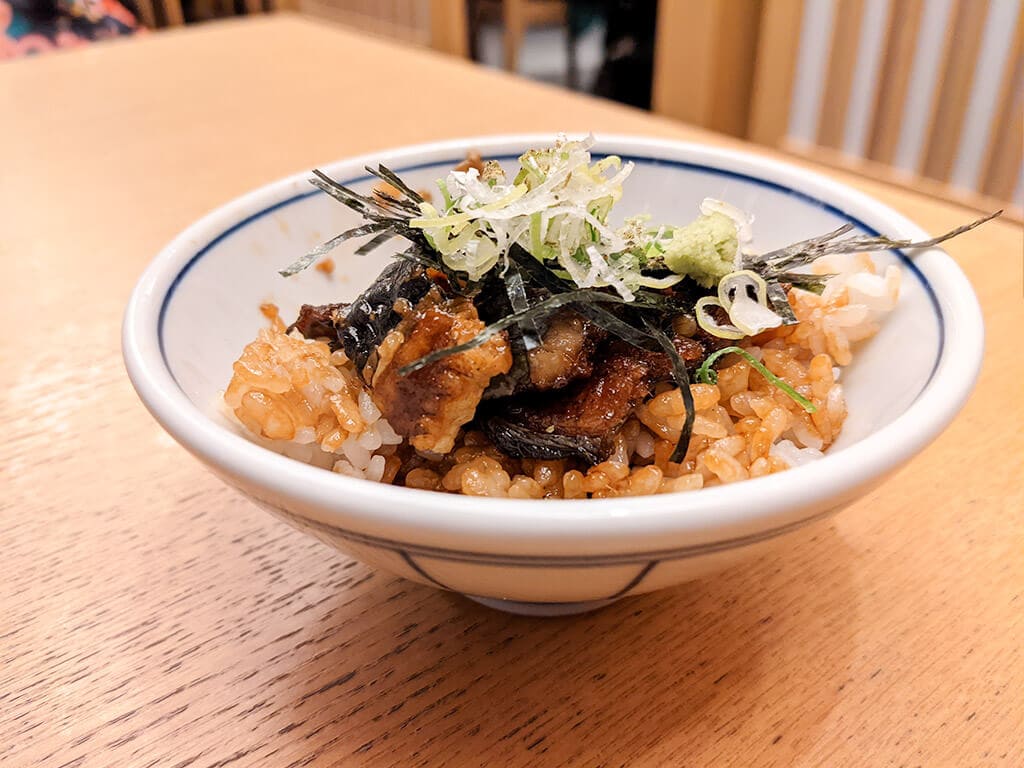 For the second serving, you add some condiments to your eel after you have placed it into your bowl. Condiments can be green onions, Wasabi, or Sansho pepper. Add them and the flavor of your Hitsumabushi changes completely, almost as if eating a different meal altogether.
STEP 3 – Hitsumabushi Becomes a Different Dish Altogether for Your Third Serving.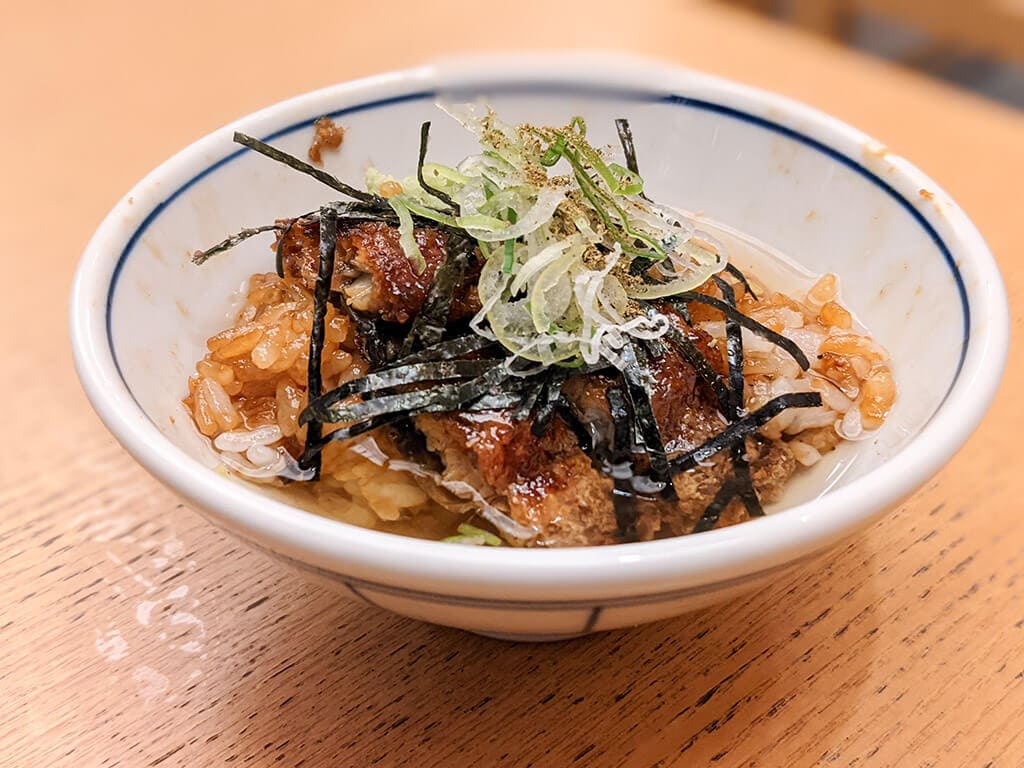 For your third serving, you finally get to use the content of the little pot. It contains a broth with which you make some delicious eel Ochazuke. Place your serving of Hitsumabushi into your small bowl and pour over the hot broth so the rice and eel is almost covered.
You might think, pouring broth on rice is very strange, but it is really very delicious.
Put some extra Wasabi, onion, and Sancho pepper into your Ochazuke to give it a little bit of extra spice.
STEP 4 – The Best Comes Last. Have Your Favorite Combination of Hitsumabushi for Your Fourth Serving.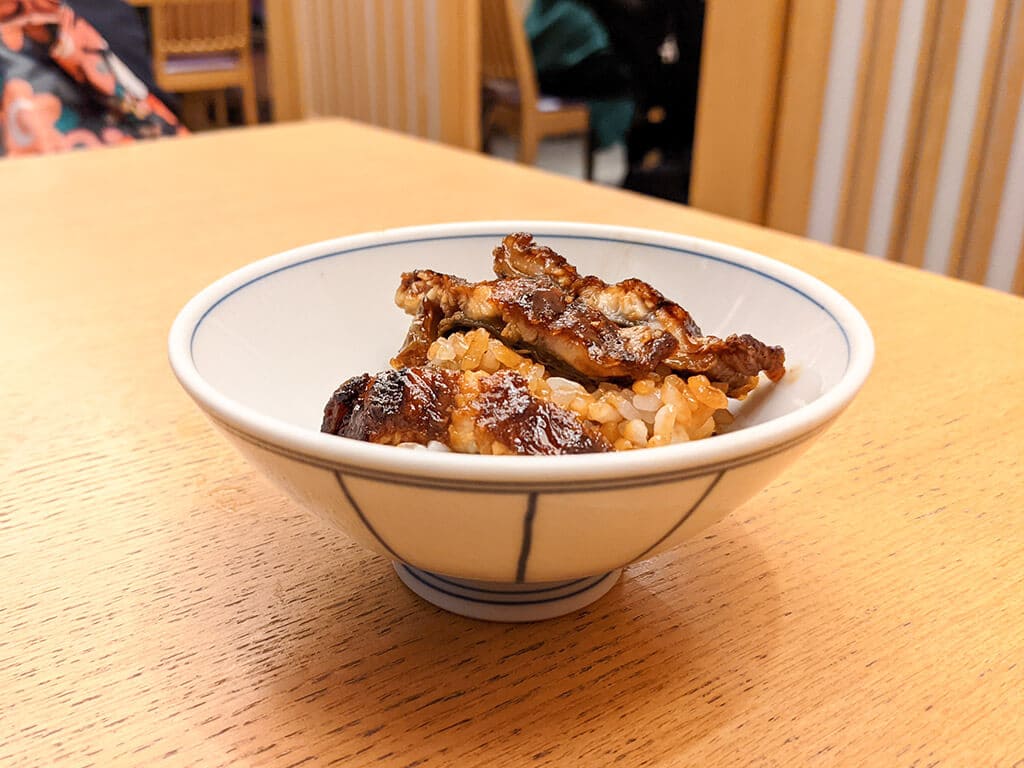 The last serving is for you to enjoy however you like. Add some broth, or condiments, or maybe enjoy the more plain original flavor. It's up to you.
The Tsukemono pickles as well as the soup (or broth) served with your Hitsumabushi set are for you to eat between servings. Don't forget about them while trying to remember the correct order to eat Hitsumabushi.
Where to Find the Best Hitsumabushi in Nagoya? Our Restaurant Recommendations.
While there are many delicious foods we recommend you to try in Nagoya (more info on the best food in Nagoya here) if you only have time to try one dish we would highly recommend you try Hitsumabushi.
The following are the best restaurants to try Hitsumabushi in Nagoya.
Specialties of Nagoya Food Tour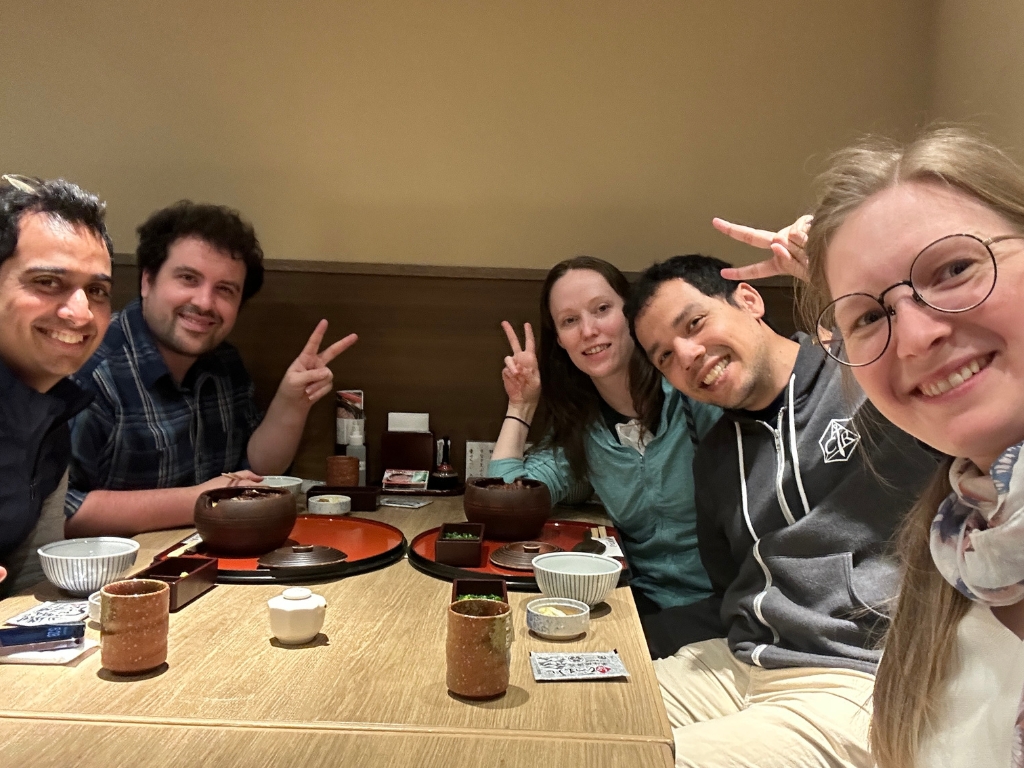 You can try Hitsumabushi and many other foods and snacks from Nagoya on one of our Nagoya is not boring Original Tours called Specialties of Nagoya Food Tour.
This tour is perfect for people who are short on time and want to experience as much as possible of Nagoya.
This private tour runs every day, with a start time between 11:00 and 17:00 for 3.5 hours. While walking around Nagoya's Sakae district you will learn not only about the local food but also about Nagoya's history and Japanese culture.
Check out the details about the Specialties of Nagoya Food Tour here.
1. Hitsumabushi Ino
You don't even have to leave Nagoya Station to try some very authentic and deliciously prepared Hitsumabushi at an Unagi restaurant. On the west side of Nagoya Station is the Esca Underground Shopping Street where you will find some of the best restaurants serving famous Nagoya Meshi. One of them is Hitsumabushi Ino, a restaurant specializing in Hitsumabushi.
As we mentioned earlier, Hitsumabushi, the Japanese eel and rice dish, isn't cheap but Hitsumabushi Ino prides itself on its affordability.
If you do not want to spend a lot of money on a dish you don't even know you will like, you might want to share it or opt for a Mini Hitsumabushi serving which is also available.
Hitsumabushi Ino Esca Shop (ひつまぶし稲生)
Opening Hours: 11:00 – 21:30
Address: Esca Underground Shopping Street, 6-9 Tsubakicho, Nakamura Ward, Nagoya, Aichi 453-0015
Website (Japanese only) | Google Maps
2. Hitsumabushi Bincho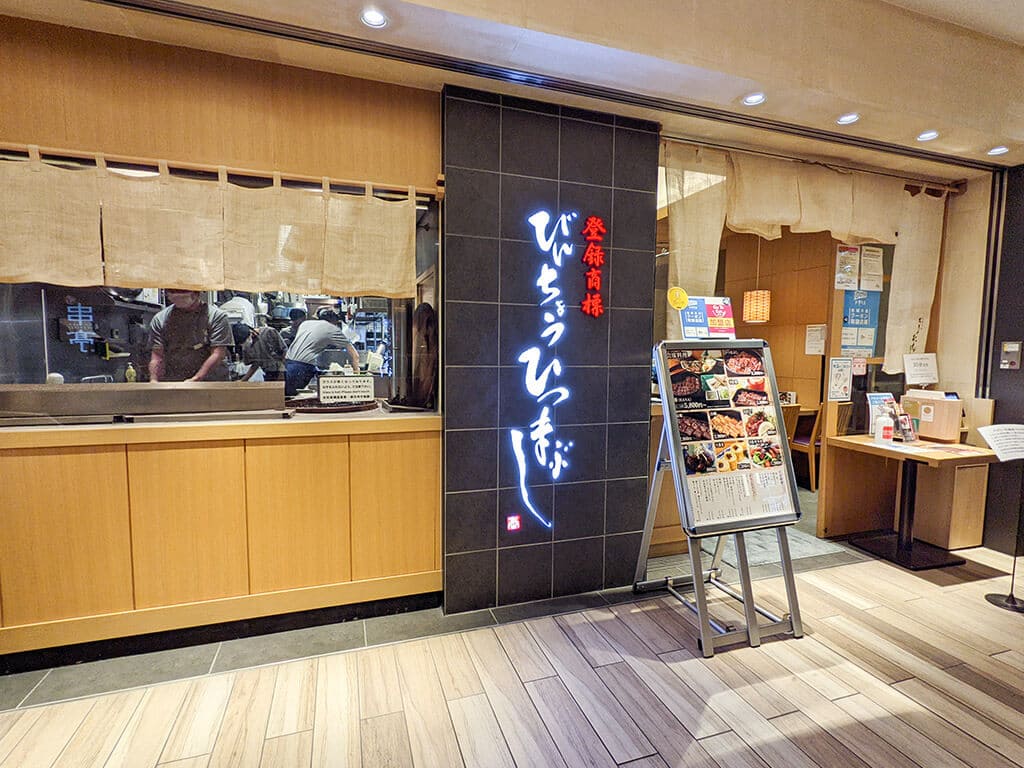 Another option to try the Japanese eel dish is Hitsumabushi Bincho Nagoya. During lunch and dinner time, this restaurant commands long lines, but it is definitely worth the wait. This restaurant has a long tradition and specializes in Hitsumabushi. You won't be disappointed.
In Nagoya, Hitsumabushi Bincho can be found not only in the LACHIC shopping mall in Sakae district but also in the Esca Shopping Street right outside Nagoya Station and Dai Nagoya Building, in front of Nagoya Station.
Its main shop is in Oguchi town (Aichi), about 20 kilometers north of Nagoya. And there are even multiple shops in Tokyo serving the Nagoya specialty.
Hitsumabushi Nagoya Bincho LACHIC Shop (ひつまぶし備長)
Opening Hours: 11:00 – 15:00 and 17:00 – 21:30
Address: Lachic 7F, 3-6-1 Sakae, Naka Ward, Nagoya, Aichi 460-0008
Website | Google Maps
3. Atsuta Horaiken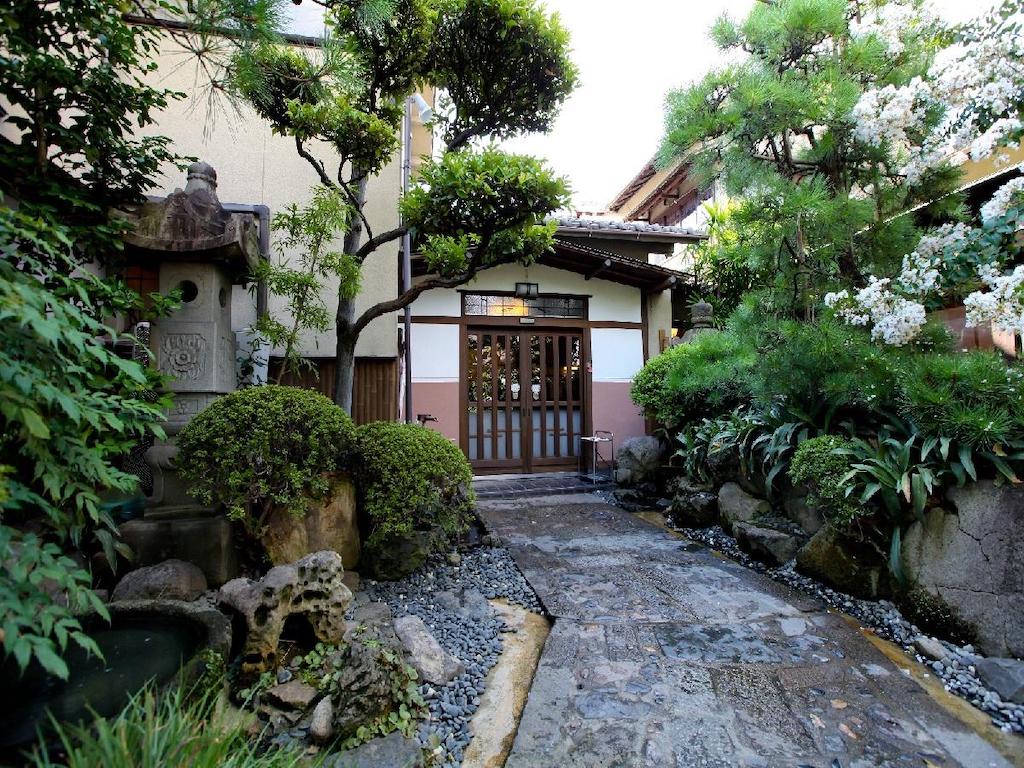 Another famous Hitsumabushi restaurant in Nagoya is Atsuta Horaiken, which had its beginnings in a shop south of Atsuta Jingu. It is so popular that it commands long lines around lunch and dinner times.
This shop is usually contributed to having invented, or at least popularized Nagoya-style Hitsumabushi.
They opened a second shop even closer to Atsuta Jingu and another one in Matsuzakaya Department Store in Sakae district.
Atsuta Horaiken Main Restaurant (あつた蓬莱軒)
Opening Hours: 11:30 – 14:00 and 16:30 – 20:30
Address: 503 Godocho, Atsuta Ward, Nagoya, Aichi 456-0043
Website | Google Maps
4. Koraku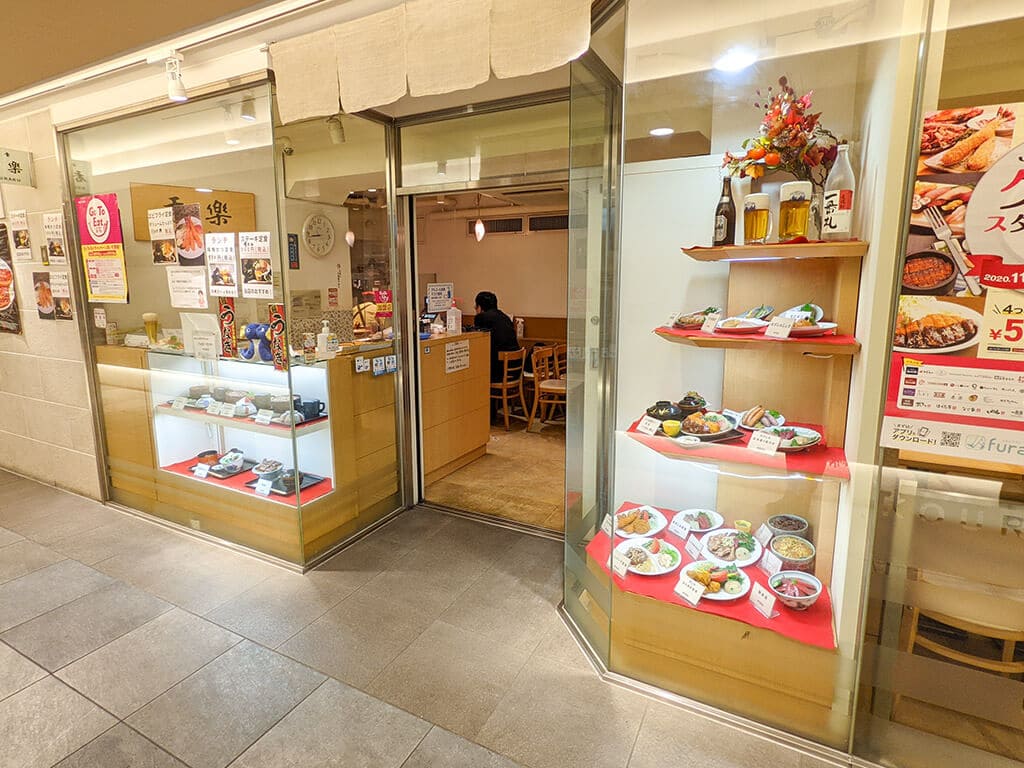 Koraku is another convenient restaurant located directly in Nagoya Station in a little food street called Umaimon Dori.
The location is very convenient but the restaurant itself is never too crowded. That doesn't mean the Hitsumabushi served at Kouraku is any less delicious.
Koraku (香楽)
Opening Hours: 10:00 – 22:00
Address: 1-1-4 Meieki, Nakamura Ward, Nagoya, Aichi 450-0002
Google Maps
---
Did you enjoy this article?
Make sure to also check out our other posts about Nagoya and trust us if we say Nagoya is not boring!
Be sure to follow us on Facebook for new articles every week, and see our Instagram for pictures and stories about Nagoya!
Tag us 📲
Have you tried Hitsumabushi before? Share your picture or experience eating Hitsumabushi and don't forget to tag us on social media with #nagoyaisnotboring