Atsuta Shrine, also called, Atsuta-san or Atsuta-sama, is the second most important Shinto shrine in Japan, after the Ise Grand Shrine. The venerated sun goddess Amaterasu is enshrined here as well as being home to the sacred sword Kusanagi-no-tsurugi which is one of the three Japanese imperial treasures. Legend has it that Amaterasu gave the sword to the first emperor of Japan and from it gained the right to rule. (Please be aware that the sword is never shown to the public).
Atsuta Shrine is the second-largest shrine after the Ise Grand Shrine in Mie Prefecture and welcomes close to 10 million visitors a year. The shrine is particularly popular at New Years' as visitors come for Hatsumode, the first visit to a temple or shrine of the year.

Located in the south of Nagoya, in the Atsuta district, the shrine complex covers 190,000 square meters and is home to numerous national treasures. If you are in Nagoya, this is a great place to visit and enjoy peace and quiet in beautiful surroundings. Enjoy it as the first stop of a relaxing itinerary in Nagoya for body, mind, and soul.
A Brief History of Atsuta Jingu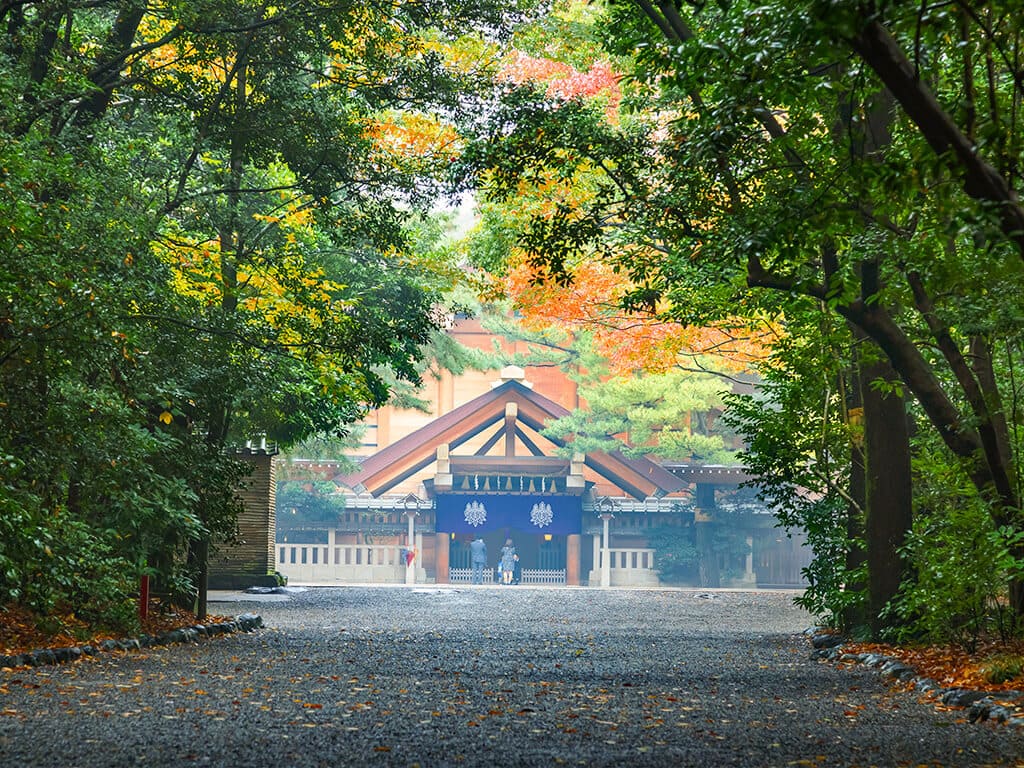 Atsuta Jingu is said to be almost 2000 years old. The story goes that in the 43rd year of Emperor Keiko's reign (113 AD) Yamato Takeru, the prince, died and his possessions together with the sword Kusanagi was put in a shrine at the home of his widow. In the 51st year of Keiko's reign, these relics were moved to the current location in Atsuta Shrine.
This story of the founding of the shrine was recorded in the oldest history books known in Japan today, the Kojiki and Nihonshoki have written respectively in 712 and 720 AD.
During the Meiji Period (1868 – 1912), the sanctuary was remodeled using the purely Japanese architecture style "Shinmei-zukuri". Shinmei-zukuri is one of the three most important forms of traditional architectural style and is considered the pinnacle of Japanese traditional architecture.
The Best Sites to Visit at Atsuta Jingu
Nobunaga-Bei: A Symbol of Victory
Within the shrine complex are several treasures, such as the Nobunaga-Bei wall, the oldest stone wall in Nagoya. It is said that before the Battle of Okehazama in 1560, the Shogun Oda Nobunaga prayed on this wall to obtain victory on the battlefield. When he won the battle, to show his gratitude, Oda Nobunaga donated the wall to Atsuta Shrine. The Battle of Okehazama is particularly well known in Japan as Nobunaga defeated an army of 25,000 troops even though his army only numbered 2,500 troops and was outnumbered 10 to 1!
Bunkaden: The Treasure Hall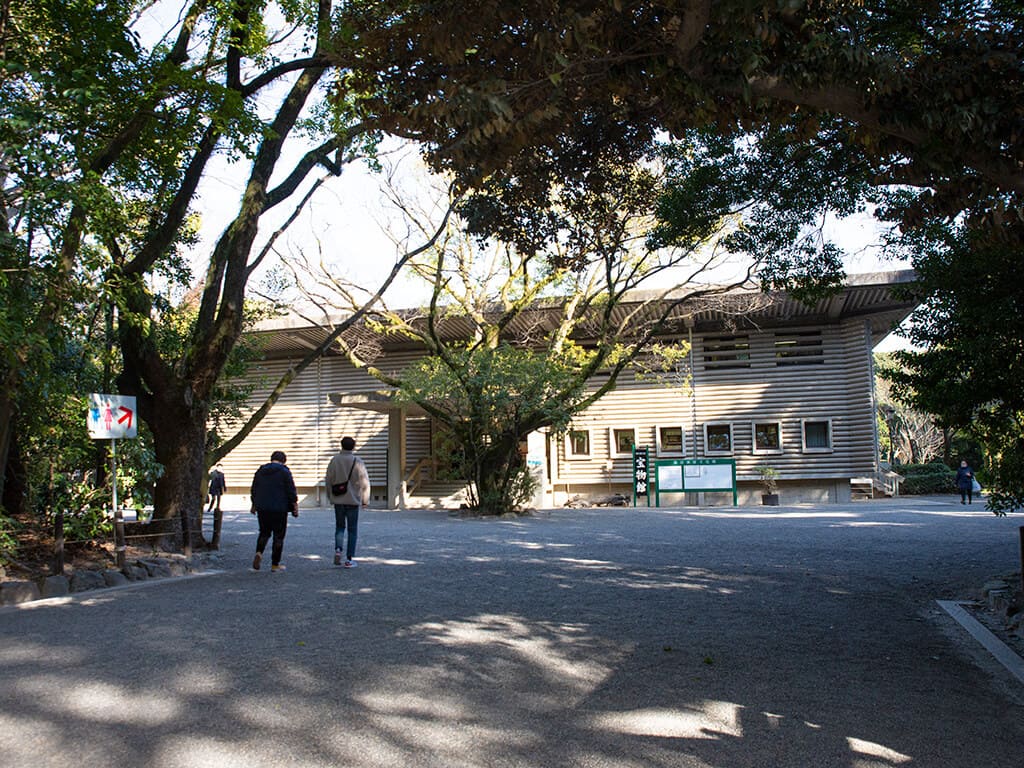 This museum houses around 4,000 items ranging from items used by common people all the way up to items used by the Imperial Family. With such a large collection it is impossible to display everything at the same time so the displayed items are rotated every month. Bunkaden is famous for its large collection of swords and daggers.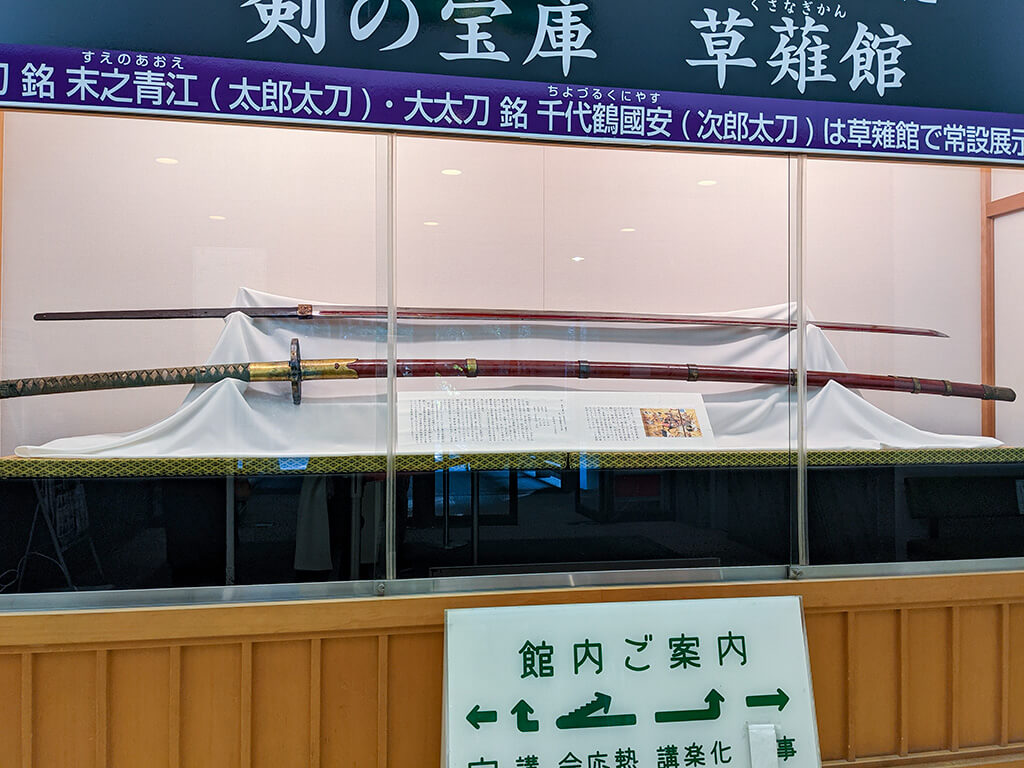 Over 170 of the items in the museum have been designated as National Treasures or Important Cultural Properties of the Prefecture.
Bunkaden (宝物館)
Entry Fee: Adults: 300 yen, Elementary School Children: 150 yen
Opening Hours: 9:00 – 16:30 (Closed the last Wednesday and Thursday of the month; December 25th-31st)
Website | Google Maps
Goshinboku: 1,000 Year Old Tree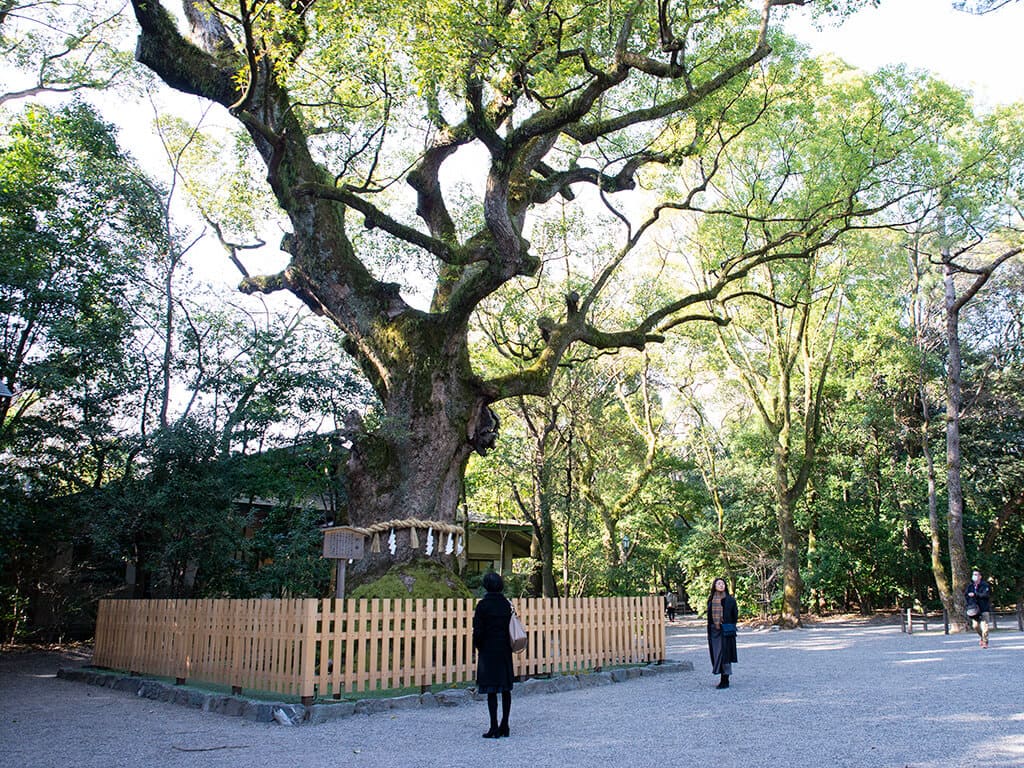 This sacred camphor tree (Cinnamomum camphora), is more than 1,000 years old. It is said to have been planted by Kukai Kobo Daishi, a famous Buddhist priest. It is believed that this tree emits power and many people who visit the Shrine will embrace the millennial tree to receive a bit of that power.
Kokoro no Komichi: The Pilgrimage Path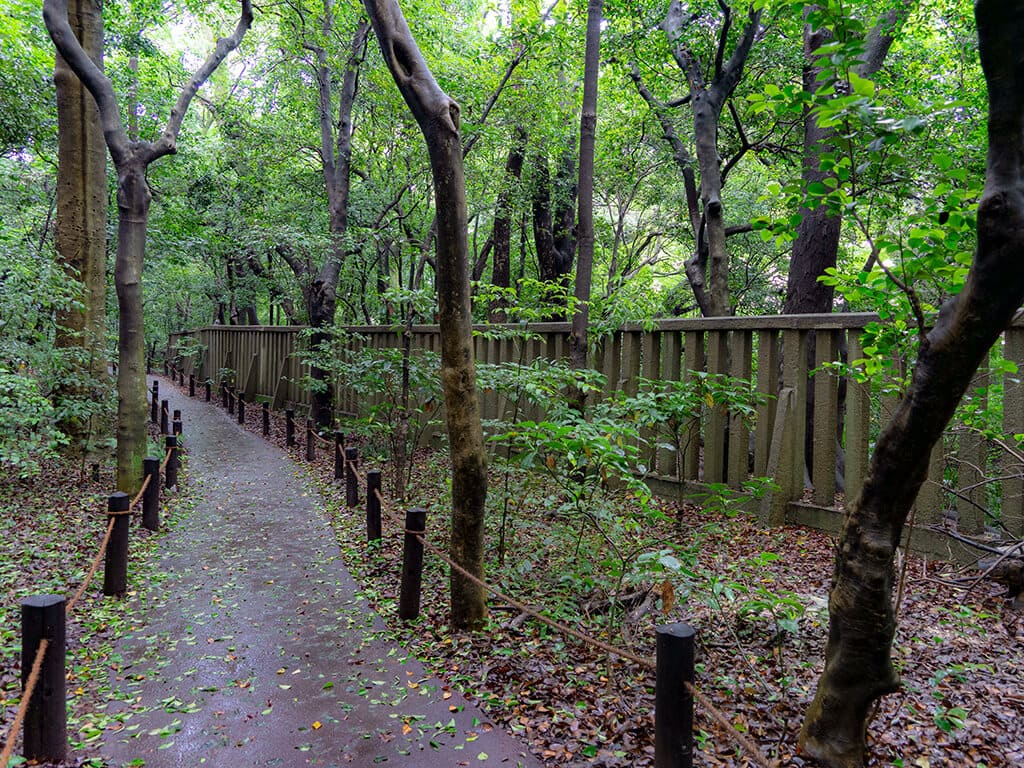 Atsuta Jingu includes a little pilgrimage path leading through the forest and passing different sacred places along the way. You can stop and make a wish at each one by throwing a coin in the donation box, putting your hands together in prayer, closing your eyes, and bowing your head respectfully while making your wish to the kami (a Shinto god).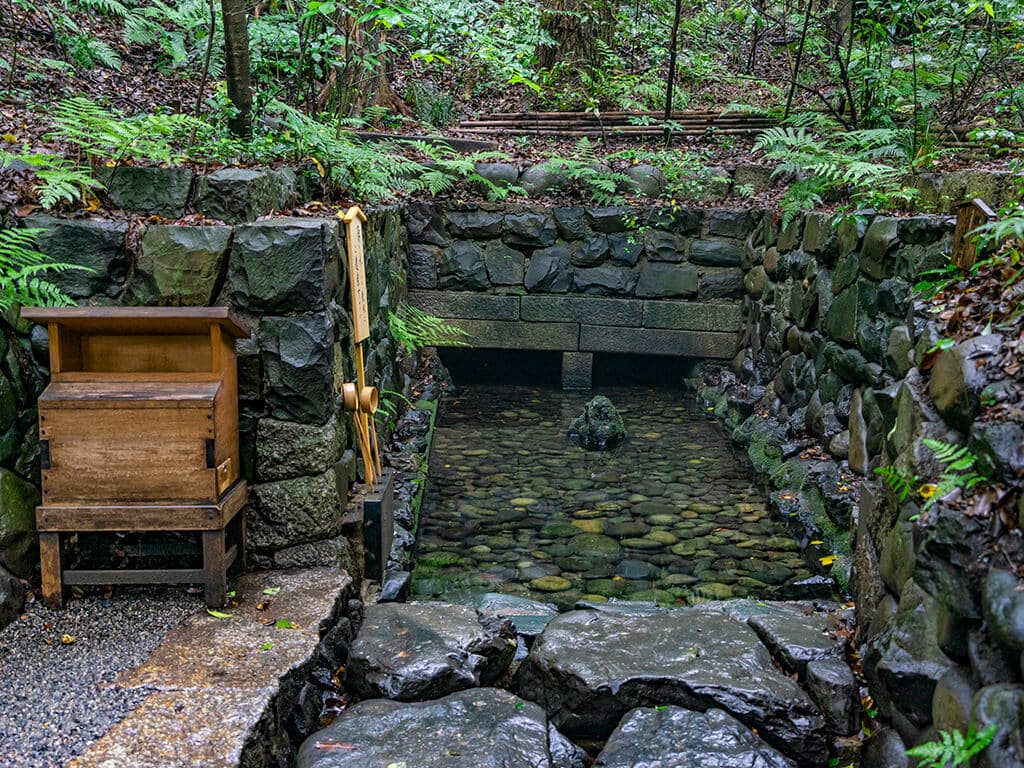 The path leading through the forest is the holiest place at Atsuta Jingu and the sign at the entrance asks you to be silent and respectful.
Hongu: The Main Shrine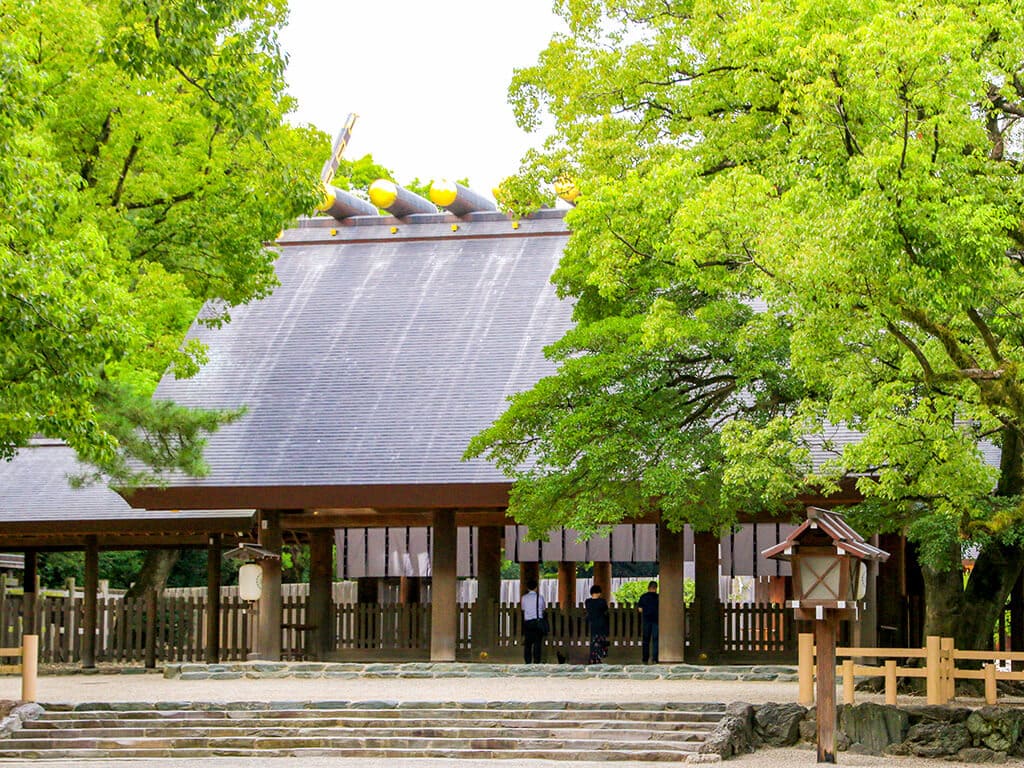 As with many Japanese shrines, it is not possible to directly access the central shrine, but people still come there to pray, to leave their offerings, and to make wishes. This main shrine is where the sun goddess Amaterasu is enshrined. It is also supposedly where the sacred sword Kusanagi-no-tsurugi is stored. But the sword is never shown to the public. In fact, due to its divinity and Shinto tradition, no one is ever allowed to look upon the sword Kusanagi-no-tsurugi. When you visit Atsuta Jingu you can decide for yourself if you think the sword is truly stored there or not.
Celebrations at Atsuta Shrine Throughout the Year
While enjoying your time at Atsuta Jingu, don't be surprised if you come across a wedding party. This is a very famous location for wedding ceremonies.
Atsuta Shrine holds a large number of festivals throughout the year both large and small. Three of the most popular festivals are the; Hatsu-Ebisu Festival
Hatsu-Ebisu Festival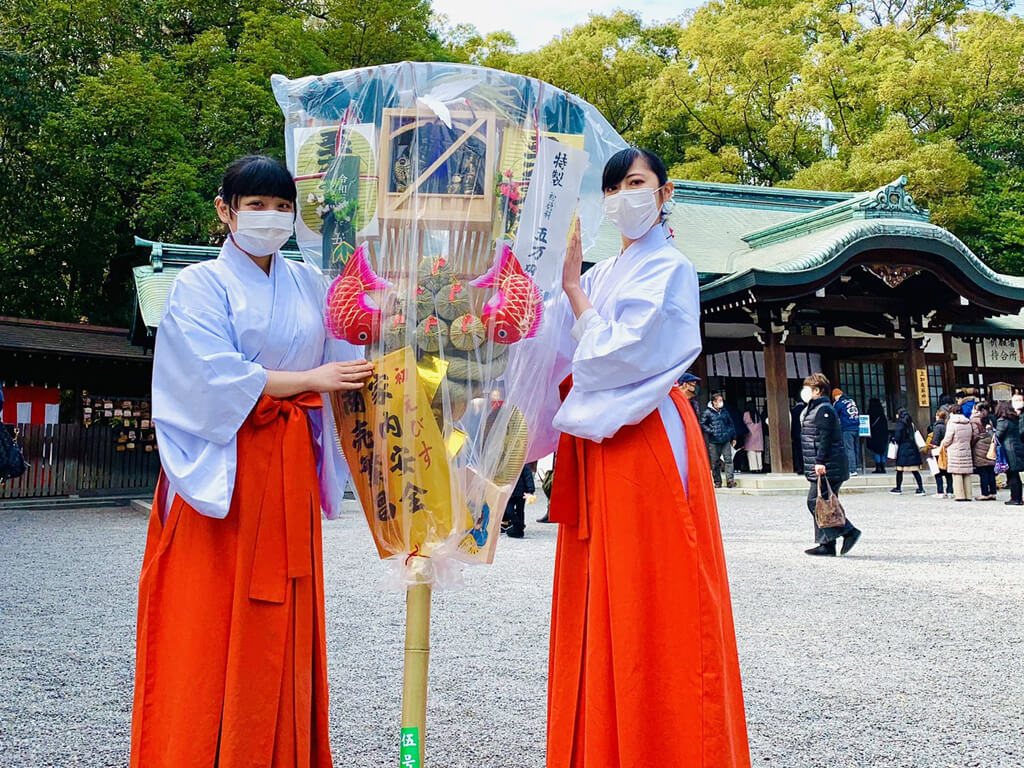 Celebrates business prosperity, family safety, and success in fishing and agriculture. Starting at midnight on January 5th visitors at the shrine buy a lucky rake called fuku-kumade. The rake is used to rake in good luck in the New Year.
Honensai Festival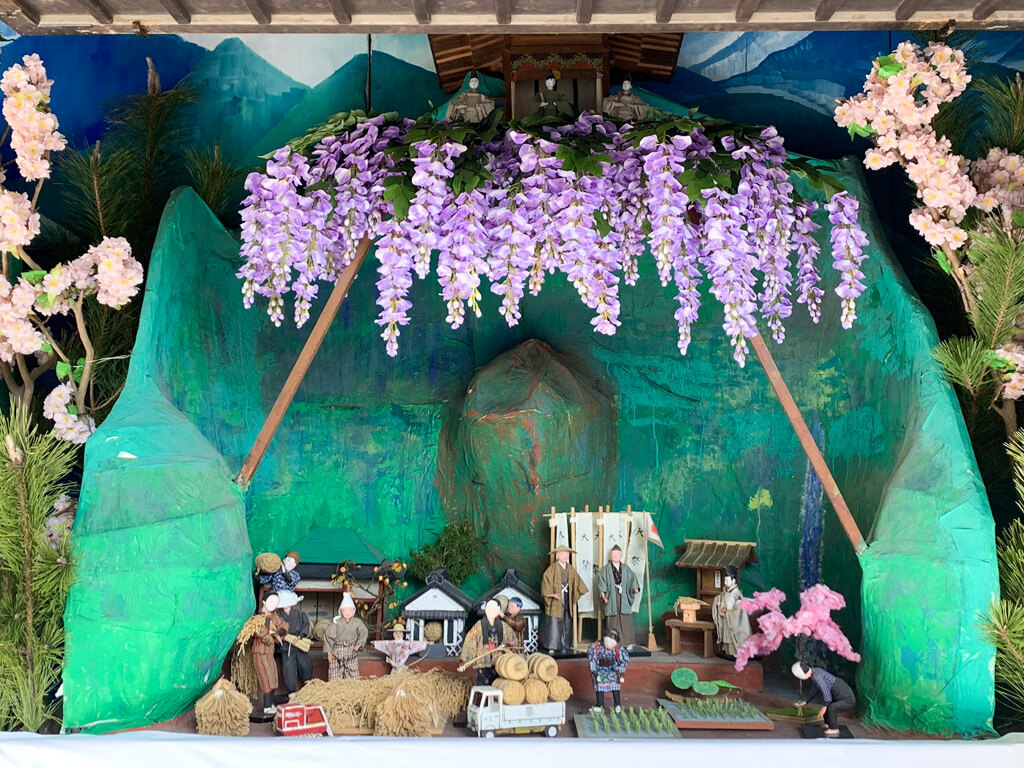 Held annually on May 8 priests display handmade dioramas of crops and rice fields that people come to pray for a successful harvest. Throughout the festival, pop-up stands sell plants and crafts.
Bugaku Shinji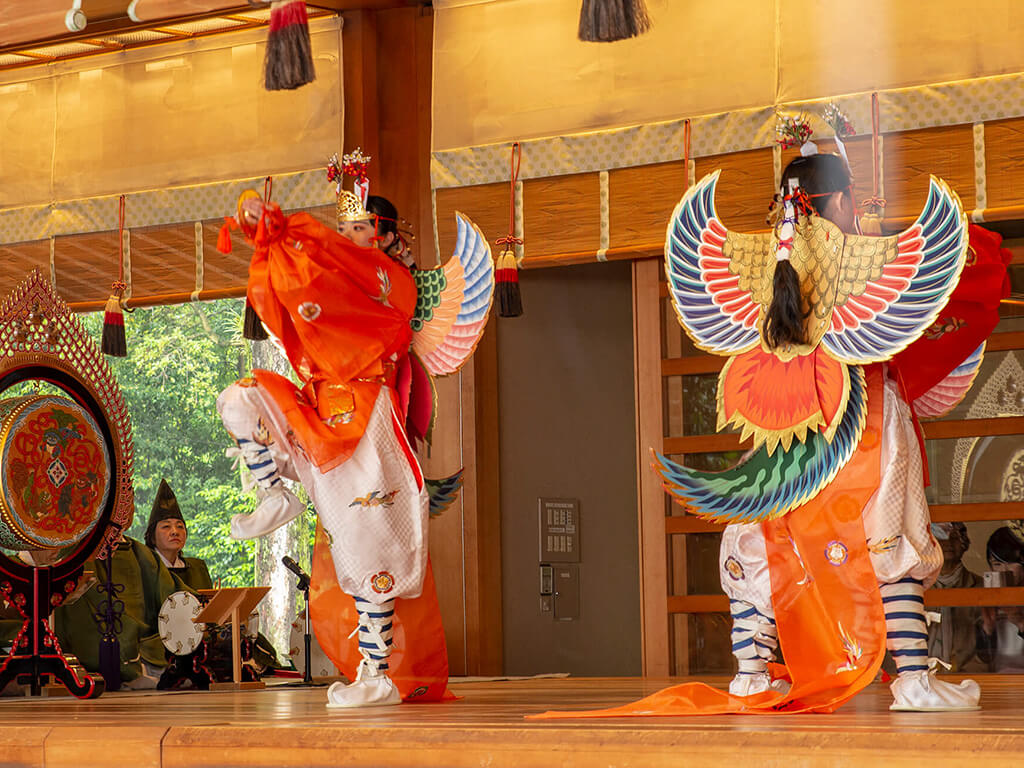 The Atsuta Jingu annually holds its Bugaku Shinji on the 1st of May.
Bugaku Shinji is an ancient court dance that appeared during the Heian Period (794-1185). Bugaku means music and dance, and Shinji means Shinto ritual. This type of dance is characterized by slow and precise movements. The music (called Gagaku) and dance choreography are repeated several times. The dancers wear very colorful Buddhist costumes and sometimes wear masks. This dance is performed outdoors on a red-painted stage.
It is totally surprising that, despite the passing of time and the flourishing of Japanese modern culture, this dance has survived to this day.
Atsuta Festival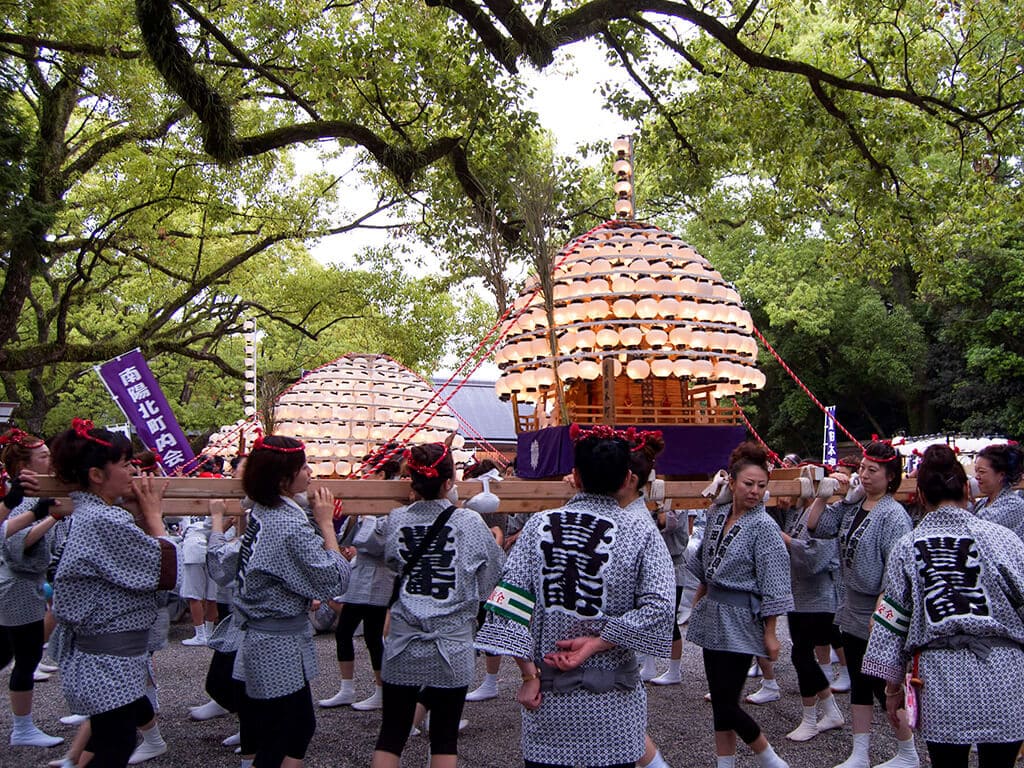 Every June 5th, Atsuta Shrine hosts the Atsuta Festival to mark the beginning of summer. The festival is one of the largest in Nagoya and in fact all of central Japan and includes food stalls, traditional performances, and fireworks.

For more information on the largest and most famous festival at Atsuta Jingu please see our separate article on the Atsuta Festival!
Where to Eat at Atsuta Jingu
Hitsumabushi Horaiken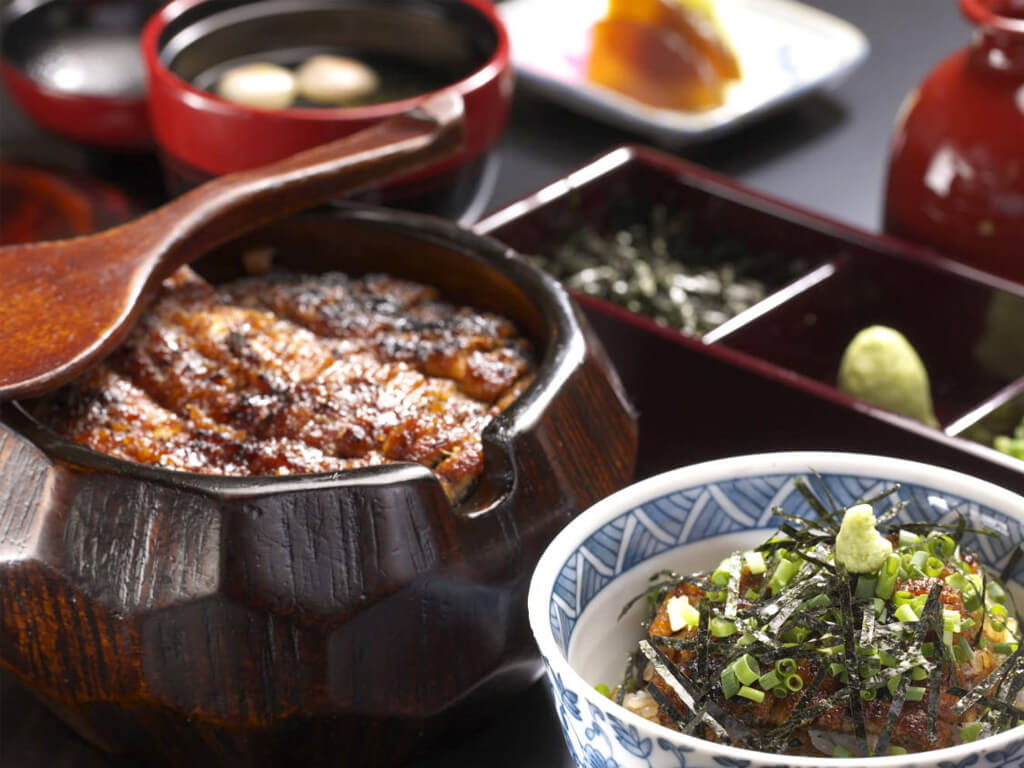 Houraiken is a restaurant with a long tradition and is widely popular with the locals. The restaurant has multiple branches all over Nagoya and they all command long lines during lunch and dinner times.

Hitsumabushi is a unique way to eat Japanese eel that was originally developed here in Nagoya. For more information on Hitsumabushi please see our separate article that dives into it and explains what it is and how to enjoy it!
Hitsumabushi Horaiken – Atsuta Horaiken Jingu (あつた蓬莱軒)
Opening Hours: 11:30 – 14:30 and 16:30 – 20:30. Closed Monday and Tuesday.
Address: Jingu 2-10-26, Atsuta Ward, Nagoya, Aichi 456-0031
Website (Japanese only) | Google Maps
Miya Kishimen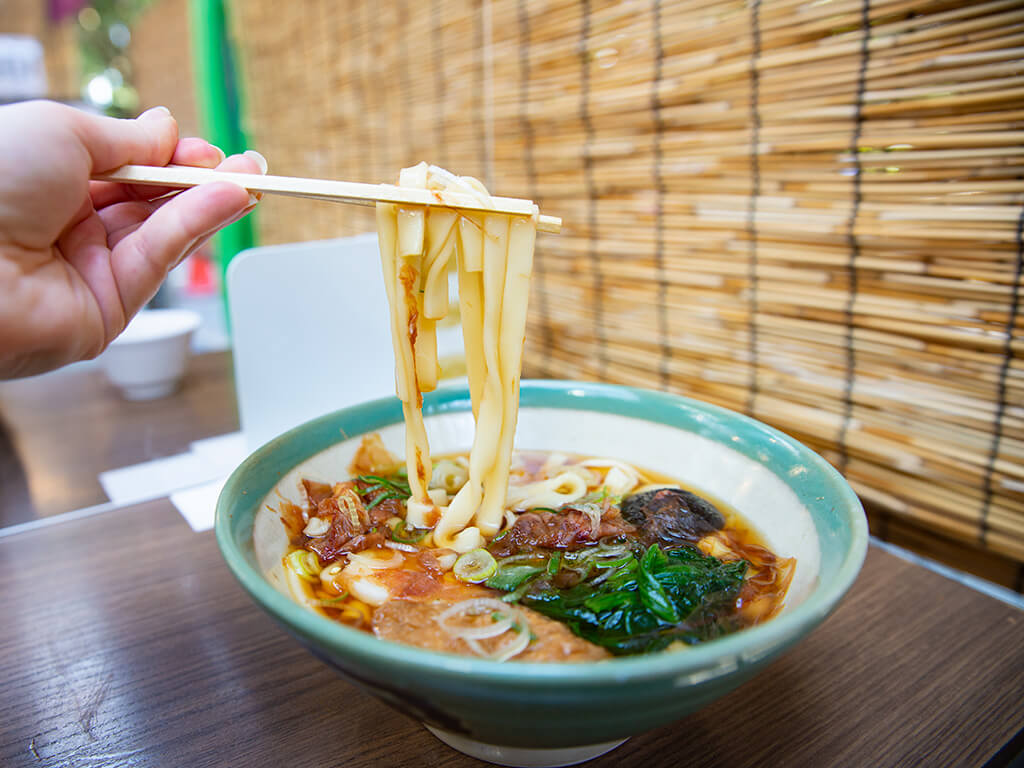 Kishimen are broad, thick wheat flour noodles very similar to Udon. Because of the different shapes, the noodles have a shorter cooking time and a different feel to them when eating.
Kishimen can be found mainly in Nagoya and its surroundings.
Miya Kishimen is a famous Kishmen restaurant with multiple branches in Nagoya. The Jingu branch is located inside the grounds of Atsuta Jingu making it a great option for lunch.
Miya Kishimen – Jingu Branch (宮きしめん 神宮店)
Opening Hours: 9:00 – 16:30
Address: Jingu 1-1-1, Atsuta Ward, Nagoya, Aichi 456-8585
Website (Japanese only) | Google Maps
---
Did you enjoy this article?
Make sure to also check out our other posts about Nagoya and trust us if we say Nagoya is not boring!
Be sure to follow us on Facebook for regular updates on Nagoya, and see our Instagram for pictures and stories about the city!
Tag us 📲
If you have visited Atsuta Jingu, please share your experience and tag us on social media with #nagoyaisnotboring