If you love shrimp, then Nagoya is a fantastic place to visit. Aichi Prefecture, home of Nagoya, has one of the highest per capita shrimp consumption in the country. This is probably because shrimp can be easily fished in Ise Bay. And because seafood tastes best when it's fresh, it is often found on the plates of the locals.
In fact, the official fish of the Aichi Prefecture is the tiger prawn. True, prawns are not actually fish, but who cares?
What better way to try some of the delicious regional prawns than by having a go at a local Nagoya specialty called Ebi Furai.
Have You Ever Heard of Ebi Furai? If Not You're Missing Out
Ebi Furai or Ebi Fry is deep-fried shrimp and is sometimes translated as shrimp fritters. Traditionally made from tiger prawns, but nowadays, more often than not using black tiger prawns or even up to 30 centimeters long Japanese spiny lobster (Ise Ebi).
The prawns are battered in Panko bread crumbs and then deep-fried to perfection. Crispy outside and juicy, but not at all fishy inside.
Ebi Furai vs Ebi Tempura: What are the differences?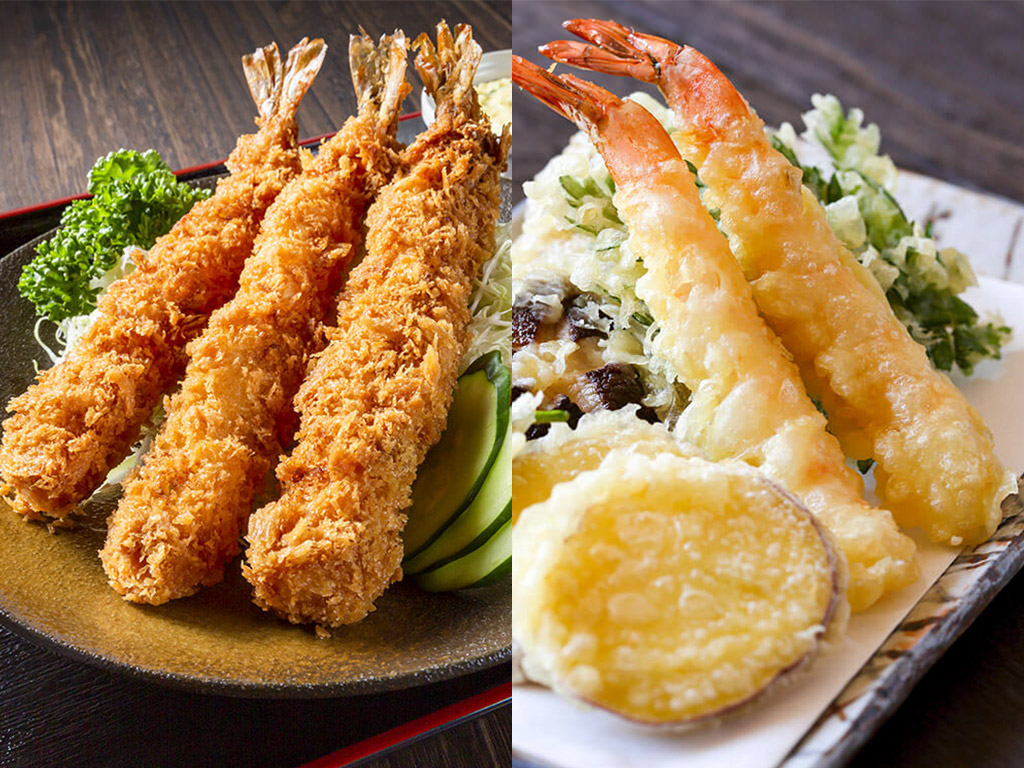 If you are wondering what the difference between Ebi Furai and shrimp Tempura is, let us clear this up for you.
Both are deep-fried shrimp—no question about it. But while Ebi Tempura is battered in a mixture of flour and water, Ebi Furai uses the characteristic Japanese Panko bread crumbs. Panko is a type of crustless white bread that is shaved into flakes before being dried. Panko bread crumbs have an airier flavor and absorb less oil than standard breadcrumbs.
The two dishes are also served differently. While Ebi Tempura is either served with salt or a Tempura dipping sauce called Tentsuyu, Ebi Furai is either served with tartar sauce, Tonkatsu sauce, or as a Nagoya specialty with a Red Miso or even Hatcho Miso sauce.
The Origin of Ebi Furai Might Surprise You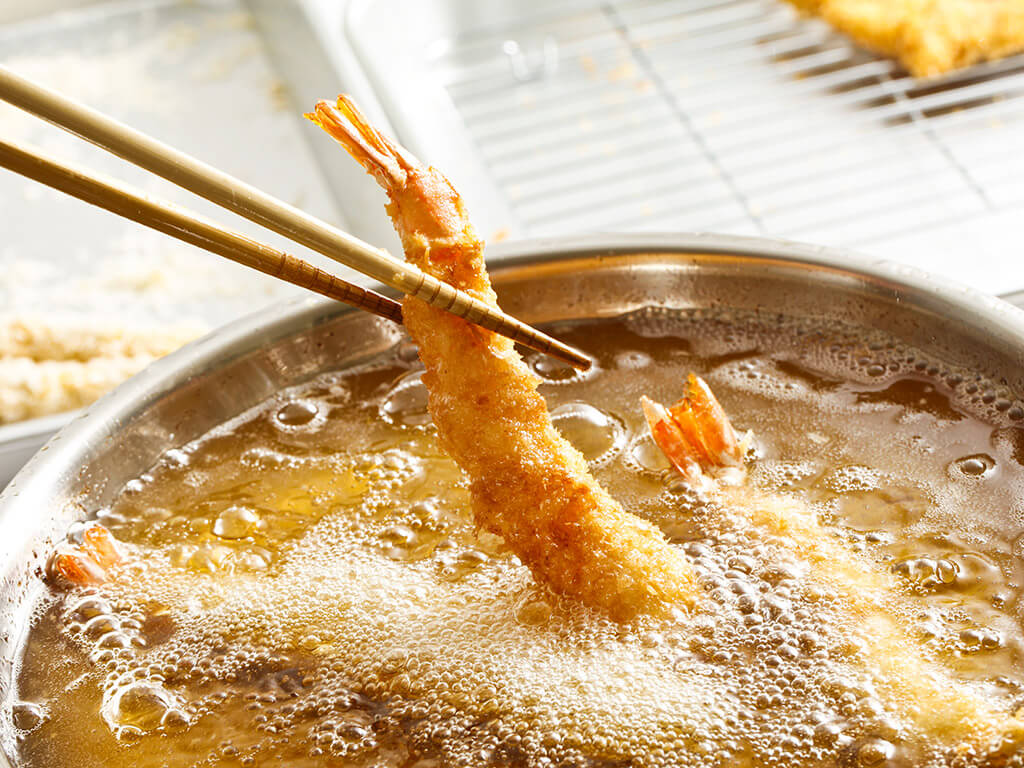 The popular dish might have been invented in Tokyo sometime in the middle of the Meiji Period (1868-1912) when Japan was quickly modernizing. The Meiji Period saw many new 'westernized' dishes appear for the first time on restaurant menus, and Ebi Furai was no exception. But the actual origin is unknown.
Deep-fried shrimp is by no means a dish limited only to Nagoya and can be found at restaurants and Izakaya all over the country.
Ebi Furai as a local Nagoya specialty was popularized by accident in the 1980s when a then-popular comedian made fun of how Nagoyans pronounce Ebi Furai. This led to an association of Ebi Furai with Nagoya and the rising popularity of the dish in the region.
Where to Eat the Best Ebi Fry in Nagoya
While you will find Ebi Furai on Izakaya menus all across Nagoya, including at coffee shops as a popular lunch option, there are a couple of places in Nagoya that specialize in the dish. At these restaurants, Ebi Furai is taken seriously. If you love shrimp, we recommend trying one of them while you are in the city.
Ebidote Shokudo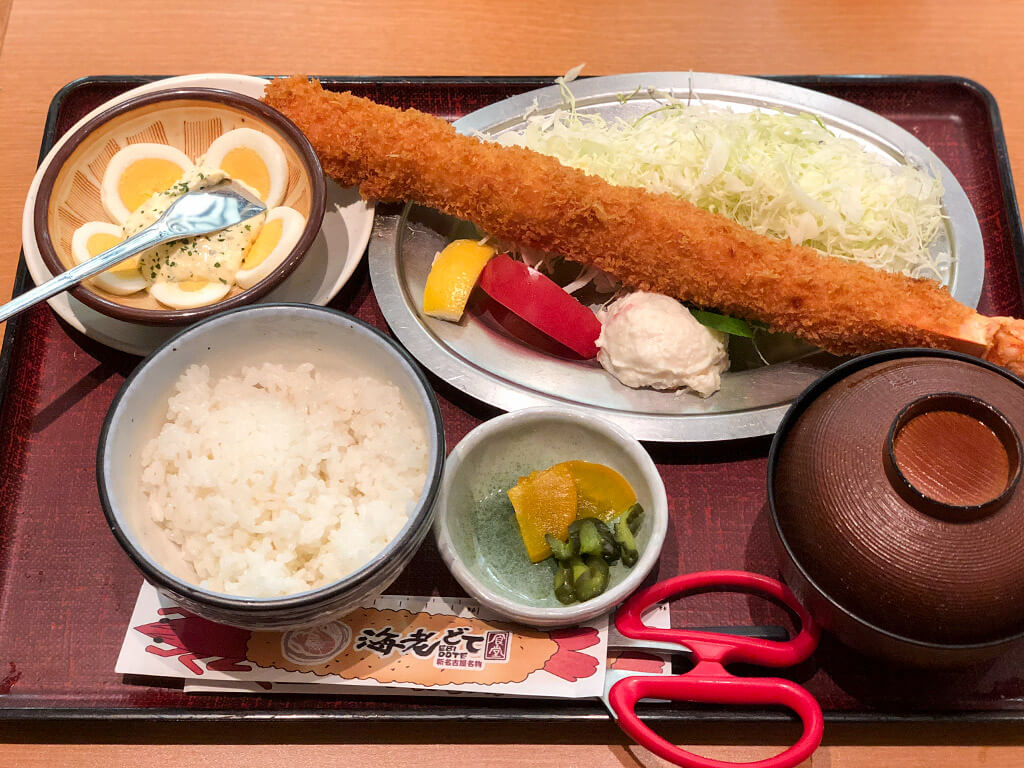 This restaurant has the word Ebi in its name, which tells us that it specializes in shrimp. At Ebidote Shokudo, you will find a whole menu of different shrimp and prawn dishes.
The highlight is Japan's biggest Ebi Furai (at least that's what they claim). At up to 35 centimeters long, it really is a gigantic fried shrimp.
The different fried shrimp dishes are either served as sets or as Donburi rice bowls with various sauces, such as tartar sauce, Tonkatsu sauce, and, of course, Miso.
Ebidote Shokudo is conveniently located inside the Esca Underground Shopping Street on the west side of Nagoya Station.
Ebidote Shokudo – Esca Branch (海老どて食堂エスカ店)
Opening Hours: 11:30 – 22:00
Address: 6-9 Tsubakicho, Nakamura Ward, Nagoya, Aichi 453-0015 (Located in the Esca Underground Shopping Street)
Website (Japanese only) | Google Maps
Maruha Shokudo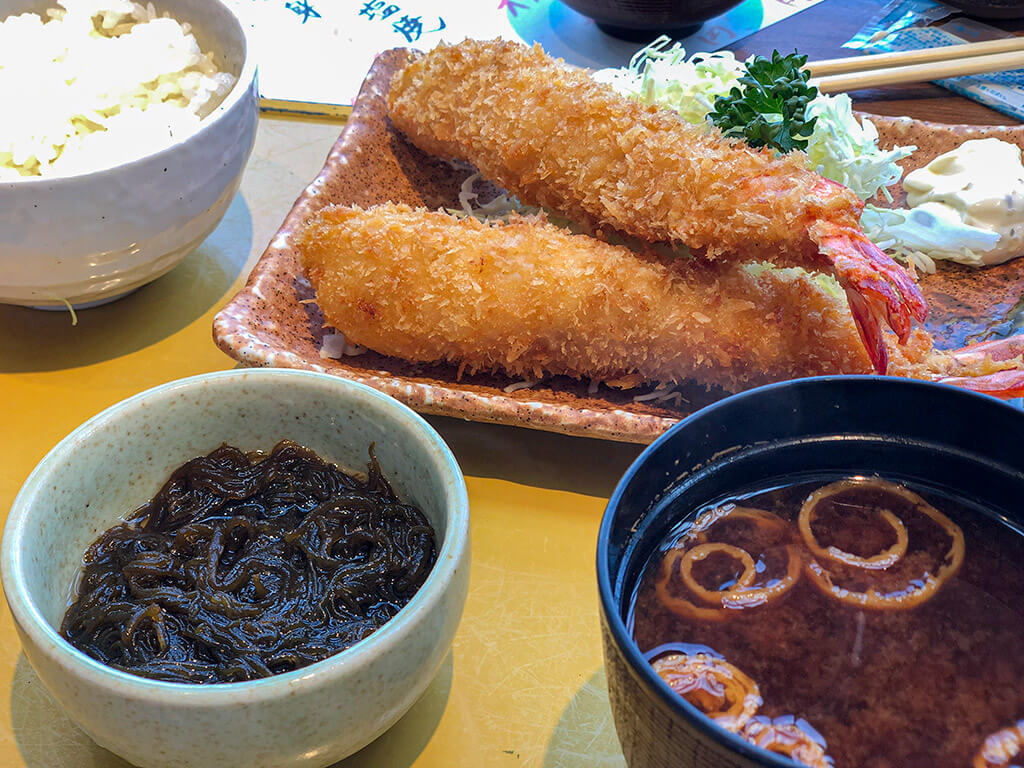 Maruha Shokudo opened in 1950 in a small town on the Chita Peninsula. It is a seafood restaurant that is famous for its Ebi Furai.
If you have come to try Ebi Furai at Maruha Shokudo, we recommend that you try the Ebi Furai Teishoku (set meal). It consists of 2 big fried shrimp served on a bed of cabbage and a bowl of rice, Miso soup, and some pickles. There are also sets that include Sashimi or a salad topped with shrimp.
Another specialty at Maruha Shokudo is the Maki Ebi Furai, a fried shrimp wrapped like a Maki Sushi roll and cut into bite-size pieces. Other dishes include different kinds of fish, either as Sashimi, grilled, boiled, or fried.
The original shop is at the tip of the Chita Peninsula and cannot easily be reached with public transport. But that's no problem as you will find multiple shops have opened in Nagoya. Either visit the modern shop inside the Lachic Shopping Mall in Sakae, with fantastic airy views and a great atmosphere, or the one inside Nagoya Stations Umaimon Dori.
There is also a shop at Nagoya Airport for your last chance to eat some delicious Ebi Furai before your flight home.
Maruha Shokudo – Sakae Lachic Branch (まるは食堂ラシック店)
Opening Hours: Weekdays 11:00 – 15:00 and 17:00 – 22:00; Weekends 11:00 – 22:00
Address: 3-6-1 Sakae, Naka Ward, Nagoya, Aichi 460-0008
Website (Japanese only) | Google Maps
Konparu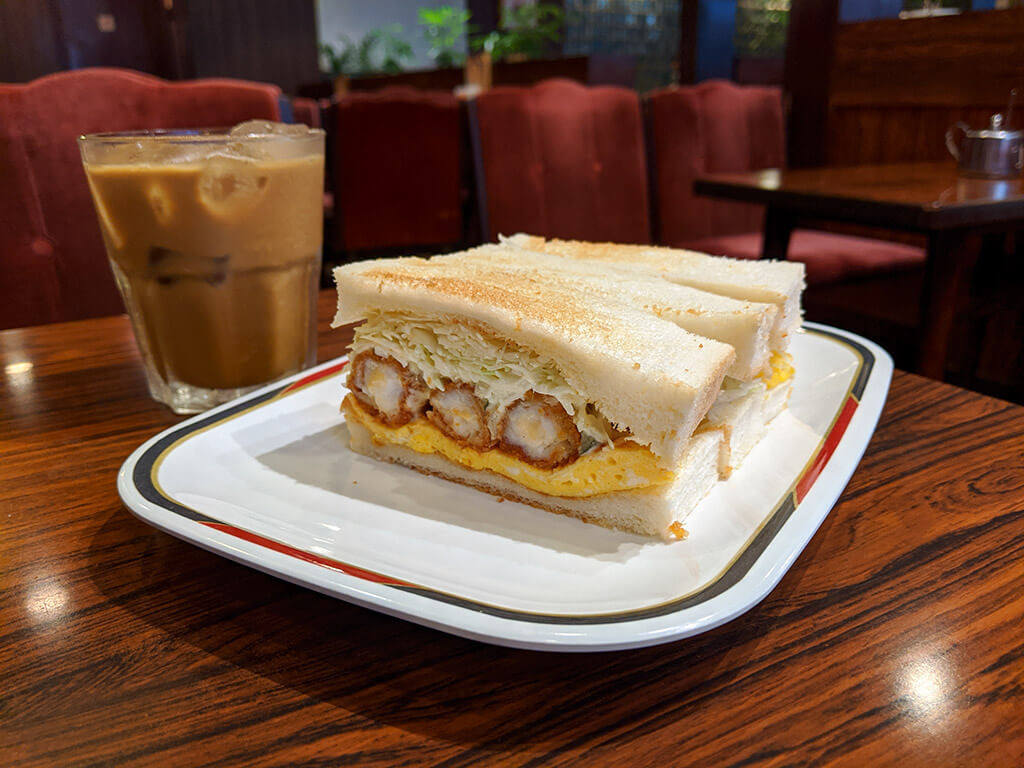 This chain of coffee shops originated in Nagoya in 1947 is the place to go if you want to see the more traditional side of Japan and if you want to see what a coffee shop used to be like in post-war Japan.
Konparu is famous for one thing (and it's not their coffee) it's their delicious Ebi Furai Sando. A sandwich filled with fried shrimp, egg, and cabbage, and a special delightful sauce. With a price tag of 980 yen, it is definitely not cheap but so delicious that it's worth every yen.
Ebi Furai Sando goes very well with a freshly brewed cup of coffee. Having the iced coffee at Konparu is an experience in itself, so we recommend you go for that.
The original Konparu is inside the Osu Shopping District, and inside, it feels like time has stood still for the past 70 years or so.
Other locations include the underground shopping malls at Nagoya Station called Meichika and Sakae called Mori no Chikamachi, with a total of 9 shops dotted across the city.
Yanagibashi Central Market (柳橋中央市場)
Entry Fee: free
Opening Hours: 4:00 – 10:00; closed Wednesdays and Sundays
Address: 4-11-3 Meieki, Nakamura Ward, Nagoya, Aichi 450-0002
Website (Japanese only)|Google Maps
Misokatsu Yabaton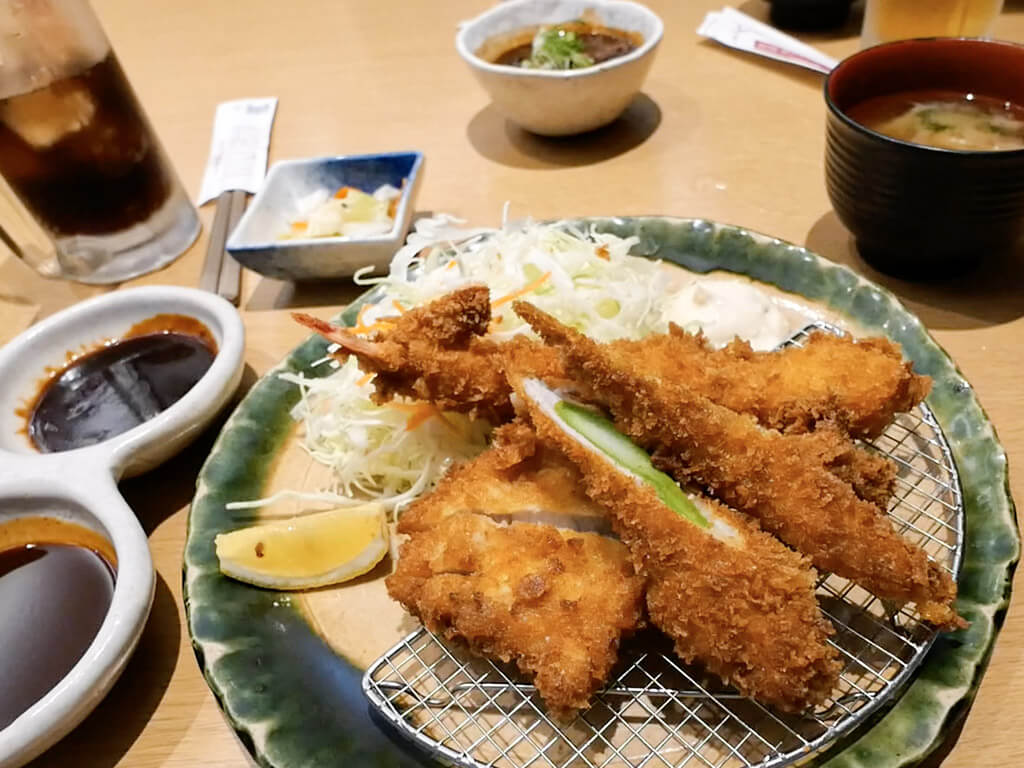 If you want to kill two birds with one stone, you can visit Misokatsu Yabaton. This is probably the most popular Miso Katsu restaurant in Nagoya, but it also serves delicious Ebi Furai and other fried dishes such as fried asparagus and Korokke (Japanese Croquettes).
If you cannot decide, order the set with a small Miso Katsu, Ebi Furai, and fried asparagus roll. You won't regret it!
Misokatsu Yabaton has so many shops in and around Nagoya; chances are you will find one close by. The highest density of shops is around Nagoya Station and Sakae.
Misokatsu Yabaton – Esca Branch (みそかつ矢場とん名古屋駅エスカ店)
Opening Hours: 11:00 – 22:00
Address: 6-9 Tsubakicho, Nakamura Ward, Nagoya, Aichi 453-0015 (Located in the Esca Underground Shopping Street
Website | Google Maps
If Ebi Furai Isn't Enough to Quench Your Shrimp Addition, Nagoya Has Lots of Other Shrimp Options as Well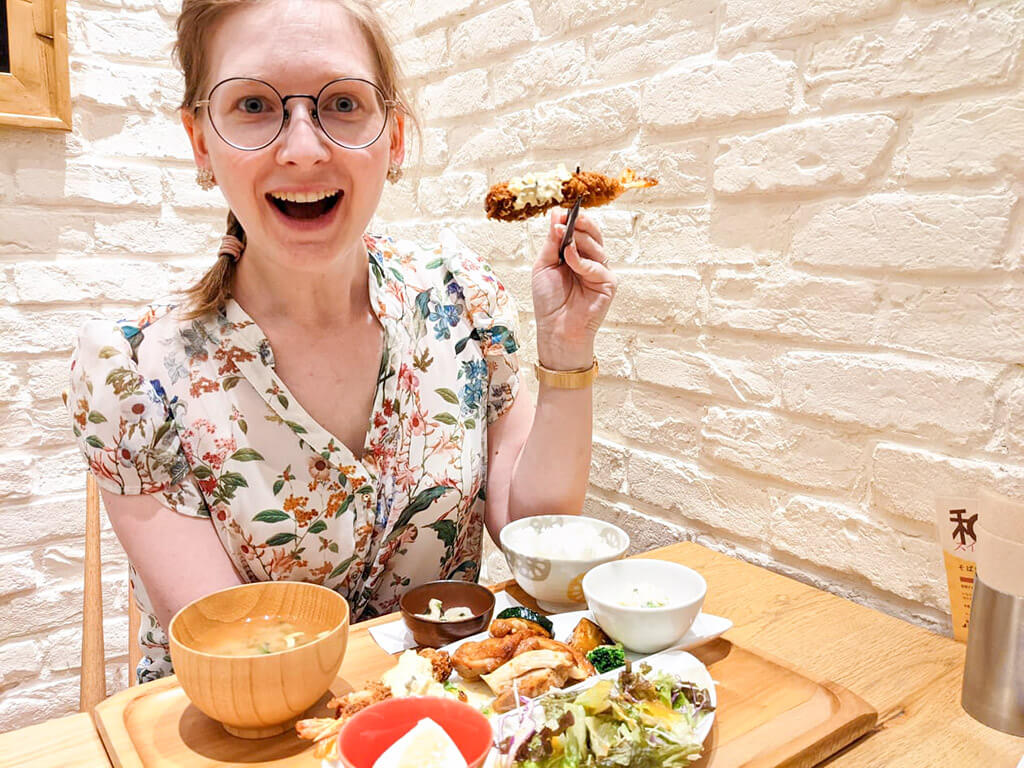 Ebi Furai is not the only shrimp specialty in Nagoya. Don't forget to try some Tenmusu mini rice balls filled with a small shrimp Tempura. And as a souvenir from Nagoya, buy a pack of Ebi Senbei, shrimp rice crackers!
---
Did you enjoy this article?
Make sure to also check out our other posts about Nagoya and trust us if we say Nagoya is not boring!
Be sure to follow us on Facebook for new articles every week, and see our Instagram for pictures and stories about Nagoya!
Tag us 📲
If you have enjoyed Ebi Fry or are looking forward to trying it when you visit Nagoya please let us know and be sure to like, to share, tag us on social media with #nagoyaisnotboring