The Nippon Domannaka Festival, commonly known as Domatsuri, is one of the most energetic and vibrant festivals all around Japan.
It is held in Nagoya, at the end of August, when the summer heat reaches its peak.
Domatsuri is a multi-day-festival that fills Nagoya city and its surroundings with hundreds of Yosakoi dancers coming from all over the country and even abroad.
Watch the performance of the winning team from Domatsuri 2019.
Yosakoi, a Modern-Traditional Japanese Summer Dance For Everyone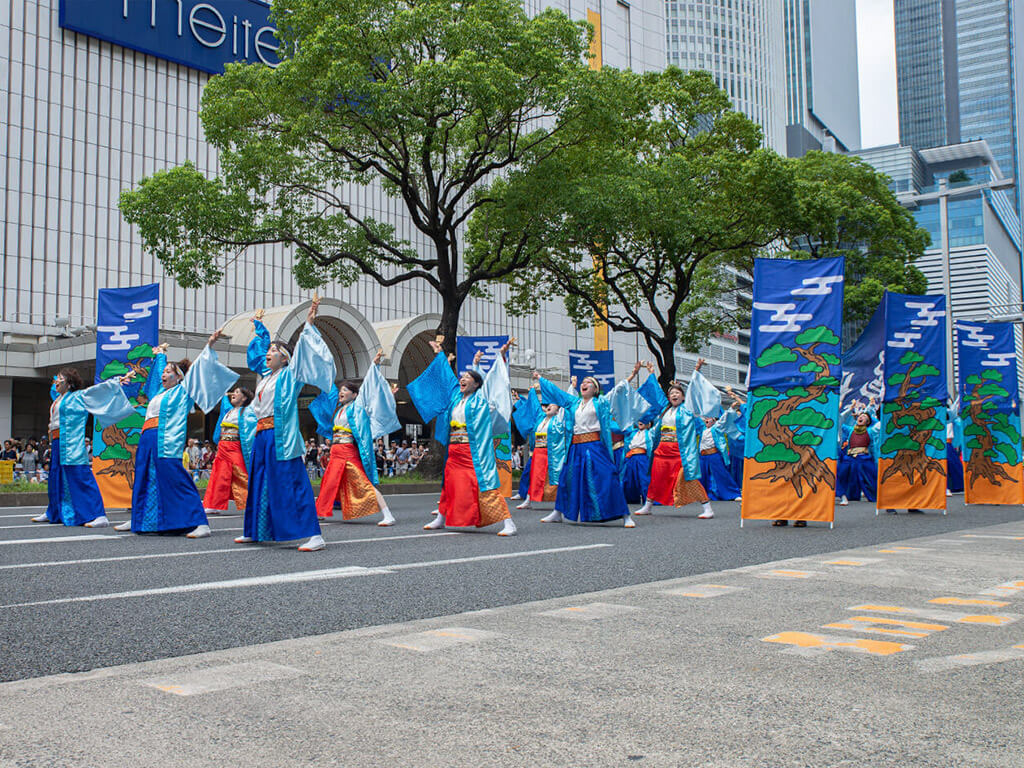 If you are not familiar with Japanese dances, you are probably wondering what Yosakoi dance is.
Yosakoi is a relatively new Japanese dance style that combines traditional movements from Japanese traditional dances, like Awa Odori, and modern music. In Yosakoi there are no rules! This dance style offers a lot of freedom for each team to create their own unique style.
Yosakoi roots go back to 1954, in Kochi Prefecture, on the southern island of Shikoku, when the Youth Group from Kochi Chamber of Commerce and Industry, organized the 1st Yosakoi Festival to bring a bit of joy to the population after WWII through dance.
NOTE: Its name comes from Shikoku's traditional Tosa dialect: 夜さ来い(Yo-Sa-Koi) which means "Come at night".
In Nagoya, Domatsuri began in 1999, with only 26 dance teams and a total of 1,500 dancers participating. In 2019, the festival had more than 200 teams and more than 2 million spectators. This makes Domatsuri one of the largest summer events in Japan.
Yell, Sing, Smile, and Clap Together Celebrating the Love of Dance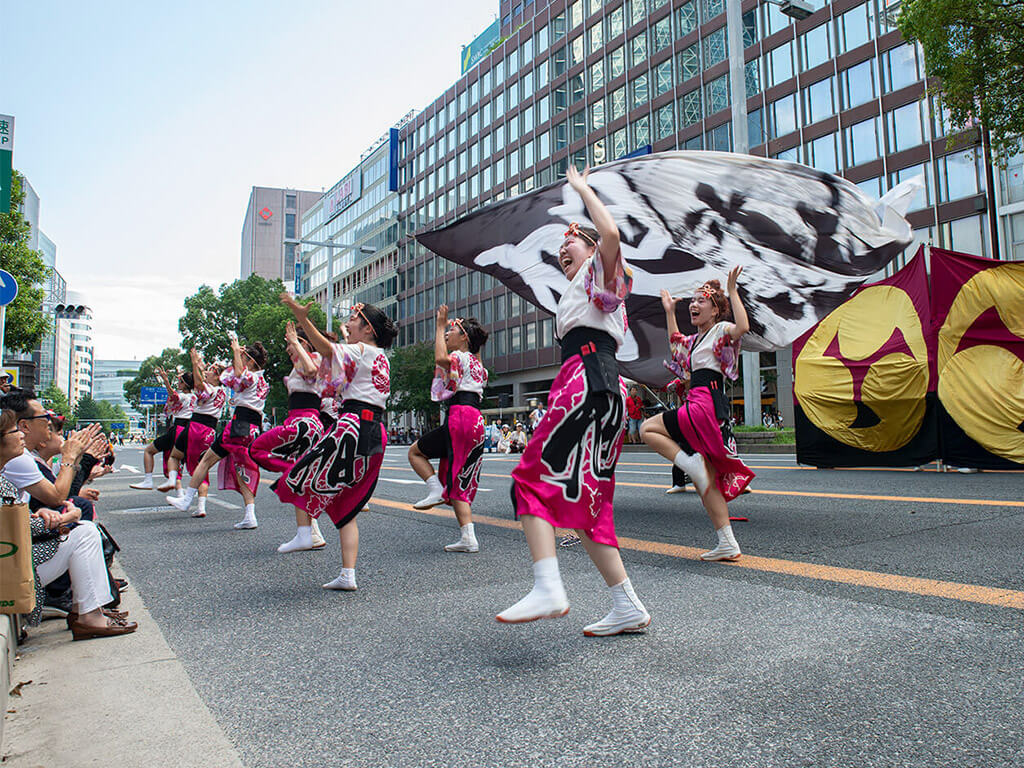 The Domatsuri festival runs for 3 days, where dance teams are judged and a winning team is announced on the last day during the final contest.
All the teams compete in performances at multiple venues set up around the city, including public parks, plazas, and temple grounds, closing-off streets to traffic for the occasion.
There are many types of teams, from big teams reaching more than 100 members to small teams with less than 10 people. In Yosakoi anyone can participate, men, women, and children of all ages. And some teams have members ranging from old to young.
The dance teams have to create costumes reflecting their local traditions and dancers must use Naruko, or clappers, as part of their performance.
Is the Domatsuri Going to Be Held in 2022?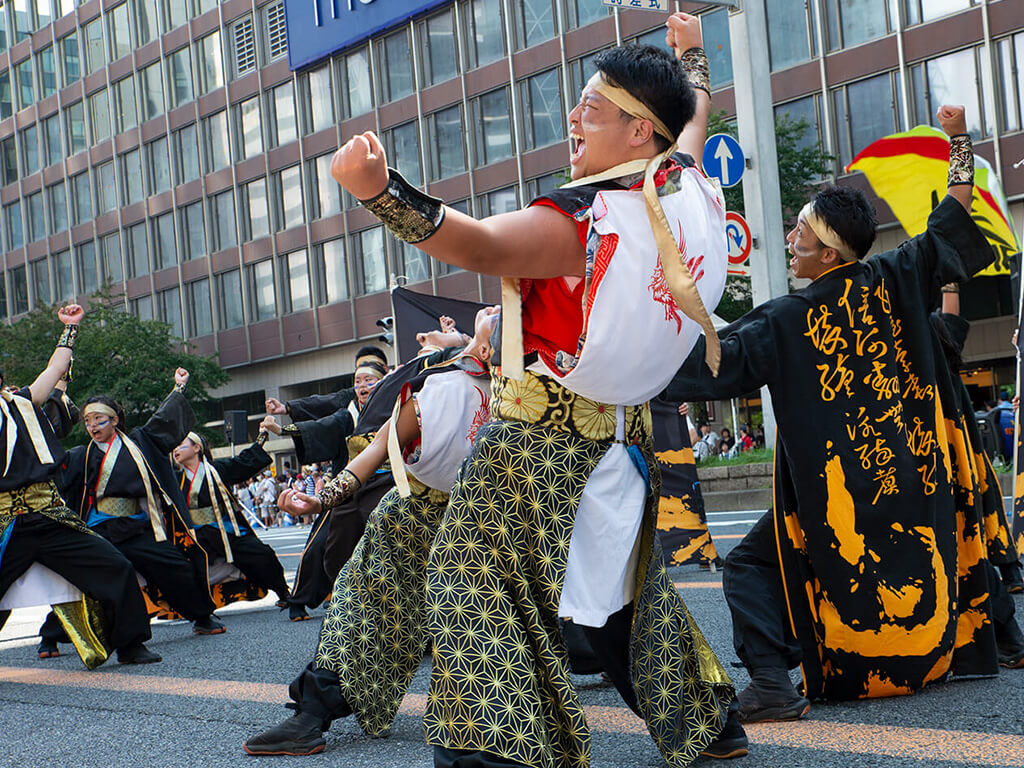 In 2019 the Domatsuri reached 2,357,000 spectators, and due to the corona pandemic the Domatsuri moved online in 2020 and a hybrid event was held in 2021.
In 2022 Domatsuri will still be held in the form of a hybrid event. With a 3-day live event in Nagoya from August 26. to 28. and an online event from September 1. to 4. 2022.
With multiple locations all across the city, you can catch some Yosakoi for free during the 3-day event. But if you want to get the best experience we recommend buying some tickets for the stage performances, and especially the finals. You can buy them here (Japanese only).
For this online event everyone can participate, including groups from overseas, and the participation fee will be free.
The online event will be live streaming on YouTube and NikoNiko (Japanese only).
Nippon Domannaka Festival (にっぽんど真ん中祭り)
Website
Facebook | Instagram | Twitter | YouTube | Tik Tok | Niko Niko
Photo credit: Elisabeth Llopis @ellpcreative
---

---
Did you enjoy this article?
You might also enjoy this post: Things to do in Nagoya
Be sure to follow us on Facebook for new articles every week, and see our Instagram for pictures and stories about Nagoya!
Share your comments below or message us using any of our SNS or send us an email.
Tag us 📲
If you have seen in a past Domatsuri Festival, tag us on social media with #nagoyaisnotboring