While Japan is attractive to tourists due to its rich culture, history, and tradition, did you know the country boasts several theme parks?
Aichi prefecture is host to a few of these amazing attractions. One theme park that recently opened in 2017, is LEGOLAND® Japan Resort. LEGOLAND®, which is aimed at families with children between 2 to 12 years old, has more than 70 didactic games, live shows, workshops, and attractions that offer adventure, education, and fun for the whole family.
If you are planning a trip to LEGOLAND® Japan Resort with your family, don't miss this handy guide that we have prepared.
It All Started With an Emphasis on Imagination and Play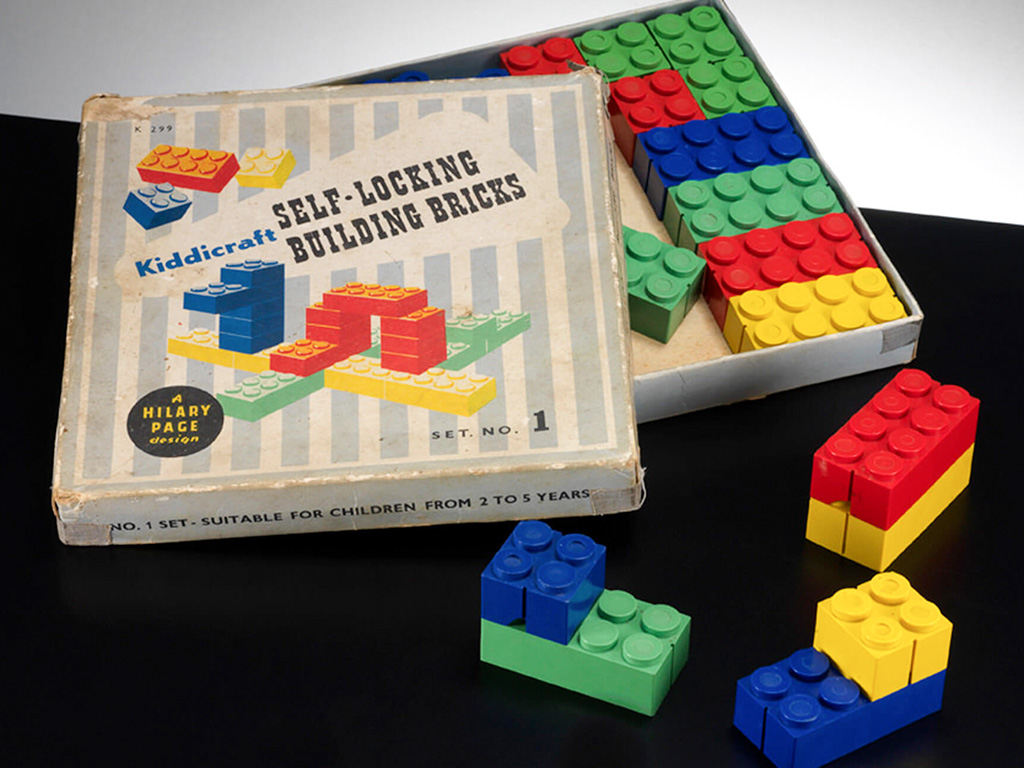 In the beginning, LEGO® was housed in a carpentry factory called Billund Maskinsnedkeri in Denmark which was run by the carpenter Ole Kirk Christiansen. He was an artisan who valued the quality and finish of his products.
Originally, the factory manufactured wooden furniture and collaborated on in-house construction projects. During the great economic crisis of 1929, the factory decreased in clientele and had to focus on smaller projects.
Christiansen began producing miniature versions of his products as design aids. It was these miniature models that inspired him to start producing toys.
In 1932, Christiansen's third son, Godtfred Kirk Christiansen, began working with his father, assuming an active and important role within the company.
The LEGO® brand was born in 1934. LEGO® is the abbreviation of two Danish words: "Leg Godt" (which means "Play well"). In addition, its corporate motto was also established: "Only the best is good enough" (Det bedste er ikke for godt), to emphasize the development of the children's games, and focus on the quality of the product instead of mass production.
Currently, LEGO® ranks third worldwide among toy manufacturers in terms of sales and has received several awards for the best toy of the century. Currently, its owner is Kjeld Kirk Christiansen, who is the grandson of the founder.
View the video animation about the history of LEGO®.
Let's Get Creative at Legoland® Japan Resort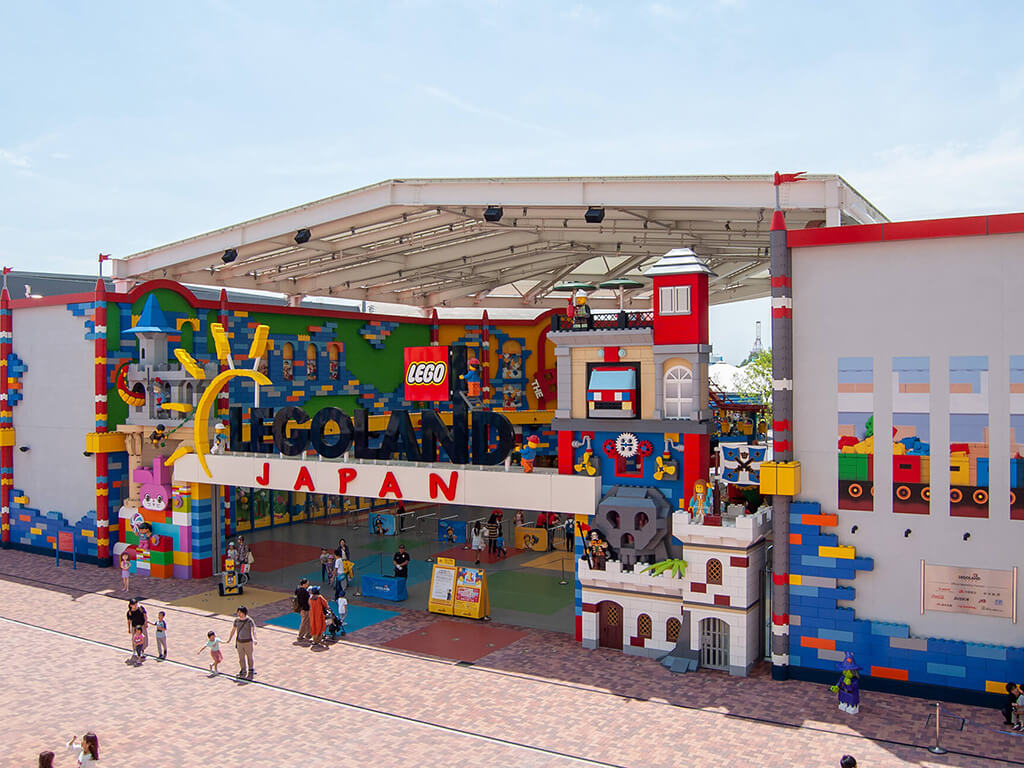 LEGOLAND® Japan Resort is divided into 7 areas with different themes and 40 attractions. More than 10,000 LEGO® structures are scattered throughout the park. LEGOLAND® Japan Resort also has one of the largest LEGO® stores in Asia.
In this article, we explore not only the theme park, but also SEA LIFE Nagoya, and the LEGOLAND® Hotel.
1. Factory: Learn How Legos Are Created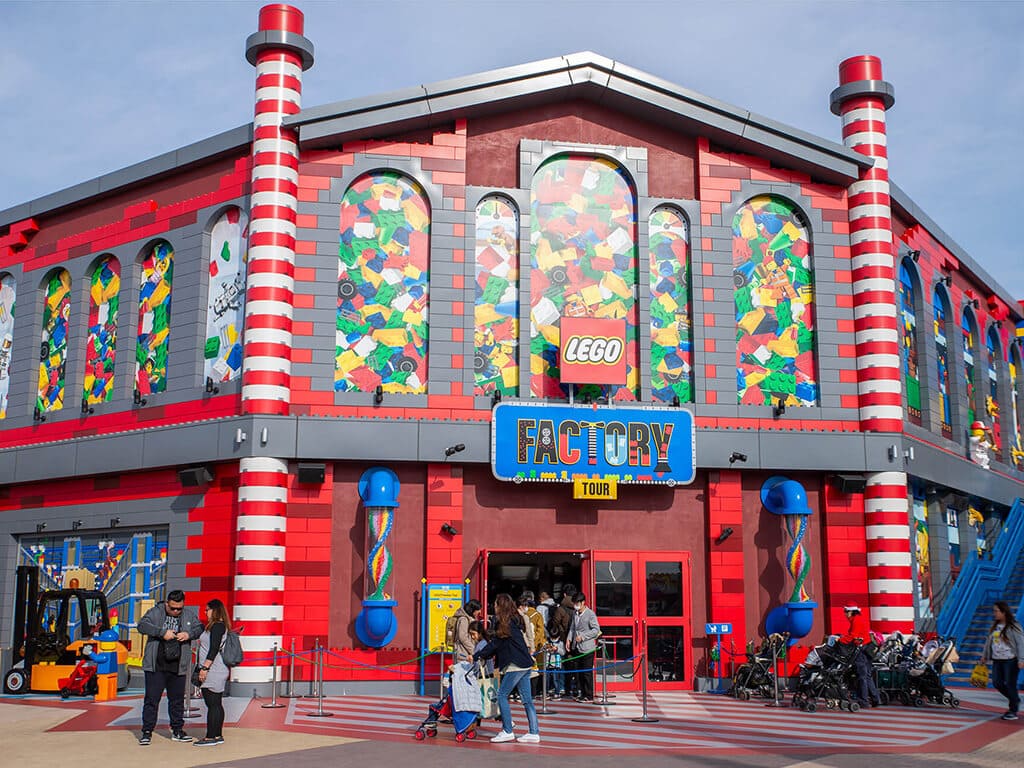 Have you ever wondered how LEGO® bricks are made? What better way to see how the famous building bricks are created than by touring the Factory! At the end of the tour, you will receive a new LEGO® piece from the production line to take home as a souvenir.
In this area we must highlight the following stations:
The Big Shop: One of the biggest LEGO shops in Asia! Purchase LEGO-themed souvenirs, t-shirts, bags, plushies, and more! Collect photos taken in the park from this location as well. Create an original photo album using the limited edition LEGOLAND album.
The Corner Shop: Use the picking package service. Souvenirs that are purchased within the park can be left here to pick up later when leaving. You can also rent strollers and wheelchairs.
2. Bricktopia: Build & Program Your Own Robots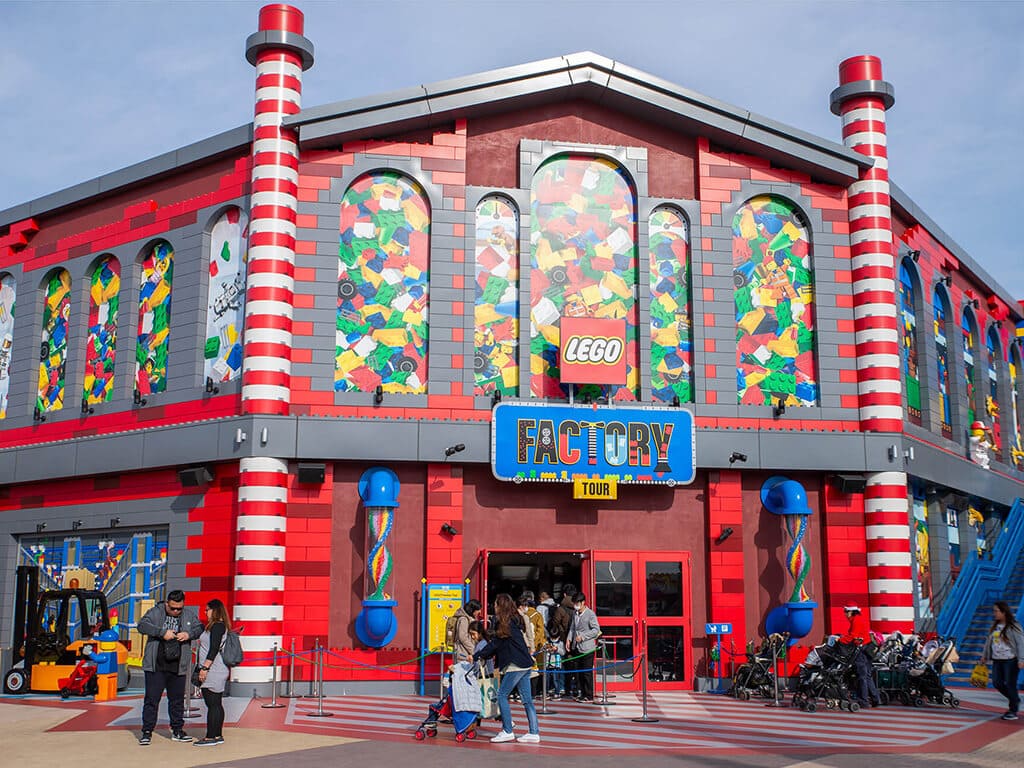 This area is unique to Japan as it does not exist in other LEGOLAND® parks. Explore your creative side by building your LEGO® creations in different stations. There are also robotic workshops in which children can learn to program and build their own robots.
Ah! and do not miss the observation tower that offers fantastic views of the entire park.
3. Adventure: Explore an Underwater World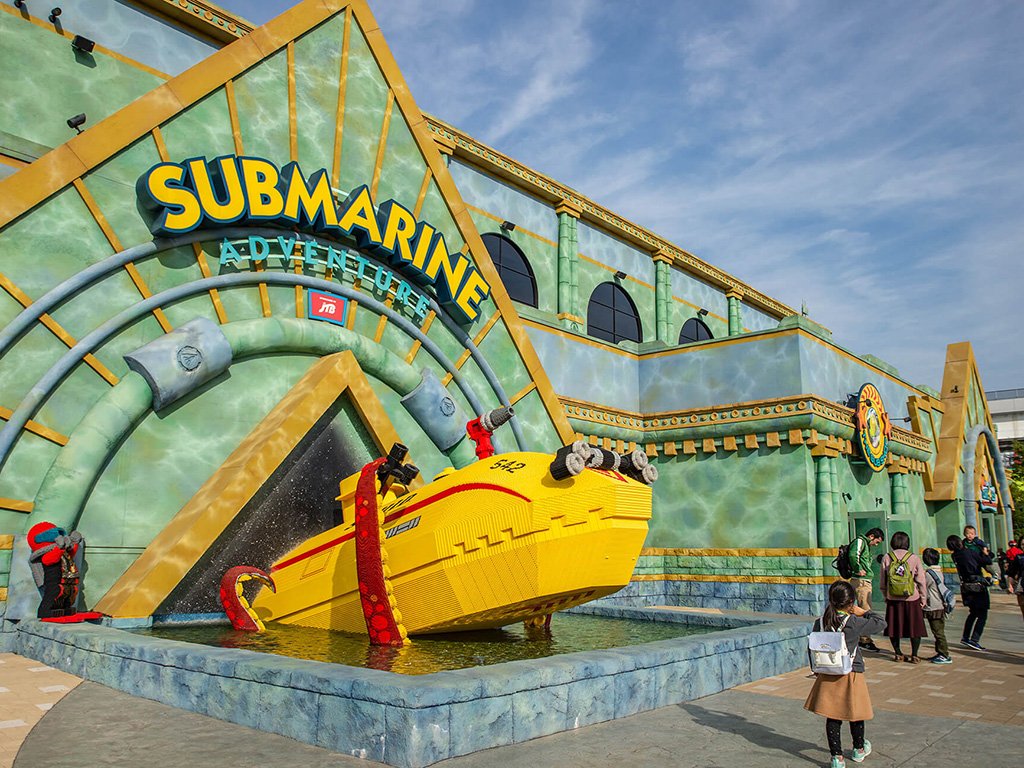 In this area, you will find LEGO® divers, an underwater adventure with different water attractions. An ancient Egypt area has been set up as well.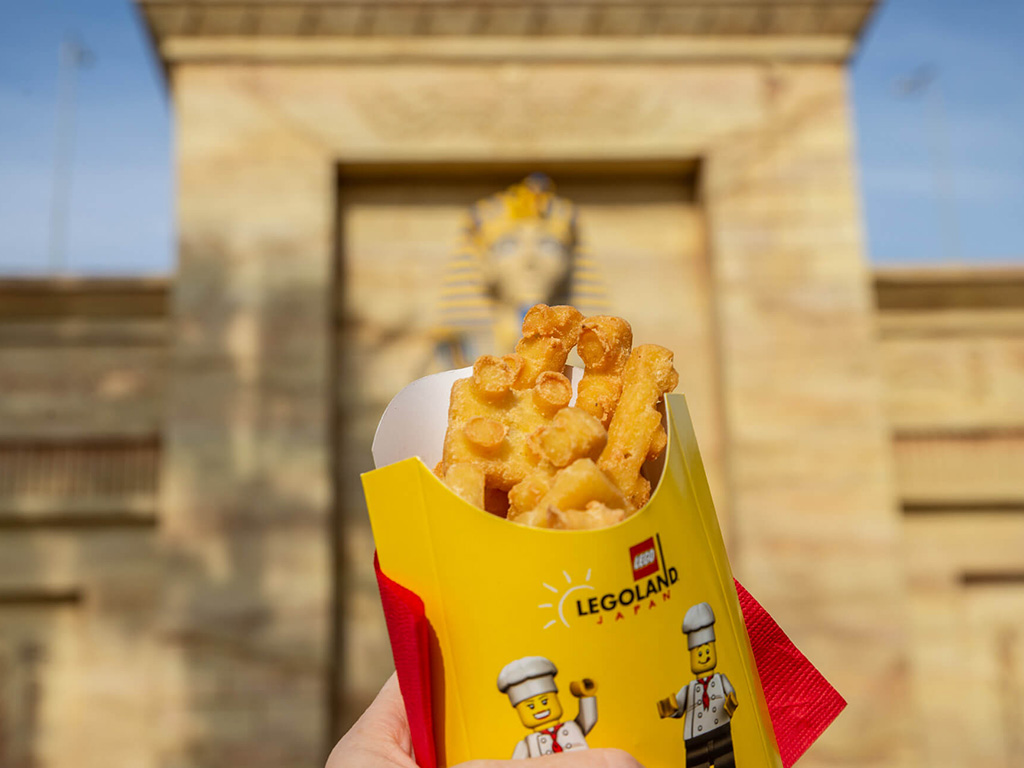 Don't miss the famous LEGO® fries that you'll find in the Oasis Snacks store.
4. Knight's Kingdom: Feel Like Royalty in This Medieval Land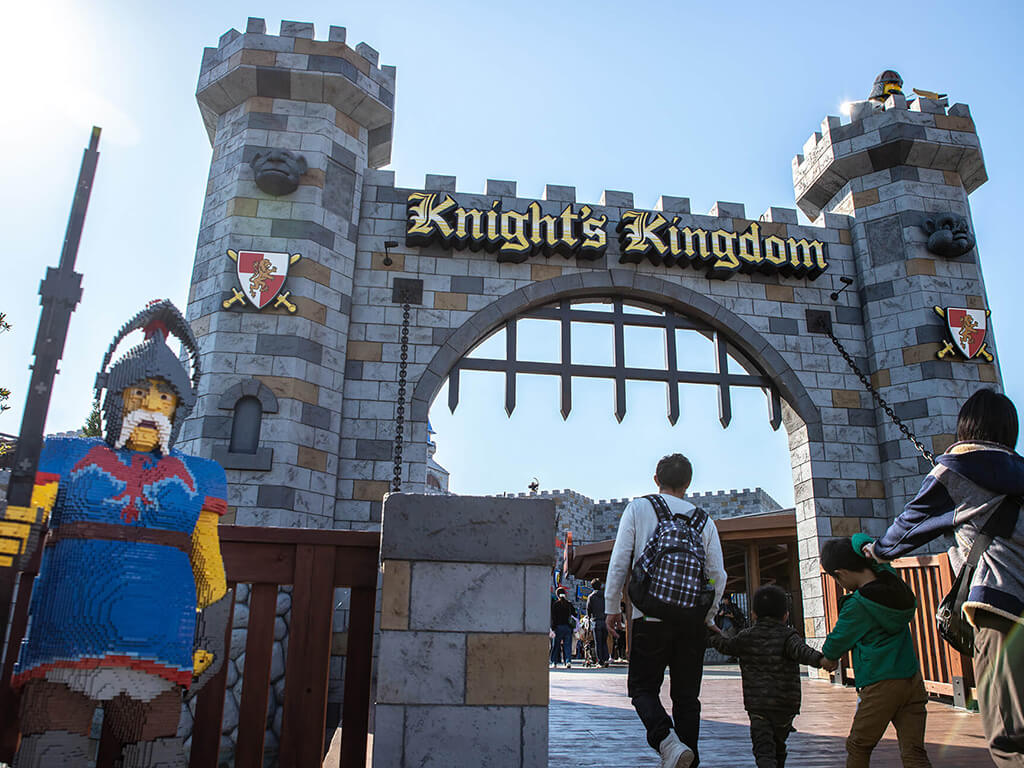 Witness a medieval land full of attractions. Ride the roller coasters, The Dragon, and Dragon's Apprentice.
5. Pirate Shores: Be a Pirate for a Day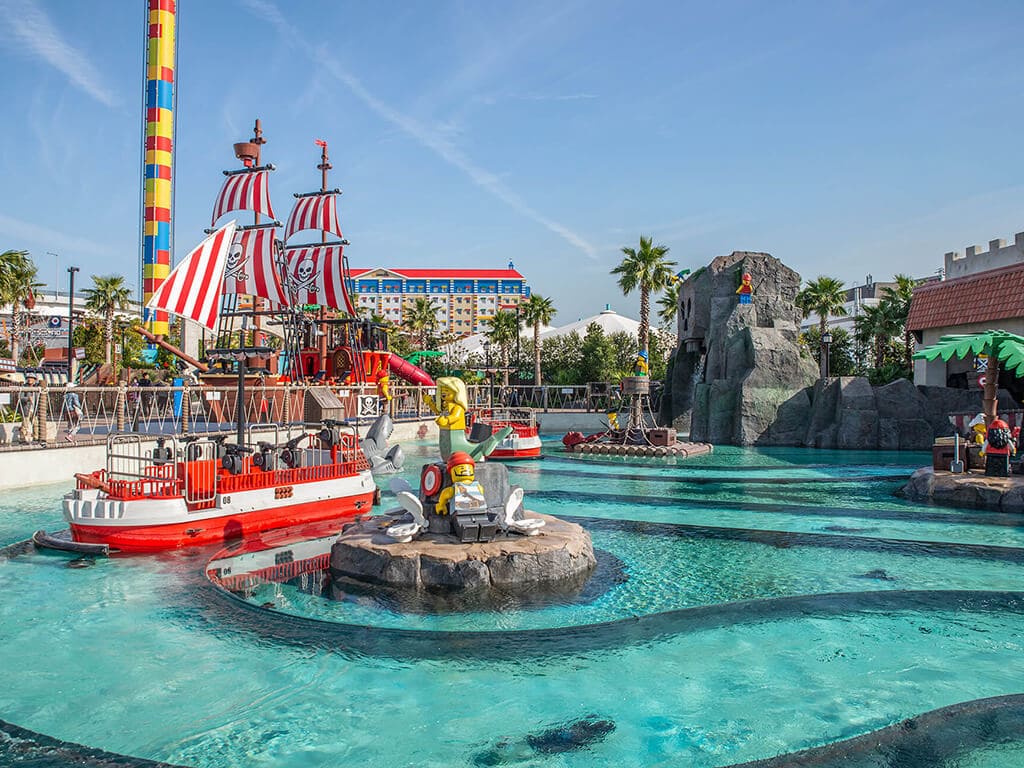 Argh matey! This area is set in a pirate's world, where you can ride a pirate ship and shoot mini water cannons.
Try the original hot dog LEGO® hotdog from the Walk the Plank Snacks store.
6. Miniland: Visit Tokyo, Kyoto, and Osaka Without Leaving Nagoya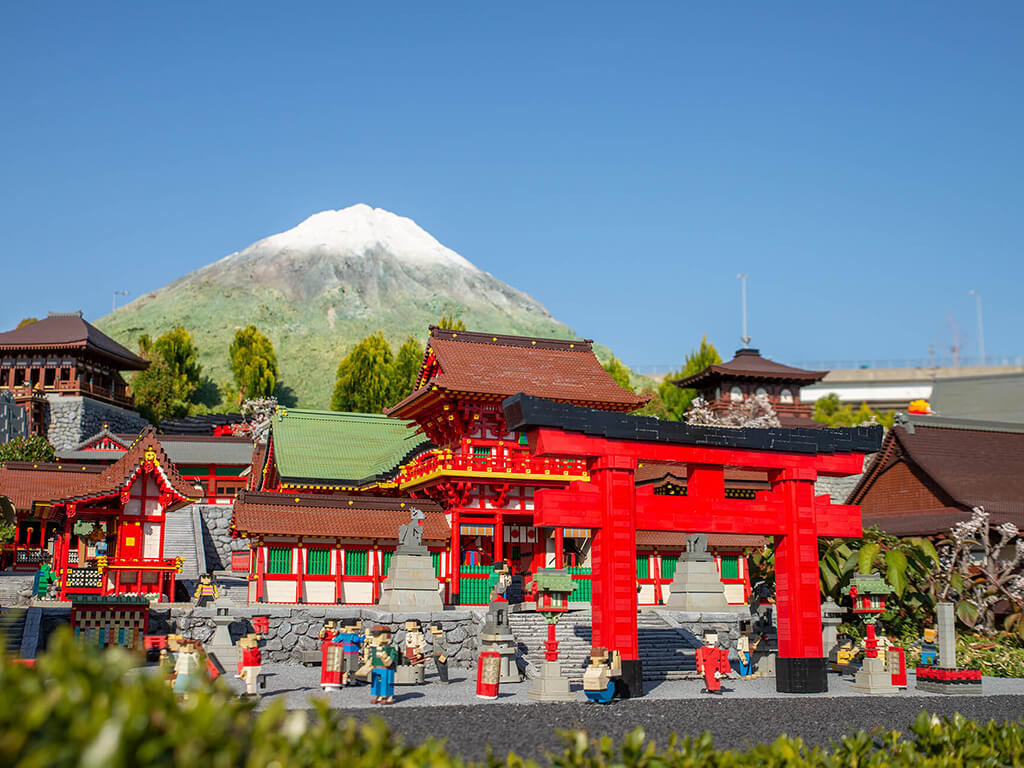 Visit famous tourist spots in Japan without leaving the park. In the Miniland area, you will find reproductions of Tokyo Tower, Kinkakuji, and Osaka Castle which were created using more than 10,496,352 LEGO® bricks.
7. Lego® City: Where Children Can Get Their Own Driver's License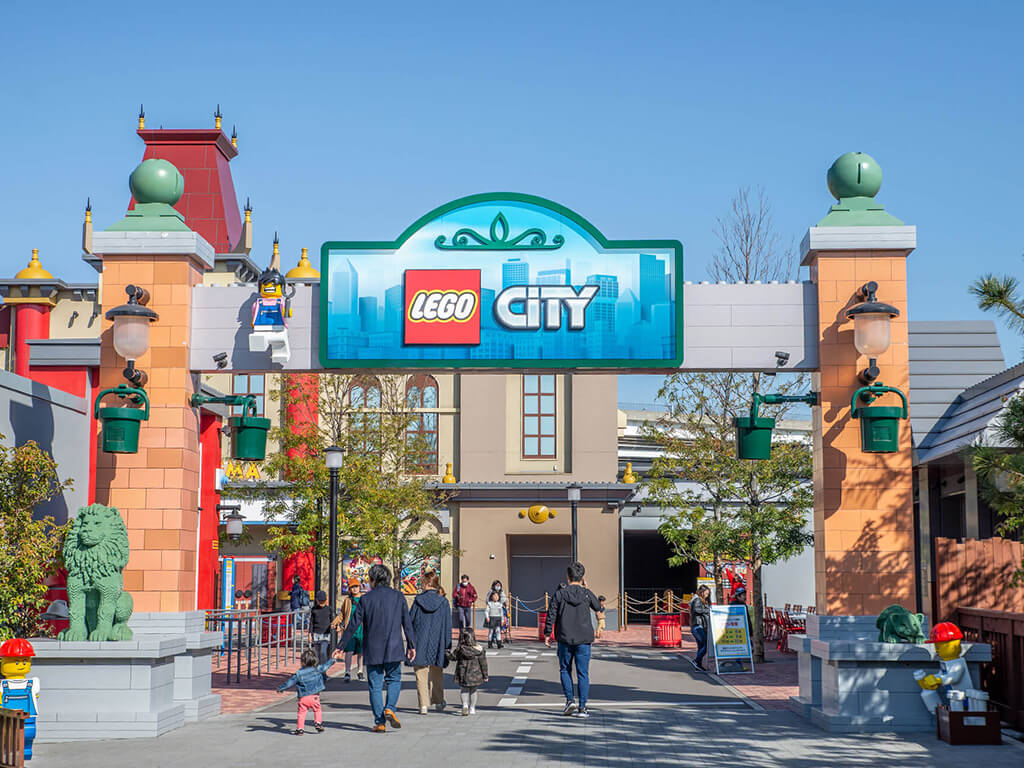 At LEGO® City, children can learn to drive an electric car at the Driving School (at the end of the ride they receive a driver's license), fly by plane, or drive a boat.
At the Fire Academy attraction, families can compete with each other by moving their manual fire trucks down a lane, firing at a target with water pistols, and returning to the finish line.
LEGOLAND also has a 4D cinema where you can watch movies such as The LEGO Movie, LEGO City 4D, and LEGO NINJAGO.
Relax in Style at Legoland® JAPAN HOTEL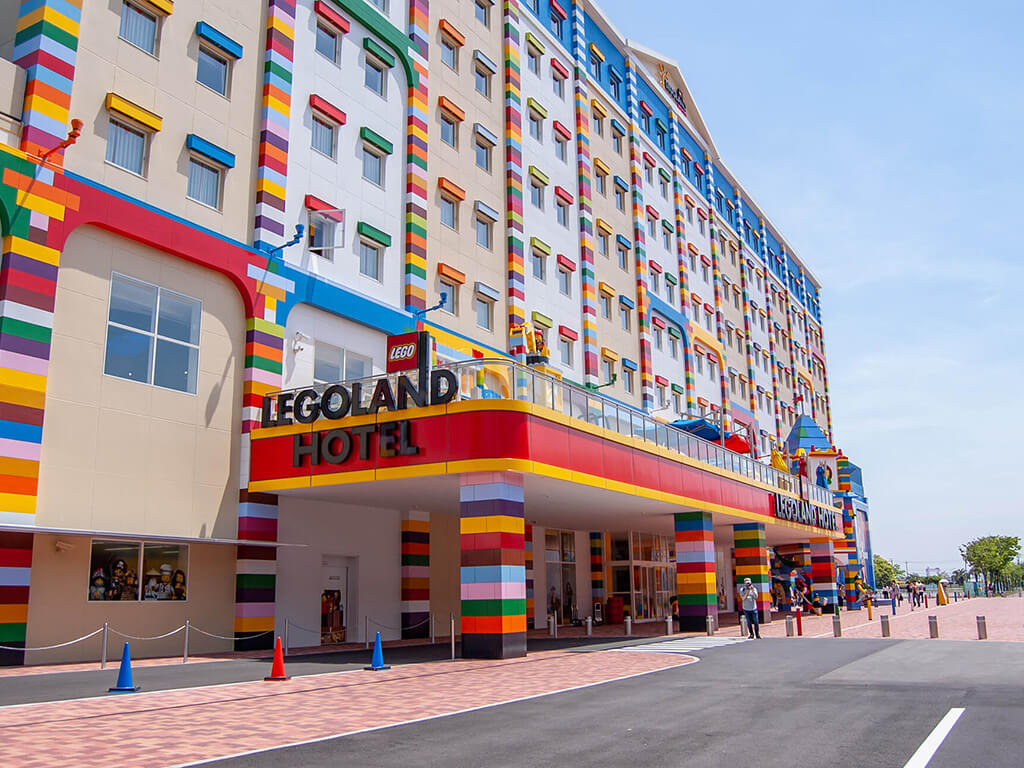 LEGOLAND® JAPAN HOTEL is an extension of LEGOLAND®, where you can spend the night in style. The hotel offers 5 different themed rooms – Pirate, Kingdom, Adventure, NINJAGO, and Friends. Each room offers fantastic views of LEGOLAND. Other facilities include a breakfast buffet, 24-hour reception service, a children's play area, and a swimming pool.
Two restaurants are available for dining: Bricks Family Restaurant, for families and children, and Skyline Bar, for adults.
SEA LIFE Nagoya: Experience an Underwater Adventure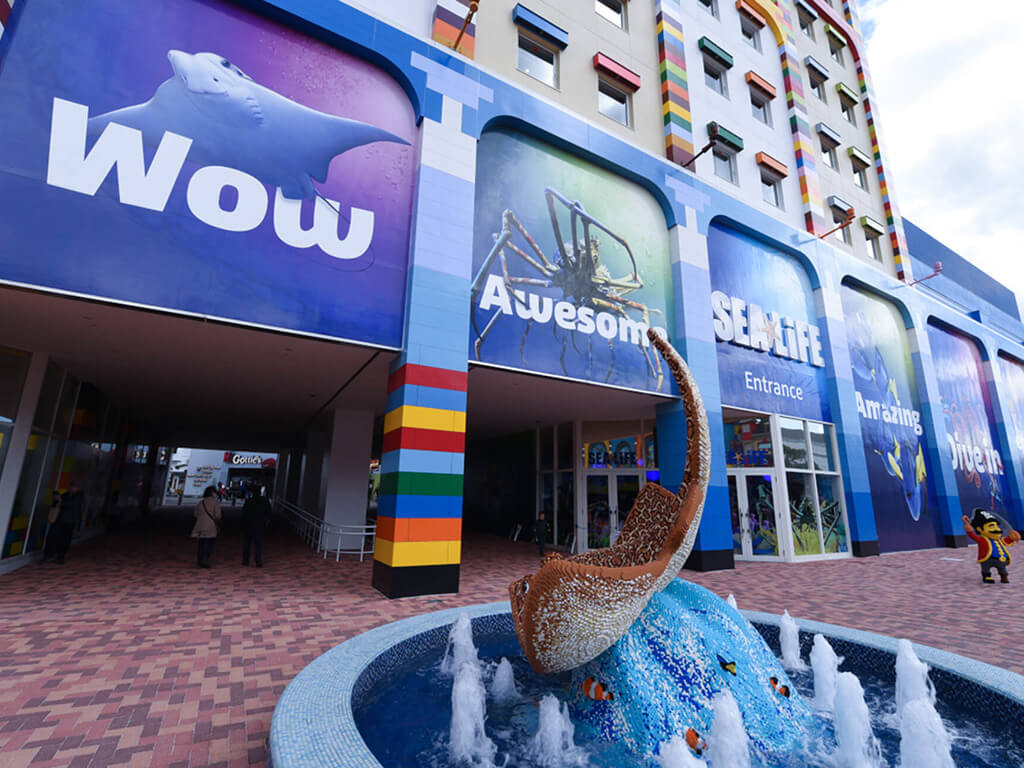 Have fun with sea creatures! This area houses a mini aquarium that provides children with hands-on learning experiences. Children can have direct contact with sea creatures. It is worth making a special trip here just for this attraction, especially on a hot or rainy day.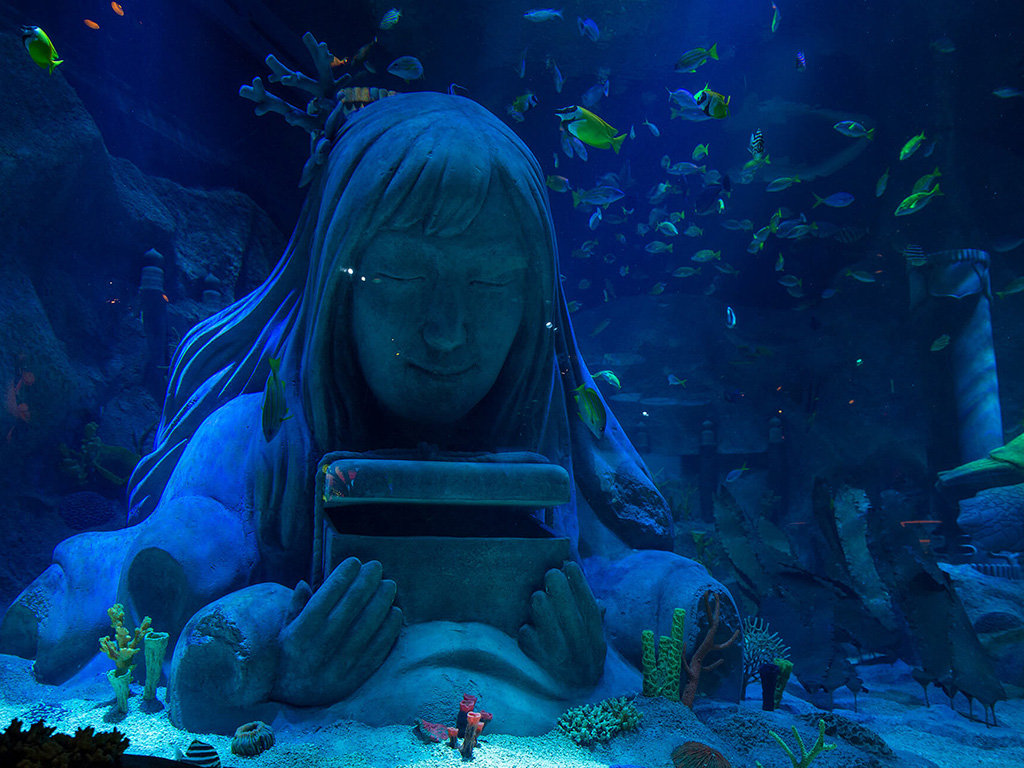 If you can find and take three pictures of the Shark Guys that are hidden in SEA LIFE Nagoya and LEGOLAND® Japan Resort, you will receive a special LEGO® block showcasing the photos at the entrance of SEA LIFE Nagoya.
Some Additional Fun Activities at LEGOLAND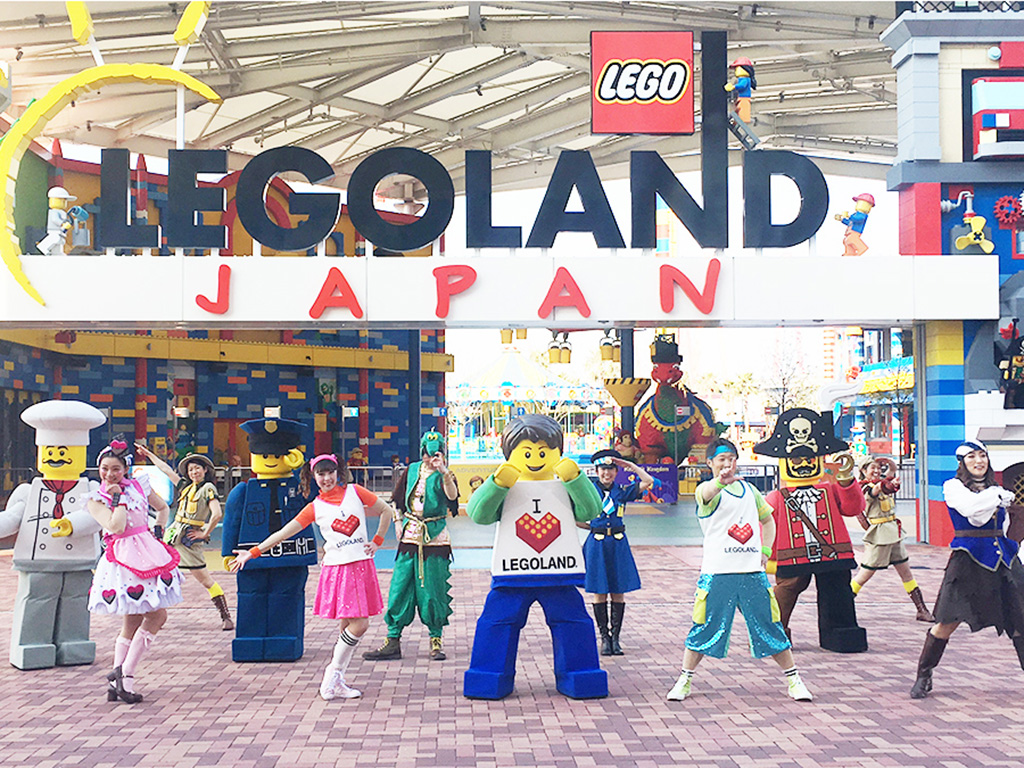 Around the park, there are numerous models made with LEGO® bricks, such as the cherry tree in bloom built to celebrate the first anniversary of the park. This tree earned a spot in the Guinness Book of World Records because it was built using more than 800,000 LEGO® bricks.
Behind the Miniland attraction, there is a special daily performance called "Feel the Emotion", in which the LEGO® characters appear (from 4:00 pm to 4:30 pm).
What You Need to Know Before You Go
Avoid the line by buying your tickets online here.
Download and print the park map the night before. Plan your day accordingly to better utilize your time.
Check the height restrictions of each attraction.
Download the free LEGOLAND® app. With this app, you can check the wait times of each attraction in real-time. You can also check the schedules of the Palace Cinema films, the performances, and plot the route to get to each attraction. You can download the app here.
You cannot take food or drinks to the park. Bags are checked at the entrance.
There are not many places with shade, so it is recommended that you bring a hat, sunscreen, and moistened wipes to cool off in summer.
If you are going to the water attractions, do not forget to bring a rain jacket with you.
There is a nursing station with a bottle warmer, changing tables, and toilets available.
How to Get There
By train
Take the train from the Aonami line and get off at the last stop, Kinjo Futo (金城 ふ 頭). From there, it's a 3-minute walk to the park.
By waterbus
Close to the Aonami line train station Sasashimaraibu (ささしまライブ) is the pier from where the waterbus leaves for LEGOLAND® Japan Resort.
Duration: Around 1 h 15 min.
Hours: 9:00, 10:00, 12:15, 13:20, 14:30
Prices: Adults 1,500 yen, Children under 12 750 yen
Check the web page (Japanese only)
Legoland Japan Resort (レゴランド・ジャパン・リゾート)
Opening hours: Depending on the season, park hours vary. Check here the opening hours.
Price: Check the different prices here.
Address: 2-2-1 Kinjo-futo, Minato Ward, Nagoya, Aichi 455-8605
Access: From Nagoya Station take the Aonami Line to Kinjo-futo, the last train station. From there 6 minutes walk.
Website | Google Maps | Tickets
Photo credit: Elisabeth Llopis @ellpcreative
---
Did you enjoy this article?
Which area of Legoland did you like? Let us know in the comments! 
Be sure to follow us on Facebook for new articles every week, and see our Instagram for pictures and stories of Nagoya!
Share your comments below or message us using any of our SNS or send us an email.
Tag us 📲
Did you take a picture with Totoro in Nagoya? Tag us and share your pictures on social media with #nagoyaisnotboring