Japan has a wide variety of traditional noodle-based dishes. The most famous are probably Ramen and Soba noodles but those are only the tip of the iceberg.
Another popular type of noodle is Udon. Udon noodles are thick white noodles made from 3 basic ingredients: wheat flour, salt, and water. They are served in a wide variety of ways, in broth or soup, hot or cold, and with countless toppings like egg, Tempura, green onions, or Nori (seaweed).
What Is Miso Nikomi Udon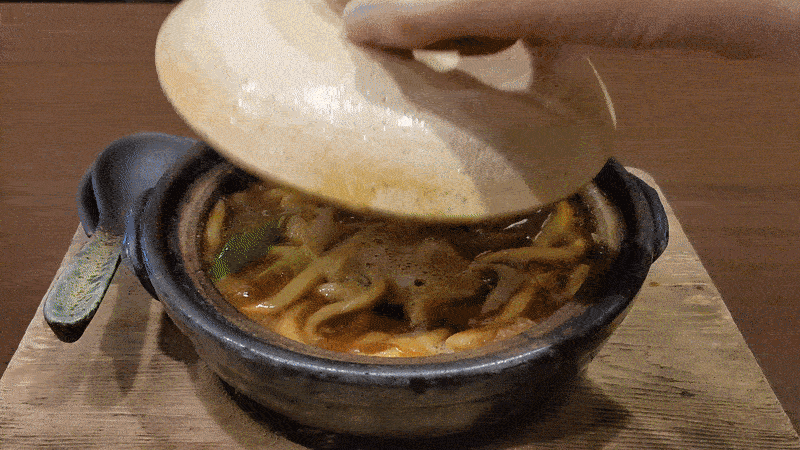 In Nagoya, there is a special variation of Udon called Miso Nikomi Udon, sometimes translated as Miso-stewed Udon. The Udon noodles are served in a thick, brown Udon noodle soup made from Miso paste. Miso is a standard cooking ingredient in Japanese cuisine together with sugar, salt, vinegar, and soy sauce. It is made by fermenting soybeans.
The Miso for the Nagoya-style Miso Nikomi Udon is red Miso, an especially dark and flavorful kind of Miso that is a delicacy of the region. Miso is mixed with a Dashi fish stock to create the characteristic Miso broth.
Miso Nikomi Udon is served in an earthenware pot called a Donabe and it usually arrives still bubbling and steaming hot at the table.
Not only is the Miso for Miso Nikomi Udon special. The Udon noodles also aren't your everyday kind of Udon. They are usually much firmer giving the dish an interesting texture.
The standard toppings of Miso Nikomi Udon include leek, Kamaboko fish cakes, and a raw egg. Don't worry, if you don't want to eat a raw egg. Through the heat of the Miso soup, the egg will cook and it will give a delicious texture and flavor to the dish.
Other toppings such as deep-fried Tofu, Shiitake mushrooms, Nagoya Cochin chicken, or other meat can also be chosen.
Where to Try Miso Nikomi Udon in Nagoya
When you start searching for the perfect place to try your first Miso Nikomi Udon you will soon stumble upon the name Yamamotoya. The most famous of the Miso Nikomi Udon restaurants.
There are multiple different restaurant chains under the umbrella name Yamamotoya. All have different websites, small differences in store design as well as small differences in their menus. Whichever one you go to you will find some great food.
Yamamotoya started out in Osu in 1925, but the original shop doesn't exist anymore. They were the first to market Miso Nikomi Udon in the special Nagoya style with red Miso and firm Udon noodles.
Yamamotoya Okute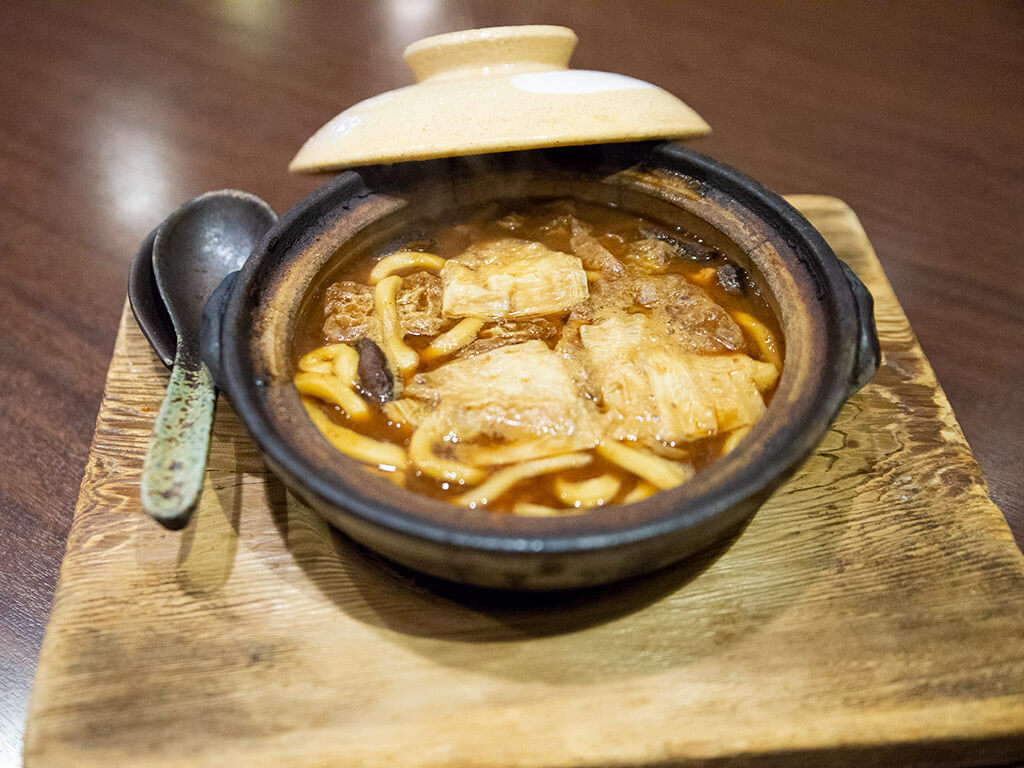 Yamamotoya Okute is located in Okute just 3 minutes walk from Fukiage station on the Sakuradori line.
They have a surprisingly big menu, serving 9 variations of Miso Nikomi Udon as well as curry Udon, Kishimen, Osumashi Udon and other side dishes and toppings for your Udon.
The original Miso Nikomi Udon costs 950 yen. The most expensive variation with added Nagoya Cochin chicken is a great option as you will get to have two different Nagoya specialties in one dish.
While Miso Nikomi Udon is not normally a vegan friendly dish, it can easily be made vegan friendly by adjusting the topping and making the broth from Shiitake mushroom Dashi.
Yamamotoya Okute also has a halal friendly Miso Nikomi Udon option available. Please be aware that while the dish itself is halal and separate utensils are used to make it, the dish itself is still prepared in the same kitchen as the non-halal menu.
Yamamotoya Okute (山本屋大久手)
Opening Hours: 11:00 – 22:00; closed Mondays
Address: 5-9-2 Okutecho, Chikusa Ward, Nagoya, Aichi 464-0854
English Menu: yes
Website (Japanese only)|Google Maps
Yamamotoya Sohonke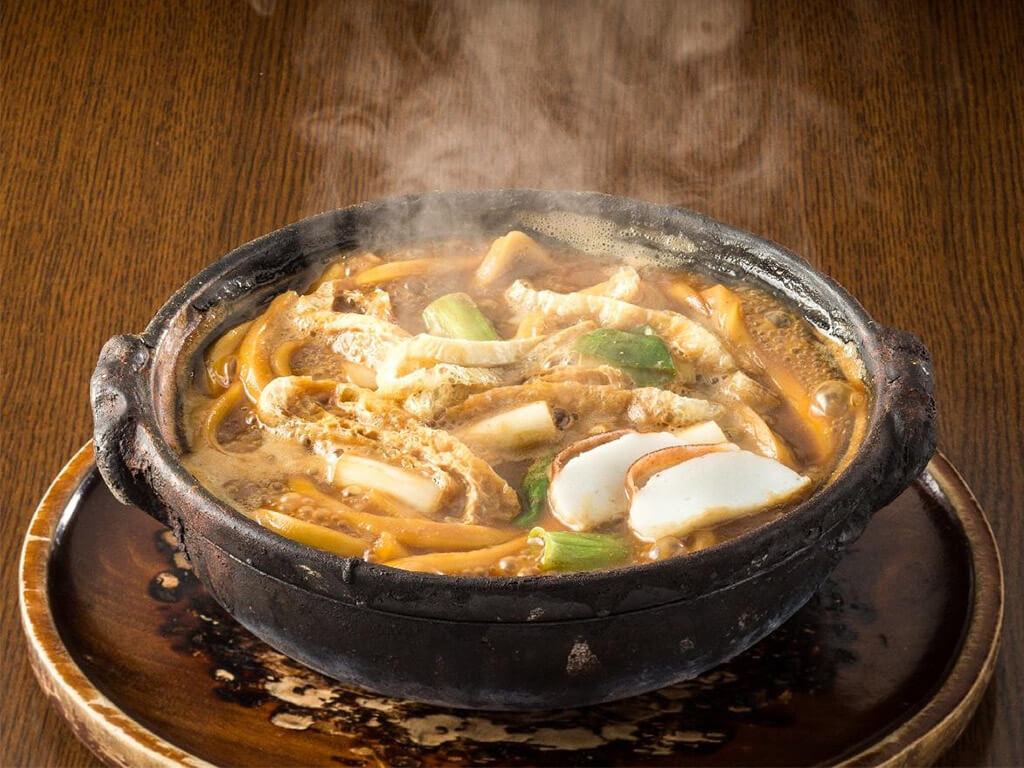 Yamamotoya Sohonke has five restaurants in Nagoya and one in Wakayama. The original Yamamotoya Sohonke is located in Nagoya in Sakae district.
Yamamotoya Sohonke is a great option to try Miso Nikomi Udon when in Nagoya. But it does have a slightly reduced menu compared to Yamamotoya Okute.
Yamamotoya Sohonke Honke (山本屋総本家 本家)
Opening Hours: Mon-Fri 11:00 – 15:00 and 17:00 – 21:00, Sat-Sun 11:00 – 21:00; closed Wednesdays
Address: 3-12-19 Sakae, Naka Ward, Nagoya, Aichi 460-0008
English Menu: yes
Website (Japanese only)|Google Maps
Yamamotoya Honten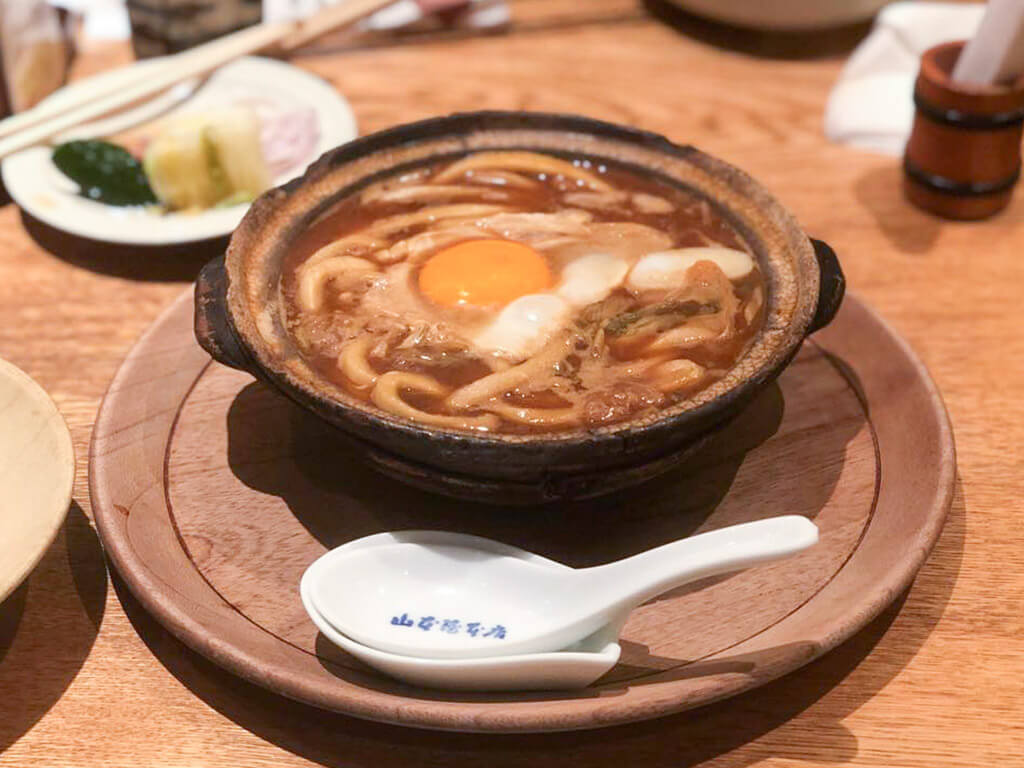 Yamamotoya Honten has a total of 14 shops in and around Nagoya.
You can get the delicious original Miso Nikomi Udon there for under 1000 yen, as well as seasonally changing dishes such as Miso Nikomi Udon with mushrooms or oysters.
Yamamotoya Honten Esca (山本屋本店エスカ店)
Opening Hours: 10:00 – 22:00
Address: 6-9 Tsubaki, Nakamura Ward, Nagoya, Aichi 453-0015
English Menu: yes
Website (Japanese only)|Google Maps
Kadomaru
Kadomaru is specialized in Miso Nikomi Udon as well as Curry Nikomi Udon. Both are served in generous earthenware bowls and arrive at the table bubbling hot.
You can customize your order with a wide variety of toppings such as chicken, egg, shrimp Tempura, Mochi, and beef.
The highlight at Kadomaru comes after you are done eating your noodles and you still have some delicious Miso broth left. Order some cheese and a bowl of rice and create a completely new dish in the form of a delicious risotto.
Kadomaru (角丸)
Opening Hours: Mon – Fri 11:00 – 19:30, Sat 11:00 – 14:00; closed Sundays
Address: 1-18-33 Izumi, Higashi Ward, Nagoya, Aichi 461-0001
Website (Japanese only) | Google Maps
Nikomi No Takara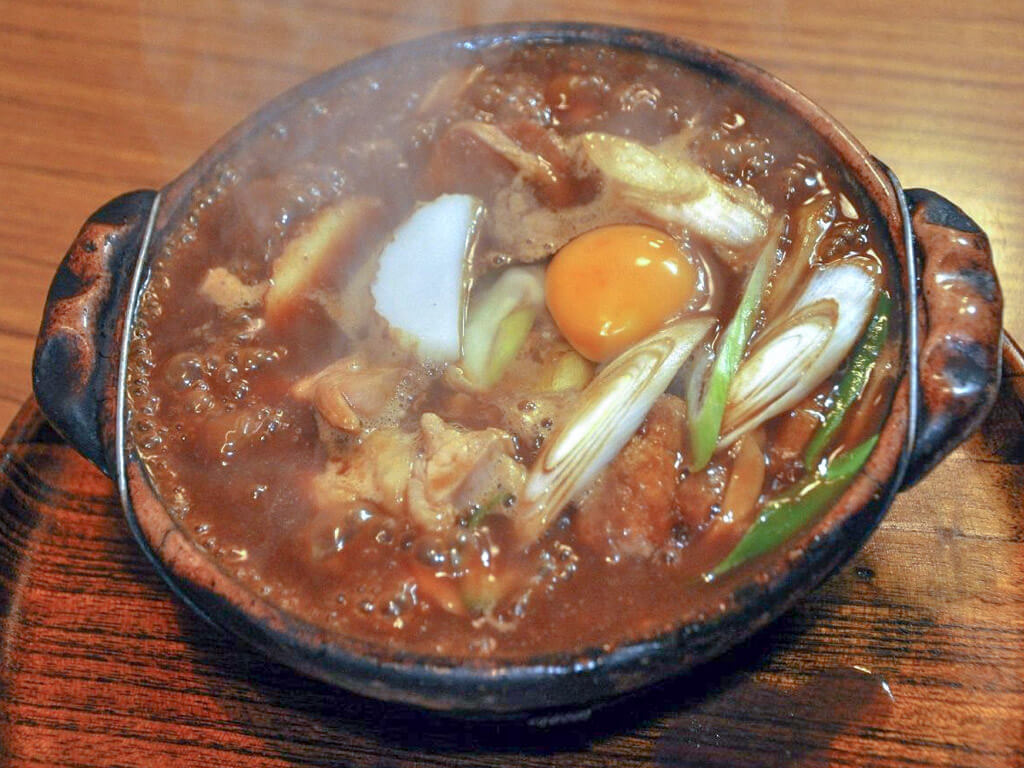 Founded in 1964, Nikomi no Takara is one of the best Miso Nikomi Udon shops located in the Osu district. They believe in traditional taste with a recipe that hasn't changed in 45 years.
Nikomi No Takara (味噌にこみ たから)
Opening Hours: 11:30 – 15:00, 17:30 – 19:30; closed Thursdays
Address: 2-16-17 Osu, Naka Ward, Nagoya, Aichi 460-0011
English Menu: yes
Google Maps
Yoshinoya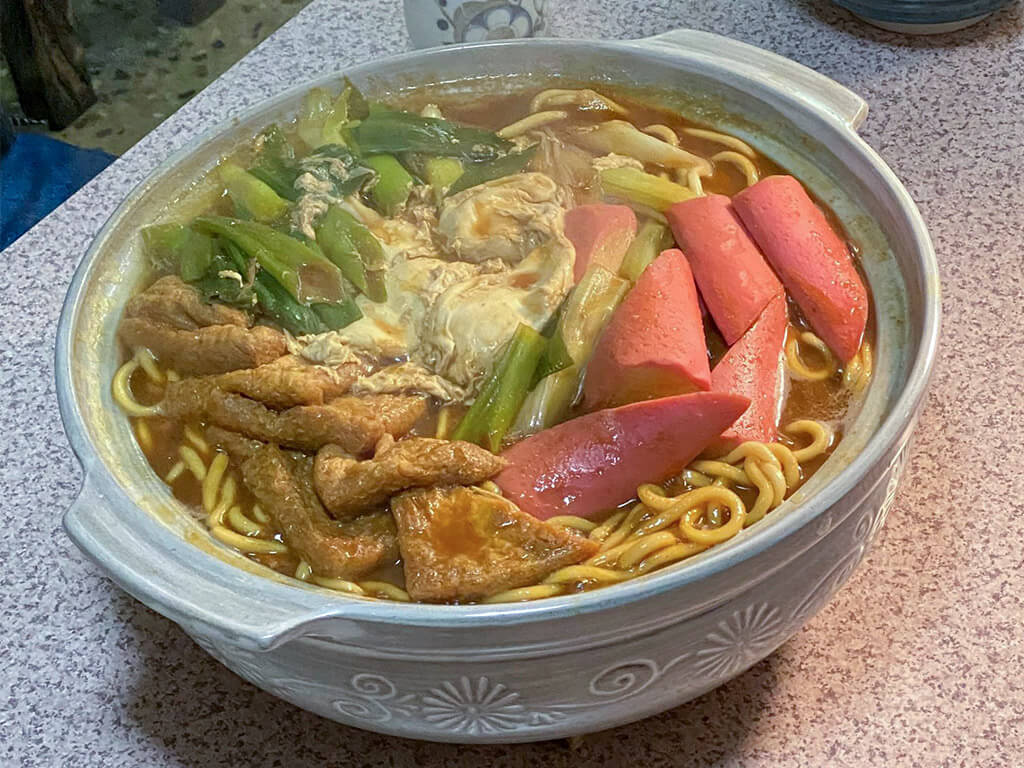 If you are really really hungry you should come by Yoshinoya where they serve a gigantic amount of Miso Nikomi Udon in a family sized bowl. Enough for at least 10 people.
The Miso Nikomi Udon here is topped with Kamaboko fish cake, chicken, deep fried tofu, egg, and leek. And of course they do also have normal sizes.
Yoshinoya (吉野家)
Opening Hours: Mon 11:00 – 14:30, Tue – Fri 11:00 – 14:30 and 18:00 – 21:00, Sat 11:00 – 14:00; closed Sundays
Address: 1-6-3 Shinsakae, Naka Ward, Nagoya, Aichi 460-0007
English Menu: no
Google Maps
Sagami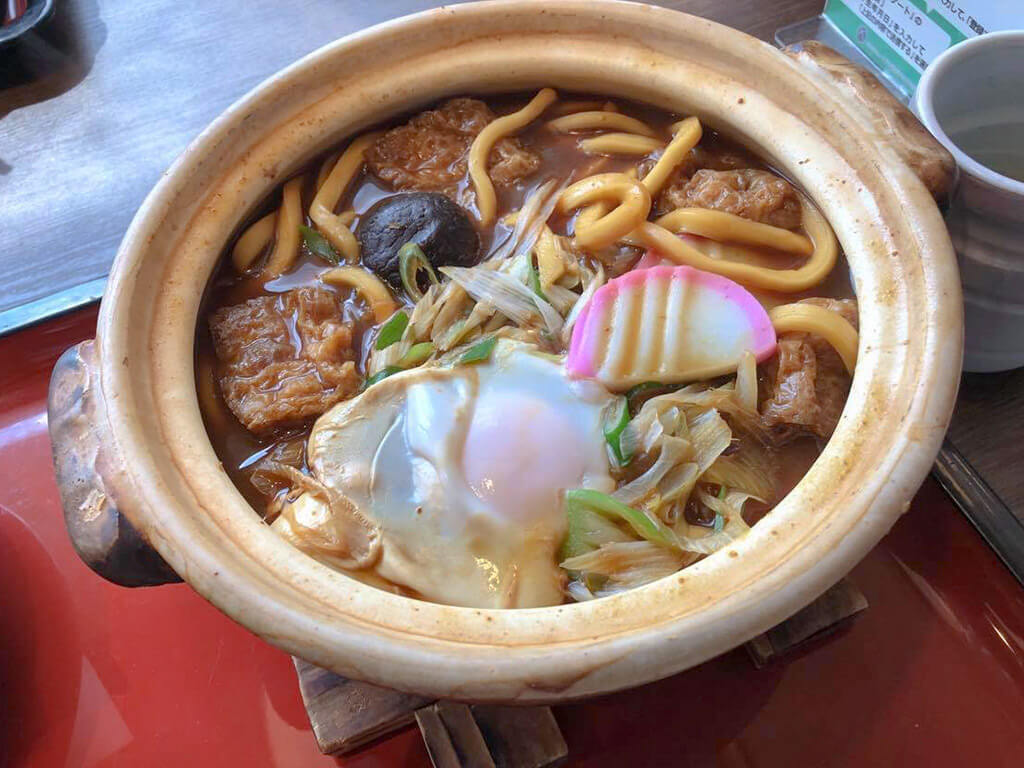 Sagami is a chain of restaurants specializing in Udon and Soba dishes. You can order anything from Zaru Soba or Zaru Udon (simple cold noodles with a dipping broth) to set menus with multiple side dishes such as Tempura, Sashimi, Donburi and more.
One of the dishes they offer is Miso Nikomi Udon. While it isn't as good as having it at one of the specialty restaurants it is a very convenient place to try Miso Nikomi Udon for the first time with hundreds of restaurants not only in Aichi but in every prefecture in the central part of Honshu. From Osaka to Tokyo you will find a Sagami if you just look for it.
The Miso Nikomi Udon at Sagami is very customizable with toppings such as Mochi rice cake, cheese, or chicken.
Sagami Kurokawa Branch (和食麺処サガミ 黒川店)
Opening Hours: 11:00 – 22:00
Address: 3 Chome-5-14 Kinjo, Kita Ward, Nagoya, Aichi 462-0847
English Menu: yes
Website (Japanese only)|Google Maps
Miso Nikomi Udon as a Souvenir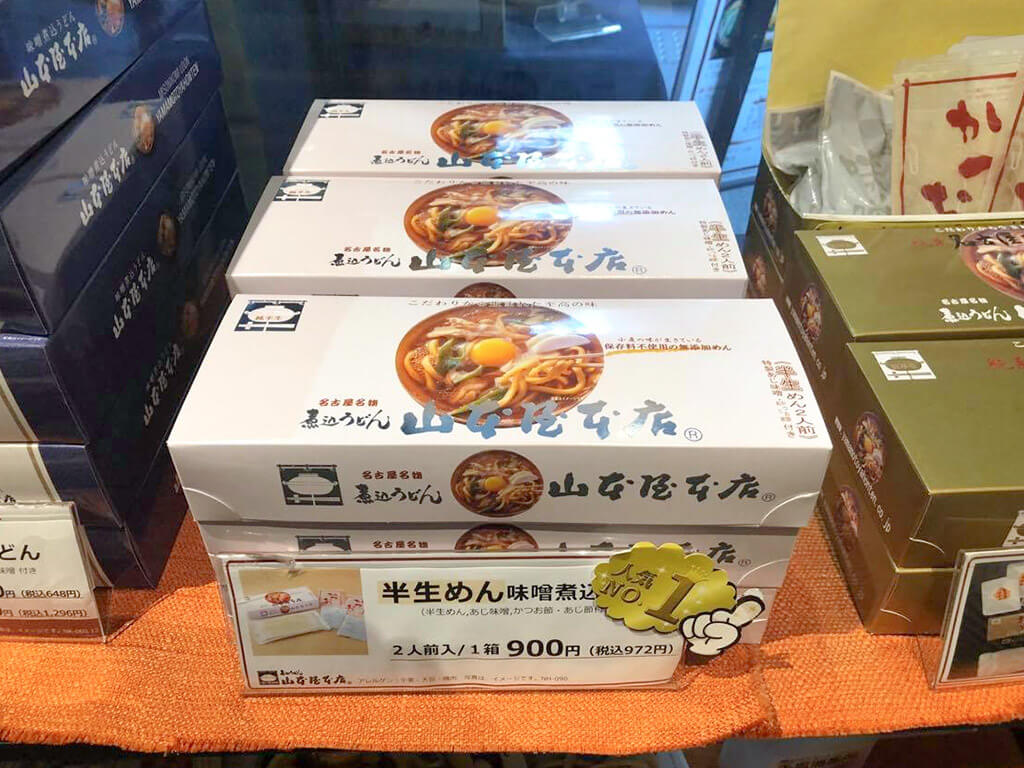 You can buy Miso Nikomi Udon to take home as a souvenir at most souvenir shops in Nagoya, including the numerous shops located in Nagoya Station and at Chubu Centrair International Airport.
The package will include the noodles as well as a base to make the unique Miso broth at home.
---
Did you enjoy this article?
Make sure to also check out our other posts about Nagoya and trust us if we say Nagoya is not boring!
Be sure to follow us on Facebook for regular updates on Nagoya, and see our Instagram for pictures and stories about the city!
Tag us 📲
If you have tried Miso Nikomi Udon please share your experience and tag us on social media with #nagoyaisnotboring