Are you a foodie who wants to experience Japanese cuisine in Nagoya? In our opinion, food isn't only something to be enjoyed in restaurants. You need to go out there, be adventurous and say yes! to everything if you want to really get to know the local Nagoya cuisine.
The food experiences here in Nagoya will lead you to morning markets, factories, the best street food places, and other secret locations in the city. You just have to be open to the possibilities and you will find, Nagoya is not boring when it comes to culinary adventures.
Would You Start the Morning With Fresh Oysters at Yanagibashi Central Market?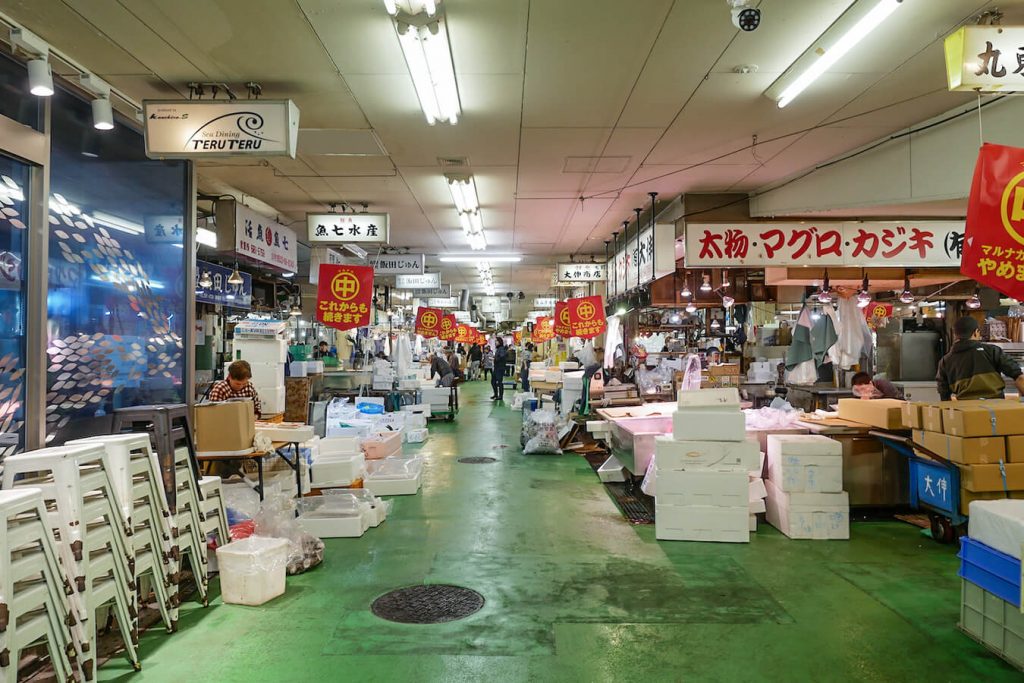 Yanagibashi Central Market is not only frequented by restaurant owners buying their fish for the day but also the general public.
We recommend you arrive at around 9 p.m. when the business owners are done with their shopping and you won't be in the way of their business. We want to be respectful, right?
Yanagibashi is not really a tourist destination and only very view visitors find their way there. Which, in our opinion, is great! For this reason, it is a much more authentic experience than markets in Tokyo or Kyoto. And stall owners are as interested in you as you are in them.
In the market, you can try some of the freshest seafood possible. How about some raw oysters caught in the morning? It might not be everyone's cup of tea, but its an option at Yanagibashi Market.
For the time being your only option is to visit Yanagibashi only on your own, but we are always keeping our eyes open for new tours in Nagoya.
Yanagibashi Central Market (柳橋中央市場)
Entry Fee: free
Opening Hours: 4:00 – 10:00; closed Wednesdays and Sundays
Address: 4-11-3 Meieki, Nakamura Ward, Nagoya, Aichi 450-0002
Google Maps
Meet Nagoya's Willy Wonka at the Local Candy Factory.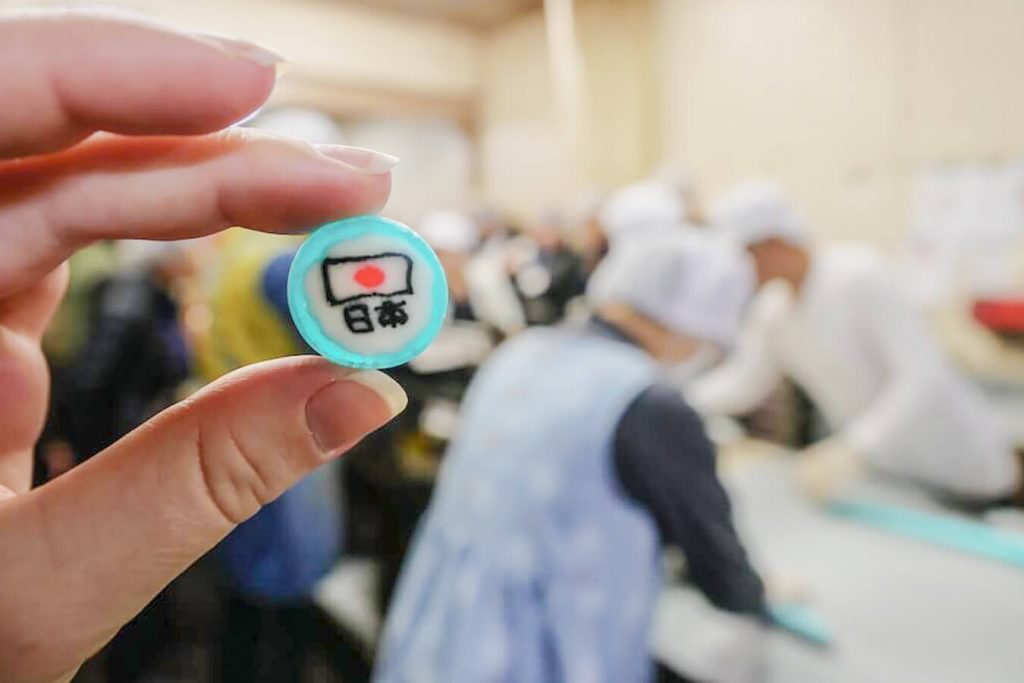 Please don't feel like a kid in a candy shop at this candy factory in Nagoya. If you behave yourself you can learn how sugar syrup is transformed into beautiful colorful hard candy.
Everything here is made to order, the customers all over Japan send in their design and the Japanese Willy Wonka will get to work and produce your unique candy. Motives can be anything from fruit to mascots.
When we visited they were expertly designing a candy with a Japanese flag and the Japanese characters for 'Japan'.
Willy Wonka is quick with a smile and even speaks a little bit of English.
We all know, looking at mountains of candy without getting to try them is really tough. And that's why they will give you candy (or 5) to try during the different stages of the production process.
If you are interested in this experience send us an email to info@nagoyaisnotboring.com and we will happily arrange a visit!
Explore the Osu Shopping Streets and Try the Best Street Food in Nagoya.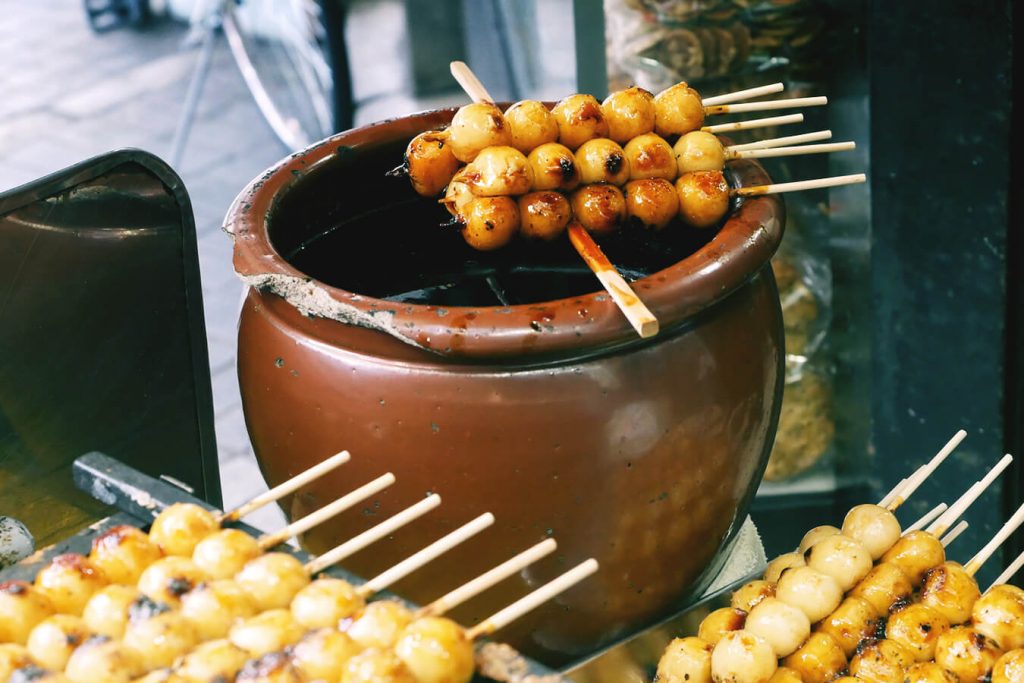 The Osu Shopping Streets are one of the most popular tourist destinations in Nagoya. Not only because of the interesting variety of shops selling second-hand goods such as Kimono, the newest electronics for nerds, and figurines that will excite every Anime and Manga fan out there.
There is also a wide variety of finger-licking good street food to be found in Osu.
If you asked us, Japanese street food is simply to die for. If you are into the classics such as Takoyaki, Yakisoba, Okonomiyaki, and Karaage you can find them in Osu in every shape and form.
But also some Nagoya local specialties such as Miso Kushi Katsu, Doteni Donburi, and Uiro are sold here.
For those with a sweet tooth, we recommend the Agemanbo, a deep-fried Manju on a stick sold only in Osu. It smells deliciously like a freshly deep-fried donut with a crispy crust and creamy red bean paste in the middle.
Explore Osu on your own or join a Street Food Walking Tour of Osu where you get to try a selection of the best street foods in the area and also learn a lot about Osu, from past to present.
Would You Rather Learn About Beer or Drink It? Why Not Both at one of the Beer Factories in Nagoya?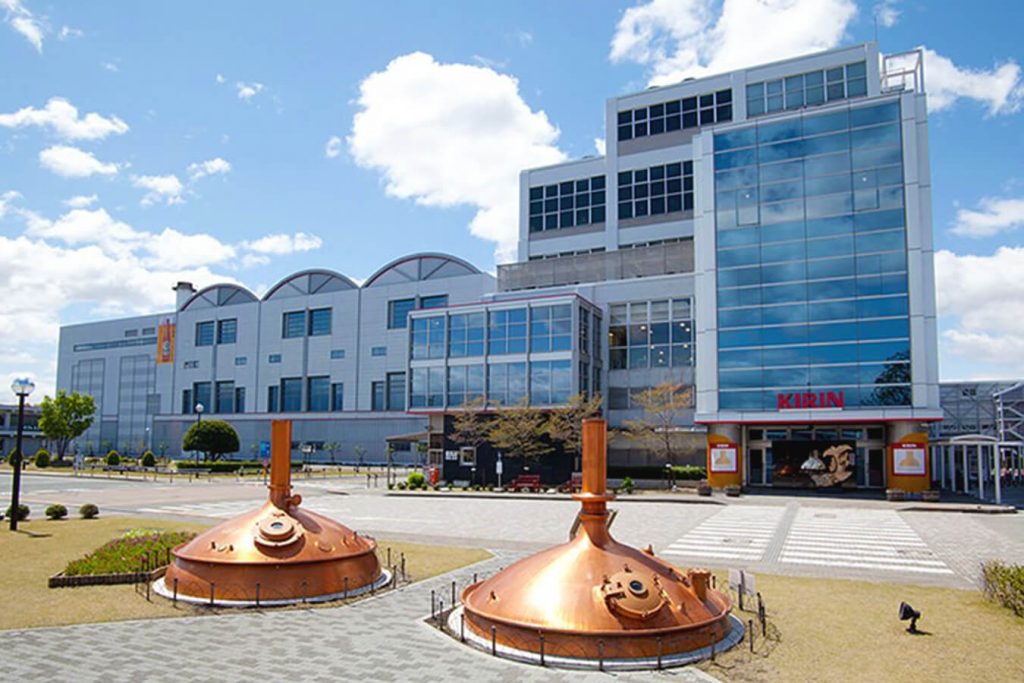 If there is one thing the Japanese people like to do in their free time it's drinking beer. For this reason, you can get a variety of beers at every restaurant, bar, Izakaya, supermarket, and convenience store. But for a truly unique beer experience, you should check out one of the beer factories in Nagoya.
Kirin, as well as Asahi, are two of the biggest beer producers in Japan and both have a factory in Nagoya.
Taste and touch the raw materials such as malt and hops. Learn about the beer production process while touring the factory. And end the tour with a beer tasting. Which, to be honest, is the main reason to do a factory tour in the first place, isn't it?
The tours are held in Japanese only and require a reservation you can do online. For the Kirin factory, click here. The Asahi factory tour can be found here. If you would prefer a visit together with a guide or interpreter send us an email to info@nagoyaisnotboring.com and we will happily arrange something for you.
The Japanese Call It Depachika, We Call It Foodie Heaven: The Food Levels at a Department Store.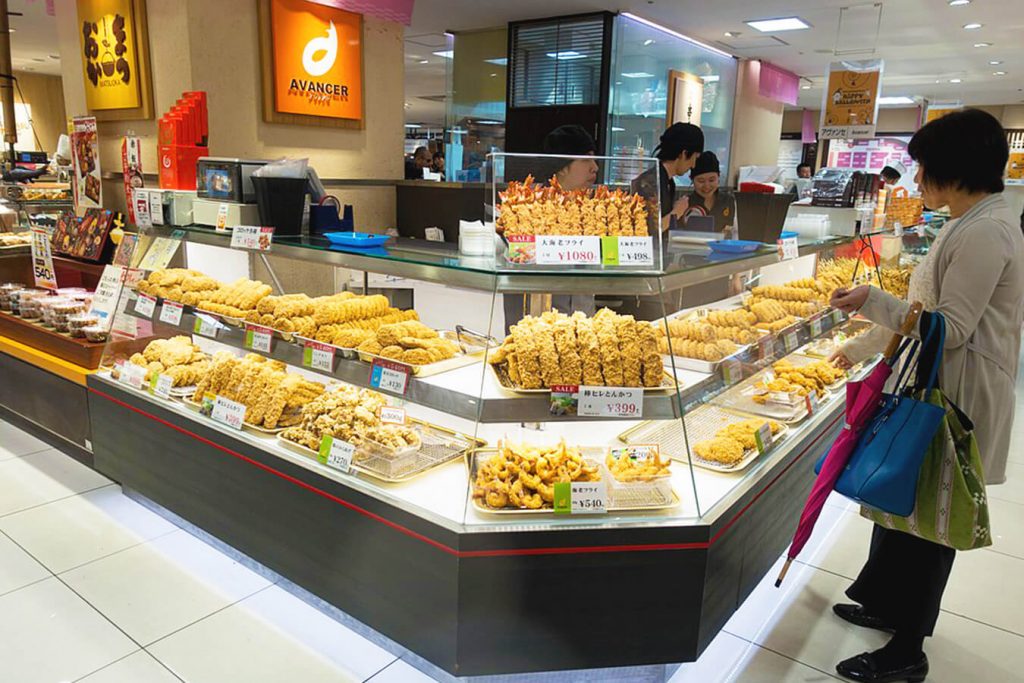 Imagine a whole floor dedicated to Japanese food. Mountains of prepared dishes made from fish, meat, rice, and vegetables. Hundreds of mouthwatering cakes in display cases and irresistible cookies and Japanese confectioneries. This is the reality at the underground levels of every department store in the country.
Department Stores can be found in all major cities in Japan. Nagoya has Takashimaya and Meitetsu right inside Nagoya Station, as well as Matsuzakaya and Mitsukoshi in Sakae.
Take your time and browse. At some of the stalls, you might get food samples. Don't hesitate and try them (say 'Arigato' thanks), and if you like what you just tasted don't forget to give a smile and say 'Oishii' delicious. Don't feel obligated to buy anything at the shop just because you took a sample. No pressure.
If you want to buy dinner such as a Sushi box at a department store we have a secret tip for you (but don't tell anyone okay?): arrive around one hour before closing and many of the dishes still left will be on sale. Of course, you will have less variety to choose from, but you can save a pretty penny.
Join a Specialties of Nagoya Food Tour and try some local snacks at the oldest department store in Japan. The tour also visits 4 restaurants where you get to sample authentic Nagoya cuisines such as Hitsumabushi, Miso Nikomi Udon, Tebasaki, and Tenmusu. If you don't know what any of that means. No problem, you will learn it during the tour.

Indulge in the Local Nagoya Cuisine.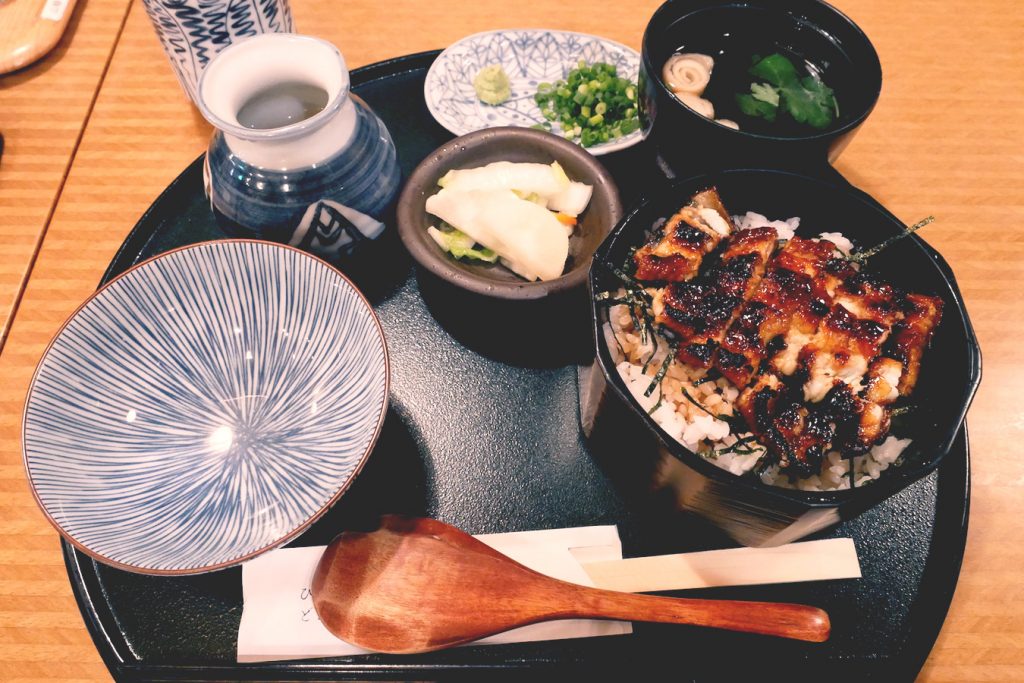 Wherever you go in Japan, it is always a good idea to try the local cuisine. That's what the Japanese do when they travel. And let me tell you, they are on to something.
There are delicious local specialties in every corner of Japan. Osaka has its Okonomiyaki and Takoyaki, Fukuoka its Hakata Ramen. Nagoya is no exception in that respect.
You can't leave Nagoya without having tasted Hitsumabushi, a local delicacy made from Japanese freshwater eel.
Other highlights include any dish made with red Miso paste such as Miso Nikomi Udon (Udon noodles stewed in a Miso broth) and Miso Katsu (deep-fried pork cutlets with a red Miso based sauce).
One place where you can find a selection of the best restaurants serving Nagoya cuisine is the so-called Kinshachi Yokocho a food street right next to the main gate of Nagoya Castle. Here you will find local favorite stores such as Yamamotoya selling Miso Nikomi Udon and Yabaton specialized in Miso Katsu. I'm not saying you should, but you could go from restaurant to restaurant tasting your way around Nagoya's cuisine in one place.
For more details on Nagoya food read this post.
Alternatively, you could join a Specialties of Nagoya Food Tour where you will try 7 local dishes and snacks such as Hitsumabushi, Miso Nikomi Udon, Tenmusu, Tebasaki, and Ebi Senbei.

From the Plant Directly in Your Mouth. Only Possible If You Do Fruit Picking.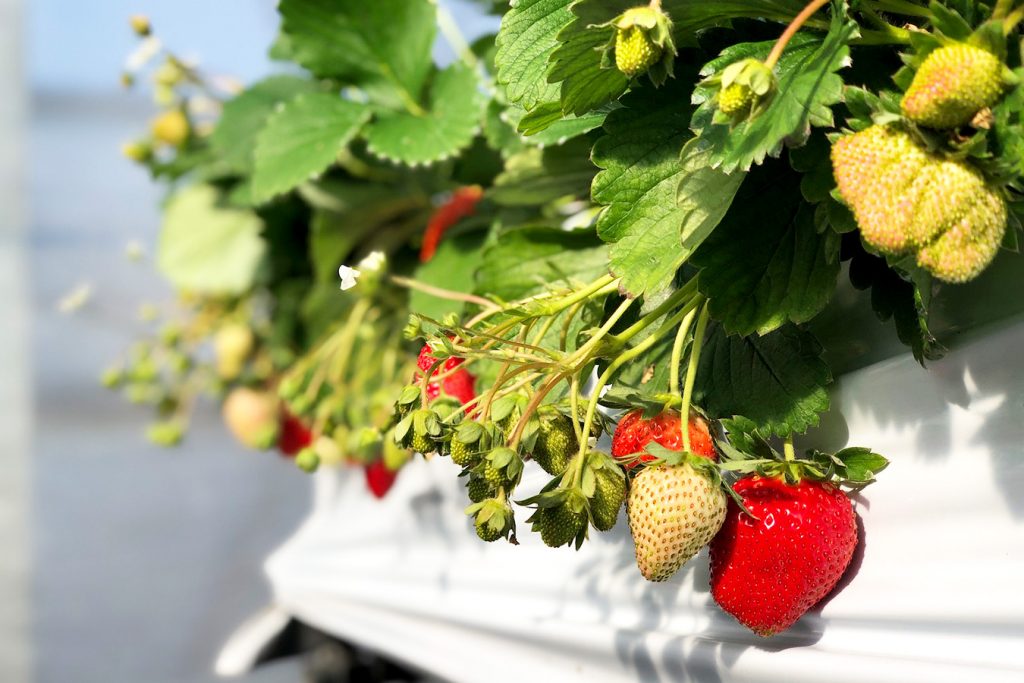 Picking and then eating seasonal fruit is a popular activity, especially if you have children. The most popular form of fruit picking is probably strawberry picking but you can also find other seasonal fruit such as grapes, blueberries, persimmons, pears, oranges and more.
For a fun day learning about fruit visit Togokusan Fruit Park in Nagoya with its greenhouses filled with exotic fruit and fruit fields just waiting to be picked bare by you.
Togokusan Fruit Park (東谷山フルーツパーク)
Entry Fee: free
Opening Hours: 9:00 – 16:30; closed Mondays
Address: Togoku-2110 Kamishidami, Moriyama Ward, Nagoya, Aichi 463-0001
Website | Google Maps
---
So, that's it. A list of fun food experiences in Nagoya. Did you love these ideas as much as we do? Then plan your trip to Nagoya today or book one of the experiences with us. Because Nagoya is not boring!
Did you enjoy this article?
For more things to do in Nagoya click here or check out all of our blog posts about Nagoya here.
Be sure to follow us on Facebook for new articles every week, and see our Instagram for pictures and stories about Nagoya!
Share your comments below or message us using any of our SNS or send us an email.
Tag us 📲
Share your favorite food experience you have had in Nagoya in a social media post and make sure to tag us with #nagoyaisnotboring