At first glance, Ankake Spaghetti may look like the Italian pasta that Mama used to make, but it's certainly no Ragu. Give this to an Italian chef and he would probably spit it out and smash the plate on the floor! From shock and in a very Gordon Ramsey sort of way, you understand. Don't let the theatrics mislead you; by no means is this Nagoya specialty anything but a treat for your taste buds.
What Is Ankake Spaghetti?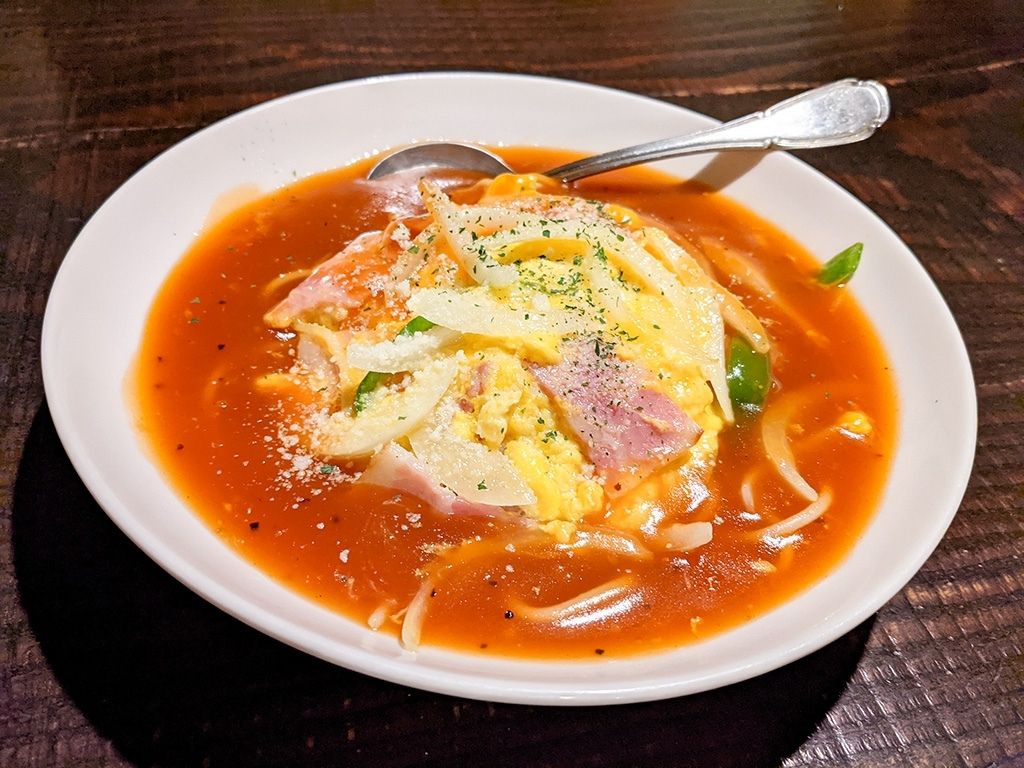 Ankake Spaghetti may be made with spaghetti noodles, but differs greatly to Italian dishes with its sauce and its toppings. The sauce is made primarily with vegetables and potato starch and a tomato base that gives it its richness in both flavor and viscosity. While many Italian pasta sauces would spice themselves up with chillies and the like, Ankake Spaghetti's spiciness comes from a liberal use of pepper.
Another characteristic of this dish is the thickness of the noodles and colorful array of toppings that accompany them. 2.2cm may not sound impressive to some, but with spaghetti it really does make a difference!
Typical toppings include vegetables such as onions, and green peppers known as Kantori (derived from the English word "country"), and wieners or Miraneze (Milanese) as they are called in Japanese, a name chosen to sound Italian, but with no real connection to the city of Milan that ironically uses more rice than pasta in their dishes! If you want to go really hardcore on the language, you can even combine the two and make Mirakan, which you may see in some restaurants. Now you know!
You will find other variations of toppings depending on the restaurant, such as a fried egg or maybe some seafood such as shrimp, there are also other toppings such as cheese, spinach, deep-fried chicken, battered and deep-fried meats. You name it, they probably have it as a topping.
The Origin of Ankake Spaghetti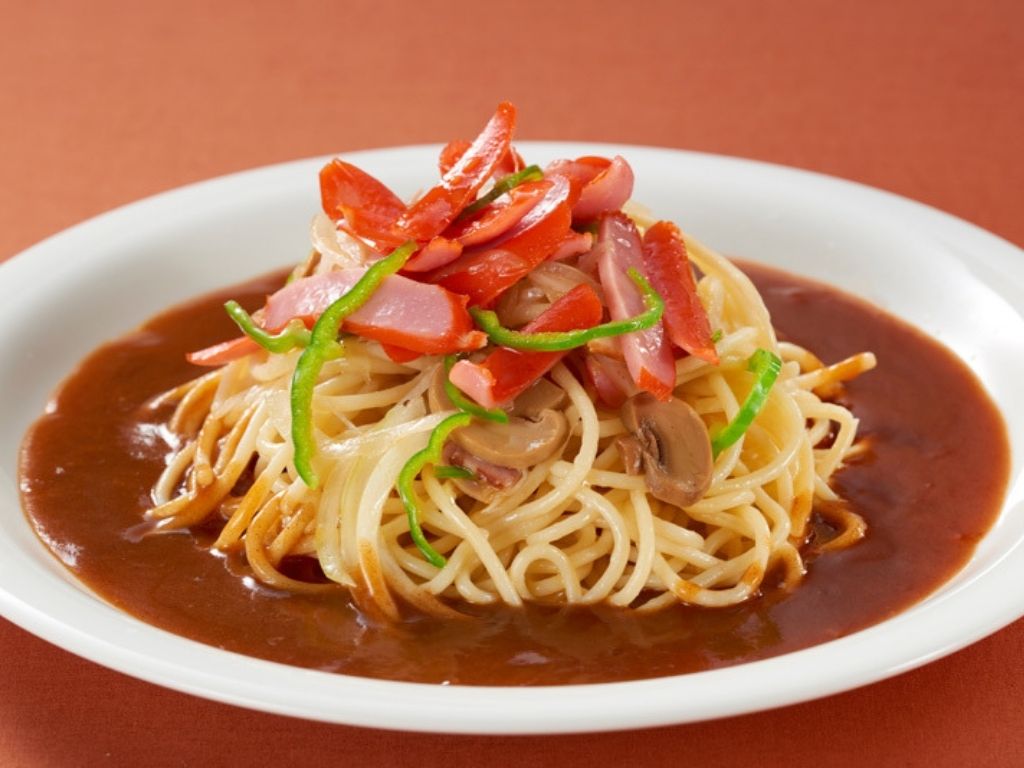 It is difficult to really pinpoint exactly when this dish was invented but there are at least two restaurants that vie for the title as the founder of Ankake Spaghetti that we will introduce to you below.
As is often with these types of dishes, it is said that Ankake Spaghetti was invented when attempting to adapt meat sauce (such as bolognese) to fit the palette of the locals, which are in this case, the locals of Nagoya. While the taste turned out to be a far cry from the meat sauce they were trying to adapt, it certainly hit the spot!
I Don't Need An Origin Story – Just Give It To Me!
We're getting there!
You may be familiar with Sekai no Yamachan whose specialty is the infamous peppery chicken wings, Tebasaki. (If not, make sure to read this article on Tebasaki to find out what they're all about.) They serve a number of cheap local dishes, Ankake Spaghetti included, but we wouldn't recommend this as the place to go for this particular dish.
Let's have a look at where we can find this delicious Nagoya dish.
Spaghetti House Yokoi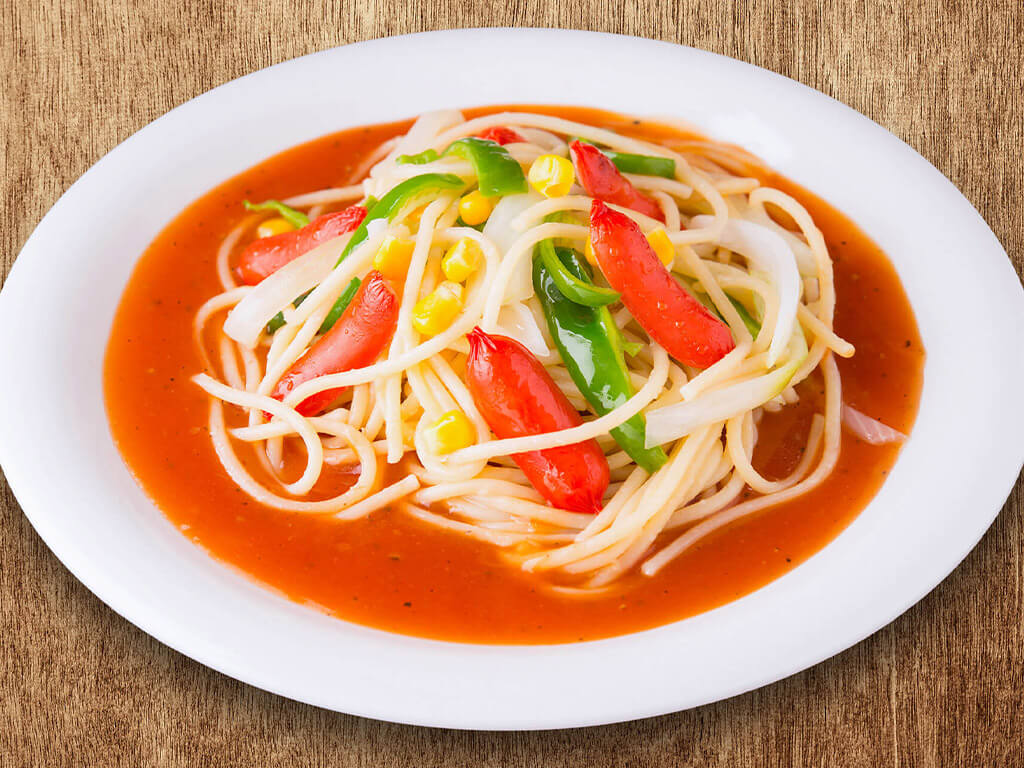 Spaghetti House Yokoi is one of the restaurants that claim to be the inventor of Ankake Spaghetti. It's difficult to prove it, but what's a little bit of competition?
Whether they came up with the recipe or not, it's undeniable that Spaghetti House Yokoi has been dishing up delicious Ankake Spaghetti since the 1960s and continues to do so to this day. Their special sauce is simmered for two days, giving it an extra special taste.
The most popular dishes at Spaghetti House Yokoi are the Ankake Spaghetti topped with Mirakan, Miraneze or alternatively Ebineze, which is a sausage and deep-fried shrimp topping.
Yokoi currently has three restaurants, two of which can be found within walking distance from Sakae station. The original one is located in Sumiyoshi, which has a very rustic feel to it akin to walking into an old-style American diner and the other can be found in Nishiki, a bit closer to Sakae station. If you had the chance to go to both, you'd feel the difference immediately!
The next is in the KITTE Nagoya, found right by Nagoya station in the JP Tower, a convenient location for those who don't have time to venture far.
Spaghetti House Yokoi Sumiyoshi Honten (スパゲティ・ハウス ヨコイ 住吉本店)
Opening Hours: 11:00 – 15:00 and 17:00 – 20:00. Closed Sunday and National Holiday evening.
Address: 2F Santo Building 3-10-11 Sakae, Naka Ward, Nagoya, Aichi
460-0008
Website | Google Maps
Spaghetti House Sole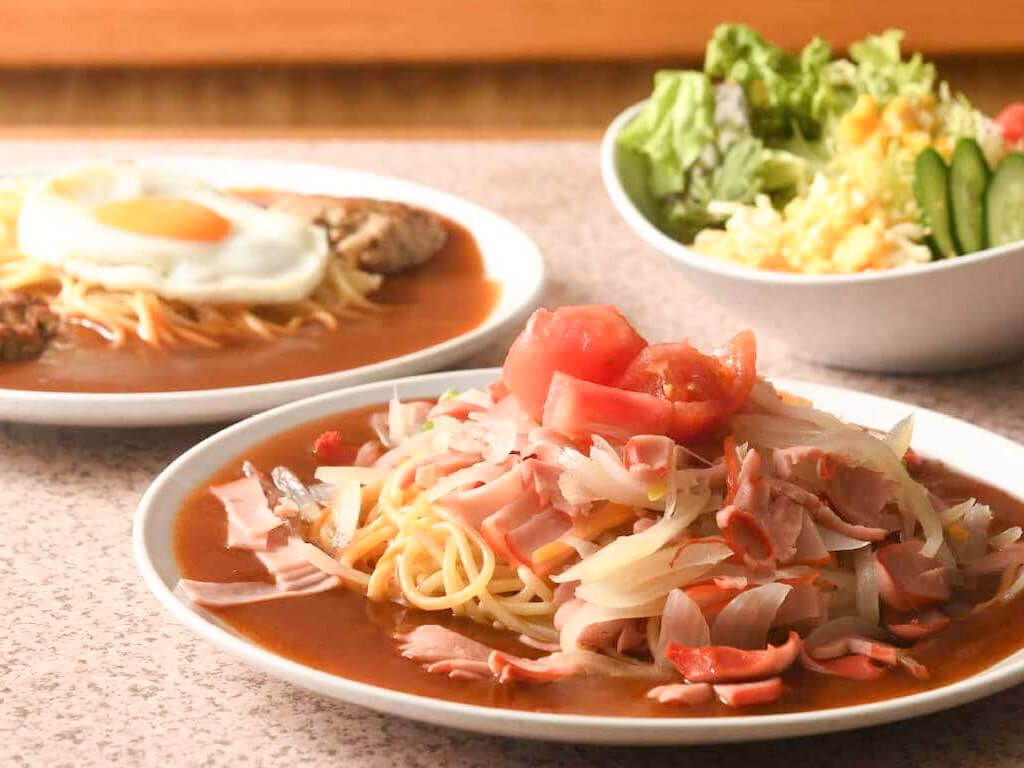 Spaghetti House Sole is another contender for the title of 'Creator of Ankake Spaghetti'. This may or may not be true, but if you visit the restaurant you will have no doubt in your mind that they make a very good Ankake Spaghetti. Imitation is the best form of flattery, as they say.
The restaurant has been in operation since 1961 and making Ankake Spaghetti is their specialty. They have a wide variety of toppings and everyone will be sure to find something they like.
Sole has only one restaurant that has been in the family now for three generations and is located in Sakae. Check out their interpretation of Nagoya's "sole" food.
SPAGHETTI HOUSE SOLE (そ〜れ あんかけスパ総本店)
Opening Hours: 11:00 – 15:00 and 17:00 – 23:00. Closed Sundays and lunch only on national holidays.
Address: Aishin Plaza Building 103 4-9-10 Sakae, Naka Ward, Nagoya, Aichi 460-0008

Website (Japanese only) | Google Maps
Karametei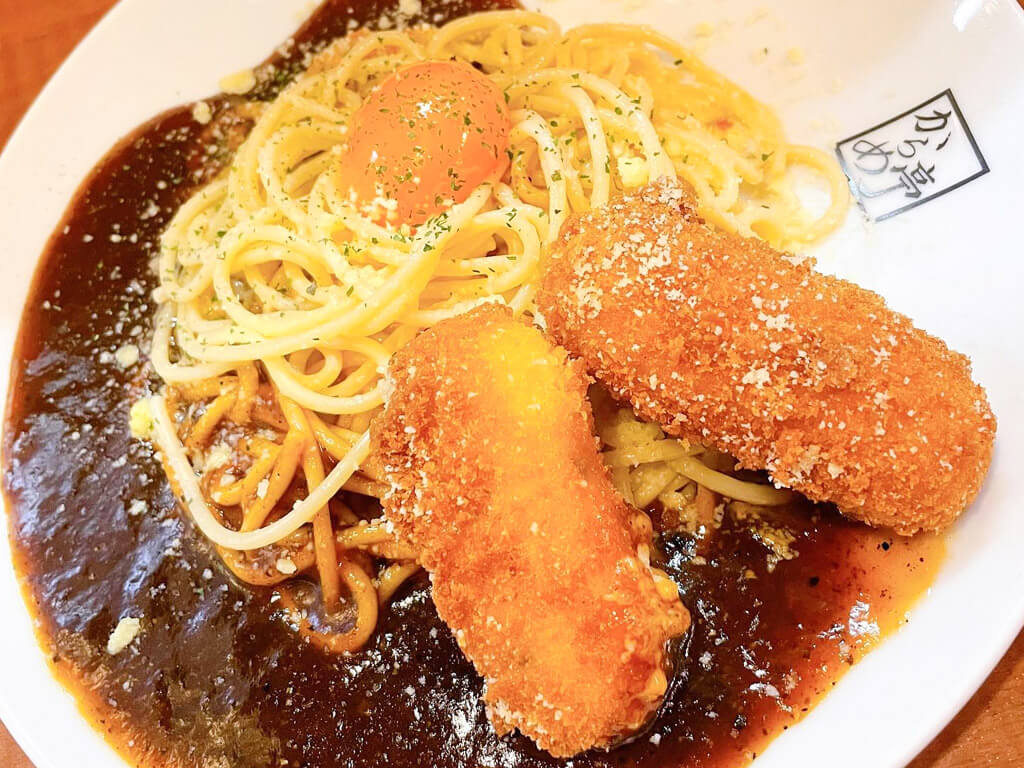 In the 1980s during a TV interview, Karametei, while not the inventor of the dish, coined the term Ankakesupa, a portmanteau of "Ankake" and "spaghetti". Another one to add to the list!
After that, it became commonly used to refer to the dish even in other restaurants.
Visit Karametei if you want to try the "original" Ankakesupa.
With nine shops in different parts of the country, Karametei is easily accessible to travelers. Karametei also sells its delicious Ankake sauce online so you can cook authentic Ankake Spaghetti at home.
Their main shop is close to Issha Station on the Higashiyama line which can be easily reached from Nagoya Station.
Karametei (からめ亭)
Opening Hours: 11:00 – 21:00. Closed Sunday
Address: Saint Royal Higashiyama 1F 1-191 Takayashiro, Meito Ward, Nagoya, Aichi 465-0095
Website (Japanese only) | Google Maps
Spaghetti House Ciao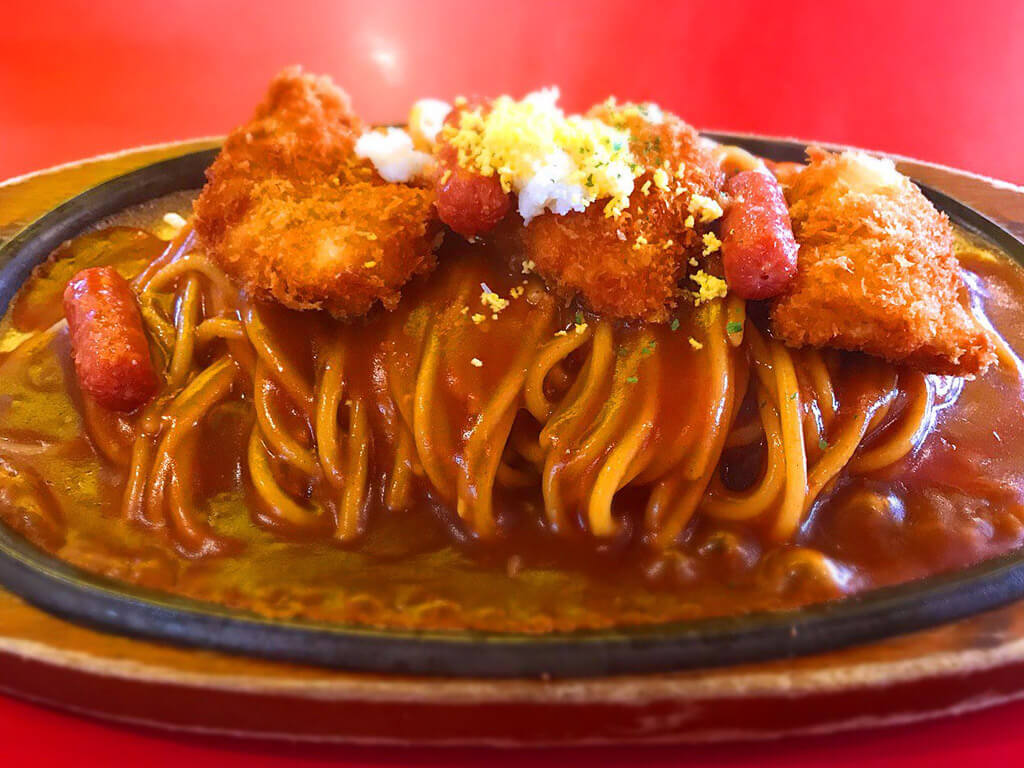 Spaghetti House Ciao has been around for a long time. They have been selling pasta since before the name Ankake Spaghetti was even coined.
Needless to say, they know what they are doing and serve some delicious Ankake Spaghetti.
Aside from many variations of Ankake Spaghetti, they also sell some very delicious Teppan Spaghetti, another Nagoya staple pasta dish.
You can find Spaghetti House Ciao in four locations in Nagoya. Two close to Nagoya Station, one in Sakae and one close to Fushimi Station. Their main shop is outside of Nagoya all the way up north in Inazawa.
Spaghetti House Ciao Nagoya JR Tower (チャオ名古屋JRゲートタワー店)
Opening Hours: 11:00 – 23:00.
Address: JR Gate Tower 12th Floor, Meieki 1-1-3, Nakamura Ward, Nagoya, Aichi 450-6601
Website (Japanese only) | Google Maps
Ankake Taro
If you are a big eater and you think the portion sizes in Japan leave something to be desired, you might want to check out Ankake Taro. Here you can order your delicious Ankake Spaghetti in a "Mega" size (1 kg of noodles), guaranteeing you will be full by the end of the meal.
Ankake Taro makes their Ankake sauce with lots of vegetables which gives the sauce its thickness. This and the thick noodles are the secrets to Ankake Taro's popularity and success.
As a dedicated pasta restaurant, Ankake Taro not only sells delicious Ankake spaghetti with many different toppings but also other kinds of pasta. Have you ever tried spaghetti with Indian curry sauce? No? Well, now might be the time! They also serve Teppan spaghetti, which is a spaghetti dish served in a hot teppan dish.
Their main shop is located a couple of hundred meters from the Nagoya International Center which is only one stop away from Nagoya station (or you could walk there to work up an appetite).
There are two other locations. One by Sakae station in the downtown area, and the other a bit further north in the Kinshachi Yokocho food street right next to Nagoya castle, a perfect place to eat if you plan to visit it.
Ankake Taro Nagoya Castle Kinshachi Yokocho (あんかけ太郎 名古屋 金シャチ横丁店)
Opening Hours: 11:00 – 15:00 and 17:30 – 20:00. Closed evenings on Saturdays and Sundays.
Address: Kinshachi Yokocho Muneharu Zone, Ninomaru 1-3, Naka Ward, Nagoya, Aichi
Website (Japanese only)| Google Maps
Pasta De Coco
Do you love customizing your food? Then Pasta de Coco might be the restaurant for you. You can choose from four types of Ankake sauce, the volume of noodles (from 150 to 900 grams) and of course, you can choose as many different toppings as you'd like giving you thousands of combinations so you will find something you will love.
Pasta de Coco is also the restaurant with the most shops around Japan. Not only in Aichi Prefecture but also in the neighboring Gifu prefecture as well. This shop is affiliated with the very famous curry house Coco Ichibanya, which we'd also recommend if you're looking for something to ignite those taste buds.
Although there are many restaurants dotted about Aichi prefecture, we recommend the Marunouchi shop, located not far from Nagoya castle, as the easiest to access if you're traveling around Nagoya city.
Pasta De Coco Naka Ward Marunouchi Ichome (パスタ・デ・ココ 中区丸の内一丁目店)
Opening Hours: 11:00 – 23:00
Address: 1-3-4 Marunouchi, Naka Ward, Nagoya, Aichi 460-0002
Website (Japanese only) | Google Maps
Whew ~ That's A Lot of Carbs. We're Stuffed.
Proving that Japanese cuisine isn't all rice and fish, Nagoya's Ankake Spaghetti offers a Japanese twist to all the traditional pasta dishes you will have had up until now.
Enjoy the richness of its sauce and mountain of toppings after a long day of traveling around Nagoya and you will not be disappointed!
For more information on what other foods Nagoya has to offer, read our articles on Nagoya's specialties here and consider booking a food tour run by our very own Nagoya food gourmet Lena. You can find out more on this here. Book now and get stuffed!
---
Did you enjoy this article?
Make sure to also check out our other posts about Nagoya and trust us if we say Nagoya is not boring!
Be sure to follow us on Facebook for new articles every week, and see our Instagram for pictures and stories about Nagoya!
Tag us 📲
If you have any pictures of Ankake Spaghetti or comments, share them with us on social media by tagging #nagoyaisnotboring